Are you looking around the web to find the best free WordPress animation plugins?
We bring you 12 to add special effects to your websites and blogs quickly.
Everyone will go WOW.
Unfortunately, not all free plugins are reliable; some can even slow down your website.
We reviewed 50+ animation plugins to export our final selection for this reason.
From customizable sliders and page transitions to rotating words, our list leaves NOTHING out.
Whether you create your blog posts and pages through the WordPress editor or an external plugin like Elementor, you may not be satisfied with the animation options available.
That's when a plugin comes in handy.
You will visually transform your website in SECONDS! (We used a stopwatch.)
How We Tested Best Free WP Animation Plugins
We are particularly careful with choosing free plugins because there are (yes, really) still so many unreliable ones – even on the WordPress repository.
As mentioned earlier, we started with 50+ plugins.
First, we read reviews, checked ratings and update frequency.
Second, we studied documentation and skimmed through support forums. (The 1st and the 2nd step alone allowed us to eliminate 23 plugins.)
Third, we then installed every plugin on our test website to examine them further.
This helped us answer a few essential questions:
Does the plugin slow down the website?
Is it responsive?
How beginner-friendly is the plugin's interface?
Are configurations and customizations easy to access and adjust?
Are the customization capabilities the same as those in the description?
QUICK-PICK: Best Free WP Animation Plugins
You might also be interested in our how to install a WordPress plugin, if it's your first time.
Best Free Plugins For Adding Animations To WordPress
1. Animate It! (Our FAV!)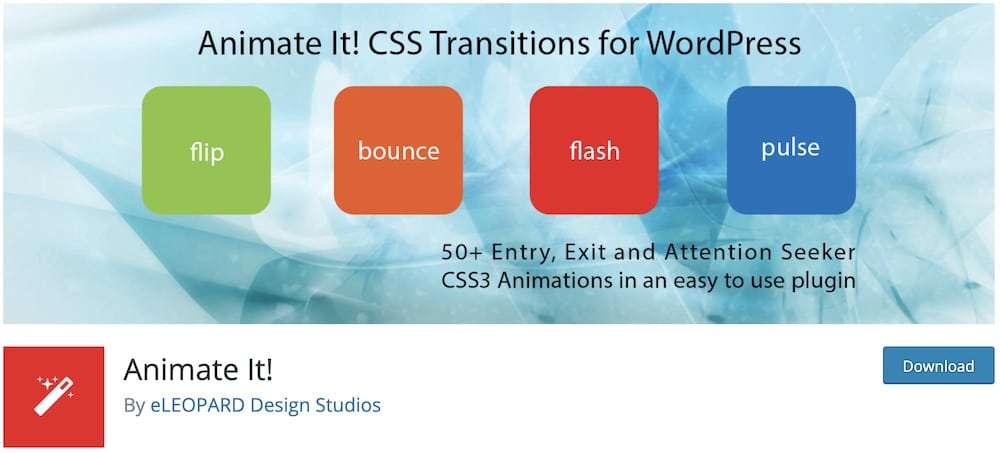 When it comes to CSS animations, there's nothing better than Animate It!
This WordPress animation plugin has excellent reviews and numerous downloads for a good reason.
The package includes 50+ input, output, and attention seeker transitions to beautify your pages and posts.
You can easily place these CSS3 animations in your posts, widgets and pages. The plugin has a simple generator that allows you to create animations in no time.
In short, it's an ESSENTIAL animation tool for numerous types of WordPress websites, from personal blogs to large corporate sites.
Animate It! features:
30,000+ installations
4.9/5 ratings
Vast collection of animations
Easy-to-use
Multilingual support (Spanish and German)
MORE INFO / DOWNLOAD
2. Image Hover Effects Ultimate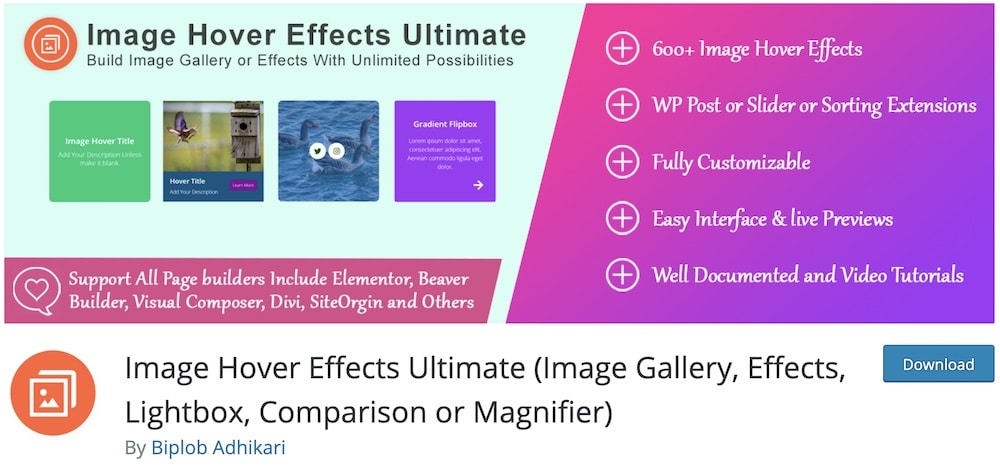 It wasn't many years ago that you needed a professional developer to add a hover effect to website images. Well, you don't need that anymore!
The latest version of Image Hover Effects Ultimate automates the entire process and allows anyone to create hover effects for images.
This amazing free WordPress animation plugin includes 500+ image hover effects that are fully customizable. You can use the effects for your post images, sliders, or extensions.
We absolutely enjoyed that this plugin is so well documented and includes numerous tutorials to help you unlock its full potential.
Makes you wonder how such a plugin can be COMPLETELY free to use.
Image Hover Effects Ultimate features:
20,000+ installations
4.6/5 ratings
Tons of customizable hover animations
Amazing support (how-to videos, documentation, and more)
Live preview
MORE INFO / DOWNLOAD
3. Easy Textillate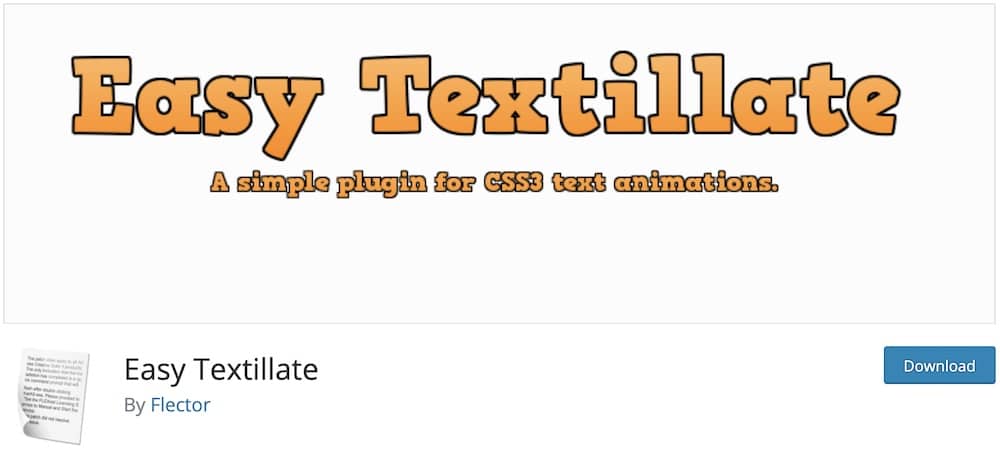 Unlike our previous recommendation, Easy Textillate does not help you ANIMATE images and pages, but TEXTS.
Therefore, you can use this free WordPress animation plugin to replace plugins like Animate It!
The process is as simple as it can be. All you have to do is create a shortcode and paste it into posts, pages or widgets.
We were thrilled to find out that this plugin helps you skip the challenging task of adding a javascript code to animate text.
Easy Textillate has helped us quickly create stunning text animations on numerous websites. Since it is a free plugin, you should try it out!
Easy Textillate features:
2,000+ installations
4.8/5 ratings
Easy-to-use
Saves time from coding
Many in and out text animations
MORE INFO / DOWNLOAD
4. Page Scroll to ID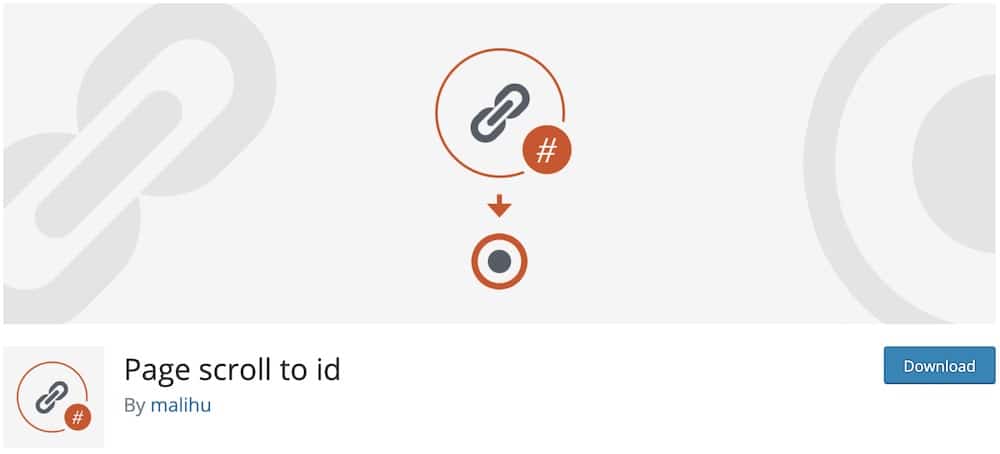 As the name suggests, Page scroll to ID is a captivating tool that helps you add a unique scrolling animation when visitors explore your website.
This has proven to be a brilliant solution for all of our clients' single-page websites.
The package includes numerous tutorials and great support to help you understand how to use the plugin.
You can use Page scroll to ID for vertical and horizontal scrolling, scrolling between pages, back-to-top links and much more.
For this reason, we really enjoyed using this free WordPress animation plugin.
Although the plugin has a LEARNING CURVE, the result is worth the effort once you get past it.
Page Scroll to ID features:
100,000+ installations
4.9/5 ratings
Unique scrolling animation
Very flexible (you can use it in numerous ways)
Scrolling duration
MORE INFO / DOWNLOAD
5. Loading Page With Loading Screen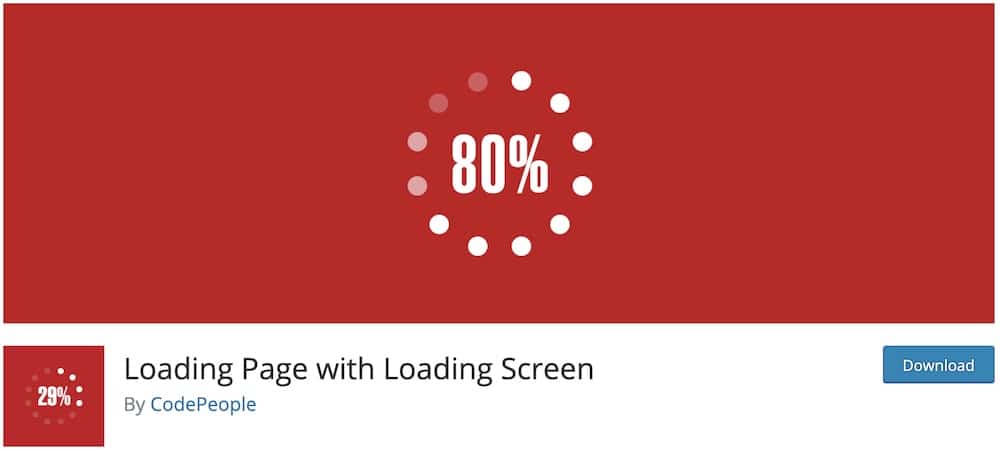 Like the previous plugin in our selection, this free WordPress animation plugin is also an amazing solution for a particular task.
You can create a screen showing a page's loading percentage with this tool.
So, if you are looking for a trustworthy loading screen plugin for your website, you should not look anywhere else!
With the plugin, you can customize the colors of the page or choose your own loading screen image. It proved to be a very USEFUL and ELEGANT plugin.
Loading Page features:
10,000+ installations
4.6/5 ratings
Unique loading screen animation (showing %)
Customizable (icons, duration, etc.)
Pre-loads page content
MORE INFO / DOWNLOAD
6. Progress Bar (Skill Bar)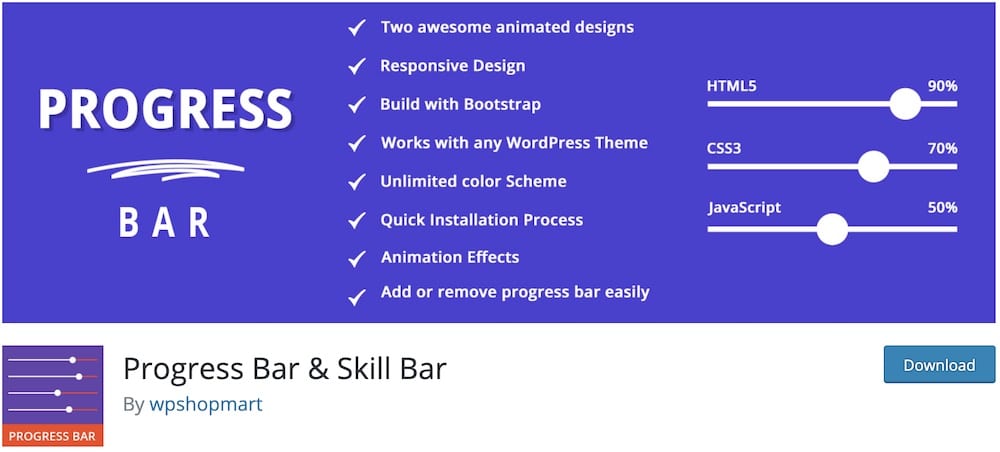 When we first discovered this free WordPress animation plugin, we were immediately grateful for its existence.
The plugin allows authors to quickly create unique blog or post page progress bars.
Want to add a progress indicator or progress bar to your post? Well, you must create a shortcode via the plugin and paste it into the post.
SIMPLE.
The plugin includes two animated designs for progress bars, 34 design templates, and 4 column layouts.
Also, you can easily customize most elements of your progress bar, from the name and title color to the foreground and background colors.
Progress Bar features:
2,000+ installations
4.5/5 ratings
Progress bars are fully-customizable
Easy to use
100% responsive
MORE INFO / DOWNLOAD
7. Animated Rotating Words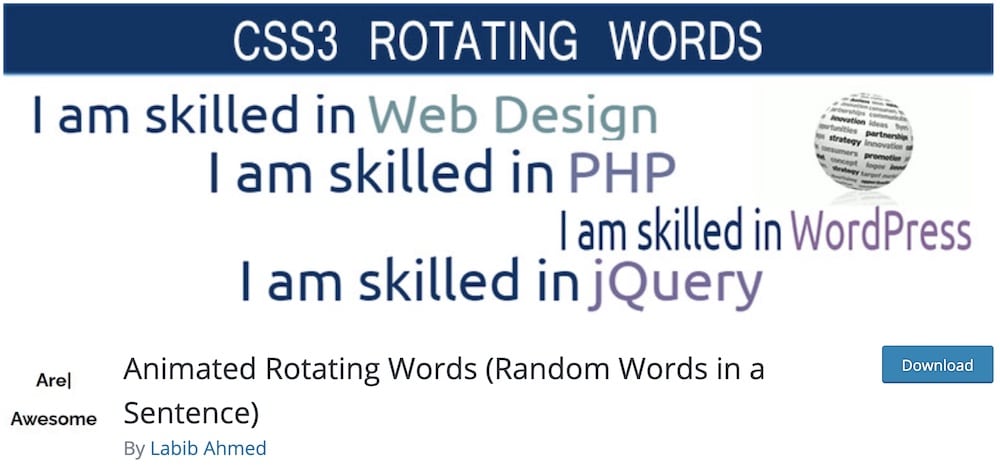 As with the Easy Textillate plugin reviewed above, CSS3 Rotating Words also helps you animate text.
This free WordPress animation plugin allows you to write a sentence that randomly rotates.
We were curious to see if this plugin works, and we can say it works AMAZINGLY WELL. The CSS3 animation effects create a unique visual result that you should definitely try.
The plugin includes 10 different effects for you to choose from and allows you to customize features such as animation speed, font colors, etc.
Animated Rotating Words features:
1,000+ installations
4.7/5 ratings
Beginner-friendly
Numerous features (save time!)
Works via shortcode
MORE INFO / DOWNLOAD
8. Responsive Menu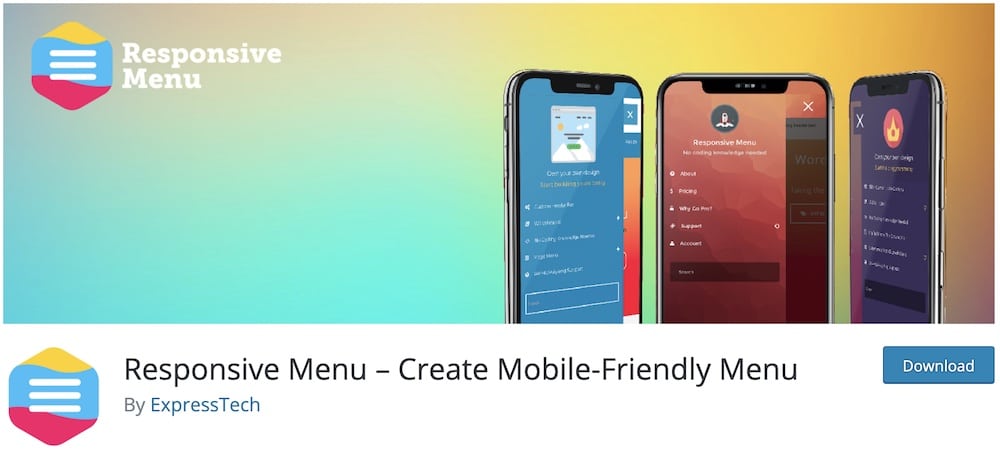 As its name suggests, Responsive Menu is a free WordPress plugin that allows you to create a unique menu for your website.
The plugin is one of WordPress's most popular menu creators with 150+ options and numerous animation effects.
What's more, with a responsive menu, you can customize just about everything, from fonts and backgrounds to menu appearance and animations.
During our review, Responsive Menu PROVED to be the market's most dependable and customizable navigation builder.
Responsive Menu features:
100,000+ installations
4.5/5 ratings
Fully-customizable animations
Epic mobile experience
MORE INFO / DOWNLOAD
9. WordPress SVG Images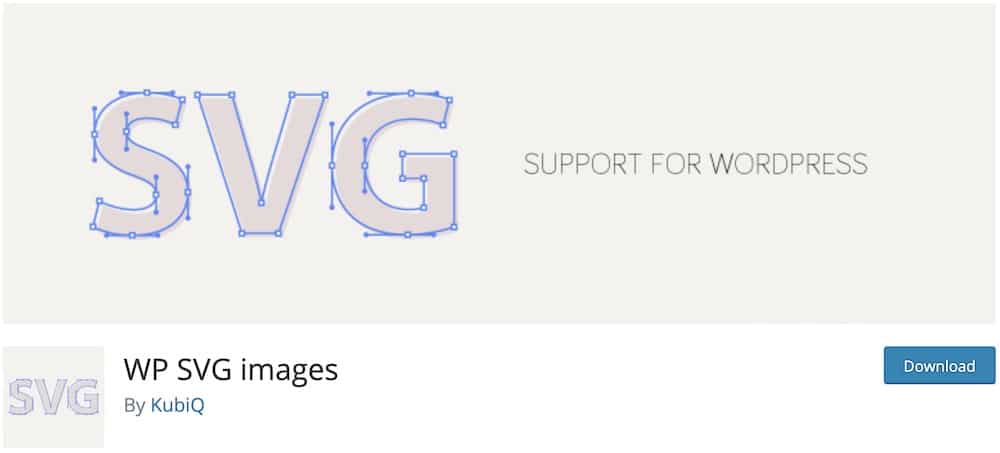 Many of us have encountered problems when uploading SVG images to websites.
This unique free WordPress animation plugin will help you upload SVG images and edit them as thumbnails.
This one was the most reliable and flexible of all the SVG plugins we could find. The plugin was created by Kubiq, one of the best plugin developers.
So if you need to add SVG images to your website, there's nothing BETTER than this plugin.
It's free, so you have nothing to lose (but a ton to gain).
WP SVG Images features:
30,000+ installations
4.8/5 ratings
Very well founded
Perfect for beginners
Role-specific use (admins & editors only)
MORE INFO / DOWNLOAD
10. Master Slider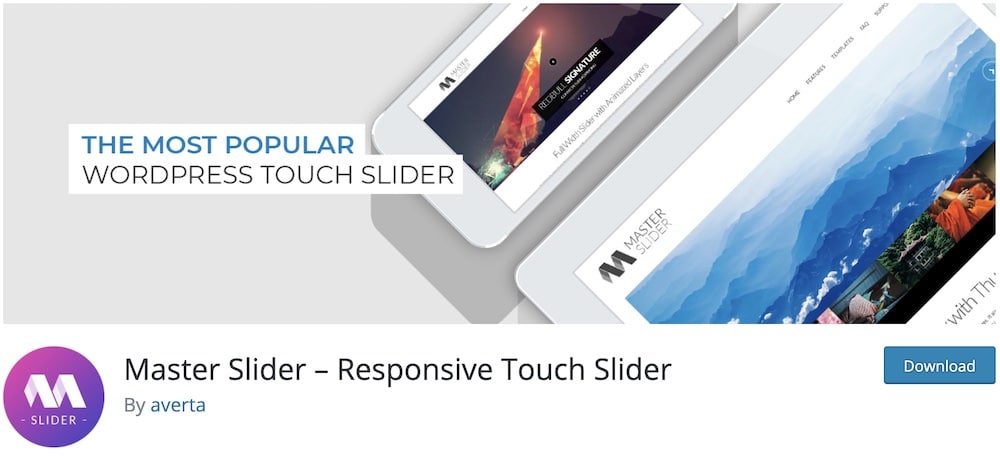 Averta is one of the most well-known plugin developers for WordPress. Like all their plugins, Master Slider is one of the most useful tools on the market.
This SEO-friendly plugin easily made it into our top picks of free WordPress animation plugins.
Master Slider is an AMAZING way to create responsive sliders and works on any device. The package includes 8 starter samples, 6 skins, and numerous customization options.
If you want to quickly design a stunning slider for your website, Master Slider is the best choice for you.
(It worked for our clients' blog and personal websites really well.)
Master Slider features:
100,000+ installations
4.5/5 ratings
Fully-customizable sliders
Effortless use and great support
Works with all WordPress themes
MORE INFO / DOWNLOAD
11. Smart Slider 3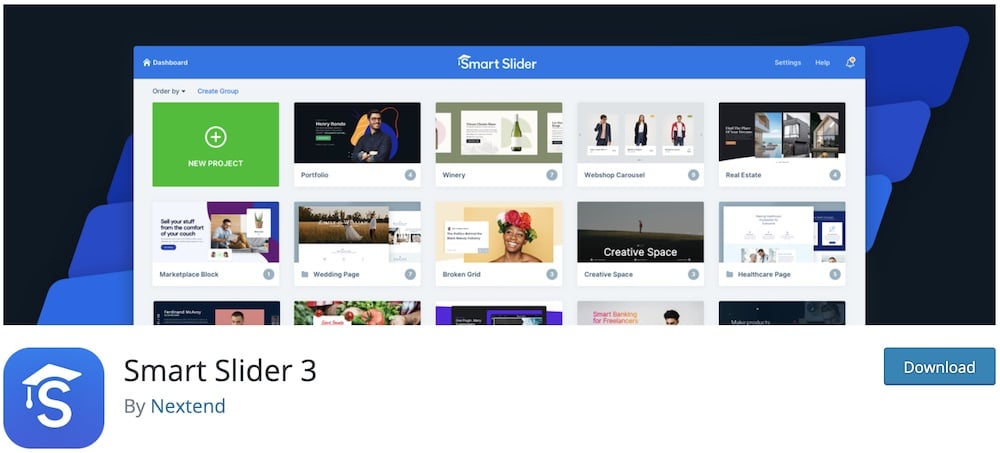 If Master Slider was not what you were looking for, then Smart Slider 3 is a great alternative.
This free WordPress animation plugin was specifically designed by Nextend to act as a live slide editor.
The fact that it allows you to change pretty much anything is the main reason why many users consider it the best slider plugin.
Even though Master Slider is actually easier to master, Smart Slider 3 is the PERFECT CHOICE for professionals or experienced WordPress users.
We really enjoyed using both, so cannot specify which is better. Rely on the features that each provides and go from there.
Smart Slider 3 features:
900,000+ installations
4.9/5 ratings
Can work with layers
Many catchy slider styles
Great support (community-driven plugin)
MORE INFO / DOWNLOAD
12. Parallax Image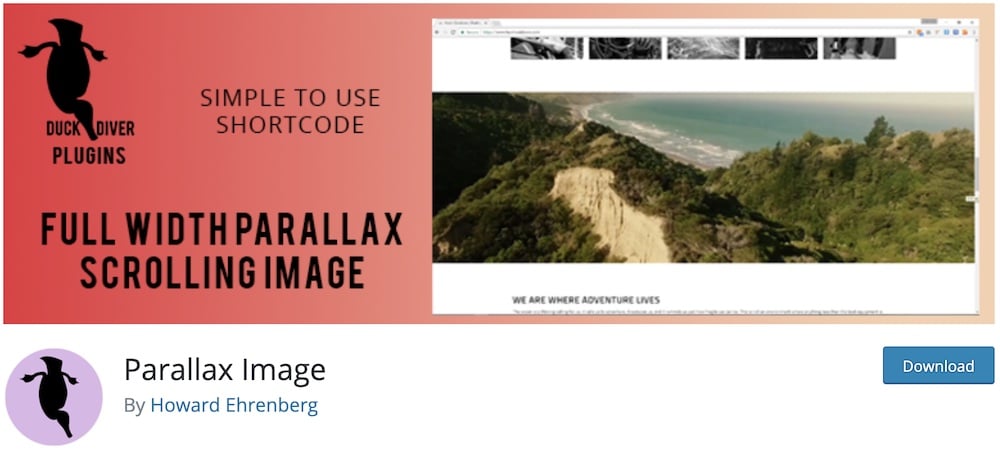 Parallax Image is a plugin for inserting – hence the name – parallax images into WordPress.
The process is pretty simple, as you just need to use the [dd-parallax] shortcode to insert the image.
Everyone can do that!
Although the plugin currently works with the classic editor, a Gutenberg widget for parallax images is also in the works.
Note: You only use the file name of your JPG or PNG image and not the full path. (See instructions.)
Parallax Image features:
3,000+ installations
5/5 ratings
Enable/disable TinyMCE icon
Mobile friendly
Set custom parameters
MORE INFO / DOWNLOAD
::
Note: This article was originally published on XXXXXXXXXX. But our team regularly reviews it and updates it with necessary improvements for accuracy.