Our review of the best free and premium WordPress LMS plugins is all you need to offer online courses, manage subscriptions and run webinars.
Creating the best online courses while providing a top-notch user experience on your website can sometimes be challenging.
That's why even the most well-known universities like the University of Michigan and the University of Florida use LMS plugins.
We have tested 25+ free and premium Learning Management System plugins for you.
And here is our list of the 11 best ones we found on the market.
Let's get right into it, so you can start educating your visitors!
THE ULTIMATE 3:
Best Premium WordPress LMS Plugins
1. Ultimate Learning Pro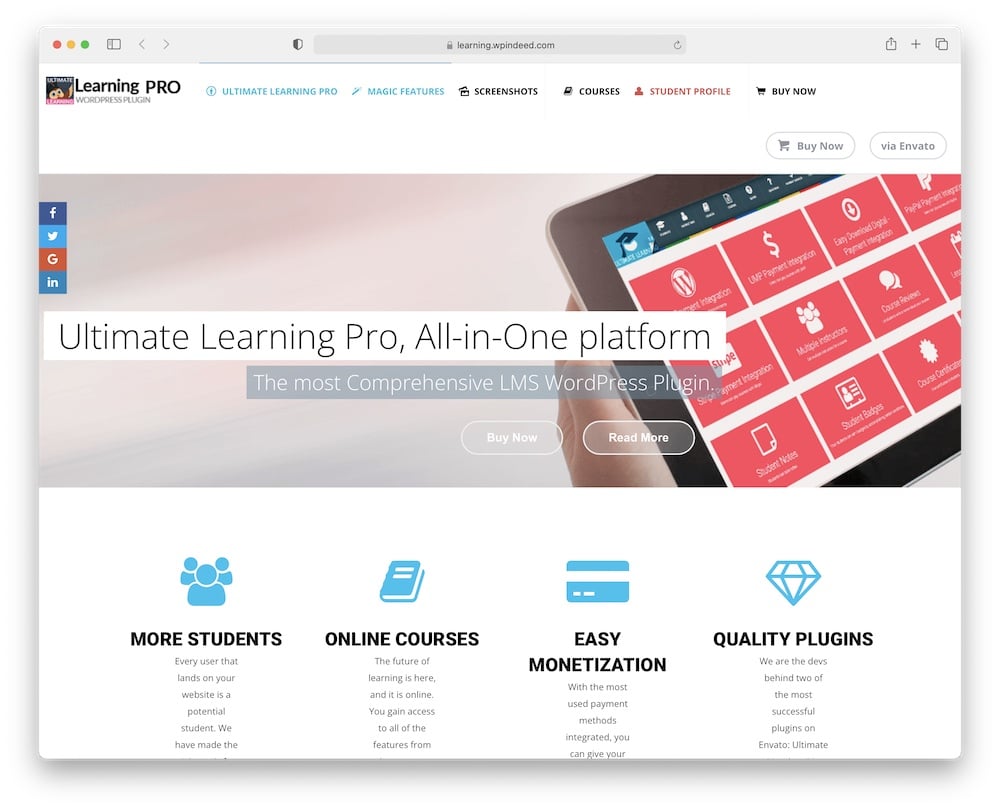 Ultimate Learning Pro has easily made it to our list as it is one of the most affordable yet powerful WordPress LMS plugins.
You get plenty of features to create anything you want easily and quickly. (And it also supports shortcodes.)
When it comes to the features of Ultimate Learning Pro, we have a lot of them to analyze. One of the most important is the payment services.
You can choose between the most popular payment services like PayPal, Stripe, UMP, etc.
Another great feature is adding custom real or fake currencies like points to reward your students and create a more playful environment.
Ultimate Learning Pro features:
1,900+ sales
4/5 ratings
Multiple instructors
Lesson drip content
Price: $59 (may vary)
MORE INFO / DOWNLOAD
2. Good LMS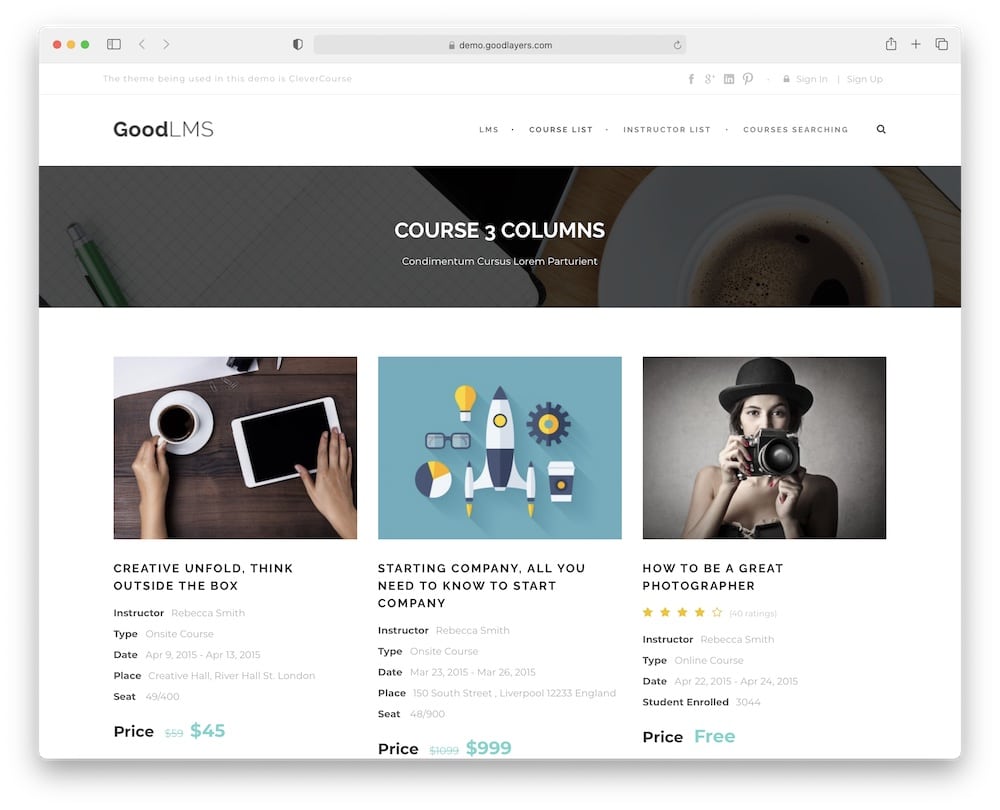 If you are looking for a plugin to create online quizzes and sell courses, then Good LMS is a smart choice.
With this plugin, you will track the results in real-time.
Another great feature of this WordPress LMS plugin is creating a coupon code for instructors or any other user category.
However, one of the most important things is you can do with Good LMS is award your students with course certificates.
Setting up an online learning platform is very quick with Good LMS. (No need for experience.)
Good LMS features:
1,300+ sales
4/5 ratings
Student back-end
Course badges
Price: $32 (may vary)
MORE INFO / DOWNLOAD
3. School Management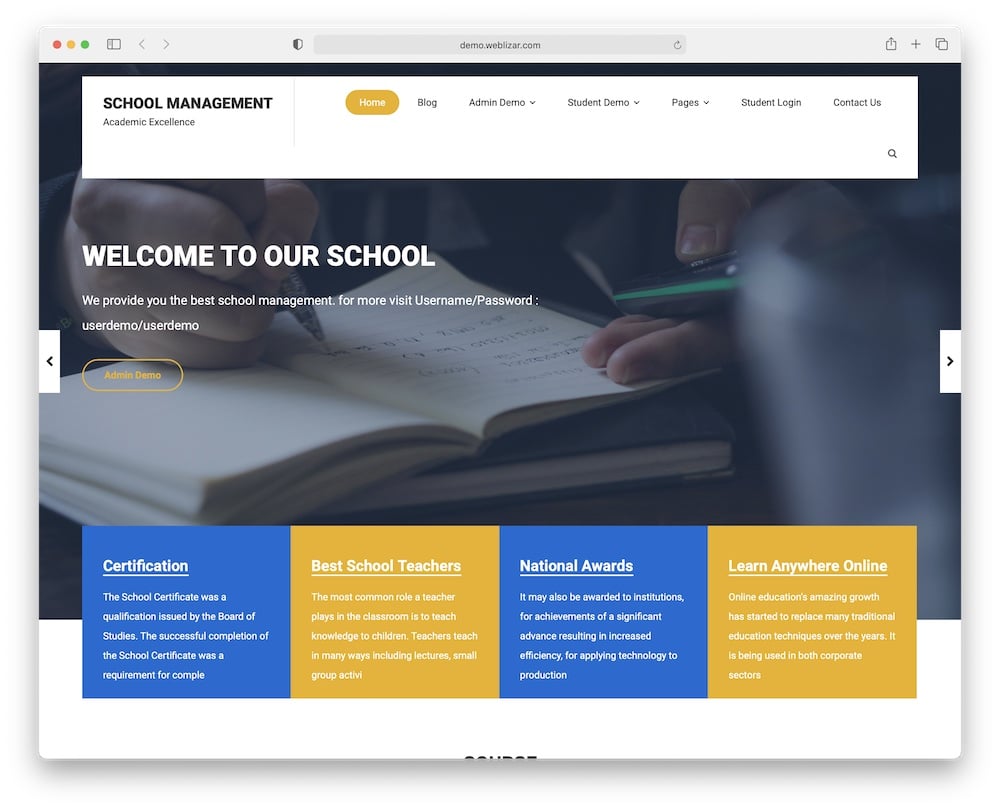 As the name suggests, School Management is a plugin specifically designed to manage a school and its online facilities.
With this plugin, you can manage numerous things, from classes and ID cards to exams, income and expenses of the school.
You will find numerous features that come with this WordPress LMS plugin. One of the most important features is that the plugin allows you to run exams. All you have to do is add the exam, date, exam center and create an exam timetable.
Another great feature you can use with School Management is the library. You can create your personal library from scratch.
Add books, authors, quantity and place a librarian in the system to keep track of everything.
School Management features:
730+ sales
4.4/5 ratings
Parent dashboard
Multiple payment gateways
Price: $49 (may vary)
MORE INFO / DOWNLOAD
4. LMSGo SaaS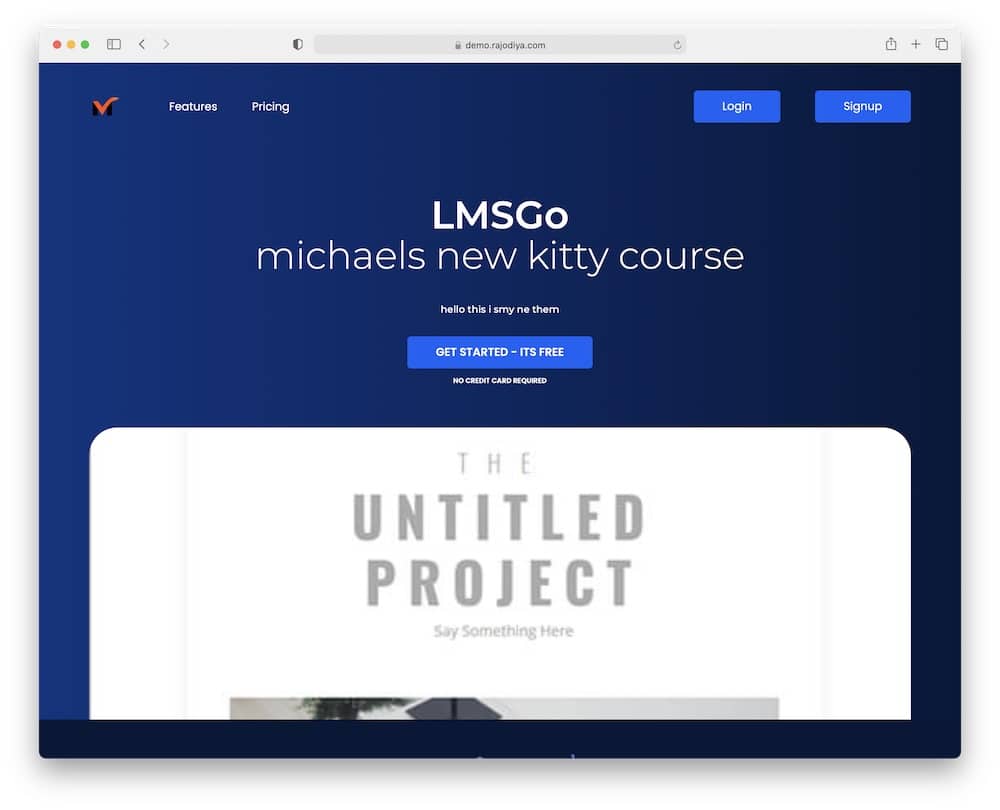 LMSGo SaaS is one of the newest LMS plugins on the market. With its beginner-friendly interface, LMSGo SaaS offers an awesome way to display your courses.
LMSGo SaaS has a lot to be proud of when it comes to features. You can manage your courses and display them in different categories.
Also, you can change the color of your website by choosing one of the three options that the plugin offers you.
In a few words, this is a must-try LMS tool for both beginners and professionals. We loved using it!
LMSGo Saas features:
40+ sales
4.4/5 ratings
Fast support response
Available in multiple languages
Price: $29 (may vary)
MORE INFO / DOWNLOAD
5. WP Courseware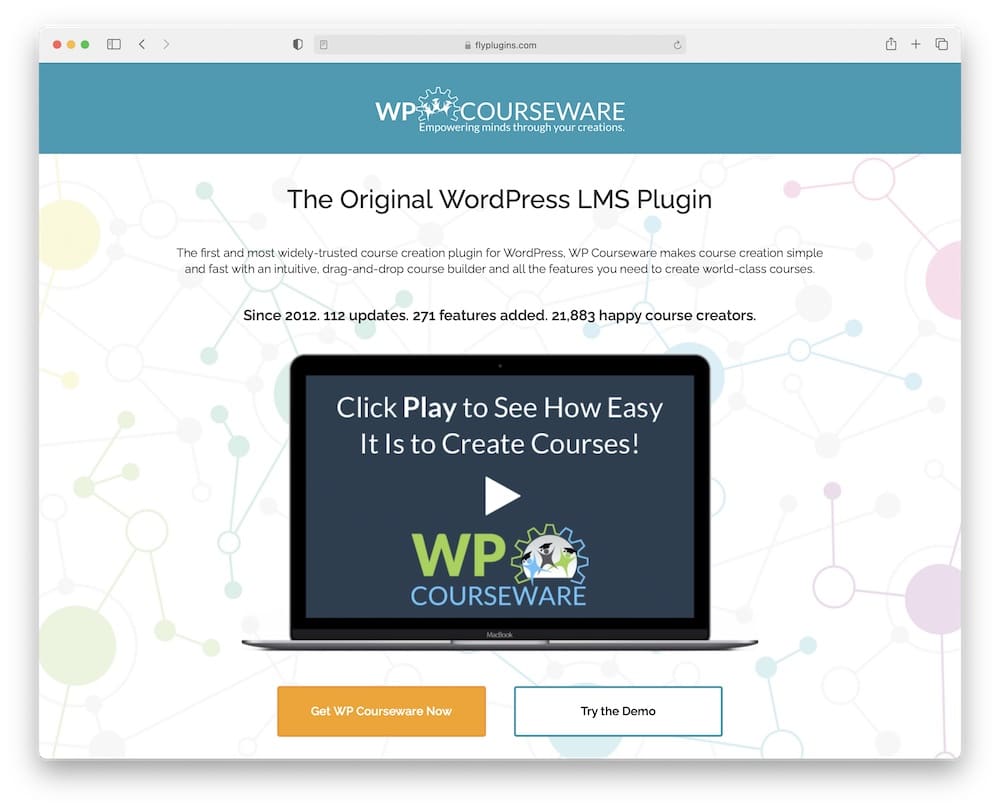 If you are looking for a powerful and well-known LMS plugin, WP Courseware will not disappoint you. WP Courseware, as one of the oldest LMS plugins (released in 2012), has gained more and more followers over the years.
In terms of features, this WordPress LMS plugin has 200+ advanced settings that you can use. In our opinion, the most important is the perfect drag and drop system that makes course building a matter of a few clicks. Another cool one is the course widget.
Many great companies and universities use WP Courseware, like the University of Kentucky, making it one of the most powerful Learning Management System plugins on the market.
WP Courseware features:
21,000+ sales
4.3/5 ratings
Multimedia learning experience
Allow students to download lesson content
Price: $129+ (may vary)
MORE INFO / DOWNLOAD
6. LearnDash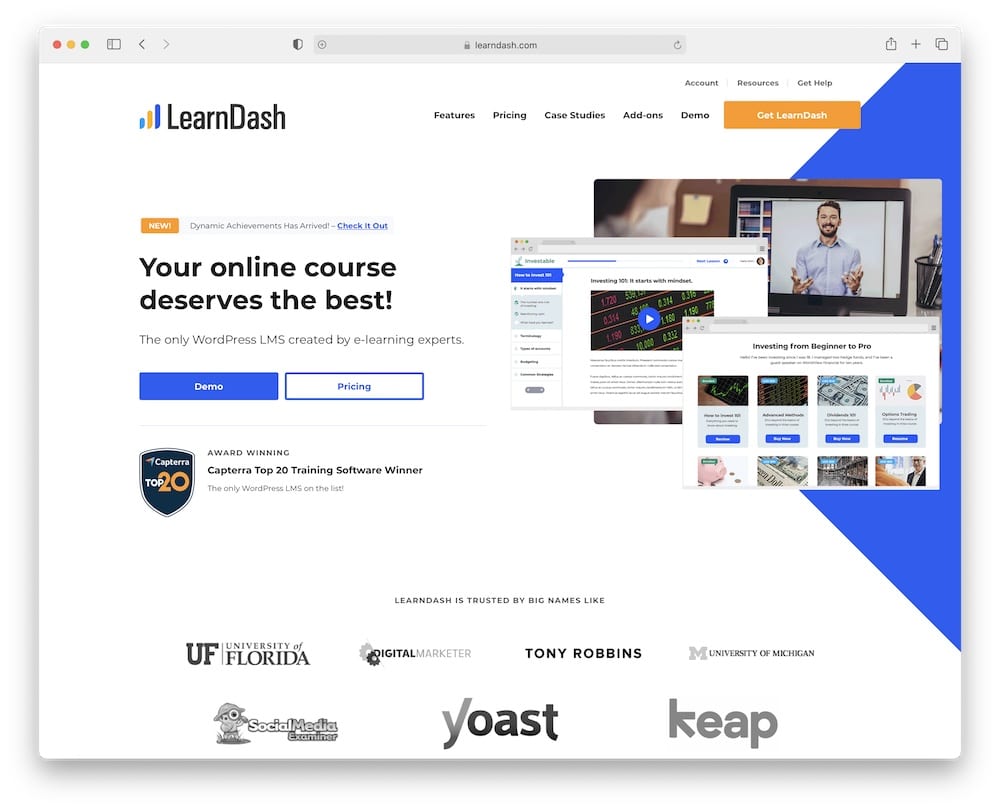 LearnDash is considered by many to be the best LMS plugin on the market. In fact, this plugin is trusted by numerous well-known authorities.
In its client list, you will find Universities of Florida and Michigan to powerful platforms like Yoast and DigitalMarketer.
When it comes to the offerings of LearnDash, you will find yourself having access to endless features. You can easily customize anything you want, like media files, shopping carts, subscriptions, course bundles, etc.
Another important thing you should know is that LearnDash integrates with the most popular apps like Slack, PayPal, MailChimp, WooCommerce, etc.
LearnDash features:
4.4/5 ratings
Leaderboards & certificates
Detailed reporting
Drip-feed lessons
Price: $159+ (may vary)
MORE INFO / DOWNLOAD
7. LifterLMS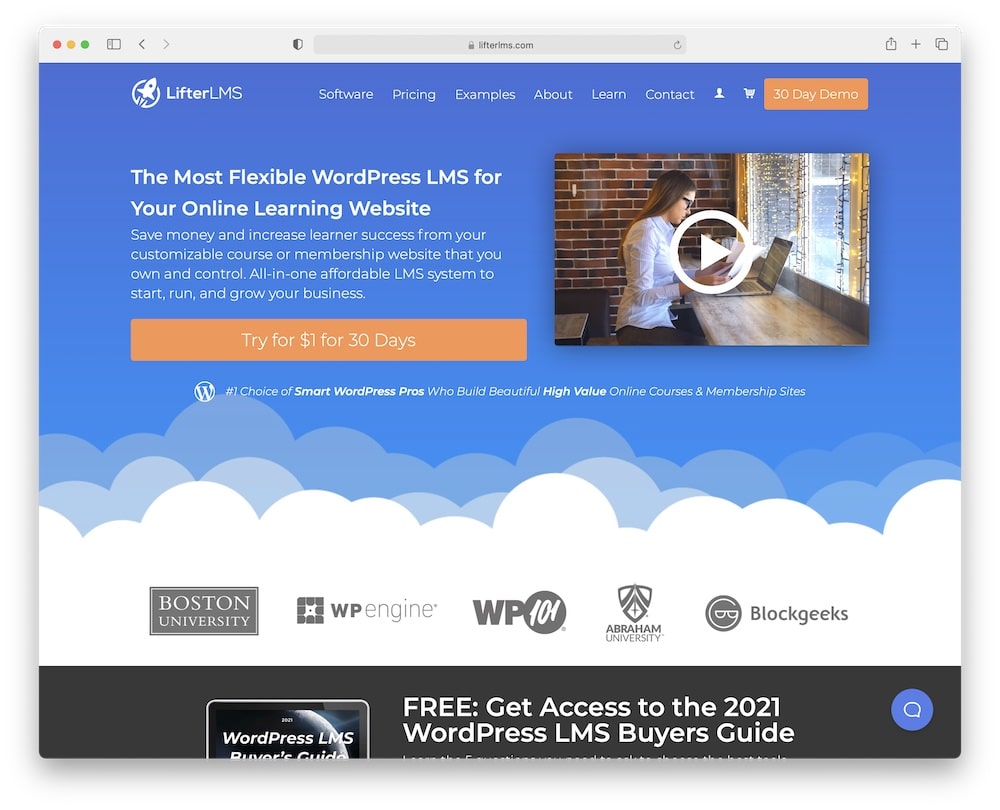 If you are looking for an affordable yet powerful LMS plugin, LifterLMS might be the best choice for you. (It's our favorite) With LifterLMS you can create multimedia lessons, quizzes, drip content, etc.
Trusted by many, this WordPress LMS plugin has made a name for itself over the past few years.
One of the many features that this plugin offers is that you can give your students certificates and achievement badges for the completed course.
LifterLMS integrates with many popular apps. So, you do not have to worry about the payment options and any other extensions.
LifterLMS features:
4.5/5 ratings
Gradebook based on student progress
Private coaching
Unlimited pricing models
Price: $120+ (may vary)
MORE INFO / DOWNLOAD
8. MasterStudy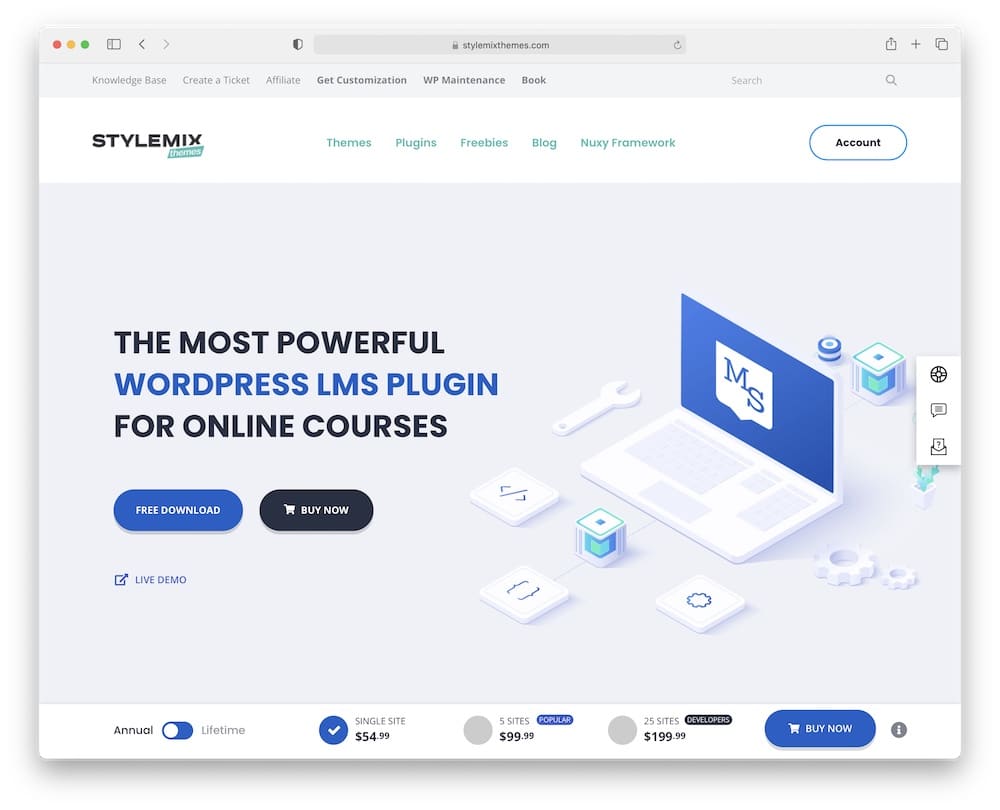 MasterStudy is a flexible and easy-to-use LMS plugin. It provides you with features that you can use to create an educational website from scratch.
With this WordPress LMS plugin, you can create comprehensive online courses and manage every little detail on your website.
One of the main advantages of MasterStudy is its user-friendly interface that allows you to create anything you want fast, without coding.
From courses, certificates, quizzes, content drip to co-instructors and grade books, MasterStudy has everything you need.
MasterStudy features:
4.3/5 ratings
Teacher profiles
Shopping cart
Integrated with the most famous apps
Price: $54.99+ (may vary)
MORE INFO / DOWNLOAD
Best Free WordPress LMS Plugins
9. Tutor LMS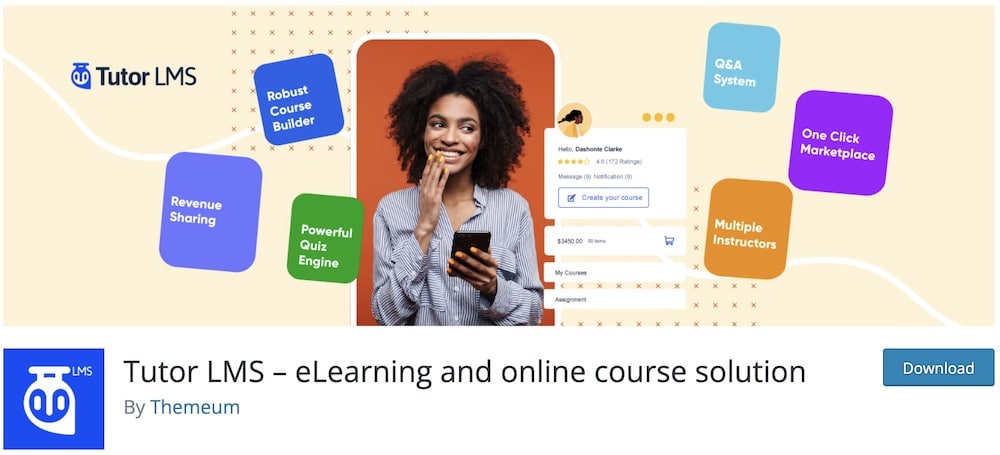 Tutor LMS is one of the best choices on the market when it comes to powerful and free LMS plugins.
You can create an unlimited number of courses and lessons in a few simple steps with its intuitive course builder.
Tutor unlocks tons of options for your eLearning platform. First, you can create multiple video courses and awesome quizzes.
Also, you can track and manage every little detail, from your teachers' profiles to payment methods.
Finally, during our testing, Tutor LMS proved to have one of the best support teams out there.
Tutor LMS features:
40,000+ active installations
4.7/5 ratings
Purchase history
Multiple video sources
Page builder support
MORE INFO / DOWNLOAD
10. LearnPress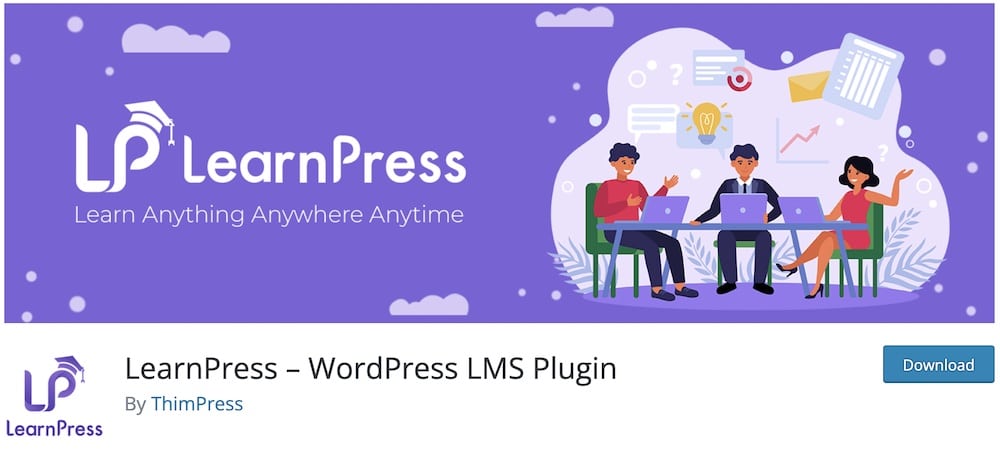 LearnPress easily made it into our top picks as it is one of the most popular free WordPress LMS plugins on the market.
It has everything you need to create a terrific website.
You can create a wishlist for your students and communicate with them using the integrated BuddyPress plugin. Although LearnPress is a free plugin, there is also a premium version with various add-ons.
LearnPress is translated into many languages, from English, French, German to Spanish, Indonesian and Chinese. This will help you build an international community.
LearnPress features:
100,000+ active installations
4.4/5 ratings
Easy-to-use
Works with every theme
Numerous payment methods
MORE INFO / DOWNLOAD
11. Sensei LMS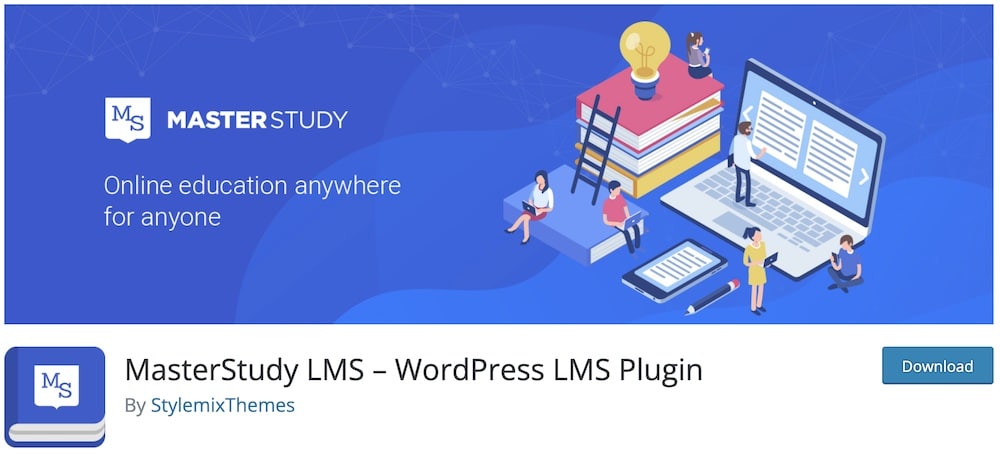 In our final selection, we have Sensei LMS. During our review, we didn't encounter any issues integrating this plugin into our website.
In this free WordPress LMS plugin, you will find several great features to work with. A great advantage of Sensei LMS is that it supports 15 different languages.
Apart from that, the plugin acts as a perfect WooCommerce paid course extension. This makes its platform ultimately lightweight.
Create courses, quizzes, and lessons specific to your audience in just a few steps.
If you are looking for a free, yet comprehensive LMS plugin, Sensei LMS is a great choice.
Sensei LMS features:
10,000+ active installations
3.6/5 ratings
Unlimited online courses
Zero coding required
Great support
MORE INFO / DOWNLOAD