Are you seeking the best free WordPress survey plugins for your website or blog?
HURRAY, you have come to the right place.
Many users asked us for our survey plugin recommendations over the last few months.
For this reason, we have tested many options and selected the BEST ONES for you.
This post covers:
Conducting surveys and polls is one of the most innovative ways to interact with your customers.
They allow you to explore how your customers/visitors feel about your products or services. (Even if you're conducting research!)
The Best Free Survey Plugins for WordPress
Quick-Pick: My Best WordPress Plugins For Surveys
Let's go!
Note: You may also want to read our easy guide on installing a WordPress plugin if you're a beginner.
Best Free WordPress Poll & Survey Plugins
1. Brave Popup & Survey Builder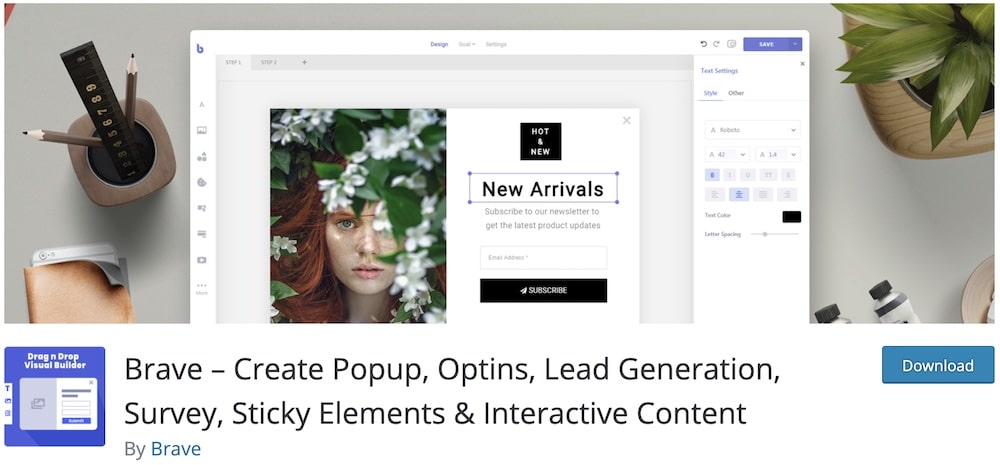 Brave needs no introduction. This is one of the most famous plugin developers, with 200+ plugins for you to choose from.
They have developed an innovative popup builder perfect for polls and surveys. (But you can also use it to create a popup for your WordPress site.)
Brave Popup Builder was by far the most powerful survey plugin we tested. Brave includes all the essential widgets and a beginner-friendly drag-and-drop builder.
This plugin has 9 fully customizable elements (image, text, button, etc) that allow you to quickly create any type of popup form.
So, Brave Popup Builder is a brilliant choice for anyone who wants to create surveys, newsletters, feedback forms, contact forms, etc.
Brave Popup Builder features:
20,000+ active installations
4.8/5 ratings
Newbie-friendly visual editor
Set custom goals & targeting
Fully-editable elements
MORE INFO / DOWNLOAD
2. WPForms Form Builder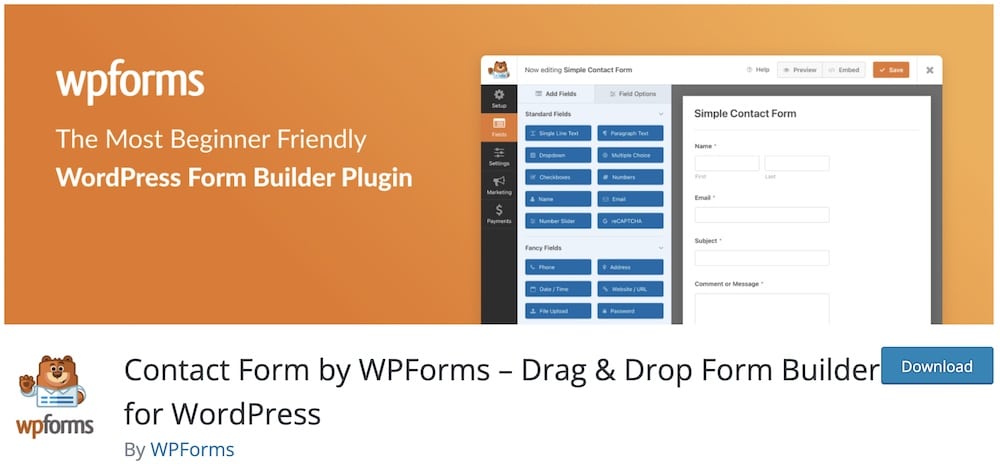 WPForms' Form Builder is by far the most popular plugin on the list, with more than 4 million (!) active installs.
That's understandable because WPForms has created over 100 form templates for you to choose from.
Form Builder is a compelling way to create surveys and polls for your website visitors. But with this plugin, you can generate any type of form you want.
ANY!
Build subscription forms, polls, payments, and contact forms. Like. A. Champ.
This free WordPress survey plugin is powerful, responsive, and mobile-friendly. Apart from the relatively expensive PRO plan, WPForms simply has no drawbacks.
The free version worked for us fantastically well.
WPForms features:
5+ million active installations
4.9/5 ratings
Fully-customizable
More than 100 templates
Smart conditional logic feature
MORE INFO / DOWNLOAD
3. Woorise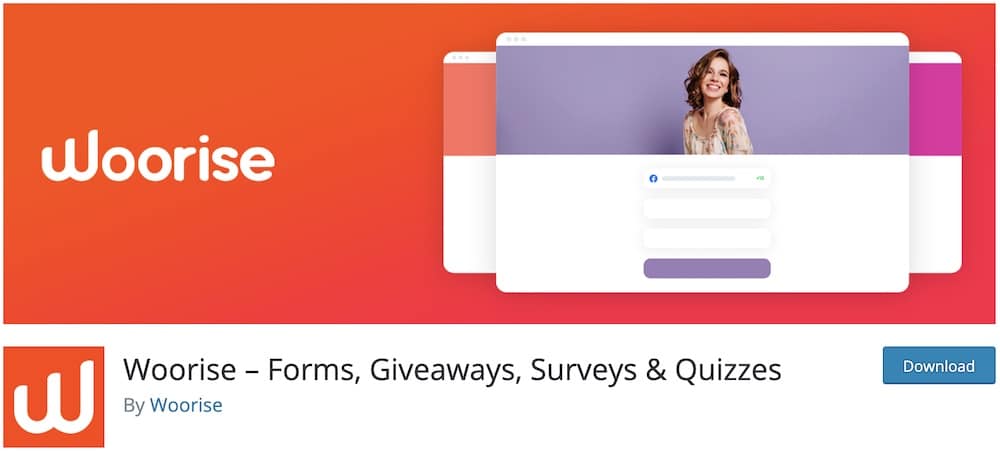 Like Brave Popup Builder, Woorise is an all-in-one platform that helps you connect directly with your website visitors. It's more than just a free WordPress survey plugin.
Rather, it is a robust tool that allows you to create numerous interactive campaigns in a matter of minutes.
You can easily use the Woorise block or shortcode in any page builder to create surveys, quizzes, giveaways, or even payment collections. (It also works great with WordPress translation plugins!)
Additionally, if you want to engage and grow your social media audience, Woorise also provides you with various pre-built social actions, embedded social widgets, and follow buttons to make this possible.
Woorise features:
MORE INFO / DOWNLOAD
4. Quiz Maker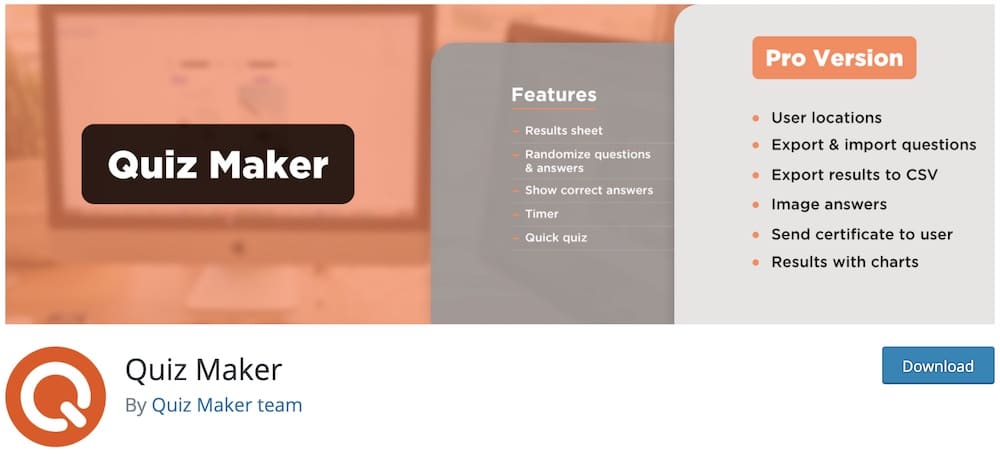 Quiz Maker Team developed this plugin to provide WordPress users with a powerful builder for advanced quizzes and surveys.
Quiz Maker proved to be a fully customizable solution that allowed us to create multiple types of surveys during our testing.
You can also create comprehensive quizzes that include images, audio and video questions with this free WordPress survey plugin.
Another great feature of Quiz Maker is an advanced survey planner. This allows you to create a survey in advance and publish it to your website at a specific time.
Finally, Quiz Maker offers real-time results. This way, you can learn interesting facts, such as time it took visitors to complete your survey.
Note: Don't forget to check our best WordPress quiz plugins collection for even more options.
Quiz Maker features:
20,000+ active installations
4.9/5 ratings
Supports videos, audio, images, etc.
Show correct answers
Great support team
MORE INFO / DOWNLOAD
5. Survey Maker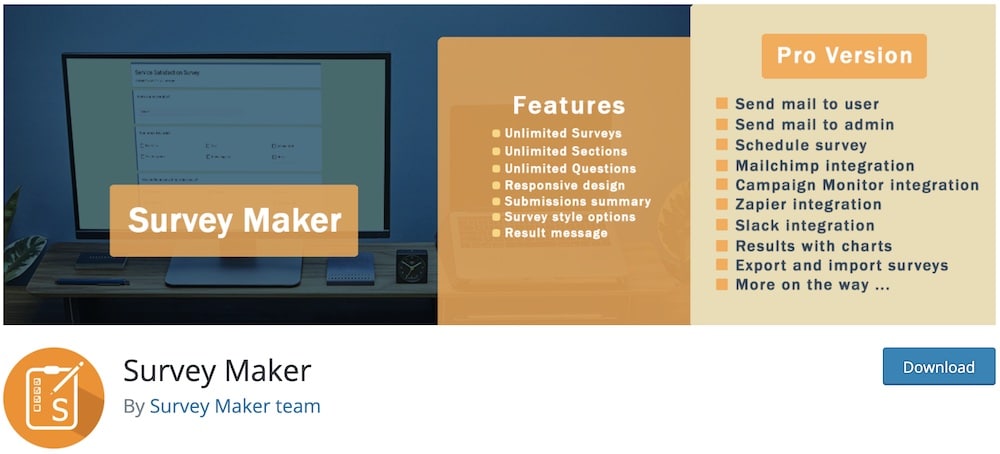 This is a great choice if you need an easy-to-use survey plugin with a built-in analysis of the data collected from your audience.
Survey Maker is a free plugin that offers 11 types of survey questions. No category is left out from radio and yes-or-no questions to checkboxes and short text surveys.
During our testing, we encountered no issues installing or using Survey Maker.
Add to that that this plugin is very responsive and mobile-friendly, and it becomes a tool you should try.
Remember, you can also use the upgraded pro version of this survey plugin if you want more functionality.
Survey Maker features:
3,000+ active installations
5/5 ratings
Easy-to-use
Mobile friendly
Useful video guides & tutorials
11 survey categories
MORE INFO / DOWNLOAD
6. Formidable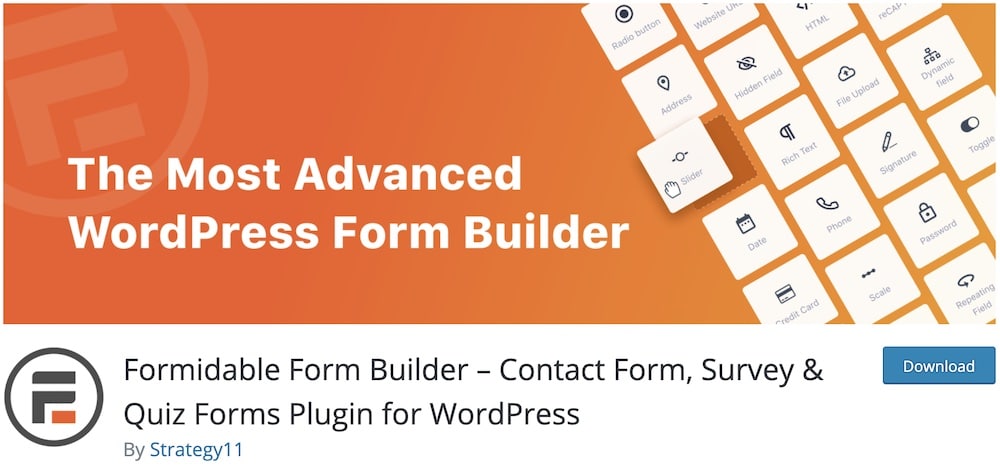 Formidable is also a very popular free WordPress survey plugin, and for a good reason. In our testing, this plugin proved to be one of the most flexible solutions.
Formidable offers many advanced features and you can easily edit everything in the free version.
It's 100% responsive and the surveys we created looked fantastic on all devices.
Lastly, the dragging and dropping method makes the whole process easier. For this reason, Formidable is a great choice for both beginners and professionals.
Formidable features:
300,000+ active installations
4.7/5 ratings
Great support team
Very flexible
Ideal for any form type
MORE INFO / DOWNLOAD
7. Opinion Stage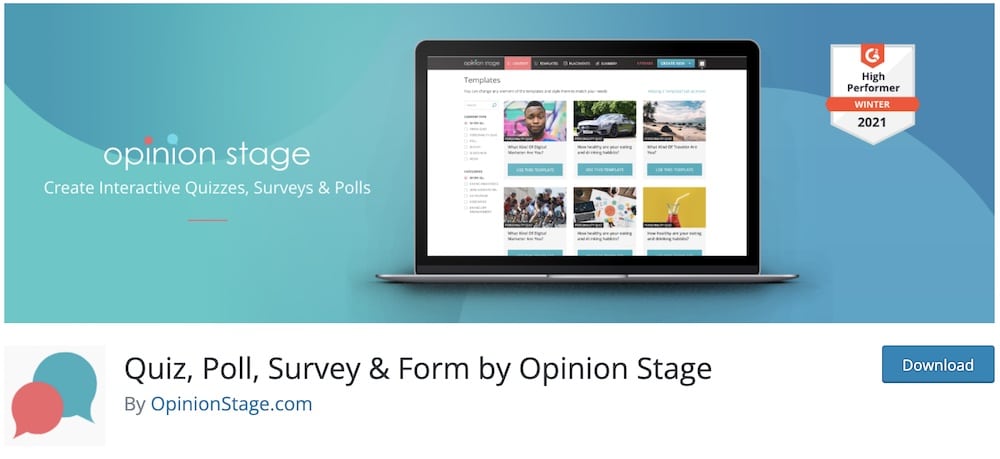 Whether you are a developer or a WordPress website owner, Opinion Stage will prove to be a lifesaver.
We have used this plugin for many clients since it is an easy-to-use and quick form creator.
You can create feedback surveys, quizzes, add a contact form, and more with Opinion Stage.
Also, this plugin works great when it comes to opinion polls. (That's where the name comes from.)
Summing up, Opinion Stage is a brilliant tool allowing you to interact with your website visitors on a deeper level.
Opinion Stage features:
10,000+ active installations
4.4/5 ratings
Ideal for opinion polls
Custom branding
Add images & videos
MORE INFO / DOWNLOAD
8. QSM: Quiz and Survey Master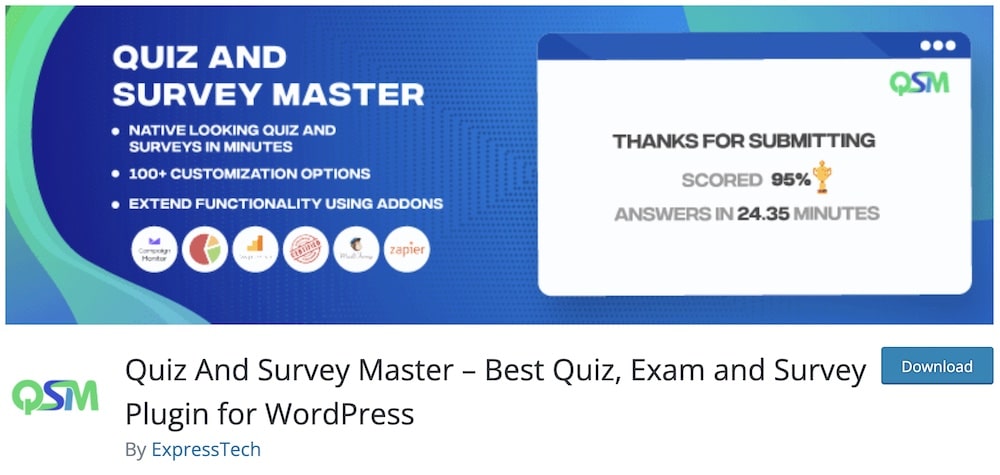 QSM easily made it into our top picks with 7 form types and 4 themes. ExpressTech is widely known for its top-notch plugins, which include extensive documentation.
QSM free WordPress survey plugin is no exception. The developer has provided a demo for each form category and detailed instructions on using the plugin. (Check it first!)
This tool allows you to create the right type of quizzes and surveys.
From multiple-choice or true/false questions to checkboxes and open-ended questions, QSM has it all.
QSM features:
40,000+ active installations
4.8/5 ratings
Amazing documentation
Extremely customizable
Survey entry limit
MORE INFO / DOWNLOAD
9. YOP Poll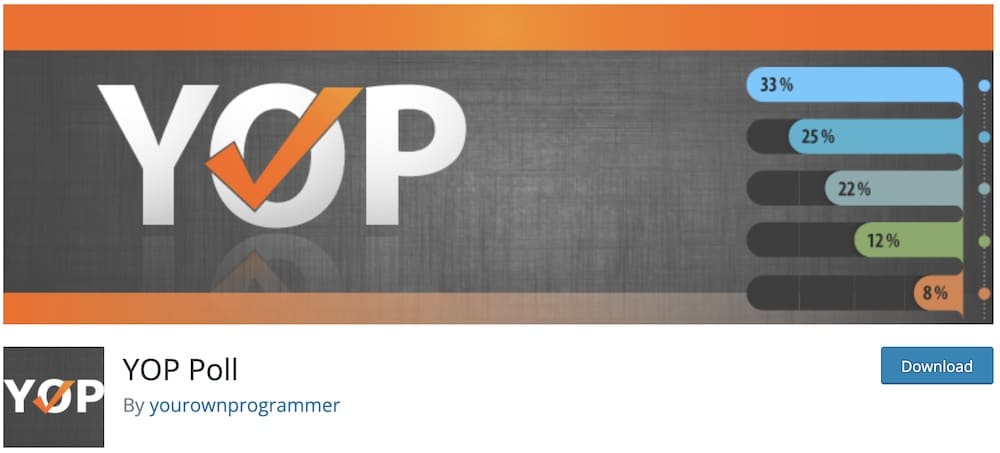 Even though YOP is our final suggestion, it made it onto our list for many reasons. Yourownprogrammer is one of our favorite plugin developers on the market.
Plus, YOP Poll offers one of the most user-friendly interfaces we could find and fully configurable built-in templates.
This free survey plugin is an all-rounder, especially when creating polls.
YOP's software is fast and accurate, and the surveys are ultimately mobile-friendly. Also, YOP Poll is perfect for beginners since it requires no coding to use it.
YOP Poll features:
20,000+ active installations
4.4/5 ratings
Schedule polls & surveys
Intuitive interface
0 coding needed
MORE INFO / DOWNLOAD
Why Use A WordPress Survey Plugin?
You should add a survey plugin to your WordPress website for many reasons.
But the one that's the most important is to gain more insights into what your users want and need.
You can then optimize your website further, making the user experience, products and services even better with the user feedback that the survey generates.
Luckily, you can create an online survey quickly with a plugin.
It provides all the necessary tools, fields and elements, so it works to your advantage. What we also like about WordPress survey plugins is their statistics, which help for further analysis.
Note: We recommend you always have a reason why putting a survey on your website. Don't do it just for (the sake of) user engagement because you can gain so much helpful information.
What To Look For In A WordPress Survey Plugin?
While setting up a survey on WordPress is easy and quick, you still need the right features to make it fun and engaging.
That's why we added only the plugins with many components to get the most out of the questionnaires.
A survey plugin for WordPress needs:
To be user-friendly (not requiring coding)
Multiple customization options to tailor it to your business & audience
A great layout & beautiful forms
To have great reporting & statistics (A MUST!)
Different ways of storing & sharing information & results
We tested every plugin for the necessary features, so you don't have to.
Which Is The Best WordPress Survey Plugin?
We still cannot decide which is the ABSOLUTE best survey plugin for WP, even after working on endless projects.
BUT!
We continuously switch between Formidable and WPForms – these two are the best we used.
Each plugin comes with great features (slightly different) to cover the needs of every online survey.
Frequently Asked Questions About Survey Plugins
Does WordPress have a survey tool?
No, WordPress doesn't have a survey tool by default. But it has many great plugins that allow you to quickly and easily create an online survey.
What is a survey plugin?
A survey plugin is an excellent tool that equips you with the necessary elements to create an online questionnaire for gaining useful information from your users.
How do I create an (free) online survey on WordPress?
The simplest way to create a free online survey on WordPress is to use a plugin. It doesn't require coding knowledge and offers predefined layouts and features to exclusively make it work for your business.
::
Note: This article was originally published on September 25, 2021. But our team regularly reviews it and updates it with necessary improvements for accuracy.