Are you looking for the best WordPress weather plugins to add the forecast to your blog or website?
What a COOL idea!
We added it multiple times, increasing the site's user engagement successfully.
However, finding a reasonable premium, let alone free weather plugin, is difficult.
For this reason, we tested 30+ plugins and picked out the best ones for you.
The following top selection contains the ideal solutions to add a forecast to your sites.
You will do it quickly, easily and without coding.
This post covers:
If you want your visitors to be ready when it's "pouring rain," read on!
THE ULTIMATE 3:
Best WordPress Weather Plugins & Widgets
1. City Weather for WordPress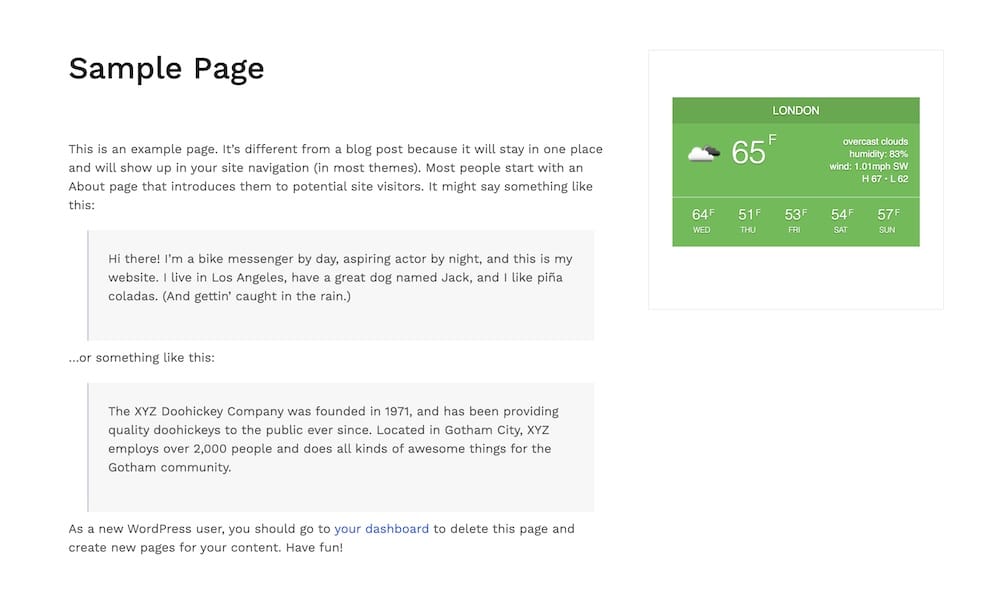 City Weather is our favorite premium WordPress weather plugin for many reasons. If you need to quickly add a weather forecast widget to your blog or website, City Weather is it!
During our testing, the plugin proved to be flexible and responsive. Adding the WP widget to any page or post is very EASY. All you need to do is enter the location.
Also, City Weather allows you to customize many widget elements, such as forecast days, title, size, background color, and more.
City Weather is a weather plugin that you should definitely try.
City Weather features:
30+ sales
4.5/5 ratings
Great support
Fully-customizable weather widget
Price: $16 (may vary)
MORE INFO / DOWNLOAD
2. Weather Forecast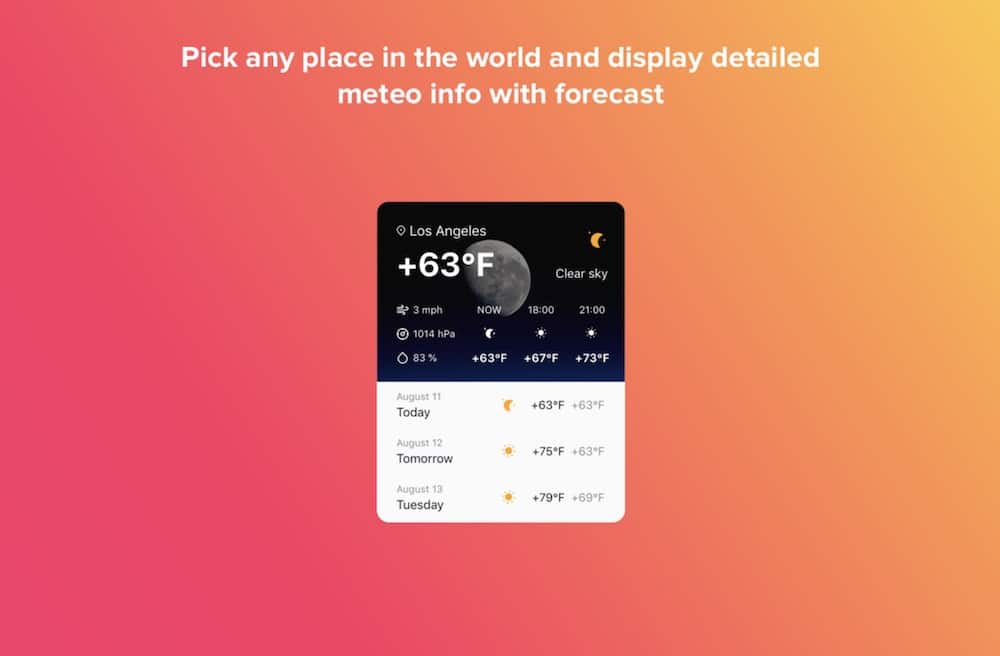 Weather Forecast easily made it to our list due to its coolness. This plugin by Elfisght has everything you need. It's lightweight, beginner-friendly, and allows you to create STUNNING weather widgets.
You can quickly create a weather widget and increase visitor engagement with this premium WordPress weather plugin.
Optimizing a weather forecast is simple as you just need to add the name, coordinates or ZIP code of a location.
Weather Forecast includes 5 widget designs for you to choose from. We really liked the combination of the designs to create beautiful weather-related WP sidebars.
Weather Forecast features:
480+ sales
4.3/5 ratings
5 widget designs
Modern, mobile-like design
Price: $24 (may vary)
MORE INFO / DOWNLOAD
3. Simple Weather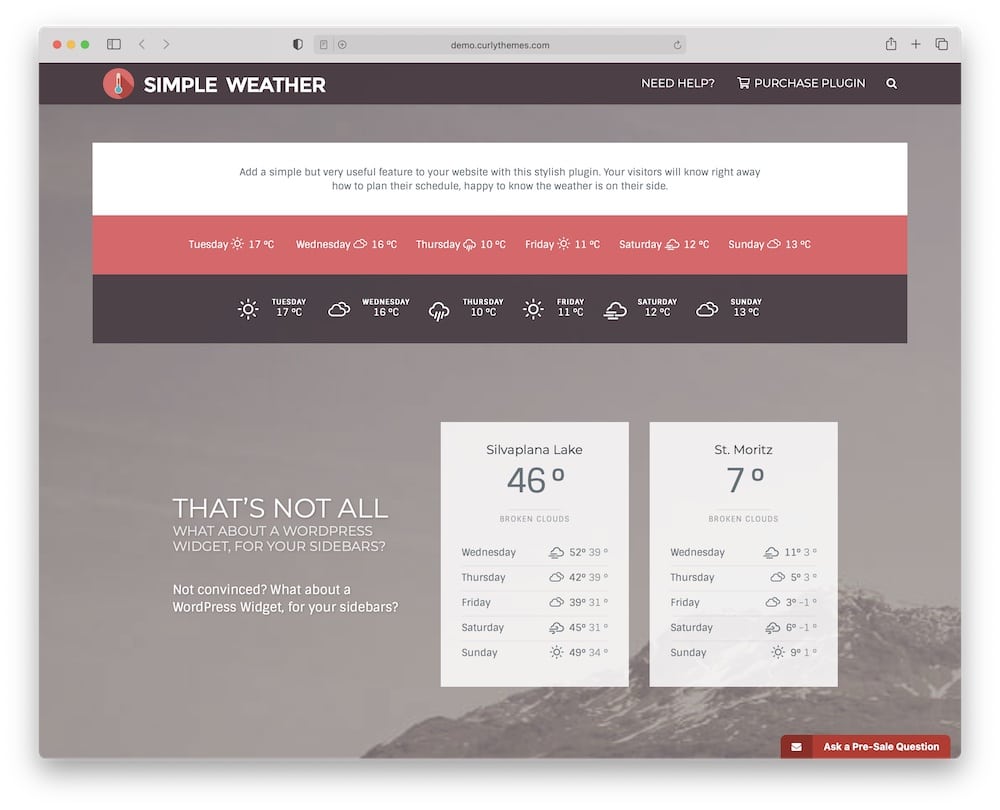 As with our previous selection, this plugin is a smart solution to add a weather widget to your site.
However, the difference with Simple Weather is that it's perfect for users who prefer to work with shortcodes.
Apart from that, this plugin is very powerful and editable.
You can easily CHANGE the forecast color, use metric or imperial units, view the daytime and nighttime temperatures, and much more.
Simple Weather features:
2,700+ sales
3.9/5 ratings
Metric or imperial units
Easily integrates with multilingual WP themes (comes in 17 languages)
Price: $18 (may vary)
MORE INFO / DOWNLOAD
4. Synopter (for Elementor)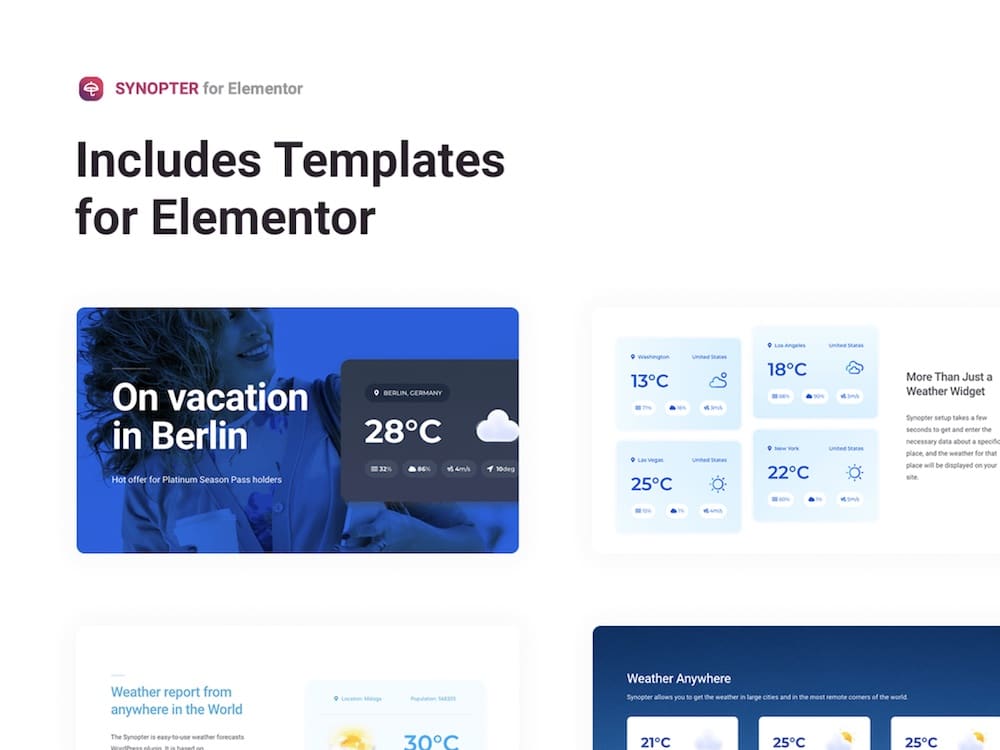 Synopter is an SEO-friendly weather plugin for WordPress. But what makes Synopter different from other weather plugins?
Well, Synopter allows you to add weather forecasts through Elementor (exclusively). It greatly expands the possibilities of this already ultimate WordPress page builder.
Great customizations!
We had no problems configuring the weather characteristics via CSS filters, uploading our SVG icons, changing the language, and more during our review.
If you are using Elementor builder and need a HIGH-QUALITY WordPress weather plugin, Synopter is your best choice.
Synopter features:
160+ sales
5/5 ratings
Easy-to-use
You can upload your SVG icons
Price: $12 (may vary)
MORE INFO / DOWNLOAD
5. Always Sunny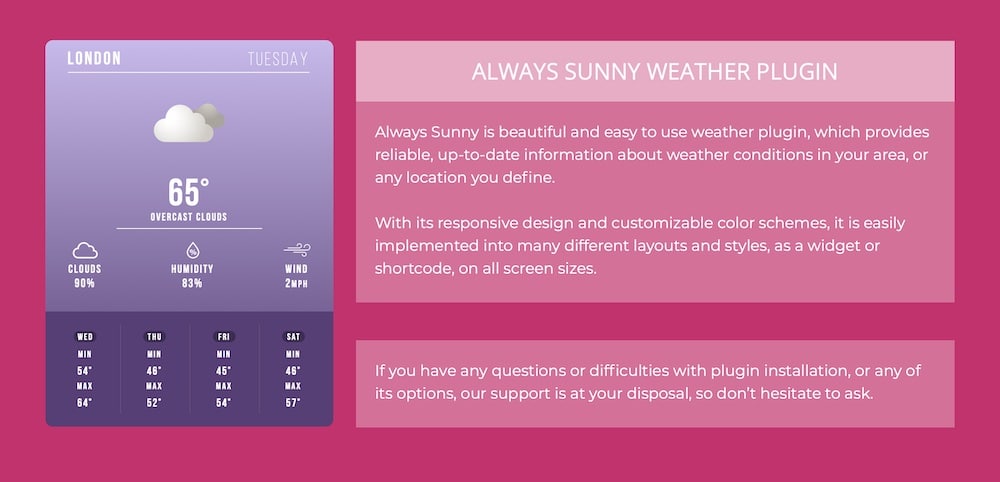 With one of the most detailed documentation and an ultimately modern widget design, it's no wonder why Always Sunny is such a popular weather plugin.
We ENJOYED using it quite a bit.
You can add Always Sunny to your website in two ways: either via a shortcode or as a WordPress widget.
This weather plugin can also display detailed percentages like clouds and humidity.
Therefore, Always Sunny is the best plugin for advanced weather measurements (temperature, weather patterns, data points).
Always Sunny features:
180+ sales
4.7/5 ratings
Detailed forecasts
Light & dark designs
Price: $13 (may vary)
MORE INFO / DOWNLOAD
Best Free WordPress Weather Plugins
7. WP Forecast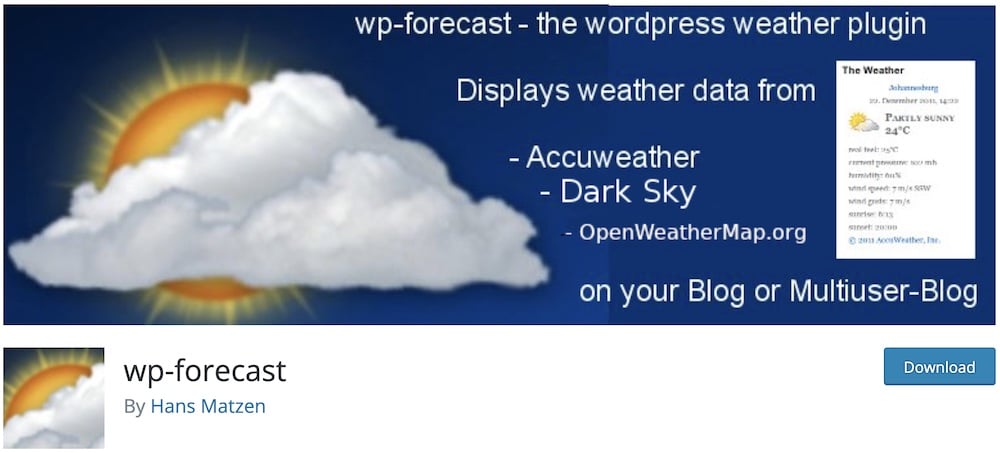 WP forecast is one of the most popular forecast widgets for WordPress.
There are many reasons why this plugin has a huge following. The app is very lightweight, fully responsive and customizable.
WP forecast displays meteorological data that comes from AccuWeather.com and WeatherBug.com. This makes the forecasts VERY reliable.
As for flexibility, the plugin lets you choose the location, units of measurement (metric or American), forecast days, and more.
We set it up on three blogs and one news site and it always worked like a charm.
WP Forecast features:
10,000+ active installations
4.5/5 ratings
Integration via CSS
Great support
Fully-editable
MORE INFO / DOWNLOAD
8. Location Weather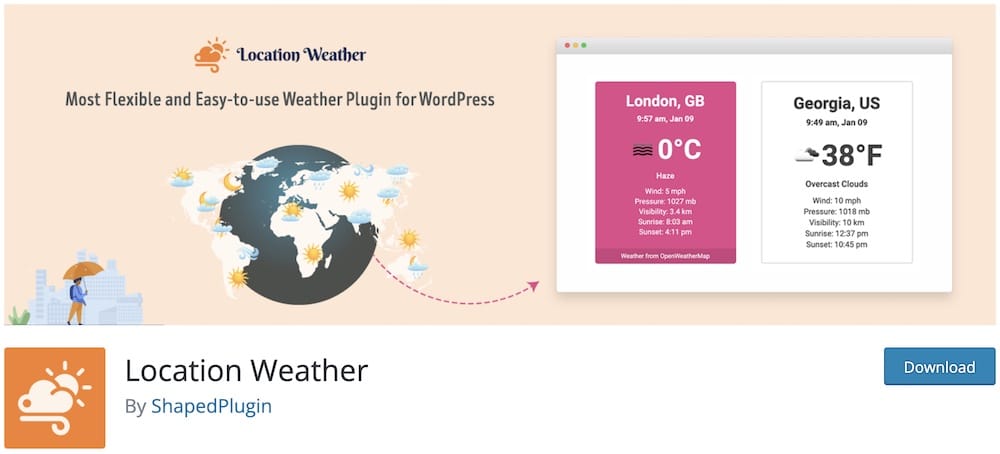 We always like to use plugins that provide detailed documentation and video tutorials on how to get started. Location Weather is just that.
This is your best bet if you are looking for a beginner-friendly plugin that lets you display beautiful forecasts.
Location Weather is a completely free WordPress weather plugin that works perfectly on any device.
Even though it is not the most customizable widget on the list, Location Weather integrates many advanced elements.
You better NOT MISS checking it out if you are into simplicity.
Location Weather features:
8,000+ active installations
3.6/5 ratings
0 coding needed
Fully-responsive
Supports 45 languages
MORE INFO / DOWNLOAD
Does Your Website Need a Weather Widget?
Nope, you don't need to add a weather widget to every site. It's more often than not that you'd want to skip it.
However, here are four occasions where adding a water plugin will boost your website's user experience:
Events: If you're hosting an event or a concert, including a weather widget will be beneficial. Especially in the case of multi-day events and festivals, attendees can check what the weather is like in your area to plan accordingly.
Outdoor Activities: If you offer any outdoor activities, yup, including a weather widget will come in handy. Users can even book your services based on it.
Travel and Tourism: Travel agencies, hotels and other accommodation and tourism businesses can save their customers time by featuring a weather widget on their website. (So they don't need to check elsewhere for the forecast.)
News: While global news portals won't necessarily benefit from a weather widget, local ones will! We highly recommend adding a weather widget if you run one or plan to build a new site.
How do I add weather to WordPress?
Luckily, adding weather to your WordPress website is very easy with a plugin.
You can use a free (for basic display) or premium (for advanced display) version, set location, configure other necessary settings and that's it.
Note: You can ready through our guide on how to install a WordPress plugin if you're doing it the first time.
You can then copy and paste the shortcode or use a custom widget in any of your site's widget areas.