Are you searching for the best free and premium WordPress contact form plugins?
While we focused mainly on free plugins (they WORK in most cases!), we added two premium options. (Just in case.)
Although phone numbers and WP live chat plugins are super-efficient solutions, we highly recommend you give your customers more ways to reach you.
The more options, the better.
This post covers:
You now have EVERYTHING you need to include a contact form anywhere on your blog or website you want.
Reliable, effortless and professional.
THE ULTIMATE 3:
Feel free to check how to install a WordPress plugin if you're using your first one.
Best Premium WordPress Contact Form Plugins
1. Quform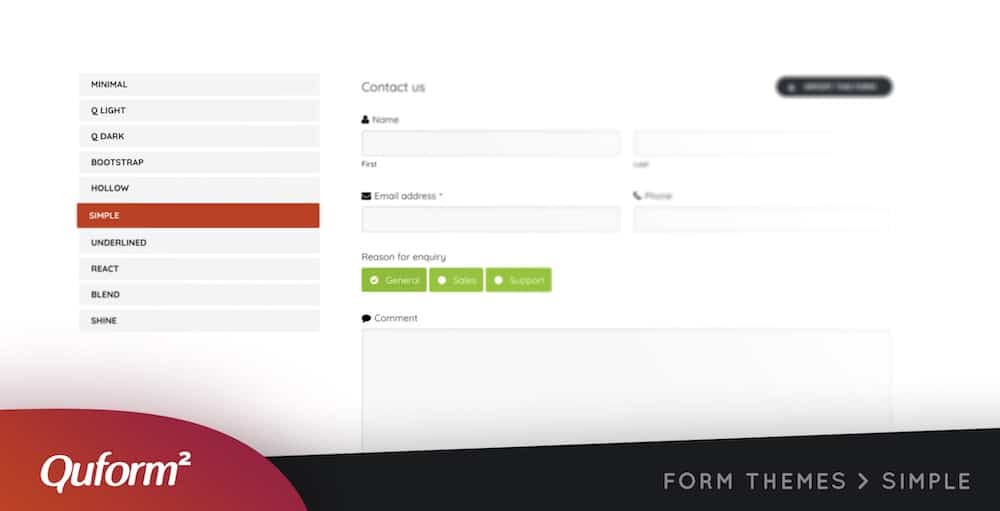 Our first premium selection is the recently updated Quform plugin. It is one of the most advanced contact form plugins on the market.
By combining excellent reviews with our thorough test, we can safely say that Quform is the best in the game!
More specifically, this plugin uses a fully customizable form with more than 15 elements to choose from. That means you can EASILY create numerous forms and manage your lists.
The plugin stands out for its reCAPTCHA feature and the fact that it is fully responsive.
You can preview your form when creating it with the drag-n-drop method, which is really cool.
Quform features:
MORE INFO / DOWNLOAD
2. FormCraft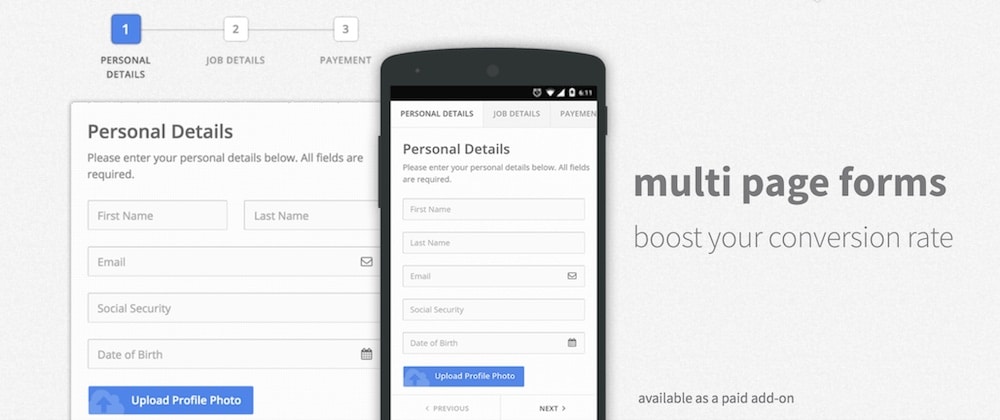 We always prefer plugins that include drag & drop builders. You can easily select an element of your choice from the menu, drag it, and drop it where you want with FormCraft.
It does not matter if you want to create simple contact forms in WP or more complicated ones because there are numerous fonts, layouts, and more that you can use to fully customize your form.
Plus, this premium WordPress contact form plugin is lightweight and fast, keeping your website's performance intact.
Perhaps the BEST thing about this plugin is that FormCraft added a real-time web analytics form that allows you to check conversion rates and payments after the latest update.
FormCraft features:
20,500+ sales
4.4/5 ratings
Includes templates
10-day money-back guarantee
Price: $30 (may vary)
MORE INFO / DOWNLOAD
Best Free WordPress Contact Form Plugins
3. Contact Form 7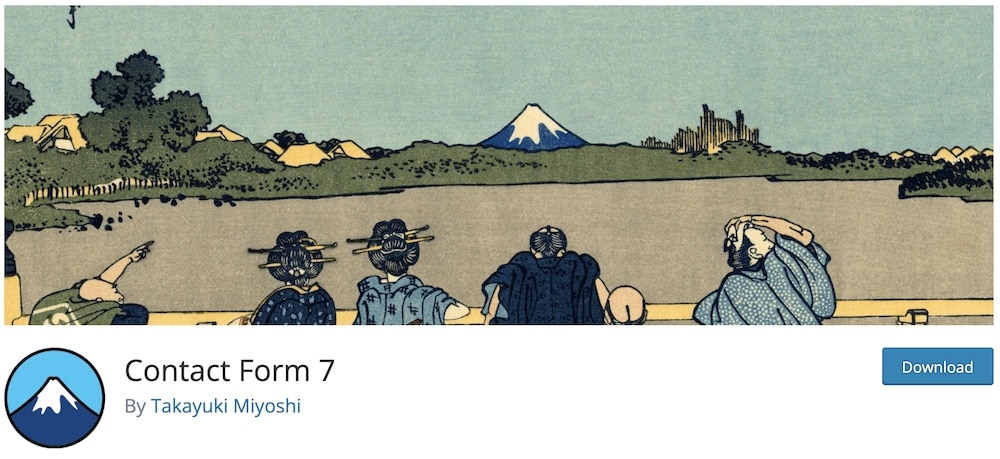 With more than 5 million active installations, Contact Form 7 needs no introduction. It is one of the most popular free contact plugins on the market due to its simplicity and style.
You can customize multiple contact forms in no time and place them on your website even more accessible with this plugin.
You can also quickly change the content of the emails.
One of the best things about this premium plugin is that it can work PERFECTLY with CAPTCHA, Ajax-powered submission, Akismet spam filtering, and many other plugins and tools.
Contact Form 7 features:
5+ million active installations
4.1/5 ratings
WP shortcode use
Easy-to-use
Great support
MORE INFO / DOWNLOAD
4. Ninja Forms (Our fav!)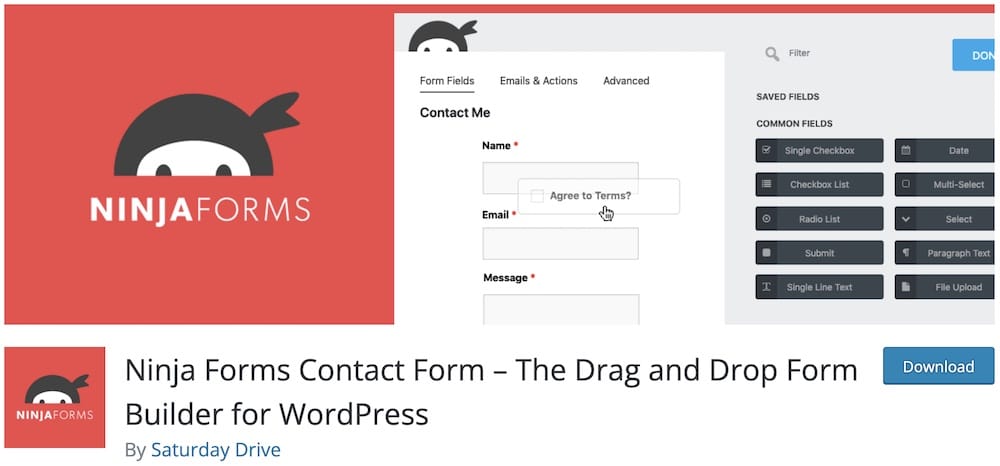 Next on our list is one of our favorite contact plugins, Ninja Forms. We love it because it's a free and beginner-friendly plugin with countless simply designed forms.
One of the best features is editing and exporting all of your form submissions. Plus, you can SAVE any of the fields you create to your favorites and use them in your next project.
This free WordPress contact form plugin is also fully responsive and SEO-friendly. Finally, you have spam protection with Google reCaptcha and Akismet.
Ninja features:
900,000+ active installations
4.4/5 ratings
Accept payments with a payment form
Works with any theme
MORE INFO / DOWNLOAD
5. Formidable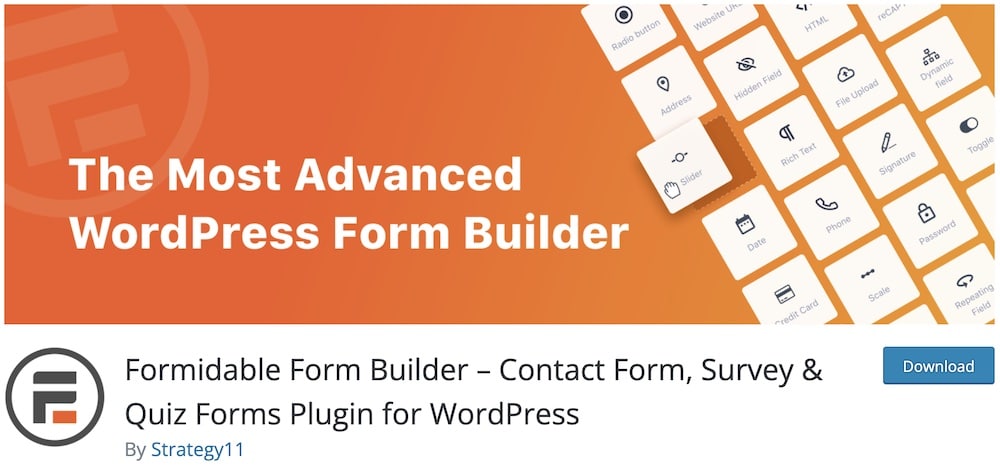 This fantastic free contact plugin is one of the most advanced. Formidable includes many great features that allow you to MAKE a thoroughly styled and fully responsive contact form.
You can create a plugin for your website within seconds. Also, among the best features, you can easily export and import forms, customize the plugin, and much more.
What's cool, you can create payment forms. (Accepting payments has never been this easy!)
If you are looking for a great free WordPress contact form plugin beyond the standard contact form, Formidable is for you.
Formidable features:
300,000+ active installations
4.7/5 ratings
Email notifications
Multiple upload forms
Date picker options
MORE INFO / DOWNLOAD
6. Contact Form by BestWebSoft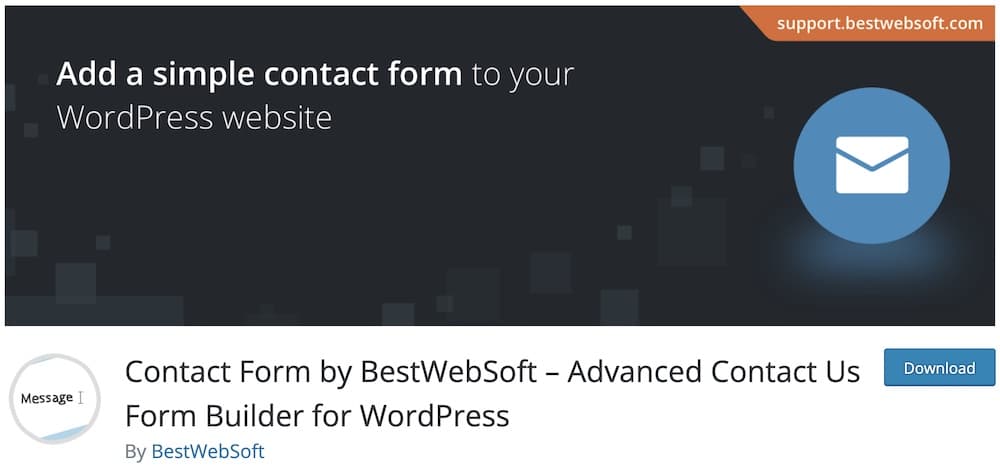 If you prefer a plugin that solves your email problems, then Contact Form by BestWebSoft is the best option for you. It takes a few clicks for installation and activation.
The best part is that you can decide whom you want to send the input in the form.
Also, BestWebSoft helps you add a field that allows your customers to include attachments and send a copy of the email.
With this free WordPress contact form plugin, you can also enable the auto-reply option with a message that you can edit at any time.
Contact Form is a well-organized plugin to help you communicate better and faster with your customers.
Contact Form features:
60,000+ active installations
4/5 ratings
Great video guides
100% editable fields & form look
Captcha & reCaptcha spam protectors
MORE INFO / DOWNLOAD
7. Forminator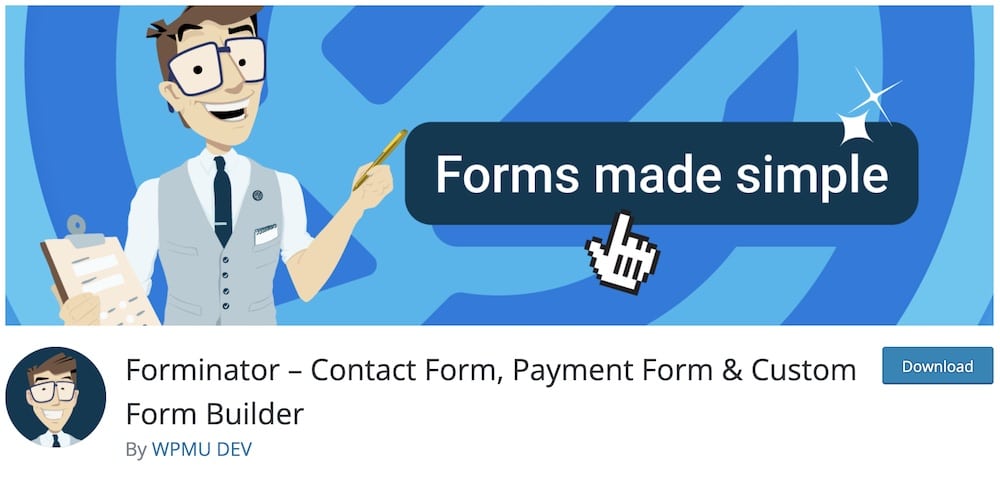 Forminator is a user-friendly, free WordPress contact form plugin that to connect with your customers easily. This plugin also proves to be very reliable when it comes to creating quizzes, surveys, and polls. (We tested it, and it worked well!)
This is a fantastic way to interact with your customers in a COOL and FUN way.
An all-around solution, if you will.
Probably the best thing about this plugin is that it includes more than 1,000 3rd-party apps like email services, storage, project manager, and more.
You can also create and develop your extensions and sell them through Forminator or give them away for free.
Forminator features:
MORE INFO / DOWNLOAD
8. Visual Form Builder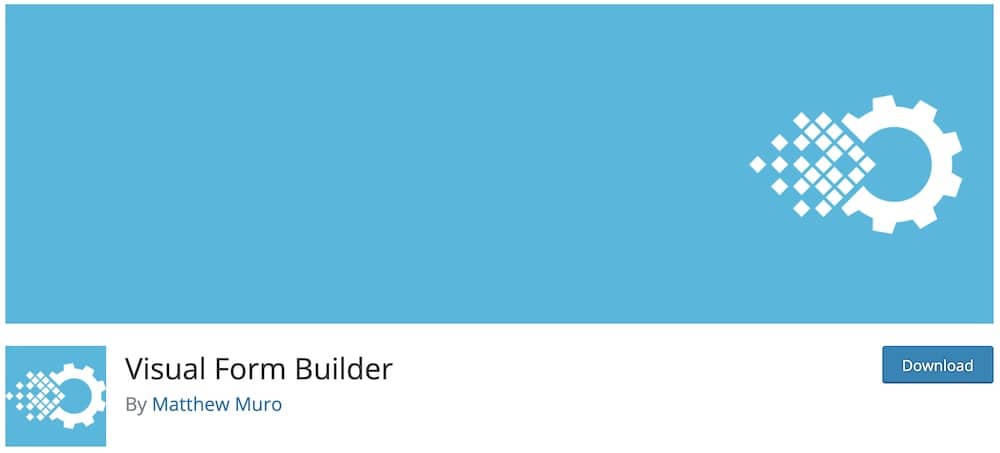 The Visual Form Builder is a good choice if you prefer a drag-and-drop contact plugin that you can EASILY manipulate. It is available in a free and a pro version.
This WordPress contact plugin also allows you to export your forms to a CSV file.
It automatically saves the forms you create in the WordPress database for quick access.
The field types that this free WordPress contact form plugin offers are numerous. Some of them include: URL, currency, drop-down field, textarea and more.
Finally, you can customize the confirmation messages by redirecting to a WordPress page or customizable URL.
Visual Form Builder features:
40,000+ active installations
4.2/5 ratings
Multiple field layout options
Redirect to a WordPress Page
Confirmation Email
MORE INFO / DOWNLOAD
9. Form Maker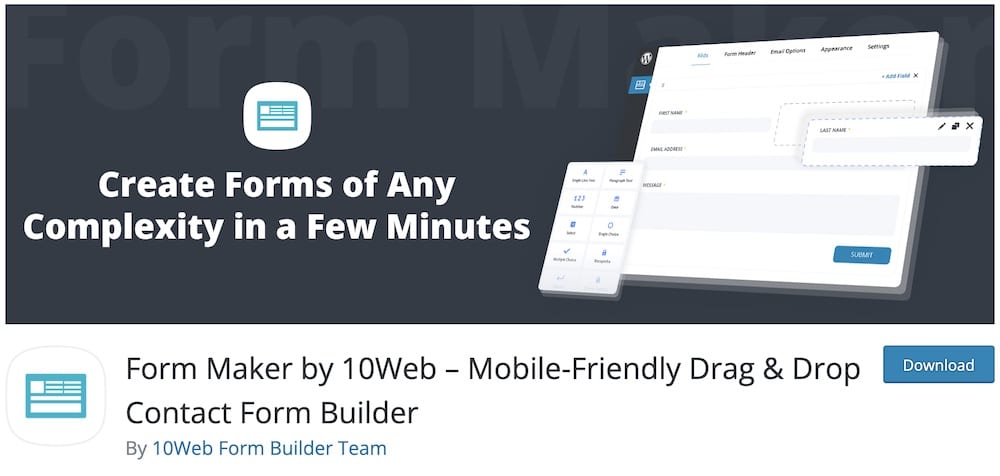 If you are looking for a contact form plugin that can turn complex, customizable tasks into a breeze, then this is your best bet.
You will get the best support to understand and learn how to use the plugin step-by-step. Also, you can use pre-made templates that will help you build faster.
With this free WordPress contact plugin, you can also receive payments and donations. (You can also check our top WordPress donation plugins for more options.)
For you to ENJOY the plugin, the developers have created an environment that completely protects you from malicious content by blocking IPs and setting captchas.
Form Maker features:
70,000+ active installations
4.5/5 ratings
Conditional logic
Multi-page forms
Fully customizable themes
MORE INFO / DOWNLOAD
10. Simple Basic Contact Form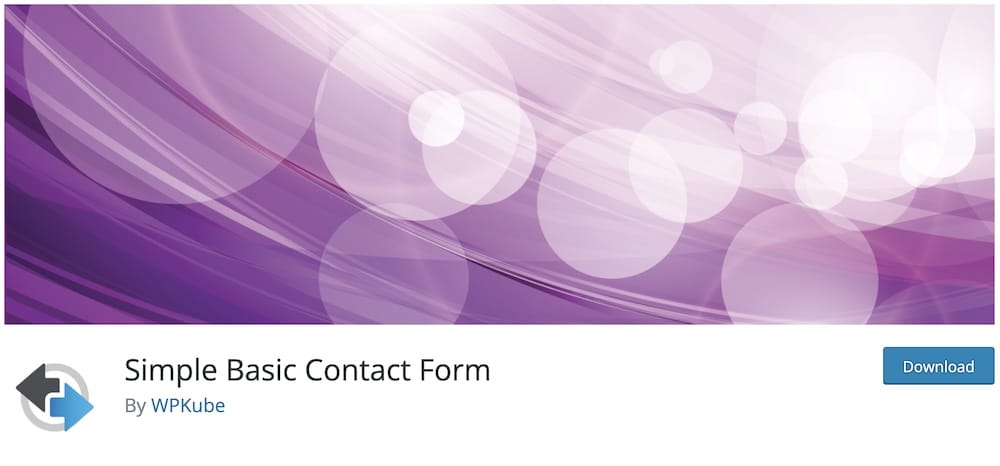 Next on our list is the Simple Basic Contact Form. This terrific plugin, as its name suggests, is simple to use.
If you need a straightforward yet powerful contact form plugin to chat with your customers WITHOUT complex commands, then this is the best solution for you.
It also provides template tags and shortcodes that use SBCF to make your job easier.
Moreover, it is a responsive plugin that works perfectly (without JavaScript). You'll be amazed by the interface's simplicity (just like we were).
Simple Basic Contact Form features:
10,000+ active installations
4.8/5 ratings
Can add shortcode anywhere
Spam protection
Lightweight
MORE INFO / DOWNLOAD
11. Everest Forms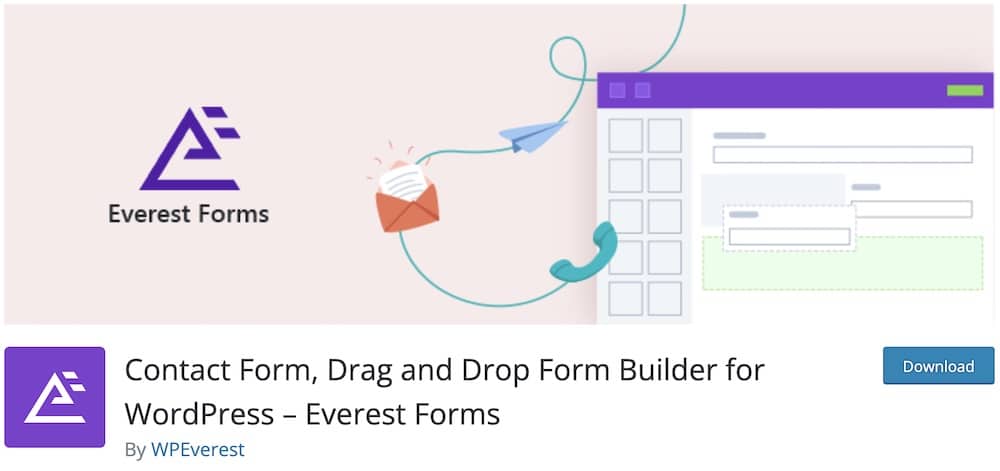 This free WordPress contact form plugin is an excellent and flexible solution. Everest Forms is a fast and lightweight plugin that will help you take your WordPress experience to the next level.
The plugin also gives you access to an extensive collection of pre-built forms. This doesn't mean you don't have the FREEDOM to create your own.
Everest Forms allows you to edit the elements of any form fully.
Also, it does not matter if you use a mobile or a laptop because the forms will display seamlessly on any device.
Everest Forms features:
100,000+ active installations
4.9/5 ratings
No coding needed
GDPR compliant forms
MORE INFO / DOWNLOAD
6 Key Features Of A WordPress Contact Form Plugin
While a contact form is a pretty basic thing, you still need to make sure everything works properly.
Also, you won't be able to do much with a free plugin, but things change for the better with premium ones.
Still, the free version (we have really epic ones here!) will be more than enough for most users (including us at ULTIDA).
But if you would like to add front-end file submission and things like conditional logic (but some free ones have it, too), then a pro version will be better.
This Is How We Tested WordPress Contact Form Plugins
These six key features were also on our minds when we did the testing and reviewing to pick the best plugins for this list.
Responsiveness: This one is obvious, but it's hard to believe that unresponsive plugins still exist. If you pick any of the contact form plugins from this list, mobile optimization isn't something to worry about. But make sure you double-check if you plan to do further research.
Customization: The plugin needs to offer you at least some kind of customization options (even if it's a free one!). The more, the better! This leads us to:
Form Builder: Instead of working with code (boring!), a drag-and-drop form builder is something that will save you a lot of time.
Notification(s): This is the message you normally get informing you that the form was sent successfully. Some plugins even offer an email confirmation (but I think that's unnecessary).
File Submission: An option to add files to the contact form isn't for everyone. But when you need it, it's great if the WordPress contact form plugin you use already has the functionality built-in. You just activate it, and you're ready to go.
Spam Protection: Another crucial one is spam protection. This could be reCAPTCHA or anything else. But if you use anti-virus software to prevent (as much) spam (as possible), the contact form plugin's spam protection may not be required.