Are you searching for the best free and premium related post WordPress plugins?
You should use the related post functionality to reduce your website's bounce rate and boost user engagement. (We all do!)
You won't believe how EFFECTIVE these plugins are!
Think about it.
How often have you just left a website after reading a blog post?
If there's nothing else interesting, you go. (Not good for a site owner!)
You can avoid this by adding a related posts grid at the end of your posts (or in the middle).
We have thoroughly tested 25+ plugins and picked the eight best free and premium plugins for you.
From design and customization options to performance, pricing and responsiveness – nothing was left out in our test.
This post covers:
Give your website visitors a reason to KEEP reading – with related posts!
Best Premium Related Post WordPress Plugins
1. Infinite Related Next Post Manager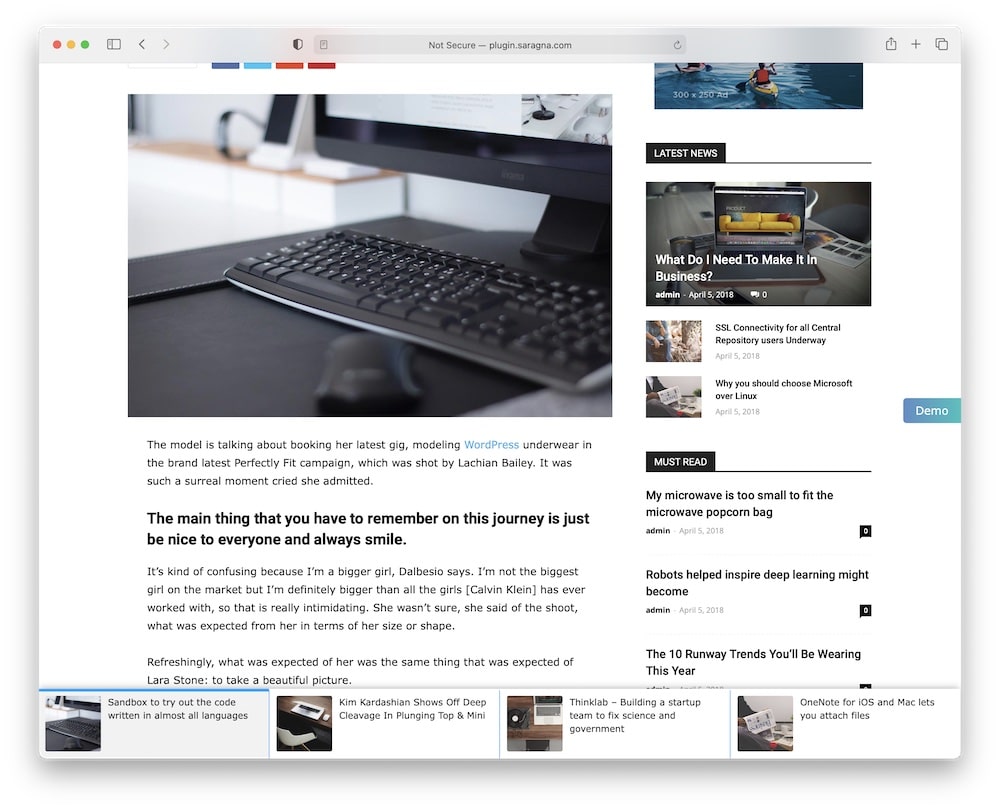 WordPress Infinite sits at the top of our list for so many reasons. It is a related post plugin that has everything you need and more.
First of all, WordPress Infinite gives you ultimate control over related post grids.
For example, you can easily specify how to present your relevant content. The plugin integrates three display styles: infinite loading, slider, and sidebar.
You can easily customize all the styles by adjusting the text, font size, colors, etc.
And finally, you can specify whether the content is displayed by category, tag, publish date, or author.
We used it on multiple blogs and websites and will return to it in the future.
Infinite features:
160+ sales
4.5/5 ratings
Real-time support
Supports 12,000+ WordPress themes
Price: $25 (may vary)
MORE INFO / DOWNLOAD
2. AI Related Posts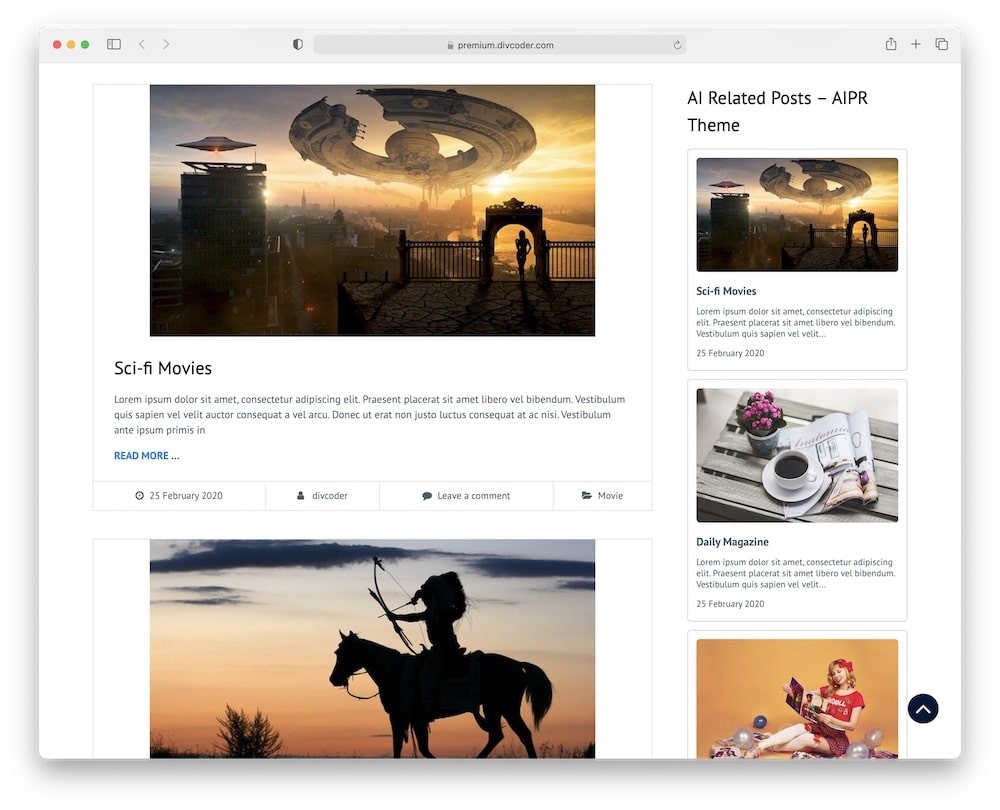 Are you ready for an ultimately innovative related post WordPress plugin? If yes, then let us take a look at AI Related Posts.
As the name suggests, this plugin uses artificial intelligence to create a specialized related post grid for each visitor of your site.
The process is pretty interesting. First, the plugin automatically identifies users' views and stores the category (or tags) of the visited pages.
Then, when the user browses your site, the plugin suggests related posts to the stored information.
SMART.
During our testing, AI Related Posts did an excellent job and proved to be a handy tool. The plugin is also compatible with all themes and browsers and works with the Gutenberg editor via WP shortcodes.
AI Related Posts features:
MORE INFO / DOWNLOAD
Best Free Related Post WordPress Plugins
3. Contextual Related Posts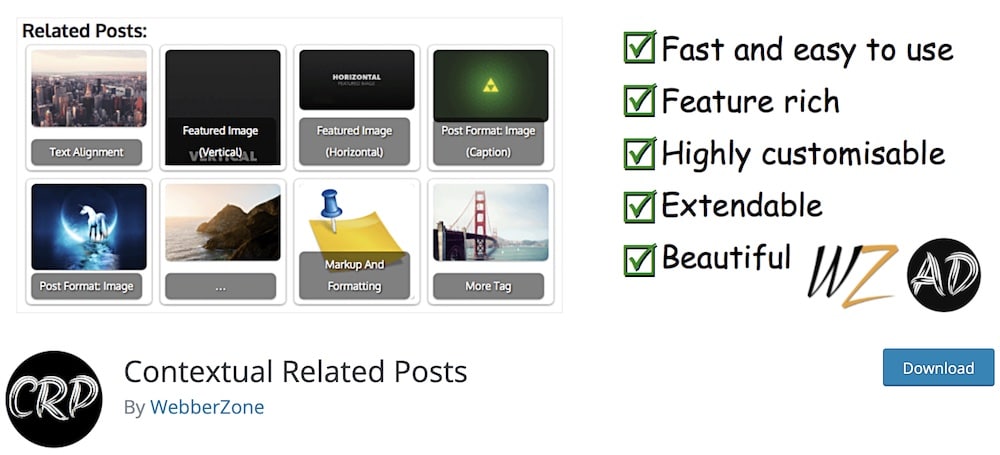 If you like the features that WordPress Infinite offers but you need a completely free plugin, Contextual Related Posts is the best way to go. It is an excellent choice for beginners and professionals.
Contextual Related Posts is a great plugin for anyone who wants to easily create a list of related posts based on the content and title of a post.
The plugin will automatically create a list of related posts on any page or post you want on your website.
If you need a free plugin that uses CRP shortcodes to display related posts, this is the plugin for you.
Contextual Related Posts features:
MORE INFO / DOWNLOAD
4. YARPP – Yet Another Related Posts Plugin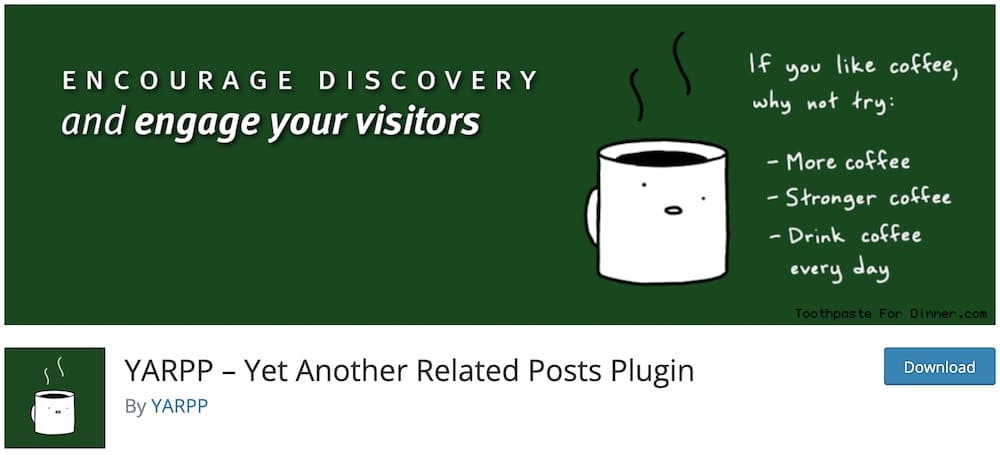 Have you tried more than one related post plugin but are still unsatisfied? Then YARPP is the plugin for you.
Contrary to its funny name, this plugin is much more than just another related posts plugin.
We found YARPP to be a very advanced plugin when reviewing it. We liked how the algorithm works, and the creation of related posts is flawless.
Moreover, this plugin is entirely flexible. You can integrate its shortcodes into your RSS and feeds and easily work with the Gutenberg block editor.
All in all, YARPP is a top-notch free plugin that we highly recommend.
YARPP features:
100,000+ active installations
4.7/5 ratings
Great for WooCommerce
Supports WordPress Multisite
Extended documentation
MORE INFO / DOWNLOAD
5. Shareaholic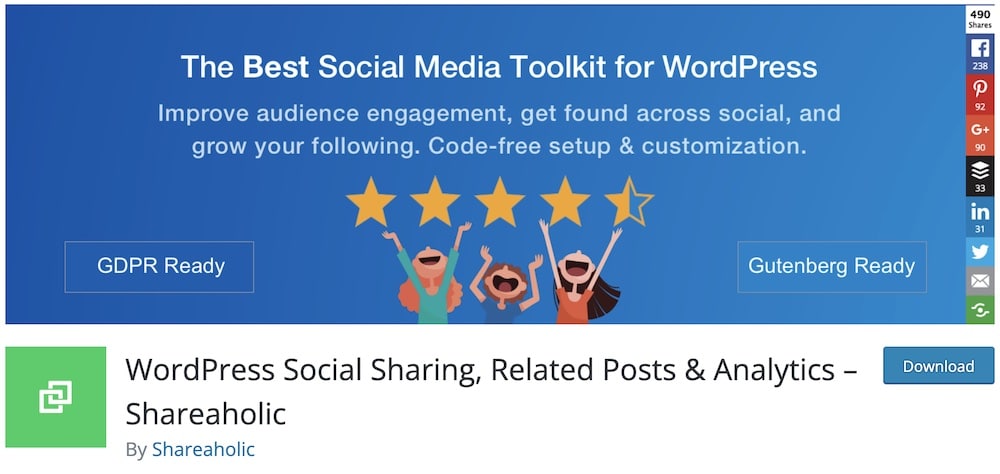 With our next suggestion, you can cover more than "just" related posts. You can use it to easily improve your interaction with your users and grow your audience on social media.
The plugin lets you create social media sharing buttons, such as a "Pin It" button for Pinterest and sharing buttons for Facebook, Twitter, and more.
When creating related posts, Shareaholic integrates an advanced algorithm that automatically uses the keywords of your posts.
When you add the various themes that the plugin includes and the content analysis tab, Shareaholic becomes a must-have free plugin.
Shareaholic features:
30,000+ active installations
4.3/5 ratings
Fully-customizable
Integrates Google Analytics
Available in 20+ languages
MORE INFO / DOWNLOAD
6. Related Posts Thumbnails Plugin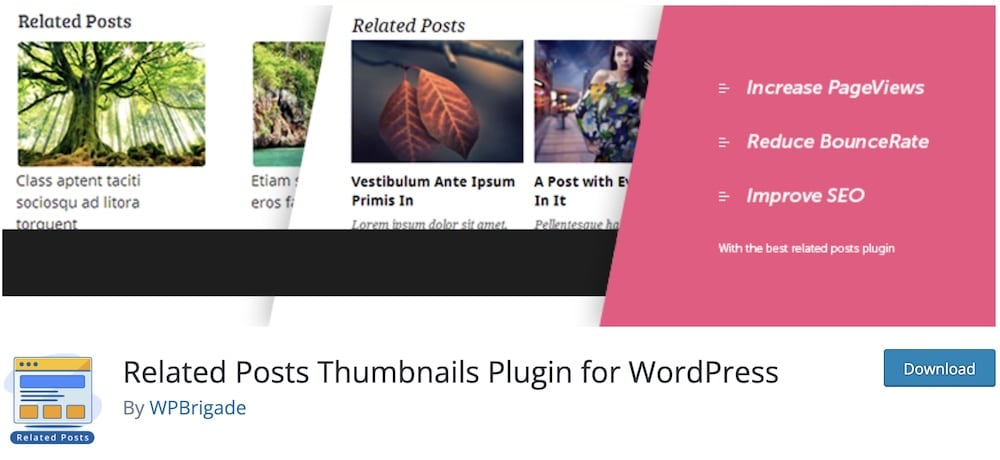 Related Posts Thumbnails is another high-rated plugin that easily made it to our top selection. This free related post plugin is perfect for both beginners and professionals.
The plugin allows you to create related posts thumbnails and add them to your website's posts, pages, or sidebars.
We really enjoy that you can use this plugin via a custom Gutenberg block, a WP widget, or an easily-generated shortcode.
Finally, the plugin allows you to use video thumbnails. We consider this a superb choice for those who need ultimate control over their related posts thumbnails.
Related Posts Thumbnails features:
40,000+ active installations
4.8/5 ratings
Great support
Fully-editable thumbnails
Con: Infrequent updates (still works smoothly, though!)
MORE INFO / DOWNLOAD
7. Custom Related Posts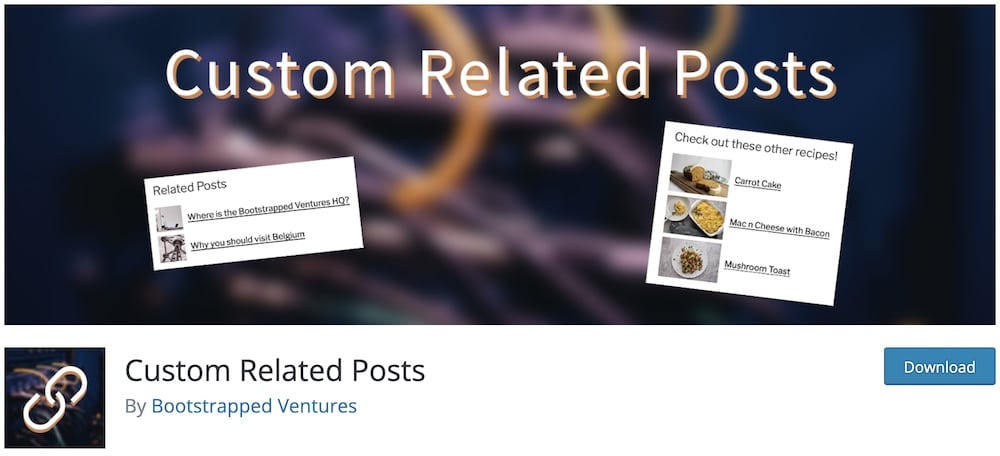 Custom Related Posts is best if you don't want a plugin that automatically creates related post grids but on your behalf.
Unlike most other related post WordPress plugins, this one allows you to manually add related posts to your website.
With this free plugin, you won't encounter problems adding related posts to your posts, pages, and custom post types.
You can use the plugin as a shortcode, widget or block.
Likewise, Custom Related Posts is fully compatible with the Classic and Gutenberg editors.
We suggest this plugin for startups and small websites that want complete control over their related posts.
Custom Related Posts features:
MORE INFO / DOWNLOAD
8. Inline Related Posts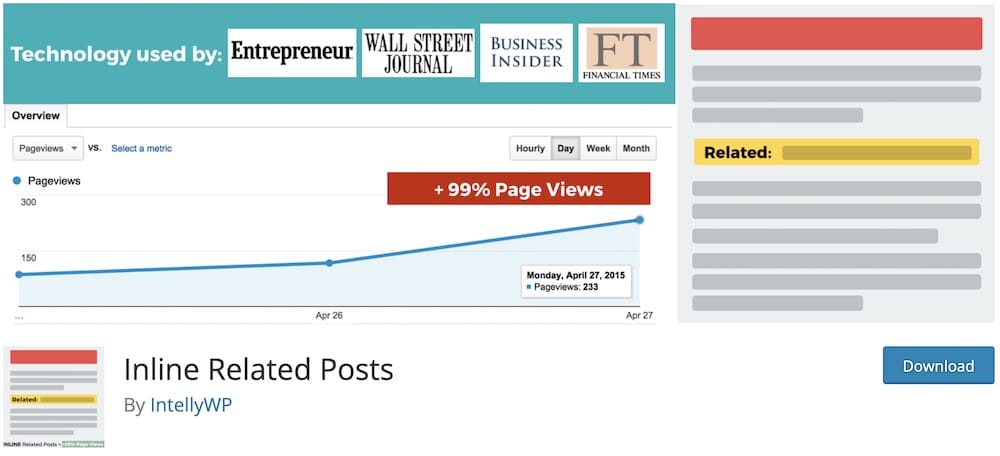 Last but not least, we have Inline Related Posts, a well-known free plugin used by huge companies like BBC and Entrepreneur.
The reason these companies trust this related post WordPress plugin is simple: The plugin is a lifesaver.
We enjoy it just as much as the BIG GUYS do.
This plugin can automatically add display fields to your posts and pages. This makes it a brilliant tool for anyone looking to increase user engagement.
Also, Inline Related Posts includes more than 20 internal link styles to suit your needs and preferences.
If you want to quickly create related posts in the middle of your posts or pages, this is by far the best solution.
Inline Related Posts features:
90,000+ active installations
4.3/5 ratings
Offers automatic placement of boxes in your posts
Fully-editable styling elements (themes, colors, hover)
Comprehensive video-guides
MORE INFO / DOWNLOAD
How We Picked The Best Related Post WordPress Plugins
The first thing we did was check installs and sales in combination with user ratings.
Also, we wanted to include only plugins that come with regular updates so you know it'll run smoothly for years to come.
Another key factor that we always check is how great the support is. Because we don't like to work with ("great") plugins with poor customer service.
We then tested how responsive they are and how smoothly the featured posts area adapts to smaller screens.
It was also important for us to pick the plugins that have great customizations so that you can tailor their functionality to your website or blog specifically.
However, free plugins are more limited than premium ones but have the option to expand them and upgrade to pro.
One of the features that we really like is the ability to add featured posts via widget or shortcode manually, so they don't appear on every single post if you don't want to.
Why Show Related Posts On Your WordPress Website?
You must work on your website's page experience because it's also one of Google's ranking factors.
And that's when related posts come into play.
This simple technique is a great way to boost your user engagement and keep them on your site longer (hey, low bounce rate!).
Consequently, people will find related content faster; otherwise, they'd need to use your search bar and look for it manually. This may discourage the user to the point of leaving your website entirely.
And because related posts mean internal linking, you also automatically contribute to better on-page SEO.
Do we recommend using related posts?
We highly suggest you use the related posts functionality if you run a blog with many articles.
What's cool is that some WordPress themes even come with this feature integrated, so you don't even need to install a WordPress plugin.
::
Note: This article was originally published on November 20, 2021. But our team regularly reviews it and updates it with necessary improvements for accuracy.