Our review of the best free and premium WordPress forum plugins gives you the necessary tools to create an area (on your site or blog) to engage directly with your visitors.
Setting up a community on your website by yourself is quite a difficult task.
That's why MORE and MORE owners and developers seek top-notch forum plugins to create engaging forums.
With such plugins, you can make it happen in just a few steps.
But how can you know which is the best plugin for your website?
You do not have to!
This post covers:
We have tested 25+ forum plugins to find the best 8 for you.
Start a forum now – it's never been easier!
THE ULTIMATE 4:
Best Premium WordPress Forum Plugins
1. DW Question & Answer Pro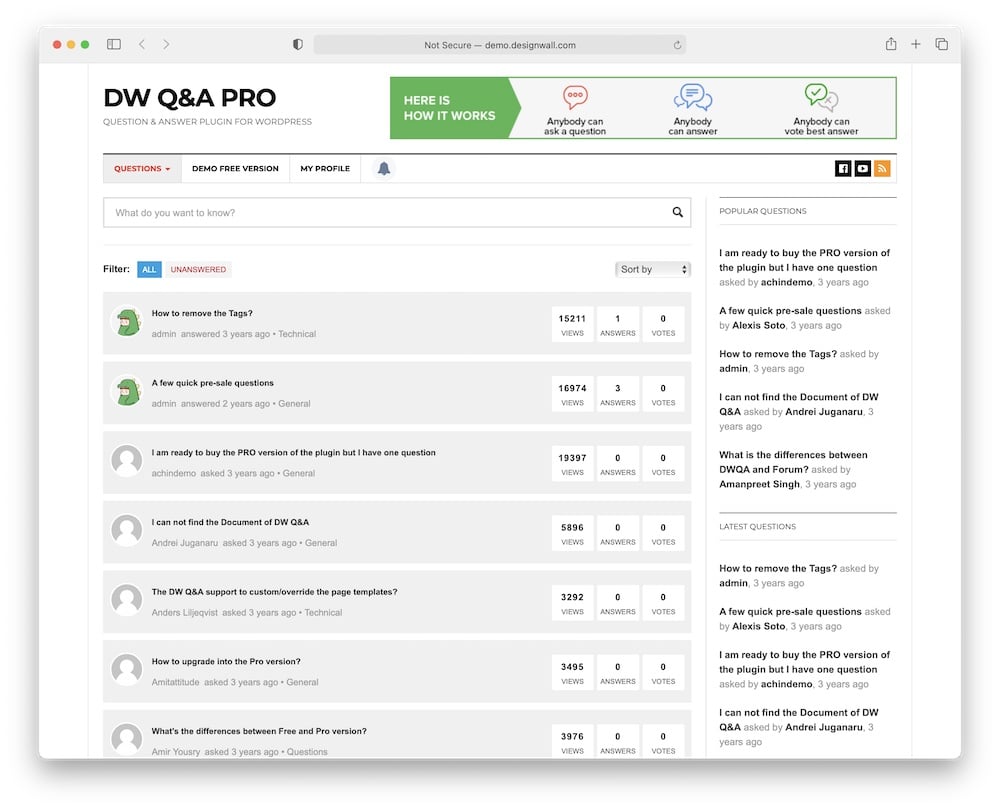 This plugin is a great choice for creating a forum section on pretty much any WordPress website. It comes with various features that you can use.
In fact, with this WordPress forum plugin, you can manage almost every detail of your forum from the front end. This makes DW a very beginner-friendly plugin.
DW also allows you to create private questions and answers for specific audiences.
Another great feature is the built-in voting system. Your visitors can vote for peoples' questions if they are interested in them.
It becomes clear that DW is in the first place among our top choices for good reasons.
DW Question & Answer Pro features:
2,400+ sales
3.9/5 ratings
Great support system
Price: $39 (may vary)
MORE INFO / DOWNLOAD
2. Sabai Discuss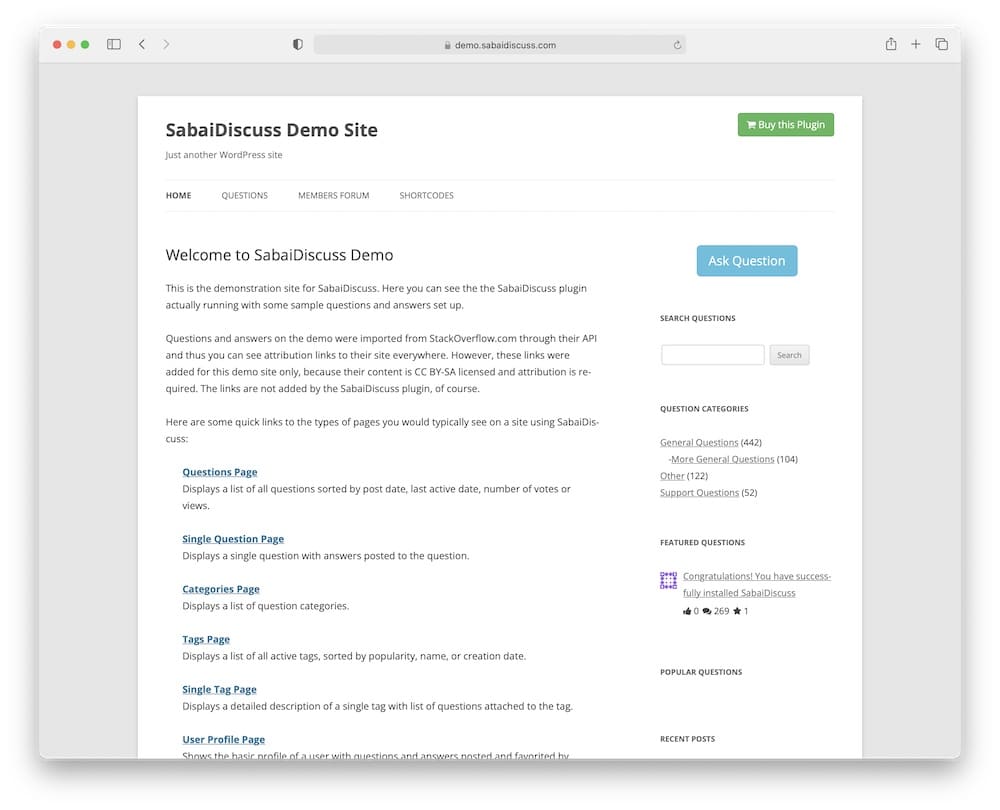 Sabai Discuss is one of the most popular forum plugins on the market, and we loved using it!
With this plugin, you can create a comprehensive yet lightweight forum and manage every little detail.
Everything happens quickly, with little work necessary.
This WordPress forum plugin offers a wide range of advanced options.
From a detailed voting system to closing and reopening questions, Sabai Discuss has everything you need to create a great forum on your website or blog.
In conclusion, Sabai Discuss is definitely an excellent solution for both website owners and developers who want to create an engaging Q&A forum.
Sabai Discuss features:
3,300+ sales
4.4/5 ratings
Price: $24 (may vary)
MORE INFO / DOWNLOAD
Best Free WordPress Forum Plugins
3. bbPress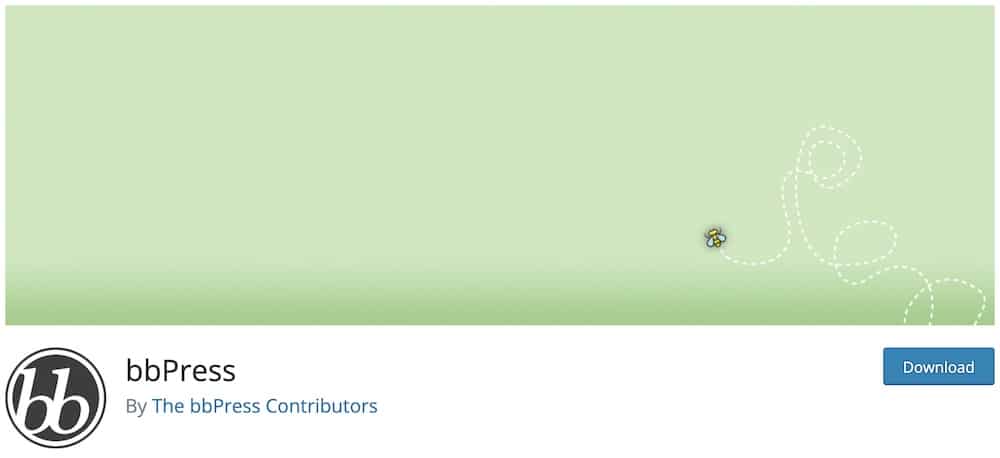 If you want to create an elegant and sleek discussion forum, then bbPress is for you.
This free forum plugin is a simple, yet powerful software to create a forum directly in your WordPress panel in just a few minutes.
If you want to interact with your community, this free WordPress forum plugin covers you.
During our testing, we were delighted with the app's user-friendly interface and did not experience any significant delays or issues of any kind.
Finally, bbPress has one of the most comprehensive systems for managing your forum members. If you need ultimate control over your forum, bbPress is an intelligent solution.
bbPress features:
200,000+ active installations
4/5 ratings
Easy to integrate
Fully responsive
Zero coding required
MORE INFO / DOWNLOAD
4. BuddyPress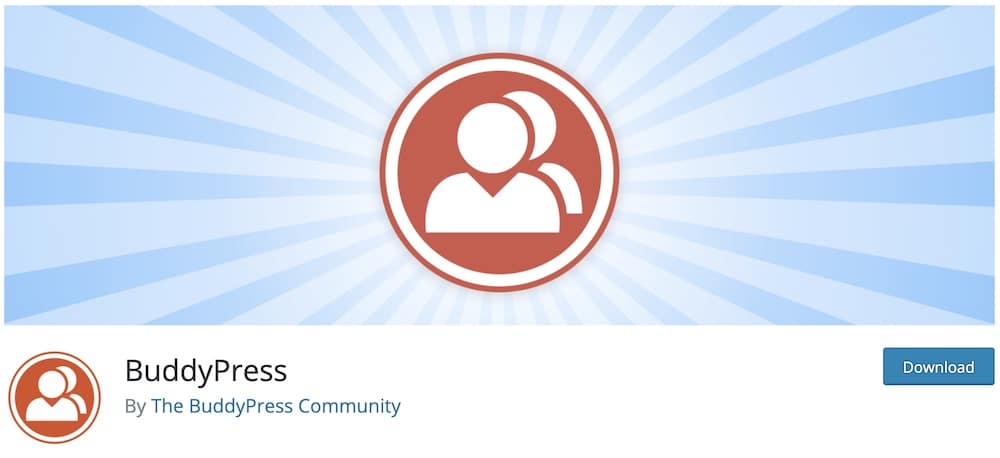 BuddyPress is a flexible plugin for anyone who wants to create a great social network on their website.
This modern and sophisticated software has all the features you need to create a great interactive area for your community.
This free plugin takes care of groups and private conversations to allowing members to register and create user profiles.
In addition, each user can send friend requests and maintain their own friends' list. In general, BuddyPress helps you create a home for your niche community.
There's nothing better than this when it comes to creating a forum that looks and feels like a social media platform.
BuddyPress features:
100,000+ active installations
4.2/5 ratings
Great support team
Login form & online members list
Integrates with every WordPress theme
MORE INFO / DOWNLOAD
5. Simple Press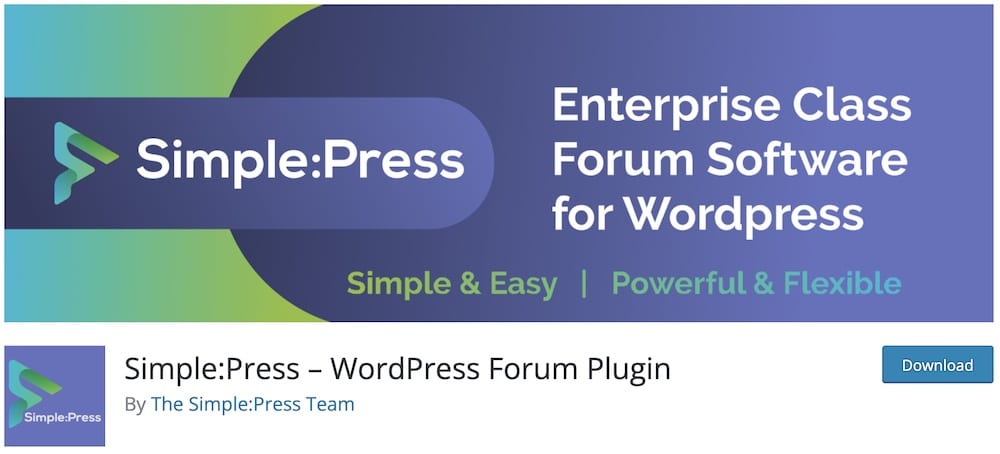 If you want to create a forum section with a corporate look, Simple Press is probably the best solution for your site.
This free WordPress forum plugin offers all the necessary to start building immediately.
From private and public themes to custom icons for each forum, there's nothing left out.
We especially liked Simple Press because it allows users to create a custom avatar for their profile.
And finally, we had no problems with Simple Press regarding forum management options.
Even though it's not one of the most popular plugins, it proves to be just as reliable and robust as apps like Sabai Discuss or bbPress.
Simple Press features:
600+ active installations
4/5 ratings
Unlimited posts & topics
Lock & pin forums
Specific ranks based on user interaction
MORE INFO / DOWNLOAD
6. Asgaros Forum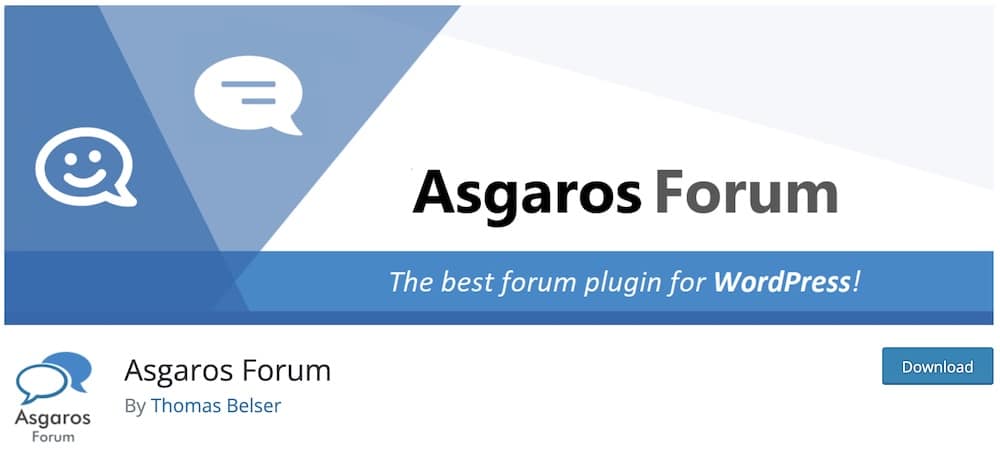 Asgaros Forum is a plugin you should try if you want to create a lightweight forum on your website. With this free forum plugin, you get a wealth of features to work with.
Although it is quite advanced, it is also very beginner-friendly and integrates smoothly with any theme.
Using WP widgets, creating polls, and reading analytics are just some of the great features Asgaros Forum offers you.
Of course, Asgaros also lets you block and report any user you want. If you are not managing your forum, you can easily permit other users to control it.
Asgaros Forum features:
MORE INFO / DOWNLOAD
7. Discussion Board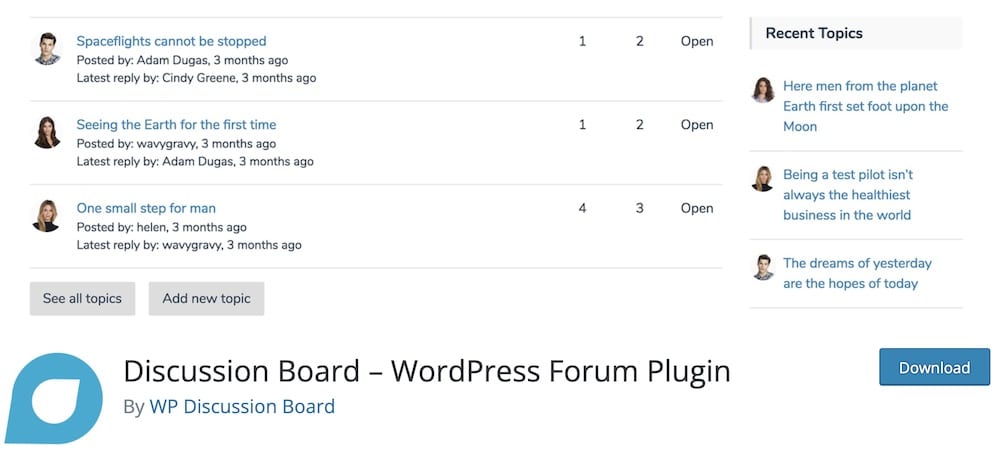 If you are looking for a forum plugin that allows you to create a discussion board with one click, Discussion Board is just what you need.
To be exact, when you install the WordPress plugin, Discussion Board automatically creates the three pages you need to get started.
When it comes to features, this free WordPress forum plugin lacks nothing.
From front-end registration/login to various pre-built layouts for your forum, Discussion Board has everything you need to create a simple forum.
To make a long story short: This is not the most powerful plugin on the market. However, it is the best way to start a simple discussion board without much effort.
We added it to two tech blogs, creating a friendly user engagement.
Discussion Board features:
3,000+ active installations
4.7/5 ratings
Spam reduction
Numerous WP shortcodes
Excellent user management
MORE INFO / DOWNLOAD
8. wpForo Forum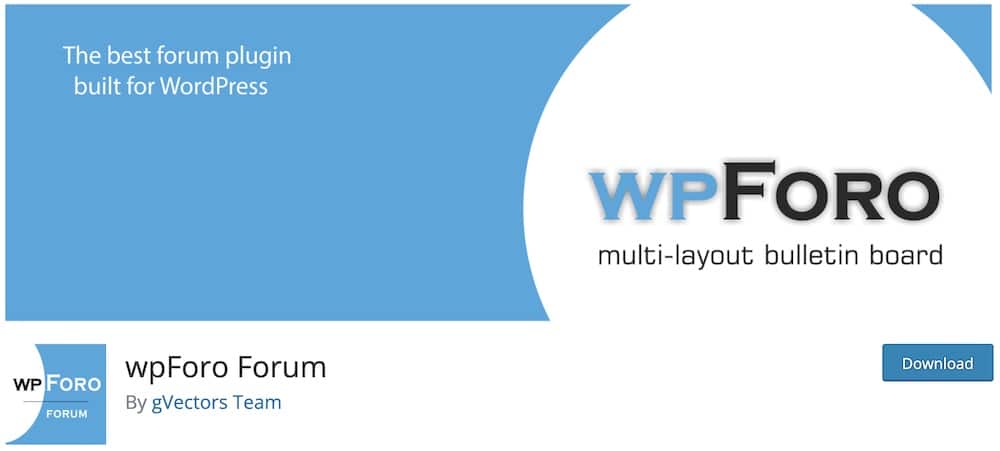 Our final choice is the wpForo forum plugin. With this plugin, you can create a user-friendly and lightweight forum for your website.
WpForo Forum has fully responsive and modern styles and layouts for you to choose from.
This free WordPress forum plugin gives you many great features to work with.
From member ratings and badges to an easy-to-learn drag and drop management system, wpForo Forum has it all.
Designed for both small and large communities, this forum plugin is probably one of the most flexible out there.
wpForo Forum features:
20,000+ active installations
4.8/5 ratings
Social network sharing buttons
Built-in forum SEO functions
Fully compatible with all devices
MORE INFO / DOWNLOAD
5 Key Features Of A Great WordPress Forum Plugin
There are a few key factors that you need to keep in mind when picking a forum plugin.
And these are the five most common that apply to free and premium plugins.
We also used these during our tests to ensure we included only the best tools for your forum website.
Responsiveness: This is the number one feature that every forum needs – a 100% mobile-ready layout. There's a huge chance you'll receive a lot of mobile traffic, so responsiveness is an absolute must.
Login/registration: Predefined login and registration forms or pages are also very handy because they save a lot of time.
Customizations: Because every forum is different, the plugin must offer at least some customization functions. You can expect more limited options with the free ones but endless possibilities with premium plugins.
Built-in search: While you can expect direct traffic to forum threads from Google, you also need to offer your users great search functionality. This instantly boosts your overall website user experience, which is OH SO necessary for your success.
Support: All the greatest plugins come with epic support. That's why we put special attention to support during this review to make sure they treat you right.
FAQs About WordPress Forum Plugins
How do I create a public forum in WordPress?
The easiest way to create a public WordPress forum is with a plugin. You can start effortlessly and for free by using the bbPress plugin.
What is the best free forum plugin for WordPress?
The best and most powerful free forum plugin is bbPress. It powers 100s of 1,000s of forums because it offers great functionality and customizations without hidden fees. But you can always expand its possibilities with various free and paid add-ons.
::
Note: This article was originally published on November 2, 2021. But our team regularly reviews it and updates it with necessary improvements for accuracy.