Take social proof to the next level by using any of these free or premium WordPress testimonial plugins.
No one can deny how important reviews and feedback are for your business.
That's why we have researched and handpicked the 10 best plugins out there.
Whether you own a small travel agency or a large law firm, having a reviews section on your website is a brilliant tactic.
They BOOST the authority of your business.
(Your visitors will trust you more by reading genuine testimonials from real users.)
We left nothing out from social media platform integration and form customization options to user interface, pricing, and popularity!
THE ULTIMATE 2:
Best Premium WordPress Testimonial Plugins
1. Testimonials Showcase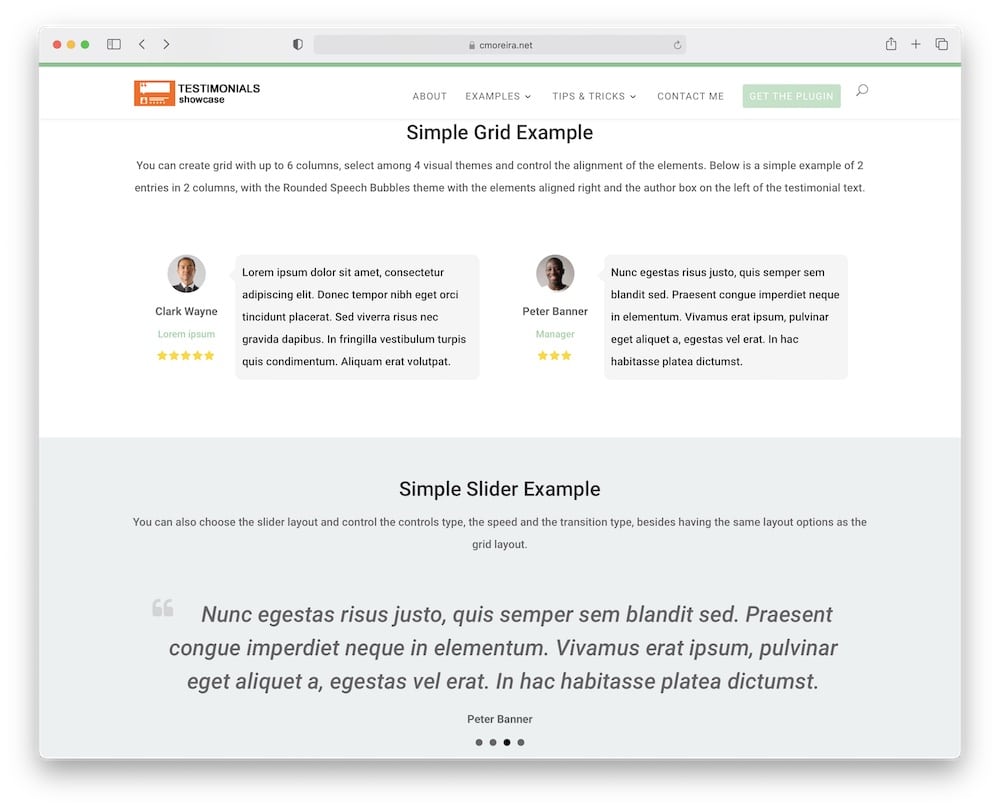 Of all the testimonial plugins we tested, Testimonials Showcase proved to be the most powerful. This premium plugin made it to the top of our top picks for many reasons.
First of all, Testimonial Showcase allows you to create more than just testimonial forms for your visitors.
It is also ideal for those who want to create: analytical product/service reviews, a list of citations, and relevant case studies.
The plugin includes numerous fully customizable grid and slider layouts to choose from. Lastly, the shortcode integration process is very simple.
Testimonials Showcase features:
5,600+ sales
4.9/5 ratings
Very affordable
Price: $19 (may vary)
MORE INFO / DOWNLOAD
2. Testimonials Slider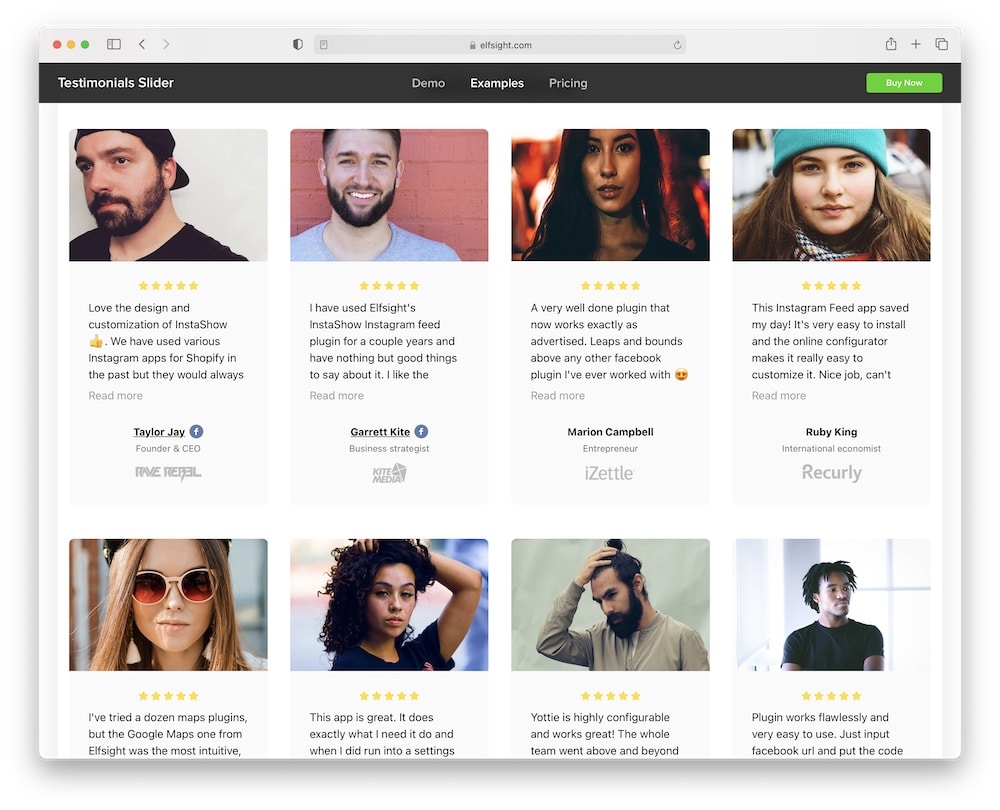 If you just want to create stunning testimonial sliders on your website, this plugin is simply the best solution for you.
It is one of our favorite WordPress testimonial plugins because of its beautiful layouts and premium UI.
To be precise, Testimonial Slider lets you easily create an eye-catching grid or slider with your clients' testimonials. We particularly like that this plugin allows you to customize everything.
From your client's name and Facebook profile link to their picture and caption, there's nothing you can not edit.
The plugin is lightweight and fully compatible with any WordPress theme.
Testimonials Slider features:
860+ sales
4.9/5 ratings
Beginner-friendly
Live support
Price: $22 (may vary)
MORE INFO / DOWNLOAD
Best Free WordPress Testimonial Plugins
3. Strong Testimonials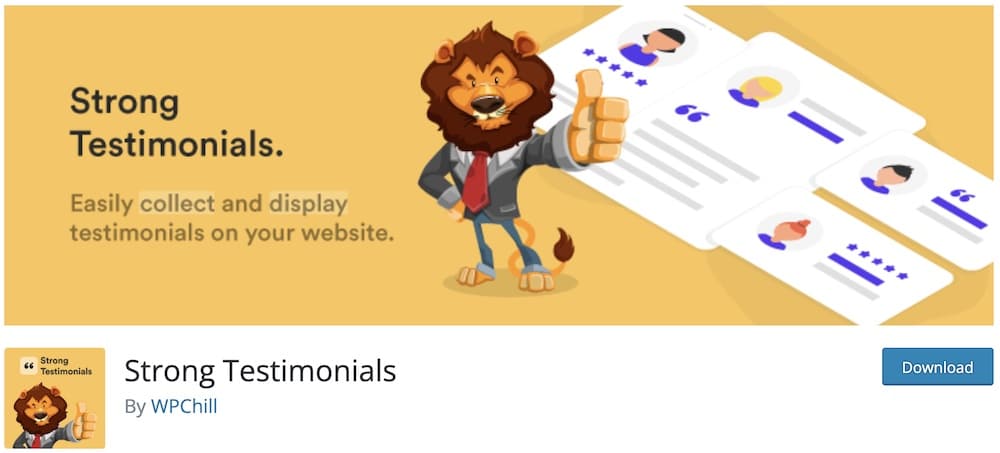 Our first free suggestion is for those looking for an ultimate all-rounder plugin. Strong Testimonials is a great way to collect reviews and display them on your website.
The plugin has been around since 2014 and counts more than 100,000 active users.
WOW.
In a few words, there is nothing you can not do with this WordPress testimonial plugin.
We did not encounter any problems when importing reviews from Facebook, Google My Business, and other sources during our review.
We also really liked that most of the templates have light and dark versions, which you can customize to your preferences.
Why is the most popular free testimonial plugin down here? Best for the last!
Strong Testimonials features:
100,000+ active installations
4.8/5 ratings
Supports custom CSS
Captcha anti-spam included
GDPR compliant
MORE INFO / DOWNLOAD
4. Easy Testimonials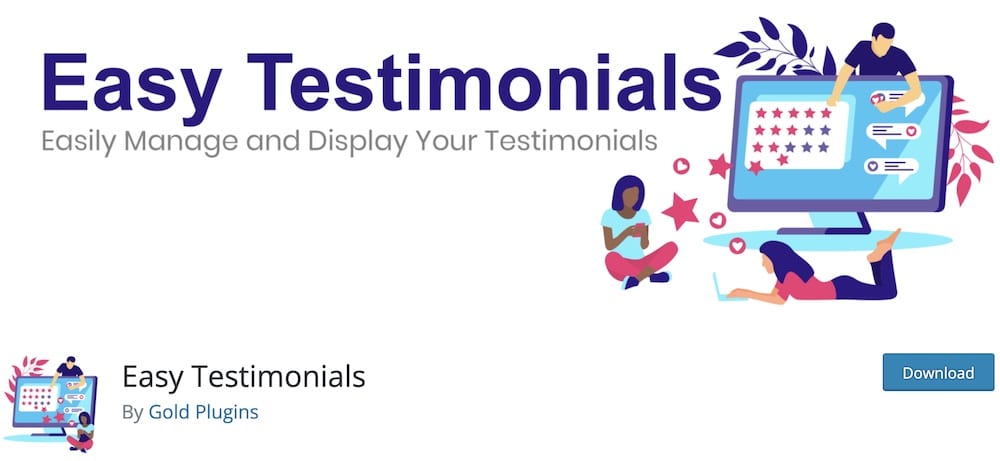 As the name suggests, there is no easier way to create a custom testimonial block than with Easy Testimonials.
When it comes to features, this free WordPress testimonial plugin offers a lot.
Nevertheless, Easy Testimonials acts as an ultimately beginner-friendly plugin.
That means you can easily create testimonials with the new Gutenberg editor using any of the 5 blocks it offers.
Easy Testimonials is the best solution if you are a beginner or unfamiliar with using shortcodes.
Easy Testimonials features:
30,000+ active installations
3.6/5 ratings
Customizable HTML
Compatible with any WordPress theme
MORE INFO / DOWNLOAD
5. Real Testimonials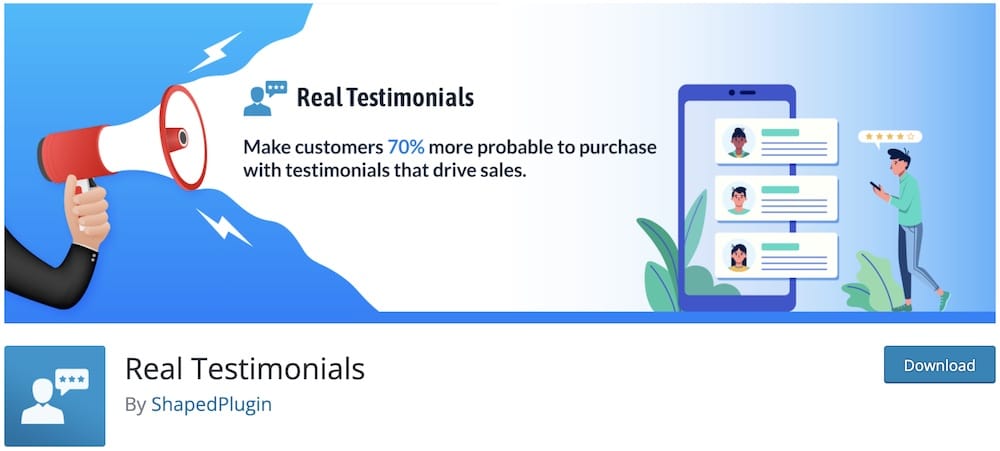 When we first tested this plugin, we could not believe it is offered for free. In fact, Real Testimonials is a very powerful WordPress plugin that has everything you need and more.
First of all, the shortcode generator is one of the easiest we have ever reviewed.
Even if you have no experience with shortcodes whatsoever, you will have no problem using them. Real Testimonials unlocks the ultimate freedom.
You can create testimonial blocks and integrate them into any page, post, or widget on your website.
Finally, no coding is required to use the plugin and the blocks generated are fully responsive.
Real Testimonials features:
40,000+ active installations
4.6/5 ratings
Fully-customizable templates
Beginner-friendly
Live preview
MORE INFO / DOWNLOAD
6. WP Customer Reviews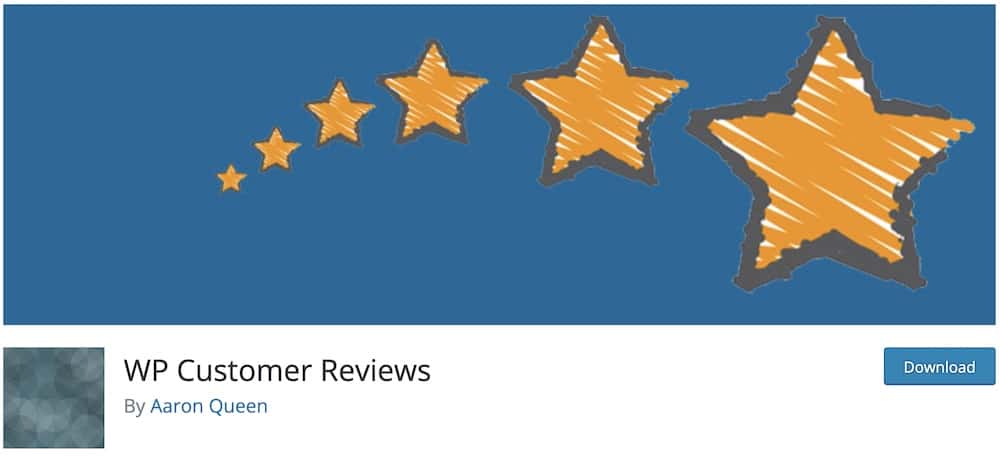 Unlike other plugins on our list, WP Customers Reviews also lets you get reviews in real-time.
So if you want to add a custom block where your website visitors can leave a review, this is simply the best solution for you.
One handy feature that this WordPress testimonial plugin offers is that all submissions are moderated.
You can review and approve each review/feedback manually.
The plugin also allows you to customize the pre-made templates or even create your fields. All in all, this is a fast and lightweight plugin that you should definitely try out.
WP Customer Review features:
40,000+ active installations
4.3/5 ratings
Perfect for collecting testimonials
Compatible with WP Multisite
Offers anti-spam measures
MORE INFO / DOWNLOAD
7. Testimonials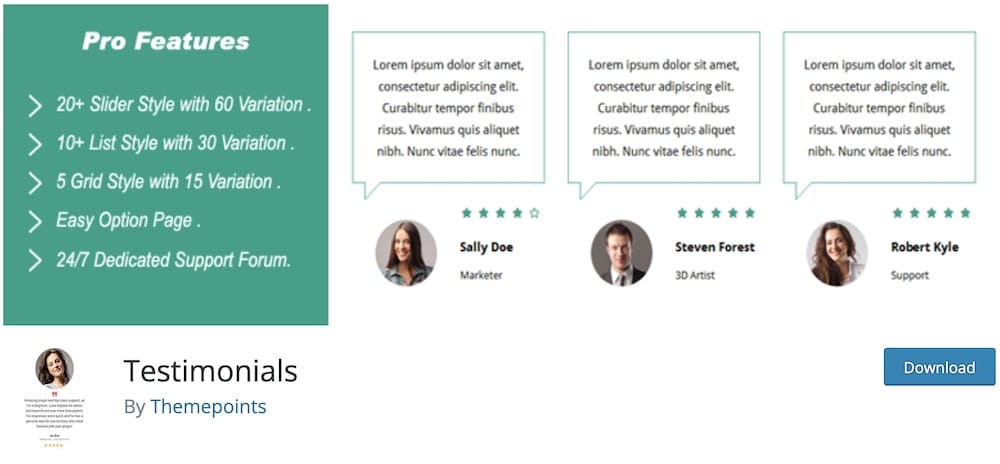 Are you looking for a WordPress testimonial plugin that is easy to use and gives you numerous block styles to choose from? If yes, then Testimonials is an excellent choice for you.
We are, too!
The plugin offers more than 20 slider, 10 list, and 5 grid styles. All templates are fully editable and the development team is available 24/7 for you.
You do everything via the simple shortcode integration. Testimonials proved to be very reliable during our testing, and every block was ultimately mobile-ready.
Even though this plugin is not one of the most popular on the market, it's definitely worth picking.
Testimonials features:
5,000+ active installations
4.7/5 ratings
Extended documentation
Widget-ready
Fully-editable shortcodes
MORE INFO / DOWNLOAD
8. WP Testimonials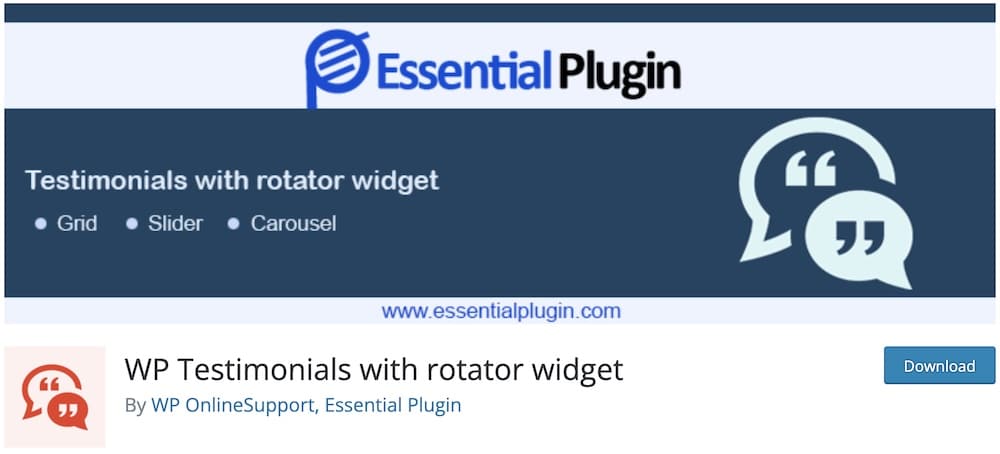 WP Testimonials is one of the most customizable plugins in our selection. However, for this reason, it is not the most beginner-friendly WordPress testimonial plugin out there.
However, if you need ultimate control, there's nothing better than WP Testimonials. The plugin allows you to fully edit the shortcodes you create.
For example, when you edit the shortcode, you can display reviews by category, by the customer, and much more.
Simple, powerful and effortless to use.
WP Testimonials features:
10,000+ active installations
4.5/5 ratings
Perfect for experienced users
Detailed Demos
Many pre-made designs
MORE INFO / DOWNLOAD
9. Site Reviews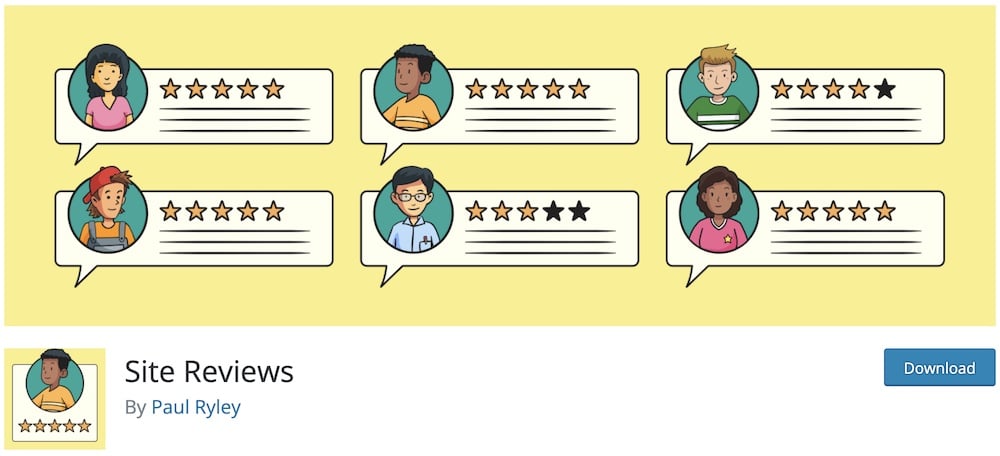 This plugin easily made it to our list because it offers a great star rating system. In fact, Site Reviews is one of the few plugins we tested that reminded us of platforms like Tripadvisor.
The plugin is specifically designed to work on any page, post or widget via shortcodes. The review system is very simple, which is very important for user engagement.
In fact, with this WordPress testimonial plugin, your customers can submit a review in seconds.
Site Reviews is a smart solution for anyone who wants to quickly collect customer reviews and showcase them on their website.
Site Reviews features:
40,000+ active installations
4.9/5 ratings
Allows you to block submissions
Easy backup function
Developer-friendly
MORE INFO / DOWNLOAD
10. Testimonial Builder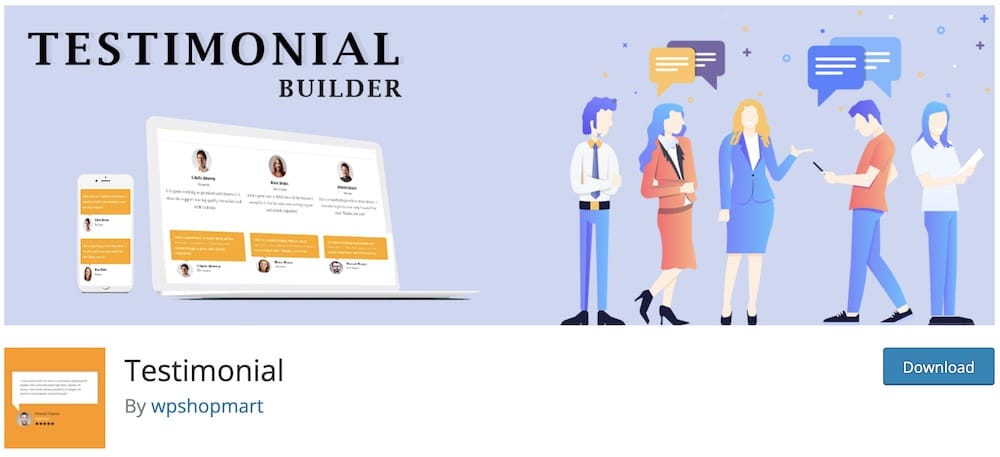 If you do not need any fancy features when creating a testimonial grid for your website, Testimonial Builder is the plugin for you.
Although it's not a super-powerful solution, it integrates all the essential features you need.
We love watching the detailed tutorials that the plugin includes. These allow everyone to add testimonials to their site comfortably.
Moreover, the template is entirely adjustable for colors, fonts, and image layouts. Testimonial Builder is an excellent choice for beginners.
WE DIG IT!
Testimonial Builder features:
4,000+ active installations
4.5/5 ratings
Drag and drop builder
Easy shortcode generation
Quick customization
MORE INFO / DOWNLOAD