You're more than ready to take your appointments, booking and events to the next level with these free and premium WordPress calendar plugins.
Manage it all like a boss (with EASE & COMFORT).
That's why all growing businesses integrate a comprehensive calendar into their website.
But how to choose the best plugin? (Yup, it can be frustrating, we know!)
Writing down the features you need is an excellent place to start.
Then use the list below to find the plugin that fits your needs QUICKLY! (Everything you need is at your fingertips.)
We've come up with the twelve best tools after numerous tests.
The time to organize your business is now!
THE ULTIMATE 2:
Top WordPress Calendar Plugins
1. Booknetic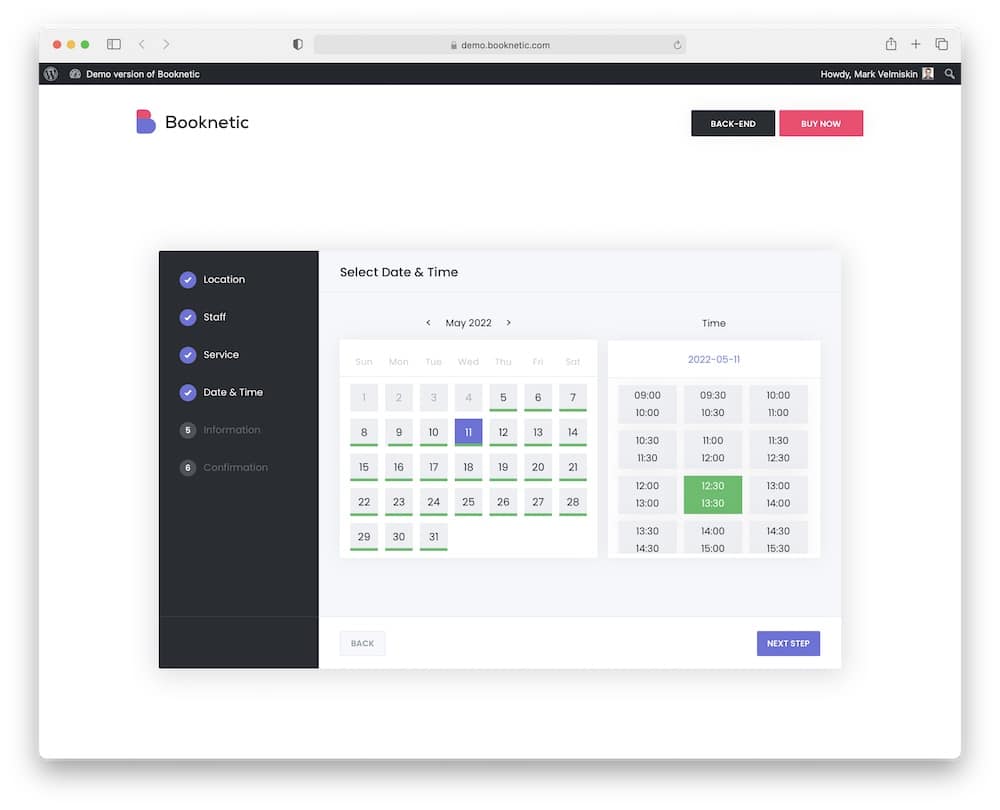 Booknetic is simply much more than just a WordPress calendar plugin.
Think of it as a versatile, extremely flexible booking system. (We had a BLAST trying and testing it!)
You can easily set up appointments, take payments, and manage your client base with Booknetic.
This makes this plugin the best option for businesses like gyms, SPA and beauty salons, clinics, and so on.
Booknetic features:
4,300+ sales
5/5 ratings
Integrates a form builder
Excellent business automation
Price: $79 (may vary)
MORE INFO / DOWNLOAD
2. Calendarize it!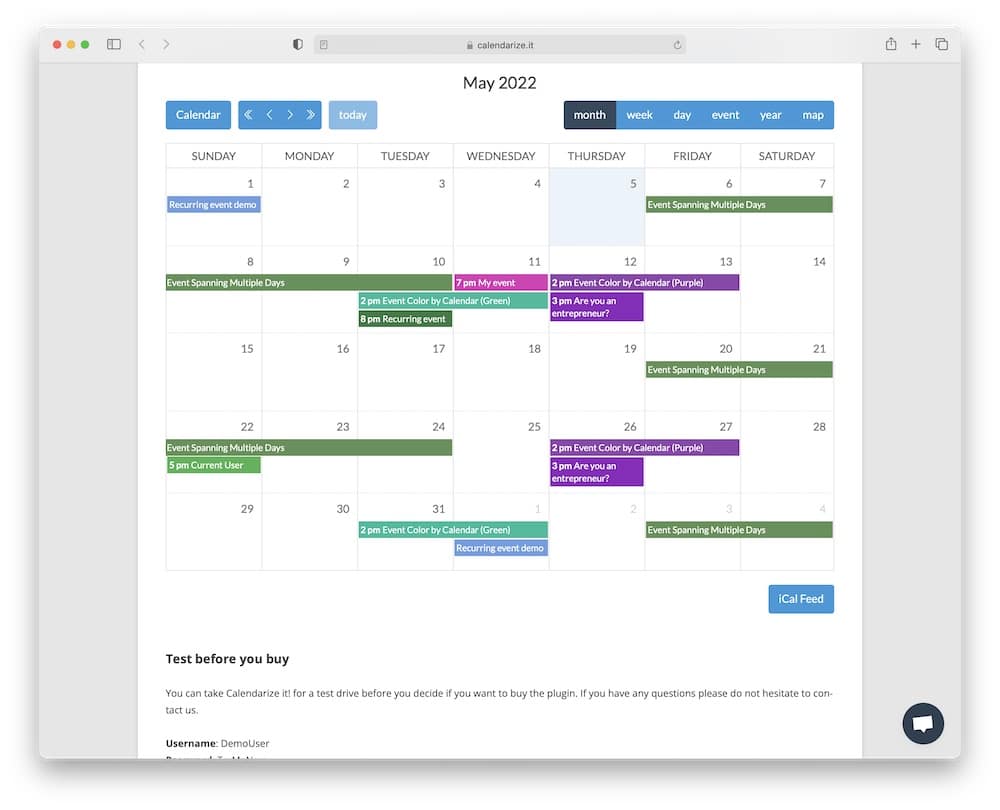 During our test, Calendarize it! immediately proved that it is an all-rounder.
Unlike numerous plugins we have used in the past, this WordPress calendar plugin is both easy to learn and powerful.
Let us explain: On one hand, you have a clean, minimalist dashboard to work with.
At the same time, the plugin offers numerous free and premium add-ons (upcoming appointments widget, map view of appointments, etc.) that you can easily integrate.
Besides, Calendarize it! has one of the best VISUAL CSS EDITORS that allowed us to customize the styles and colors of calendars in just a few clicks.
Calendarize it! features:
12,400+ sales
4.4/5 ratings
Works with shortcodes
Price: $29 (may vary)
MORE INFO / DOWNLOAD
3. Stachethemes Event Calendar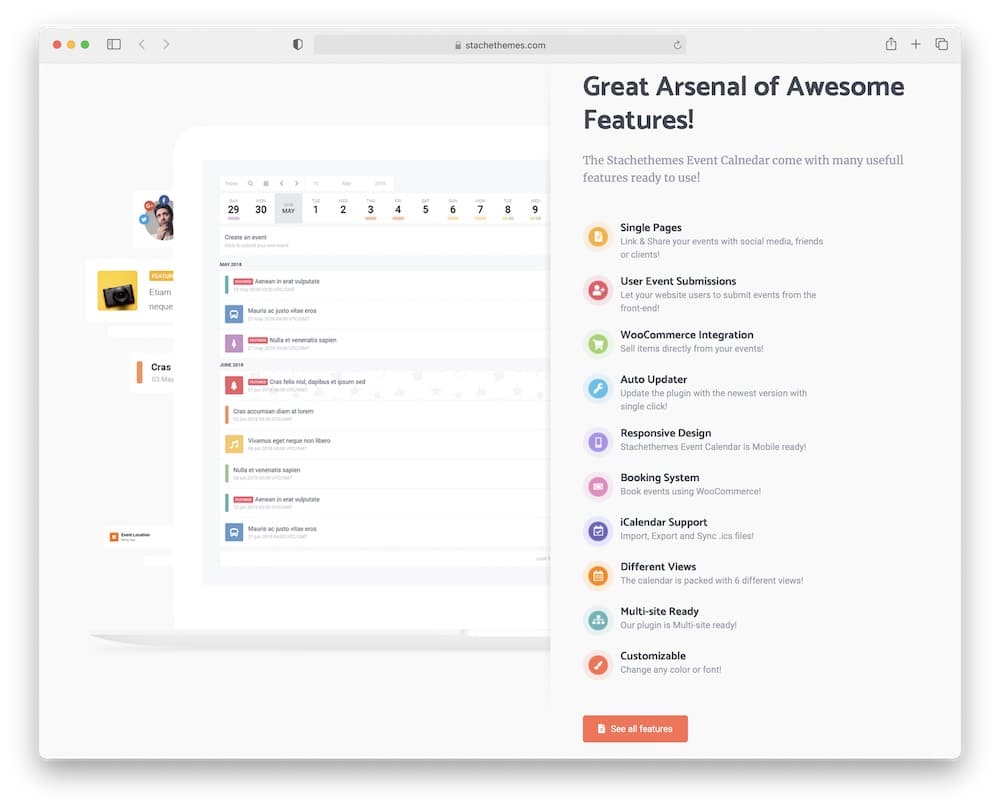 Our next suggestion is PERFECT if you need a WordPress calendar plugin that perfectly combines WooCommerce stores.
Stachethemes has surprised us in a good way with numerous unique features and a fully responsive layout.
What we like most about this plugin is that it combines the classic calendar concept with advanced features.
For example, your website visitors will have the possibility to view a minimalistic agenda (calendar), which at the same time will contain all the details you want to include.
The plugin integrates Elementor and we had no issues creating appealing event pages and event registration forms.
Stachethemes features:
5,700+ sales
4.5/5 ratings
WordPress Multisite ready
Front-end user submission
Price: $64 (may vary)
MORE INFO / DOWNLOAD
4. EventON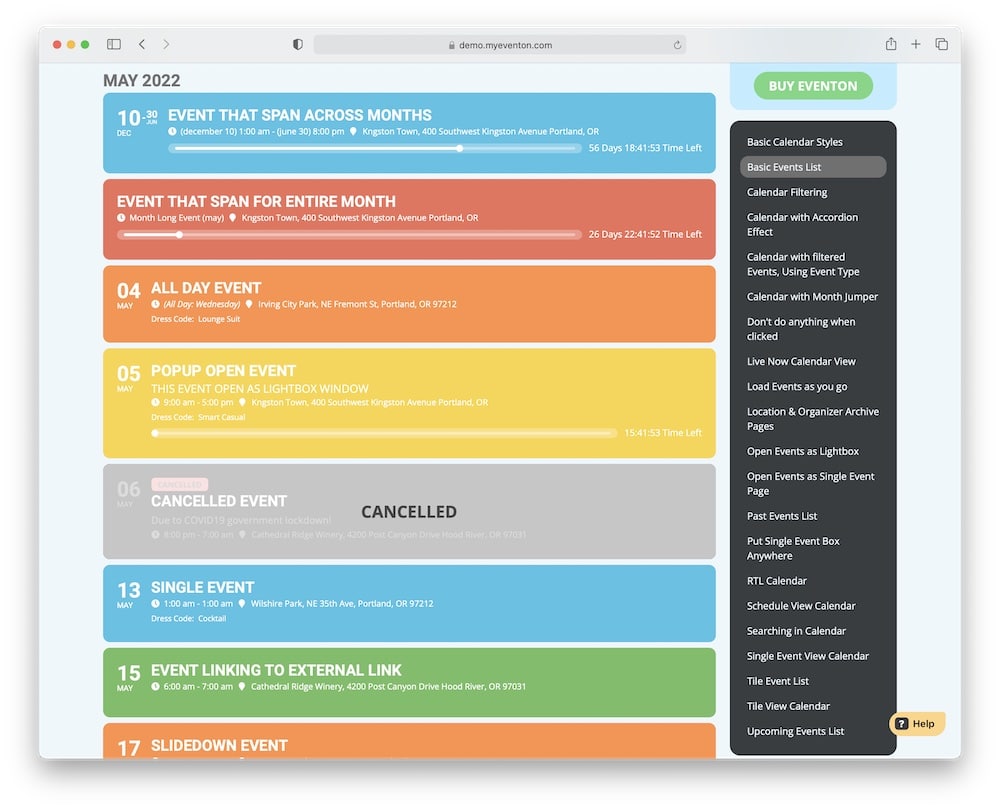 Think of our next selection as a traditional calendar. In fact, EventON is the perfect WordPress calendar plugin for anyone who needs a QUICK way to organize events.
You can add and edit information like address, date and time, and manipulate elements like the colors and fonts of your layout with simple customization options.
It's very easy to present your branding elements, while providing all the information about upcoming meetings, classes, etc., with EventON.
This is the premium plugin you should go for if ease of use is important to you!
Note: You can even create an RTL calendar!
EventON features:
58,000+ sales
4.4/5 ratings
Numerous calendar layouts
Virtual event integration (e.g. Zoom, Jitsi)
Price: $25 (may vary)
MORE INFO / DOWNLOAD
5. Calendar Anything

Do you want to create a calendar out of anything? Now you can!
You can easily create or customize styles to make personalized calendars for upcoming events of any kind with Calendar Anything.
Apart from its affordable price, we liked that Calendar Anything allows the administrator to add different views (month/list/base/agenda) and import or export themes.
This WordPress calendar plugin is also a TOP-NOTCH solution for blogs, as the plugin integrates custom post types.
Although this plugin is not as powerful as Booknetic, for example, it offers everything a business needs to create calendars in WordPress fast.
Calendar Anything features:
550+ sales
5/5 ratings
11 customizable calendar themes
Allows multiple calendars on the same post/page
Price: $26 (may vary)
MORE INFO / DOWNLOAD
Best Free WordPress Calendar Plugins
6. The Events Calendar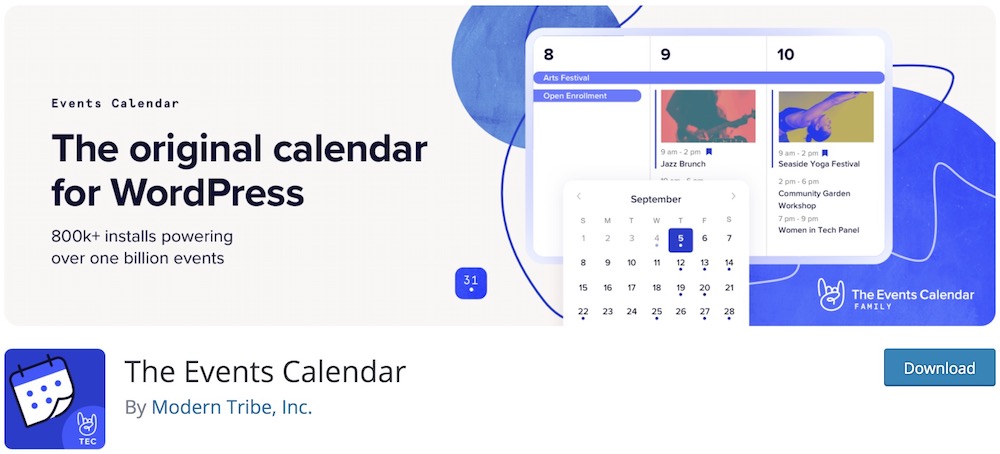 There are few instances when a free plugin is unenviable compared to premium choices. Well, this was one of those rare occasions.
The Events Calendar is a comprehensive WordPress calendar plugin that has everything a pro needs! (Yes, you!)
First of all, the plugin offers all the advanced features we look for when creating a calendar: from customizable templates and template tags to hooks, filters, and more.
If you add that The Events Calendar supports all modern devices and is compatible with Gutenberg, it becomes one of the best calendar plugins on the market.
Free. For. The. WIN!
The Events Calendar features:
800,000+ active installations
4.4/5 ratings
SEO-friendly
Detailed events taxonomies
MORE INFO / DOWNLOAD
7. Events Manager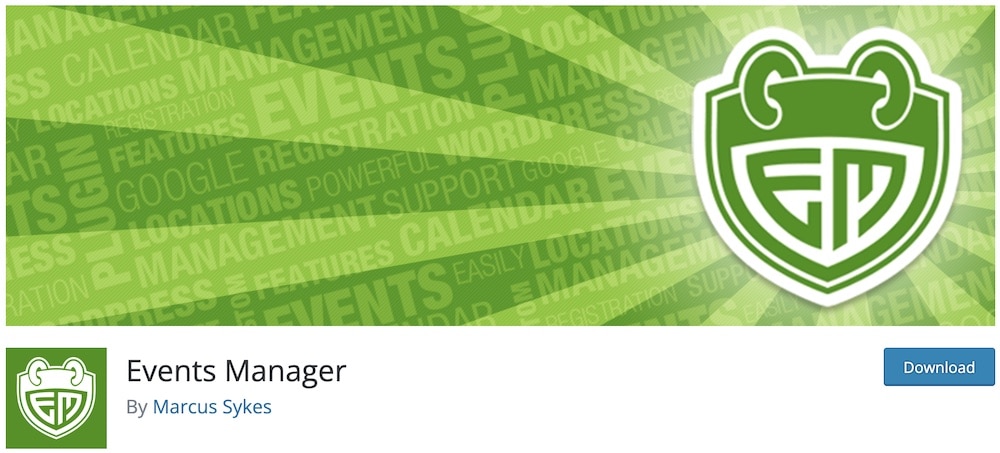 If you are looking for a simple plugin to help you register events and manage tickets effortlessly, Events Manager is the answer.
From Zoom webinars to school assemblies, there's NOTHING you can not organize with this plugin.
But how is this plugin different from our previous picks? Well, we can safely say that this is one of the easiest WordPress calendar plugins out there.
We all like easy!
We also haven't encountered any reliability issues or bugs while reviewing this plugin.
And customizing bookings and ticket forms was so easy. What's more to ask for?
Events Manager features:
100,000+ active installations
4.5/5 ratings
Multiple add-ons/widgets
Supports BuddyPress
Plenty of payment gateways (PayPal, Stripe, etc.)
MORE INFO / DOWNLOAD
8. Timely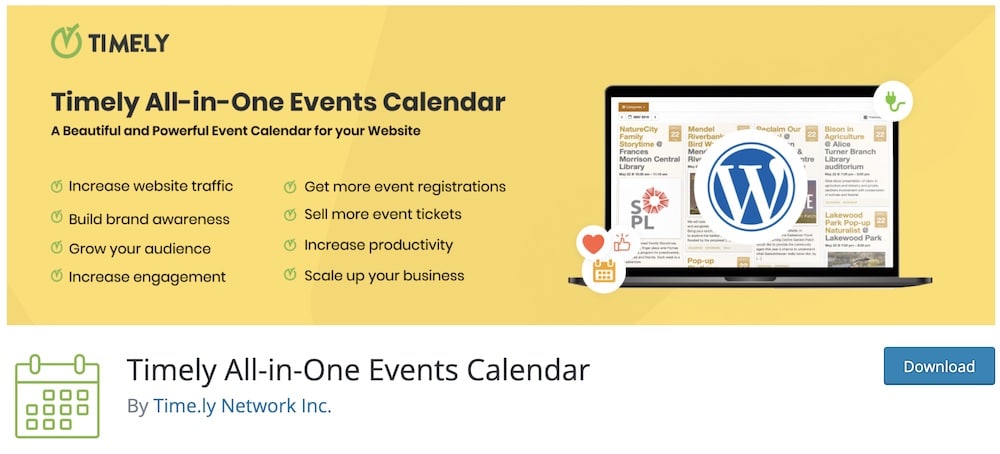 For our next suggestion, let us start with this: Timely is used by well-known companies and organizations such as Harvard University and UPS.
Say. What?!
So it should come as no surprise that we completed adding an events calendar to three clients' sites with ease.
This WordPress calendar plugin has everything you need to create and successfully promote events.
Timely is SEO optimized and allows you to add buttons for sharing on social networks. Reaching a larger audience for your upcoming events is OH SO happening!
It'ss also the best choice for non-English websites with its advanced multilingual support.
Timely features:
90,000+ active installations
4.1/5 ratings
100% mobile-friendly
Lightweight software
MORE INFO / DOWNLOAD
9. Booking Calendar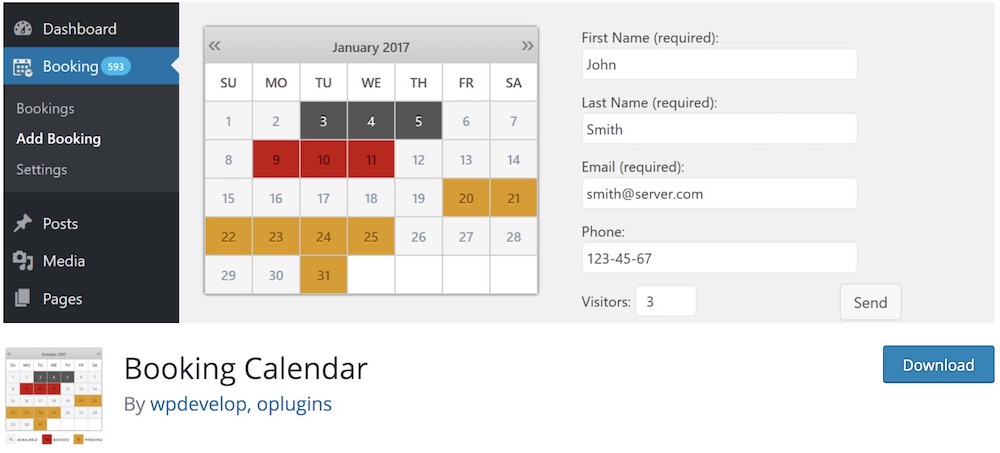 Booking Calendar has been one of the most popular WordPress calendar plugins for 10+ years.
The reason is simple: It provides everything you need to quickly create a booking system.
It's a great choice for businesses like hotels and clinics that have numerous appointments/bookings and need a COMPREHENSIVE system to organize them.
The dashboard is simple to learn and all bookings are stored in your website's database.
Booking Calendar features:
60,000+ active installations
4.6/5 ratings
Beginner-friendly
Works with Gutenberg
Sync bookings with 3rd-parties
MORE INFO / DOWNLOAD
10. Event Calendar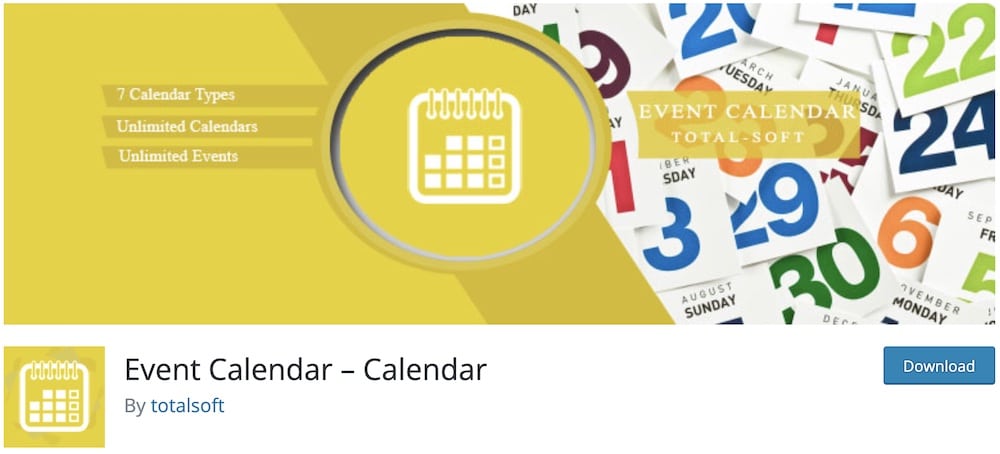 As one of the most user-friendly WordPress calendar plugins, Event Calendar easily made it to our selection.
This plugin has all the essentials for an immediate start.
If you do not have a lot of time, but you want your calendars to look good, Event Calendar is the plugin for you.
We created 2 different calendars with all the elements we needed within 5 minutes.
Customizing colors, fonts and settings is a BREEZE with this plugin.
It's quite underrated (in our opinion) and is one of the most popular plugins for the future!
Event Calendar features:
2,000+ active installations
4.8/5 ratings
Recurring events
Create unlimited calendars
10+ free layouts available
MORE INFO / DOWNLOAD
11. Amelia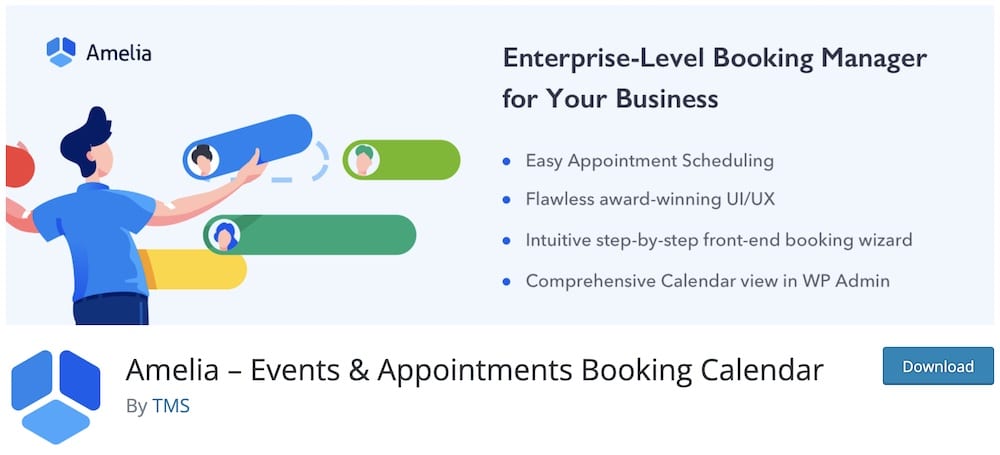 With some of the easiest-to-learn back-end and front-end features, Amelia Lite was a WordPress calendar plugin we (JUST) couldn't uninstall after our review.
This plugin offers everything beginners and professionals need to create booking forms that are UI- and UX-friendly.
Finally, Amelia has the largest collection of available languages (20+). For a free calendar plugin, this is pretty impressive, right?
Amelia is ready to organize any business!
Amelia features:
40,000+ active installations
4/5 ratings
Supports Elementor, Gutenberg & Divi
3-step setup (!)
Video tutorials
MORE INFO / DOWNLOAD
12. Booking Package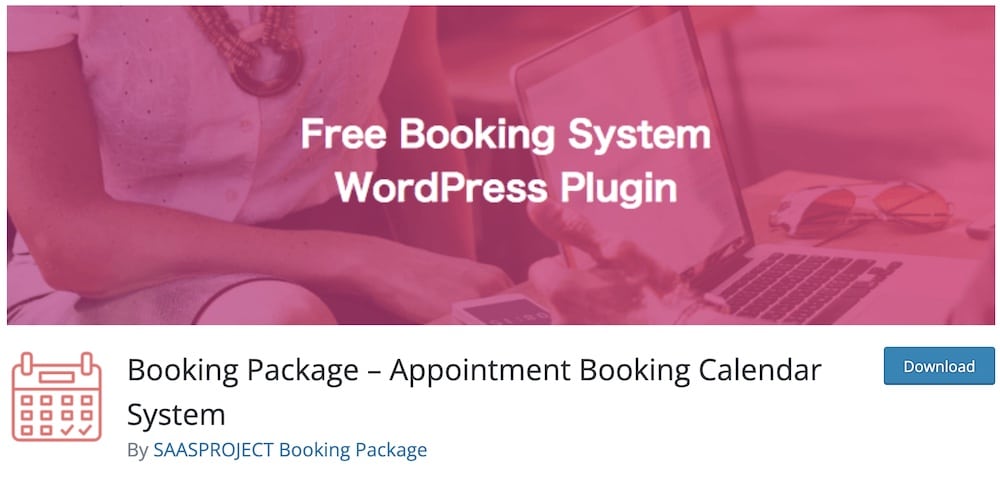 With hundreds of calendar plugins out there, being the 12th best plugin on our list is a success.
Yup, Booking Package DESERVES this spot!
This plugin is a comprehensive tool that allows you to create, organize and manage a booking system while interacting with your clients.
What surprised us about Booking Package is that the developers have created tutorials in 3 languages: English, Japanese and Spanish. (Legends!)
When you add the numerous payment and subscription options, this plugin fully deserves its place as one of the best WordPress calendar plugins.
Booking Package features:
10,000+ active installations
4.5/5 ratings
Automatic email notification
Unlimited booking calendar
Edit visitor/client information
MORE INFO / DOWNLOAD