Bringing your health services to the world is easy with these free medical WordPress themes.
But you can easily face challenges when picking a free theme. (Unfortunately, there are still many unreliable ones out there.)
No. Worries.
We did the necessary TESTING and REVIEWING to ensure each medical theme below guarantees the best experience and the ultimate performance.
(And we tested 40+ themes!)
THESE tools cover it all, whether it's medical services or products you'd like to promote.
People need your medical power. Promote it with a top-notch website now. (0 experience necessary!)
Best Free Health & Medical WordPress Themes
1. Responsive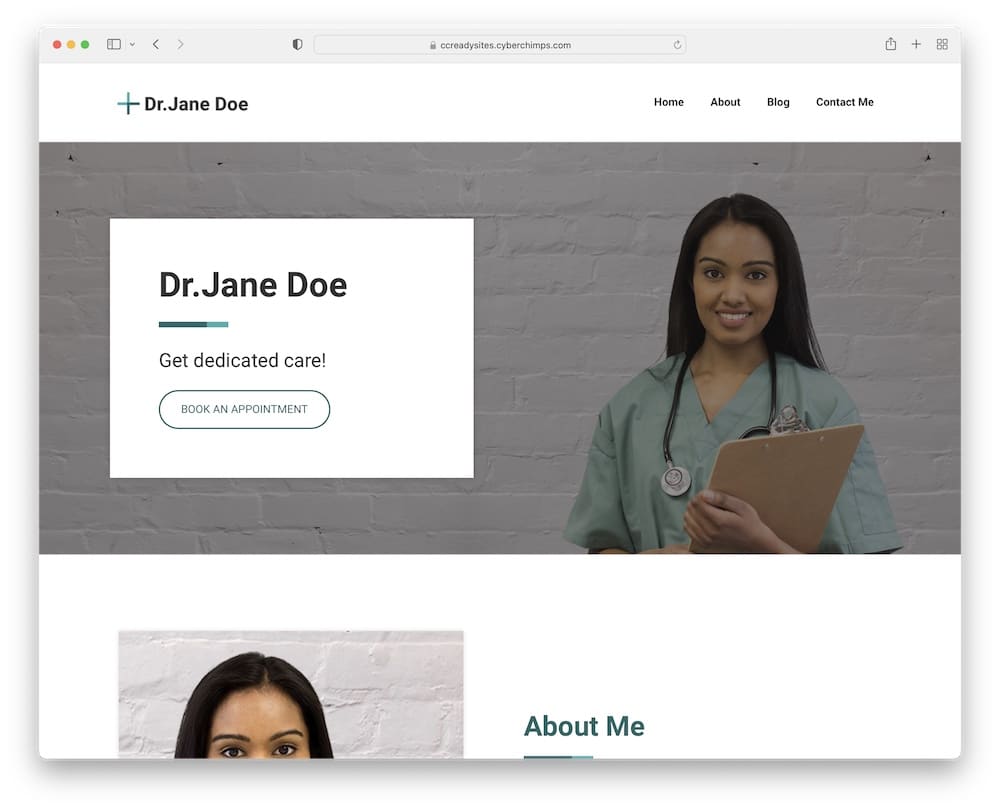 Responsive's Doctor demo is an EXCELLENT medical theme whether you want to create a personal doctor website or one for a smaller clinic.
The theme has a clean and minimalist design, which puts all your valuable information and services front and center.
You are welcome to perform customization tweaks to the already excellent default look and make it your way.
Hey, it's so easy to make it happen!
Use an image background, activate call-to-action buttons, promote your services and showcase your location and working hours.
Responsive features:
30,000+ active installs
Built-in functional contact form
Compatible with all popular plugins
40+ Gutenberg blocks
Works with Elementor
MORE INFO / DOWNLOAD
2. FSars Medical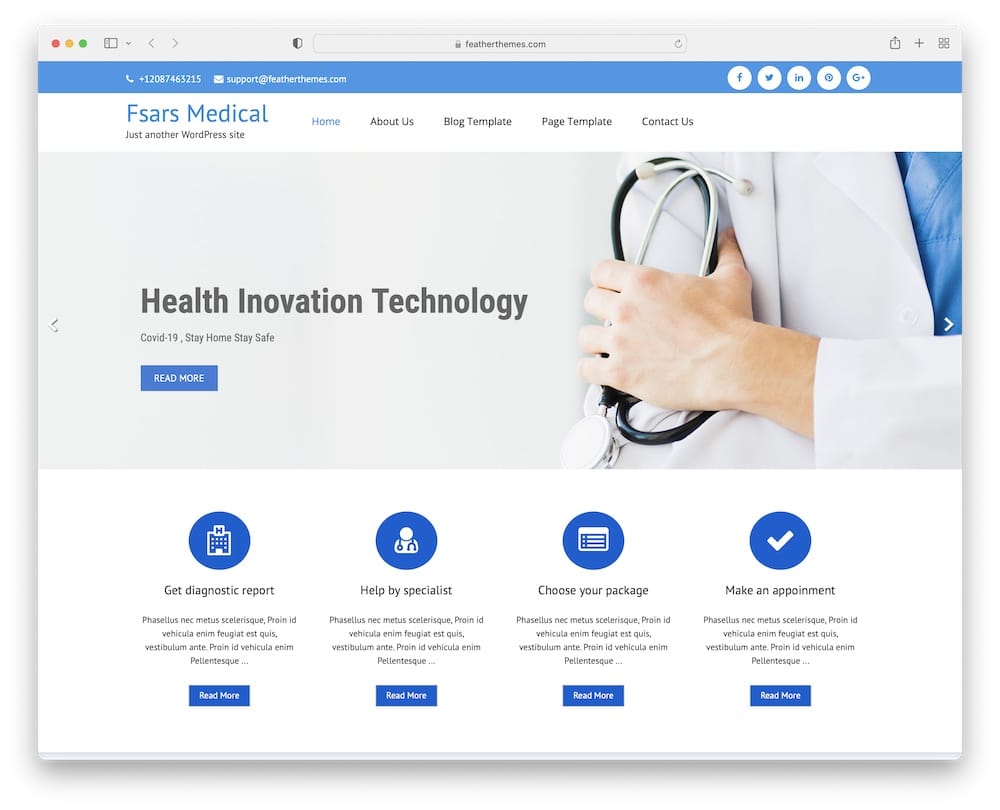 Introduce highlights for your new treatments, advise disease relife, display patient stories (and much more) with the modern FSars Medical free theme.
All you need for a trouble-free start is included in the FSars Medical sack of goods.
FSars Medical works great with amazing Gutenberg and the top-rated WooCommerce plugin.
Yup, unavoidable, you get the most user-friendly editing experience, plus you can have your online store in just minutes!
LIT.
FSars Medical is also SEO-ready & cross-browser-compatible to help you rank higher for more FREE traffic to your site. Plus, promote your new website on social media (MUST).
Make people's lives better with FSars Medical.
FSars Medical features:
300+ active installs
Optimized for performance
Widget-rich footer
Quick setup
MORE INFO / DOWNLOAD
3. Eightmedi Lite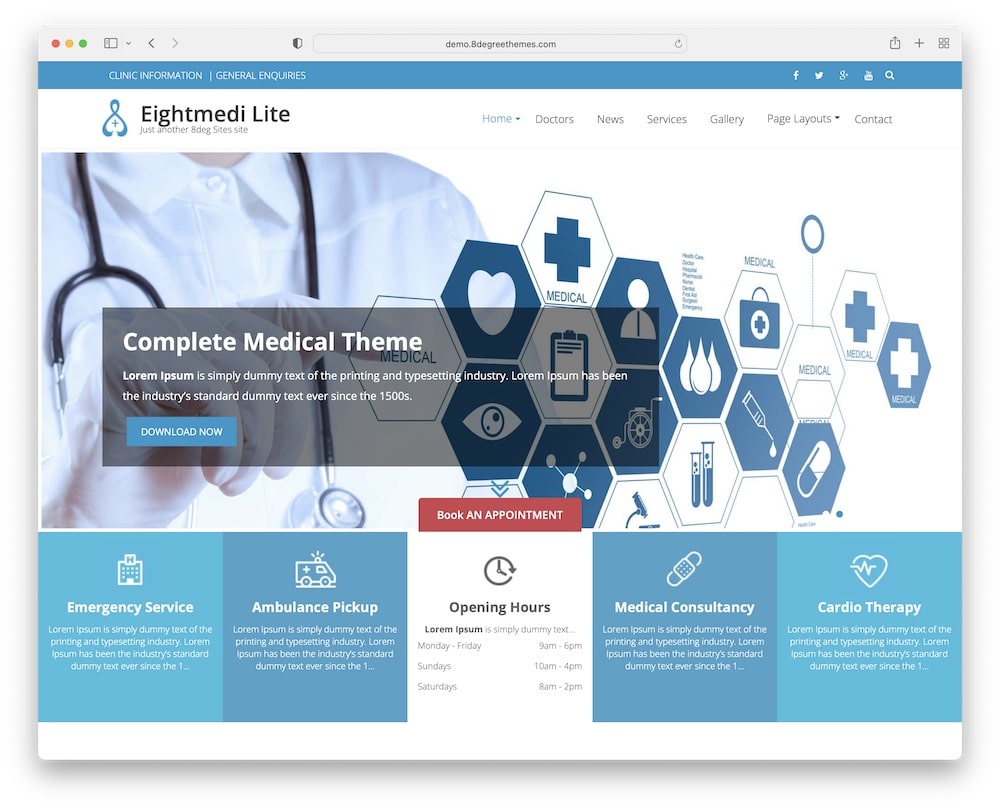 Bring forth helpful health care information with the gorgeous Eightmedi Lite free medical WordPress theme.
This is called re-falling in love with your work.
Eightmedi Lite is perfect for doctors, health centers, labs, clinics, surgeons, and pharmacies.
Best of all, you can redesign it exactly as you desire (0 coding knowledge needed).
Basically, you can change, mix, and match sidebars, columns, widgets, fonts, and colors. Plus, set up the slider, social icons, adjust the menu, and modify the footer.
In other words, you are THE BOSS.
Bear in mind, you can become the best source for original & timely medical content.
NO. FEAR.
Check Eightmedi Lite!
Eightmedi Lite features:
1,000+ active installs
Brand logo slider
Back to top button
MORE INFO / DOWNLOAD
4. Gutener Medical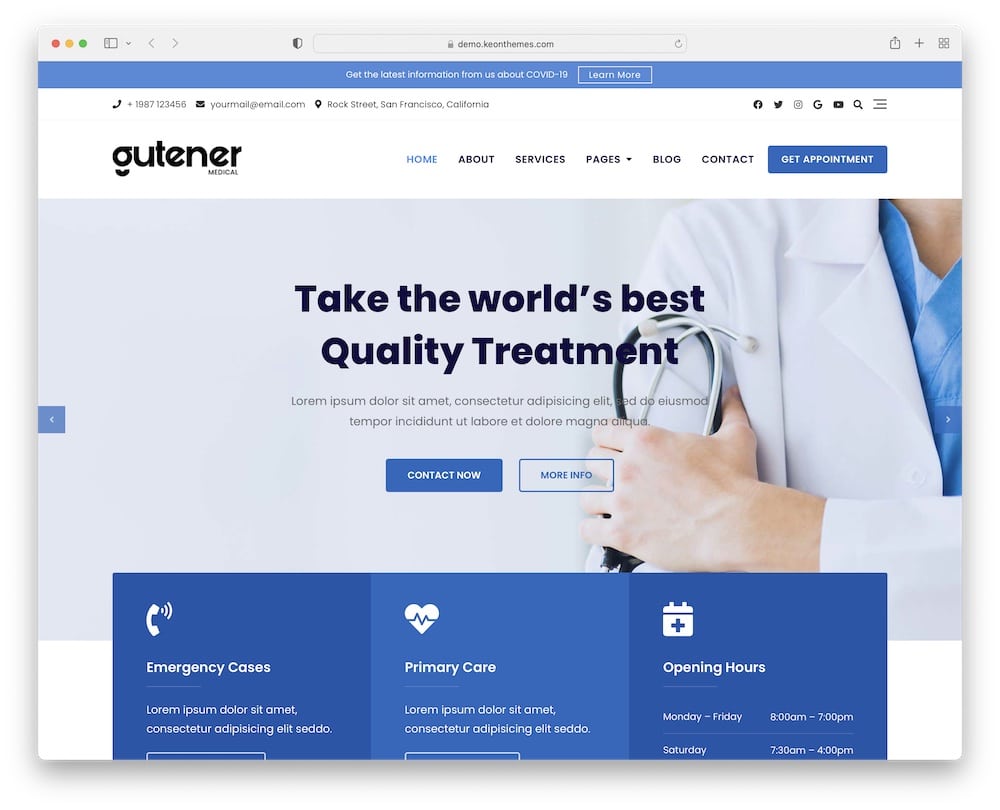 The mission of Gutener Medical theme is to inspire people to live healthily. This creative and powerful theme is fully responsive, based on Gutenberg editor experience.
Gutener Medical comes with various header-n-footer layouts, a drop-down menu, a pre-made portfolio, sticky posts, and wide blocks.
You can even start your blog. Hurray!
And let's not forget about pre-load animations, bold color options, different site skins (white, dark, black and white), and social media integration. It's just – five stars.
Before you ask it – YES, Gutener Medical is well documented (keep calm and nerd on!).
Today is your day; try this wonderful theme out!
Gutener Medical features:
900+ active installs
3 header & 3 footer layouts
Notification bar
MORE INFO / DOWNLOAD
5. VW Medical Care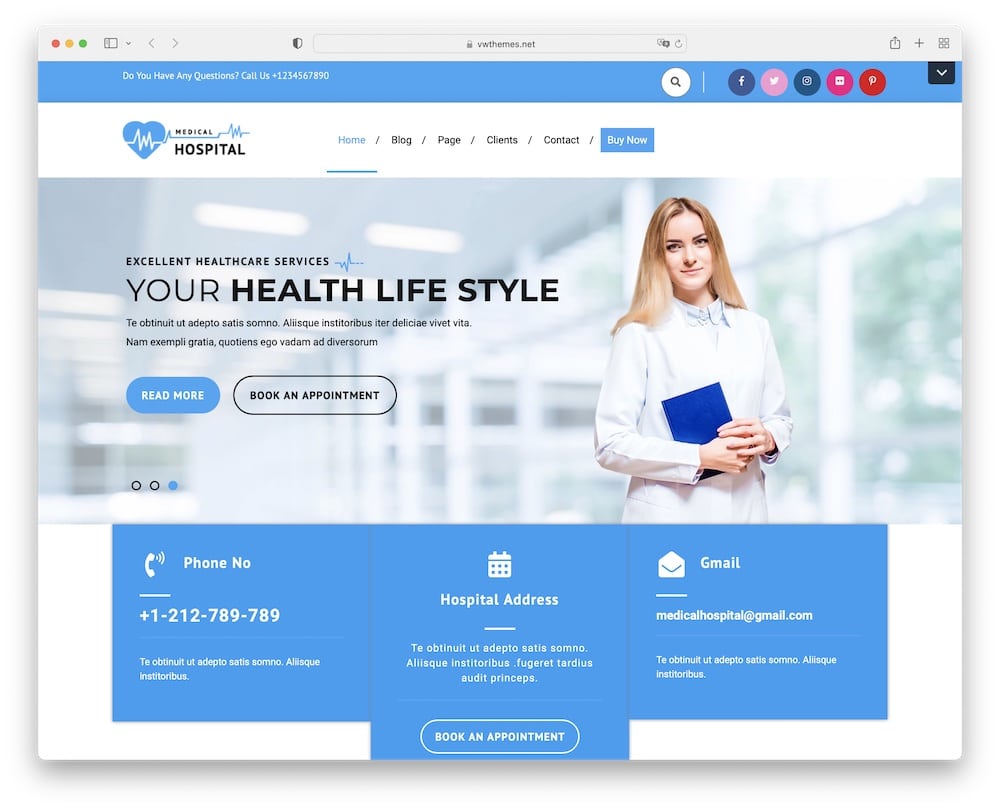 Enable VW Medical Care free medical WordPress theme to share valuable medical information, services, safety tips, useful products, healthy recipes, etc.
Build a loyal community!
It comes with reliable tools and fully customizable elements. VW Medical Care has a good design foundation, SO be smart and use it to your advantage!
(We didn't even bother changing much because it already looks so good.)
This baby is all about responsive design – VW Medical Care looks GREAT on different screens.
Plus, cross-browser adaptability and SEO-friendly benefits nicely tie it all together.
Make a masterpiece with VW Medical Care!
VW Medical Care features:
700+ active installs
Customizable slider
Regular updates
Quick customizations
MORE INFO / DOWNLOAD
6. JetBlack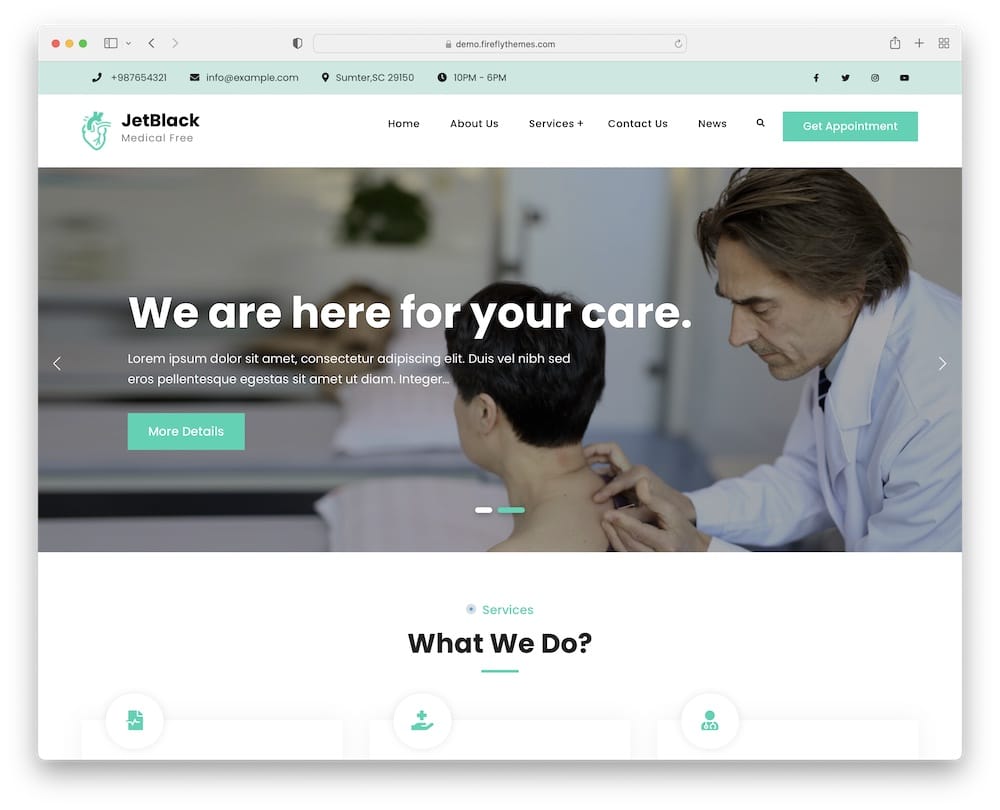 Attract more patients into your healthcare establishment with the stunning JetBlack medical theme.
Let me explain.
It's worth mentioning that JetBlack includes custom widgets, social media icons, sliders, a fully editable menu, and tons of playful colors.
Plus, it is wise to add categories like: about us, team members, and testimonials to your website.
Of course, you can also create a personal portfolio. MASSIVE opportunities are available to you!
I was as well pleased by JetBlack's translation-ready feature. A great option if you want to be present in different counties simultaneously.
Heck yes!
JetBlack features:
100+ active installs
Hero content
Footer background image
Integrated search bar
Great support
MORE INFO / DOWNLOAD
7. Medical Care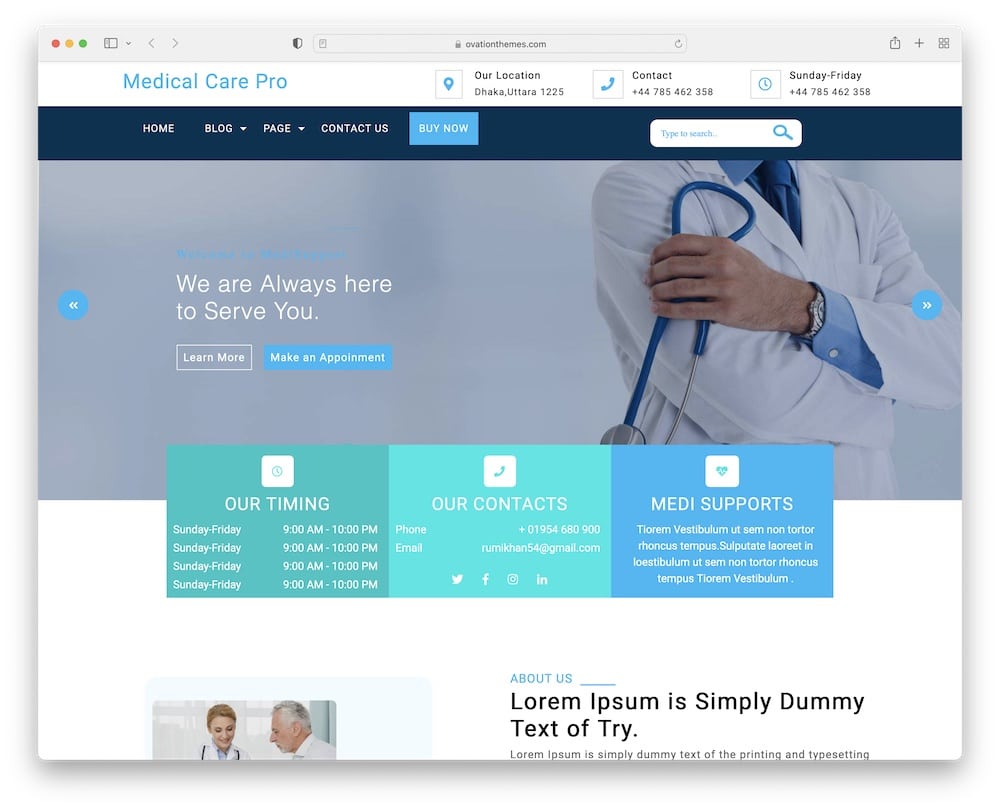 Introduce your specialized care, practical medical assistance, healthy therapies, or medical equipment & products with the confident Medical Care free medical WordPress theme.
Medical Care is designed with powerful details and comes with benefits such as: custom header, blog layout, slider, and numerous widgets.
The result of your customization will turn something pre-made into yours!
Also, you can add an appointment scheduling section, Google Maps location, presentation of your experts, and newsletter.
SPEAK with pride!
Medical Care is your ideal companion.
Medical Care features:
500+ active installs
Clean design
Can work as a one-page layout
Testimonial slider
MORE INFO / DOWNLOAD
8. WPCmedical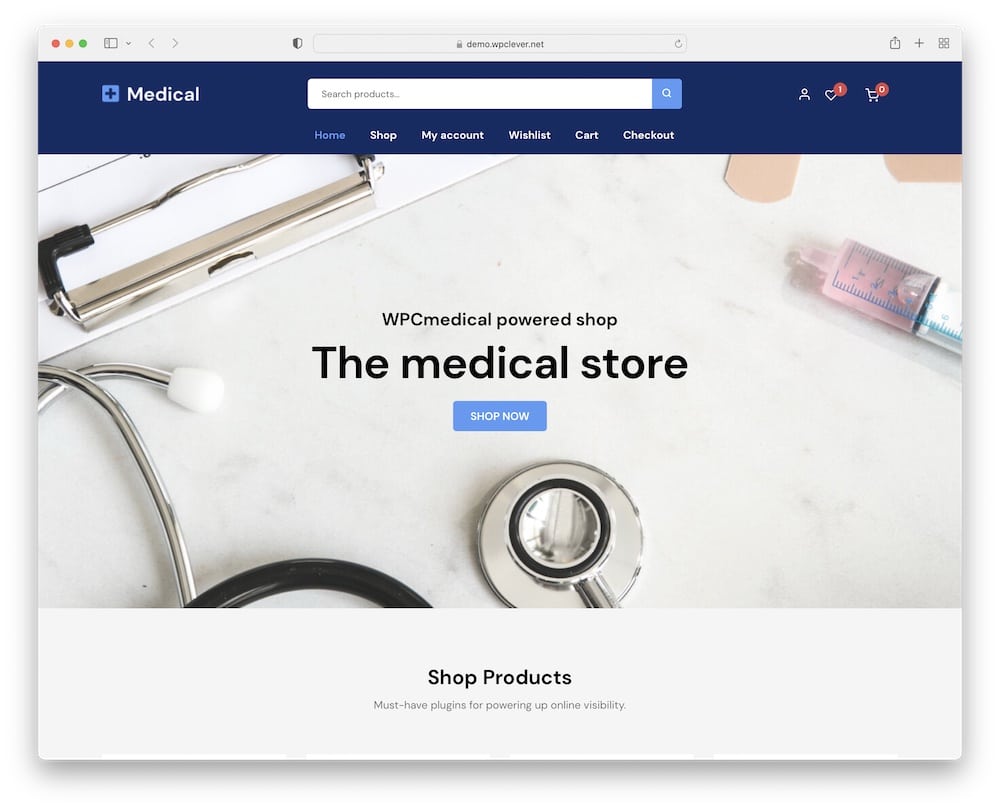 Turn your business into an informational brand and provide the best health and medical care for people in need with aid of the modern WPCmedical.
Start with an idea, a mission.
And finish with the creative process of changing, matching, mixing, and adding elements you want to have.
YOU. DO. YOU.
WPCmedical is fully optimized for smooth performance and can be transformed into your medical store (in minutes). Accessible from any device!
Pretty COOL, I agree.
Spread the word of your thoughts, product reviews, tips, and much more with a valuable blog.
Give WPCmedical a GO today!
WPCmedical features:
300+ active installs
For online pharmacies
Wishlist, cart & checkout
Great mobile experience
Minimalist look
MORE INFO / DOWNLOAD
9. Medplus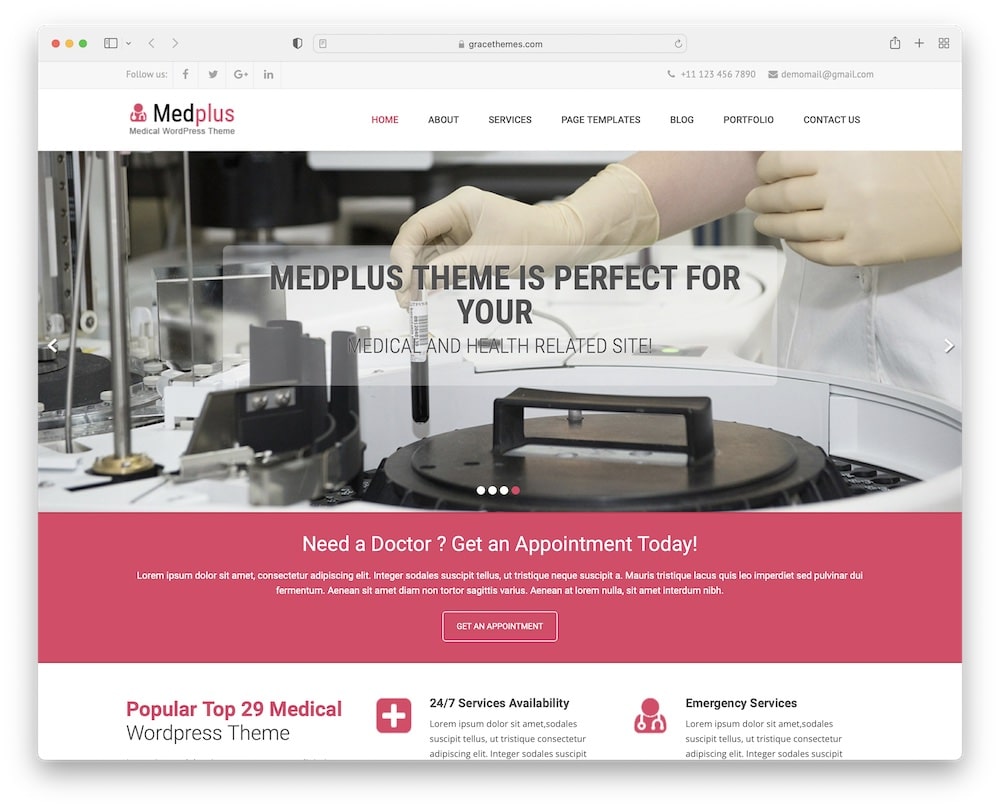 You can cover a full range of services, from hospitals, pharmacies, dental clinics, x-rays, and lab work with Medplus.
Isn't that awesome?
Medplus also covers: different widgets, lively colors, unique icons, and well-prepared documentation. Polished Medplus loads fast, has a clean code base, and is SEO friendly – BIG DEAL.
Of course, you can create an online store for your services and products to be easily distributed (WooCommerce, you are the best!).
Overall, Medplus is likely to be a top pick for you!
Medplus features:
100+ active installs
Full-width slideshow
Extensive documentation
Regular updates & improvements
MORE INFO / DOWNLOAD
10. Doctor Clinic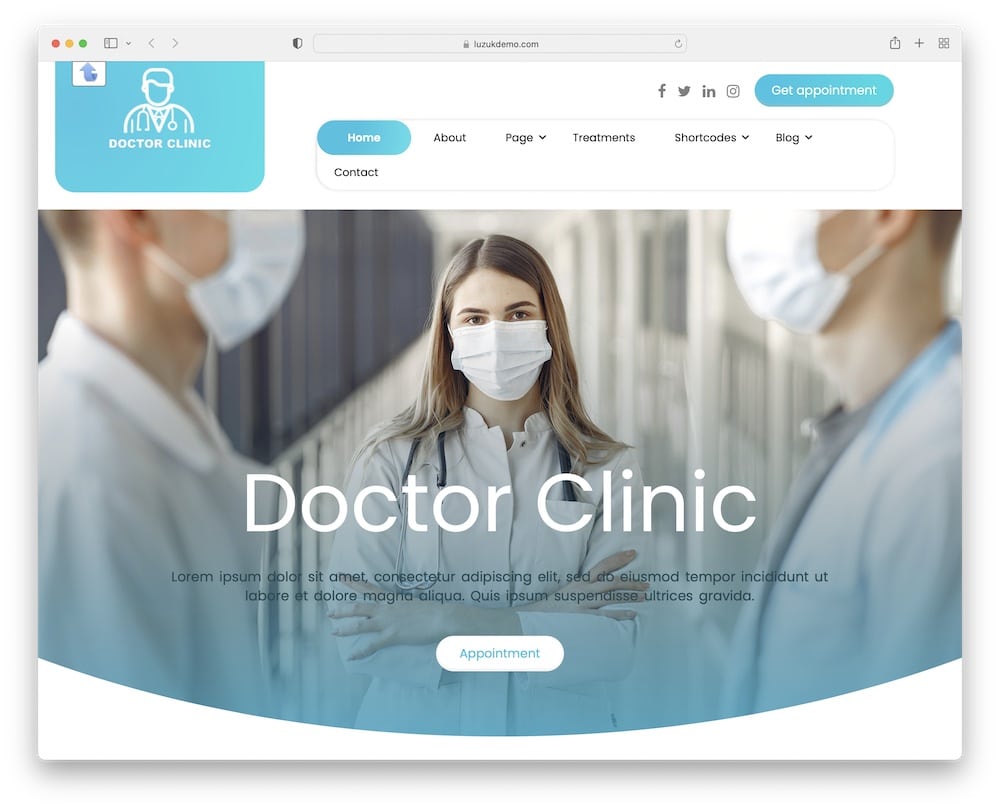 Make a memorable impact on your visitors with the sophisticated Doctor Clinic free medical WordPress theme.
It includes pre-made inner pages, sliders, an adjustable menu, sidebars, a portfolio layout, and supports unlimited colors.
Doctor Clinic is easy to set up (just a few simple clicks).
Friends for life!
Doctor Clinic is well optimized for speed and responsiveness, and its SEO compatibility guarantees your site has a promising future with Mr. Google.
BADASS.
Vitally important: Doctor Clinic is also translation-ready for the diverse audience you want to engage with. Yup, there are no limits.
Reach the top with a performance-focused Doctor Clinic.
Doctor Clinic features:
300+ active installs
Also work for veterinarians
Easy to set up (a few clicks!)
MORE INFO / DOWNLOAD
11. CorpoNotch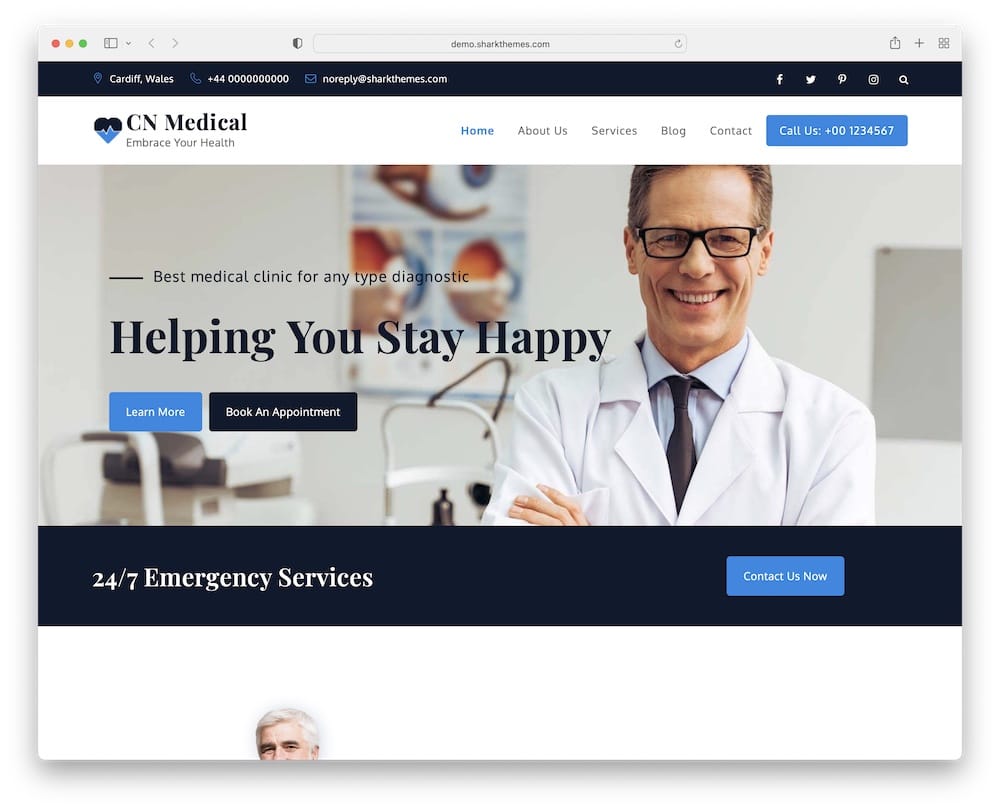 From internal and family medicine to rehabilitation and medical products, CorpoNotch free medical WP theme brings expert healthcare services closer to the people.
You can edit CorpoNotch precisely as you want – change footer text, mix color skins, hide or adjust sidebars, set up the position of posts, and even add pre-made blog layouts.
Sharp and smooth!
And since CorpoNotch is translation-ready, you can translate it into your native language or make it multilingual if you have a chain of doctor's offices worldwide.
EASY. PEASY.
Go to the next level with the brilliant CorpoNotch! (Like many of our clients did.) Speed on!
CorpoNotch features:
100+ active installs
Lightweight & fast loading
Live customizer
Footer credit configuration
Appointment form
MORE INFO / DOWNLOAD
::
Note: This article was originally published on April 6, 2022. But our team regularly reviews it and updates it with necessary improvements for accuracy.