Are you searching for the best pharmacy WordPress themes?
You will sell medical products online like a CHAMP with these!
You don't need to do any testing because that's what I collaborate with the rest of the ULTIDA team to work on.
The following 13 are the best we found, even used for a few of our client's websites (the first 4).
You can now start working on your website quickly and easily, whether it's a drugstore, apothecary, medical equipment shop, even WP medical marijuana store.
All these WordPress themes take care of everything for you. (You don't need experience!)
This post covers:
GO!
Note: You have unlimited options to work on your pharmacy business, even expand your hospital WordPress website with an eCommerce section.
Quick-Pick: Our Best 5 WP Themes For Pharmacies
But don't forget to study how to pick a WordPress theme, were Ales shared nine useful tips.
Best WooCommerce Pharmacy WordPress Themes
1. Medibazar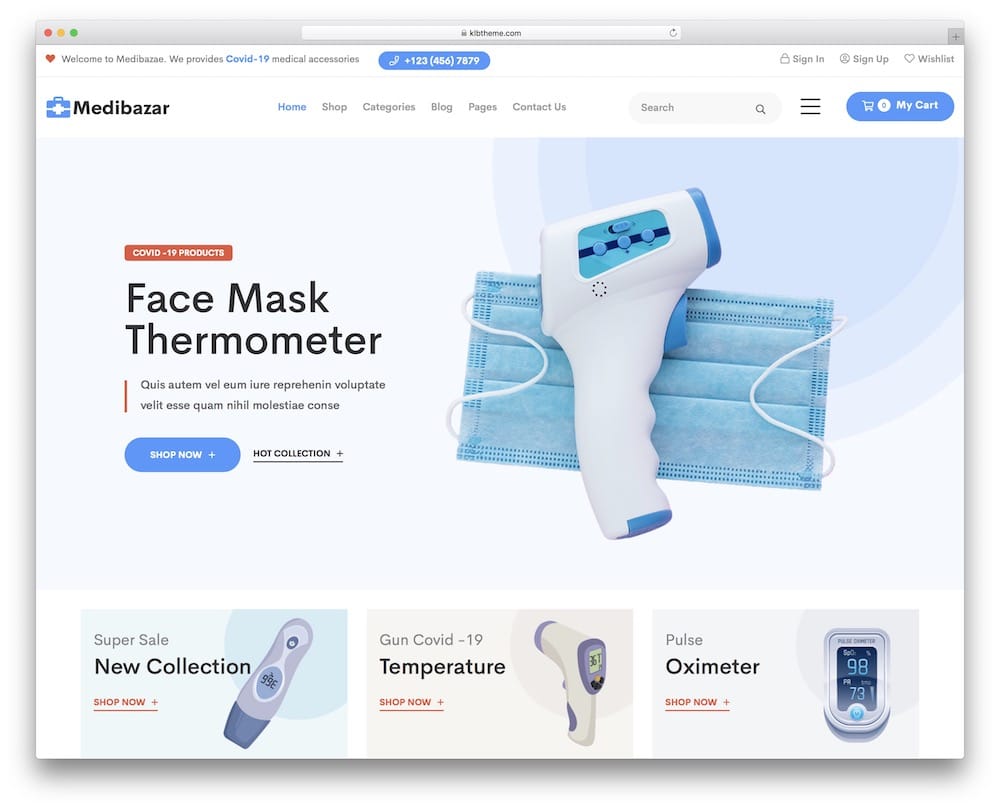 This ready-to-go WordPress theme is designed for medical and pharmacy businesses. Medibazar comes with three beautiful homepages that you can install with one click.
But for theme installation itself, you might want to read this tutorial by Ales.
Creating your new site has never been so easy and comfortable. You can effortlessly modify colors, fonts, icons, and elements.
With Medibazar you will also get amazing tools such as Elementor page builder, WooCommerce, parallax effect, Contact Form 7, and Slider Revolution.
Keep in mind, friendly and professional customer support will help you with all your dilemmas. Make a memorable impact on your visitors with Medibazar.
Medibazar features:
510+ sales
4.9/5 star rating
RTL demo
Translatable & multilingual
Price: $49 (may vary)
MORE INFO / DOWNLOAD
DEMO
2. Medilazar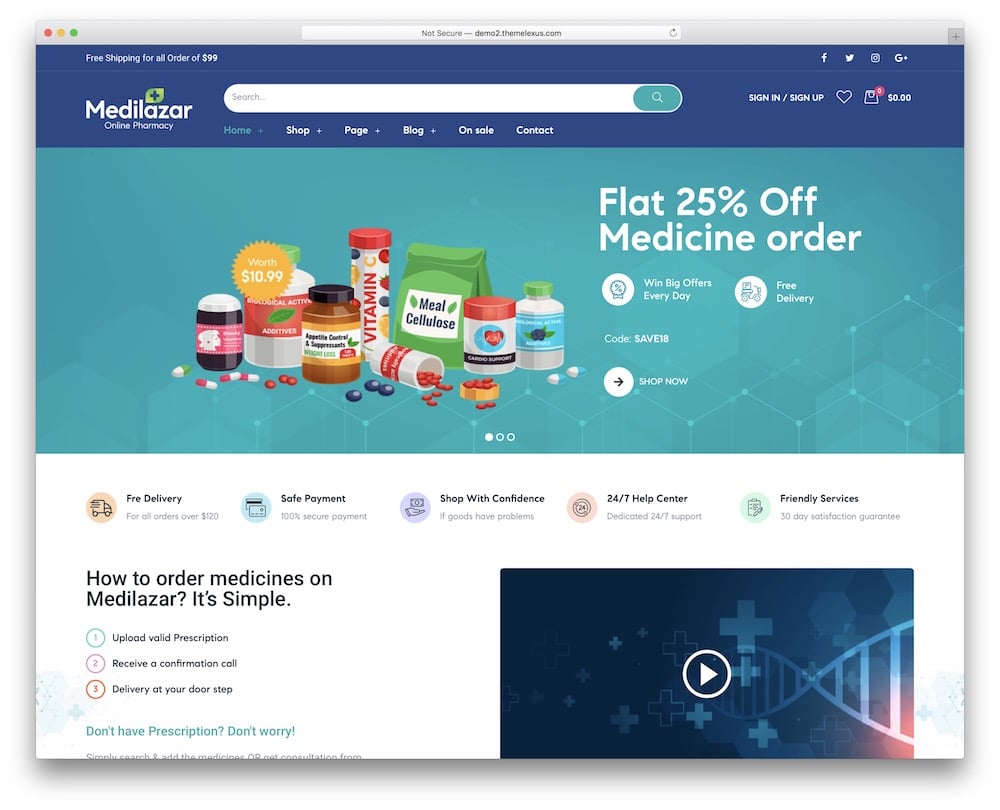 Medilazar is one of the best pharmacy WordPress themes that can give you an amazing and modern new site.
Your customers will be happy browsing your site once you put in the effort to create what you want. (Which will take little time!)
Moreover, you can choose from eight gorgeous pre-designed homepages for an easy and fast start. Additionally, Medilazar is mobile-friendly and will work great on all devices.
Plus, it comes with plenty of cool features. You are just a click away.
Note: you can expand any theme with a convenient store locator plugin that will showcase your exact location.
Medilazar features:
820+ sales
5/5 star rating
Up-sells & hot deals
Testimonials (you can also use a WordPress testimonial plugin for extra functions)
Price: $49 (may vary)
MORE INFO / DOWNLOAD
DEMO
3. Ipharm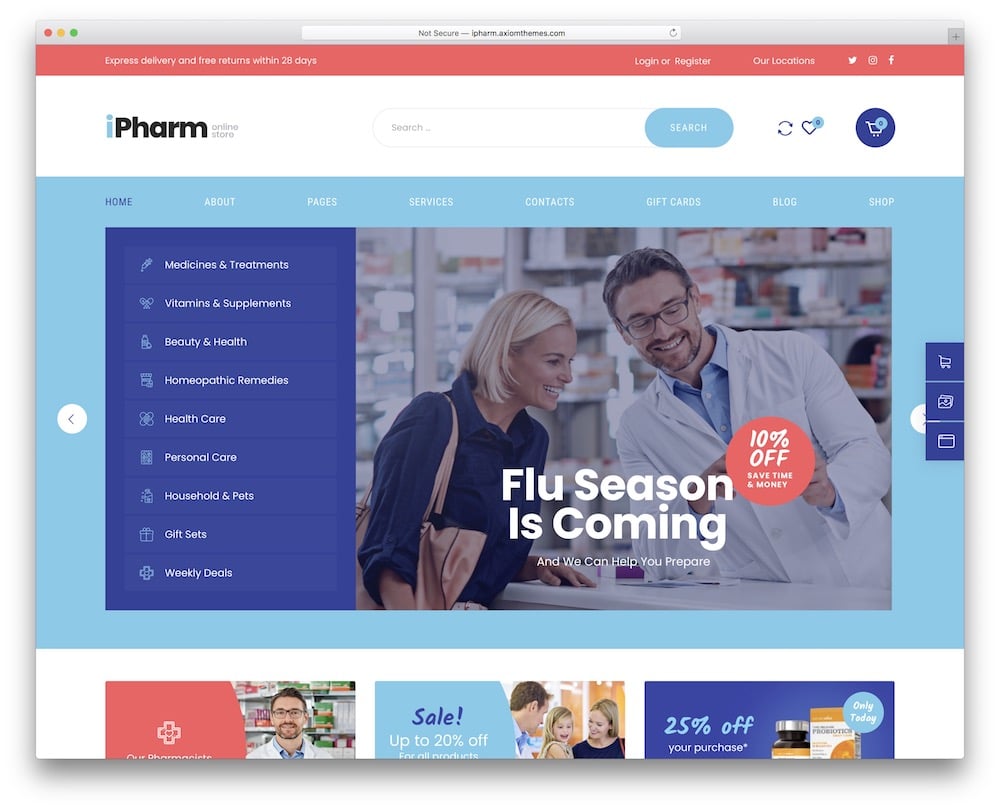 If you are on the lookout for the best online medical store WordPress theme, then you have to take a good look at Ipharm.
You can create a modern and elegant site that effectively presents your services and products.
Of course, it comes with amazing tools such as Elementor page builder, Slider Revolution, MailChimp, and Contact Form 7.
Furthermore, you immediately get to choose from wonderful pre-built templates that can be operating in no time.
Also, you can start your blog with highly customizable blog layouts and tailor them to your needs and wishes. You have tons of options with Ipharm.
Ipharm features:
MORE INFO / DOWNLOAD
DEMO
4. Clinika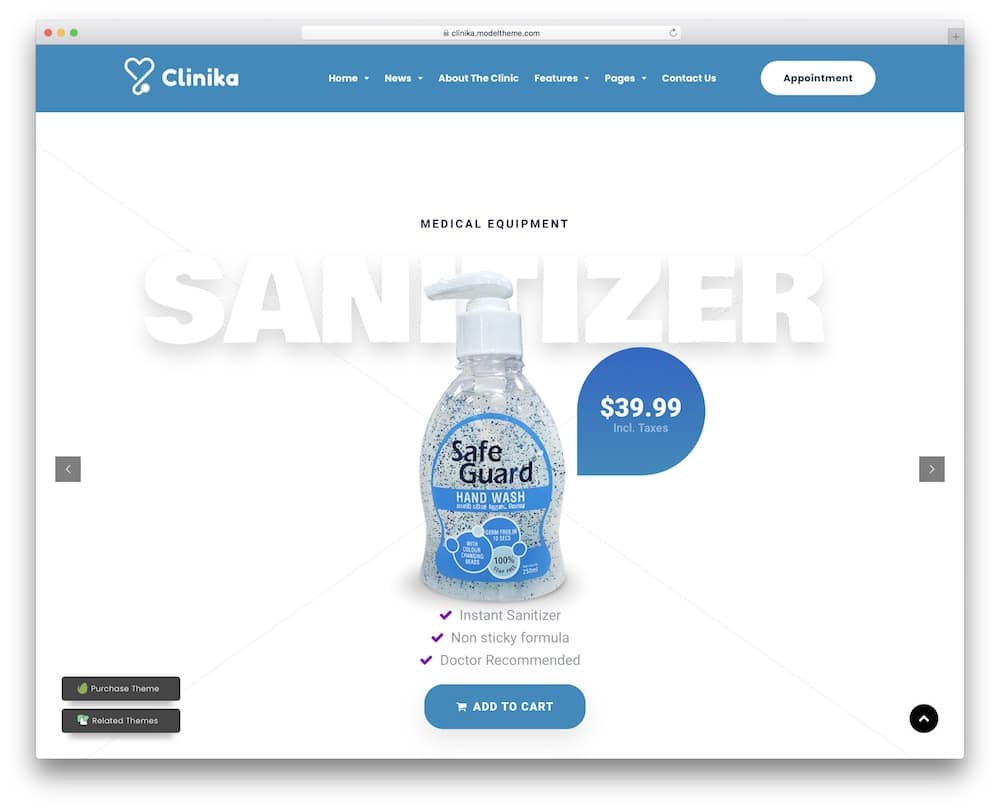 Clinika is a stylish clinic and pharmacy theme to showcase your advanced institution. The inviting design and professional look will convince your customers and clients to return and trust your business.
Many amazing tools will help take your business website to the next level.
Moreover, Clinika is WordPress RTL compatible and optimized for all languages, ready to be presented worldwide (100% translatable).
You will also get multiple demo templates, video background, unique graphics, and a whopping collection of pages and layouts.
The theme is well documented with all the information you need to understand its design and programming process.
Reach the top with Clinika.
Clinika features:
610+ sales
4.7/5 star rating
Online booking appointments
Price: $75 (may vary)
MORE INFO / DOWNLOAD
DEMO
5. Pharmaton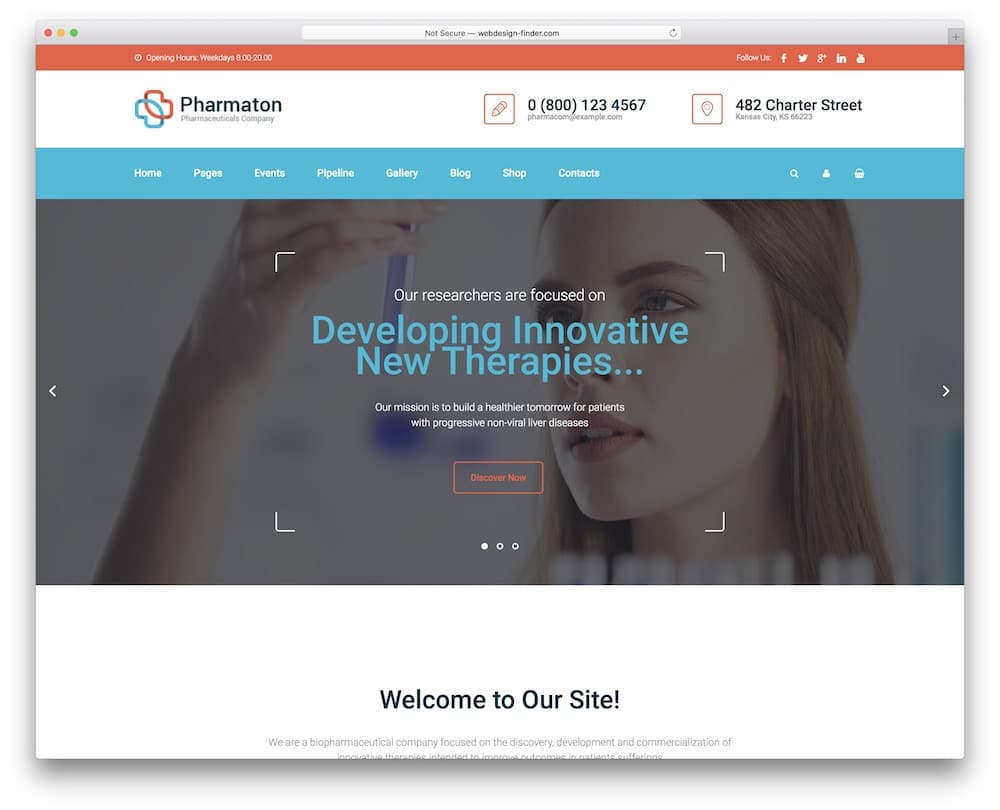 Pharmaton was created for clinics, pharmacies, laboratories, and healthcare centers.
This beautiful WordPress theme comes with a ready-made homepage, custom WP widgets, fonts, icons, and multiple internal layouts.
Of course, Pharmaton is integrated with social media to easily display all your social accounts and invite your customers to follow you.
The entire marketing process will be even easier with the MailChimp subscription-to-newsletter email marketing service.
Furthermore, you can add a WordPress appointment booking option to your new site with a desire to facilitate booking for your customers and clients.
Surpass your competition with Pharmaton.
Pharmaton features:
MORE INFO / DOWNLOAD
DEMO
6. Diza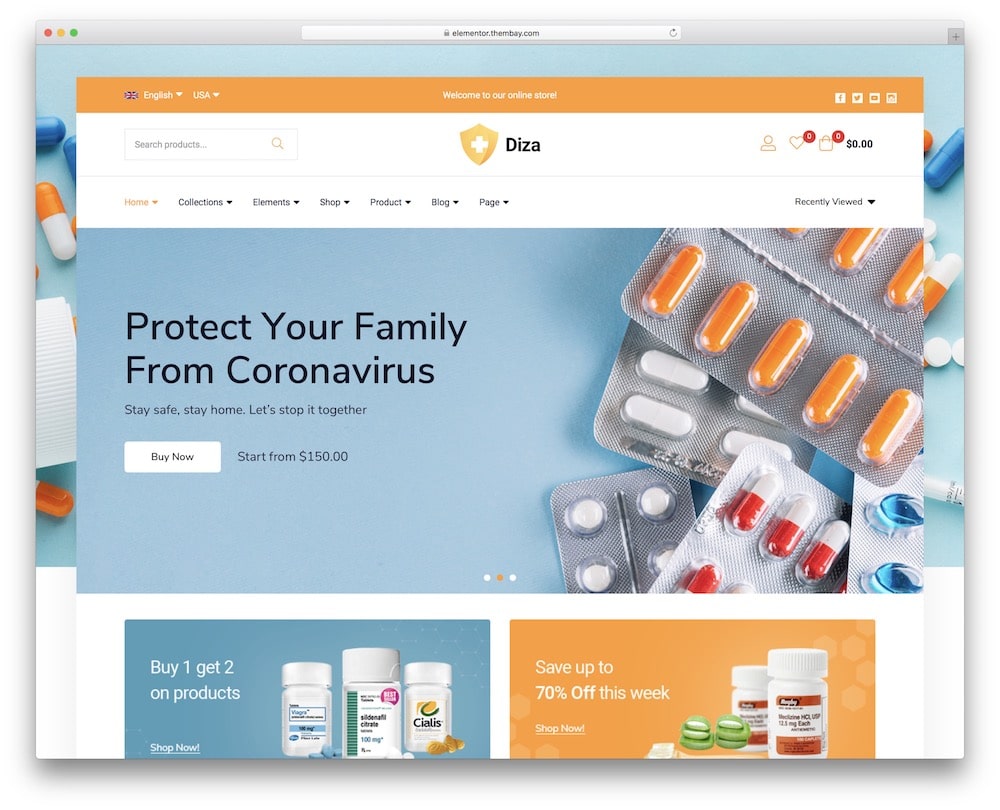 Diza is a professional pharmacy WordPress theme that comes with three pre-built index pages. Also, you can customize and modify the header and footer to your liking.
If you always wish to share your knowledge and useful information, you can now do it with Diza due to its blog pages.
Make your content a valuable experience for your visitors.
With Slider Revolution, you can create outstanding and beautiful slideshows to display on your new site.
Moreover, Diza is ready-to-use WooCommerce prepared for you to construct a great shop and friendly eCommerce experience.
Diza features:
450+ sales
4.9/5 star rating
Price: $39 (may vary)
MORE INFO / DOWNLOAD
DEMO
7. Pharmacy (WooCommerce)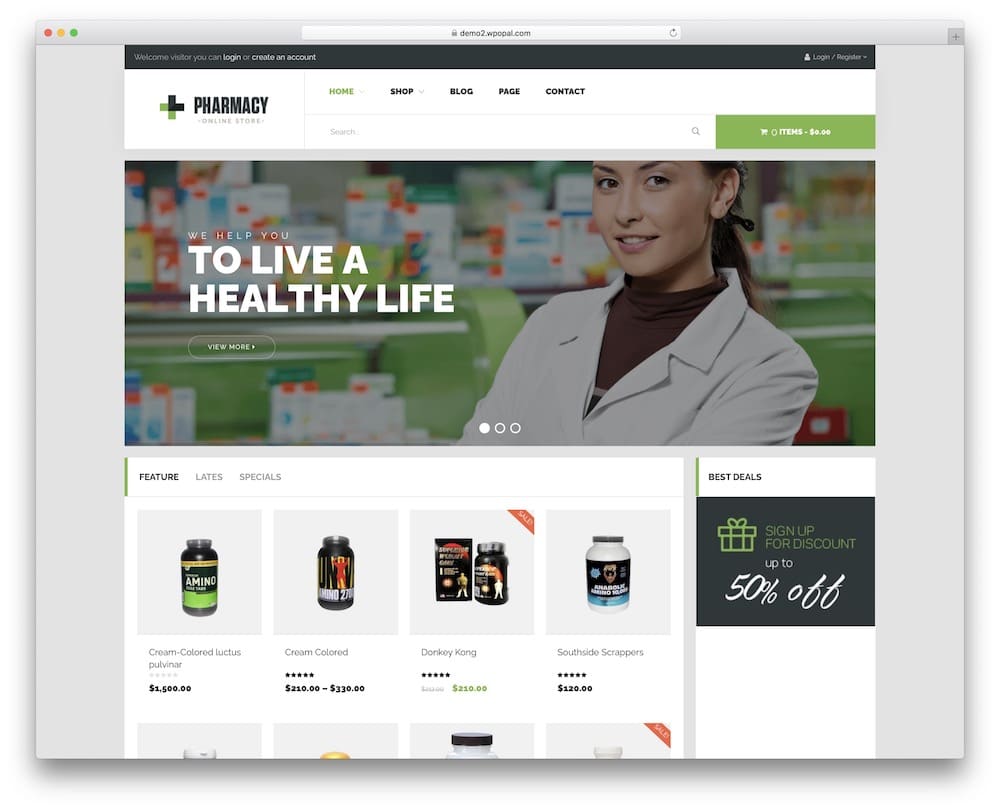 Pharmacy is a WordPress theme for everyone who is in the medical and healthcare business. If you search for a beautiful and flexible online presence, you are on the right theme.
Pharmacy has outstanding features like Elementor page builder, Contact Form 7, Slider Revolution, and WooCommerce.
Your business can be meaningfully presented and boosted with included Pharmacy pre-designed blog styles.
Some other cool features are four gorgeous homepages, various header and footer layouts, numerous shortcodes, widgets, and playful typography options.
Keep in mind, if you will have any problems, the dedicated and professional customer service will have your back covered.
Pharmacy features:
1,200+ sales
4.2/5 star rating
Works with shortcodes
Scrolling WP animations
Price: $59 (may vary)
MORE INFO / DOWNLOAD
DEMO
8. Clarivo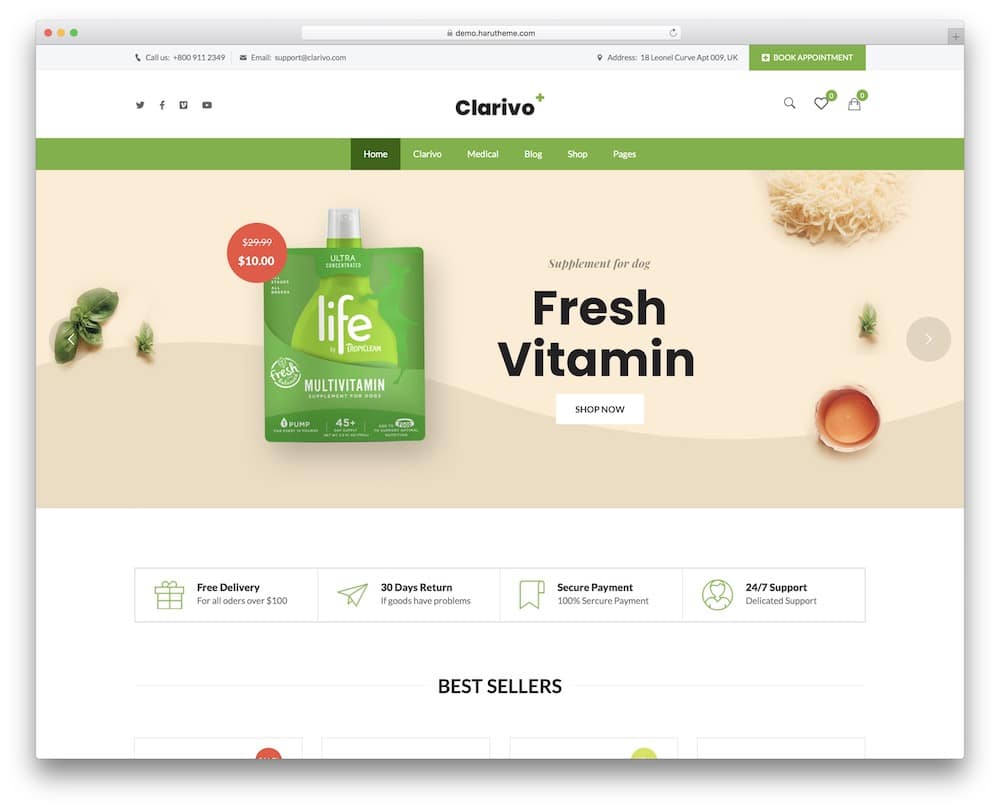 Clarivo is an elegant and fresh pharmacy WordPress theme suitable for any kind of medical-related online shop. It comes in a beautiful color combination and appealing typography.
Theme's features include WPBakery, Slider Revolution, mega menu, and WooCommerce.
In addition to that, you will also get five homes, four blog styles, various headers and footers, and tons of awesome icons.
Of course, Clarivo is compatible with various browsers and will work great on all devices due to its responsive design and retina-ready privilege.
Once you decide to work with Clarivo, you will never look back.
Clarivo features:
510+ sales
5/5 star rating
Easily customizable
Regular updates
Price: $49 (may vary)
MORE INFO / DOWNLOAD
DEMO
9. Pharell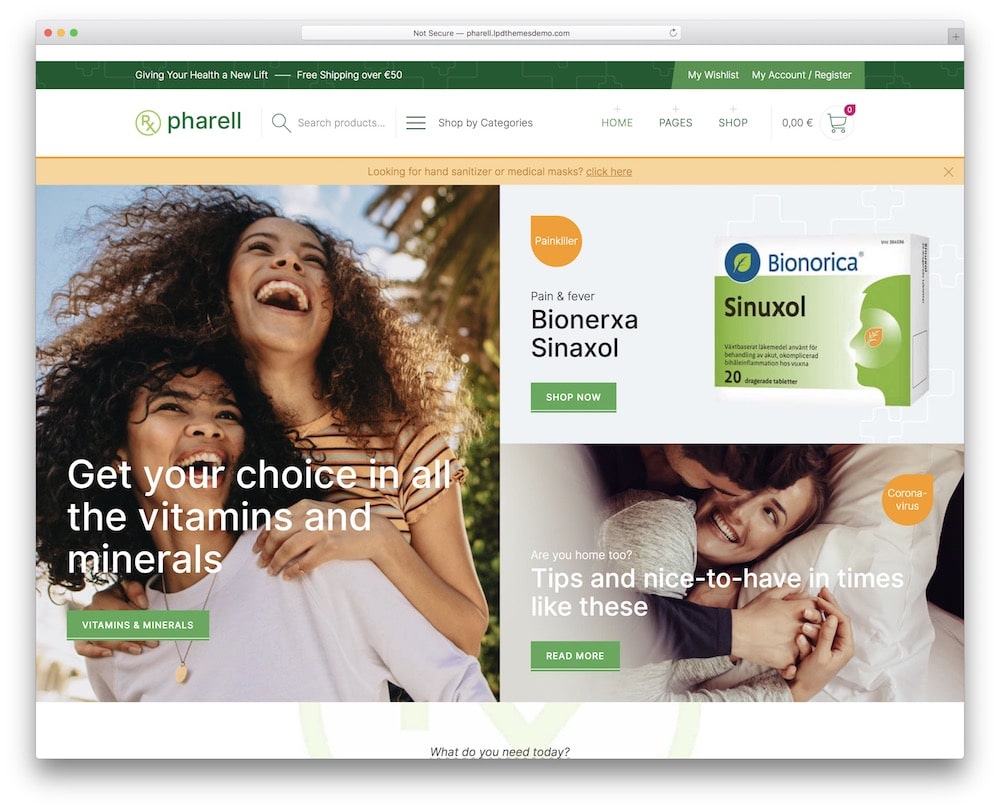 This classic pharmacy WordPress theme has an eye-catching layout and a fantastic design.
Pharell is focused on eCommerce projects and will help you sell your items, services, and medical equipment without a struggle.
It has five pre-designed index layouts, numerous inner pages, and various elements.
Furthermore, you can publish educational content and product reviews on your blog daily. Also, you can present and offer different online sales, promotions, and revisions.
Overall, Pharell is likely to be a top pick for you. Remember, big online goals get big online results.
Pharell features:
140+ sales
4.5/5 star rating
6 home demos
Back to top button
Price: $59 (may vary)
MORE INFO / DOWNLOAD
DEMO
10. Medicor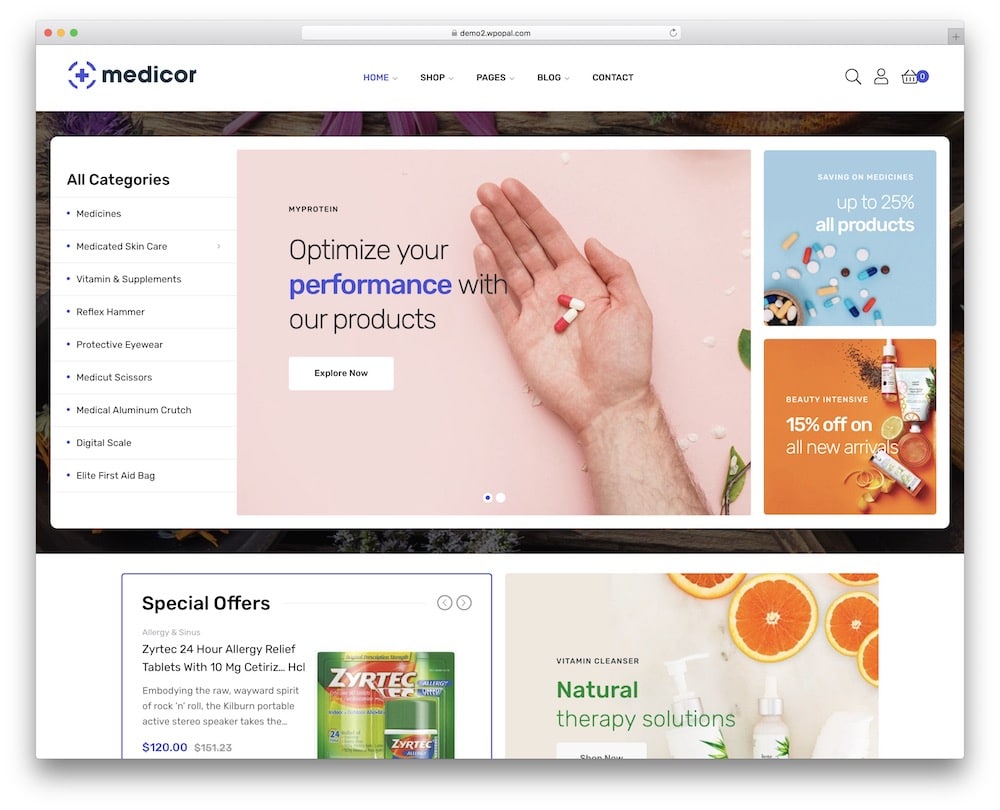 Fortunately, a pharmacy WordPress theme such as Medicor will give you most of the tools you need to make the best site possible for your business.
You can present your products and paraphernalia attractively with Medicor.
You can easily add details and elements to your new website since Medicor comes with the popular drag-and-drop builder, Elementor.
Give your visitors basic information about your products, helping you break down the fence between the visitor and your offer.
On top of that, Medicor is compatible with multi-languages, so you can effortlessly turn it into a WordPress multilingual theme. What's not to like?
Medicor features:
MORE INFO / DOWNLOAD
DEMO
11. Bezin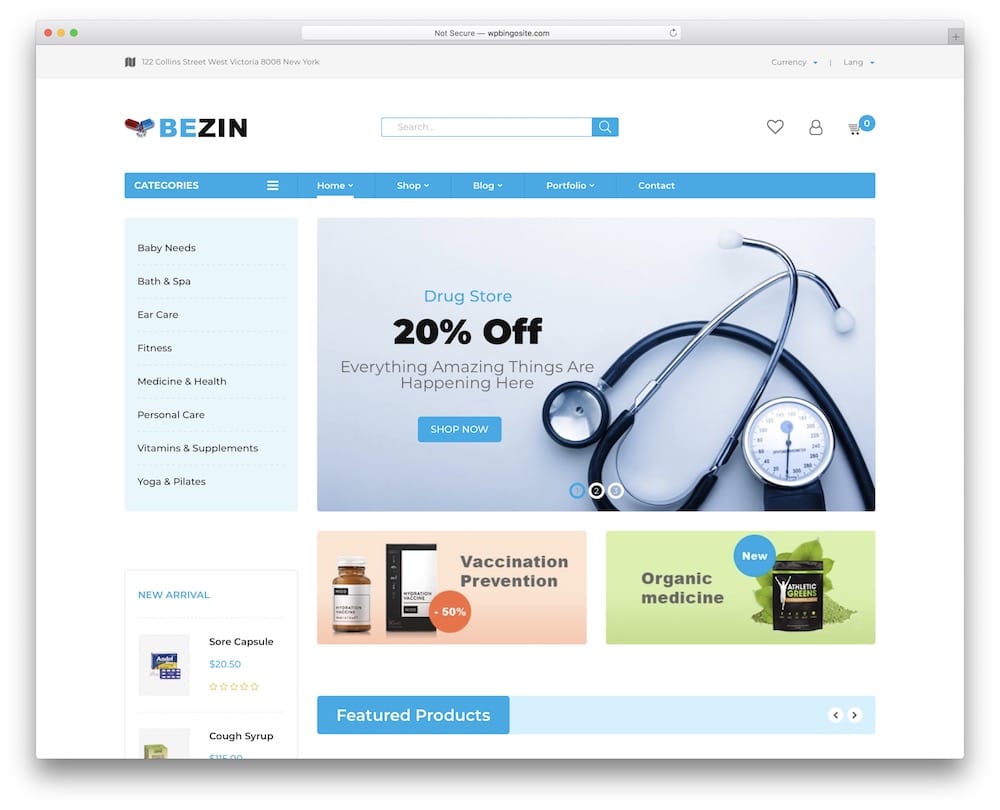 There are no limits when it comes to a good business plan. Bezin pharmacy WordPress theme can help you to execute all your goals and wishes.
Bezin provides five beautifully built home templates ready to import and easy to use.
Of course, you can mix elements and configure the layout as you wish. Additionally, unlimited header and footer options are available, too.
What's more, you can set up and sell your products online due to an amazing WooCommerce plugin.
Plenty of widgets, page styles, layouts, and numerous Google fonts will give you a playful experience of building your new site.
The most important thing about a website is to have one.
Bezin features:
300+ sales
5/5 star rating
Currency switcher
Price: $59 (may vary)
MORE INFO / DOWNLOAD
DEMO
12. Medicine Plus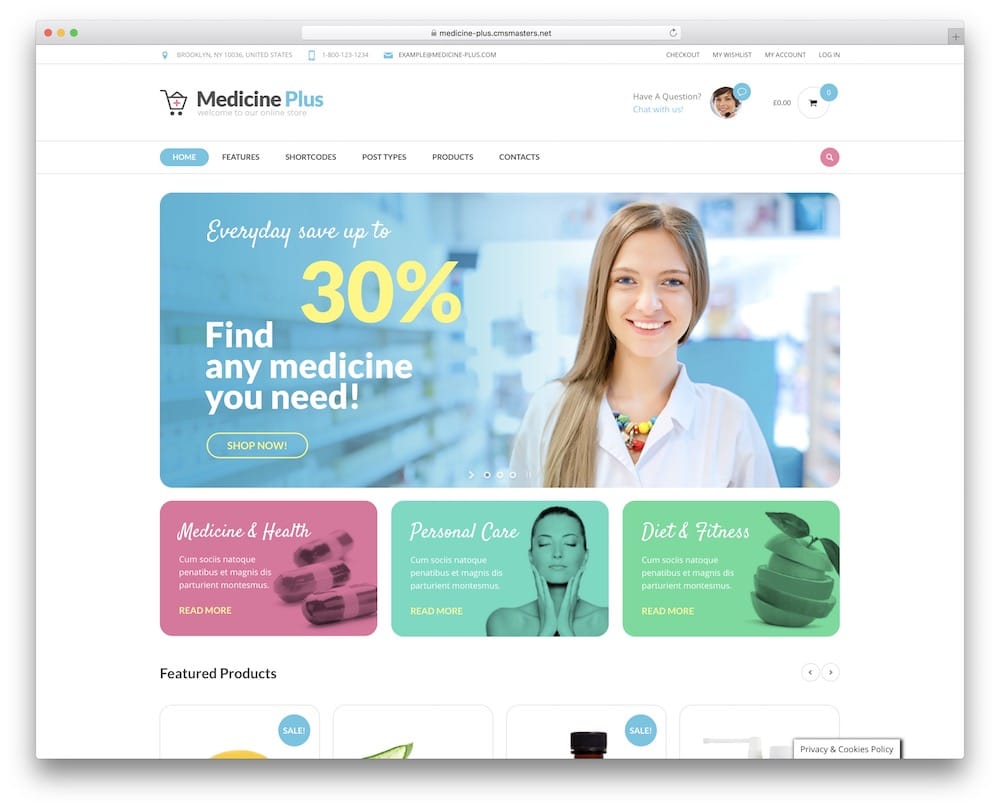 Medicine Plus WordPress theme is designed for all sorts of pharmacy websites, research labs, apothecaries, or drugstores.
This theme is fully integrated with the WooCommerce plugin, ensuring you can quickly build your new online store.
Furthermore, Medicine Plus is responsive and retina-ready for a fantastic appearance on any screen and device.
Custom widgets, WP shortcodes, different layouts, and unlimited color options are also part of the kit.
To top it all up, you will get a Slider Revolution, the best one for breathtaking sliders. There is no telling what you can do when you get inspired by Medicine Plus.
Medicine Plus features:
560+ sales
4.4/5 star rating
Custom menu (but you can enjoy more options with a WordPress menu plugin)
Price: $49 (may vary)
MORE INFO / DOWNLOAD
DEMO
13. MyMedi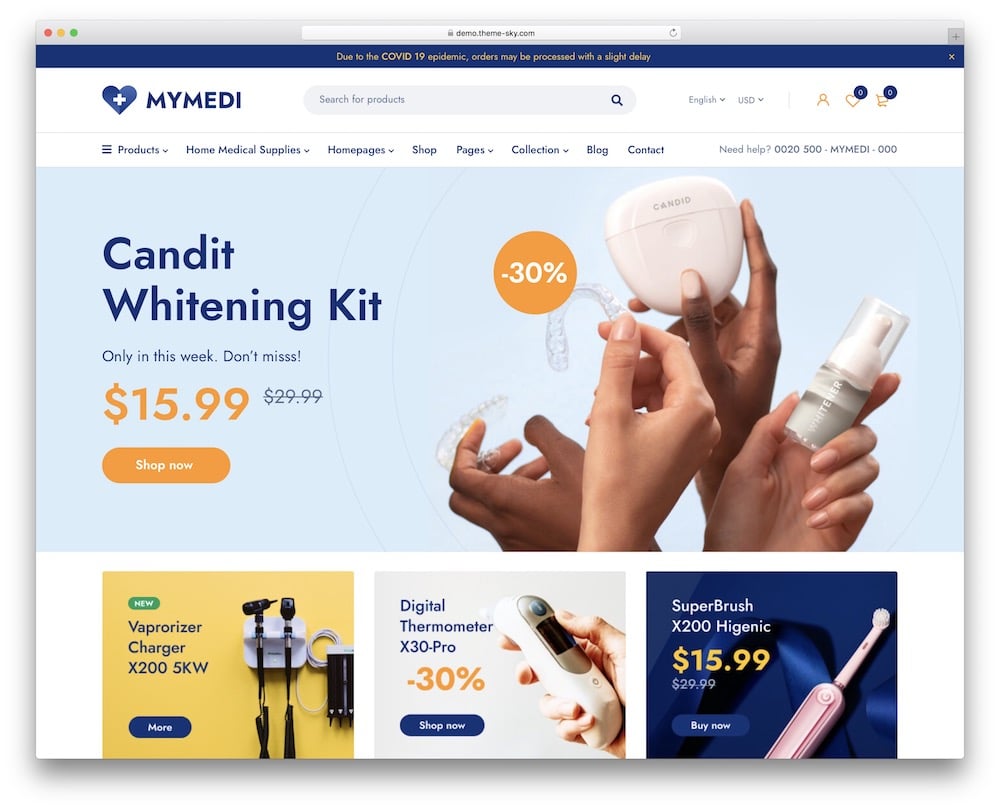 Smooth flow, modern style, and bright colors are an integral part of MyMedi WordPress theme. With multiple unique demo layouts, you will have a great opportunity to showcase your pharmacy business and sell quality medical products and CBD (also check our CBD WordPress themes).
MyMedi's incredible features satisfy the majority of your basic needs.
MyMedi is packed with amazing tools such as a mega menu, Slider Revolution, WPBakery, and WooCommerce.
Besides, MyMedi is RTL-ready for several countries that are writing right to the left.
Of course, excellent customer support will make a way forward in any difficulty you encounter.
MyMedi features:
1,300+ sales
5/5 star rating
Parallax background
Dokan-ready (multi-vendor marketplace)
Price: $59 (may vary)
MORE INFO / DOWNLOAD
DEMO
What Makes A Good Pharmacy Website?
You need to ensure everything clicks when building a pharmacy website.
This will allow you to succeed with your business because that's the only thing you deserve.
For this reason, we share with you the eight must-have features that make a good pharmacy website.
Not just that, but we also made sure to check each theme and test it thoroughly with these features in mind.
8 Features Of A Great Pharmacy Website
Mobile-readiness: You can expect a lot of users from handheld devices, so your website must offer excellent responsiveness.
Speed optimization: But a mobile-ready design is just one part. Your online pharmacy must also load fast, guaranteeing the ultimate performance and excellent user experience. You can also ready our guidelines on how to choose a fast WordPress theme.
Clean design: And to make sure your UX is the best, you need to aim at a simple and minimalist website design. This ensures that every visitor focuses on the products and not some unnecessary special effects.
Reviews: Reviews play a big role in the pharmacy world, so make sure you include them on each product page because they can raise your conversions – by A LOT!
Simple checkout: It's also important that your checkout process is effortless. We like the one-page checkout the most because it proved to work really well over and over again.
Multiple payment gateways: Paypal and credit card payment are a must, but you can also include other ways, just to make sure that there's a payment gateway for everyone.
Contact: Adding a contact form and a clickable phone number give your site visitors a chance to reach out to you any time they want. Offer them help with picking the right products.
Blog: And you can further optimize your website for SEO through a pharmaceutical blog that will provide a lot of knowledgeable content and bring in more business.
::
Note: This article was originally published on February 28, 2021. But our team regularly reviews it and updates it with necessary improvements for accuracy.