We reviewed the market to present you with the best business blog WordPress themes that work great for IT, startup, and corporate intentions.
Gone are the days of building a blog from scratch – opt for a business blog theme and call it a day.
This method saves you time and effort while keeping professionalism high.
How AWESOME is that?
Plus, you can be a complete newbie and still make magic with your business or startup blog.
This post covers:
Just plug and play.
But you can perform as many customization tweaks as you want – without coding!
Which WordPress theme is best for business blogging?
Picking just one would be impossible but Newsblock is our favorite. That's why we created this list – to include SOMETHING for EVERYONE.
THE ULTIMATE 4:
You may also be interested our free WordPress business themes.
Best Corporate & Business Blog WordPress Themes
1. Newsblock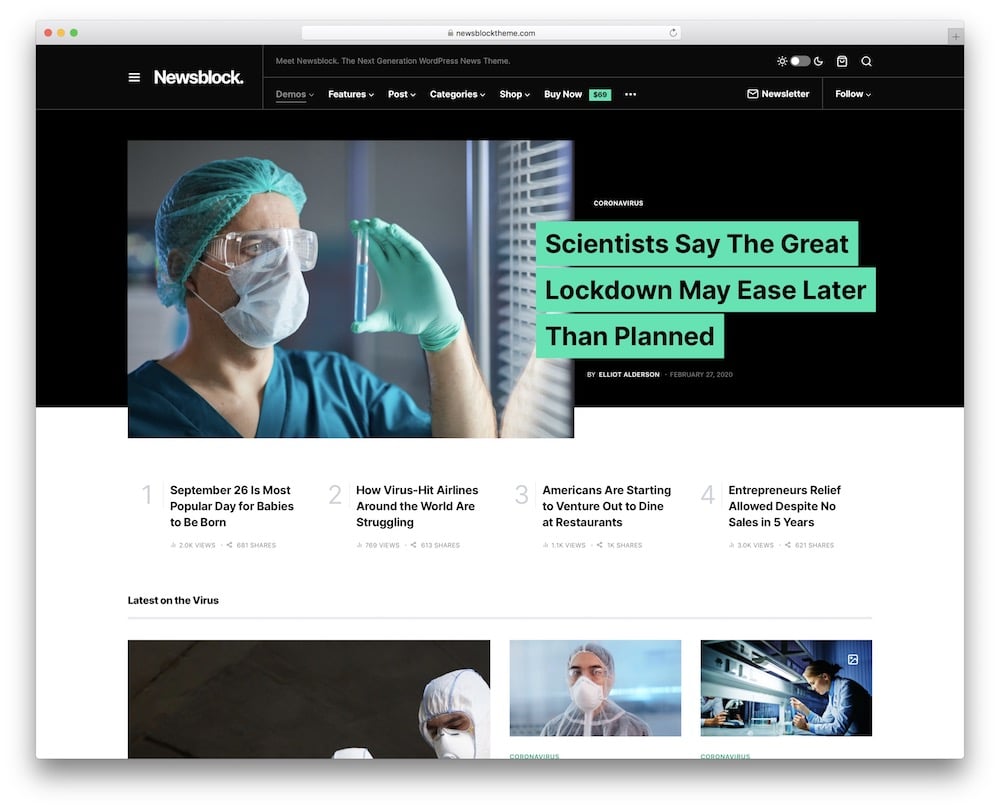 Starting a new business is tough but not with the Newsblock business blog theme.
This theme is EXTREMELY easy to use, supports live previews of your changes before saving them and – of course – Newsblock requires no coding and design knowledge.
Moreover, Newsblock includes nine ready-to-use home designs, multiple page header types, numerous flexible layouts, and different custom WP widgets.
You can also put social media share buttons on your new site to give your visitors the ability to display your content on their profiles and help your content go viral. (BTW, have you seen our viral WordPress themes?)
Reflect, think, and apply your vision with Newsblock.
Newsblock features:
1,900+ sales
4.8/5 star rating
Beautiful dark mode
Custom widgets
Price: $69 (may vary)
MORE INFO / DOWNLOAD
DEMO
2. Networker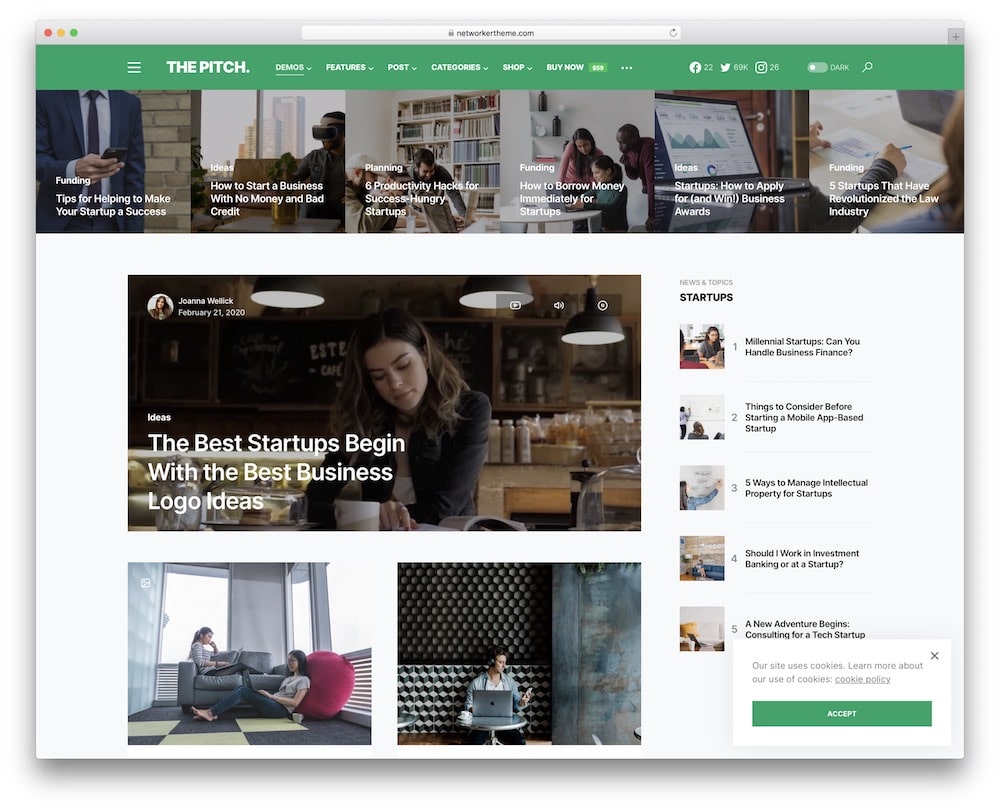 Don't wait for someone else to do it, but start calling your own shots with Networker business blog WordPress theme.
Networker includes amazing pre-built home designs that you can import and install with just one click.
On top of that, the WooCommerce plugin provides an easy and creative way for the best shopping experience if you want to bring forth top-notch products or services.
Additionally, you can choose from multiple post layouts and play with a built-in-features in a way that you can EASILY REUSE, move and save blocks.
Besides, Networker comes with social integration, making it simple to display links to your different accounts.
Burning desire and trust in your business will lead you a LONG way.
Networker features:
1,200+ sales
4.8/5 star rating
Monetization-ready
Price: $69 (may vary)
MORE INFO / DOWNLOAD
DEMO
3. InHype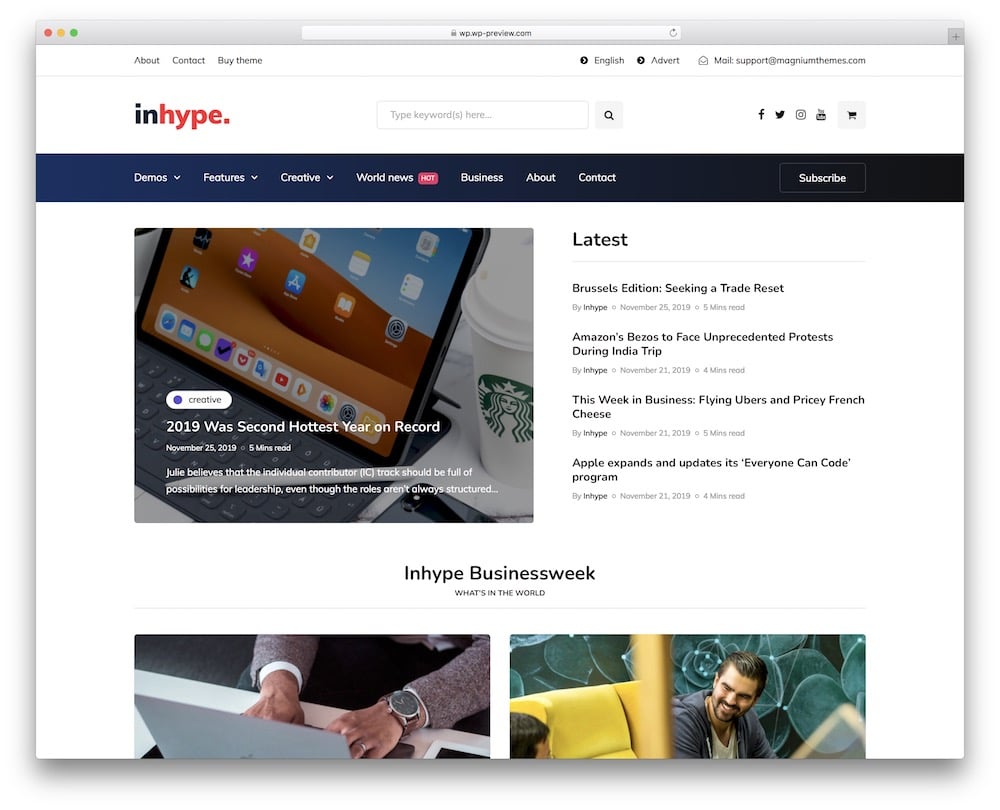 What do you need to start a business? One simple thing: a successful website, and with a business blog WordPress theme InHype you will get everything that you need to start creating and building it.
The entire process will be even EASIER due to various ready-to-use homepages, blog designs, numerous impactful posts, and header layouts.
Furthermore, InHype is integrated with Gutenberg content editor if you search for a creative way to construct posts, pages, and everything else on your new site.
Also, InHype is responsive and retina-ready for any device. Deliver your best with InHype.
InHype features:
1,100+ sales
4.9/5 star rating
Fast loading speed
Sell with WooCommerce
Price: $59 (may vary)
MORE INFO / DOWNLOAD
DEMO
4. Daria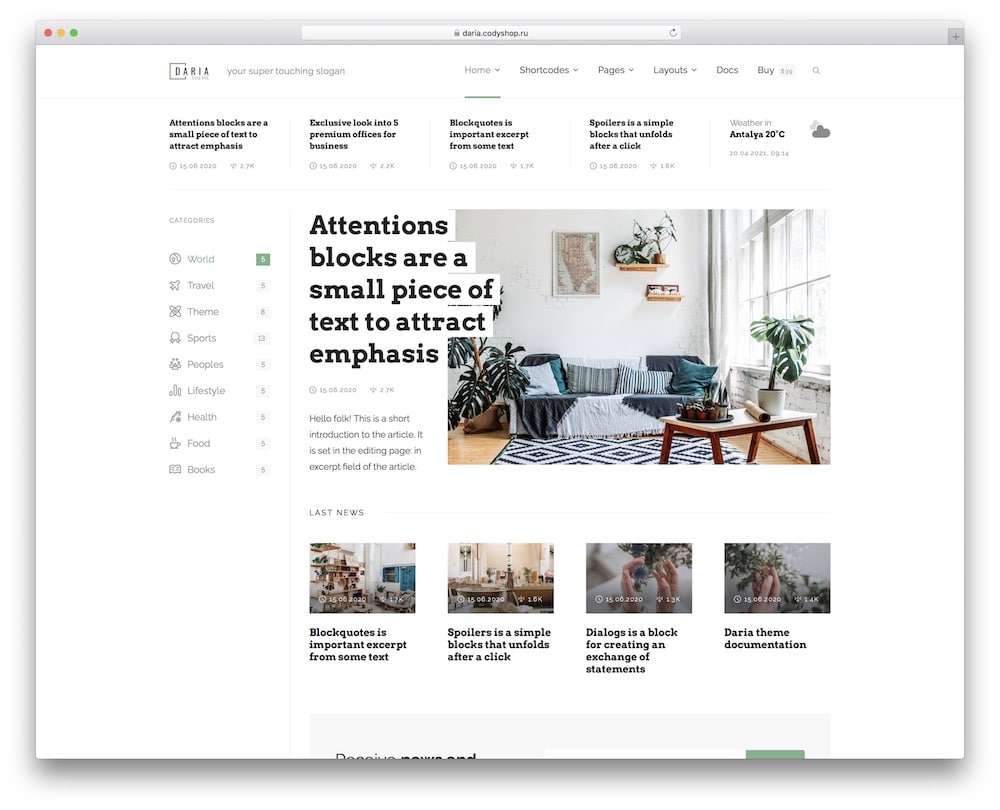 Daria is a clean and modern startup blog theme for various online projects, publications, or content marketing solutions.
With Daria, you will get all sorts of useful stuff to build your site exactly as you wish.
In addition to that, Daria includes amazing features such as the WooCommerce plugin, social buttons, various Google Fonts, and unlimited sidebars.
Moreover, with Daria, you will acquire easy step-by-step GUIDE instructions on the theme and functionality of plugins.
Believe it or not, even a WP child theme is included. Build a business you love, be great at, and pursue your dreams.
Daria features:
30+ sales
4.2/5 star rating
Customizable sidebar
Price: $29 (may vary)
MORE INFO / DOWNLOAD
DEMO
5. YourWay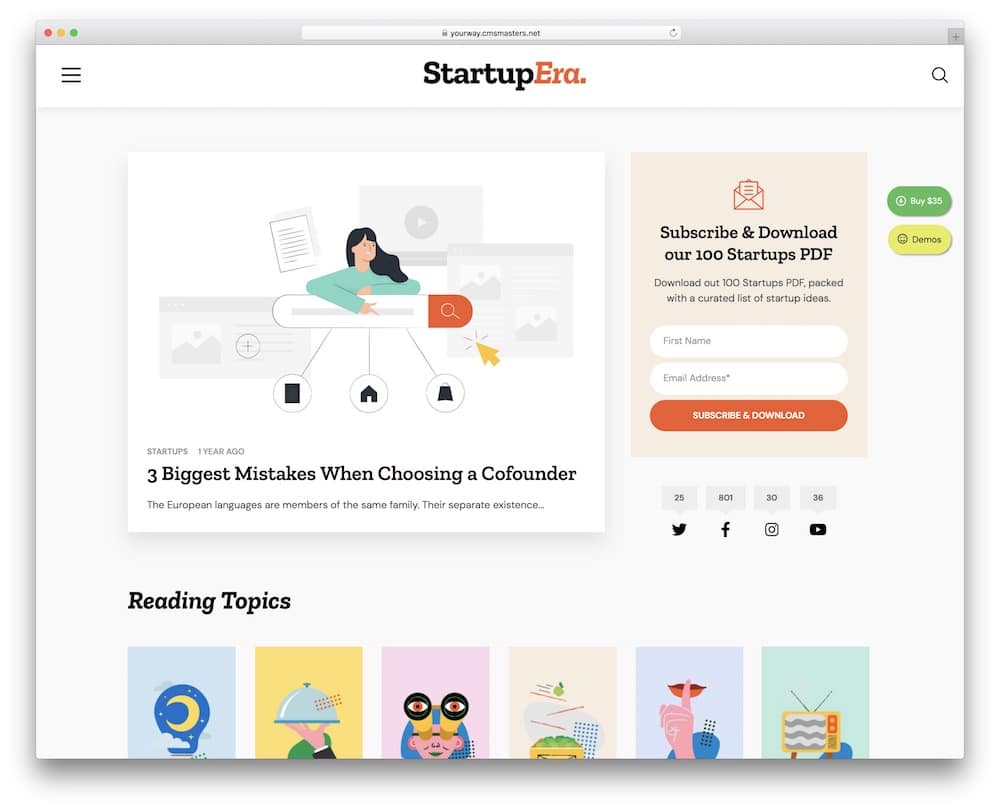 YourWay is a playful and multipurpose blog WordPress theme for different businesses or startup agencies.
This theme includes numerous CUSTOM widgets for social media, video, audio, blog, blocks, templates thereby will provide your visitor a quick glance of your content without opening an app.
The innovational key of YourWay are various pre-designed and ready-to-use news website concepts that are fully functional with all the necessary features.
This theme is really original and surely stands out from others.
Besides, with YourWay you will get some amazing tools such as WooCommerce, Slider Revolution, and Elementor WordPress page builder.
Above all, social media is at the forefront of this theme.
Take a (rewarding) risk and try something new because the content is fire, but social media is wood.
YourWay features:
100+ sales
5/5 star rating
One-of-a-kind blog theme
Social media integration
Price: $59 (may vary)
MORE INFO / DOWNLOAD
DEMO
7. Uppercase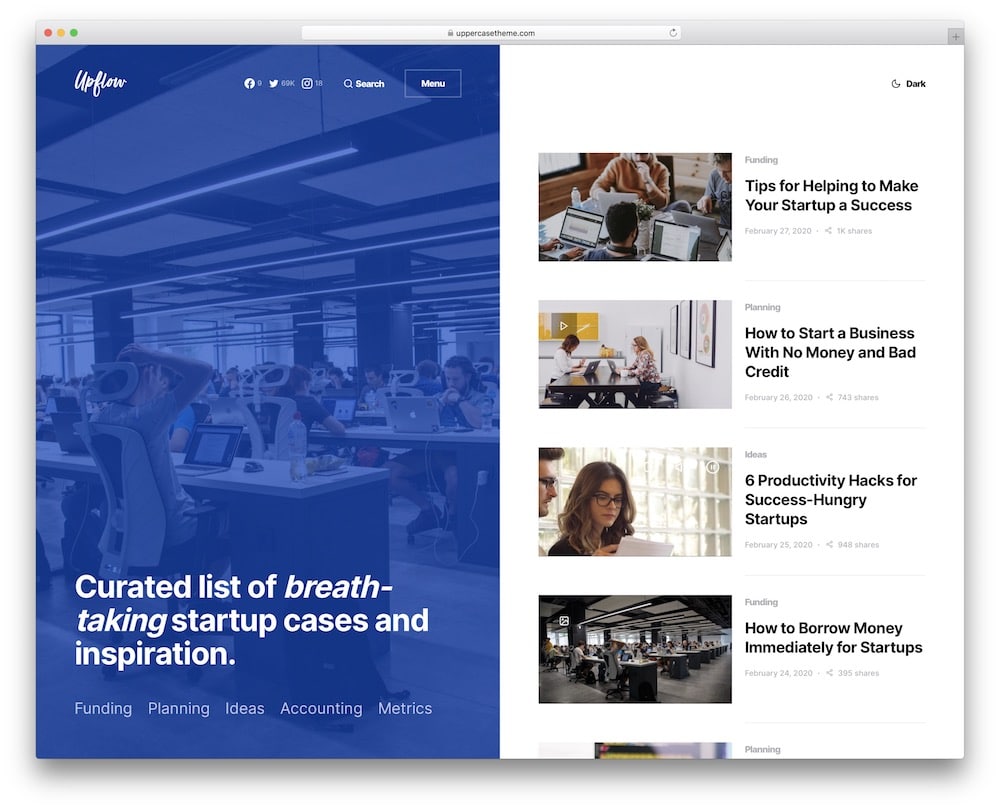 You can stand apart from your competition by offering HIGH-QUALITY content and services.
Uppercase startup blog theme can help you deliver what you need to impress your audience and get new clients.
Uppercase comes with six pre-built front pages that you can apply with just a few simple clicks.
You can start building and creating your online world lightning-fast.
Furthermore, Uppercase is fully customizable, meaning you can easily change fonts, colors, post layouts, video background, or image on your new site.
Of course, social media buttons are incorporated in Uppercase to help you build even better relationships with your public.
What's not to like?
Uppercase features:
970+ sales
4.9/5 star rating
Video background support
Opt-in forms
Price: $59 (may vary)
MORE INFO / DOWNLOAD
DEMO
8. Ceris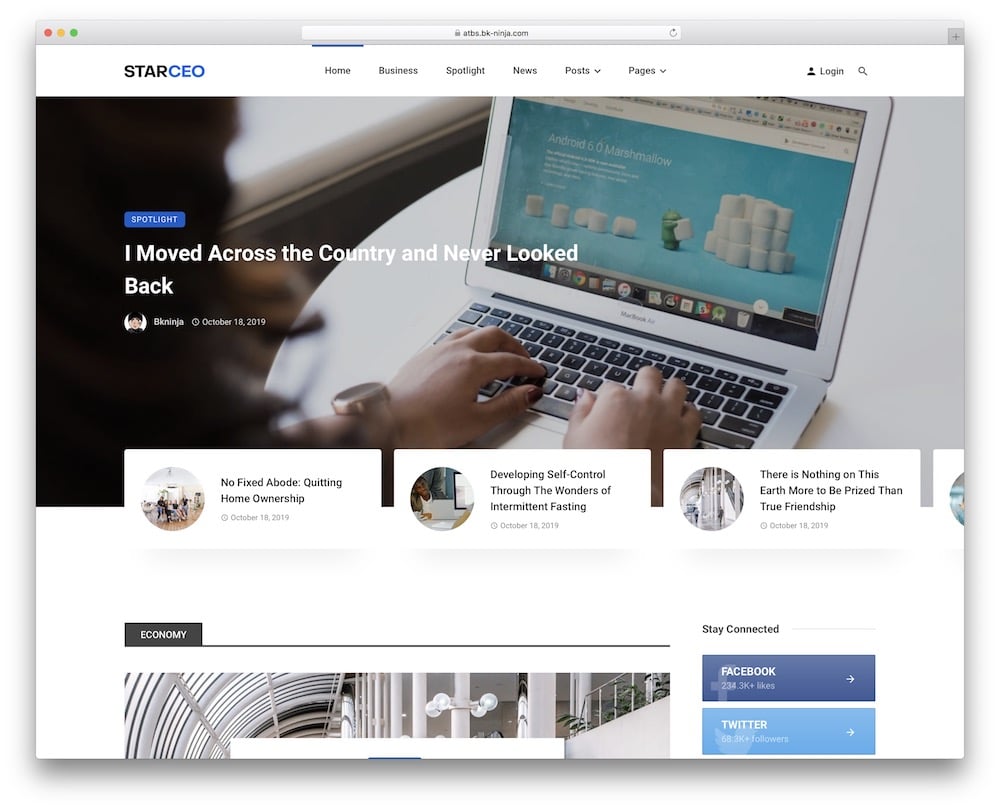 Ceris is a fresh and modern business blog WordPress theme designed to promote the latest products, services, and useful content with the world.
Pretend that you are writing your business blog to each of your readers individually and Ceris will help you on this basis to create a friendly and ENGAGING online experience for all of your visitors.
Furthermore, with Ceris, you will get excellent features such as emoji reactions, WooCommerce, Gutenberg editor, and Ajax technology.
Ceris is SEO optimized so that people will easier find your site via search engines like Google.
Join happy customers of Ceris and create an outstanding website today.
Ceris features:
1,700+ sales
4.9/5 star rating
40+ demos
Compatible with all major WP translation plugins
Price: $59 (may vary)
MORE INFO / DOWNLOAD
DEMO
9. Aqum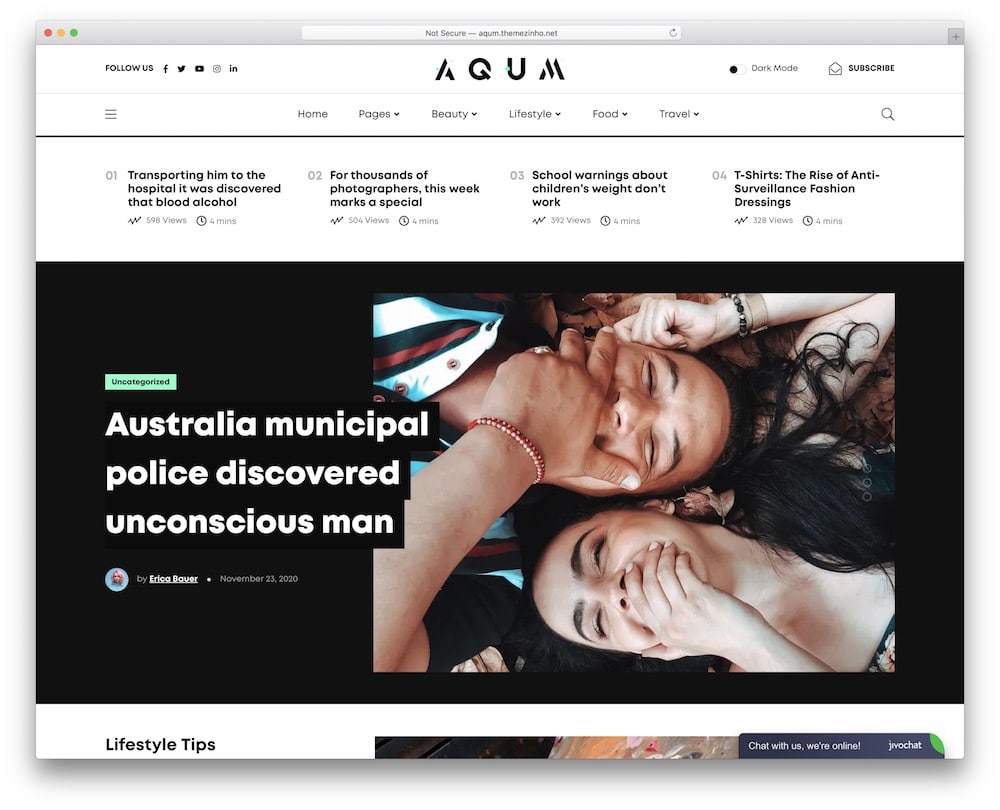 Don't be AFRAID to GET CREATIVE with Aqum startup blog WordPress theme due to its stylish and fresh look.
Developers of Aqum took the time to create a functional and beautiful theme with great page speed and SEO incorporated to keep your site at the top.
Also, Aqum comes with excellent features like WPBakery page builder, attractive post grids, custom widgets, and a smart sidebar.
Cool, right?
Besides, friendly customer support will advise and help you if any technical problems arise during your new site creation.
Start building relationships with your clients through Aqum.
Aqum features:
50+ sales
5/5 star rating
Ready ad spaces
Lead forms
Price: $49 (may vary)
MORE INFO / DOWNLOAD
DEMO
10. Gleek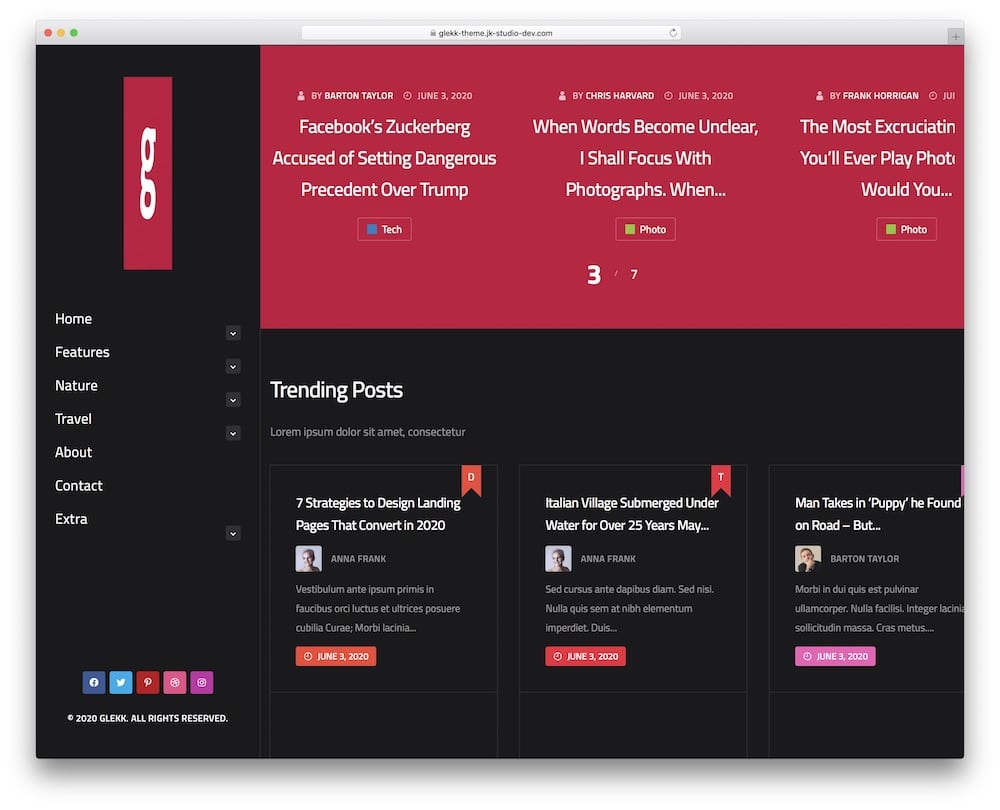 Make a memorable impact on your visitors with a fresh business blog WordPress theme – Gleek.
Glekk will help you build a powerful and UNIQUE site with nine ready-to-use index pages that you can completely control and customize.
You also get pre-designed custom widgets, numerous elements, various pages, and amazing templates.
It's. All. There.
Furthermore, Gleek code is modular, optimized for speedy performance, and supports cross-browser compatibility.
It comes with bulky documentation to quickly learn about settings, options, and theme elements.
Let your new website rises like a phoenix from the ashes with Glekk.
Gleek features:
40+ sales
4.6/5 star rating
Exclusive dark theme style
ACF PRO plugin – included
Price: $69 (may vary)
MORE INFO / DOWNLOAD
DEMO
11. Blogar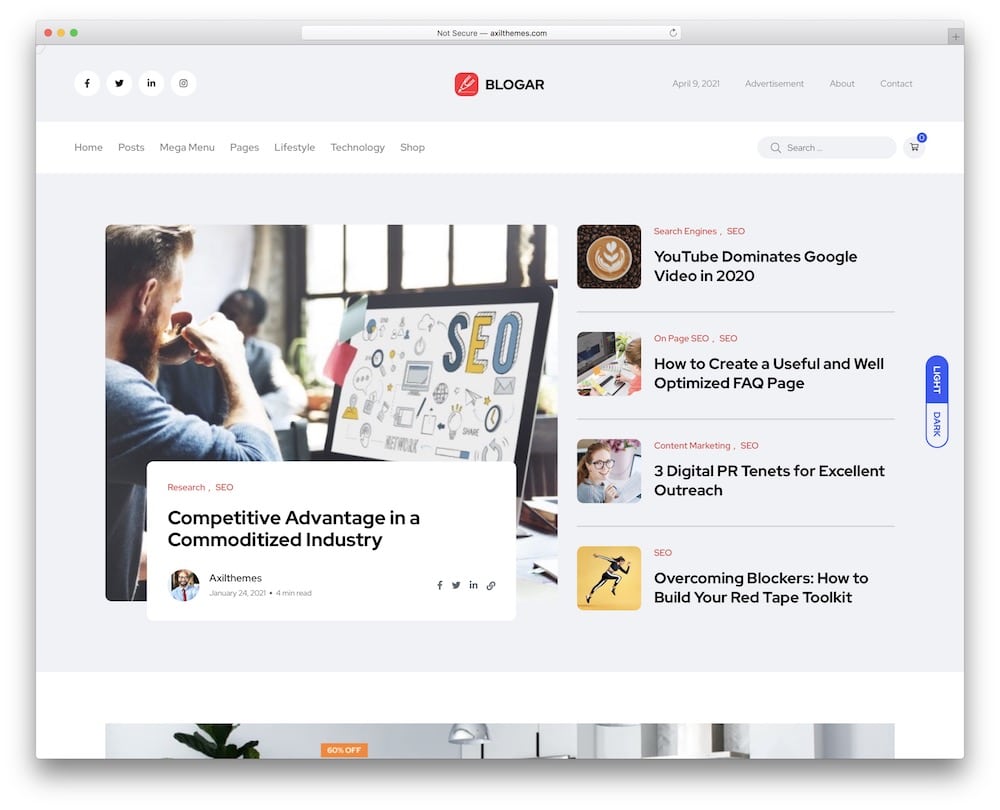 You can use the advanced Blogar startup blog WordPress theme for different and versatile ideas.
It comes with five fully customizable front pages, but you don't need to change anything and use them as it is if you like the default look.
Remember, you are ready to start creating with just a ONE-MINUTE setup.
Moreover, Blogar includes irreplaceable tools such as Elementor, WooCommerce, and mega menu. (Even a child theme comes in the package.)
Integrated working contact forms will make your life so much easier due to visitors' self-completion of the form or order.
Impress the online world with your – Elegant. New. Blog.
Blogar features:
1,000+ sales
4.8/5 star rating
Dark & light theme modes
Ads management ($$$)
Price: $39 (may vary)
MORE INFO / DOWNLOAD
DEMO
12. Newsource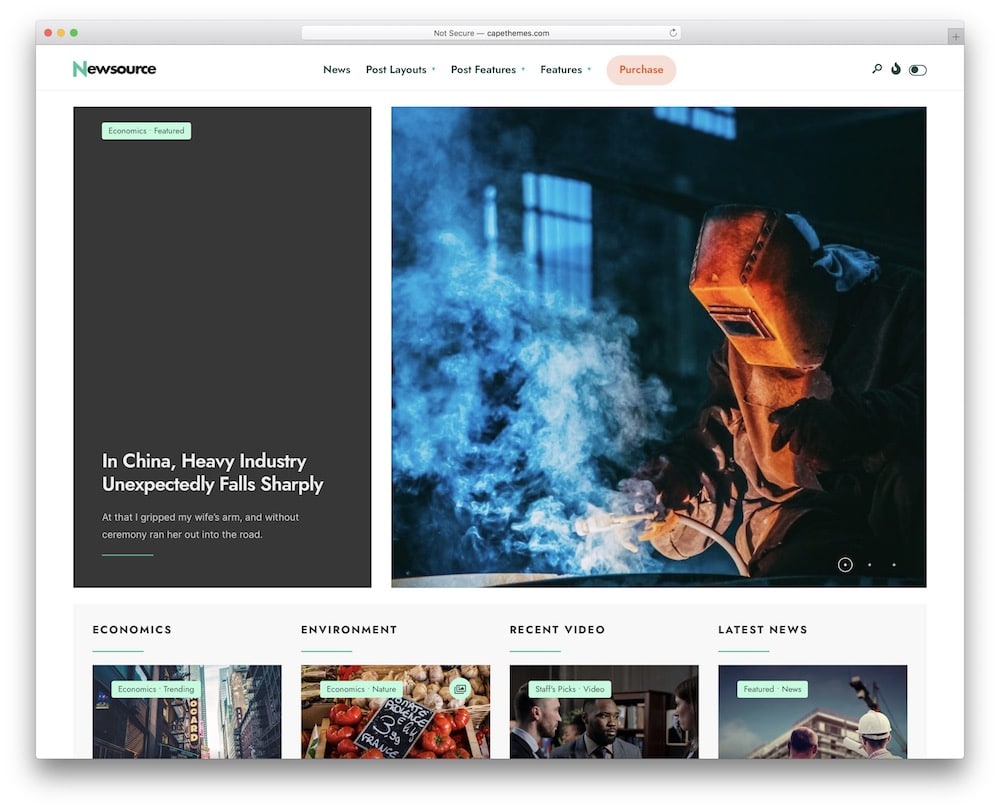 Say HELLO to an outstanding, multi-concept business blog WordPress theme developed especially for your amazing content.
Newsource offers beautiful and unique home designs to choose from and arrange however you want.
What's more, Gutenberg editor is built into Newsource to give you even more flexibility and make it super easy to add different content blocks into posts or pages.
Moreover, if you dream about your online store, the WooCommerce plugin is the perfect starting point for the actualization of your idea.
Remember, if your clients love you, Google will join – soon.
Newsource features:
140+ sales
4.5/5 star rating
Newsletter subscription form
Price: $59 (may vary)
MORE INFO / DOWNLOAD
DEMO
13. Generik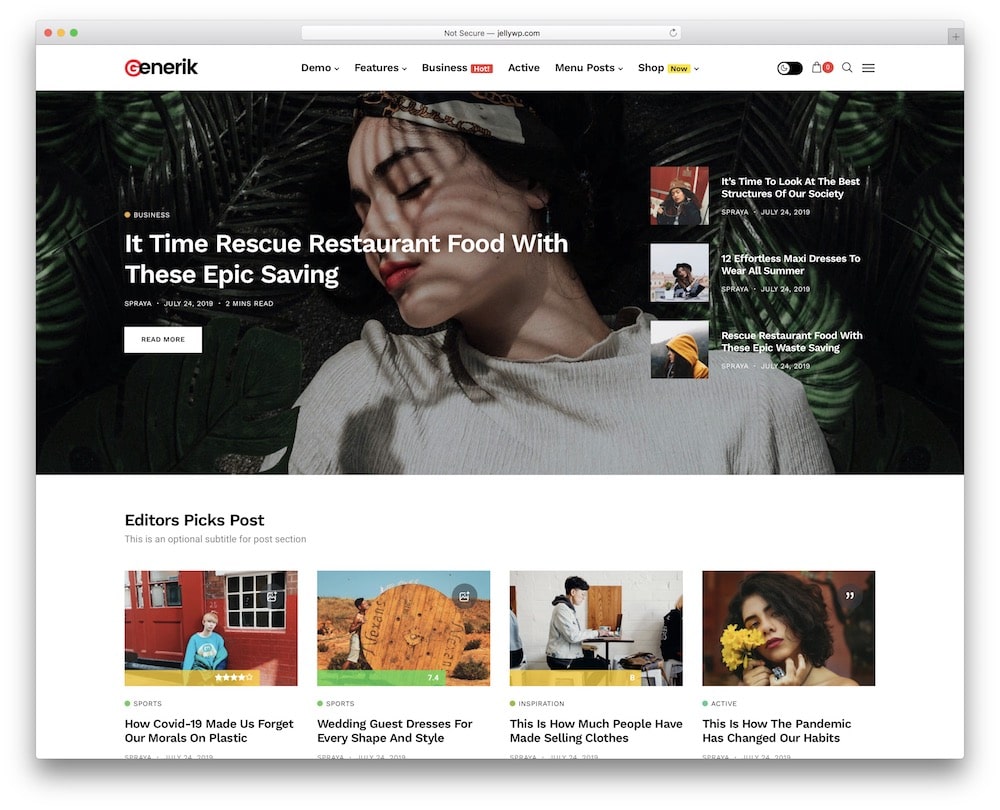 There are no limits when it comes to the modern Generik startup blog WordPress theme.
This smart and flexible tool comes with gorgeous front pages, various layouts, useful post styles, and numerous Google fonts.
The performance of your blog improves with the night mode due to some health benefits that come with the dark design in dimly lit environments.
Moreover, Generik is responsive, SEO optimized and will look good across all devices and platforms.
You can also include sharing buttons for your readers to PARTICIPATE in distributing your content across social networks.
With Generik you have many options to make your posts engaging and draw attention to your valuable new site easily.
Generik features:
140+ sales
4.6/5 star rating
Multi-level drop-down menu
Price: $49 (may vary)
MORE INFO / DOWNLOAD
DEMO
14. Magine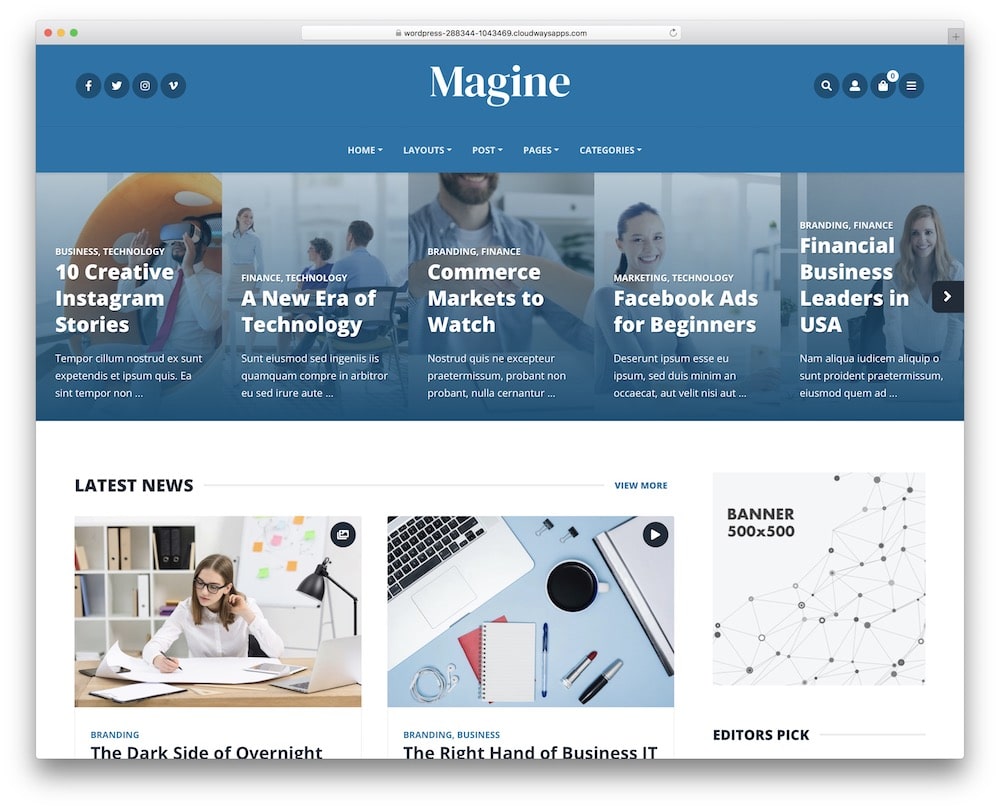 Magine business blog WordPress theme is an EYE-PLEASER thanks to its modern and stylish design.
With this theme, you will get all sorts of stuff and useful tools such as Elementor page builder, Contact Form 7, WooCommerce, and MailChimp.
Magine's great performance is intertwined with SEO and page speed in mind.
Furthermore, with Magine you can easily organize ads and place them in different fields of your website.
Of course, developers didn't forget about social media buttons to level up your online game.
With Magine you can focus on enthusiastic content and maintain rich connections with your large audience.
Pretty sweet, right?
Magine features:
150+ sales
4.6/5 star rating
Fast loading speed
Off-canvas sidebar
Price: $39 (may vary)
MORE INFO / DOWNLOAD
DEMO
5 Key Features Of A Great Business Blog
Understanding some of the key principles of a great business and corporate blog is essential before you start building it.
We made sure to have all these at the back of our minds when testing the WP themes for this list to ensure we pick only the most powerful ones. (We also tested each for loading speed (using our demo website and Pingdom Tools) and how effortless configuring settings is.)
What makes a good business blog:
Mobile-friendly: It's an absolute must that your blog fits all modern screen sizes naturally. An unresponsive blog won't get you far in your blogging career, and that's a guarantee. (We double-checked every theme on different devices and by using Google's Mobile-Friendly Test.)
Fast loading: Another key factor that will make your blog much more successful is fast loading. You don't want a bunch of bloat and heavy code that'll take your page, your posts and all other content ages to load. (You may also be interested in reading out guide on picking a fast WP theme.)
Great navigation: You'll likely have a bunch of categories going on, so it's essential your blog has handy navigation (and a search bar!). Additionally, a sticky menu can improve the overall user experience, which is a big plus. (You can also read our tutorial on how to create a sticky menu in WP.)
Social media: Integrated social media and social sharing functions can grow your business to new heights.
Simple design: One of the features no one really talks about is a simple design. A minimalist and clean look will make your business blog more readable and your content pop more. Contributing to longer on-page times and lowe bounce rate.
What's best is that all the above themes promise a fast creation of a professional blog, even if you're not an expert.
::
Note: This article was originally published on April 21, 2021. But our team regularly reviews it and updates it with necessary improvements for accuracy.