Join my collection of the best free and premium WordPress daycare themes for children and elderly services.
I collaborated with our team to create the ultimate list for every business.
(A collection that's unavailable elsewhere.)
Even though the ultimate four picks are my go-to, the others work equally well.
Each theme offers endless customizations that you perform quickly and easily.
(No need for coding skills!)
This post covers:
Brand it and tailor it to your company's needs exclusively.
It's. So. SIMPLE.
Go and help kids and older adults – starting with a beautiful website.
How ULTIDA Tested WP Daycare Themes
We approached the creation of this collection with 30 themes.
The testing first started by reviewing user feedback and ratings. We also made sure to drop all the themes that aren't regularly updated – you only want fresh stuff.
Second, we flipped through the documentation and got in touch with the themes' authors and support to try their customer service.
Half were good, and half were bad.
With fifteen left, we decided to examine each theme individually by installing it on our demo website. By the way, we also have a full guide on how to install a WordPress themehttps://ultida.com/what-is-a-wordpress-theme/.
This allowed us to analyze responsiveness and loading speed first. Hey, you want a theme optimized for excellent performance across all devices. And that's exactly what you get with the daycare themes below.
Don't forget to read how to pick a fast WP theme the right way.
Moreover, we also thoroughly checked configurations and settings to ensure every beginner and advance user gets the most out of the theme they pick.
THE ULTIMATE 4:
Note: You will also like our bundle of the best free WordPress education themes.
Best WordPress Children Daycare Themes
1. Kids Life

Working in an environment that never gets boring is a great choice for adults who LOVE to play and learn (all day like ME). Get creative with the Kids Life daycare theme.
Flexible WPBakery page builder makes everyone's building experience SMOOTH and fast.
You can grab and drag elements to different locations (real-time) without knowing how to code with a simple drag & drop function.
Better than magic!
Moreover, you can create a multi-column menu and I even like to add images, WP shortcodes, and descriptions inside the drop-down due to included mega menu.
Super practical!
Also, take advantage of the Event Calendar (!) – it gives you endless possibilities for organizing special events (WooCommerce integrated).
Generate BUZZ around your business.
Let's meet your new clients!
Kids Life features:
2,500+ sales
4.7+ star ratings
Google Maps
Price: $69 (may vary)
MORE INFO / DOWNLOAD
DEMO
2. Playroom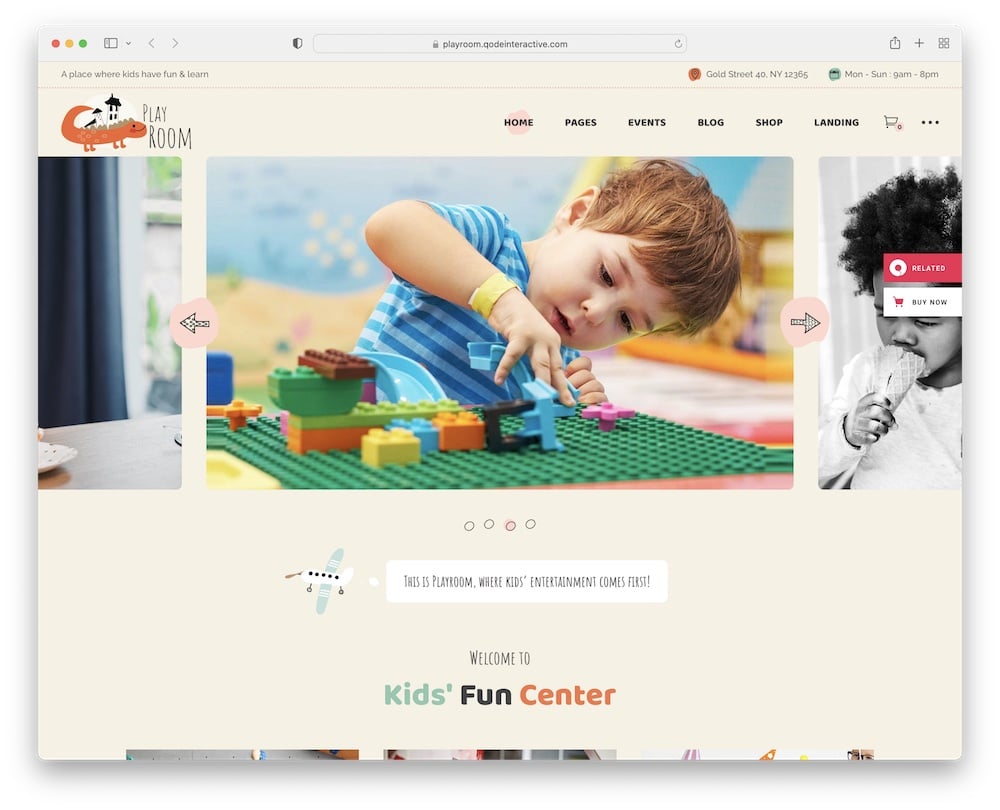 The fun-based Playroom WordPress daycare theme brings together educators, parents, and children (I know, the best combination EVER).
Responsive Playroom offers four stunning homepages, a selection of inner pages, useful shortcodes, and unique WP widgets at an affordable price tag.
Plus, you can easily change colors and Google fonts (tons of options).
Want to get even more creative?
Check out the most popular plugins for EXTRA functionality! Playroom includes amazing Slider Revolution, WooCommerce, Booked, and Contact Form 7.
Of course, you can connect Playroom to your social media accounts for smooth engagement among your audience.
LIT.
It's time to get playful!
Playroom features:
MORE INFO / DOWNLOAD
DEMO
3. StarKid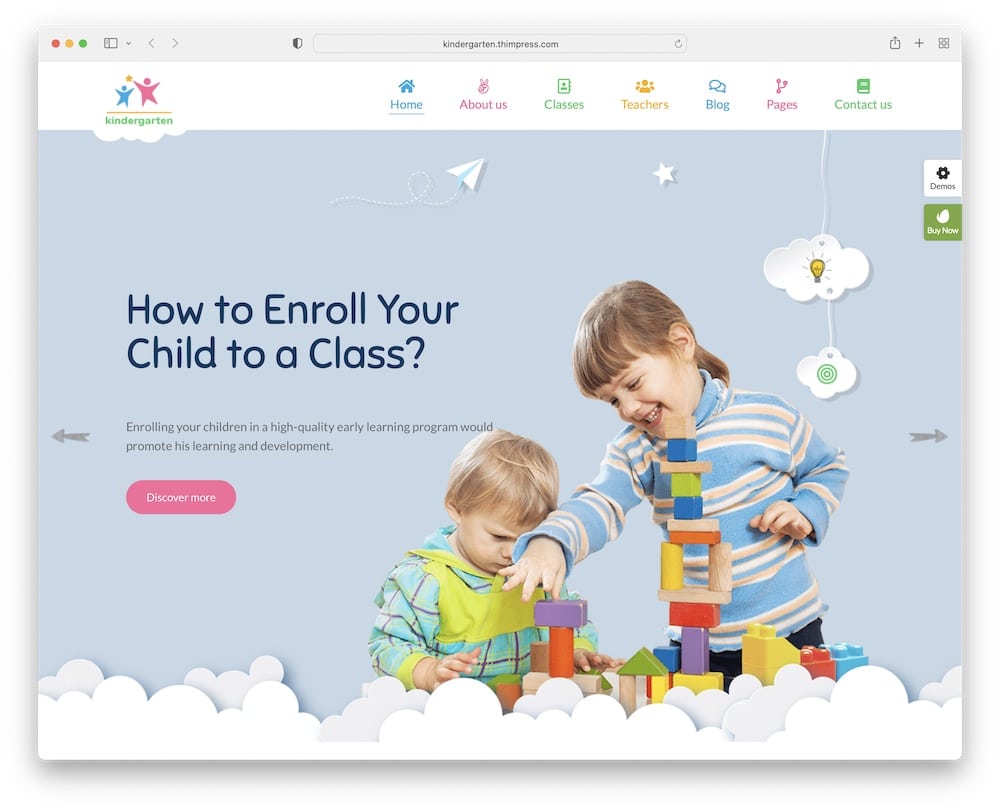 You have a unique opportunity to address young children's parents with the advanced StarKid WordPress daycare theme.
Offer understanding and TRUST!
One-click demo install gives you an INSTANT kickstart. You can be up and running in just minutes!
You can't go wrong with a user-friendly page builder (for PROS but perfect for beginners too), and with StarKid you can choose the one you like more: Elementor or WPBakery.
FIRE.
I kinda like Elementor more.
Adjust the design details & functions exactly as you wish without coding skills (eliminate hours of work).
Besides, StarKid includes one of the best tools on the market such as Slider Revolution, WooCommerce, and parallax theme effect.
Trust me, you will LOVE it!
StarKid features:
700+ sales
4.3+ star ratings
Price: $44 (may vary)
MORE INFO / DOWNLOAD
DEMO
4. Happy Baby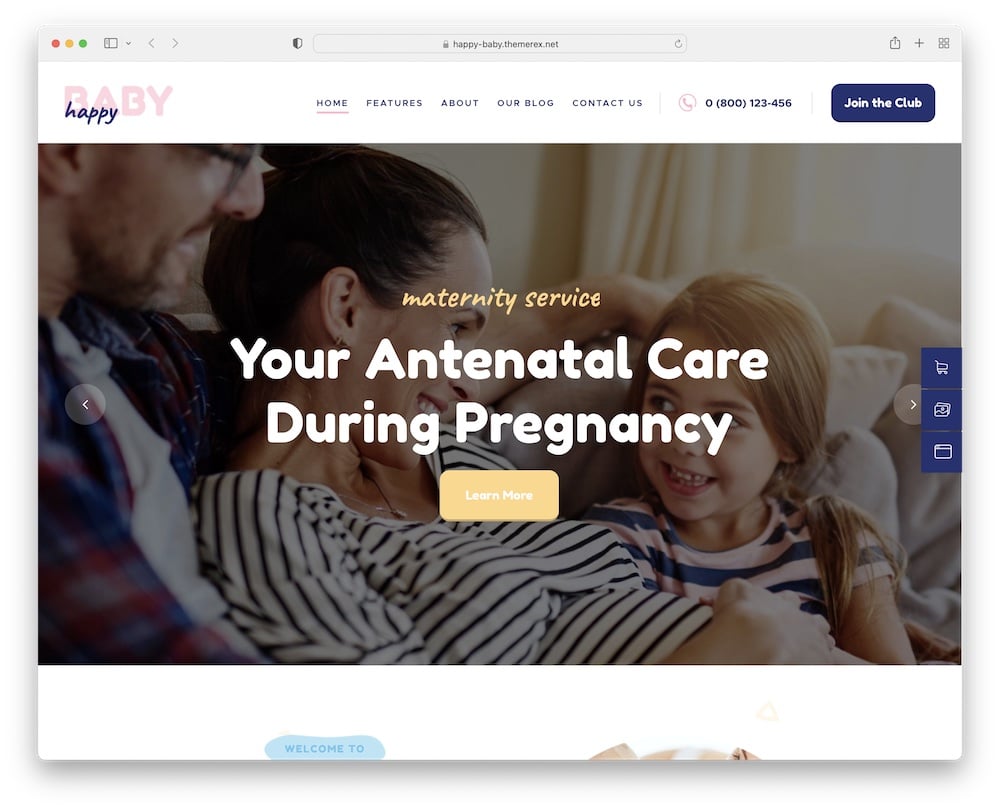 Play the day away with the RELIABLE Happy Baby WordPress daycare theme.
Colorful. Beautiful. Timeless. I love it!
Happy Baby offers great performance because of its responsive, SEO optimized, and cross-browser compatible base.
Better performance = more fun for readers (and YOU!).
Moreover, Happy Baby is highly customizable. Change typography, mix blocks, choose colors, adjust the mega menu and customize Google Maps.
Remember, your site should look BETTER than your new MacBook Pro.
And you can also start a blog (major value). Plus add lively animations, sharing buttons, and a comments section for extra engagement.
(Integrate stuff easily with shortcodes and custom widgets!)
So, bring your GAME on!
Happy Baby features:
290+ sales
5-star ratings
1-click installation
Price: $69 (may vary)
MORE INFO / DOWNLOAD
DEMO
Best WordPress Elderly Daycare Themes
5. Old Heaven

Step in, support the elderly and assist them with your amazing services. Get involved (today!) with a modern and functional Old Heaven WP senior daycare theme.
You can start customizing the ready-to-use homepage IMMEDIATELY after importing it (Old Heaven helps you save your precious time).
Choose the header & menu layout, portfolio & blog type, and inner pages you like the most.
My favorite part: HUGE collection of plugins.
Take control over your site with innovative tools and add EXTRA functions where needed.
Plus, create a spark with Give donation plugin (optimized & powerful platform) which gives you an easy way to accept charitable gifts via adjustable forms.
Get bigger and better with Old Heaven!
Old Heaven features:
630+ sales
5-star ratings
Price: $69 (may vary)
MORE INFO / DOWNLOAD
DEMO
6. Lovecare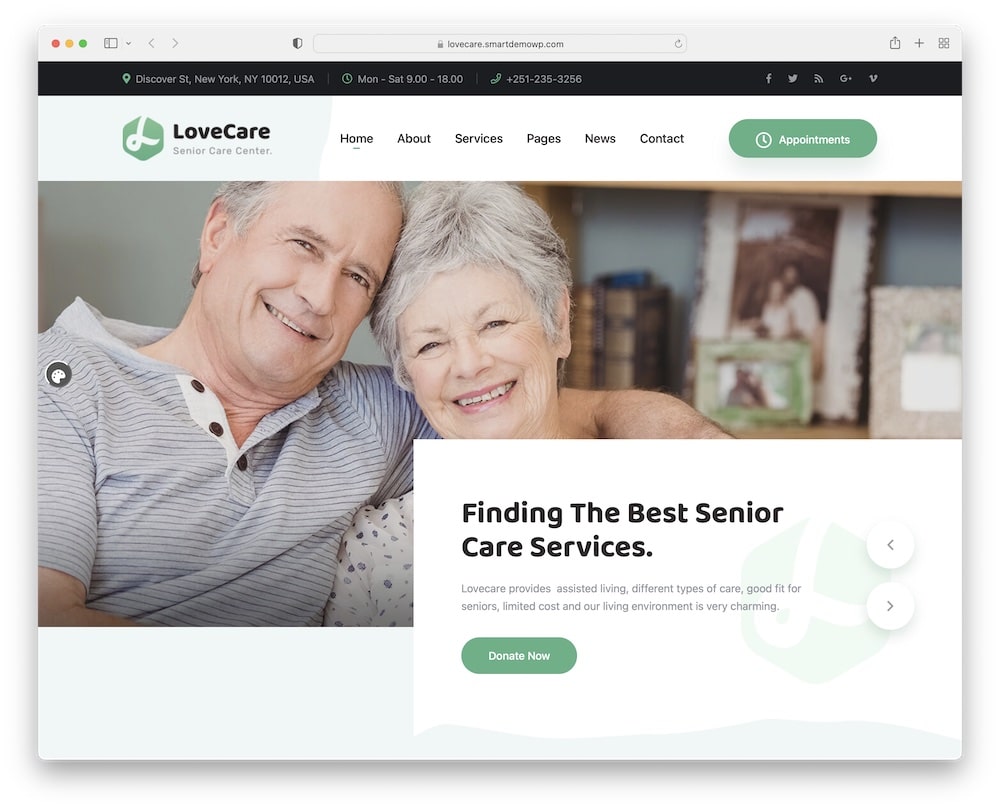 Create a beautiful website as an excellent source for advice, caregiving services, and emotional support for families of older adults.
Remember, helping old people is rewarding so be sure to check out Lovecare WordPress daycare theme.
I also encourage you to play (0 coding required) with pre-made designs, plugins, fonts, or colors, showcase testimonials, and add widgets.
Need motivation?
Lovecare works great on any device and also offers dedicated customer support for all your dilemmas & questions (BEEN THERE. DONE THAT. THEY ROCK).
Oh, and Event calendar plugin allows you to create, manage and maintain events like a champ.
Pretty, cool.
Due to well-prepared documentation, you can easily eliminate the risk of mistakes (be a NERD for a day).
Caregiver = HERO!
Lovecare features:
450+ sales
4.3+ star ratings
Effects & animations
Elementor integration
Price: $39 (may vary)
MORE INFO / DOWNLOAD
DEMO
7. LiveWell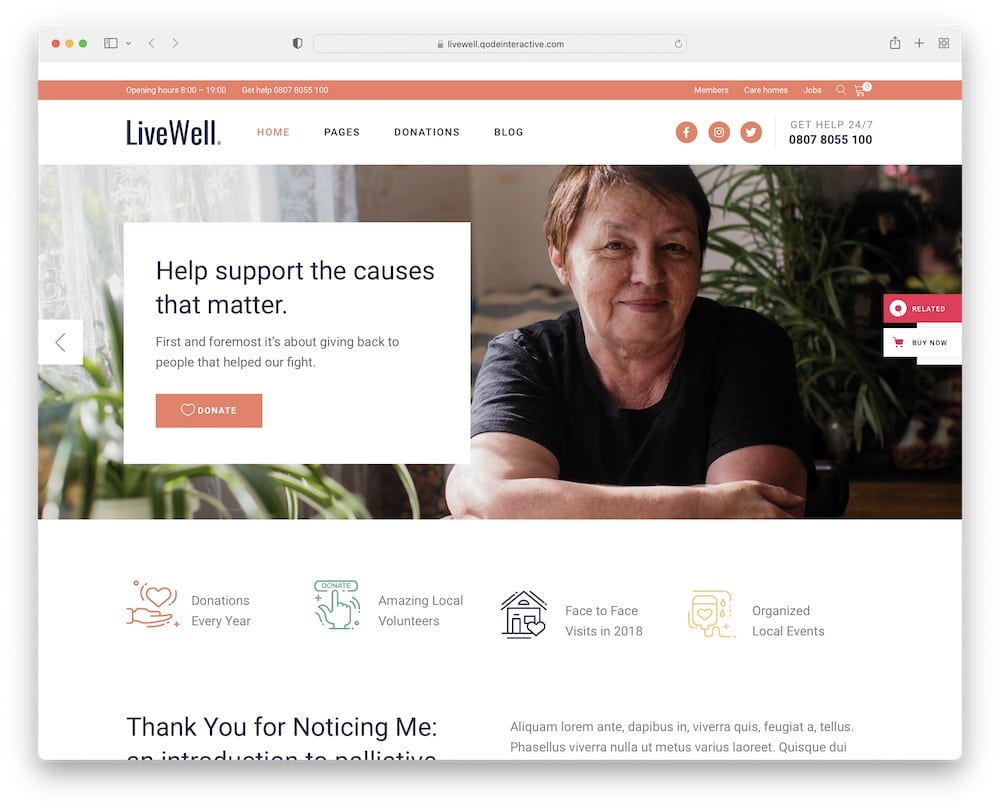 The gorgeous LiveWell WordPress daycare theme is a living heaven for every senior care service out there. Go on a meaningful journey with your clients!
Trouble-free LiveWell offers AMAZING features for your retirement/nursing home such as a donation list, a module for sharing patients' stories, a blog, counters, an event timeline, a video background section, and an online store (WooCommerce approved).
LiveWell has it all for you.
I am especially fond of its web design, technical stuff, responsiveness, and social-media friendliness.
Now it's your turn!
LiveWell features:
140+ sales
4.5+ star ratings
Back to top button
Price: $79 (may vary)
MORE INFO / DOWNLOAD
DEMO
Best Free WordPress Daycare Themes
8. Senior Care Lite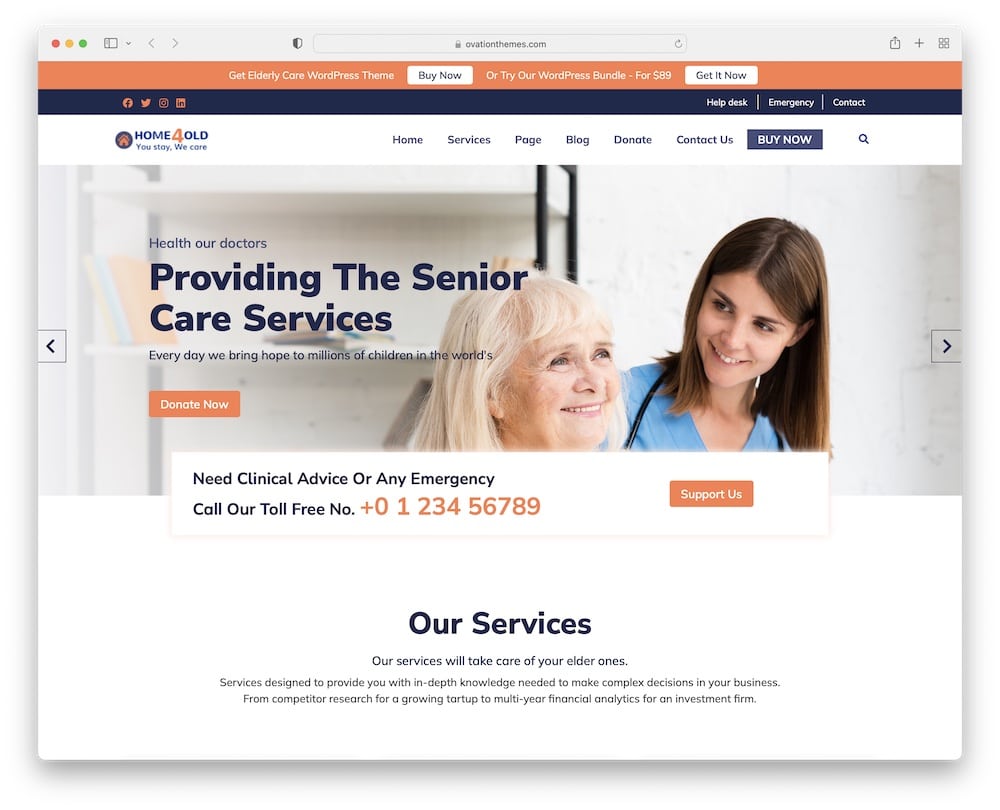 Create a trustworthy atmosphere with online space for elderly care service (any you offer). Managing and maintaining the Senior Care Lite theme is a BREEZE.
This modern theme is fully responsive and looks great on various screen sizes.
My experience: You never know what device your audience uses, SO make sure they are all welcome on your site!
Mobile is a MUST.
Moreover, Senior Care Lite offers all sorts of useful sections like the about us & testimonials, blog, events timetable, and contact us form.
It is important that your clients get to know you better.
To help your visitors contribute to your meaningful service you can even accept donations (Senior Care Lite supports various online payments).
Check it out!
Senior Care Lite features:
100+ active installs
SEO-friendly
WPML & RTL compatibility
Professional design
Easy WooCommerce integration
MORE INFO / DOWNLOAD
9. VW Kindergarten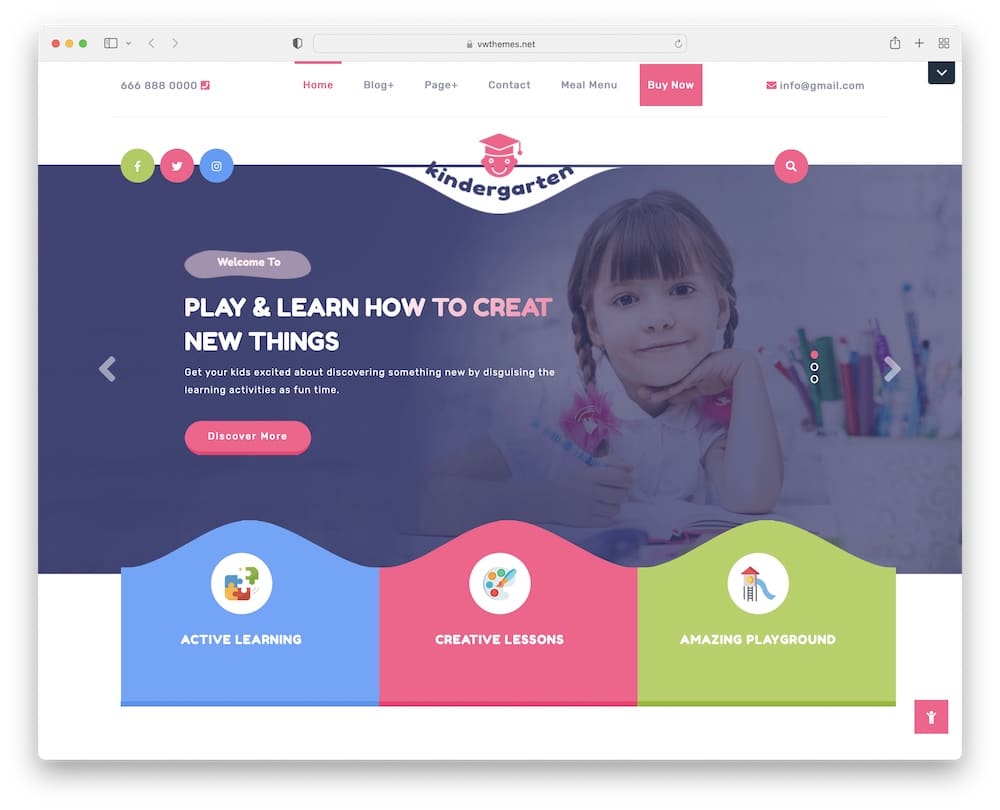 Pretty VW Kindergarten WordPress daycare theme helps you promote your kindergarten, nursery, or preschool services year-round!
Elegant design, fast load page time, SEO-friendly code, and responsive layouts are just some of VW Kindergarten's AWESOME features.
Happy zone!
Moreover, VW Kindergarten offers different sidebar positions, unlimited colors, unique fonts, and flexible slides which you can rotate and swap to build the perfect site.
Probably my favorite moment when building.
Also, you can translate VW Kindergarten into multiple languages (even use it as a multilingual WP theme).
I can not think of any more fun-loving and vibrant theme than VW Kindergarten when it comes to kids!
VW Kindergarten features:
200+ active installs
CSS animations
Custom logo
Regular updates
Follows the latest WP trends
MORE INFO / DOWNLOAD
10. Babysitting Day Care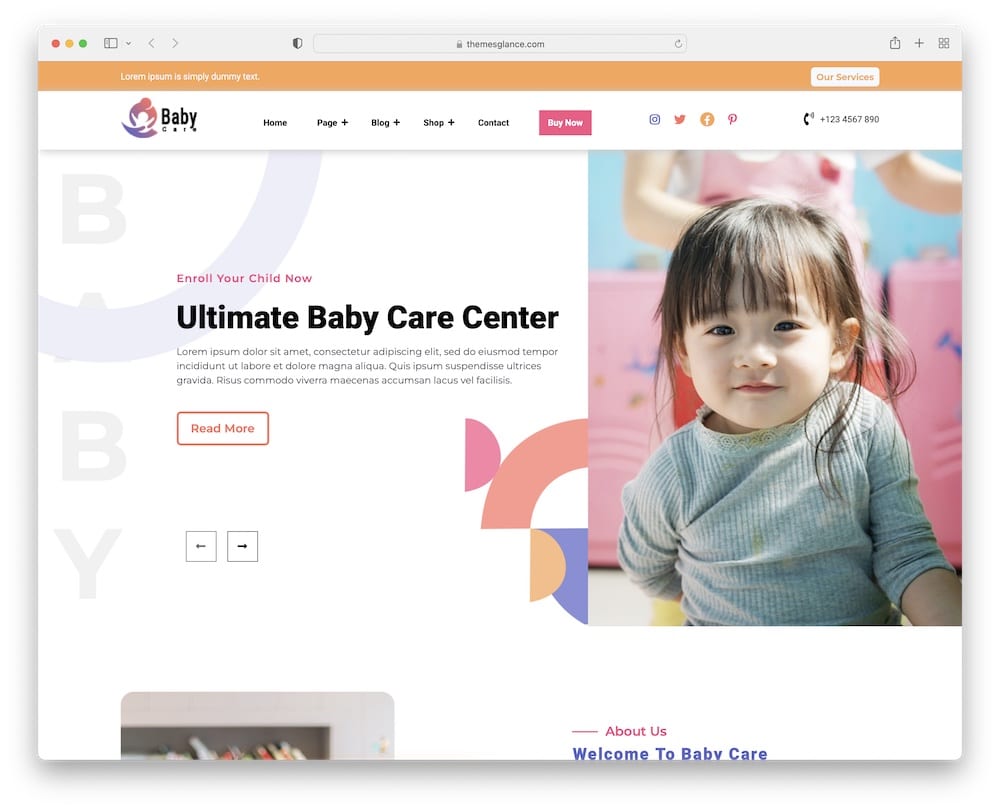 Babysitting Day Care is a SUPERCUTE WordPress daycare theme that's packed with a stunning homepage (1-click import), beautiful slider, and social media icons. Plus, it is WooCommerce compatible.
You can easily enhance the look of the given base and made it yours (Hi, boss!).
The design layout is perfect for showcasing important information such as about the team, testimonials, services, products, pricing plan, and photo gallery.
Besides, you can expose upcoming events.
HURRAY (let's party)!
It is all about optimized & secure code, with full documentation attached. You know – just in case.
Now your brain space can be filled with, well… colorful, bubbly, adorable stuff!
ENJOY.
Babysitting Day Care features:
100+ active installs
3rd-party plugin support
Bootstrap Framework
Robust but quickly adjustable
Social media
MORE INFO / DOWNLOAD
::
Note: This article was originally published on May 24, 2022. But our team regularly reviews it and updates it with necessary improvements for accuracy.