We've been working with 3 kindergartens, 4 schools and 2 online course sites to create this ultimate collection of free WordPress education themes.
(Note: Some later wanted to expand, so went with pro versions.)
For this reason, our team tested 40+ WP themes to narrow it down to these 13.
They give you everything necessary to START immediately, WITHOUT the coding knowledge.
This post covers:
Fun fact: We even gave one of the themes to a 10-year-old, and she had no problem figuring things out, creating a neat page for her school.
Enjoy!
Note: You may also want to read our tutorial on how to install a WordPress theme successfully.
Best Free WordPress Education Themes
1. Education Hub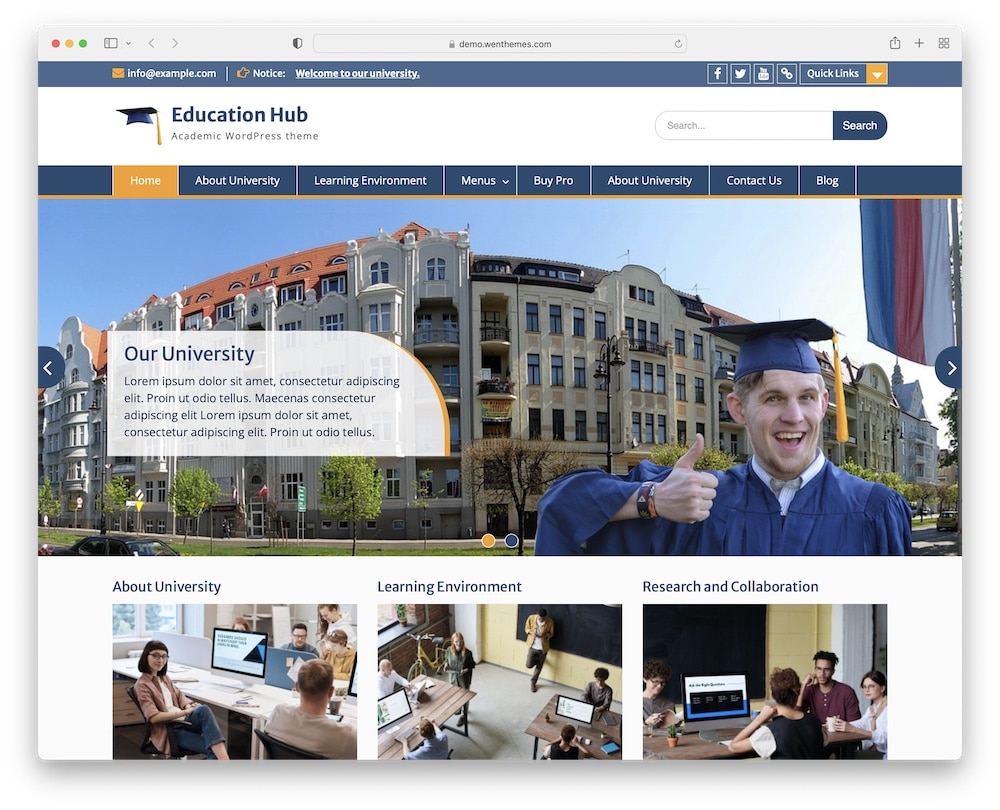 Online education is remote, but it doesn't have to be distant. With a simplistic but unique Education Hub theme you can create an engaging business website.
Education Hub is best suited for schools, universities, and online courses. It is totally flexible and you can customize it to all your needs.
THREE CHEERS!
Besides, the Education Hub design is clean, set up easy to understand, and work with (beginners, keep calm – you can do it, too!).
Plus, unlimited colors, different styles, a custom menu, and numerous columns are waiting for your brilliant ideas.
Stop over-thinking and meet the needs of today's students with smart Education Hub.
Education Hub features:
10,000+ active installs
Supports slider
Footer widgets
Easy to use
MORE INFO / DOWNLOAD
2. Education Base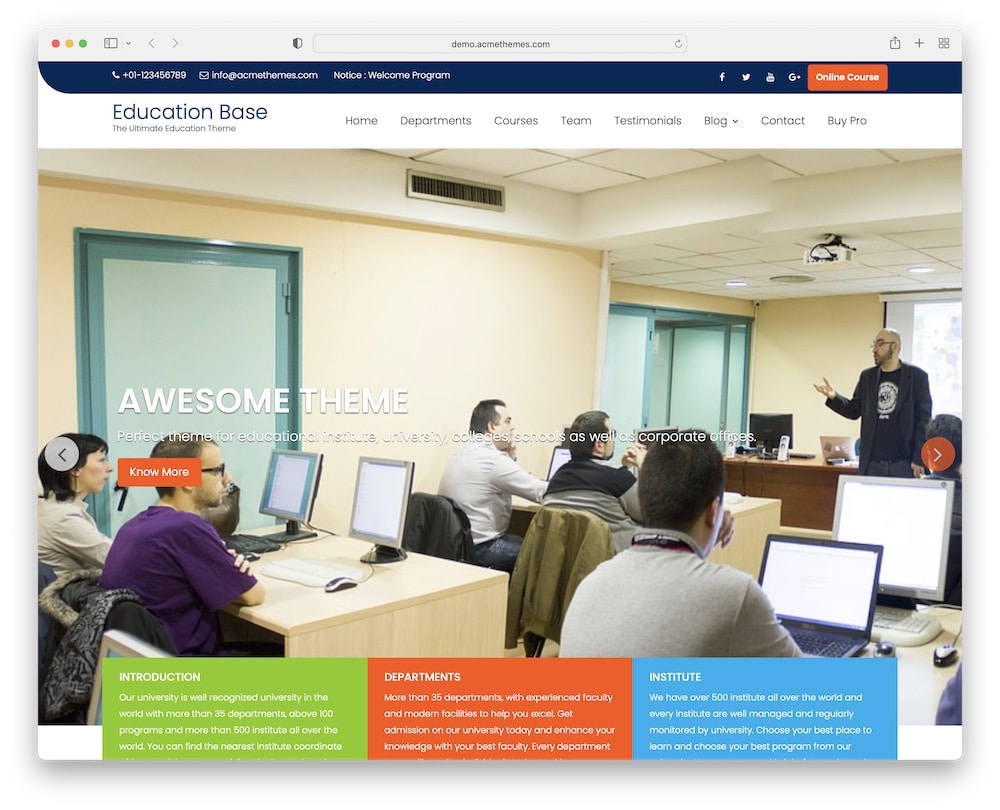 Engage learners with a high-performing Education Base free WordPress education theme in your online classrooms.
This attractive, responsive, and modern theme can tackle the overall needs for various educational purposes in one place.
Trouble-free Education Base comes with useful widgets, different header and footer options, unlimited colors, custom background, and an amazing drag-n-drop feature.
EPIC.
Moreover, you can easily create a WP blog for your company with credible information, research-based insights, news, learning goals, and more.
And let's not forget about the translation-ready option (use the WordPress translation plugin you want). YUP, you can use Education Base with more than just one language. You know – the more the better!
Education Base features:
MORE INFO / DOWNLOAD
3. Education Zone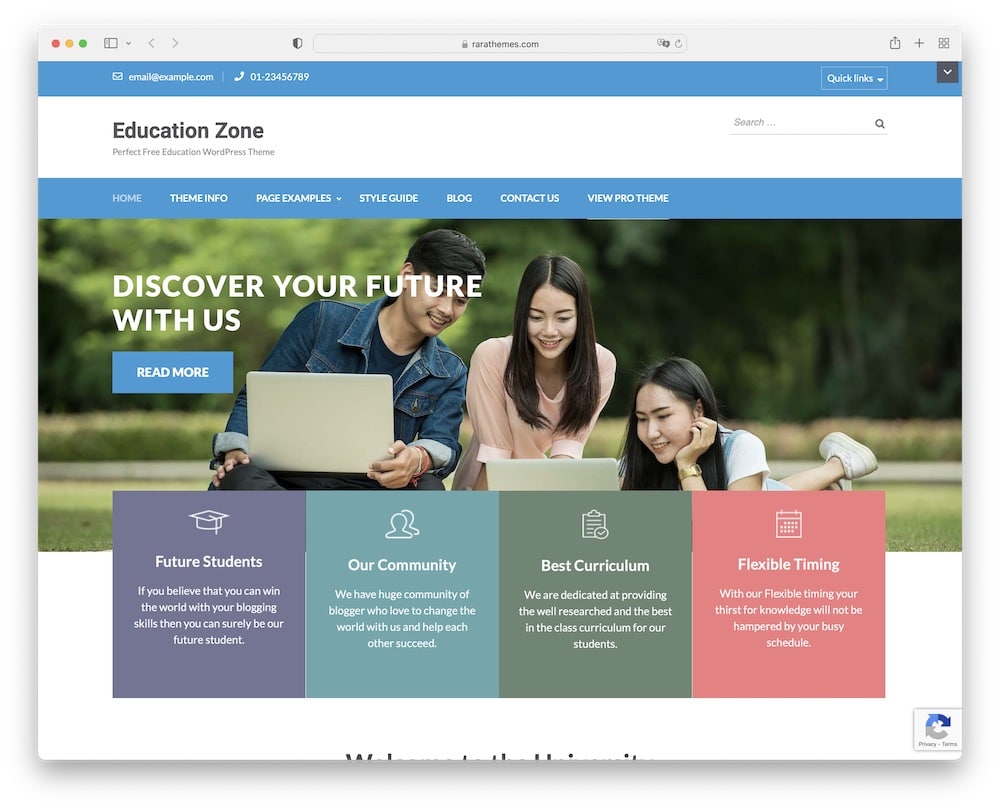 Teaching isn't only about the content, it's about developing people to reach their full potential. SO create a joyful learning environment with the elegant Education Zone. (You can also do this with a WordPress LMS plugin.)
SHOWTIME!
Education Zone is highly customizable and offers numerous popular features.
Add banners, columns, testimonials, social media icons, impressive blog, upload your logo, and set up a menu. Yep, that's it!
You have your own website!
Furthermore, Education Zone is SEO friendly, optimized for speed and mobile devices. I know a great user experience is guaranteed.
NOTE: This dynamic theme is a REALLY good place to start your business!
Education Zone features:
4,000+ active installs
Social media integration
Excellent documentation
Free support
MORE INFO / DOWNLOAD
4. Educational Zone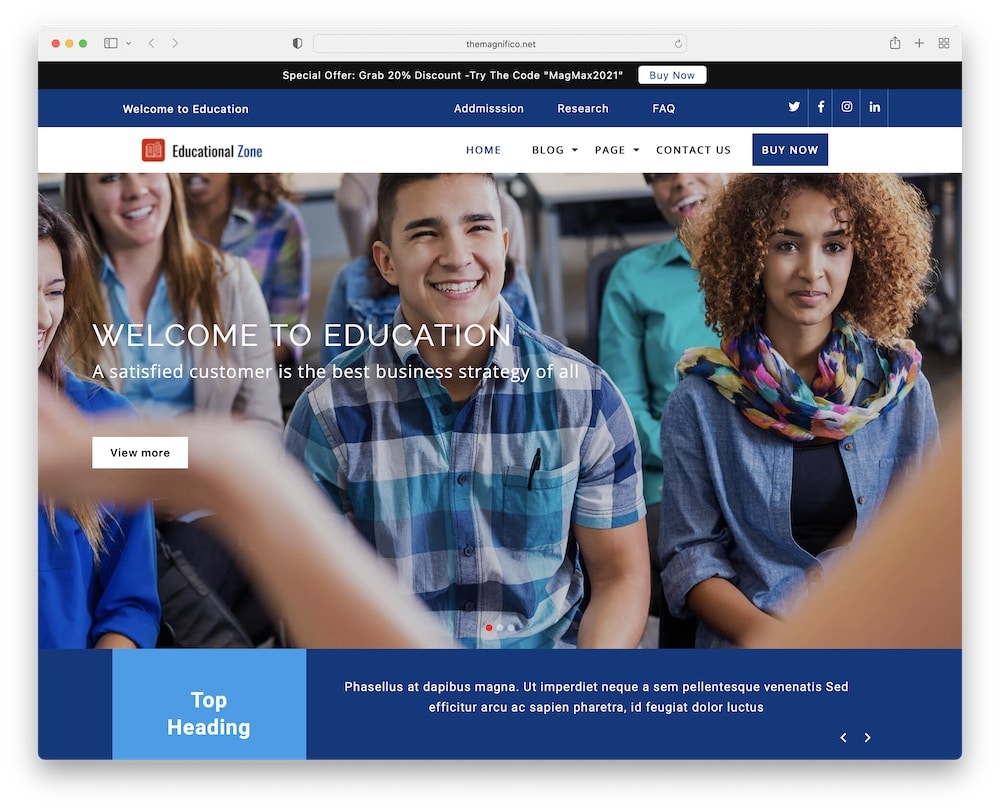 Create a safe and encouraging learning environment with a modern and free Educational Zone WordPress theme. It is perfect for schools, colleges, online courses, and other educational institutions.
Educational Zone comes with a well-organized layout, custom columns, different widgets, and is eCommerce ready.
Amazing, isn't it?
You can easily create your own online store if you wish (!), stop waiting, and start turning your ideas into GOLD.
Besides, Educational Zone includes all the necessary elements for fast and smooth building. I know this one is a keeper (enjoy it).
Educational Zone features:
5,000+ active installs
Lightweight & fast loading
Regularly updated
Based on Bootstrap
0 experience necessary
MORE INFO / DOWNLOAD
5. Bizberg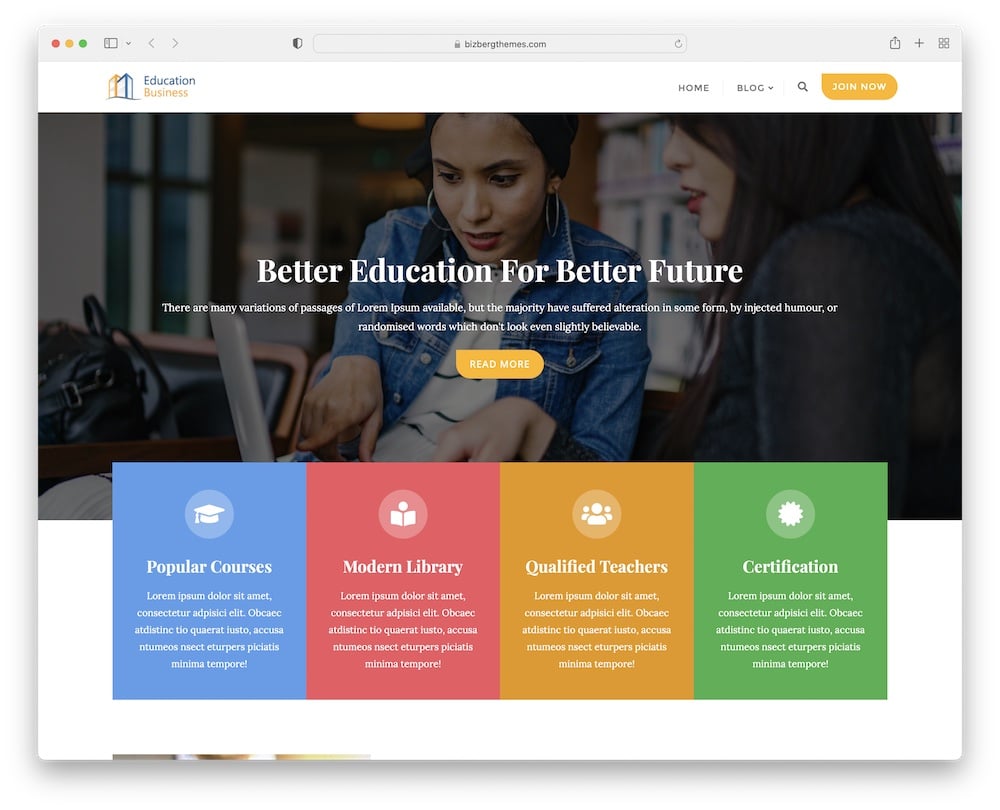 Efficiency and engagement are critical components of online learning – Bizberg boosts both. Exciting!
Keep in mind, with included pre-made demo you can have your new site running in just a few minutes (simple!). Plus, it is super easy to edit to your needs.
YES, Bizberg works with all popular plugins. Of course, don't miss out on the opportunity to work with the Elementor page builder. Pop the champagne!
TIP: Bring your A-GAME to the world with fast and fresh Bizberg.
Bizberg features:
MORE INFO / DOWNLOAD
6. EduPress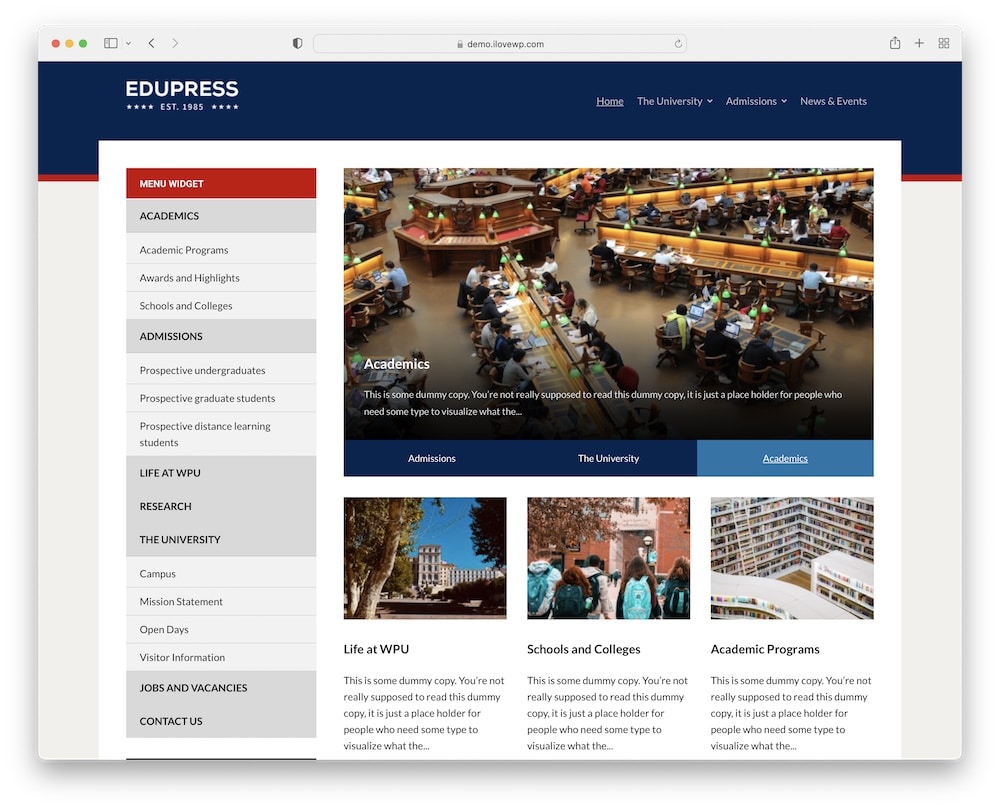 Promote collaboration, communication, creativity, and critical thinking among learners with the stylish free WordPress education theme, EduPress. Pretty COOL.
A special two-column layout works great with informative posts. And pre-defined (front-page) space for the slideshow is just a great feature for an amazing first impression.
EduPress looks professional and offers enjoyable smooth scrolling through the content. LUV.
Moreover, you can transform the customizable footer of EduPress into an illustrative area for all the contact data, a business introduction, and social icons (connect with your audience easily).
Two thumbs up!
Bottom line: Do yourself a favor and download EduPress!
EduPress features:
1,000+ active installs
Great for educational news
Boxed layout
Quick installation & setup
Support forum
MORE INFO / DOWNLOAD
7. Enlighten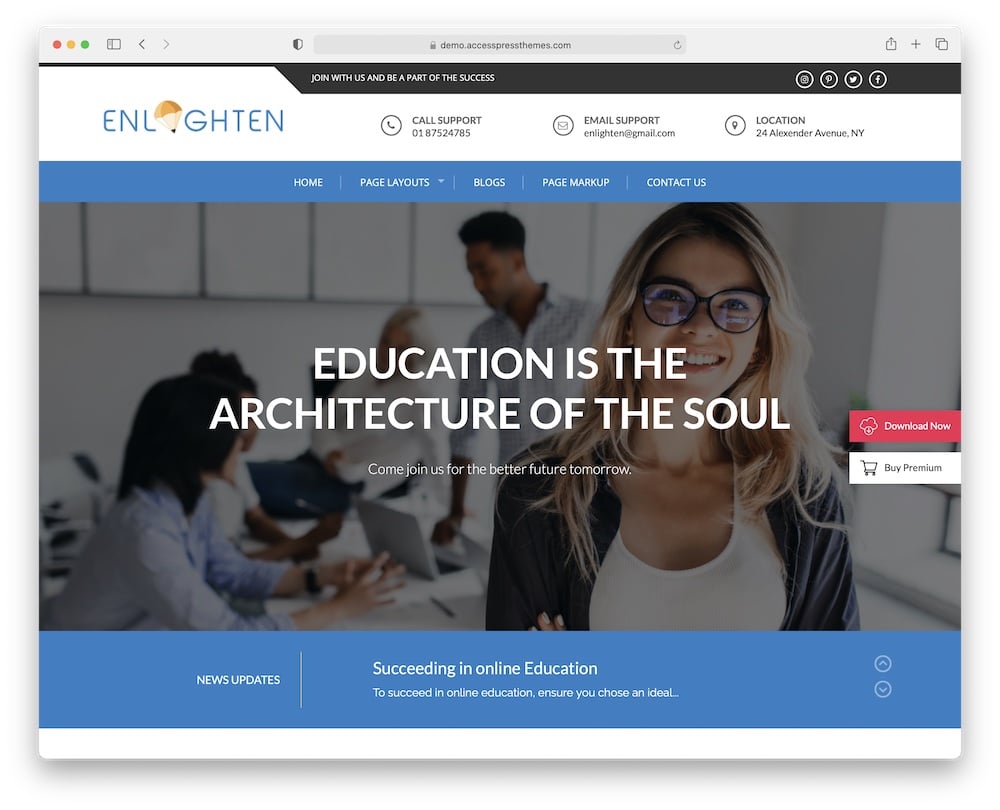 Teachers can create an environment where they and their students feel empowered with the brilliant Enlighten free WordPress education theme. (Even for remote teaching and learning). NO limits.
Enlighten is user-friendly and allows you to quickly change, mix or match the design and add the best features with real-time previews. Deck it out!
Important: Enlighten is responsive and mobile-friendly, so your website looks first-class on any device.
I la-la-la like it.
PLUS, carousel portfolio, service section, custom menu, clients testimonials, and video options are handy! Put your site to good use with the impressive Enlighten.
Enlighten features:
3,000+ active installs
2 menu styles
Twitter feed
CTAs
Supports videos
MORE INFO / DOWNLOAD
8. Education Xpert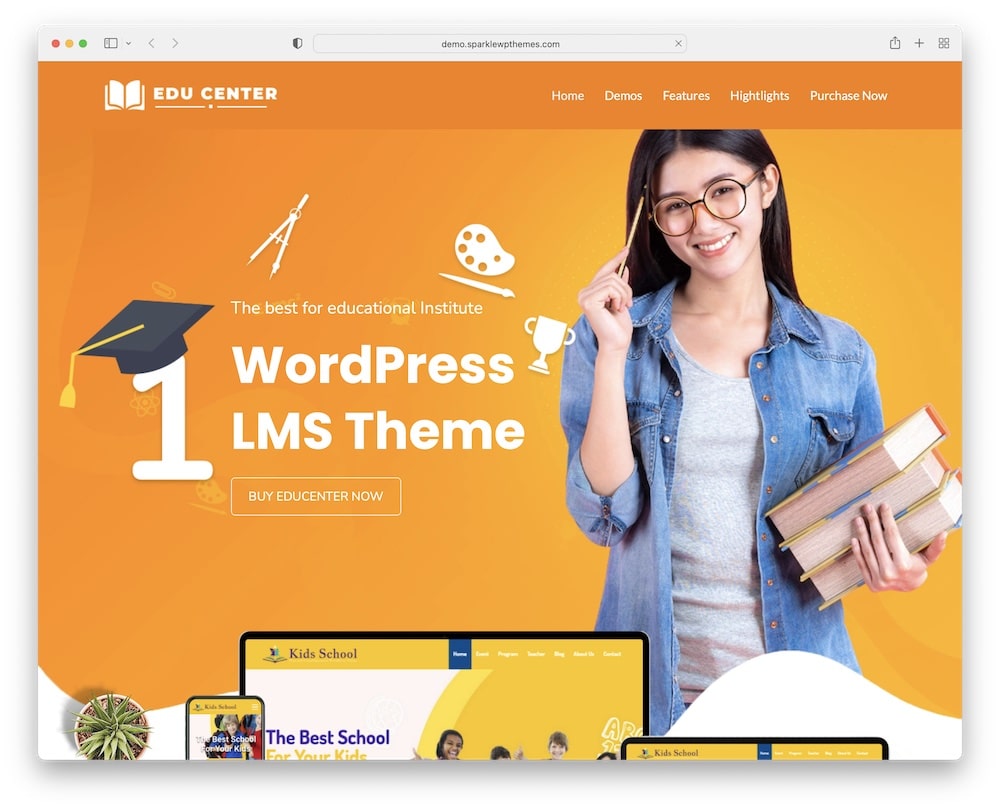 Keep it simple, and build engagement in as much human contact as possible with help from Education Xpert. STEP by STEP!
This free WordPress education theme offers clean and responsive design (one-click demo data import), pre-made portfolio & blog layouts.
You can also easily combine it with plugins such as WooCommerce, Contact Form 7, and others.
And HEY, Education Xpert is SEO friendly, cross-browser compatible, and optimized for speed. Fasten your seatbelts!
As a bonus: Education Xpert includes straightforward documentation (nerds have more fun!), and you can always get in touch with friendly customer support. HEROS!
Education Xpert features:
800+ active installs
1-click updates
Works with LearnPress plugin
Creating & selling courses
Mega menu support
MORE INFO / DOWNLOAD
9. Study Circle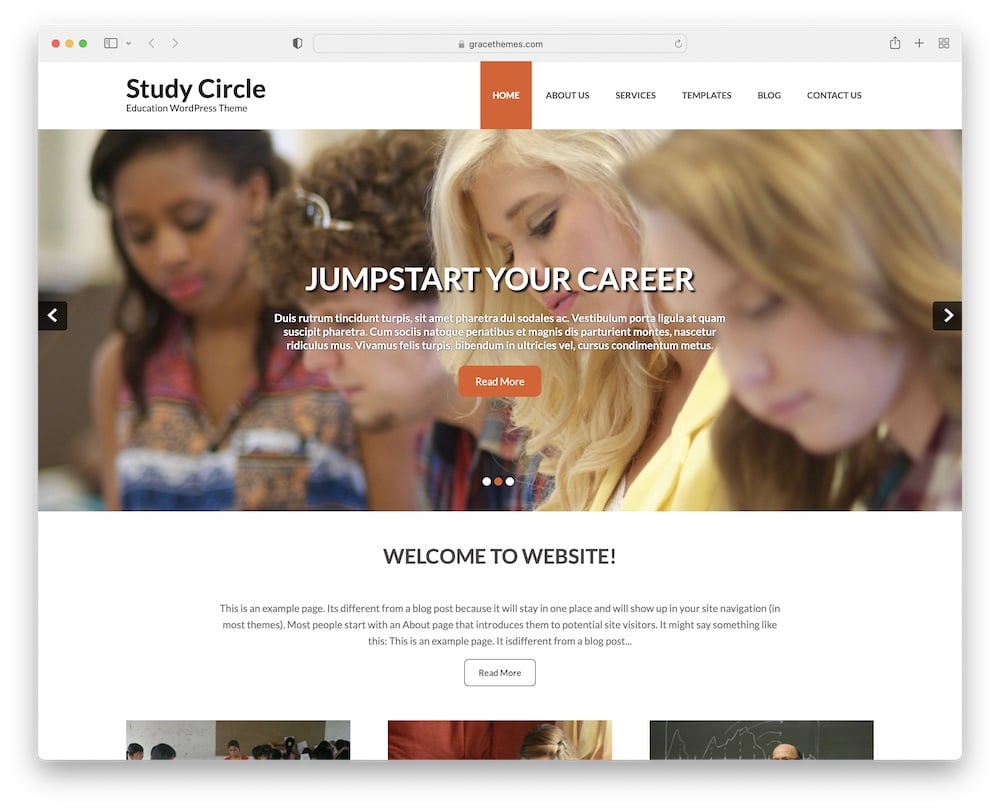 Discover Study Circle free WordPress education theme and create a strong classroom culture, sense of belonging and embrace positive learning on your new website.
You have the full potential to boost your brand over and beyond!
Install the demo, customize it and enjoy all its benefits. Study Circle is also compatible with the best plugins and is translation-ready.
On the other hand, let's talk about why you should write a blog. Well, it is the most rewarding way to connect with your audience drives traffic to your site, and shows you are a trusted source.
WIN-WIN game.
You can do this!
Study Circle features:
400+ active installs
Boxed & full-width layout
Custom widgets
Scrolling animations
Back to top button
MORE INFO / DOWNLOAD
10. Kids Campus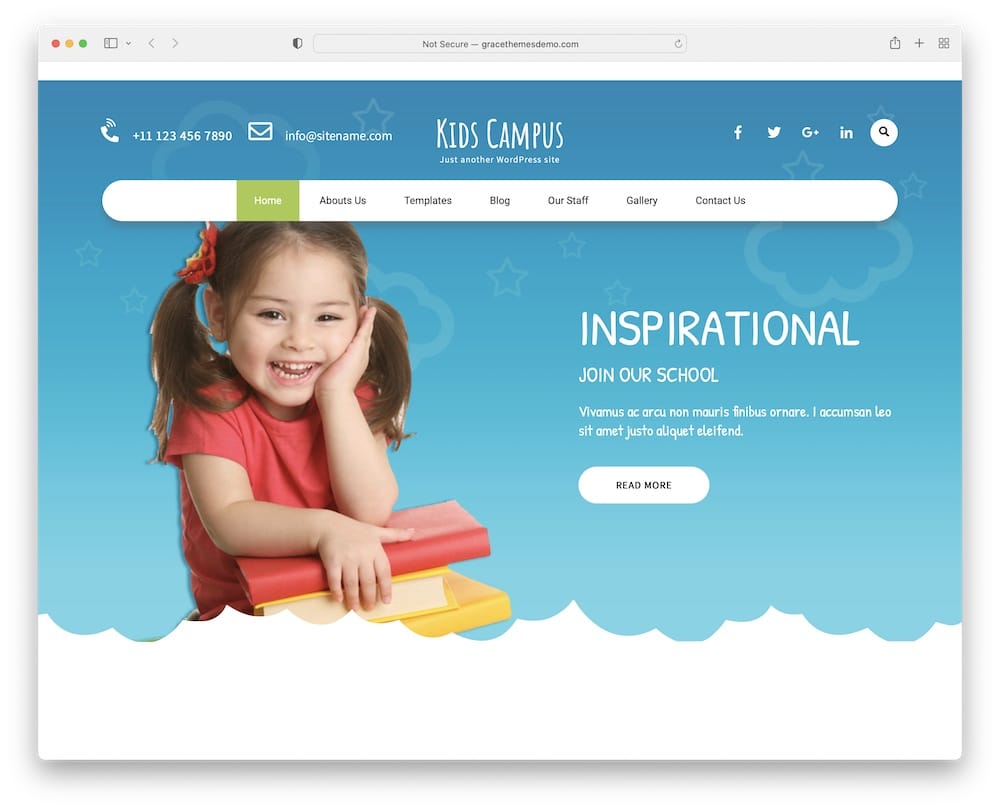 You can create a vital community on your website with a pinch of creativity. Lively Kids Campus can make any little student feel valued and a part of your business.
This vibrant and colorful free WordPress education theme is perfect for preschools, kindergartens, and other child-related websites.
Kids Campus is both fun and practical to work with (stress-FREE).
Plus, you can install the ready-to-use design instantly (with a simple click). And YES, you can change and set the demo exactly as you wish.
DON'T PANIC – coding knowledge isn't required.
Hip, hip, hooray for Kids Campus!
Kids Campus features:
MORE INFO / DOWNLOAD
11. Kindergarten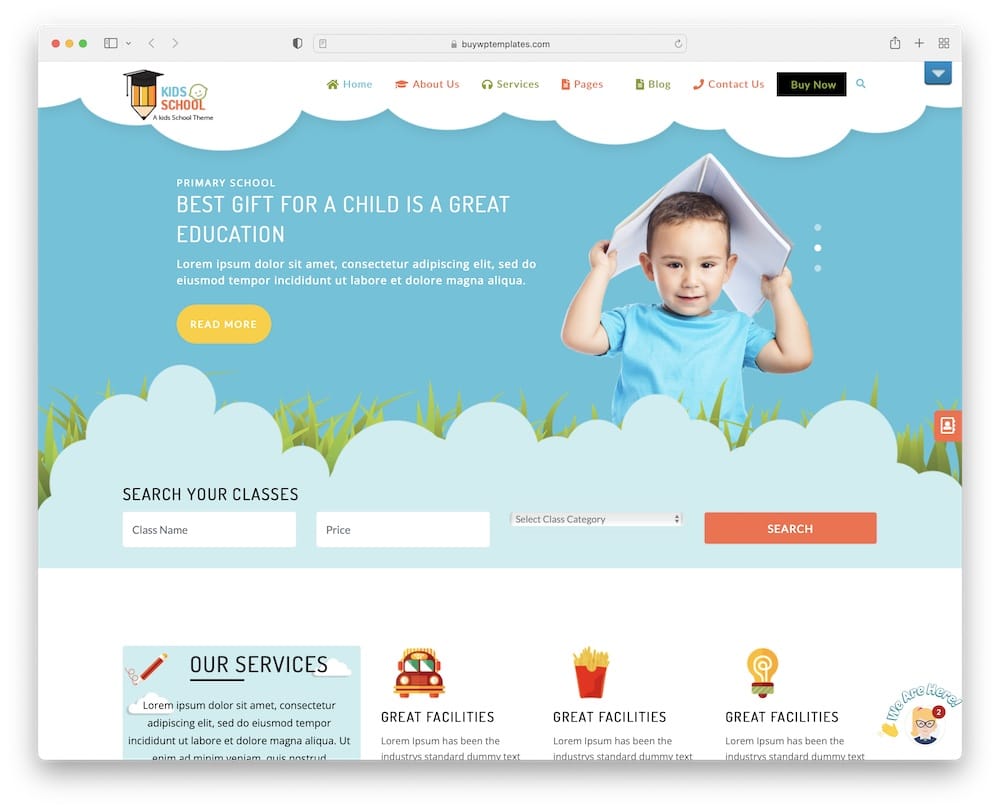 Create memories & stories together with children through Kindergarten free WordPress education theme.
Trust yourself, your little students, and know that it's possible to build a valuable online environment.
Kindergarten is a beautiful and playful theme that comes with plenty of features and personalization options.
Moreover, Kindergarten is cross-browser compatible, loads fast, and is SEO friendly.
One way to put it: Works like a charm!
Plus, numerous shortcodes, various sidebars, smart banners, and one-column layouts can add a big difference and special spark to your content.
COOL – just like you.
Hey, you may also want to take a peek at our best WordPress kindergarten themes.
Kindergarten features:
MORE INFO / DOWNLOAD
12. Rara Academic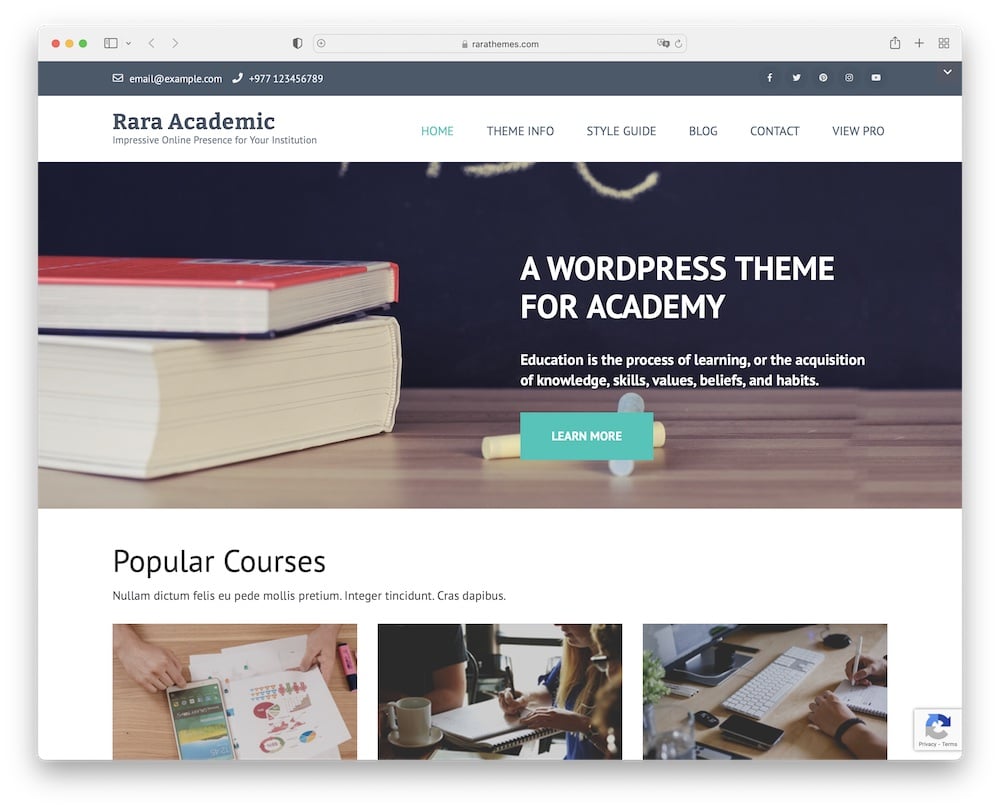 Keep your students updated on your educational programs, and cultivate a dynamic & joyful learning environment with Rara Academic free WP edu theme.
Dare to be different.
For a visually stunning website, you can customize Rara Academic design to all your needs.
Add a transparent menu, full-width banners, use widgets, set up social media buttons, include a testimonial section, and polish the footer area. Super easy!
My advice? Start also writing a blog (killer HOOK).
Did I mention that you can go global with Rara Academic? Yup, you can – it is fully translation ready.
Rara academic allows you to MEGA seriously level up your game!
Rara Academic features:
MORE INFO / DOWNLOAD
13. Educenter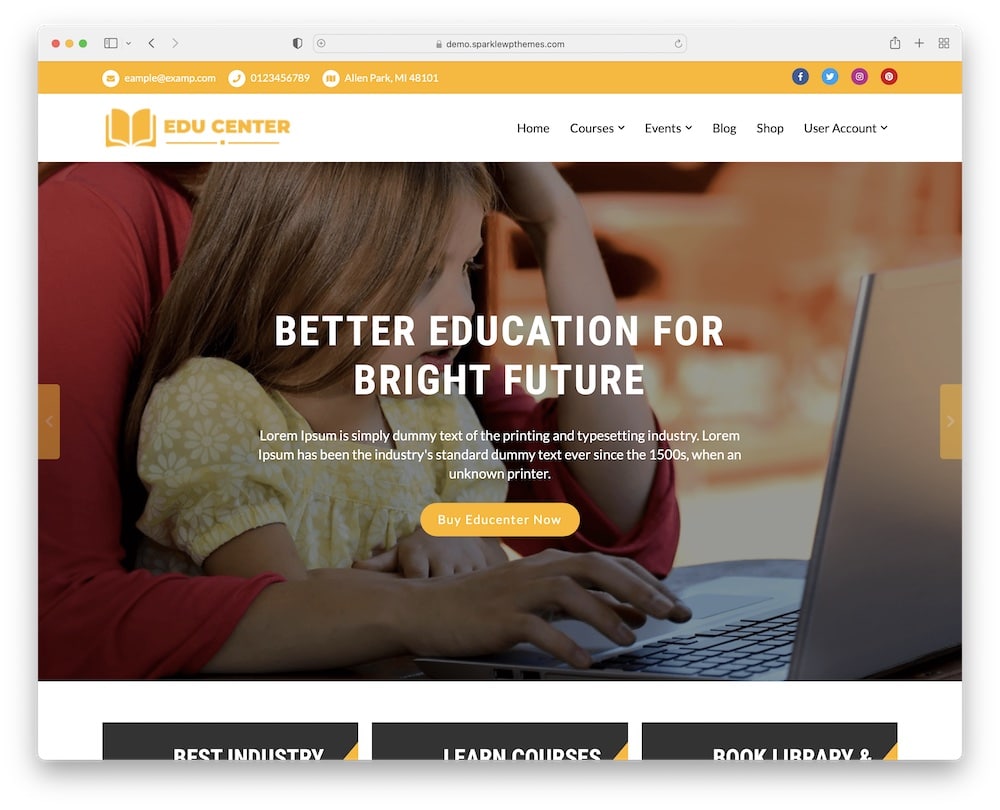 Provide an environment where students can stay engaged and interact with each other in meaningful ways.
Educenter free WordPress education theme is clean and dynamic – specially designed for all types of educational websites. It includes all you need for a fast and beginner-friendly start.
Jump of joy!
Educenter is also compatible with the most popular plugins. Keep in mind, you get 100% command and control of your site's functionality and appearance.
And, if a dilemma or problem revels just check out well-prepared theme documentation or shoot an email to friendly customer support.
Keep smiling and download Educenter – NOW!
Educenter features:
MORE INFO / DOWNLOAD
What To Look For In A WordPress Education Theme?
After testing 40+ themes and thoroughly researching the educational industry, we're excited to share with you the six essential features a WP theme needs to have for your educational website.
You'll build your page a lot easier and faster with these in mind, which is the best feeling ever.
6 Must-Haves Of A Free WP Education Theme
Great performance: The theme needs to offer a 100% responsive layout and a lightweight structure to ensure excellent loading speed and performance on desktop and mobile devices.
Design: The theme must have a clean and professional design. It's always better to go with a more minimalist look because your content, your courses and all the other information will pop more.
Registration forms: The theme needs to have built-in registration or application forms so potential students can create an account on the spot. But you may need to use a plugin in some instances, which leads us to:
Plugins compatibility: The theme must come in tune with all the popular plugins out-of-the-box. You never know when you'd like to add new features, and only then find that your theme isn't compatible with most of the plugins sucks. Luckily, that won't happen with any of the above educational themes we have here for you.
Great support & documentation: While a free theme doesn't necessarily offer one-on-one support, their support forums are extremely valuable. And so is the extensive documentation that comes with the theme.
WordPress builders: The theme should be compatible with the most popular page builders, like Elementor, WPBakery, Beaver Builder, etc.
You're now ready to create an educational website with the help of WordPress. Luckily, no coding and design skills are necessary!
Enjoy.
::
Note: This article was originally published on March 28, 2022. But our team regularly reviews it and updates it with necessary improvements for accuracy.