We have researched and tested the best free and premium WordPress Google Maps plugins to create a list of the top picks for you.
QUICK selection awaits!
Numerous plugins are on the market, but not all have the same features and capabilities.
Although most website owners need to display the location of their business, there are many other features that you get access to with map plugins.
Many features can come in handy, from routes and directions to markers and mapped areas.
This post covers:
Ready to navigate your page visitors?
Add a modern map to your website NOW!
THE ULTIMATE 3:
Best WordPress Google Maps Plugins
Don't forget to check our tutorial on installing a WordPress plugin.
Plus, we also have a full guide on how to add Google Maps in WordPress easily.
1. WP Maps Pro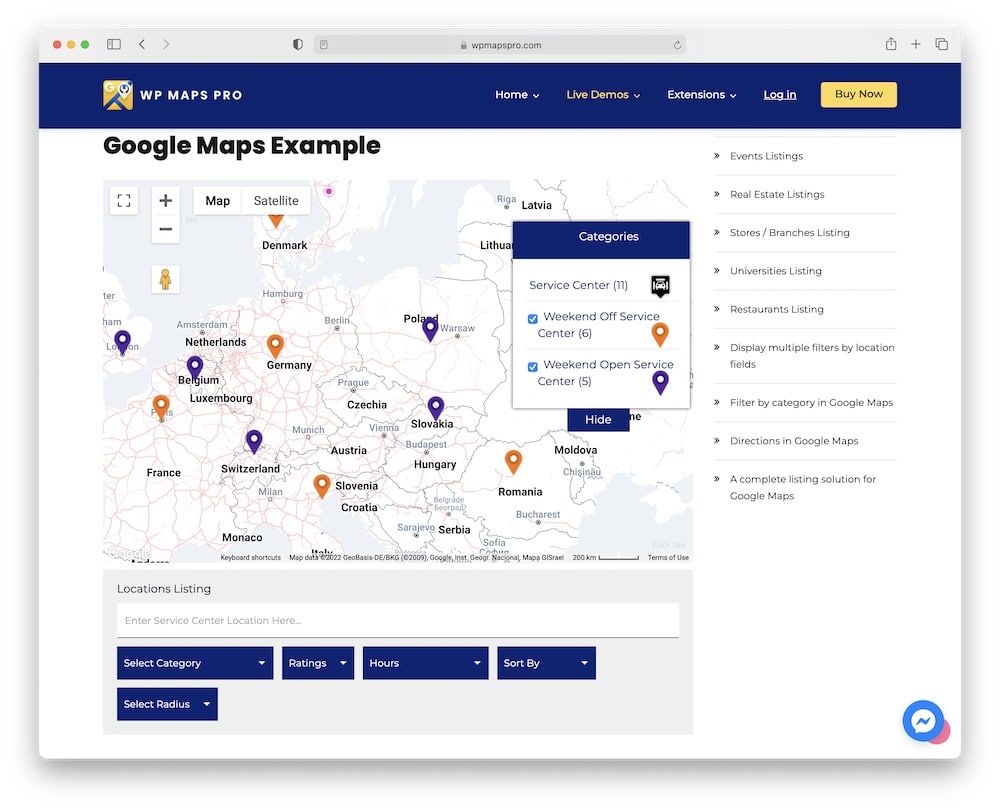 WP Maps Pro is one of the most popular Google Maps plugins on the market.
The plugin has many features that you will enjoy working with.
You get all the essential tools to create and display comprehensive maps for your visitors regarding location features.
From marker categories with different icons and custom filters to drawing tools and displaying custom post types, it leaves out NOTHING.
Finally, this plugin has an excellent support team to help you solve every occurring problem.
WP Maps Pro features:
13,900+ sales
4.6/5 ratings
You can insert multiple maps
Customizable & translatable map display (it's also compatible with WordPress translation plugins)
Price: $89 (may vary)
MORE INFO / DOWNLOAD
2. Store Locator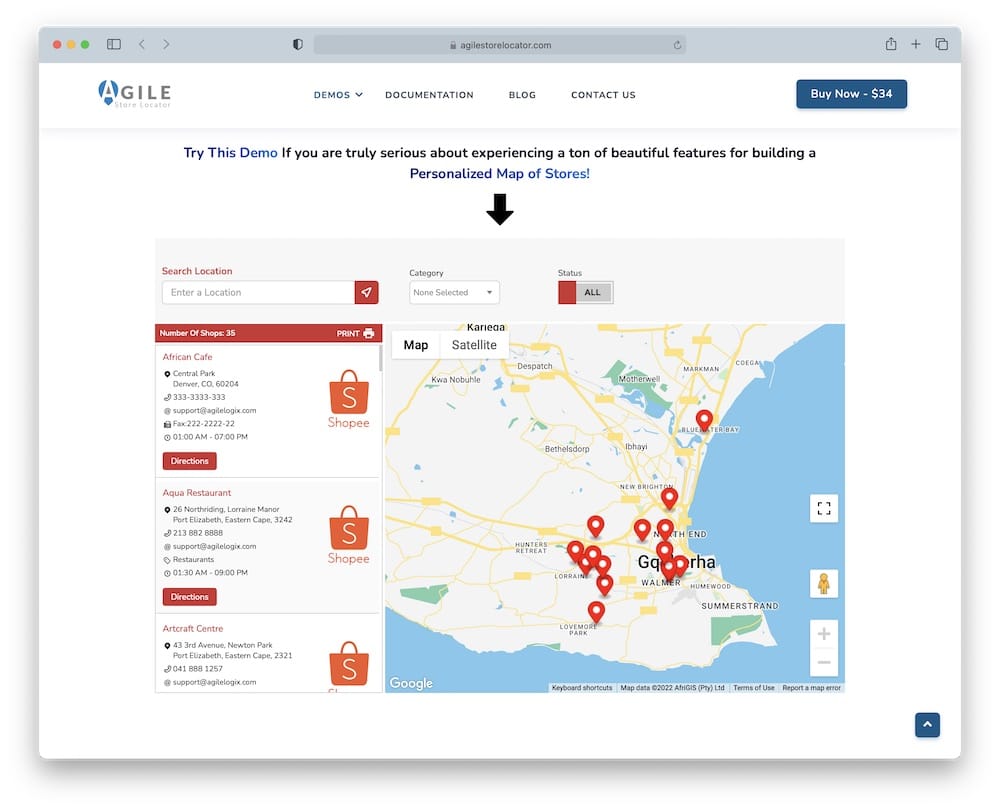 As the name suggests, Store Locator is a plugin that allows you to add a Google Map to your website and showcase store locations.
This plugin also includes several different templates and layouts that you'll be more than happy with.
We really ENJOYED drawing shapes like circles and polygons and adjusting them on our maps during our testing.
Another essential feature is the Time Switch.
This feature is actually a filter that allows the map to show only currently open stores.
Store Locator is perfect for those who want to display specific stores on a map.
Store Locator features:
9,500+ sales
4.9/5 ratings
Fully responsive
Supports multiple languages
Price: $39 (may vary)
MORE INFO / DOWNLOAD
3. Advanced Maps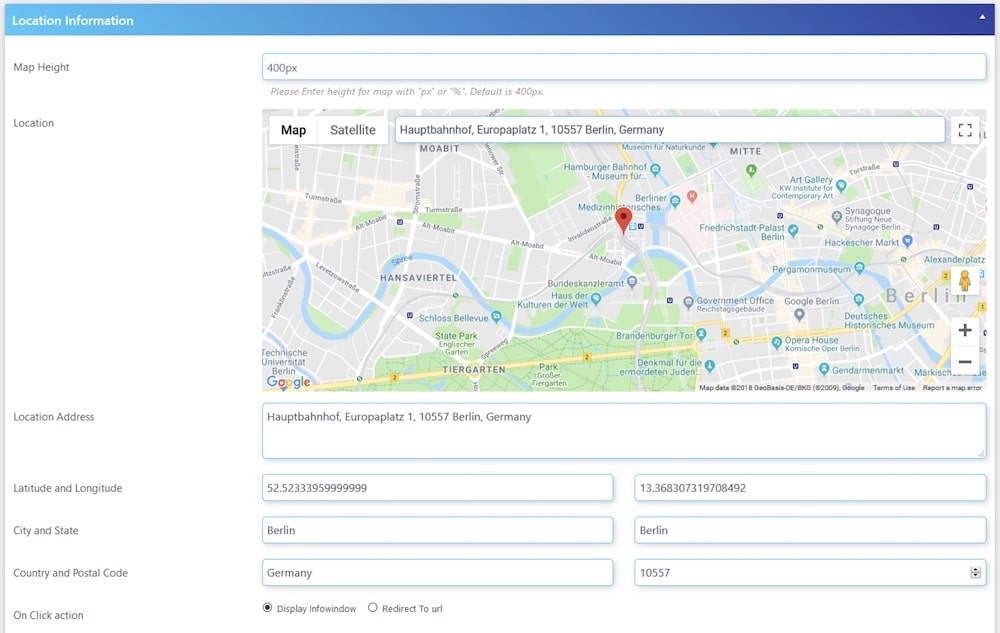 If you are looking for a WordPress Google Maps plugin that allows you to add maps to your website via simple shortcodes, then this is the one for you.
Advanced Maps is a plugin to help you create comprehensive maps with custom markers, multiple locations and routes.
Plus, this plugin has numerous themes you can work with and many customization tools for the map layout.
This Google Maps plugin is a great and simple solution for beginners and professionals.
Advanced Maps features:
140+ sales
4.1/5 ratings
Comprehensive dashboard
24/7 live support
Price: $9 (may vary)
MORE INFO / DOWNLOAD
4. Google Maps Plugin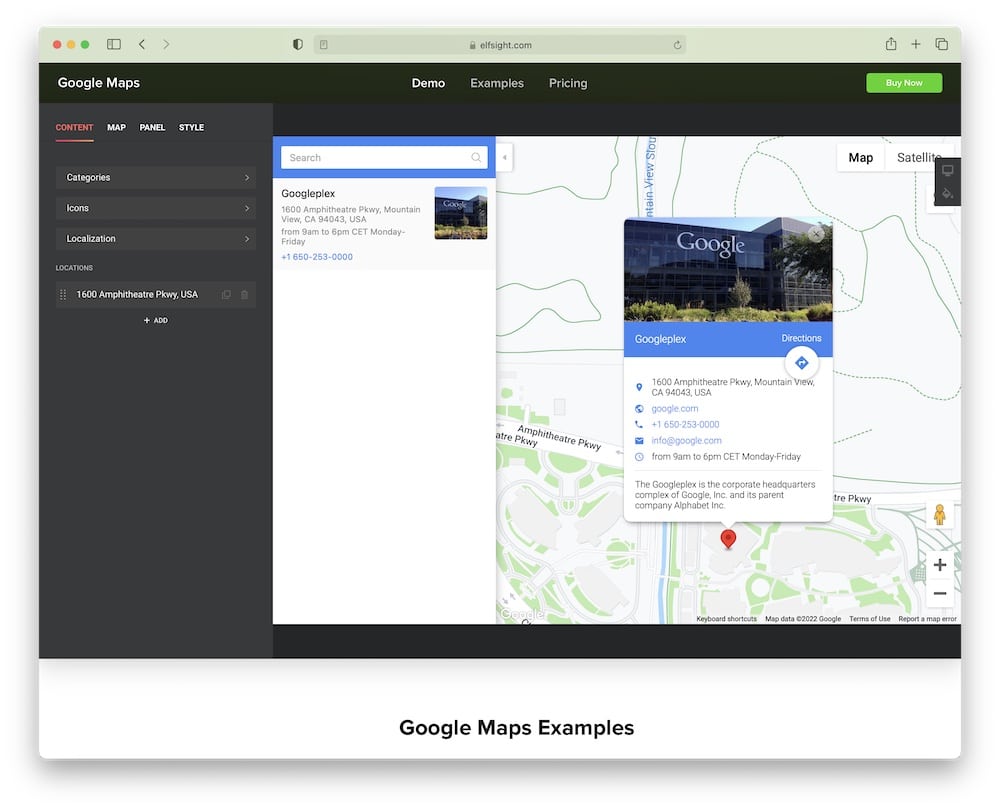 You get a lot of great and creative features with the Google Maps plugin for quick integration.
It has numerous markers with different icons, allowing you to display anything you want on the map separately.
Also, the plugin automatically calculates and generates the best directions and guides the users to your marker.
This plugin is an EXCELLENT choice for anyone who wants to easily create a map for their website while integrating their branding elements.
Google Maps Plugin features:
2,000+ sales
4.8/5 ratings
Easy to install
Works with any WP theme
Price: $29 (may vary)
MORE INFO / DOWNLOAD
Best Free WordPress Google Maps Plugins
5. WP Google Maps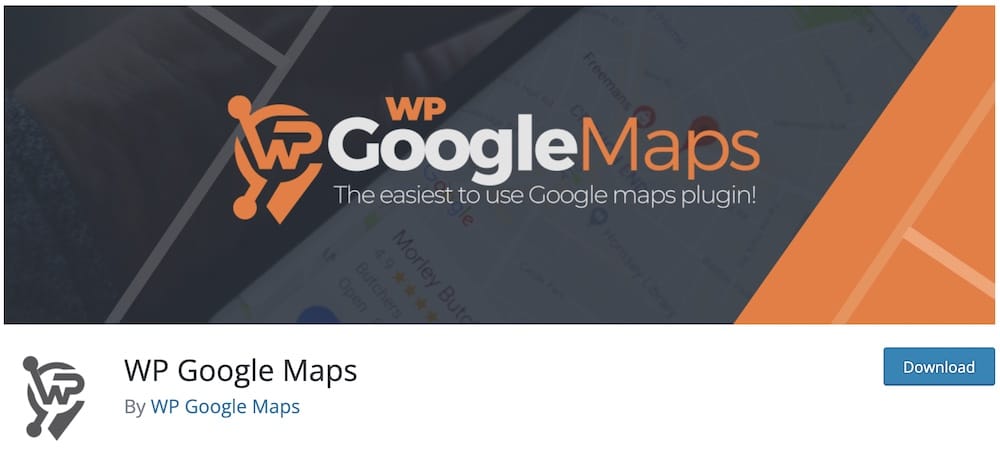 WP Google Maps is the most popular free WordPress Google Maps plugin on the market.
This plugin allows you to add maps to any page or post without coding.
Regarding features, WP Google Maps is quite something to behold. First of all, you choose from four Google Maps types: Street Map, Terrain, Satellite and Hybrid.
You can customize your map with an UNLIMITED number of markers, images, screens and 9 different themes to frame your map after choosing a style.
This plugin is a powerful solution to add maps to your website quickly.
WP Google Maps features:
400,000+ active installations
4.8/5 ratings
Full-screen map supported
Customize width, height & zoom
Polygons & Polylines supported
MORE INFO / DOWNLOAD
6. Maps Widget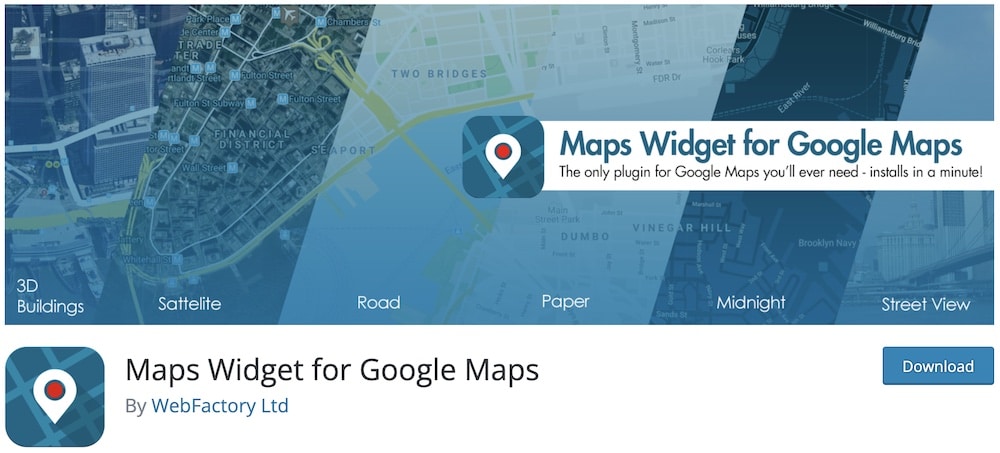 Maps Widget is a plugin that lets you import maps you need into the WP widget areas of your website without programming knowledge. (0 experience necessary!)
This free Google Map plugin does not have a lot of features, as it's specifically designed to be lightweight and provide fast page performance.
However, you get some important features like customization options for color, fonts, zoom level, map type and map size.
Note: This plugin creates a map as an image thumbnail in your preferred widget area.
After the user clicks on it, a lightbox will appear, allowing them to interact further.
Maps Widget features:
50,000+ active installations
4.6/5 ratings
WP shortcodes to import the map on any post or page
Supports 12 languages
Fully responsive
MORE INFO / DOWNLOAD
7. WP Google Map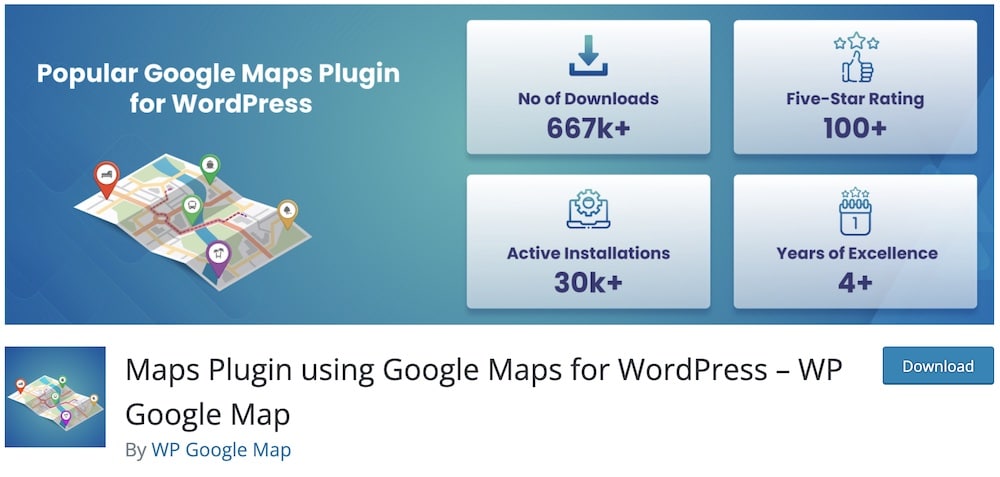 If you are looking for a user-friendly WordPress Google Map plugin that is ESAY TO USE and does not require programming skills, this plugin is for you.
WP Google Map is a plugin to create a map and generate a shortcode that you can import anywhere on your website or blog (even to the WP sidebar).
Also, this map plugin lets you use a drag system to import a marker to the desired location.
This map plugin is a simple and great choice for anyone who wants to use a free plugin with a wide range of features. (You never need the pro version if you are a basic user.)
WP Google Map features:
20,000+ active installations
4.9/5 ratings
Well documented
Regular updates
Fully-customizable maps
MORE INFO / DOWNLOAD
8. Easy Google Maps

As a final choice, we have the Easy Google Maps plugin. This free WordPress Google Maps plugin is for creating a map in (JUST!) a minute and displaying it on your website.
You can display Google Maps for contact pages, routes, delivery areas and real estate.
Also, YOU CAN insert various information on the markers, such as descriptions, images, links, videos, etc.
Easy Google Maps is a great solution for creating and displaying maps on your website fast (with confidence).
Easy Google Maps features:
30,000+ active installations
4.6/5 ratings
Unlimited markers & locations
Maps with social sharing buttons
Traffic, transit & bicycling layers
MORE INFO / DOWNLOAD
6 Key Features Of A WordPress Google Maps Plugin
We want to share with you the must-haves of a great map plugin with you in case you decide to do further research.
Note: These were (some of) the features that we used during testing each plugin to ensure 100% reliability.
Remember, there are still other features that are unique to each plugin, so there's something for everyone.
A plugin must be responsive and lightweight. This guarantees great performance and a fantastic user experience, especially for mobile devices.
We love shortcodes and widgets, so it's a must for a plugin to come with at least one of them. Why? Because custom website inclusions become so much easier.
Different map templates that save you time finding the ideal one for your business or organization.
But predefined templates don't always work out-of-the-box; thus, having a chance to customize the look is also a must!
Great interactivity functionality so you can zoom in/out and drag the map around to find additional information.
Custom markers are a great cherry on top of a fantastic Google Maps layout that you use to spice up your website.
FAQs About WordPress Google Maps Plugins
How do I create an interactive map in WordPress?
The fastest and simplest way to create a map in WordPress is with a plugin.
What's great about a plugin is that it comes with shortcodes and widgets, which you can use to display Google Maps in other sections besides posts and pages.
How do I add a Google Map to WordPress?
You can add Google Maps to your WordPress website with 1) a plugin or 2) manually inserting it.
We don't recommend the latter because it takes extra work, whereas, with a plugin, you can do it in a few clicks.
Plus, you don't need any skills! (Even when it comes to customizations and styling the look and functionality to your needs.)
Does WordPress have a map function?
WordPress doesn't have a map function by default. You either need to use a plugin (our recommendation) or manually code it into your website.
Can I add a map to WordPress for free?
Yes, there are plenty of fantastic free plugins that you can use to add custom and Google maps to your site.
::
Note: This article was originally published on February 27, 2022. But our team regularly reviews it and updates it with necessary improvements for accuracy.