Are you searching for the best free WordPress directory plugins to build your online platform fast?
Here are two of MANY scenarios:
You already have a website and want to add a directory to help visitors find the best restaurants.
Or you own a law firm and want to create a directory for your attorneys and cooperators.
Creating an online business directory was a pretty expensive and overwhelming process in the past.
We make an end to it!
WITH PLUGINS.
Luckily, not all top-notch options come at a cost.
This post covers:
We have picked out the best free ones for you. (Reviewed over 30+.)
You are sure to find the best one, regardless of the size of your business.
1,000s of listings – ORGANIZED!
Best WordPress Directory Plugins And Listings
1. uListing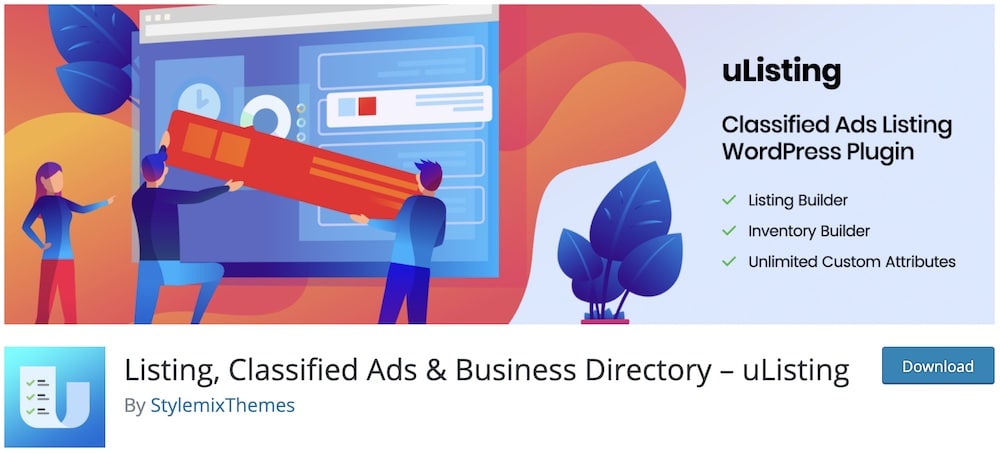 You have surely come across uListing, if you have ever researched free directory plugins for your WordPress project.
There are so many reasons why uListing is our #1 pick.
First of all, Stylemix Themes is a RELIABLE and well-known plugin (and theme) designer. Likewise, uListing, like all of their plugins, is a brand new, ultimately responsive plugin.
During our testing, we had no issues installing and using it.
Note: You may be interested in reading our guide on how to install a WordPress plugin if you're a beginner.
UListing is a fully customizable business directory plugin. It uses a simple drag-and-drop builder. That means 0 coding for you, my friend.
We easily created the inventory page in our test, added the map element, and included all the listing types in just a few minutes. All in all, uListing is a directory plugin you have to try.
uListing features:
3,000+ active installations
4.1/5 ratings
Paid listings (pricing plans)
Amazing support
Effortless customization
MORE INFO / DOWNLOAD
2. Business Directory Plugin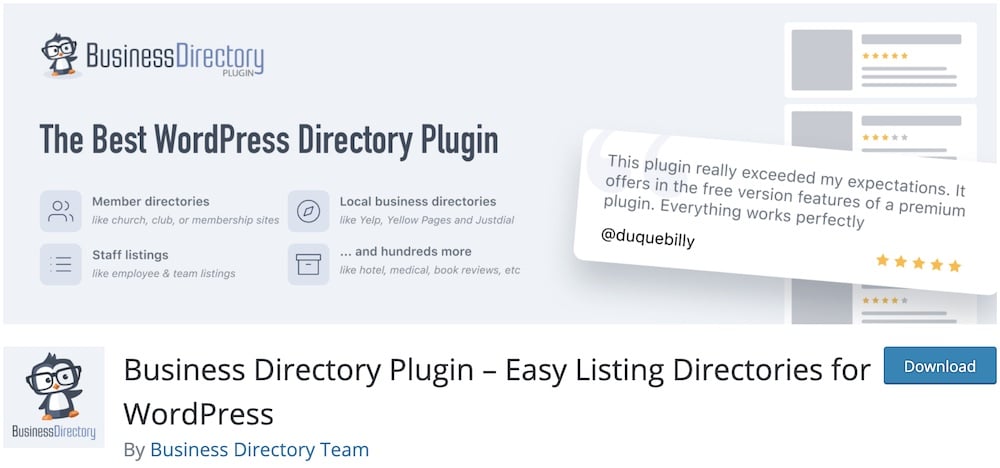 Choosing between uListing and Business Directory Plugin for 1st place on our list was rough.
The Business Directory Team has done a fantastic job providing a top-notch free WordPress directory plugin.
If you want to add a business listing to your website but do not want to hire a developer, this is the plugin for you.
Since the last update, the plugin has become very reliable and more businesses have started using it.
This has resulted in stellar reviews and more than 10,000 active installs. With the plugin, you can quickly build any type of directory website, from property, employee, team, you name it!
On top of that, the team behind the plugin is ALWAYS available to help you solve any issues. (0 stress.)
Business Directory Plugin features:
10,000+ active installations
4.7/5 ratings
0 coding needed
Works for any directory type
MORE INFO / DOWNLOAD
3. GeoDirectory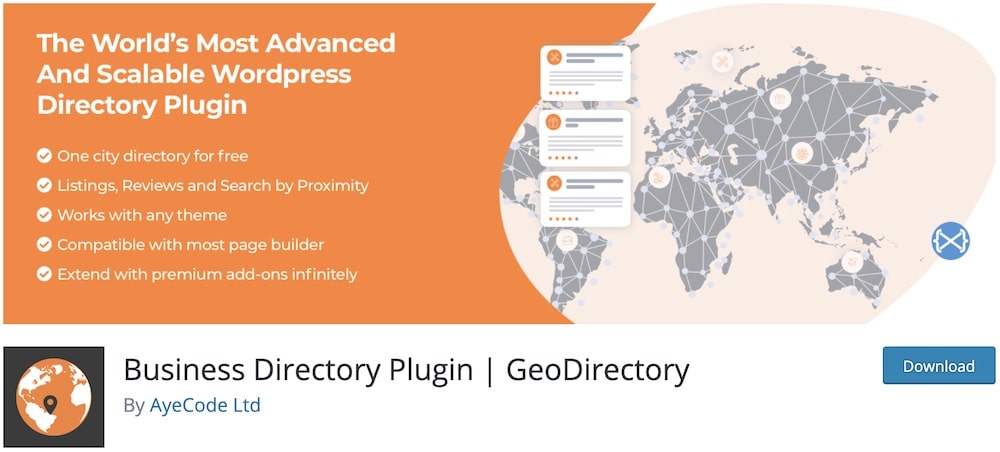 GeoDirectory is the best plugin for anyone who wants to create extensive directories. If that's your case, let us find out what makes this plugin different.
GeoDirectory is a free WordPress directory plugin that allows you to create global directories easily. All listings are customized to the user and displayed by proximity.
As a WP multisite and multilingual compatible plugin, this is also a great solution for developers managing multiple client sites.
In different languages!
The plugin also includes different themes (paid), but you do not have to use them if you already have one.
For all these reasons, there's nothing BETTER than GeoDirectory when it comes to creating large (and scalable) directories.
GeoDirectory features:
10,000+ active installations
4.7/5 ratings
Perfect for large business directories
Amazing video guides & demos
Vast collection of add-ons & themes
MORE INFO / DOWNLOAD
4. Connections Business Directory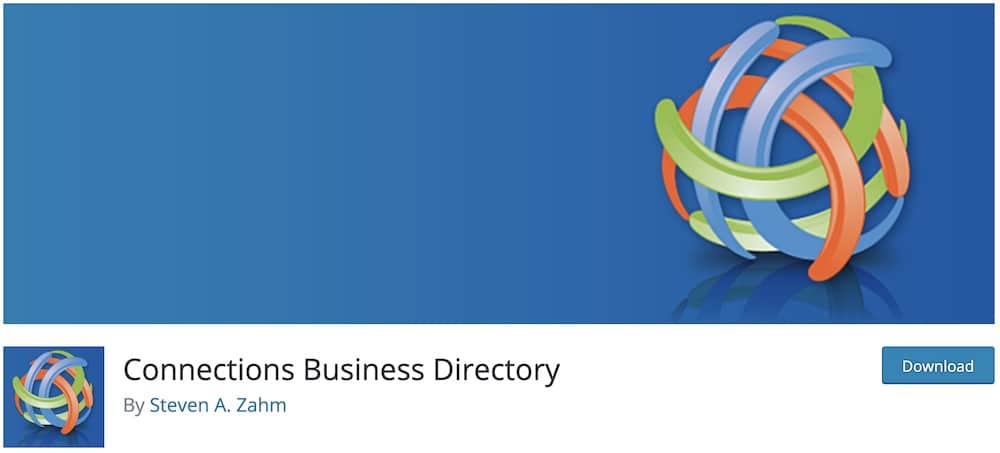 Connections Business Directory is one of the most popular free WordPress directory plugins available.
The plugin has one of the best overall reviews (including ours) we have ever seen – for GOOD reasons.
During our testing, Connections Business Directory proved to be a responsive plugin.
Most users prefer this plugin over other solutions because it is easy to learn and provides all the essential and advanced features simultaneously.
You can create as many list items as you want. Plus, the plugin is fully compatible with almost all WordPress themes and page builders.
No. Limits.
Connections features:
10,000+ active installations
4.9/5 ratings
Perfect for Gutenberg & other page builders
4 block options (carousel, directory, team, upcoming list)
Top-tier support
MORE INFO / DOWNLOAD
5. Advanced Classifieds & Directory Pro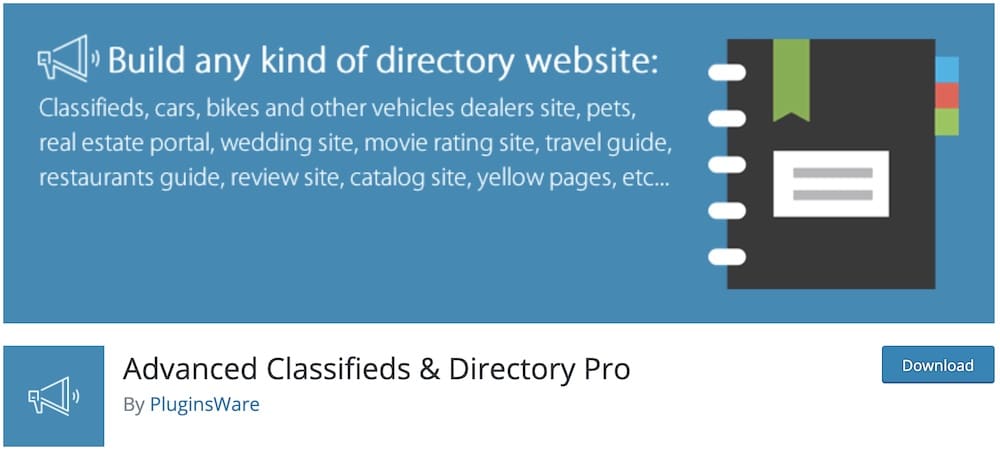 Advanced Classifieds & Directory Pro, or ACADP, has been around for over 5 years.
The plugin is constantly improving from day one and has quickly created a considerable fan base.
This free WordPress directory plugin proved to be FLEXIBLE and easy to use during our testing. It offers a vast range of customization options to explore.
Plus, it allows you to add unlimited categories and category levels.
In a few words, ACADP is a great solution for anyone who needs to customize their directory layout at a deep level. Besides, its simple panel gives you ultimate possibilities.
For this reason, you should try it out if you frequently renew your entries.
ACADP features:
3,000+ active installations
4.8/5 ratings
Simple User Interface
Perfect for frequent listing renewals
Advanced search widget (many criteria like keyword, location, price range)
MORE INFO / DOWNLOAD
6. Directorist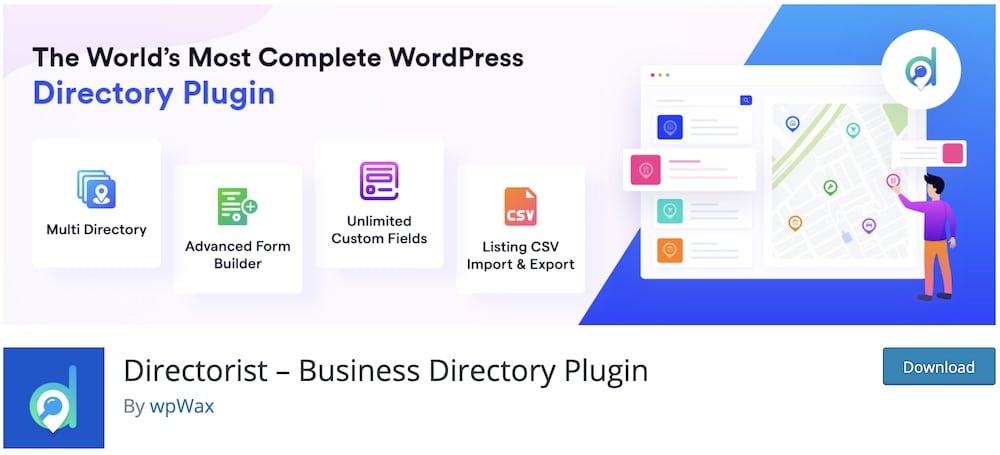 Directorist was developed specifically by wpWax and quickly became one of the top free directory plugins on the market.
If you are looking for an easy-to-use yet advanced tool to create listings, local directories, etc., Directorist is an intelligent solution.
We love this plugin because we created beautiful business listings with ease, similar to Tripadvisor and Yelp.
The plugin is beginner-friendly and helps you INTEGRATE other features like live chat.
Directorist features:
10,000+ active installations
4.7/5 ratings
Monetization integration
Offline payments
MORE INFO / DOWNLOAD
7. Name Directory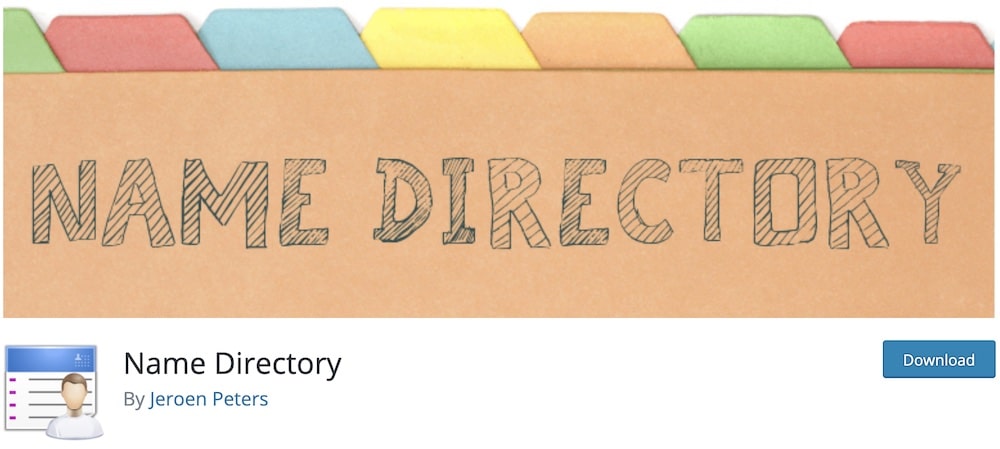 Do you want to create your own glossary? Name Directory is simply the best way to go. We have used this plugin for many clients, providing an amazing experience every time.
This free WordPress directory plugin offers numerous customization options and templates for unique results. You can easily implement the shortcode on your page or post.
Another UNIQUE feature of Name Directory is that it offers multilingual support. The plugin is already available in many languages.
However, if it doesn't include your language, you can quickly translate the plugin and enjoy the results!
(Don't miss contributing your translation, so everyone else can use it, too.)
Name Directory features:
3,000+ active installations
5/5 ratings
You can create multiple directories
Show & hide elements/features
Many customization options
MORE INFO / DOWNLOAD
8. AWP Classifieds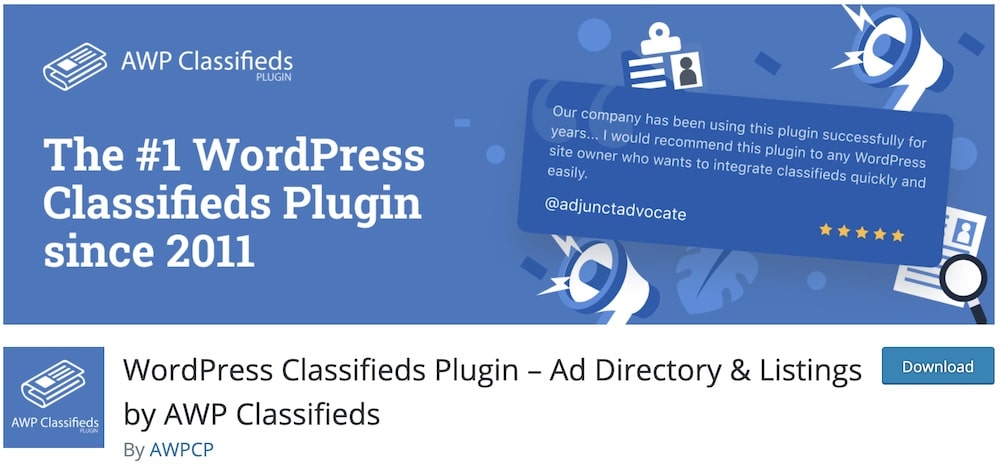 AWP is much more than just a free WordPress directory plugin. It is a complete solution for both directories and classified ads. A smart solution if you want to display ads in your directory.
AWP allows users to search your directory by city, country, keyword, username and more.
Although this is not the most beginner-friendly plugin in our selection, the development team has included NUMEROUS guides to simplify the process.
You'll master it, I know!
You can always contact the AWP team via the forum, besides the guides and documentation.
AWP features:
7,000+ active installations
4.6/5 ratings
Perfect for classified ads
Automatic ads verification
Full control over your ads' HTMLs
MORE INFO / DOWNLOAD
9. Staff Directory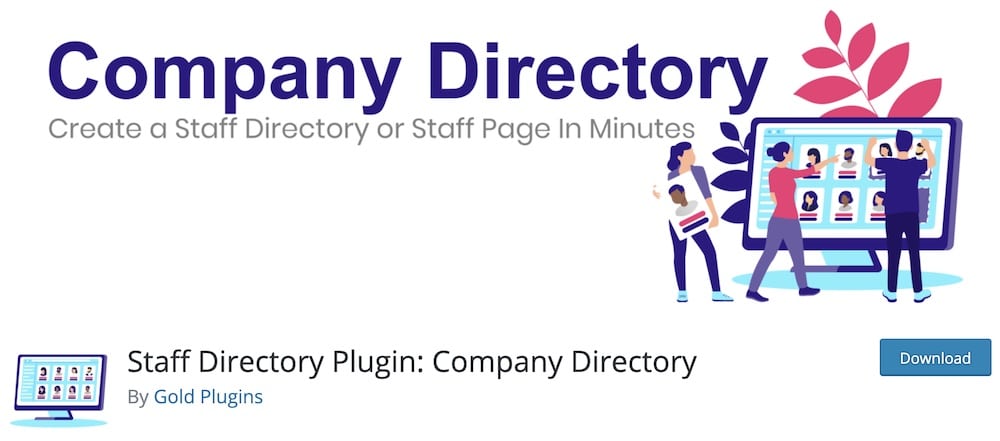 Gold Plugins is one of our favorite plugin development teams for many reasons. Their top-notch support and easy-to-use plugins are just two of them.
Accordingly, Staff Directory is a brilliant business tool that you should check out. This free directory plugin for WordPress is beginner-friendly but also has everything professionals need.
During our testing, Staff Directory proved that it is worth much more than the 1000+ active installs.
As the name suggests, Staff Directory is a terrific way to create directories for your personnel.
It allows you to easily record each employee's valuable information (full name, job title, email address, and much more).
So if you are looking for a QUICK WAY to create a stunning directory for your staff, this is the best way.
Staff Directory features:
1,000+ active installations
4.4/5 ratings
Ideal for any type of staff listings
Easy-to-view design
Great search function
MORE INFO / DOWNLOAD
What To Look For In A WordPress Directory Plugin
We always seek the best features and functions when we test plugins.
And we want to reveal some of the characteristics we looked for when reviewing the best directory plugins for WordPress.
These may help if you're researching further, so you know exactly what to look for in a great plugin.
1. Configurable Form Fields
A directory plugin needs to offer as many customization options as possible, especially regarding the form fields.
Everyone's directory website is different and needs unique functionality to their niche and industry.
And the ability to customize form fields, whether it's search, submissions, or even contact forms, is advantageous.
2. Responsiveness
We immediately ditch a plugin that doesn't offer complete responsiveness and mobile-friendliness.
This is actually one of the first features we look into when picking a plugin because it's OH SO necessary.
It's easy to test responsiveness using a free plugin (by installing and activating it), but premium ones usually offer a live demo, which is excellent for testing.
3. Various Media Compatibility
You want to accept various media on your directory website, so a plugin must be compatible with images, links, videos, etc.
However, it all depends on what type of a directory you'll build – but images are a must in almost any case.
4. Monetization Options
Even though you'll probably not start your online directory project to make money immediately (concentrate on content & the best user experience instead!), a plugin must have monetization options.
Multiple payment gateways, memberships, subscription payments, and paid listings are all part of directory monetization.
We don't recommend using all of them, but you can still test them to see what works best for your audience.
5. Front-End Submissions
An option for front-end submissions comes extremely practical because it saves you a lot of time. You can let the client do the majority of work in combination with configurable fields.
You then only review the submission, accept it and put it live.
SIMPLE.
6. Support
Last but not least, every WordPress plugin needs to have great support. While the functionality is one part of a good directory plugin, excellent support is the other (half).
That's why we also chat with the plugins' support teams to ensure their responses are quick and valuable.
Bonus: Comprehensive documentation is also part of the (great) support, which allows you to familiarize yourself with the plugin you use.
Building a Business Directory in WordPress
The easiest way to build a business directory in WordPress is using a free plugin.
This is where it all begins.
Unless you already have an established network and need the necessary functions, that's when picking a premium tool will be a wise decision to make.
For all the rest, all the plugins we have here are reliable and ensure a quick directory website building.
You don't need to code and have the experience to make it happen – every plugin is beginner-friendly, so you can start working on your project immediately. (You can even learn on the fly, it's that effortless.)
Build a niche or a general directory like a BOSS today!
Frequently Asked Questions About WordPress Directories
Can I make a directory website on WordPress?
Yes, you can easily and quickly make a directory website on WordPress. The fastest solution is to use a free directory plugin or pick a WordPress theme with a built-in directory functionality.
Is WordPress good for directories?
Yes! WordPress is a fantastic CMS for building directories because of its effortless foundation and beginner-friendly approach. Everyone can make it happen, with or without experience.
What is a directory plugin?
A WordPress directory plugin gives you all the necessary features and functions to create a directory website. That's customizable form fields, multi media compatibility, responsiveness, front-end submissions and monetization options.
How do I create a free online directory?
You can create a free online directory website using a free plugin. But remember, you'll still need to pay for hosting and domain name (you can pick a free theme that'll be the base of your directory).