Are you in need of the best free and premium WordPress translation plugins?
If you run a non-English website or want to translate your website into other languages, do it successfully with a plugin.
Unfortunately, WordPress has no built-in feature for creating multilingual WordPress websites.
However, several powerful and beginner-friendly plugins can help you translate your content in minutes.
But which to pick?
Finding the best plugin is not an easy task.
That's why we have researched and tested 15+ translation plugins to find the best ones that meet your (and our) needs.
This post covers:
Let's get MULTILINGUAL!
Quick-Pick: Our Favorite WordPress Translation Plugins
Best WordPress Translation Plugins
Note: You may also want to skim through our guide on how to install a WordPress plugin if it's your first time.
1. TranslatePress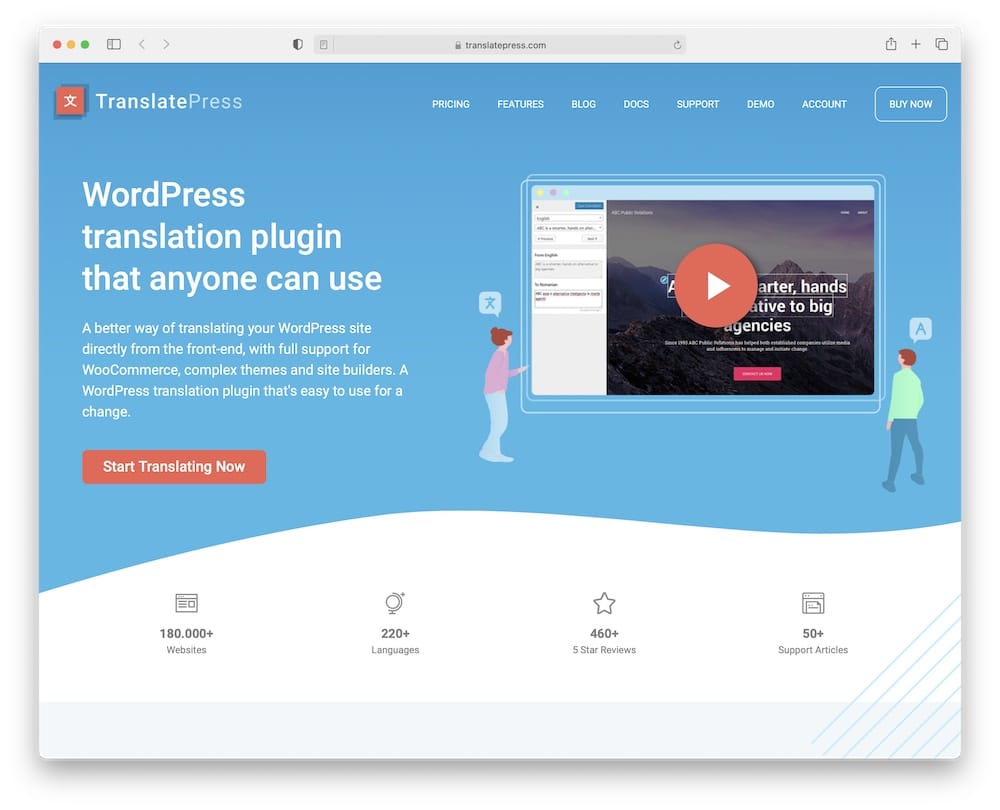 Our first choice is the well-known TranslatePress. This powerful WordPress plugin has everything you need to make your website multilingual.
When it comes to features, TranslatePress has A LOT to be proud of.
From automatic translation that provides a draft of your content to editorial control for publishing a language only after the translation is done.
On top of that, the plugin's interface is straightforward to use.
In summary, TranslatePress is the perfect choice for anyone who wants ultimate control over their website's translations.
It's our go-to plugin.
TranslatePress features:
200,000+ sales
4.8/5 ratings
Great Support
Customizable language switcher
Price: $89+ (may vary)
MORE INFO / DOWNLOAD
2. ConveyThis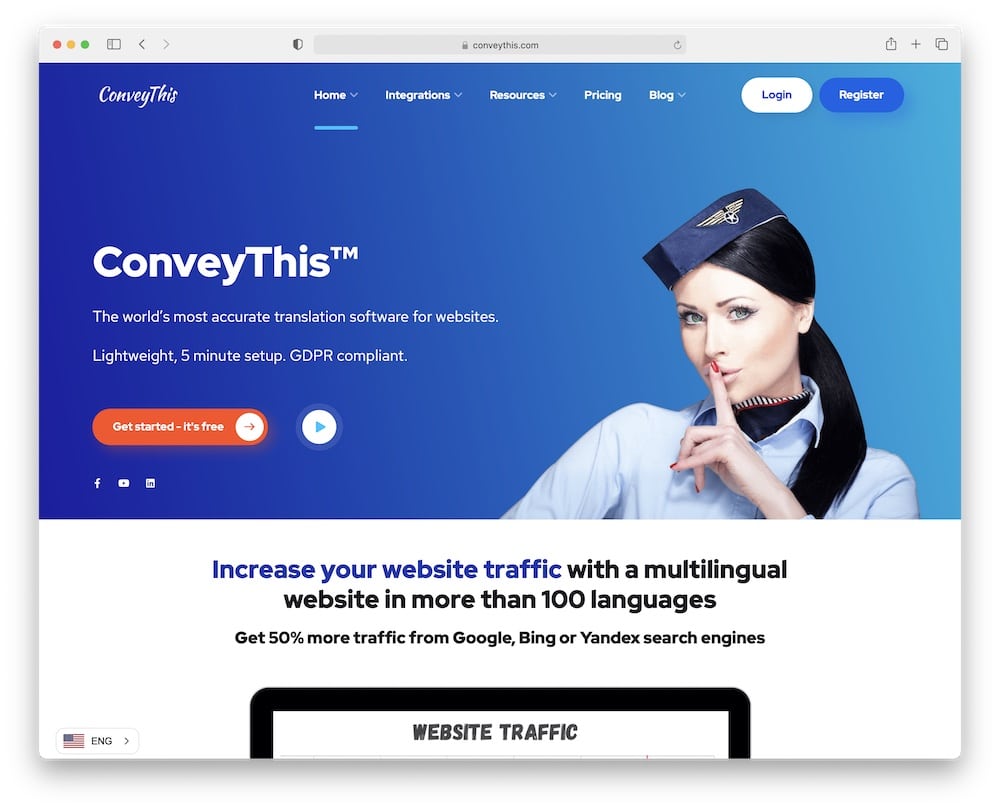 I've used many translation software for WordPress, and ConveyThis is one that stands out. (Easily!)
After multiple tests, ConveyThis proved to be reliable, fast-working, and extremely lightweight.
It takes only five minutes to set up (!), and your website or blog can already be available in a WHOPPING 100+ languages.
Go local, go global – whatever! – ConveyThis is ready for the challenge.
Note: You can start using ConveyThis for free if you run a small site.
The only thing that's not too common is the subscription model if you go PRO. You can pay monthly, but I highly recommend the yearly option, which gives you two months for free.
Win the translation game with ConveyThis!
ConveyThis features:
7,000+ sales
4.6/5 ratings
Works fast
Super quick setup
Price: $7.99/mo+ (or FREE plan)
MORE INFO / DOWNLOAD
3. WPML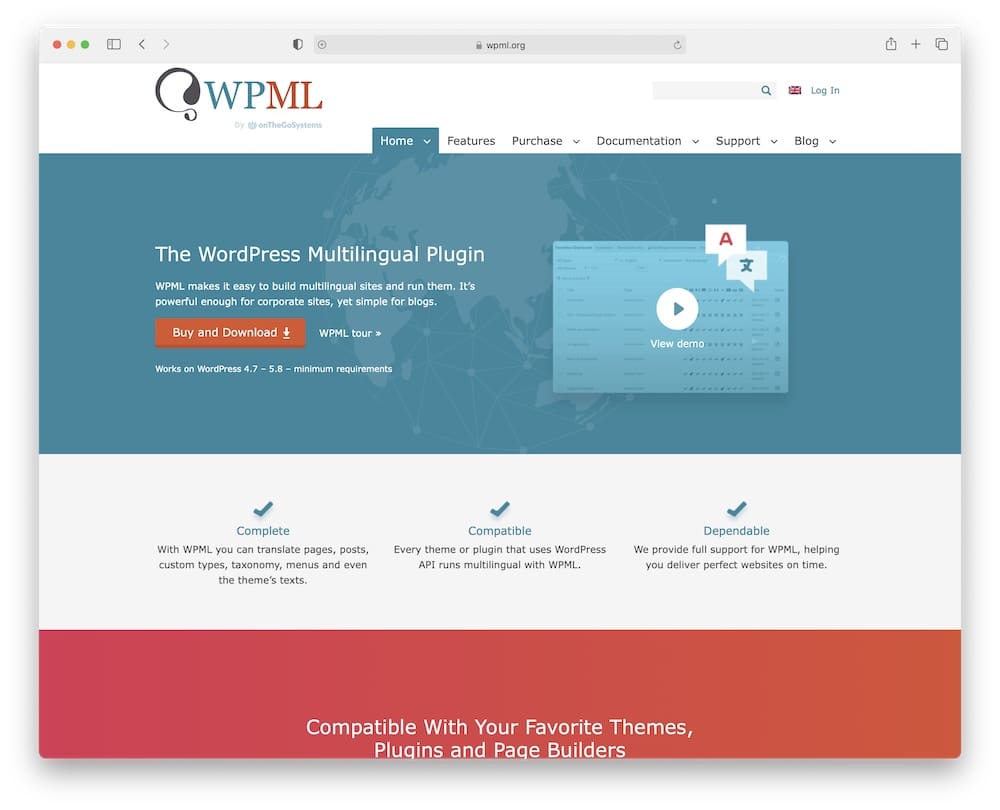 WPML is another great translation plugin that allows you to translate every post, text and menu on your site. Thanks to the detailed instructions, you'll know everything you need to use the plugin in just a few minutes.
(We tested it with our newbie friend, and he mastered it like a champ!)
Its compatibility with any theme and most popular page builders makes WPML a great choice.
We also like that the plugin's customer support is available in 8 languages. Therefore, this plugin is a must-have for non-English websites.
WPML is a very STABLE and RELIABLE translation plugin you can use for any WordPress website.
WPML features:
800,000+ sales
4.7/5 ratings
SEO optimized
Browser language detection
Price: $39+ (may vary)
MORE INFO / DOWNLOAD
4. Weglot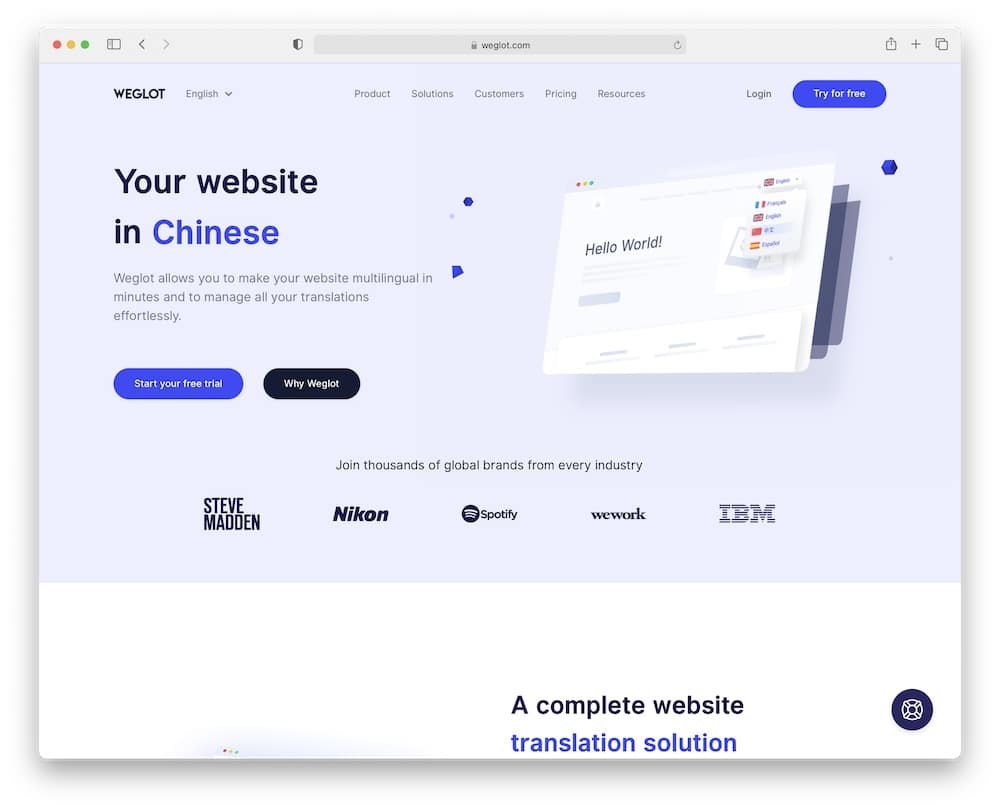 If you are looking for a user-friendly, simple plugin, Weglot is for you. It gives you the FREEDOM to control all your translations in one place.
We were thrilled to learn that major brands like Microsoft, Spotify, and IBM rely on Weglot.
Plus, the plugin has all the essential features you need to translate your website in just a few minutes.
Weglot is a beginner-friendly yet powerful plugin specially designed to help you quickly translate your website.
Weglot features:
50,000+ sales
4.8/5 ratings
Compatible with any theme
Extended documentation
Price: $15+ (may vary)
MORE INFO / DOWNLOAD
5. MultilingualPress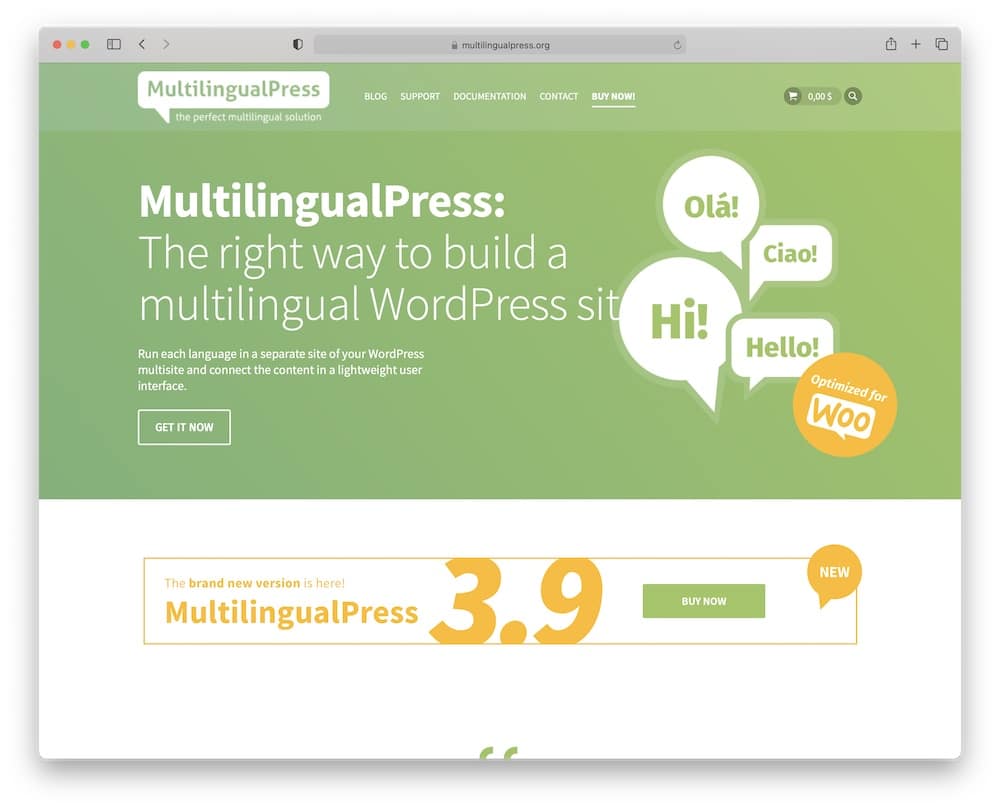 MultilingualPress easily made it into our top picks. This is one of the fastest and most user-friendly translation plugins. You can make your website multilingual and at the same time, the translations will not affect its speed.
When it comes to features, maybe the most important one is that the plugin does not display all languages on a page, but only one.
Likewise, MultilingualPress won't burden your website in any way.
This WordPress translation plugin is COMPATIBLE with the most popular page builders like Elementor and Beaver Builder.
MultilingualPress is the perfect choice for those who want to translate their website but keep it as fast as possible.
MultilingualPress features:
200,000+ sales
4.7/5 ratings
Fully-flexible
Optimized for WooCommerce
Price: $99 (may vary)
MORE INFO / DOWNLOAD
Best Free WordPress Translation Plugins
6. Loco Translate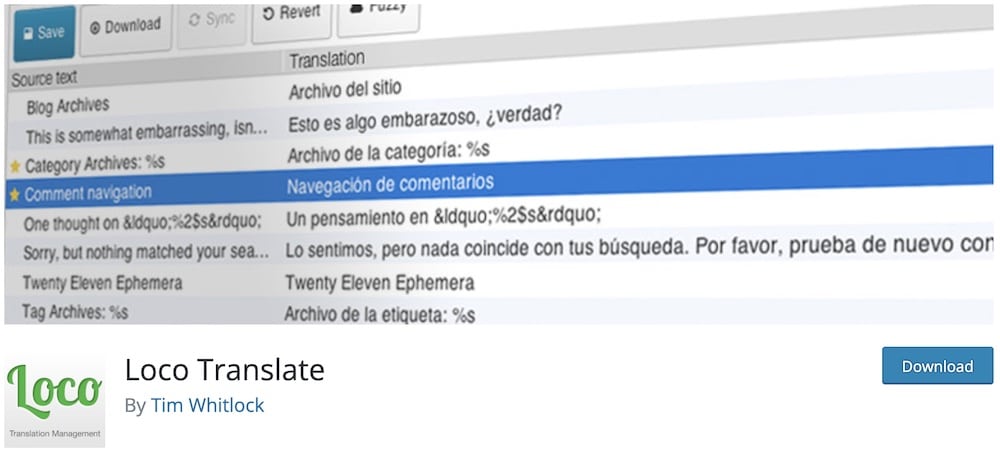 If you need a popular and reliable free translation plugin, Loco Translate is definitely a good (our FAV!) choice.
This WordPress translation plugin integrates with many translation APIs, including Google, Microsoft, DeepL, and Yandex.
Its automatic translation services will help you start translating your website if you are not an expert in other languages.
Moreover, Loco Translate provides you with a fantastic BUILT-IN editor to work in your WordPress dashboard.
In our test, Loco Translate outperformed more than one premium translation plugin.
This plugin is a great free choice that allows you to make your website multilingual in minutes. So. Good.
Loco Translate features:
1+ million active installations
4.9/5 ratings
Keyboard shortcuts
Easy to use
Zero coding needed
MORE INFO / DOWNLOAD
7. Polylang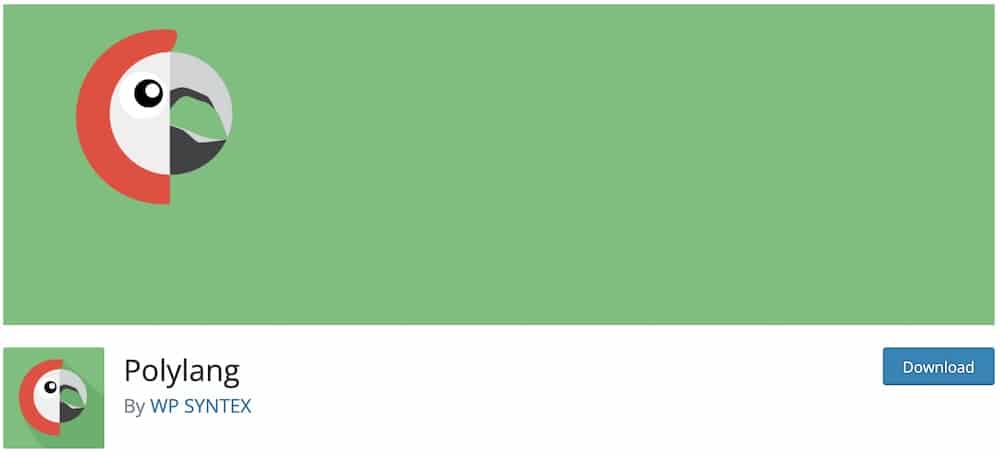 Polylang is definitely one of the best free WordPress translation plugins out there. With this plugin, you can translate any part of your website. From posts, pages and categories to media, menus and widgets – nothing is left out.
Also, the app offers a customizable language SWITCHER that acts as a widget.
Another great feature is automatically copying categories, post tags, and many other metas when creating a new page or post.
During our testing, we did not encounter any issues with Polylang. We had a lot of fun using it on our two test pages and three clients.
Polylang features:
700,000+ active installations
4.7/5 ratings
Unlimited languages
Supports RTL language scripts
Support default WordPress widgets
MORE INFO / DOWNLOAD
8. GTranslate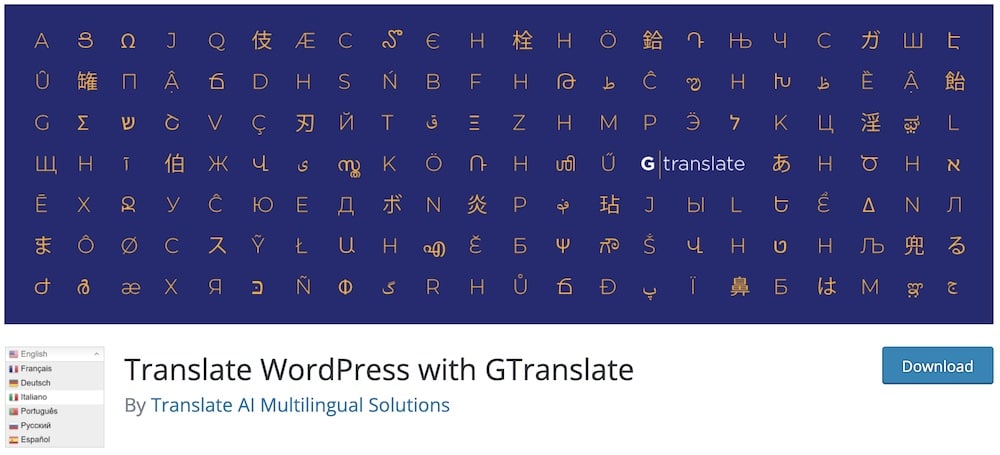 GTranslate is one of the oldest website translation services. Because of its great history and awesome features, GTranslate easily made it into our top choice.
You can use GTranslate to translate your website through Google's automatic translation system. This will help you change your content into languages fast and easily.
Also, because of its cloud-based approach, GTranslate promises not to affect the speed of your website in any way.
If you are looking for a fast way to translate your content, GTranslate is your safe bet.
GTranslate features:
400,000+ active installations
4.9/5 ratings
Integrates with Google Analytics
Language bar with flags
MORE INFO / DOWNLOAD
9. Google Language Translator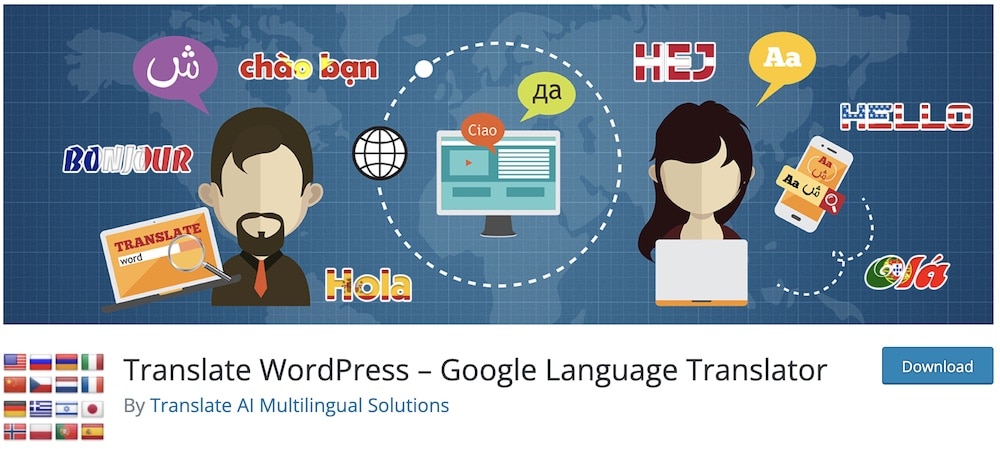 For our final selection, we have Google Language Translator. If you are looking for a FREE and AUTOMATIC translator for your website, this plugin is for you.
With this WordPress translation plugin, you can translate your website into (as) many (as you want!) languages. It was very easy to set up the plugin during our testing.
This plugin provides all the features you need to fully translate every section of your website or blog.
Plus, Google Language Translator does not require programming knowledge. Google Language Translator provided sufficient translations during our tests in just a few minutes.
Therefore, we consider this a smart and easy way to translate your website.
Google Language Translator features:
100,000+ active installations
4.7/5 ratings
Floating language selector
Great support
MORE INFO / DOWNLOAD
What Is The Best Translation Plugin For WordPress?
For the premium version, we always go for TranslatePress. It's a versatile, powerful, yet extremely beginner-friendly translation plugin that suits websites, blogs and online stores.
And for the free version, Loco Translate wins every single time. This is your best bet if you need a fast and reliable solution without spending money.
Benefits of Multilingual Websites
Because you may be getting visitors from all around the world, English may be a barrier for some.
This is when a multilingual website comes into play.
It allows the user to browse the website in their language, which can positively improve their experience and increase your conversion rates.
We call this localization, which you can easily achieve with your WordPress website using a plugin.
Another key benefit of multilingual websites is improved SEO because you can now target local keywords in multiple languages – not just English.
A new world of possibilities – UNLOCKED!
Reach a MUCH wider global audience and ensure the ultimate user experience for everyone – yes, with a multilingual website.
FAQs About WordPress Translation Plugins
What Is a Translation Plugin?
A translation plugin allows you to translate your WordPress website into any language you want. You can choose between automatic (using Google Translate API) and self-translated (you translate it) plugins. Note that automated website translators aren't as sufficient as manual ones.
How do I translate a WordPress site?
A free or premium plugin is the best way to translate your WordPress site. You can translate your content yourself or use the automated translation "machine" that does the work in just a click.
Does WordPress support translation?
Yes, WordPress allows you to translate your website and backend into any language you want. You can do that manually or automatically with a plugin (using Google Translate).
How do I make WordPress automatically translate?
The fastest way to automatically translate your WordPress site is with a Google Translate API plugin. It takes only a click, and your entire website will be in a different language. However, don't expect the best quality when using the automatic translation method.
::
Note: This article was originally published on November 24, 2021. But our team regularly reviews it and updates it with necessary improvements for accuracy.