Are you searching for the best free and premium WordPress knowledge base plugins?
Software, SaaS, startups, plugins, themes, digital downloads – YOU know a knowledge base/documentation is a MUST-HAVE.
But which plugin to pick?
That's why you came here.
We handpicked the 12 best premium and free knowledge base plugins that anyone can use.
This post covers:
Create advanced documentation for your products/services and support your customers post-purchase. (Happy clients!)
Goal: Organize your educational content + provide excellent customer service. (Check!)
What you need: 0 coding skills + 1 cup of coffee. (Check!)
Stay with us and EDUCATE your visitors!
Quick-Pick: Our Favorite WordPress Knowledge Base Plugins
Note: You may also want to check our guide on how to install a WordPress plugin if it's your first time.
Best WordPress Knowledge Base, Documentation, Wiki & FAQ Plugins
1. MinervaKB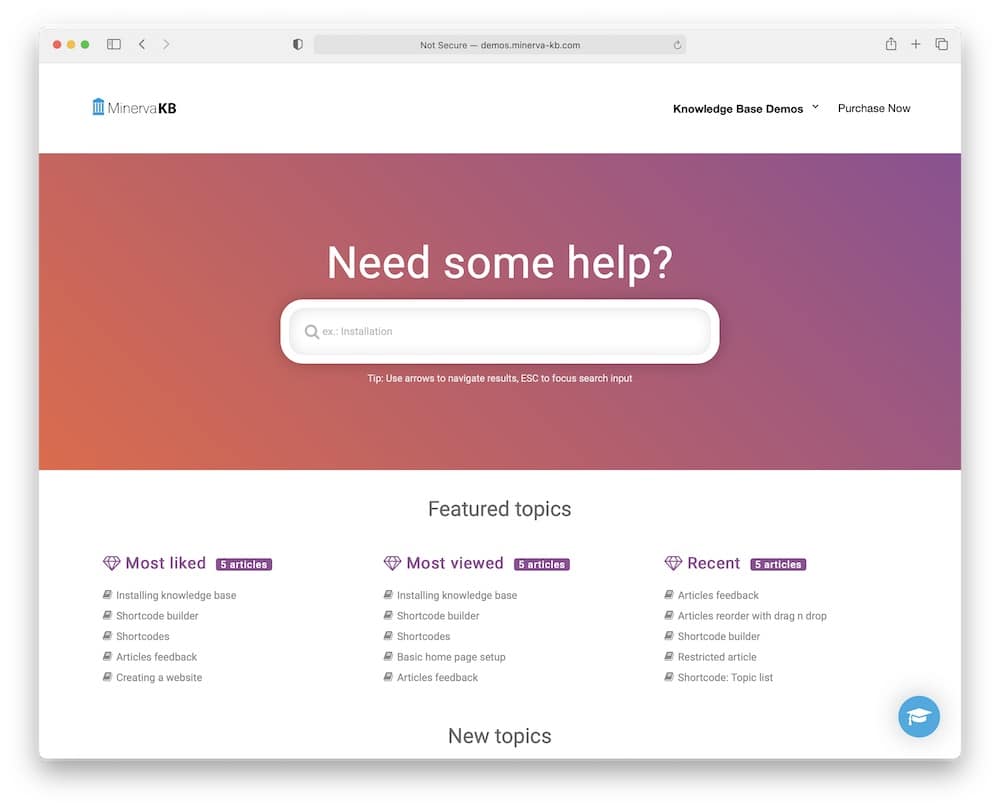 Do you need a powerful plugin to create a searchable knowledge base for your website? If yes, then MinervaKB is the answer.
This premium plugin is at the top of our list because of its advanced features. (That we like OH SO much!)
MinervaKB can help you add documentation to your website and track its performance in real-time. During our testing, we really liked the plugin's simple and modern search page.
Plus, Minerva lets you fully configure and customize the plugin's layouts to suit your needs.
When you add the plugin's free trial, it becomes clear that Minerva is a solution you should definitely try.
MinervaKB features:
2,600+ sales
4.8/5 ratings
1,000+ customizable icons
Powerful Ajax live search
Price: $69 (may vary)
MORE INFO / DOWNLOAD
2. WP Glossary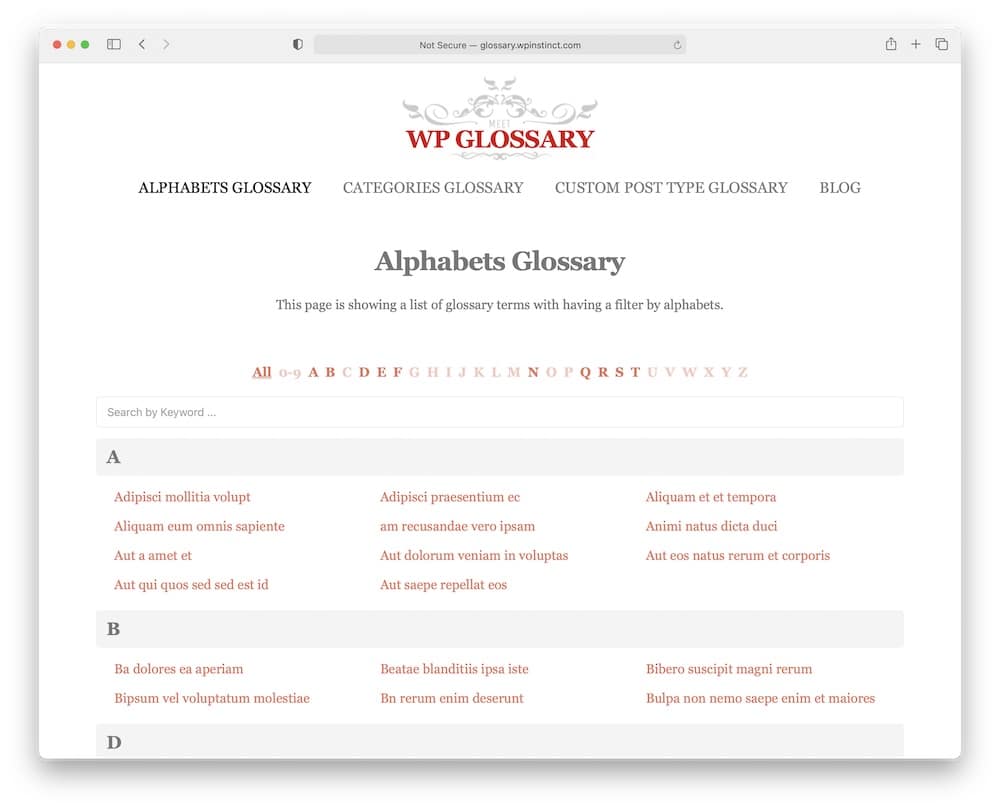 WP Glossary is a popular WordPress knowledge base plugin that also acts as a wiki and dictionary for your website visitors. But what exactly are the unique features of this premium plugin?
WP Glossary was the most mobile-friendly plugin we tested for this article. The plugin is straightforward to set up and comes with detailed documentation.
(Very beginner-friendly!)
You can quickly sort your content by alphabet or categories with WP Glossary. Finally, the plugin is FULLY compatible with most WordPress themes and plugins.
WP Glossary features:
1,600+ sales
4.9/5 ratings
Quick & easy to set up
Helps you improve SEO
Price: $39 (may vary)
MORE INFO / DOWNLOAD
3. Heroic KB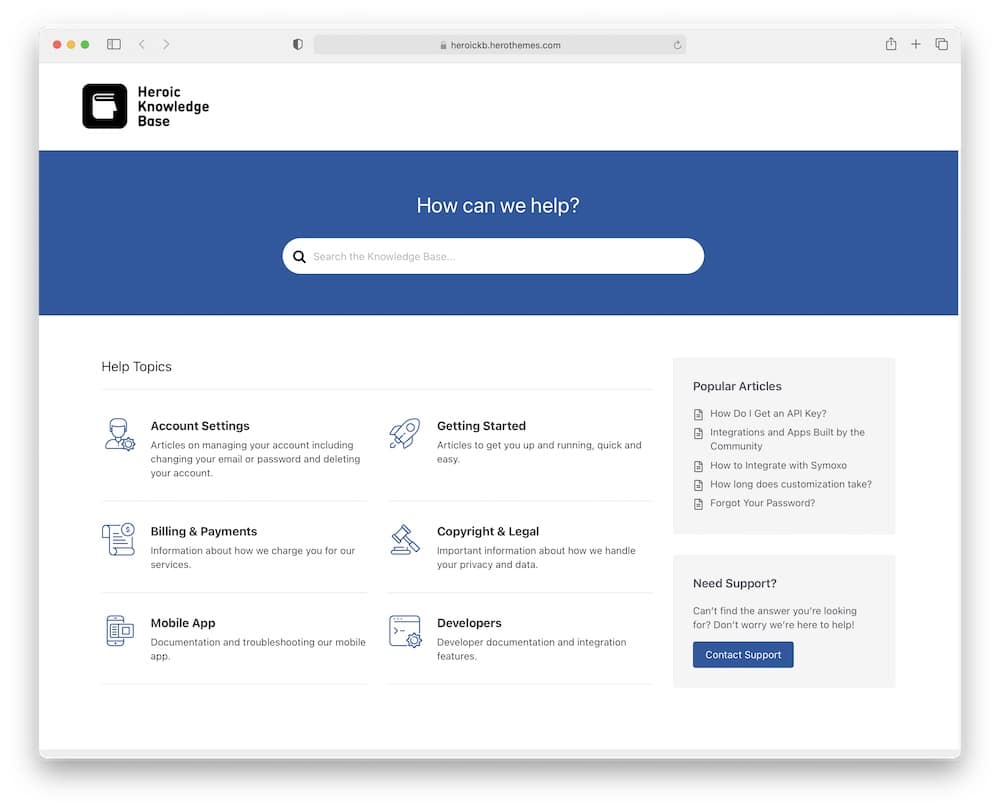 Like Minerva KB reviewed above, Heroic KB is a very well-known WordPress knowledge base plugin based on asynchronous JavaScript (Ajax WP technology). This allows the plugin to generate results while the visitor types a query.
And that's not all.
Heroic is a very newbie-friendly plugin to build a knowledge base quickly and efficiently.
Moreover, the plugin has a built-in analytics section where you can check the performance of your knowledge base. (So handy!)
Although Heroic KB is one of the most expensive plugins on the list, it is definitely a wise choice for developers and large websites.
GO BIG.
WP Glossary features:
26,400+ sales
4.7/5 ratings
Trusted by Airbnb, NC State University and more
Drag & drop builder
Price: $149+
MORE INFO / DOWNLOAD
4. WPHelpere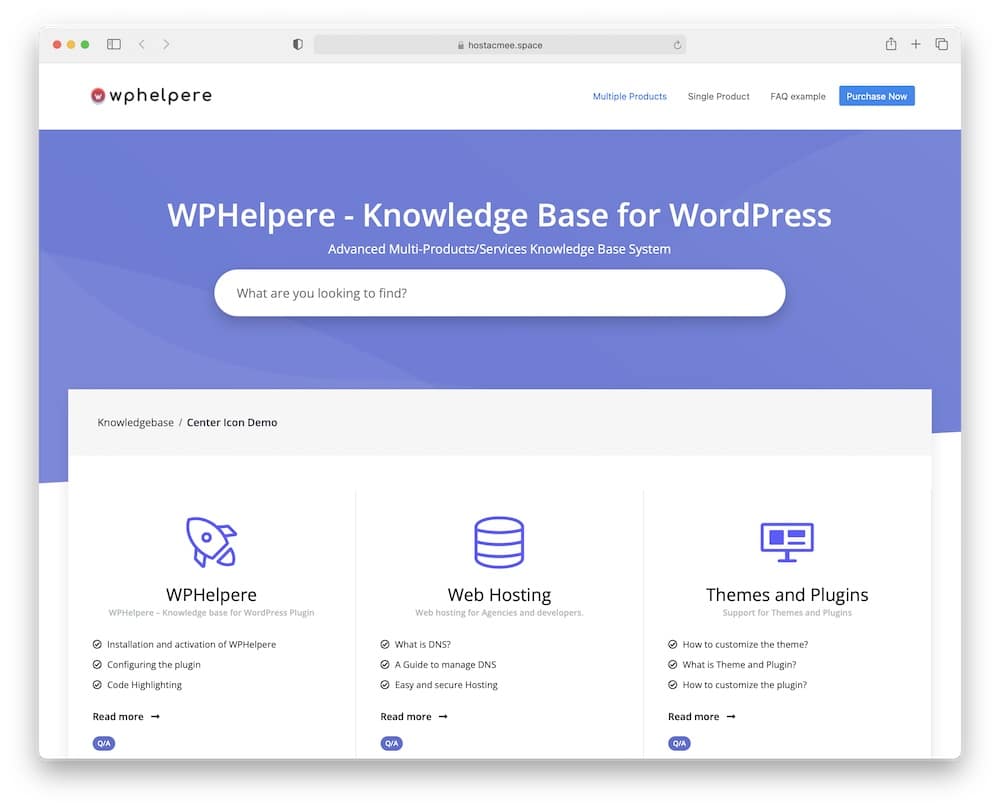 If you need a plugin that allows you to create a knowledge base and integrate WooCommerce products into it, WPHelpere is the best choice.
This knowledge base plugin has everything a beginner or a pro needs.
For starters, WPHelpere offers 3 product layouts for you to choose from. During our testing, we had no problems creating numerous categories and tags.
Also, the plugin lets you easily create FAQ pages for any product/service.
Finally, the 'Reports' (Analytics) section of WPHelpere provides valuable real-time information gathered from your visitors.
When it comes to knowledge bases for WooCommerce websites, there's nothing better than this.
WPHelpere features:
MORE INFO / DOWNLOAD
5. BWL Knowledge Base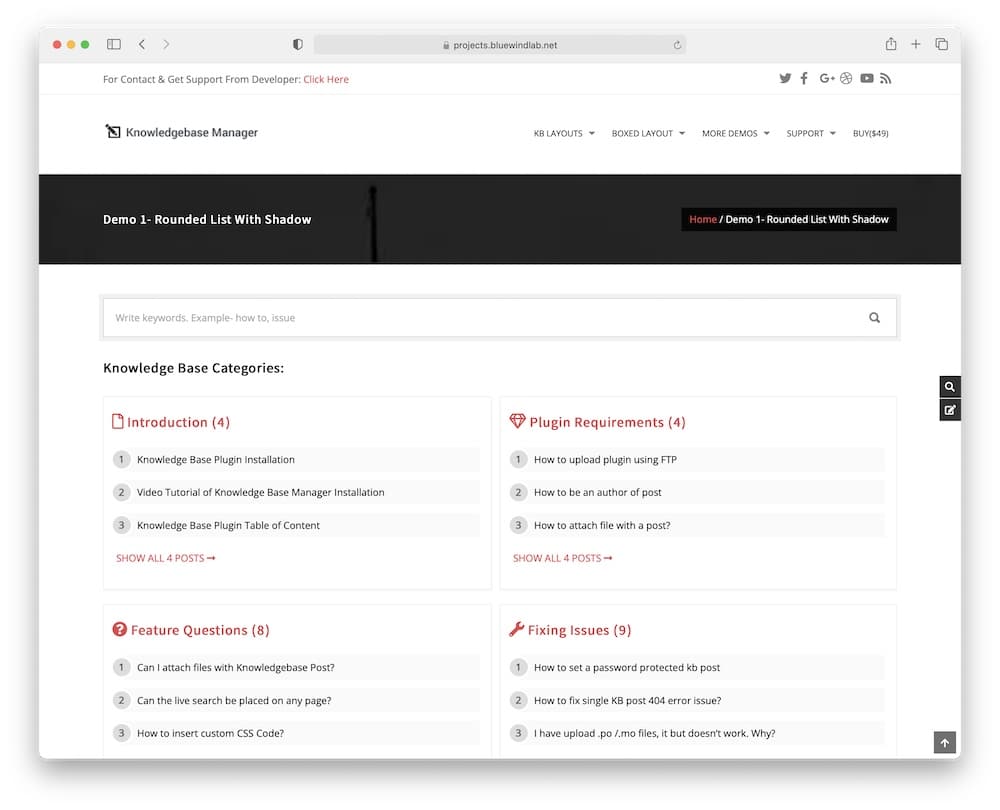 BWL Knowledge Base easily made it into our top picks. This is a brilliant solution for those who need a perfect all-rounder. This WordPress knowledge base manager lacks nothing.
From powerful live search and table of contents options to custom widgets and animated tabs, BWL has it all.
We especially liked the plugin's KB voting system and the feedback form.
In conclusion, this is the IDEAL solution for website owners who want to increase engagement via a detailed knowledge base.
BWL Knowledge Base features:
940+ sales
4.5/5 ratings
Integrated question submission forms
Easy to translate (works with modern WordPress translation plugins)
Price: $49 (may vary)
MORE INFO / DOWNLOAD
6. Helpie WP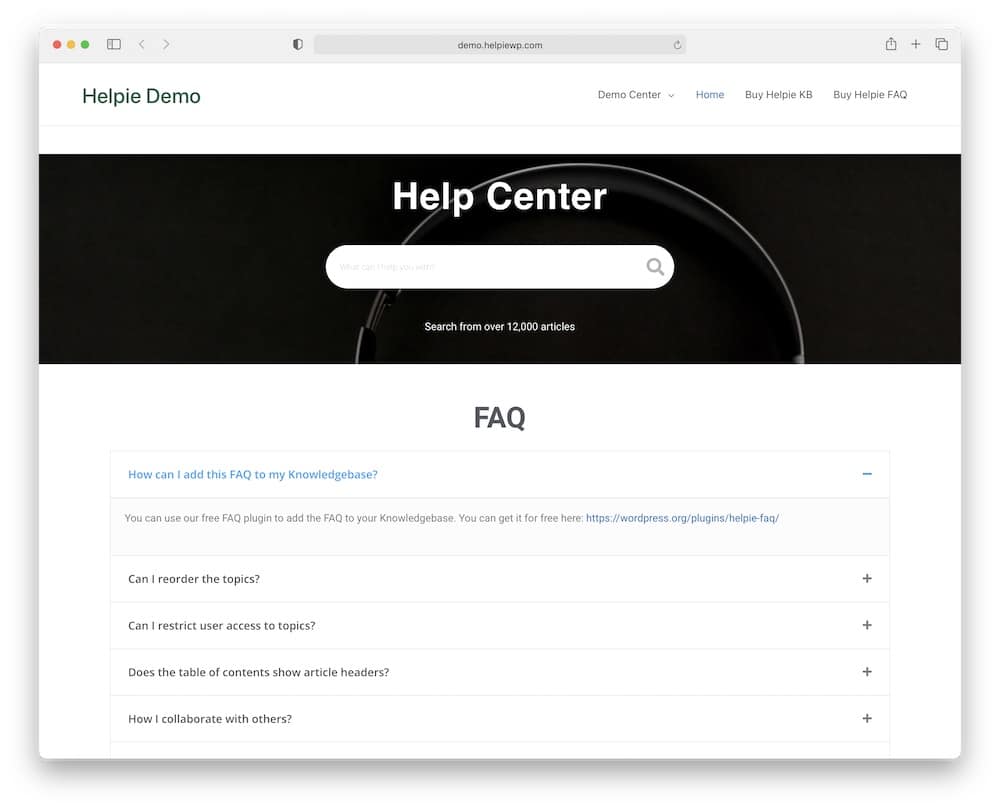 Looking for a fully customizable WordPress knowledge base plugin for your team? (And websites with many administrators?) Then Helpie WP might be the best choice for you.
It has such a CUTE name.
Helpie offers an easy-to-learn front-end panel where you can effortlessly collaborate with your team. This will help you organize your knowledge base in a better way.
Moreover, this plugin proves to be great for creating a wiki site in minutes.
Hurray!
Finally, the plugin is fully compatible with Elementor and other page builders and has a beautifully designed voting system.
Helpie WP features:
9,000+ sales
4.6/5 ratings
Full control over user access
Great revision system
Price: $49+
MORE INFO / DOWNLOAD
Best Free WordPress Knowledge Base Plugins
7. Echo Knowledge Base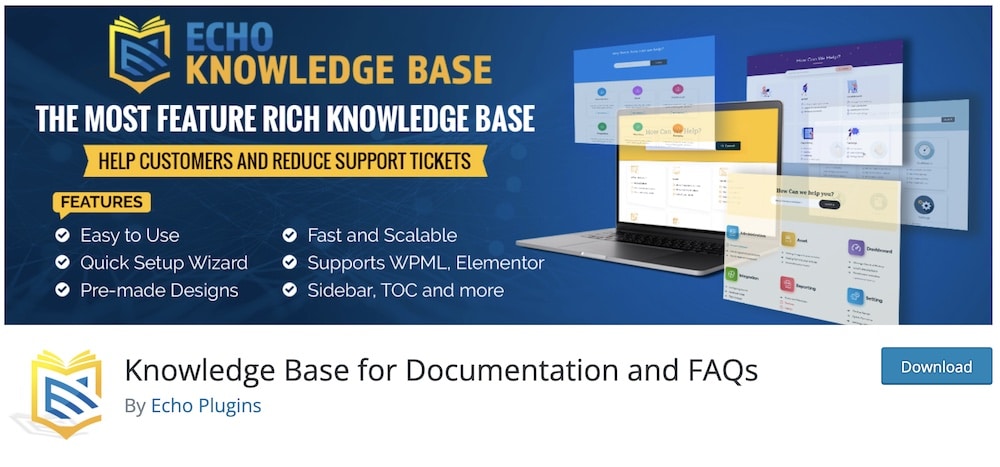 The difference between Echo and our previous suggestions is that this WordPress knowledge base plugin has a free plan for you. However, that does not mean that Echo isn't a POWERFUL solution.
This plugin has everything you need to create a great knowledge base.
As for the plugin's features, we really liked using its front-end pre-made templates.
In addition, Echo lets you enrich your knowledge base with articles and create WP sidebars, tables of contents, and more.
In short, Echo is a fast and fully scalable plugin. That's why it's a smart choice for website owners and developers on a budget.
Echo Knowledge Base features:
20,000+ active installations
5/5 ratings
Quick setup wizard (5 mins!)
Supports WPML
Compatible with any WordPress theme
MORE INFO / DOWNLOAD
8. BetterDocs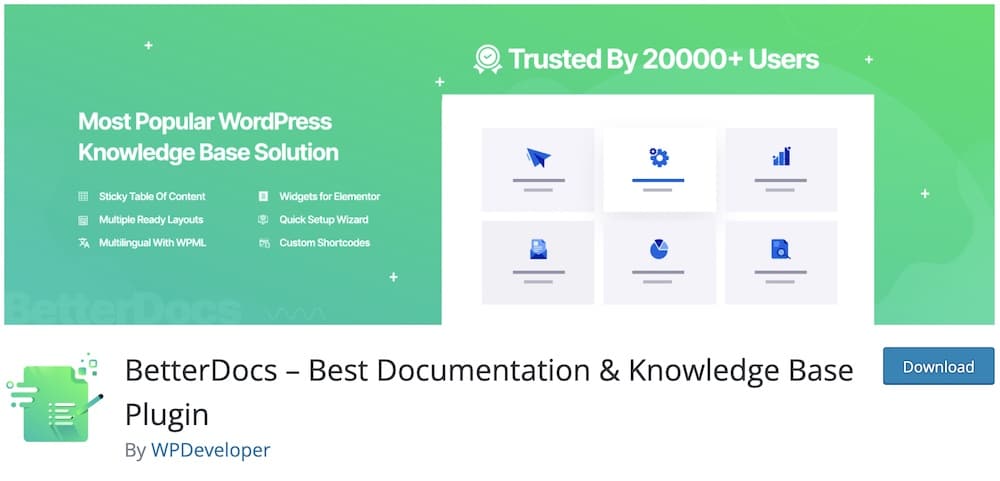 Our next choice is BetterDocs, a very advanced freemium knowledge base creator. We quickly realized that this plugin had to be one part of our top selection when we first tested BetterDocs.
BetterDocs has some of the HIGHEST quality, modern templates on the market. Plus, this WordPress documentation and knowledge base plugin works perfectly with Elementor.
Although there is a Pro version of the plugin, the free version offers most of the features that a regular user needs.
So, if you want to create an eye-catching knowledge base, BetterDocs is a great solution.
BetterDocs features:
30,000+ active installations
4.8/5 ratings
Regular updates
Analytics
Simple but advanced editor
MORE INFO / DOWNLOAD
9. weDocs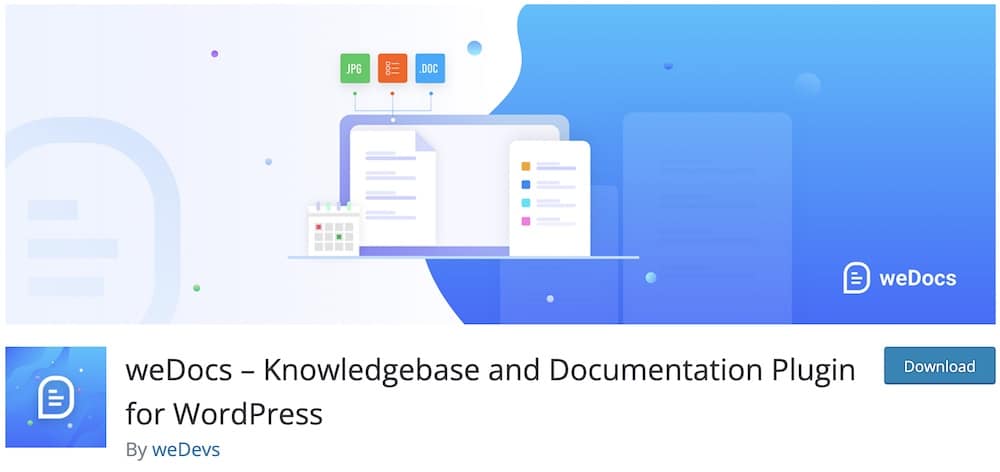 Do you already have extensive documentation and need to sort your content into sections?
If so, weDocs is simply the best plugin for you. This free WordPress knowledge base/documentation plugin allows you to ORGANIZE your content in minutes.
During our testing, we did not encounter any delays or issues. Creating or adding documents to the weDocs database is as easy as can be.
We definitely recommend this plugin for WooCommerce startups that want to categorize the documentation of their products in WordPress easily.
weDocs features:
6,000+ active installations
4.8/5 ratings
0 coding necessary
Multilingual Support
Well-documented
MORE INFO / DOWNLOAD
10. Yada Wiki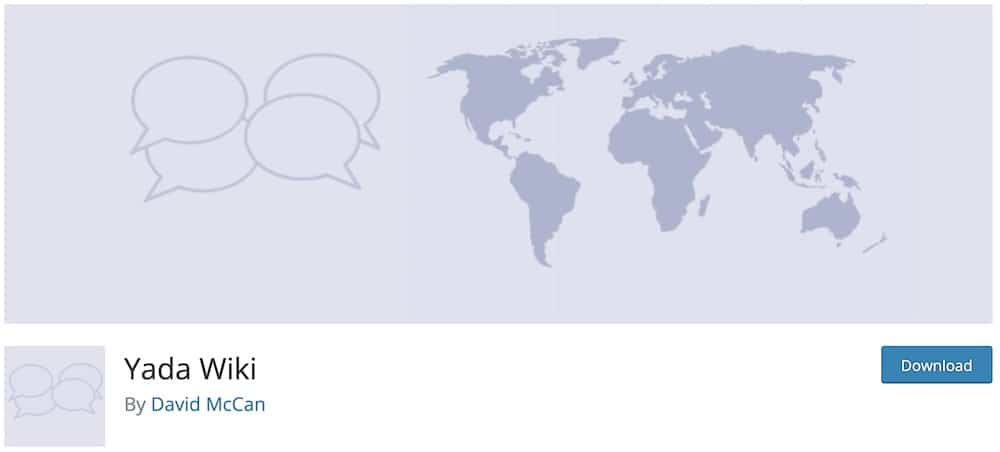 As the name suggests, Yada is a SUPERB plugin that helps developers and websites create wiki-based sections in WordPress.
(You can create wiki posts, tags and categories with this free plugin.)
Yada Wiki works through two WP shortcodes designed to help you place support content and links to your website. The plugin also allows you to include tables of content in your posts.
Yada is the PERFECT solution for those who prefer to work with shortcodes and create a knowledge base that looks and works like a wiki website.
Yada Wiki features:
2,000+ active installations
4.8/5 ratings
Excellent support
Flawless shortcode integration
Easy-to-learn
MORE INFO / DOWNLOAD
11. Very Simple Knowledge Base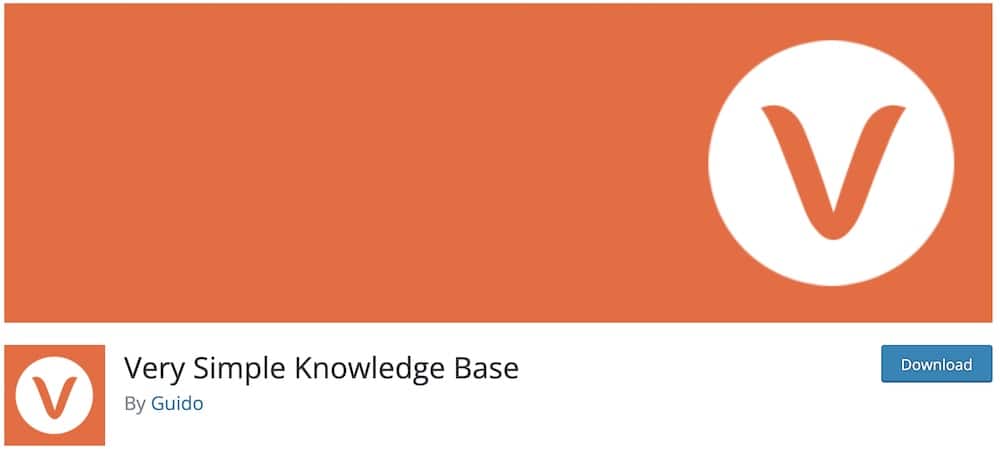 If you need an ultimately lightweight WordPress knowledge base plugin for your website, this is it.
You can easily create shortcodes and WP widgets that allow your visitors to search your knowledge base with Very Simple.
We really liked how self-explanatory this plugin is.
You do not need any coding knowledge to use it! The plugin also helps you create FAQ or wiki posts/pages in just minutes.
Then all you need to do is add a relevant shortcode to your website (or blog).
In conclusion, Very Simple is EXACTLY what it promises to be. (An easy way to create documentation and share it with your visitors.)
Very Simple features:
600+ active installations
4.8/5 ratings
Simple interface
Available in 6 languages
Fully-customizable shortcode attributes
MORE INFO / DOWNLOAD
12. KB Support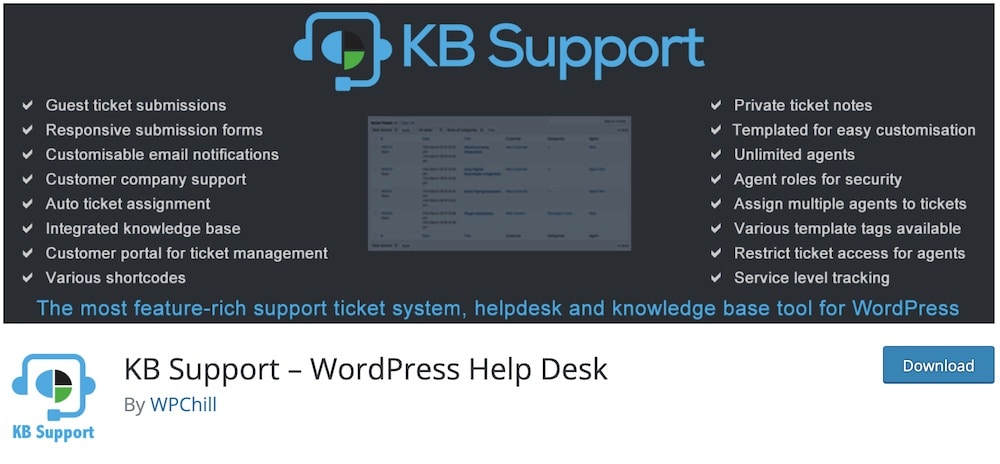 As a reliable plugin that has been around since 2017, KB Support easily made it to our list. We consider KB Support one of the best free all-rounders in our selection.
KB Support is perfect for building a fully functional support ticket system. And that's not all. The plugin also offers an advanced help desk and knowledge base tools.
KB Support is a great way to organize your customers' experience. Take your business to the next level!
KB Support features:
2,000+ active installations
4.5/5 ratings
Built-in spam protection
Ideal for team management/ticket assignment
Works with 3rd-party extensions
MORE INFO / DOWNLOAD
What To Look For In A WordPress Knowledge Base Plugin?
The knowledge base plugin must include all the features to add a neat how-to and help section to your website.
Instead of writing separate posts or pages for the knowledge base section, keep it 100% organized with a plugin.
This will reduce support ticket requests because users can quickly find the necessary information via your knowledge base section.
For this reason, the plugin must come with great search functionality, which will increase user experience.
Also, the plugin needs to have a modern design with great customization functions to tailor it to your needs with ease.
And, of course, it must be 100% responsive and lightweight (so it doesn't slow down your site).
WordPress Knowledge Base Plugin Vs Theme
This one is pretty simple: use a plugin to add the knowledge base to your existing page and a theme if you plan to create a separate page on a sub-domain (using a new WordPress install) just for the how-tos, tutorial and other practical content.
You will create a much better and faster outcome starting from scratch with a theme. We recommend using Manual and Lore themes.
But the plugin will integrate into your current website much easier – and the theme will not because you cannot use two themes on a single WordPress install.
FAQs About WordPress Knowledge Base Plugins
Is WordPress good for a knowledge base?
Yes, WordPress is a fantastic solution for creating a full-blown knowledge base website or adding an extension to your existing website. It's a time-saving option when you choose a theme or plugin because creating it without coding knowledge is so effortless.
How do I create a knowledge base in WordPress?
The simplest way to create a knowledge base in WordPress is either with a plugin or a theme. Use a plugin if you'd like to add how-to, tutorial and wiki pages to the existing website. But a theme will work best for a sub-domain with a new WordPress install.
How do I create a knowledge base with Elementor?
We tested multiple plugins with Elementor, but BetterDocs is the best solution to create a knowledge base with this popular WordPress page builder.
What is WordPress Knowledge Base?
A WordPress knowledge base is an organized area on your website or sub-domain with educational articles for self-service help. It can consist of FAQs, tutorials, how-tos and wiki pages.
::
Note: This article was originally published on December 2, 2021. But our team regularly reviews it and updates it with necessary improvements for accuracy.