We used these free and premium WordPress voting plugins to increase user engagement on several of our clients' blogs and websites.
BUT.
A poll is a tool to keep your customers entertained and gather valuable data and improve your website's user experience.
This post covers:
There are several excellent WordPress voting plugins on the market.
However, our users requested to create a list of the BEST because many complained about the challenge of finding a reliable solution.
We tested numerous plugins to create this top list for you to pick the right voting plugin quickly.
How We Tested WordPress Voting Plugins
For the first, more general selection, we reviewed dozens of plugins and examined their ratings, user feedback and updates.
This left us with 17 promising tools we put through further tests, starting by installing them on ULTIDA's demo site to analyze their effect on the page loading speed.
We were surprised at how WELL all performed, which made the final selection even more challenging.
But that's when the fun part comes into play.
We spent many hours and drank many cups of coffee when inspecting each plugin's settings and configurations.
The most important was the ease of use, so creating voting forms and polls doesn't take much time. And even more vital – the process must be 100% beginner-friendly.
We created multiple online voting systems for blogs and websites to check the design and how much creative freedom it gave us. Also, does the plugin come with predefined templates, and how well do they blend with the existing theme?
This also allowed us to play with different integration methods via shortcodes, widgets and Gutenberg blocks.
The last few questions we tried to answer were:
Does the plugin have the option to display results (with graphs & charts)?
How user-friendly the plugin interface is?
Can the plugin connect with 3d-party software?
Are you ready? Let's take it to the polls!
THE ULTIMATE 7:
Are you using a plugin for the firs time? Then check our tutorial on how to install a WP plugin easily.
Best Premium WordPress Voting Plugin
1. BWL Pro Voting Manager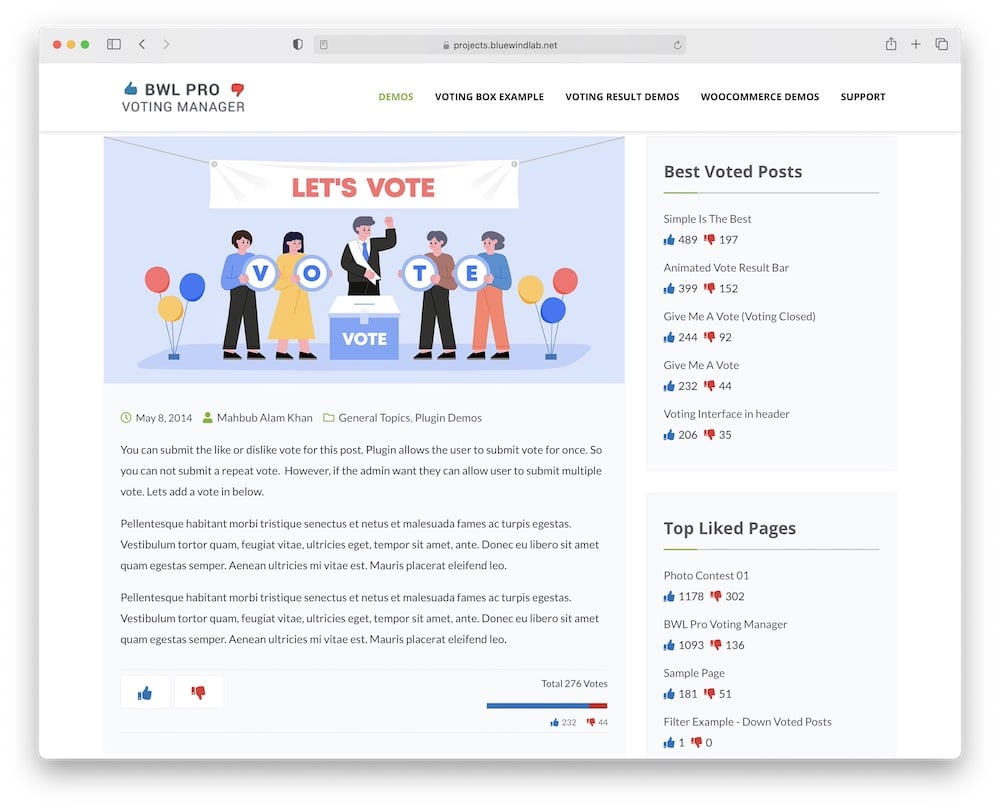 BWL allows you to get votes and feedback from your visitors on your posts.
This voting plugin comes with many features that you can work with. First, you can provide visitors who have disliked a post with a feedback form. (Ask them why.)
BWL also has a CUSTOM widget to display the most liked or disliked posts in the sidebar area.
It is an excellent plugin if you want your posts to get voted and receive feedback.
BWL features:
570+ sales
4.3/5 ratings
Custom voting start & end date
Price: $39 (may vary)
MORE INFO / DOWNLOAD
Best Free WordPress Voting Plugins
2. YOP Poll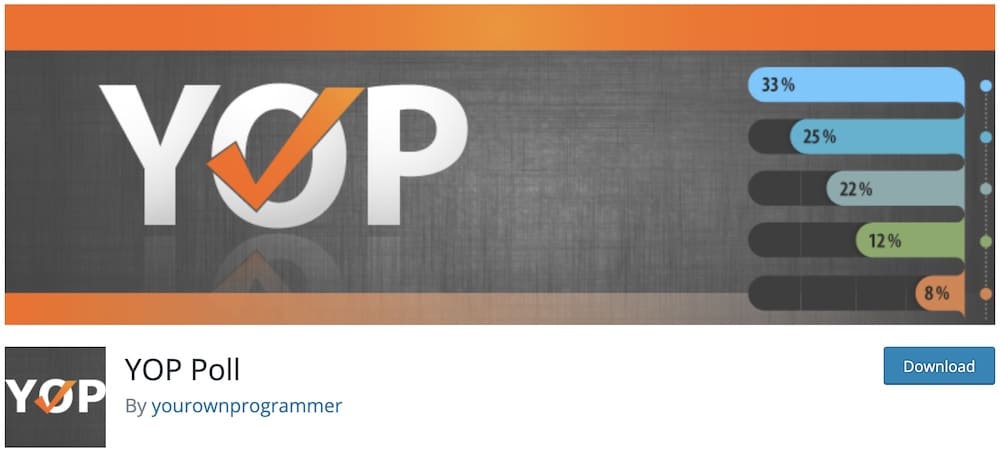 If you are looking for a free and simple voting plugin to create online polls for your website, this is for you.
You can create polls and integrate them into your posts or pages with EASE.
Apart from all that, you can insert both single or multiple answers in the polls.
Lastly, the option to hide or give permissions or even block specific users from a poll is another great feature of this plugin.
This WordPress voting plugin is one of the most well-known free voting plugins.
YOP Poll features:
20,000+ active installations
4.4/5 ratings
Frequent updates
Dashboard to manage all polls
2 ways to display poll results
MORE INFO / DOWNLOAD
3. WP Poll Survey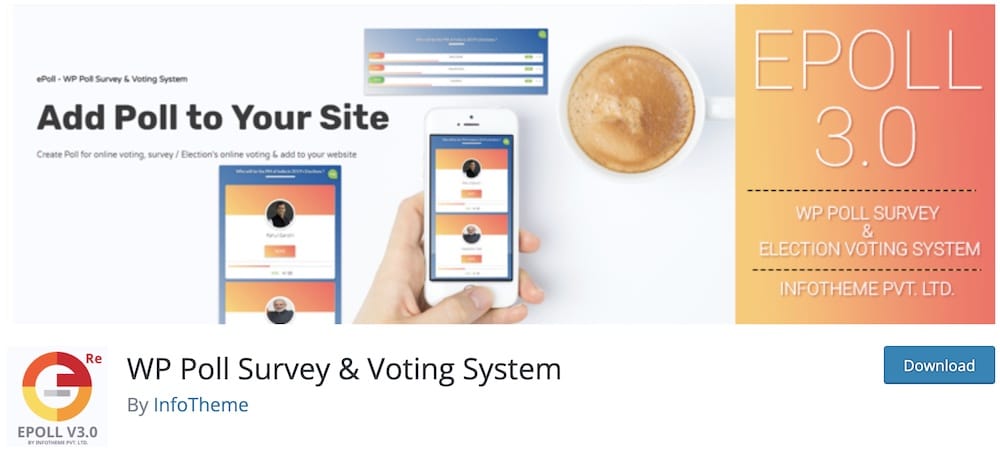 WP Poll Survey is another great free plugin to create voting contests, surveys (or check our free WordPress survey plugins) and polls quickly.
With this voting plugin, you will get 2 styles for your polls: List and Grid.
Besides, you can add images to your polls to give them a BETTER visual appearance.
In the end, this plugin allows you to display your polls with modal, popup or even lightbox with a simple WP shortcode.
WP Poll Survey features:
2,000+ active installations
4.3/5 ratings
Advanced admin panel
Easy to use
Results dashboard
MORE INFO / DOWNLOAD
4. Rating-Widget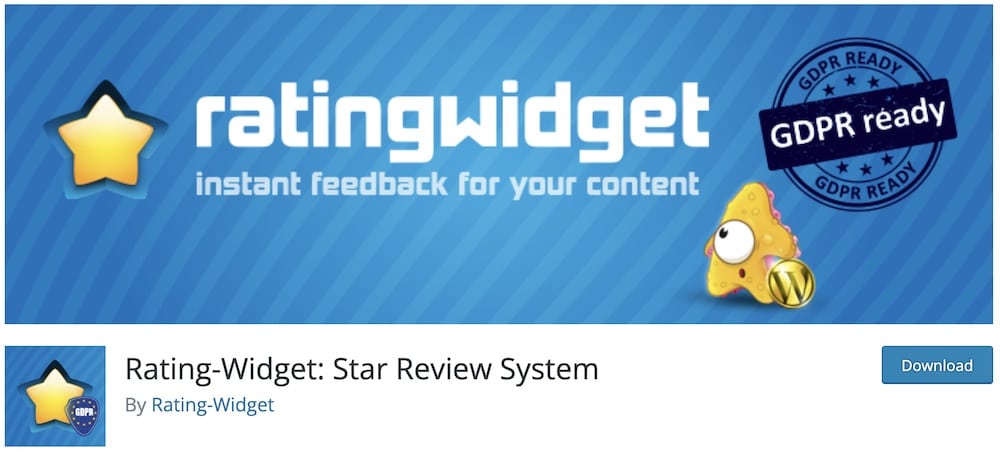 If you are looking for a way to get ratings for specific posts and pages, this plugin is for you.
Rating-Widget is a great plugin to give visitors a real-time way to rate your content.
You get many possibilities like WooCommerce integration to get ratings for specific products with Rating-Widget.
Plus, you can also insert a rating system to rate your authors. Let your users decide who's the best.
This WordPress voting plugin is an EXCELLENT tool to get ratings from their visitors on specific content.
Rating-Widget features:
8,000+ active installations
4.6/5 ratings
Supports 40 languages
BuddyPress integration
Great support team
MORE INFO / DOWNLOAD
5. bbPress Voting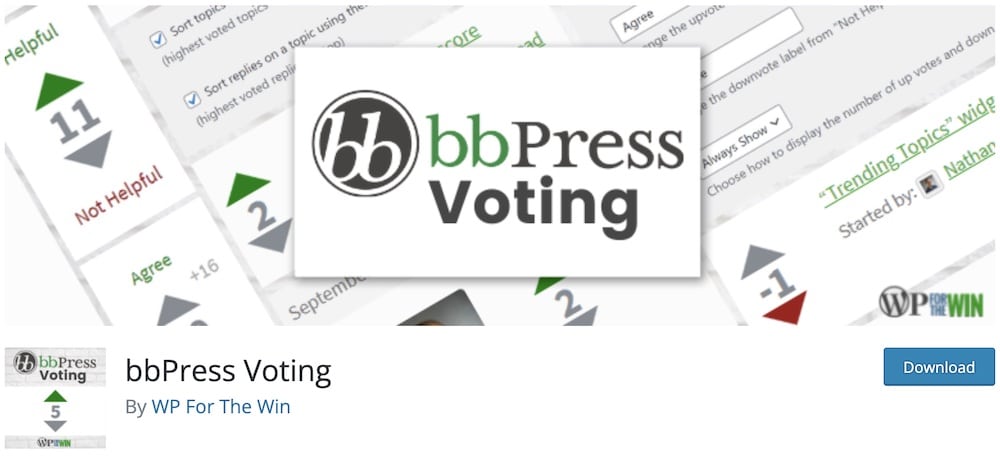 bbPress Voting is a powerful plugin to create a voting system for your forum (do you need a WordPress forum plugin?). This plugin comes with a lot of options that you can work with.
You can give your users a chance to vote up or down on topics and replies with this free WordPress voting plugin. Each topic will keep a LIVE total score of votes.
It is also compatible with Ajax and AMP.
Insert a voting system in your forum and take user interaction to the next level.
bbPress Voting features:
900+ active installations
4.7/5 ratings
Show/hide up/down labels
Disable voting for specific topics
Sort topic/replies by voting scores
MORE INFO / DOWNLOAD
6. WTI Like Post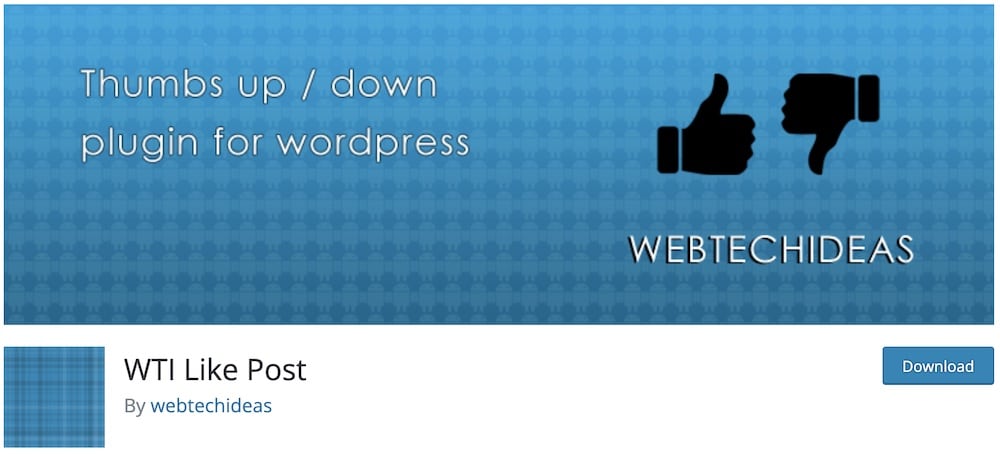 If you are looking for a free WordPress voting plugin to insert thumbs (up & down) for your posts, then this one's for you.
You have A LOT of features to work with, like the admin dashboard where you see a list of the most liked posts with WTI Like Post.
Also, when a user cancels old voting and does a new one, the plugin will delete the old vote from the history of the post.
WTI Like Post is a great plugin to give your visitor the thumb up or thumb down option to vote on your posts.
WTI Like Post features:
7,000+ active installations
4.8/5 ratings
3 different voting styles
Reset option for all counts
WP widgets to show most liked posts
MORE INFO / DOWNLOAD
7. Yasr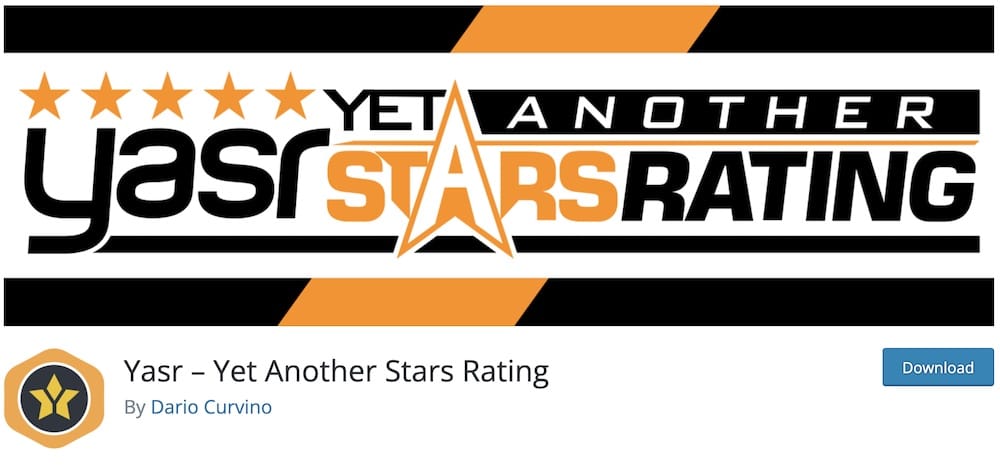 Yet another stars rating!
It is a free WordPress voting plugin to provide star ratings for your posts and pages.
You can easily add user-generated reviews and testimonials to your posts with this plugin. (Plus, we also have a full section of tested WordPress testimonial plugins.)
Yasr is enchanted with GREAT functionality, supporting posts, books, courses, events, games, videos, recipes, and more.
It is one of the most well-known star rating plugins on the market. Go, Yasr!
Yasr features:
20,000+ active installations
4.7/5 ratings
Great support
0 coding needed
Uses Rest API
MORE INFO / DOWNLOAD
8. LikeBtn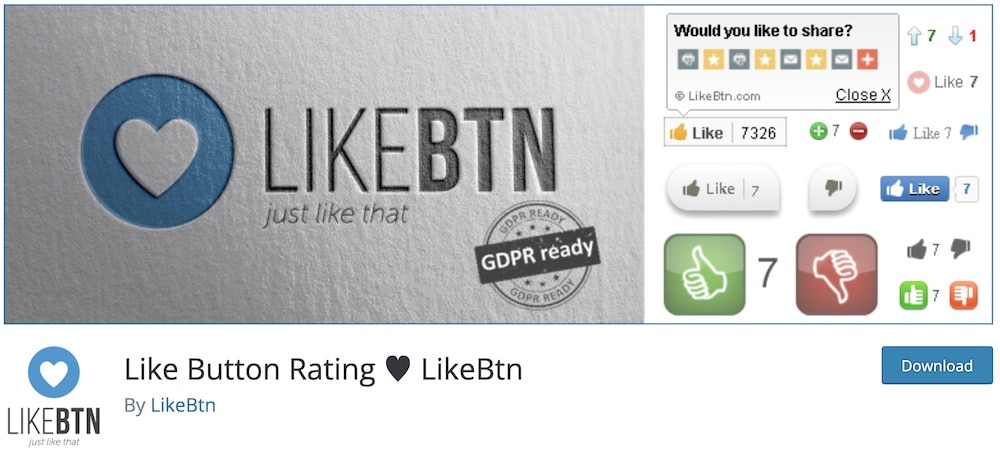 If you are looking for a plugin that will help you provide your visitors with like/dislike buttons to rate your content, this is the one.
LikeBtn allows you to insert these buttons to posts, pages, WooCommerce products, comments, etc.
One great feature that this WordPress voting plugin has is integrating UltimateMember.
Your visitors can CREATE profiles if they want to vote or write a review with this integration.
LikeBtn is a perfect choice to allow your visitor to create a profile and start voting.
LikeBtn features:
MORE INFO / DOWNLOAD
9. Multi Rating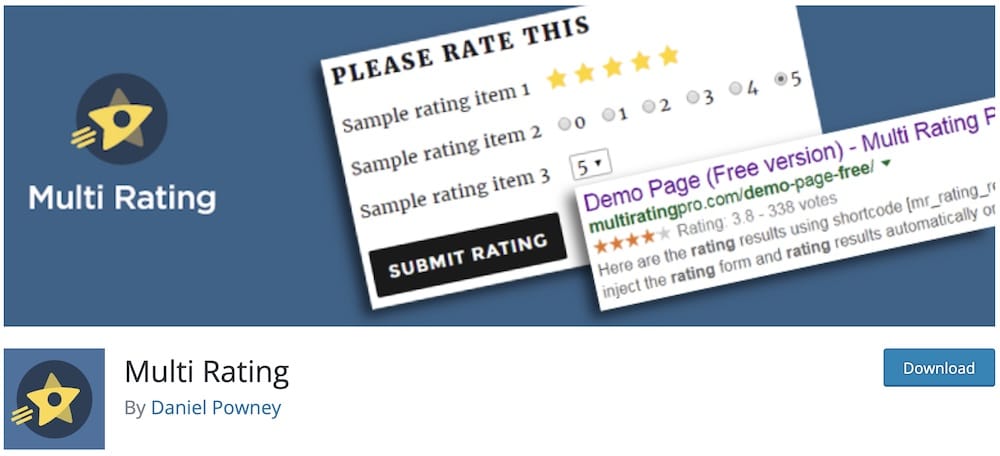 Multi Rating is another great WordPress voting plugin to post a star rating system on your blog or website.
This plugin is compatible with Classic and Gutenberg editors and is fully translatable. (We found it integrates smoothly with multilingual WordPress themes.)
You also get a built-in template system to CUSTOMIZE the HTML presentation.
Multi Rating is an intelligent choice to insert a star rating system with complete control over it.
Multi Rating features:
2,000+ active installations
4.3/5 ratings
Adds Google review snippets to boost SEO
Different weights to adjust results
Easily editable rating details
MORE INFO / DOWNLOAD
::
Note: This article was originally published on March 17, 2022. But our team regularly reviews it and updates it with necessary improvements for accuracy.