You're in the best place to pick from the ultimate free and premium WordPress footer plugins and take your website to the next level.
We tested 35 plugins to create this ultimate list for EVERYONE.
From those suitable to professionals to ultimately beginner-friendly ones, we left nothing out.
Most footers contain important links and pages, such as contact information, mailing address, copyright information, social media buttons, and more.
This post covers:
But there are NO strict requirements on what you should display in the footer. (We like to keep it MINIMALIST.)
A footer with valuable details about your business gives your website a more professional look and will improve visitors' interaction.
How We Tested WordPress Footer Plugins
Because many users need a footer plugin for many different needs, we also put each tool through a series of different tests.
This is getting a bit complicated. Well, not really.
We first did – the traditional – examining each plugin for how well it sits in the users' hearts (checked overall ratings and read reviews). We also wanted to include only up-to-date plugins that work smoothly with the latest WP version.
Moreover, because each plugin has different functionality, we ensured to include a variety of them so there's something for everyone.
We tested multiple plugins for footer and header code management, adding custom widgets, creating grids, social media, credits, etc., and picked the best in each sector.
Don't. Neglect. Your. Footer.
THE ULTIMATE (quick pick!):
Don't forget to check how to install a WordPress plugin if you're doing it for the first time.
Best Premium WordPress Footer Plugins
1. Ultimate Footer Builder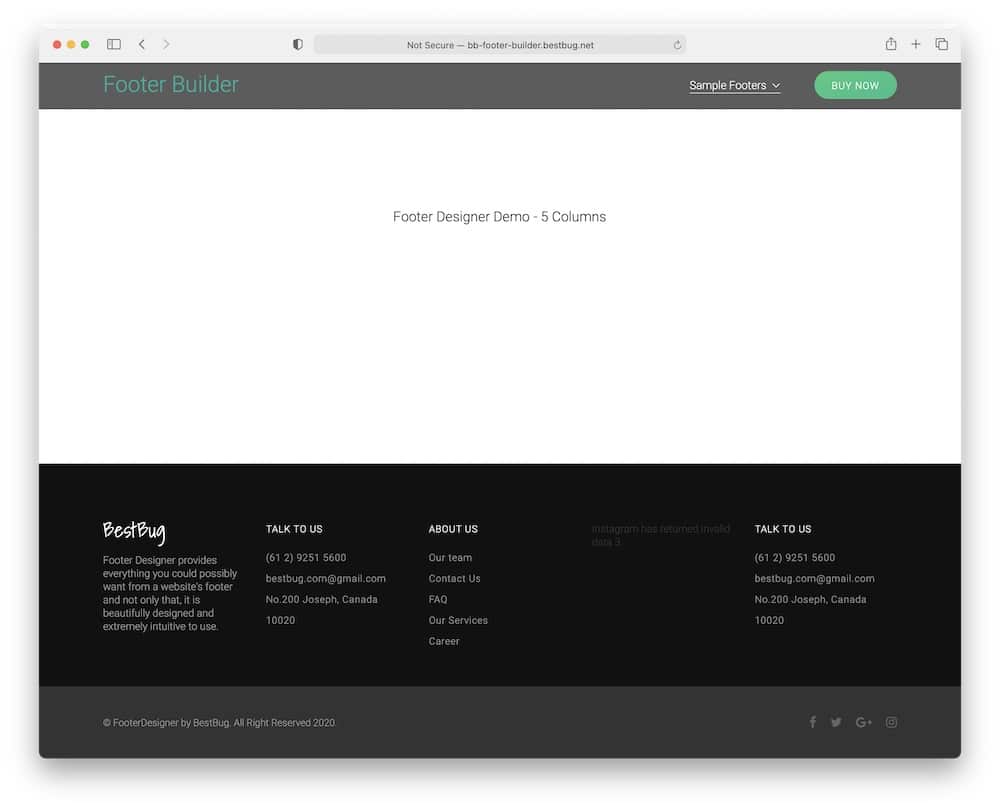 Ultimate Footer Builder is one of the most POWERFUL plugins we have ever tested. This plugin is actually an add-on for the well-known WPBakery plugin.
You can choose from numerous footer DESIGNS and layouts with this WordPress footer plugin.
Besides that, the Ultimate Footer Builder is compatible with all WordPress themes, so you do not have to worry about how your footer designs will integrate the rest of your website.
Smooth.
In a few words, this footer plugin is an excellent choice for professionals who want a comprehensive tool to help them create website-specific footers.
Ultimate Footer Builder features:
780+ sales
4.2/5 ratings
Pre-made WP shortcodes
Price: $23 (may vary)
MORE INFO / DOWNLOAD
2. WPDaddy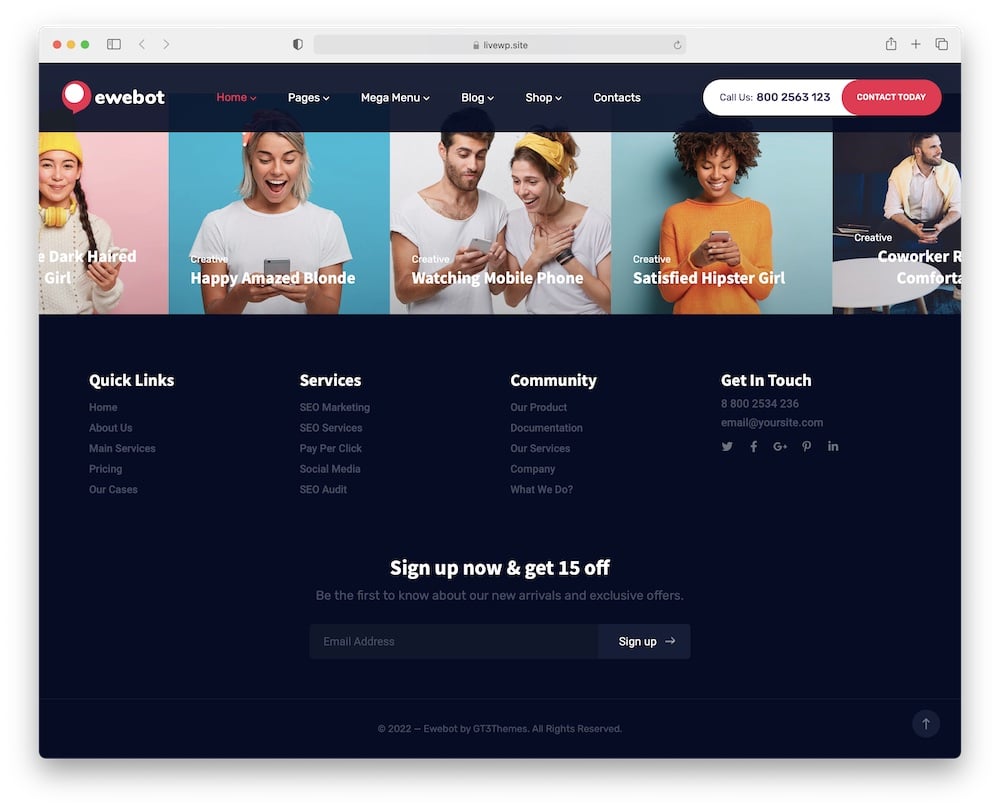 If you are looking for a footer plugin that works exclusively with Elementor, WPDaddy is the one for you.
This plugin is a front-end, drag and drop footer builder that offers endless possibilities.
First of all, WPDaddy is fully optimized for WooCommerce and compatible with any WordPress theme.
Besides, the drag & drop system is SUPER-EASY to learn and will help you create a unique footer in just a few clicks.
The plugin is also optimized for best performance and won't affect your site's load speed.
WPDaddy features:
40+ sales
4.8/5 ratings
Quick WP widget management
Lifetime updates
Price: $29 (may vary)
MORE INFO / DOWNLOAD
Best Free WordPress Footer Plugins
3. Elementor Header & Footer Builder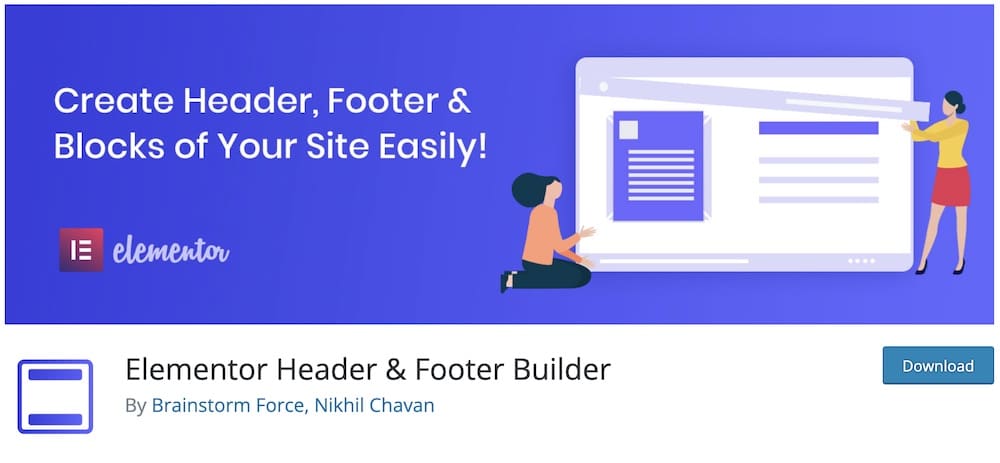 Elementor Header & Footer Builder is our first free pick and could not be any other.
This plugin is one of the most famous free footer plugins on the market and for GOOD reasons.
You can create unlimited footer and header designs using Elementor templates and systems.
Plus, you can also build (custom) templates with Elementor and place it anywhere on your websites via a simple shortcode.
In short, this is a top-notch pick for developers and website owners familiar with shortcodes and using Elementor as their primary page builder.
And that's every beginner and pro!
EHFB features:
1+ million active installations
5/5 ratings
Works with blocks
Build-in widgets (search, WooCommerce menu, image, etc.)
Great support
MORE INFO / DOWNLOAD
4. Head, Footer & Post Injections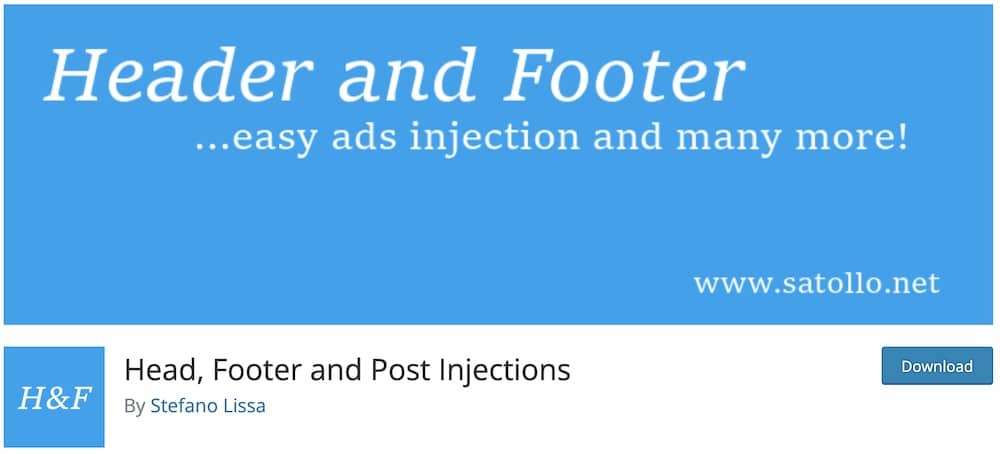 This is the best solution if you'd like to insert and manage any code in your footer and header, even inject it into post.
So simple.
With Head, Footer and Post Injections you will get a centralized overview of all the codes.
Additionally, you can insert a CUSTOM script to start a behavior on your website.
We also like the fantastic mobile footer version and AMP support, so everyone enjoys the ultimate performance on any device.
If you need to quickly insert footer and header codes for services like Google Analytics and Facebook Pixel, this plugin is the best way to go.
HFPI features:
400,000+ active installations
4.9/5 ratings
Compatible with AMP
Insert injections via shortcodes
You don't lose codes if you change the theme
MORE INFO / DOWNLOAD
5. Insert Headers and Footers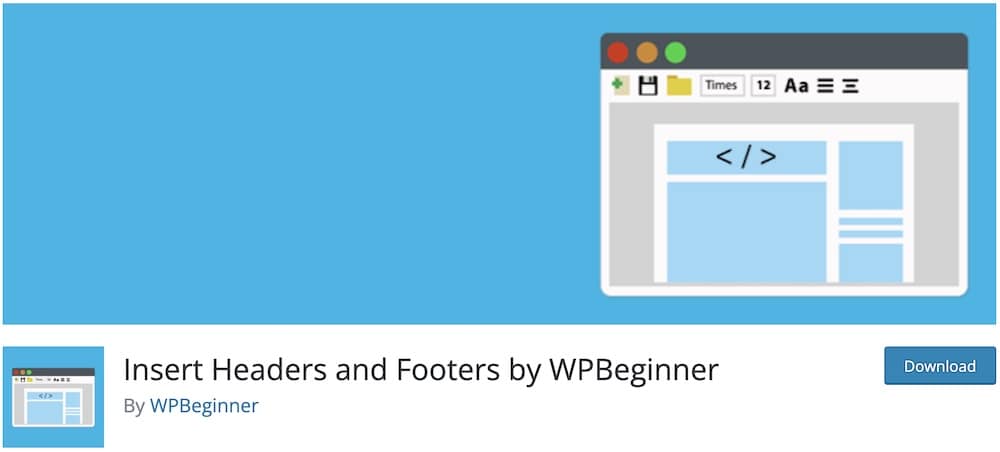 Insert Headers and Footers is one of the most popular footer plugins on the market for many reasons.
We used it on 20+ projects, including our own, because adding custom shortcodes to footers is SO effortless.
You can add Google Analytics code, custom HTML, JavaScript, CSS code and Facebook pixel in your footer.
Remember, the Insert Header and Footer plugin works seamlessly with other plugins you have activated and any theme you use
Insert Header & Footer features:
1+ million active installations
4.4/5 ratings
Easy to set up
User-friendly interface
Saves footer codes even you change the theme
MORE INFO / DOWNLOAD
6. Header Footer Code Manager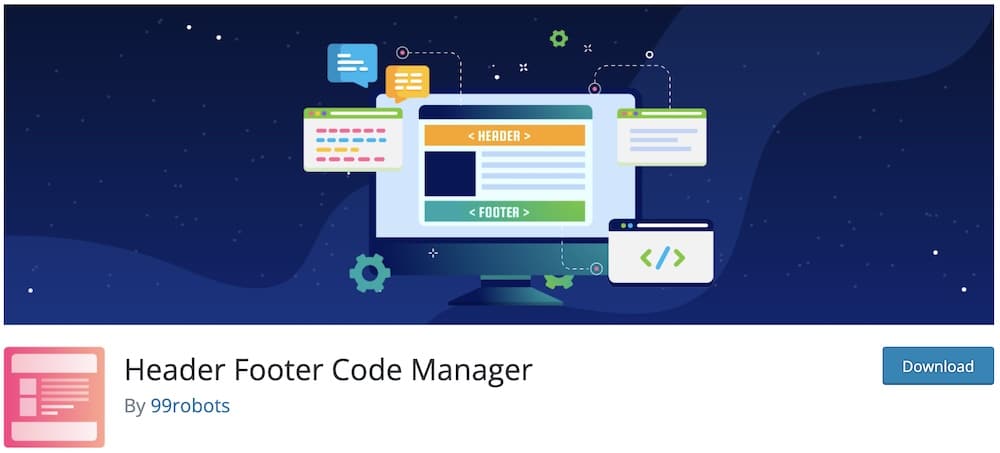 The Header Footer Code Manager is another powerful plugin to insert custom codes in your site's footer area.
To start, this free WordPress footer plugin allows you to add any code you want not only to footer or header sections of your site but to any page or post via a simple shortcode.
So versatile!
This free footer manager plugin is a great choice for those who want to insert a CTA or an ad to more visible locations on their website.
HFCM features:
400,000+ active installations
4.9/5 ratings
Unlimited number of scripts & styles
8 different page display options
Works with WordPress Multisite installs
MORE INFO / DOWNLOAD
7. Footer Mega Grid Columns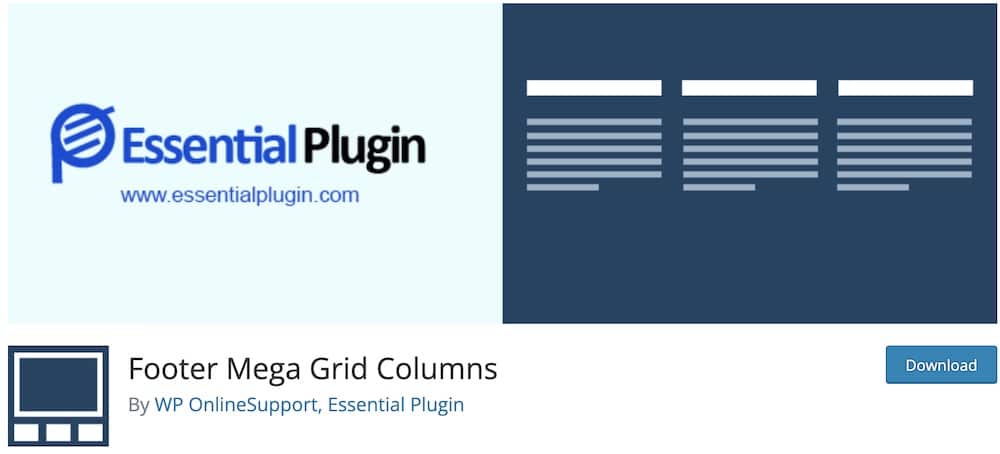 If you are looking for a free WordPress footer plugin to apply a grid layout to your footer section, this one's for you. (But you might need a WordPress grid plugin for the rest of the website.)
More specifically, if your footer area has a large amount of information and you want to separate them into multiple subsections, Mega Grid will help you do it.
Yes, applying a grid layout without CSS is a difficult task.
That's WHY this plugin is an excellent and easy way to customize your footer area and add a grid view to it.
Footer Mega Grid Columns features:
5,000+ active installations
4.6/5 ratings
Works with full-width layouts
Support 3rd-party widgets
Easy to use
MORE INFO / DOWNLOAD
8. Remove Footer Credit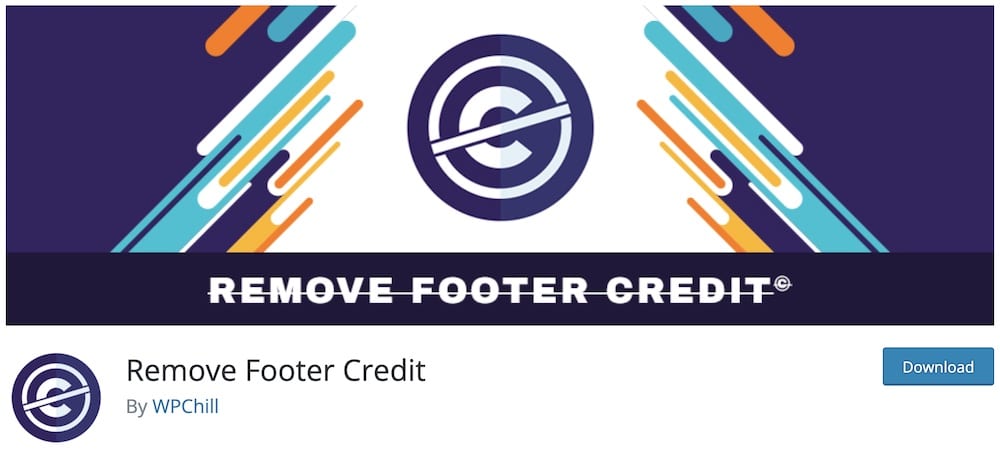 Don't want to have footer credit? NO PROBLEM! This plugin sorts things out for you in a few clicks.
This free WordPress footer plugin will allow you to remove the footer credit without touching the code of your website.
Additionally, you can insert your custom credit information if you want.
So straightforward. So powerful. GO!
Remove Footer Credit features:
80,000+ active installations
4.8/5 ratings
Great support
Easily customizable
No need to modify footer.php code
MORE INFO / DOWNLOAD
::
Note: This article was originally published on March 20, 2022. But our team regularly reviews it and updates it with necessary improvements for accuracy.