Are you searching the web for the best free WordPress live chat plugins because you'd like to offer the best customer service?
We handpicked our absolute favorite after reviewing numerous options for our clients.
It's ALL POSSIBLE, chats, messengers, live bots, SMSes, emails, and calls.
Are you ready to improve your customer service just like we did?
A live chat plugin can:
Help you increase your conversion rates
Make you stand out when it comes to interaction
All of our selections allow you to interact directly with your visitors.
Provide valuable information in real-time, collect leads and boost sales.
We all want that, right?
This post covers:
You will find everything you need in this review!
Whether you need to add a live chat to your personal blog or a client's website.
CHAT UP!
Best Free WordPress Live Chat Plugins
The benefit of using a live chat on your website is real.
We tested it over and over again, and we do encourage you to try it yourself.
Hey, it's FREE!
1. HubSpot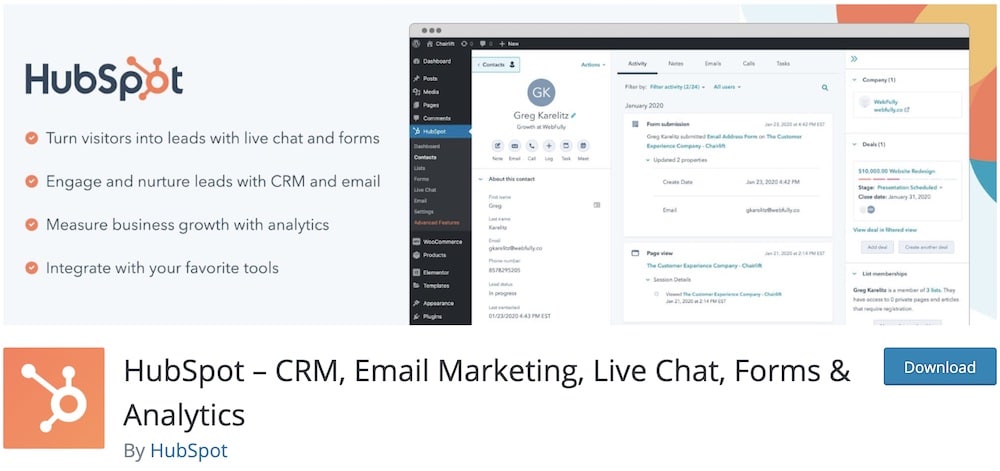 If you are looking for a way to interact with your audience, build authority, and grow your business more efficiently, HubSpot is the best solution for you.
This free WordPress chat and marketing plugin helps with everything you imagine and more.
The development team of HubSpot needs no introduction. Likewise, the plugin includes various tools that you can use.
From a live chat integration and chatbots to responsive newsletters and a top-notch CRM (Customer Relationship Management) app, HubSpot is the best ALL-ROUNDER out there.
The plugin also includes an analytics tab to measure and review your growth. That said, HubSpot is a brilliant way to automate your marketing via WordPress.
HubSpot features:
300,000+ active installations
4.4/5 ratings
400+ integrations (like Facebook, Twitter, Zoom)
Amazing support (FAQ and Tutorials)
0 coding needed
MORE INFO / DOWNLOAD
2. 3CX Live Chat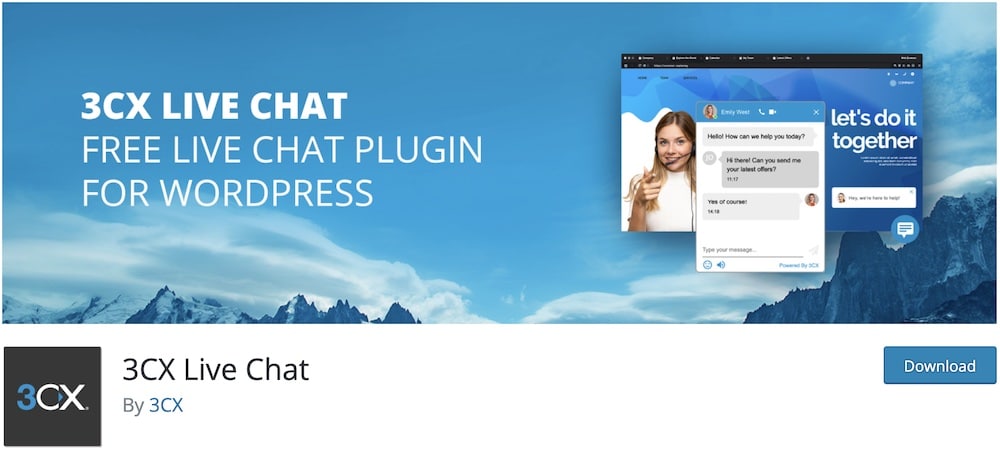 3CX is one of the most popular free WordPress live chat plugins for more than 8 years.
The tool allows you to integrate multiple channels and communicate with your clients via chat, voice or video.
How COOL!
The process is as simple as it can be.
All you need to do is activate the plugin and wait for visitors to land on your blog or website.
The live chat panel will appear automatically and the visitor can start a conversation right away.
While we were testing the live chat, we really liked the minimalistic design of the suite, which looks like the popular Messenger app. (Great integration with any theme.)
Finally, another UNIQUE feature of 3CX is that it supports more than one language. Besides English, the plugin is translated into three other languages (Italian, Hebrew, and Korean).
3CX features:
30,000+ active installations
4.6/5 ratings
Unlimited agents & option to transfer chats
Displays missed chats
MORE INFO / DOWNLOAD
3. Customerly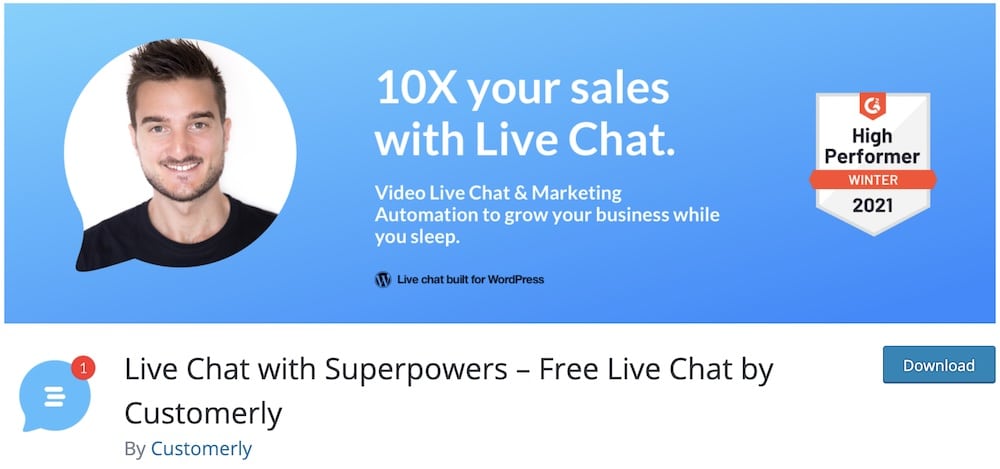 If you just need a simple live chat feature for your website and do not want to add anything super complicated, Customerly is a GREAT choice.
Although this free WordPress live chat plugin is not much more than that, it offers plenty of advanced features for you to explore.
For example, Customerly allows you to customize the live chat box and tailor it to your brand's needs (colors, fonts, agent profiles, and more).
Aside from that, we really liked the automated "Welcome" and "Book Appointment" sections that encourage interaction.
Finally, the plugin gives you access to the team and chat reports that help you improve your performance.
For all these reasons, Customerly easily won its position in our list.
Customerly features:
1,000+ active installations
4.6/5 ratings
Beginner-friendly
Amazing help center
Video & screen share live chat
MORE INFO / DOWNLOAD
4. Smartsupp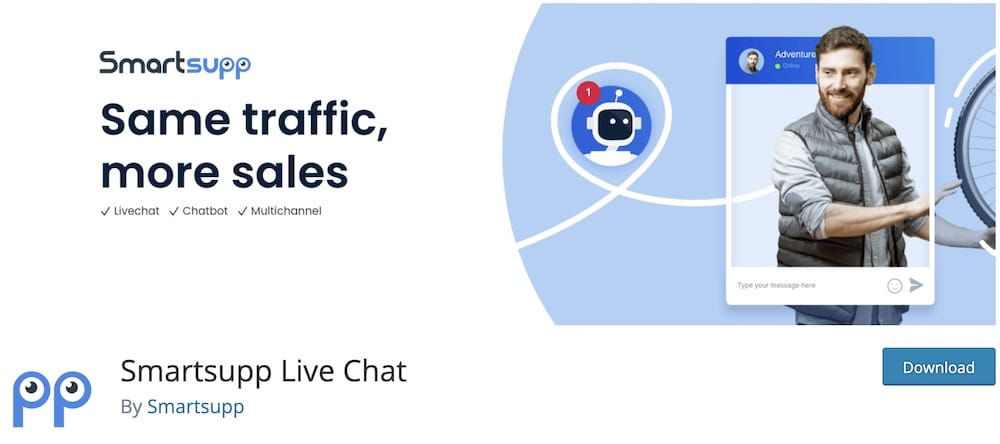 Smartsupp is perfect for those who are looking for something different from HubSpot but need the useful chatbot feature.
You can easily set up chatbots that AUTOMATICALLY reach out to customers with the plugin.
This proves to be a time- and cost-saving feature for many businesses.
Note: Smartsupp is a complete marketing bundle.
This free WordPress live chat plugin helps you answer questions from visitors through a mobile app, connect channels like Facebook, and manage everything through the dashboard.
Plus, in our testing, Smartsupp proved to be one of the most reliable live chats available.
Smartsupp features:
30,000+ active installations
4.8/5 ratings
Multi-channel integration
Chatbots feature & statistics
Multilingual support (7 languages)
MORE INFO / DOWNLOAD
5. Crisp Live Chat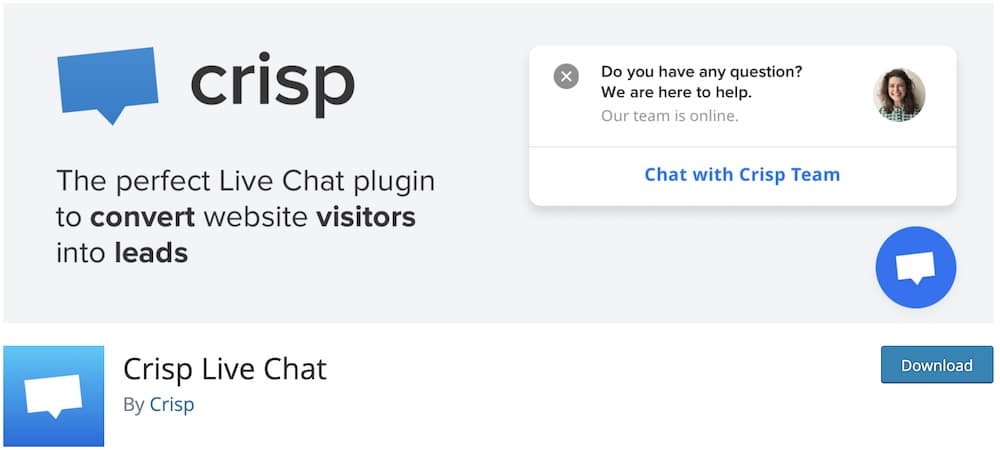 When we first discovered Crisp, we were excited to explore its advanced features. In fact, this free WordPress live chat plugin offers one of the best user experiences we have ever had.
One unique feature of Crisp is that it allows you to categorize your live chats.
Therefore, you can host different conversations for different topics (support, sales, marketing, chatbot).
The plugin also provides you with APPS for mobile devices (iOS and Android) and desktop software (Windows and macOS).
YES! Crisp is a great solution for businesses with numerous daily chats.
Crisp features:
30,000+ active installations
4.6/5 ratings
Categorized live chats
See what users are typing
Numerous business integrations (Slack, email, Twitter, and more)
MORE INFO / DOWNLOAD
6. Tidio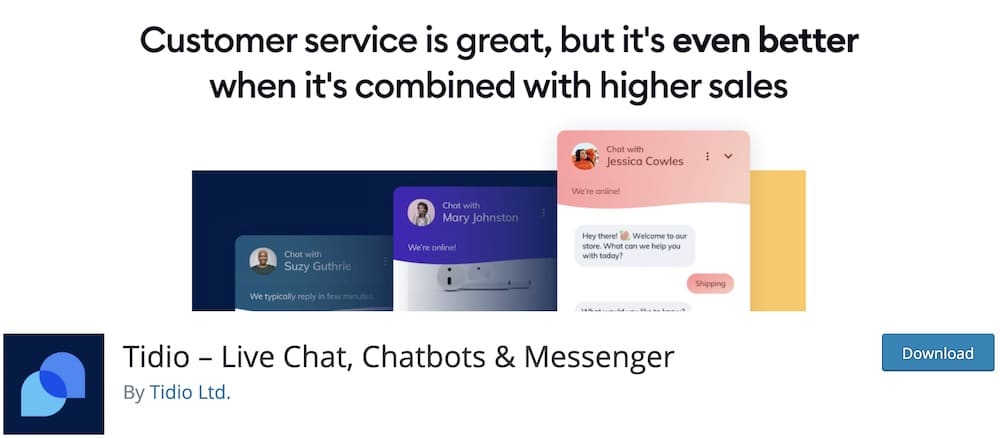 Tidio is an ultimately easy-to-use live chat plugin. This plugin proved to be the most beginner-friendly when we tested and reviewed it.
And the best part; this is just one of the reasons why more than 100,000 blogs and websites rely on it.
SO. BIG.
First of all, Tidio includes most of its features in its Free Forever plan. This means that most businesses will not need to upgrade their plan anytime soon. (What a money saver!)
Indeed, the live chat widget is fully customizable. You can change the look of your live chat via a drag-and-drop editor.
So, if you need a simple, free WordPress live chat plugin with all the essential features, Tidio is the one for you.
Tidio features:
100,000+ active installations
4.8/5 ratings
Collect emails
Drag-and-drop live chat creator
Mobile apps for iOS & Android
MORE INFO / DOWNLOAD
7. LiveChat for WordPress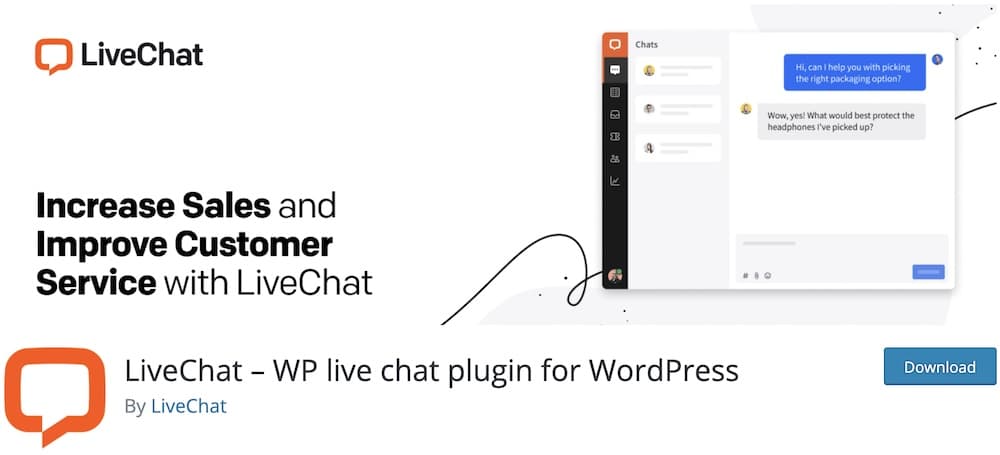 Like Tidio, this WordPress chat plugin is one of the simplest to master out there. In fact, LiveChat has an easy-to-learn dashboard from which you manipulate EVERYTHING.
What sets this plugin apart from others is that LiveChat is very discreet.
Your customer sees a question mark icon at the bottom right of your page.
This is an amazing option for adding a simple but customizable live chat service.
LiveChat features:
20,000+ active installations
4.7/5 ratings
Discreet live chat box
Built-in ticketing system
Amazing support (how-to videos)
MORE INFO / DOWNLOAD
8. Chatra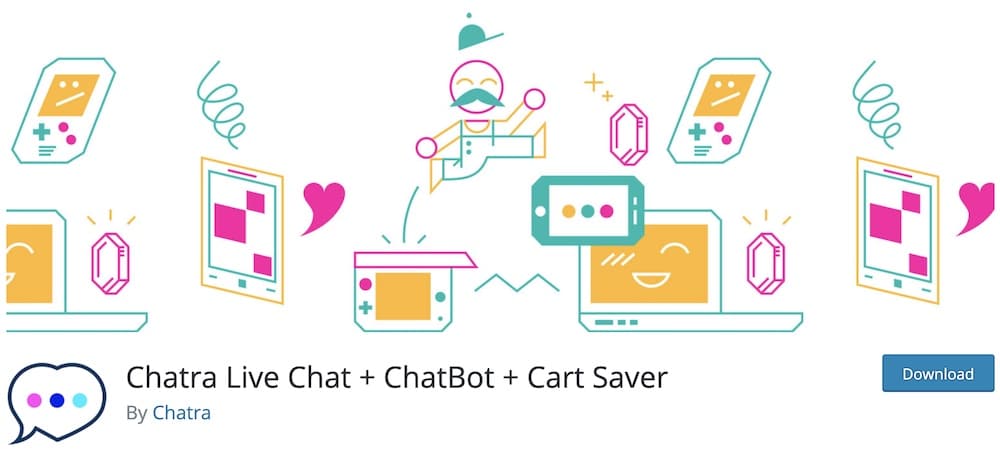 Although Charta isn't one of the most popular live chat plugins on the market, it is an all-encompassing marketing solution.
Chatra proved to be one of the most underrated free WordPress live chat plugins during our testing phase.
The plugin includes a real-time visitor list, a reliable chatbot feature, and numerous integration settings (Facebook, email, and more).
Aside from that, Chatra works great on pretty much any device.
Must. Be. Responsive.
The web dashboard is just one of the ways you can interact with your audience.
More specifically, Chatra has desktop and mobile apps that you can use when you are away from the office.
Chatra features:
4,000+ active installations
5/5 ratings
Visitor insights & analysis
Conversation history & organisation system
Free forever plan
MORE INFO / DOWNLOAD
9. Formilla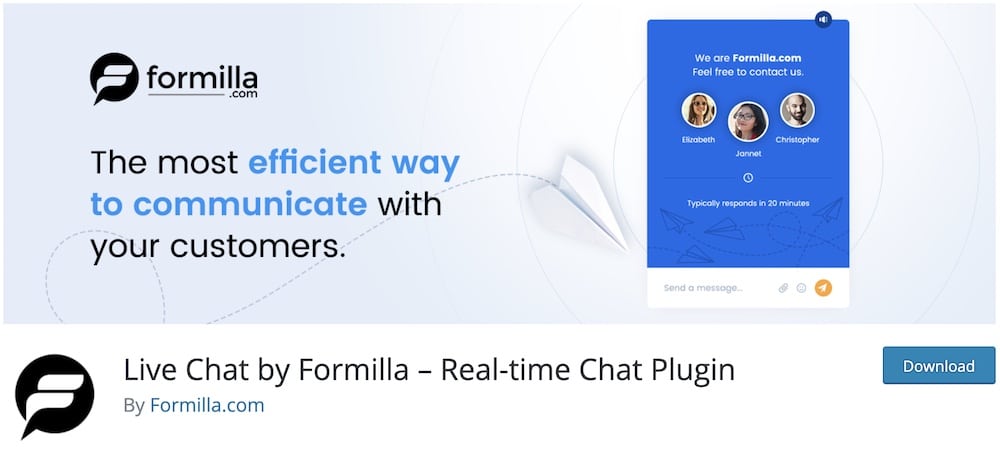 The experienced plugin development team of Formilla has designed one of THE most popular live chat plugins on the market.
We found many reasons why someone should choose Formilla over other plugins when investigating it in great detail.
For example, this free WordPress live chat plugin is one of the few with complete multilingual support.
Therefore, it's great for those who need a live chat widget for a local audience.
Besides, Formilla allows you to evaluate valuable information like visitor tracking and monitoring.
You can also INTEGRATE chatbots and numerous other platforms like Facebook.
Formilla features:
5,000+ active installations
4.8/5 ratings
Visitor tracking
AI chatbots
Complete marketing automation
MORE INFO / DOWNLOAD
10. Chaty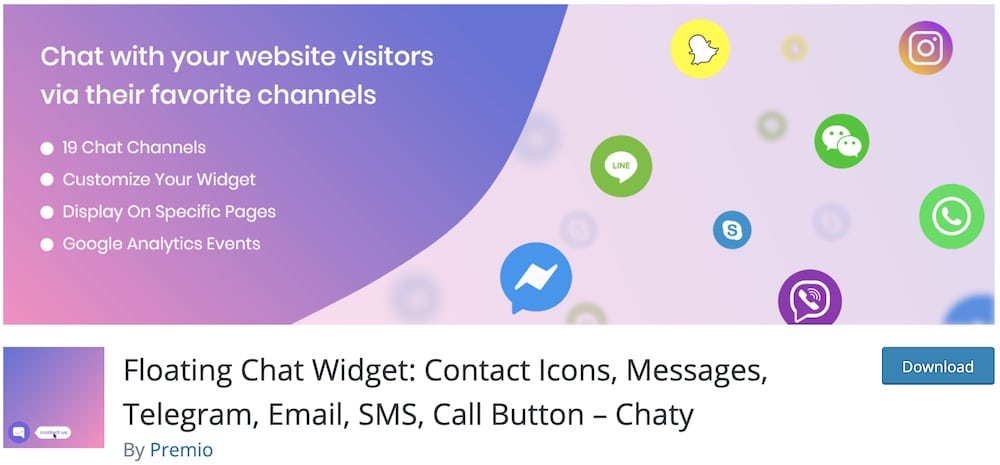 With 25 live chat channels and a fully customizable widget, it's no wonder Chaty made it into our top picks.
One of the best things about this free WordPress live chat plugin is the amazing floating animation it uses.
With it, you can chat with customers using Messenger, SMS, Telegram, TikTok and more.
This sets Chaty apart from all the other plugins we have tested. Finally, you can set which pages Chaty is displayed on and easily add CTA (call-to-action) messages.
Chaty features:
200,000+ active installations
5/5 ratings
Beautiful live chatbox
Helping community (live demos, tutorials)
Frequent updates
MORE INFO / DOWNLOAD
11. Provide Support Live Chat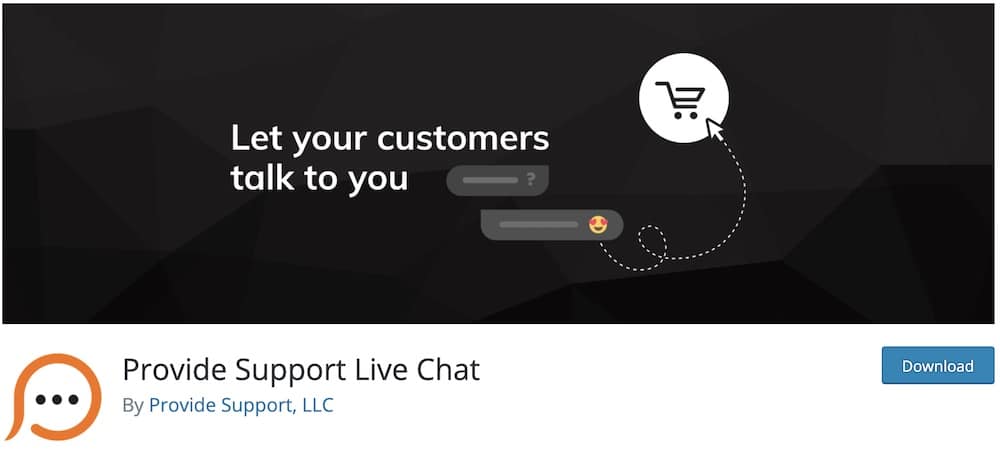 Among all their other services, Provide Support has created one of the best free WordPress live chat plugins.
The plugin is straightforward to install and use and provides all essential features. But if you need help, we have a tutorial on installing a WordPress plugin.
All you need to do is add the live chat button to your website or blog.
Then you can reply to visitors from the web or via the mobile and desktop apps that the bundle includes.
Provide Support lets you choose between the classic pop-up chat window and an embedded live chat window.
Provide Support features:
400+ active installations
4.3/5 ratings
Allows for easy multitasking
Can use shortcodes for integration
Custom chat images
MORE INFO / DOWNLOAD
12. Sticky Chat Widget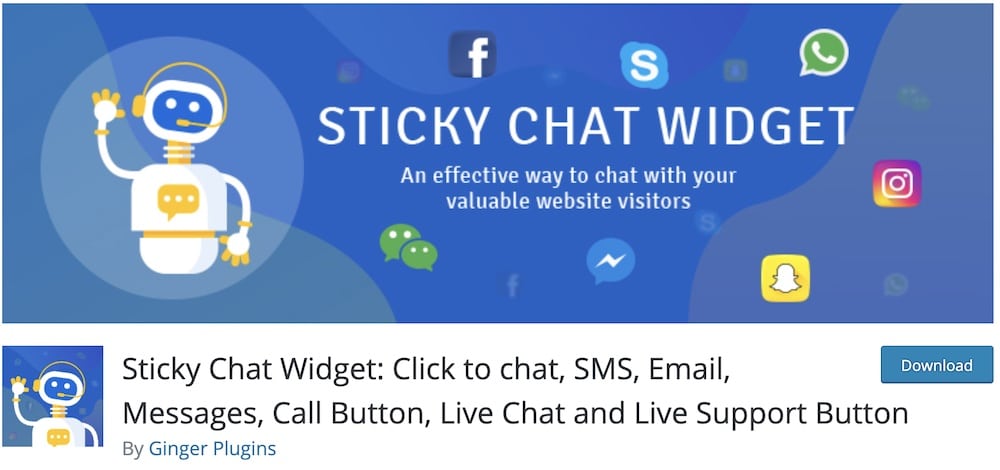 Our final pick is a brand new plugin developed by Ginger Plugins. Sticky is an innovative chat widget that allows you to QUICKLY interact with your website visitors.
During our review, Sticky proved to be highly reliable and we had no issues with it.
It's common for a new free plugin that comes with bugs.
Well, Sticky does not! (Runs smoothly.)
Sticky is an ideal choice for anyone looking to add a beautiful live chat widget that integrates multiple channels like Snapchat, Viber, WeChat, and more.
We definitely think this plugin has a bright future ahead of it. (Actually, we know!)
Sticky features:
2,000+ active installations
5/5 ratings
16 integration channels
Set operation/we-are-live hours
Affordable Pro version ($19 per year)
MORE INFO / DOWNLOAD
Why Is A Live Chat Important For Your Business
To offer your users the option to get in touch with you immediately and not wait for your response is highly beneficial for your business.
You don't necessarily need it if you run a blog, but any other type of business website should consider adding a live chat plugin.
According to statistics, approx. 80% of businesses reported positive impact on sales by adding a live chat to their page. Plus, more than 90% of customers prefer top-notch support over fast loading website.
This tells more than enough!
However, you need to take live chat functionality seriously. Why?
Because over 60% percent of users expect a quick response otherwise, they leave the website early. Remember, this doesn't mean seconds, but a response within a minute (even two!) is OK.
How We Chose The Best Live Chat Plugins
Okay, we didn't just go out there and pick the best plugins to add a live chat function to your website.
We ran each plugin through various tests and ensured:
1. Reviews and ratings
We eliminated all plugins with poor reviews and ratings.
Thus it's not just our testing that proves the plugin works and operates smoothly.
It's the opinion and experience of 1,000s more that vouch for the tool and successfully use it on their websites.
2. Active installs
Another factor when picking the best plugins was active installs.
Unfortunately, if a plugin has very few installs, it also has very few reviews and user feedback.
And thus, we searched exclusively for tools with many installs because we wanted to combine our testings with others' experiences.
3. Updates
This one is simple: If a live chat plugin wasn't updated for many months, heck, not tested with the latest WordPress version, we ditched it immediately.
That's it.
4. Customizations
What can you do with a plugin that doesn't offer customizations?
Nothing.
That's why different configurations to set a live chat for your needs were crucial during our review.
Remember, you can't expect a free plugin to have as many options and possibilities as a premium one, but we still included the most resourceful ones.
5. Support & documentation
No matter how amazing the plugin is, without these two, there's no way we're adding it to the list.
Sure, a free plugin will rely more on the online documentation and support forum.
But a paid one also needs to offer epic support from a team of experts who are always down to help you.
Frequently Asked Questions About Live Chat Plugins
How do I create a live chat on WordPress?
The easiest and quickest way to create a live chat on WordPress is by using a free or a premium plugin. You don't need coding skills to integrate the live chatting function professionally.
Does WordPress have live chat support?
No, WordPress doesn't have integrated live chat support by default. You need to use a plugin to add it to your website.
What is the best free live chat plugin for WordPress?
The best free live chat plugin for WordPress is HubSpot. But another one that comes close with its fantastic functionality is 3CX Live Chat.
What is a live chat plugin?
A live chat plugin is a tool that connects your website visitors with your support team on the spot. It boosts your page's user experience (& conversions) by giving them instant access to your agents.