Are you searching for the best free and premium call to action WordPress plugins?
If so, you have come to the right place!
No one can deny how vital calls to action are for personal and business websites.
From our personal experience and our clients' experience, CTAs can work extremely well. (Tested & proven!)
These free and premium CTA plugins will help you ORGANIZE every call to action imaginable. (Easily!)
This post covers:
Our top picks will help you do it in a few clicks, whether you want your visitors to sign up for your newsletter, check out a specific product, or something else!
Make your visitors take action NOW!
Best Premium WordPress Call To Action Plugins
1. Easy Social Share Buttons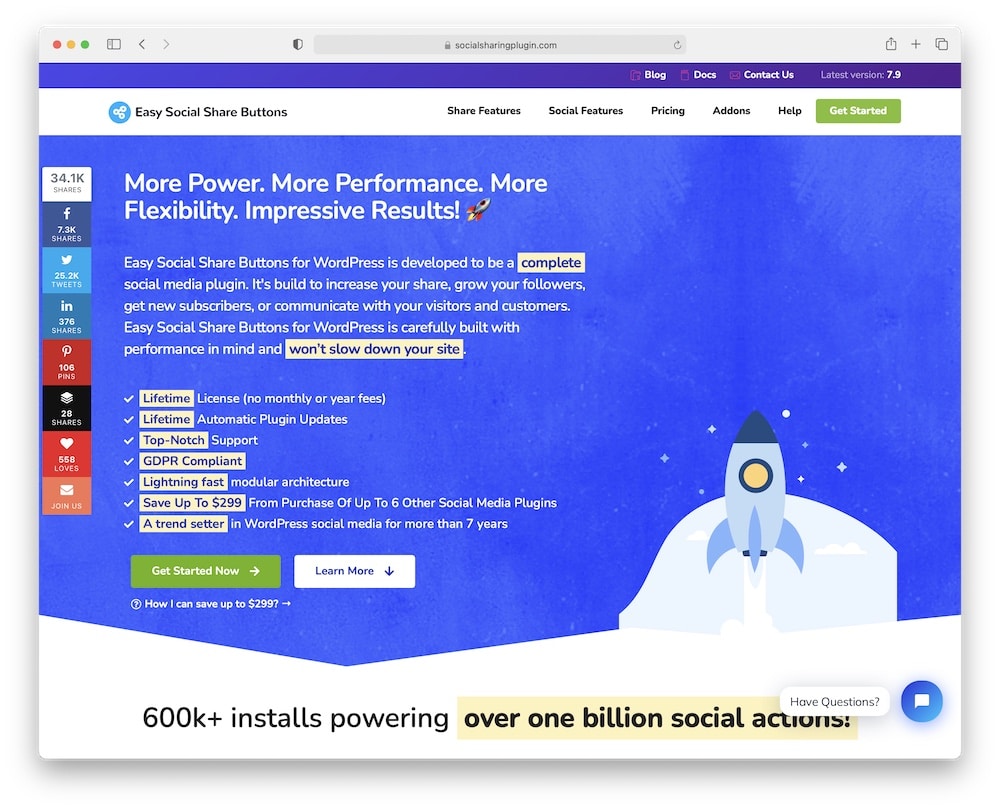 Suppose you want a plugin that allows you to create beautiful, responsive social media buttons on your website.
In this case, there is simply no better tool out there than this plugin.
The process is VERY simple.
All you need to do is select one of the 30+ automated display options and create icons for 50+ social media platforms (Facebook, Instagram, Snapchat, etc.).
This WordPress plugin is completely flexible as you can edit the color, style, position, and tag of each icon you create.
Easy Social Share features:
32,200+ sales
4.6/5 ratings
You can create custom icon positions
Awesome analytics function
Price: $22 (may vary)
MORE INFO / DOWNLOAD
2. Buttons X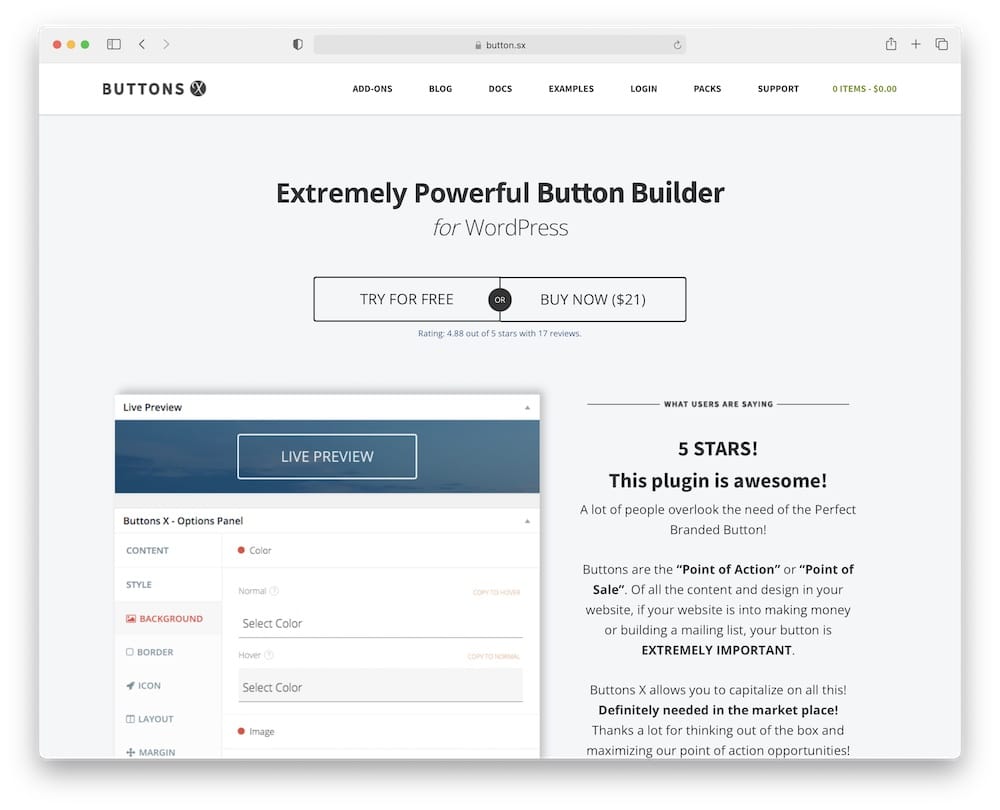 While Easy Social Share is perfect for creating social media icons, what if you need more than that? Then Buttons X is the plugin for you.
Button X is a premium call to action WordPress plugin that lets you create CSS3-compatible WordPress buttons in seconds.
This plugin is suitable for both beginners and professionals for many reasons. The package includes numerous extensions and button packs that you can use.
No single step of coding is required throughout the creation phase.
During our tests, we really liked the freedom that Buttons X offers to the user.
You can choose between 80+ WordPress animations and customize each button style to suit your needs and preferences.
Buttons X features:
1,500+ sales
4.3/5 ratings
Ideal for eCommerce & WooCommerce buttons
Offers button analytics
Price: $22 (may vary)
MORE INFO / DOWNLOAD
3. Boxzilla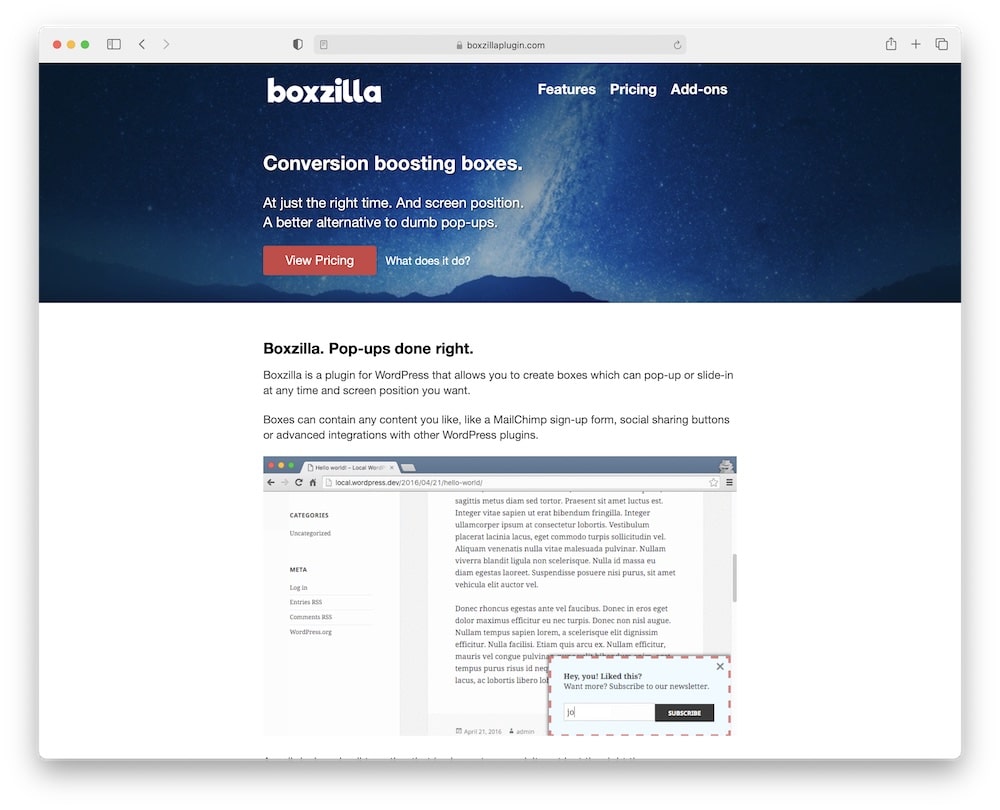 Boxzilla is an ideal plugin for those who want to increase the conversion rate of their website.
Like the other tested call to action WordPress plugins reviewed, this plugin is a great way to add CTAs to your website.
What really intrigued us about Boxzilla is that it allows users to create pop-up CTAs quickly. This is very helpful for beginners with no coding experience.
Apart from that, Boxzilla allows you to customize the look and content of your pop-up boxes to match the branding of your website.
Boxzilla features:
4.5/5 ratings
Perfect for pop-up CTAs
Use it for email sign-ups
Numerous add-ons available
Price: $48+ (may vary)
MORE INFO / DOWNLOAD
4. SeedProd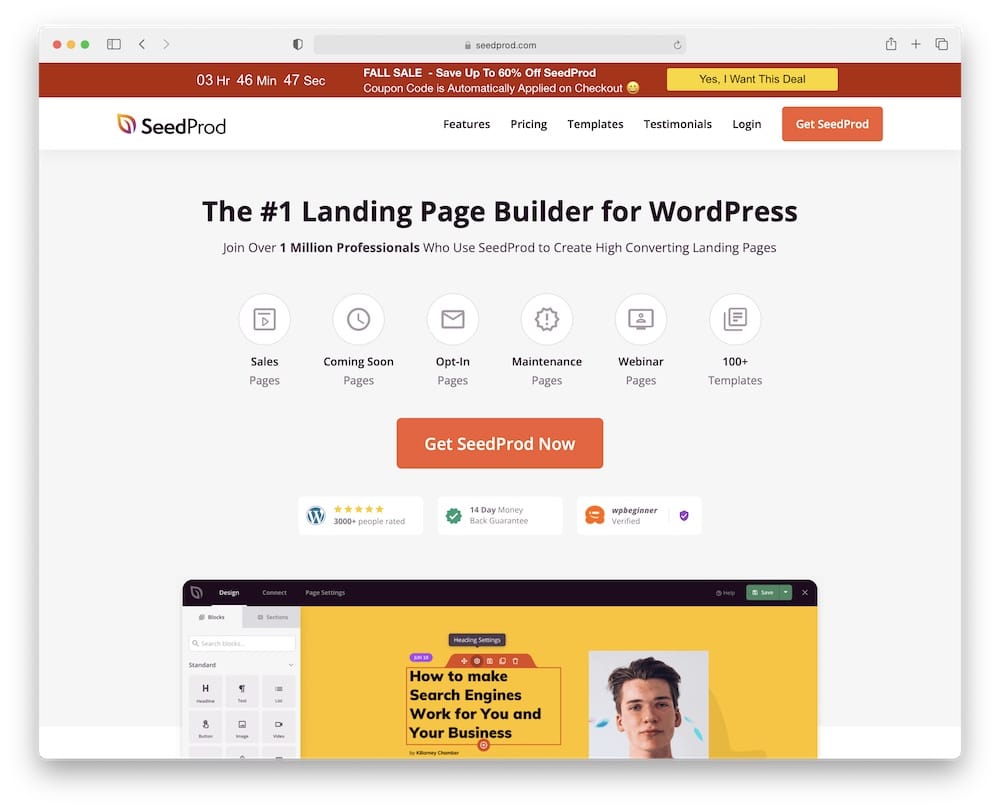 This is a great call to action WordPress plugin that lets you do much more than create CTAs. You can create full landing pages with SeedProd.
Nothing is left out with this plugin, from sales and maintenance pages to webinars and opt-in pages.
Best of all, you can fully customize all your pages and include as many calls to action as you like.
You can edit all templates to match your website style. Since SeedProd uses a drag-and-drop builder, the plugin is straightforward, making it a fantastic choice for beginners.
SeedProd features:
1 million+ users
4.7/5 ratings
0 design skills needed
Excellent support
Price: $39+ (may vary)
MORE INFO / DOWNLOAD
Best Free WordPress Call to Action Plugins
5. WP Subscribe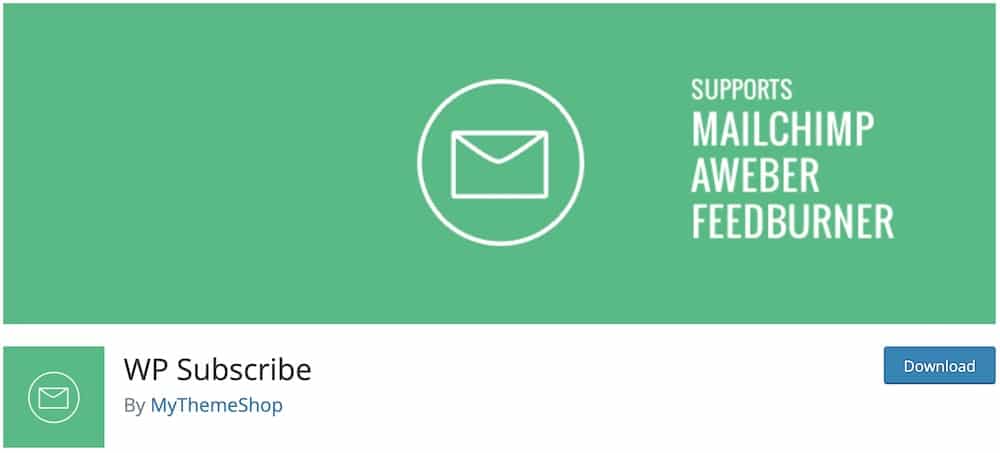 WP Subscribe is simply the easiest way to set up an email-gathering CTA in WordPress. Apart from that, this free call to action plugin offers a variety of signup forms to choose from.
Of course, as a free plugin, WP Subscribe does not have the unlimited advanced features of other CTA plugins like Inline.
Nevertheless, our review found it to be a brilliant choice for quickly creating CTAs.
The subscription forms are fully responsive and customizable through CSS. In a few words: WP Subscribe is an excellent choice if you want a user-friendly, free CTA builder.
WP Subscribe features:
20,000+ active installations
3.9/5 ratings
Perfect for email sign-ups
Compatible with SEO plugins & caching
Integrates Mailchimp, Aweber & FeedBurner
MORE INFO / DOWNLOAD
6. WP Call Button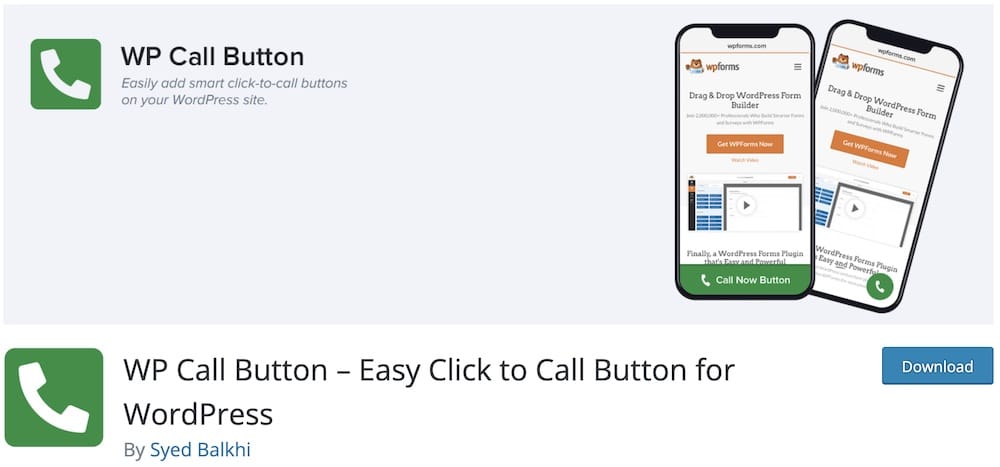 If you need a free call to action WordPress plugin that works perfectly with the Classic Editor and Gutenberg, then this is your best choice.
WP Call Button is a very reliable plugin that has more than 20,000 active installs for a reason.
Like the other plugins on our list, this plugin is perfect for anyone who wants to create eye-catching CTA buttons.
Another important feature of WP Call Button is that you can fully modify each button you create. It's no wonder this plugin is one of the most popular on the market.
WP Call Button features:
40,000+ active installations
4.5/5 ratings
Beginner-friendly
Works as a classic block
Good for WooCommerce
MORE INFO / DOWNLOAD
7. WordPress CTA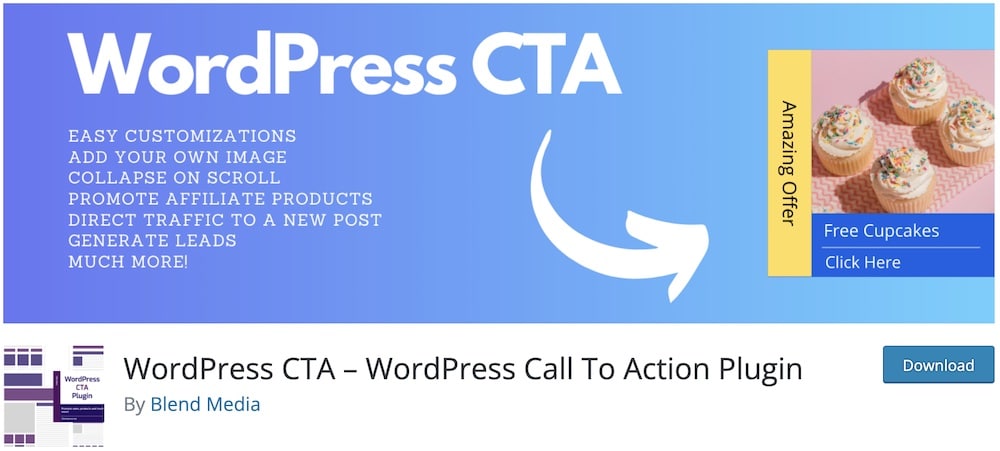 Have you already tried most of our suggestions but are still looking for the best CTA builder for your website?
If so, WordPress CTA is your best bet. This is one of the most underestimated plugins we have ever tested. (Bravo!)
Although this call to action WordPress plugin isn't very well known, it offers numerous features you usually can't find on free plugins.
WordPress CTA is a lightweight tool that helps us promote products, posts, and more in just seconds. The app utilizes sliding CTAs that are very attention-grabbing.
WordPress CTA features:
3,000+ active installations
5/5 ratings
Customizable open & closed sliding CTAs
Great for affiliate programs & products
Offers sticky sidebars and pop-ups
But you may also be interested in our tutorial on creating a sticky menu in WordPress.
MORE INFO / DOWNLOAD
8. Simple Side Tab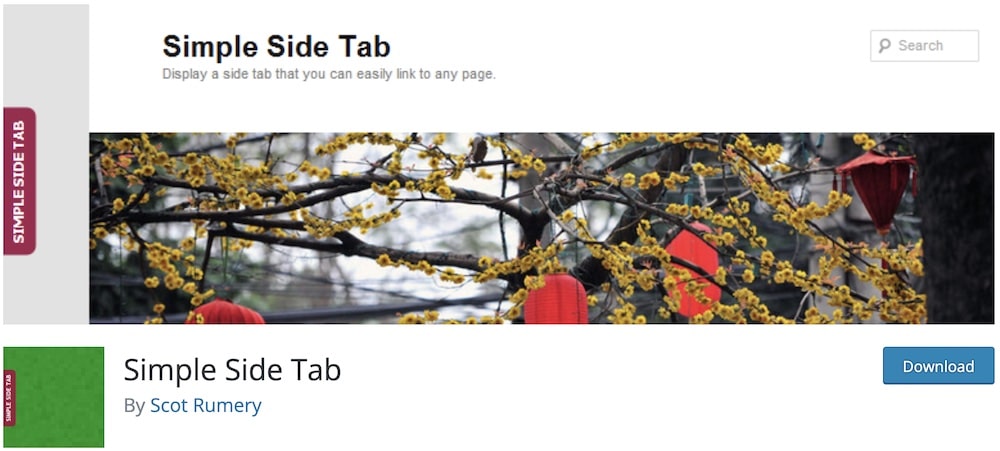 Simple Side Tab is one of our favorite free call to action WordPress plugins. The tool has been around for over 8 years and has been improving ever since.
If you're looking for an easy way to create and customize CTAs, this is the plugin for you.
Its straightforward, modern interface is one of the main reasons why Simple Side Tab has excellent reviews.
When creating a CTA side tab with this plugin, you can choose between 7 fonts and unlimited colors, manipulate the tab's position, and more.
Simple Side Tab features:
10,000+ active installations
4.7/5 ratings
Simple CTA building
Mobile-friendly tabs
Allows you to select custom location
MORE INFO / DOWNLOAD
9. HashBar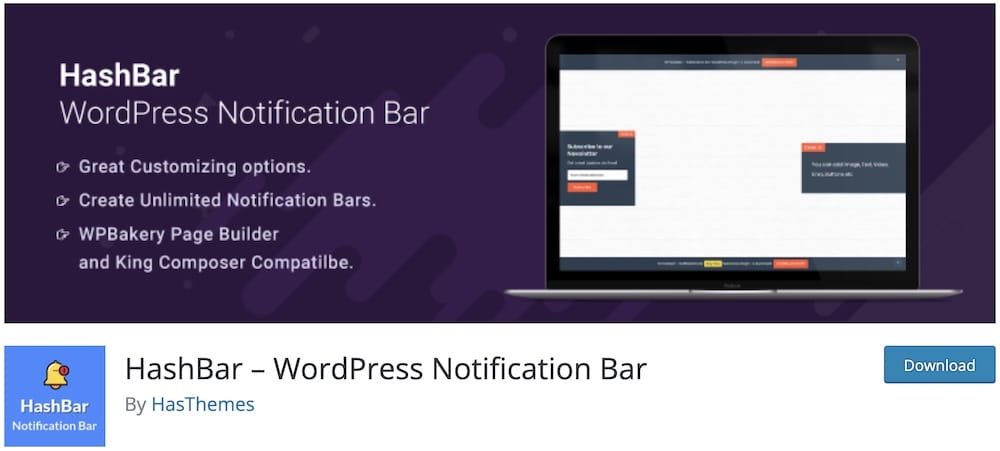 When creating fully-editable CTAs, HashBar is by far the best free plugin. This free CTA WordPress plugin allows you to create email subscriptions and tabs.
With HashBar, we had no problem integrating social icon buttons in the CTAs. Also, this plugin has one of the best support teams on the market.
If you need a plugin that offers extended documentation, HashBar is a brilliant choice.
Finally, Hashbar works like a charm with almost any WordPress builder like Gutenberg, Elementor, WPBakery and more.
HashBar features:
10,000+ active installations
4.3/5 ratings
Offers color themes & images
Perfect for notification CTAs
Very reliable
MORE INFO / DOWNLOAD
10. Spectra

Our final pick is Spectra, which is by far the most famous free call to action WordPress plugin.
Since this plugin has excellent reviews and a large following, it may well be higher on our list.
During our testing, we had no issues creating CTAs with this plugin.
In fact, the plugin includes more than 20 pre-built block designs that save extra time.
As the name suggests, this plugin works as a Gutenberg addon and helps you create blocks within clicks. Even though Spectra is not a CTA plugin in the true sense, it proves to be perfect for the task.
Spectra features:
400,000+ active installations
4.9/5 ratings
Perfect for block creation (CTA, Google Map, Icon List, etc.)
0 coding needed
Works great with the Astra theme
MORE INFO / DOWNLOAD
FAQs About Call To Action WordPress Plugins
What is a WordPress call to action plugin?
A WordPress CTA plugin is a plugin that urges a user to make an action. This could be a pop-up with a lead generation form, a notification bar with a special deal, a "Buy Now" button, and others.
How do I add a call to action in WordPress?
The easiest way to add a call to action in WordPress is by using a plugin. You can use a premium one (Buttons X) or a free one (WordPress CTA), depending on the functionality type you need.
How do I add a floating action button in WordPress?
Installing a dedicated free or premium plugin can add any sticky or a floating call to action button in WordPress.
What is a floating CTA?
A floating or sticky CTA is a button, a notification bar, or a form that sticks to the screen. It can appear as a pop-up when a visitor starts scrolling, wants to exit the page, etc. But it can also stick to the top or bottom of the screen as soon as the website loads.
That's it, you're now ready to install a WordPress plugin and add CTAs to your website!
::
Note: This article was originally published on October 26, 2021. But our team regularly reviews it and updates it with necessary improvements for accuracy.