Are you struggling to find multifunctional, reliable and free WordPress donation plugins?
Or maybe you are a developer and need such a plugin for your clients.
Accepting donations or hosting fundraisers on your website can be a powerful digital marketing tool.
That's why we tested 30+ plugins and picked out the BEST ONES for you!
Whether you own a non-profit organization or want to raise funds for charities and special causes, our selection has everything you need.
This post covers:
It's all here, from plugins ideal for donations via PayPal to the perfect solutions for WooCommerce stores.
Quick Pick: Best WordPress Plugins For Donations
Ready to collect? Let's go!
Best WordPress Donation & Fundraising Plugins
1. Give WP (Our clients' FAV)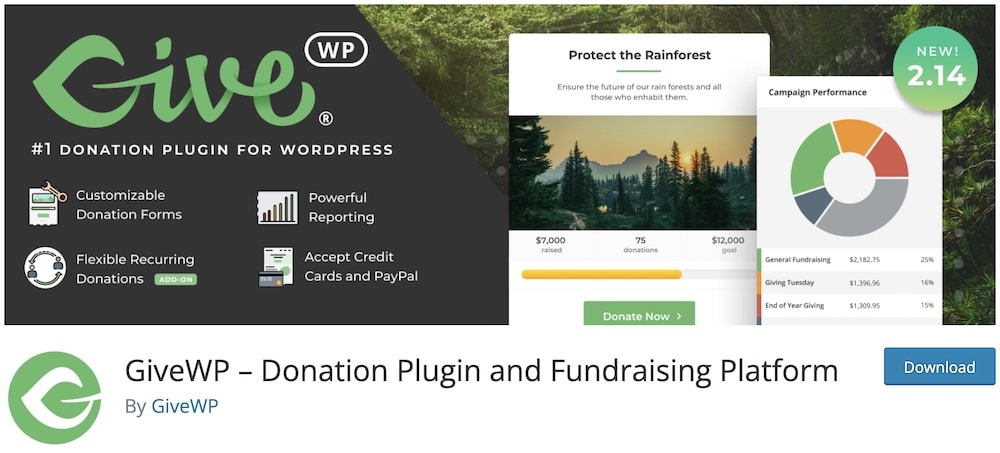 If you need a reliable plugin that works exceptionally well on both desktops and mobile devices, Give WP is your best choice. It's our client's favorite.
For this reason, it ranks first in our selection. Give WP has everything you need, NO WONDER why it's one of the most popular donation plugins.
We used it on five projects for clients' charities and fundraisers. (We tested block, shortcode and WP widget insertion.)
The donation forms it offers are fully customizable to suit your taste and the needs of your website. Give WP also gives you access to statistics and analytic reports.
So, if you need ultimate control over your donors, this is the best plugin for you.
Give WP is compatible with PayPal, Stripe and offline (physical) donations.
Give WP features:
100,000+ active installations
4.7/5 Ratings
Comprehensive guides & tutorials
Extensive donation management
Fully-editable donation forms
MORE INFO / DOWNLOAD
2. Charitable (Our FAV)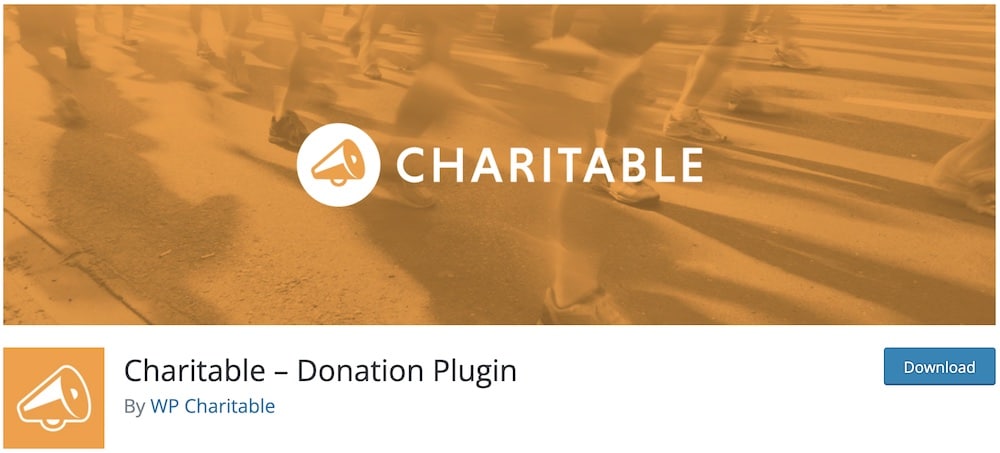 Just like Give WP, Charitable is a powerful plugin tailored for beginner and professional developers and website owners. But this is the one we prefer the most.
You can quickly and easily collect donations with this free WordPress donation plugin.
Charitable is popular with non-profits that organize fundraisers through WordPress. During our testing, we had a lot of fun customizing fundraisers. The styling options are endless.
Charitable is perfect for those who need to COLLECT donations through PayPal, Stripe, etc.
For PayPal, all you have to do is add your address, and that's it. Finally, the plugin also lets you customize your emails.
From donation receipts to administrative notifications, there's nothing you can not edit with Charitable.
Charitable features:
10,000+ active installations
4.9/5 Ratings
Perfect for fundraising
Simple PayPal integration
Ultimate control over fundraising
MORE INFO / DOWNLOAD
3. PayPal Donations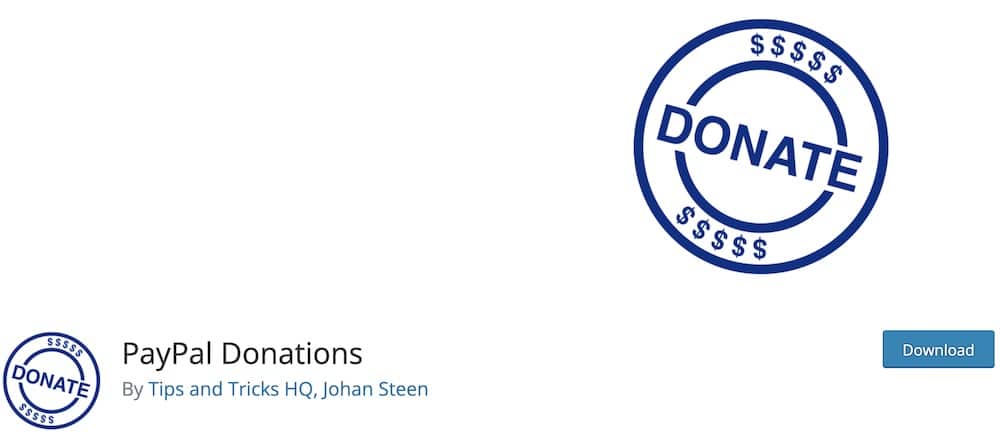 As the name suggests, this is one of the best free WordPress donation plugins if you prefer collecting via PayPal.
If you want to quickly set up a donation or fundraiser on your WordPress blog or website, this is the plugin for you.
We were able to set up and start collecting donations within minutes.
Yes, it's THAT quick!
Everything is done with a simple WP shortcode integration.
Even if you are unfamiliar with shortcodes, there's no need to worry. The developers have provided plenty of tutorials to guide you.
In short, if you want to create a simple form for donations through PayPal, this is by far the best solution for you.
PayPal Donations features:
40,000+ active installations
5/5 Ratings
Translated into 13+ languages (also works with popular WordPress translation plugins)
Beginner-friendly
0 coding needed
MORE INFO / DOWNLOAD
4. Donorbox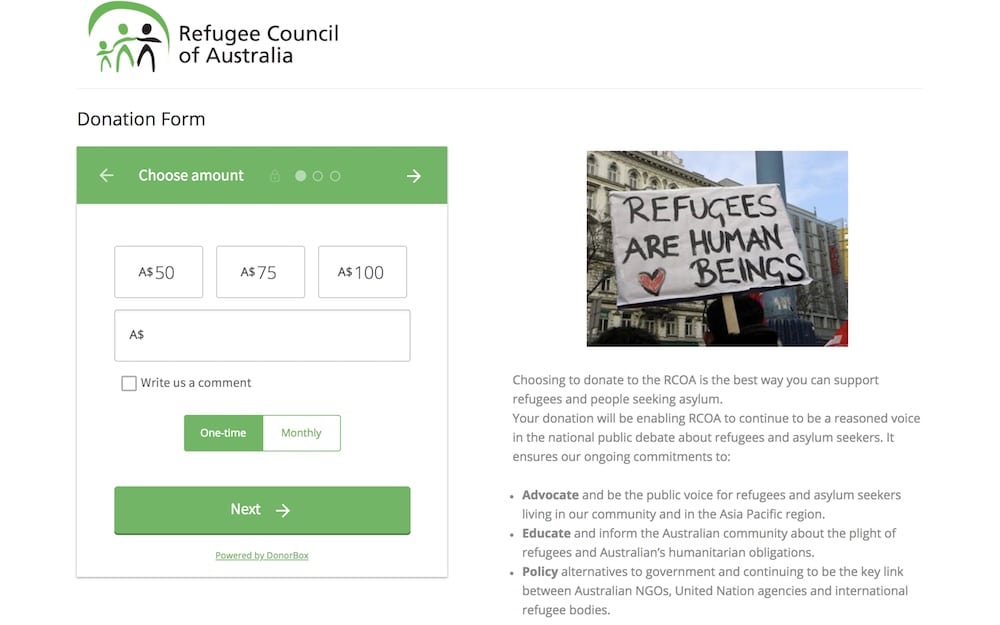 We love the concept of donor boxes. That's why Donorbox is one of our most POPULAR free WordPress recurring donation plugins.
Donorbox is a flexible and valid plugin that you should definitely try.
You can quickly set up any type of donation with Donorbox. It lefts out nothing – from one-time contributions to annual or weekly recurring donations.
Another advanced feature of this plugin is to accept payments from numerous payment gateways.
Whether you want to get funds via credit cards, PayPal, Google Pay, Apple Pay, or Stripe, Donorbox has you covered.
Donorbox features:
10,000+ active installations
4.9/5 Ratings
All-around & fully-customizable forms
Supports multiple payment gateways
Accepts different currencies
MORE INFO / DOWNLOAD
5. Seamless Donations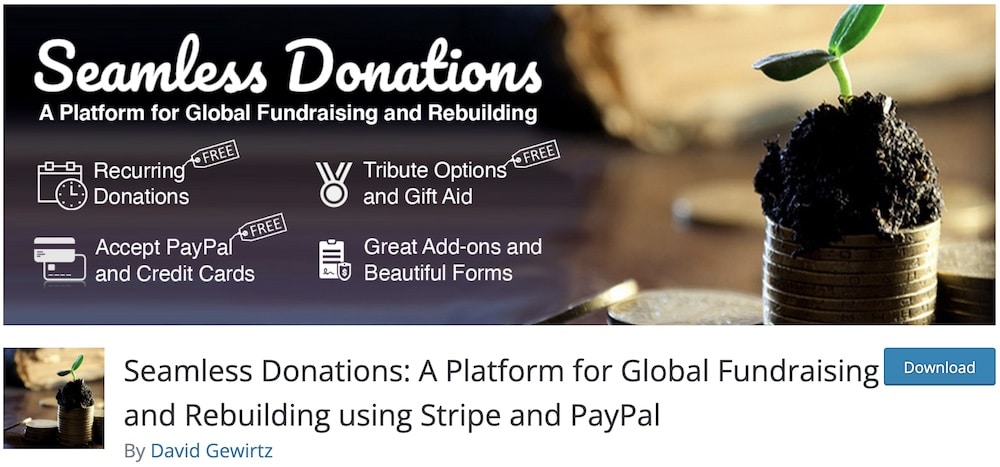 Like all the plugins we selected, Seamless Donations is a completely free WordPress donation plugin. Still, everything about this plugin reminded us of premium plugins.
David Gewirtz has done a great job creating one of the most advanced yet beginner-friendly solutions out there.
You can easily manage your fundraiser from the WordPress dashboard with Seamless Donations.
This plugin proved to be very reliable and ultimately responsive during our review.
Seamless Donations gave two of our clients a COMFORTABLE way of collecting funds for their local organization.
Seamless Donations features:
7,000+ active installations
4/5 Ratings
Perfect for automatic recurring donations (Stripe & Paypal)
Tributes & Gift Aid (for UK)
Custom "thank you" email
MORE INFO / DOWNLOAD
6. Cryptocurrency Donation Box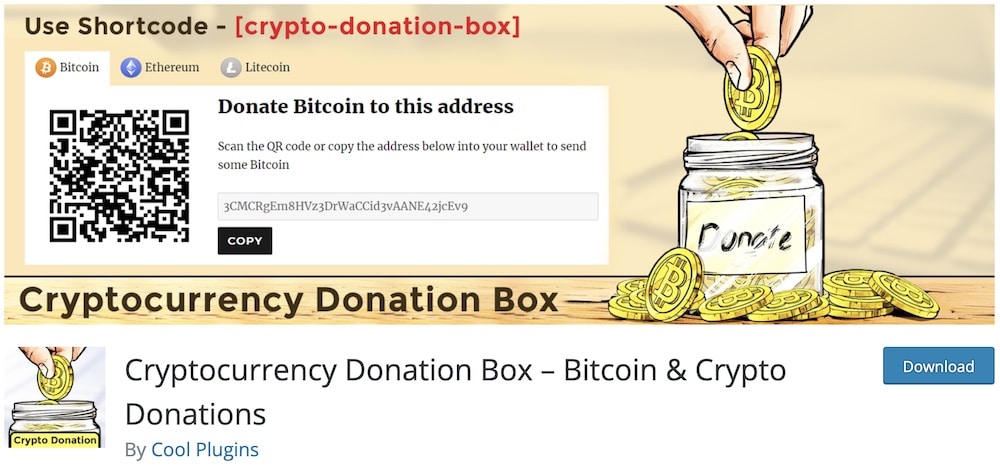 All of our picks above allow you to accept payments through platforms like PayPal or Stripe.
But what if you want to create a donation or fundraising based on cryptocurrencies? (Crypto's hype!)
In that case, we have the perfect free WordPress donation plugin for you. Cryptocurrency Donation Box helps you set up a donation across more than 50 cryptocurrencies.
Best of all, the process is quite simple. All you need to do is add your coin wallet address and integrate the app's shortcode into each of your pages and posts.
As one of the most reliable and innovative plugins on the market, Cryptocurrency Donation Box easily made it to our best-of list.
Cryptocurrency Donation Box features:
3,000+ active installations
4.8/5 Ratings
QR code
Supports 50+ major cryptocurrencies (Bitcoin, Ethereum, etc.)
100% mobile-ready
MORE INFO / DOWNLOAD
7. Donation Thermometer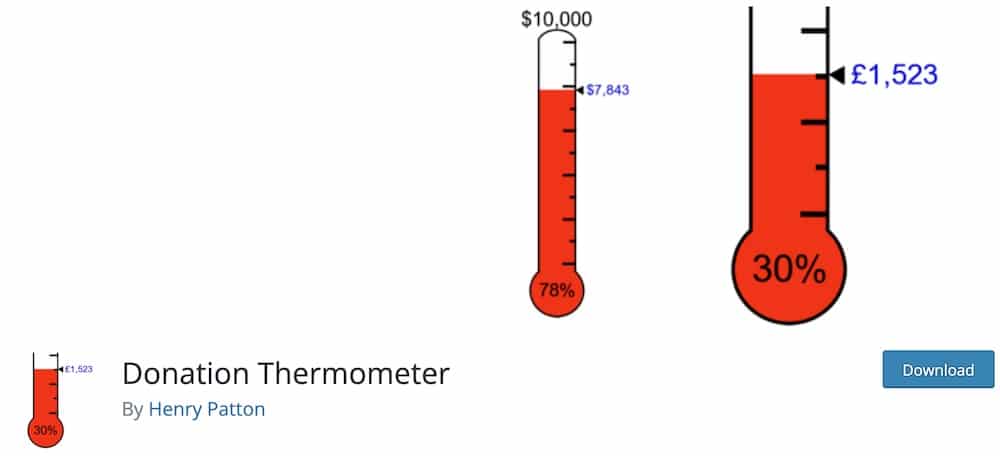 Donation Thermometer is the most beginner-friendly donation plugin we have tested. And it's super COOL.
The thermometer graphic is a clever way to motivate your website visitors! (It worked for us.)
It has a classic user interface and setting up the graph only takes a few seconds.
Note: This plugin itself does not accept payments.
Most sites use it to complement other donation plugins (that accept payments) like Give WP, Donorbox, etc.
You can easily edit the thermometer's color, size, currency, text, and more.
Once you place the shortcode on your website, it'll automatically update data even if you link it with other plugins.
Donation Thermometer features:
3,000+ active installations
4.3/5 Ratings
Attention-grabbing graphic
Doesn't support payments (you need to combine it with another plugin)
Fully-customizable & responsive
MORE INFO / DOWNLOAD
8. WP Fundraising Donation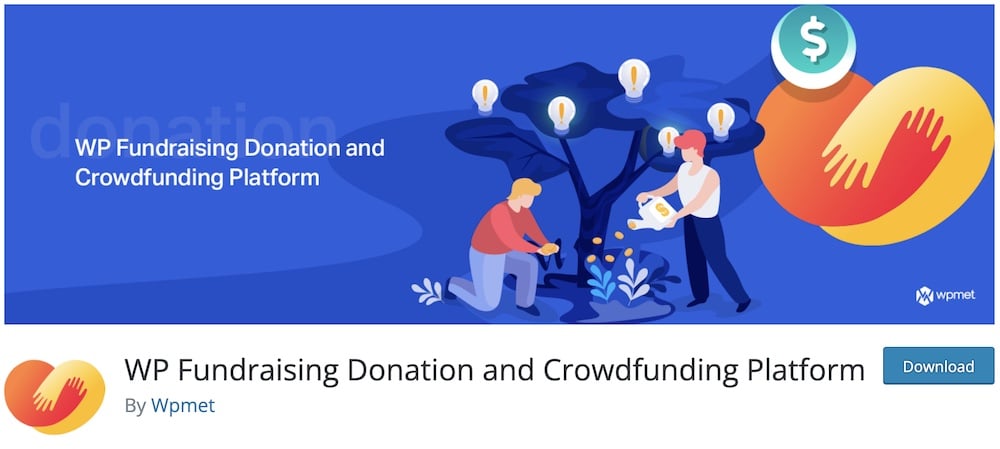 WP Fundraising Donation is a brilliant plugin created by Wpmet. It quickly became known as a top-notch solution for crowdfunding websites.
The tool is beginner-friendly with everything you need.
This free WordPress donation plugin works like a fully customizable platform.
With WP Fundraising Donation, you can accept donations via PayPal and Stripe in just a few minutes.
This plugin proved to be very reliable and QUICK to master during our testing.
Everything happens on the front-end dashboard, is fully responsive and has a highly user-friendly interface.
WP Fundraising Donation features:
2,000+ active installations
4.3/5 Ratings
Comes with PayPal & Stripe payment gateways
Frequent updates
Perfect for crowdfunding websites
MORE INFO / DOWNLOAD
9. WP Crowdfunding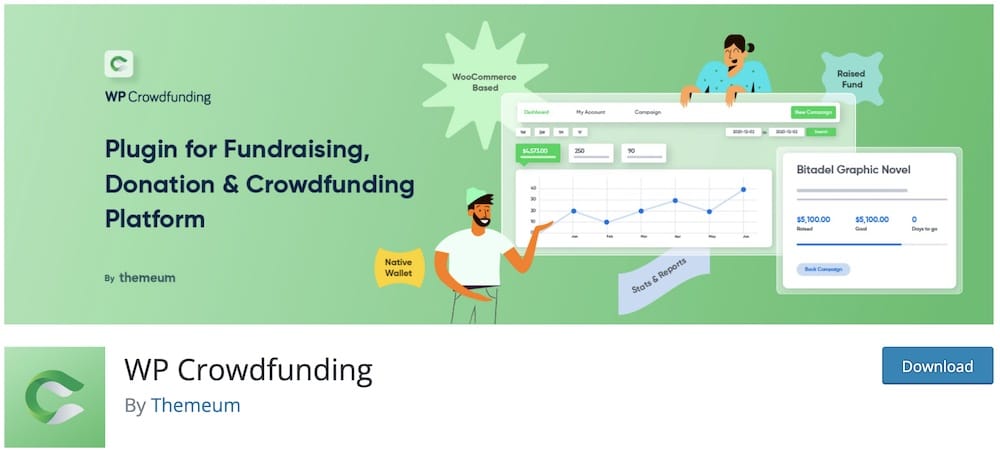 Although WP Crowdfunding is in the last place on our list, it could easily be in the first place.
After all, Themeum designed this free WordPress donation plugin, an innovative team of developers.
WP Crowdfunding is the perfect all-rounder for those of you who want to create a fundraising backer site.
So, you have just explored fundraising platforms like GoFundMe or Fundly and would like to make one yourself.
That's great – WP Crowdfunding is your best bet!
The plugin is very POWERFUL but may not be the most beginner-friendly on our list.
However, you can set up your brand new crowdfunding platform problem-free thanks to the top-notch documentation.
WP Crowdfunding Donation features:
5,000+ active installations
4.5/5 Ratings
PayPal, Stripe, Authorize.net, WooCommerce gateways & more
Extended documentation
Email notifications
MORE INFO / DOWNLOAD
How To Choose The Right WordPress Donation Plugin
Don't go about picking and adding a WordPress fundraiser plugin just for the sake of getting donations.
You never know when you'd like to add new functionality and if the current plugin doesn't support it you either need to install a new WordPress plugin one or migrate to a new one.
That means extra work.
But you'll thank yourself later when you have everything sorted out from the start with a donation plugin that can do multiple things.
This is how we chose the best plugins for this collection.
Feel free to help yourself with these key features if you plan on doing further research:
It needs to be responsive so you can receive donations from desktop and mobile users.
The plugin needs to have multiple payment gateways.
Option for one-time and recurring donations.
Easy to customize so you can brand it and add your messaging.
Automatic receipts and email notifications.
(Optional but beneficial) Ability to connect with email service providers for email marketing.
The plugin is affordable but ideally free, like the ones on this list.
These are some of the key factors for WordPress donation plugins that we used for testing and will help you pick the right one much easier.
Frequently Asked Questions About WordPress Donation Plugins
Does WordPress allow for donations?
Yes, WordPress allows you to accept donations on your website or blog. Illy one of the easiest ways of adding fundraising functionality to your site.
How do I set up a donation site on WordPress?
You can set up a donation site or expand your existing one with donation functionality by using a free WordPress plugin. It's easy to install and configure for your non-profit and charity needs.
Can WooCommerce be used for donations?
Yes, you can use WooCommerce for donations with the Subscription extension. You can accept any type of donation, one-time or recurring.
What is the best donation plugin for WordPress?
The best all-around donation plugin for WordPress is Give WP. But Charitable is another excellent solution that proved extremely reliable during our tests.