We highly advise you to protect your website by using these best free WordPress backup plugins.
A. Smart. Tactic.
You do not want to lose all of your website's data/content after a bug or hack, DO YOU?
Unfortunately, many website owners underestimate the power and usefulness of backups.
You can now avoid such disastrous situations!
Plugins like UpdraftPlus and Duplicator have helped our clients and us on numerous occasions.
And the best part is that installing and using such plugins is easy and quick. All the plugins we tested are innovative, reliable and simple to learn.
Backing up your files only takes a FEW MINUTES!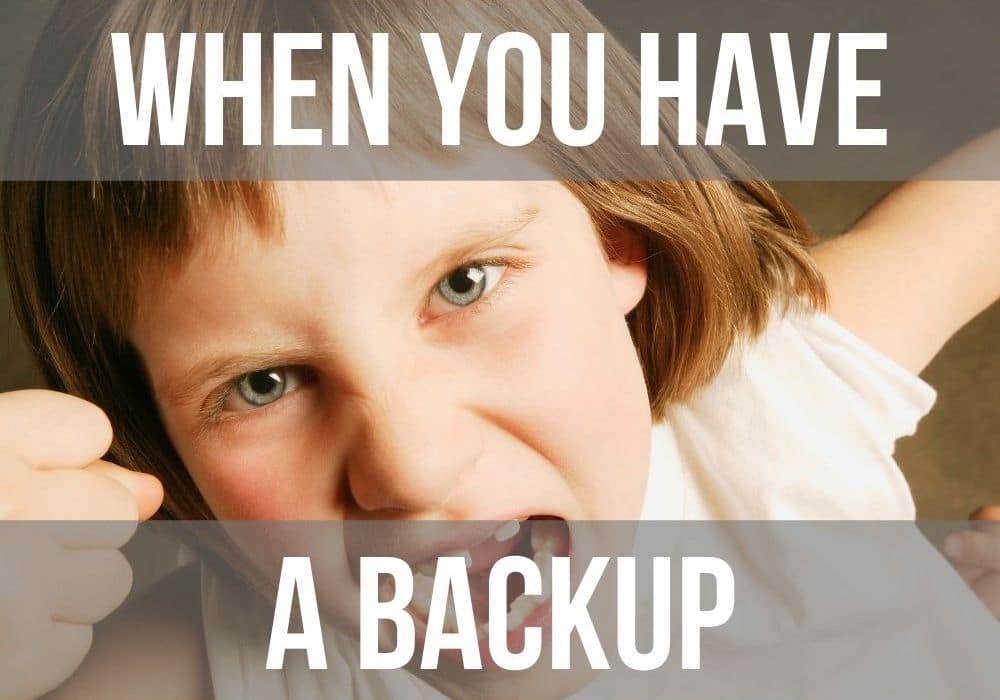 Avoid the risk!
Ultimate Free WordPress Backup & Restore Plugins
Note: We advise you to create a backup even when you update WordPress or make any (major) website improvements.
1. UpdraftPlus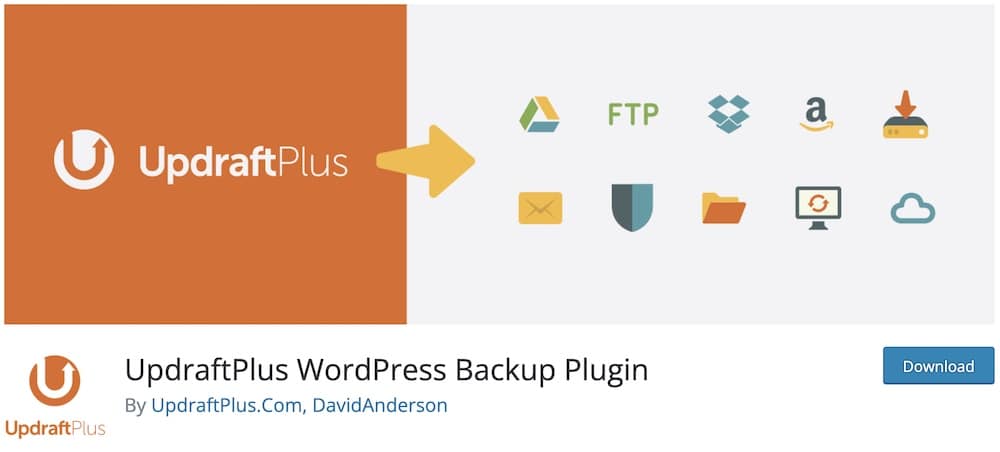 With more than 3 million active users and an overall rating of 4.8 out of 5 stars, UpdraftPlus needs no introduction.
However, its popularity is not the only reason why this plugin is first among our top picks.
It's hard to find anything better when it comes to powerful backup plugins. During our testing, UpdraftPlus fully justified its excellent ratings.
Note: You can create backups of your database in just a few minutes.
UpdraftPlus is compatible with numerous cloud platforms (Dropbox, Google Drive, FTP, UpdraftVault, and more).
All you have to do is select the platform you are using and you are ready TO GO. Finally, the plugin is available in more than 30 languages.
All in all, this plugin is just what you need if you want to avoid crashes, hacker attacks, errors caused by buggy plugins, and security vulnerabilities.
UpdraftPlus features:
3+ million active installations
4.8/5 Ratings
Supports WordPress Multisite
Full, manual & scheduled backups
MORE INFO / DOWNLOAD
2. Duplicator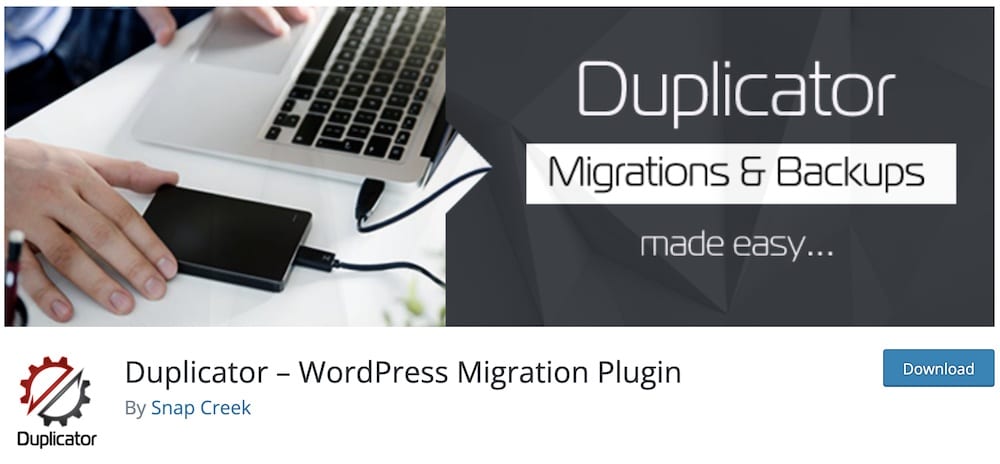 Like UpdraftPlus, Duplicator is also an extremely popular free WordPress backup plugin. The plugin is developed by Snap Creek, an experienced team of developers.
The tool is very beginner-friendly and does not require any programming knowledge. With Duplicator, you can easily move, clone or migrate your website between domains and hosts.
All these tasks happen automatically, in real-time and without downtime.
But what exactly does Duplicator back up?
Well, pretty much EVERYTHING, from your site's plugins and theme to your database and files. Everything is zipped into one package. You can then unzip this package to any location.
If you do not have any experience with plugins like this, do not worry. The comprehensive video demos will guide you from start to finish.
Duplicator features:
1+ million active installations
4.9/5 Ratings
Perfect for moving or migrating your website
Supports multiple cloud platforms
Live site to staging
MORE INFO / DOWNLOAD
3. BackWPup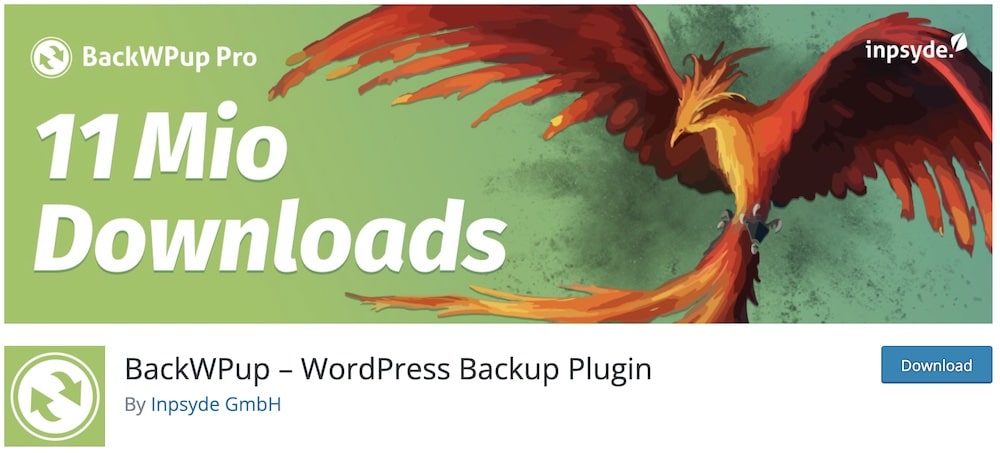 If neither UpdraftPlus nor Duplicator meet your needs, then BackWPup is the best choice for you.
This free WordPress backup plugin proved to be a reliable and beginner-friendly solution during our testing.
With BackWPup, you have the option to create a simple .zip file that contains all of your site's databases, files, plugins, and themes. Then, the app AUTOMATICALLY transfers this file to one of the compatible cloud services (Dropbox, S3, Amazon Glacier, Google Drive, etc.).
What we really liked about this app is the top-notch documentation.
The developers have even created a series of video tutorials available for free on YouTube.
BackWPup features:
700,000+ active installations
4.4/5 Ratings
Flawless WordPress XML export
Great video guides
Very reliable
MORE INFO / DOWNLOAD
4. BlogVault Backups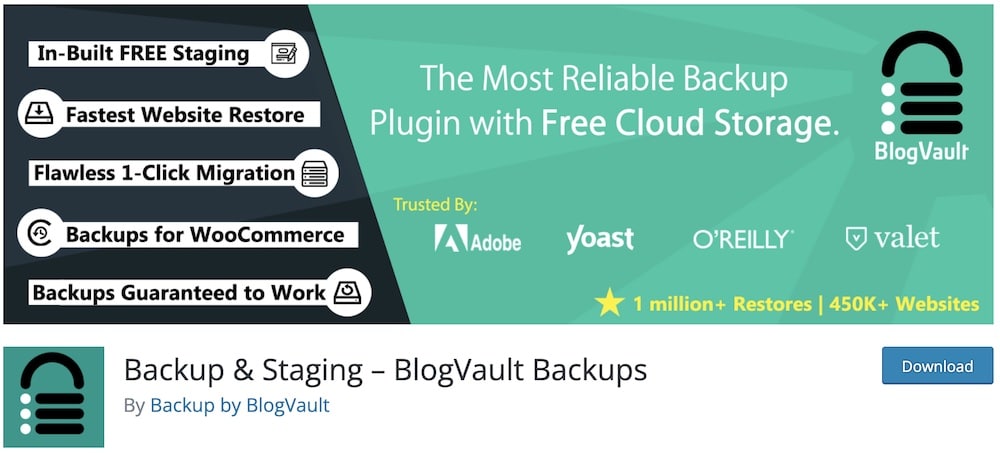 If you need a totally flexible plugin to migrate your site from WPEngine, Pantheon, LiquidWeb or any other web host, BlogVault is a great solution. This free backup plugin has been around since 2014 for a reason.
BlogVault does exactly what it's supposed to do. It's a simple backup utility that allows you to quickly restore or migrate your WordPress website.
The plugin is also one of the most popular when it comes to backups for WooCommerce stores.
The support team is ALWAYS there for you and the plugin counts more than 1 million successful restores. What more can we ask from a free plugin?
BlogVault features:
90,000+ active installations
4.2/5 Ratings
Perfect for WooCommerce backups
Can back up 330GB+
10,000+ compatible web hosts
MORE INFO / DOWNLOAD
5. WP Database Backup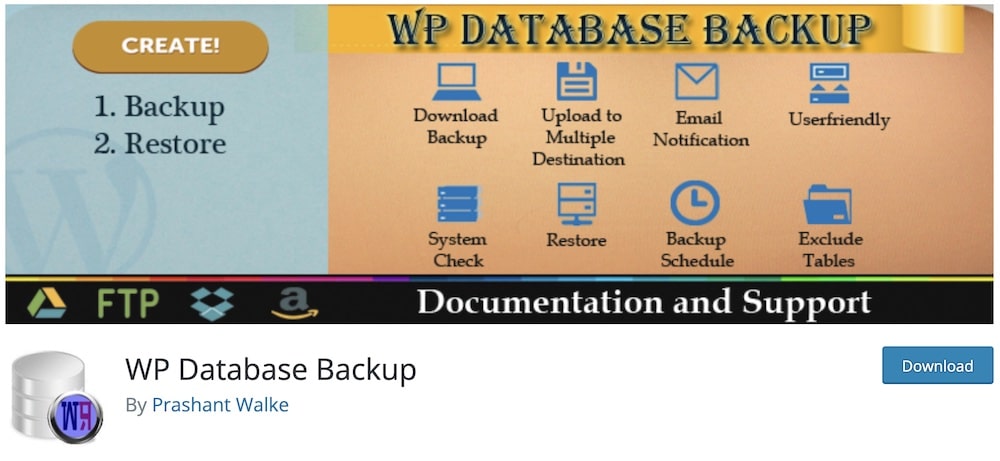 Prashant Walke has developed WP Database Backup, one of our most popular backup plugins. We enjoyed using this particular plugin a lot on a few local WP business sites.
With WP Database Backup, you can choose between manual and automatic database backups. This way, you can easily avoid the risk of losing important files.
During our testing, we did not have any issues transferring the backups to Dropbox or Google Drive.
In a few words, this plugin is a USER-FRIENDLY solution and a great alternative to more popular plugins like Duplicator.
WP Database Backup features:
60,000+ active installations
4.6/5 Ratings
One-click restore
1 minute to configure
Allows database backup to email
MORE INFO / DOWNLOAD
6. WP Time Capsule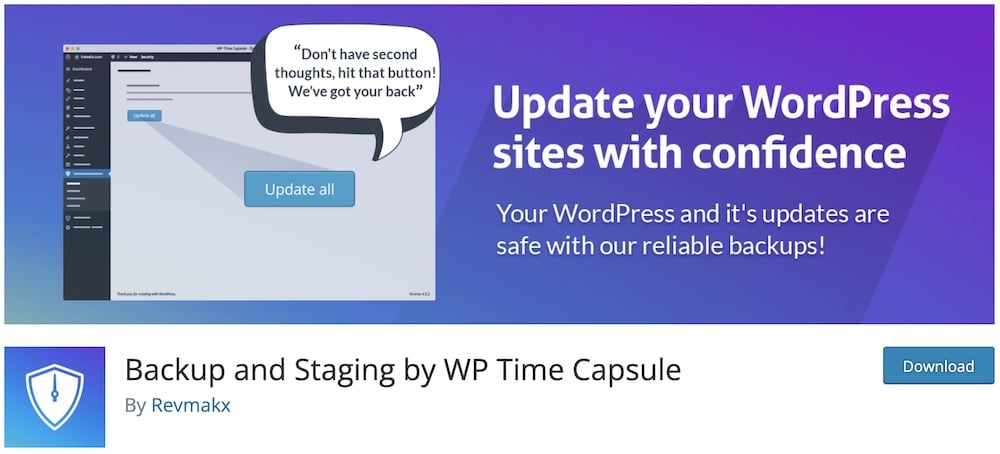 WP Time Capsule is a very trustworthy backup plugin from Revmakx, the developer of popular plugins like Interbot and InfiniteWP.
Time Capsule is fully documented and relatively easy to use, like all their plugins.
A unique feature of this free WordPress backup plugin is that you can set the backup interval to 6, 12, or 24 hours. This gives you ultimate control over your website backups.
In a few words: WP Time Capsule is an essential plugin for both beginners and professionals.
WP Time Capsule features:
20,000+ active installations
4.2/5 Ratings
Perfect for auto backups & updates
Supports Amazon S3, Wasabi, Dropbox & Google Drive
Top-notch support
MORE INFO / DOWNLOAD
7. Clone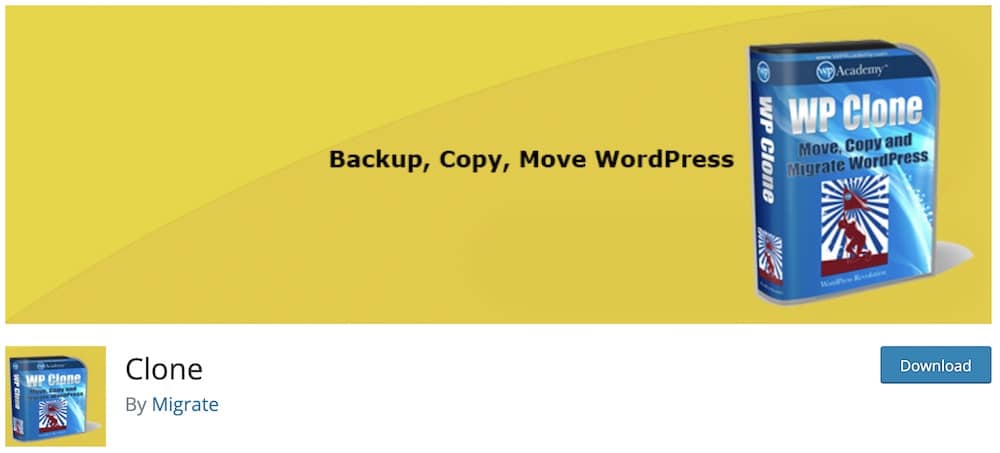 Clone is one of the most powerful and therefore our favorite backup plugin on the market. It would be a shortcoming if we did not include it in our top picks.
What sets Clone apart from other backup plugins is that it DOES NOT require FTP access to clone or migrate your site.
So all you need to do is install the plugin on the target site and you are good to go. For this reason, we think Clone is a great solution for website cloning.
Also, Clone does not clone any unnecessary system files. That means the .zip file is smaller, reducing the upload time.
It's no wonder that this free WordPress backup plugin has a huge following.
Clone features:
100,000+ active installations
4.1/5 Ratings
Perfect for quick website migration
Comprehensive tutorials
No FTP access required
MORE INFO / DOWNLOAD
8. BackUpWordPress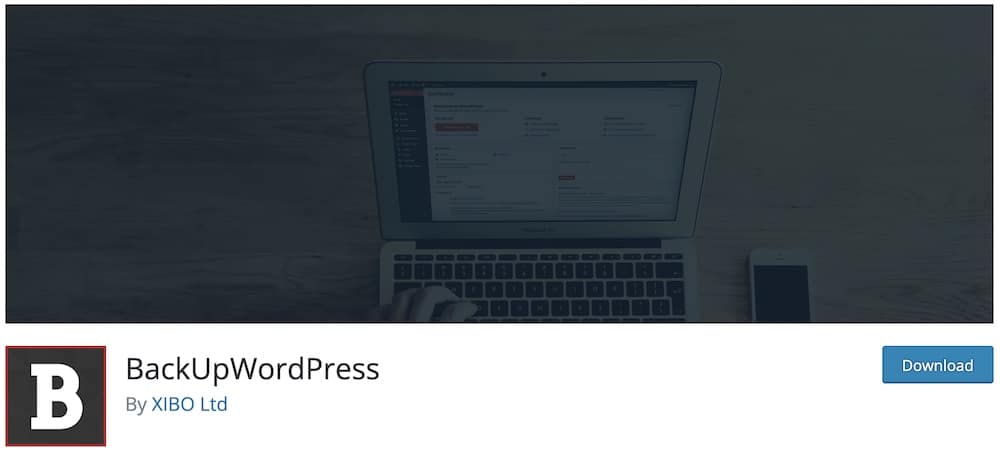 If you are looking for the most effortless to use backup plugin on the market, BackUpWordPress is just that. The plugin is so newbie-friendly that it does not even require setup!
BackUpWordPress is a completely free plugin that uses very little disc space.
This free WordPress backup plugin is hosted on the GitHub platform and is already translated into 15 languages.
Finally, BackUpWordPress offers you the possibility of QUICKLY backing your website and automatically sending the file to your email.
BackUpWordPress features:
100,000+ active installations
4.7/5 Ratings
Great for low memory (shared hosting)
No setup required
Works on PHP 5.3.2 or later
MORE INFO / DOWNLOAD
9. Keep Backup Daily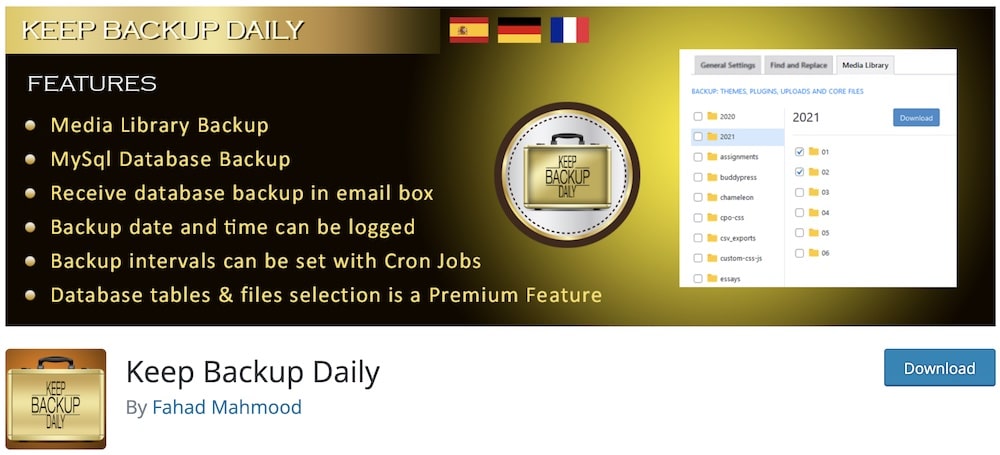 Our last suggestion is Keep Backup Daily, a reliable backup plugin developed by Fahad Mahmood.
Although it is not one of the most popular plugins out there, it proves to be an excellent alternative to UpdraftPlus.
Keep Backup Daily does exactly what its name suggests.
It is an innovative tool that allows you to schedule backups of your website.
This free WordPress backup plugin gives you the FREEDOM to choose between daily, weekly, monthly or yearly automatic backup updates.
You will automatically get the backup of your WordPress database to your personal or business email.
Keep Backup Daily features:
900+ active installations
4.5/5 Ratings
Ultimate control over your backup
Great support
Perfect for exporting mysql databases
MORE INFO / DOWNLOAD