You can easily add that catchy "add to favorites" or "add to wishlist" button to your website with these free and premium WooCommerce wishlist plugins.
TOO easy to add. But it can result in MORE sales. (Easy & more sales always grab my attention.)
Are you ready for that? Of course, you are!
This post covers:
We have researched and tested 25+ wishlist plugins to offer you this top-tier list.
You have everything you need with these versatile plugins to boost conversions.
Personalize your visitors' shopping experience and allow them to create wishlists NOW!
THE ULTIMATE 2:
We also have a guide on how to install a WordPress plugin that helps first-timers.
Top WooCommerce Wishlist Plugins (Easy To Add!)
1. WooCommerce Wishlist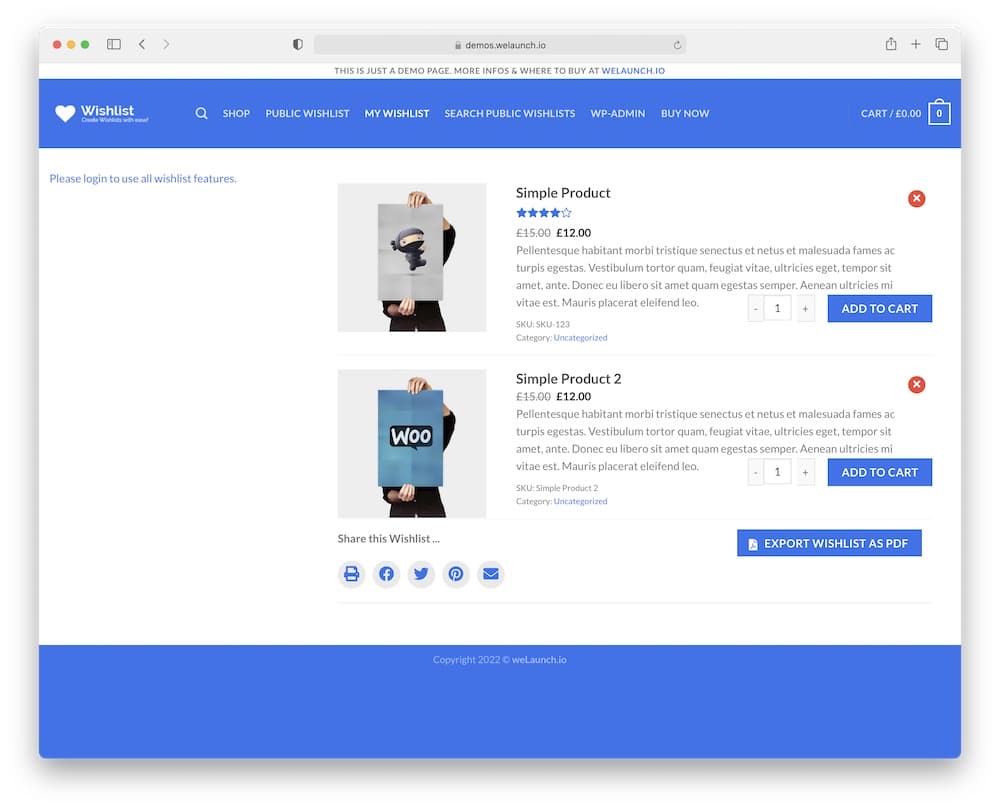 For the first pick on this list, we have the WooCommerce Wishlist plugin by WeLaunch.
The process is EASY for your customers. And they can create private and public wishlists with a few clicks.
It supports logged-in and guest customers!
Another great thing about this plugin is that the users can share their wishlist. (You know, so someone else can buy stuff for them 🙂 )
WooCommerce Wishlist features:
230+ sales
5/5 ratings
Guest mode available
WPML compatible
Price: $39 (may vary)
MORE INFO / DOWNLOAD
2. WooCommerce Wishlist & Add to Favorite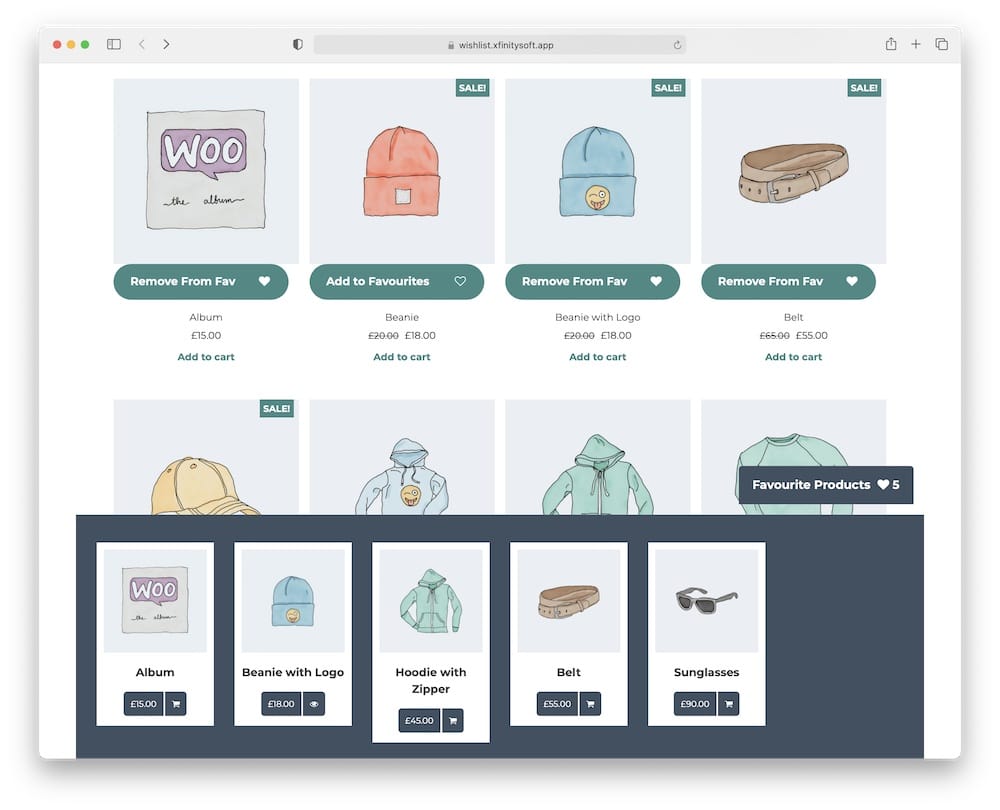 If you are looking for a plugin to monitor your customers' wishlists, this one's for you. You can provide your users with the ability to save their favorite products on their wishlist.
This premium WooCommerce wishlist plugin allows your customers to share their wishlists with their family and friends through social media networks.
Everything is SIMPLE. The only thing your customers need to do is mark the products they want as favorites.
It's an ideal solution to monitor customer wishlists to convert them into sales.
WWAF features:
70+ sales
5/5 ratings
Price: $29 (may vary)
MORE INFO / DOWNLOAD
3. WooCommerce Wishlists Extension

WooCommerce Wishlists is one of the MOST powerful plugins on the market with many great features to work with.
This premium WooCommerce wishlist plugin will allow your users to store their wishlists for up to 30 days if they are on guest mode and indefinitely if registered.
This plugin is a top choice for those who also want to have a lot of features like unlimited wishlists and social media sharing.
WooCommerce Wishlists features:
5,000+ sales
4.9/5 ratings
Customizable button text
Supports grouped products
Price: $89 (may vary)
MORE INFO / DOWNLOAD
4. My Wish List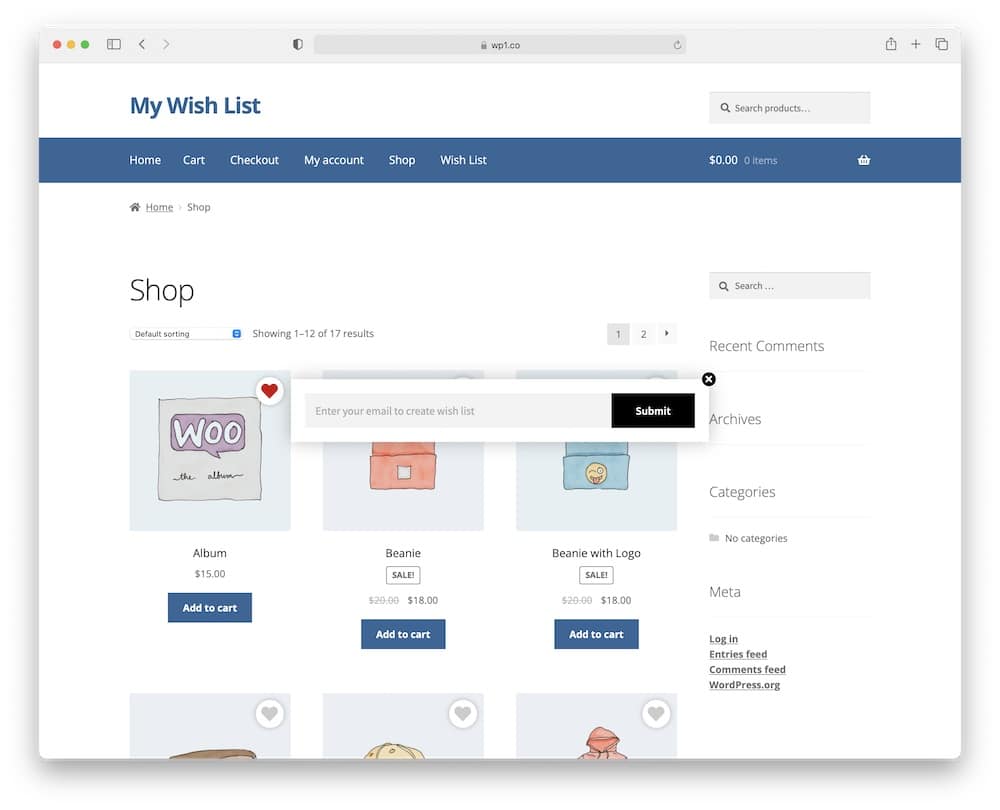 If you are looking for a premium WooCommerce wishlist plugin with comprehensive analytics about your customers, this plugin is the one.
Your users can easily add their favorite products to their wishlist with My Wish List for later purchase.
Another important thing about this plugin is that it is Ajax-enabled for fast page loads.
In short, My Wish List is another PRACTICAL choice if you want to expand your eCommerce website with a wishlist functionality.
Note: We really like the helpful analytics – take this feature to your advantage!
My Wish List features:
2,000+ sales
4.8/5 ratings
Ajax technology
Frequent updates
Price: $29 (may vary)
MORE INFO / DOWNLOAD
5. APWW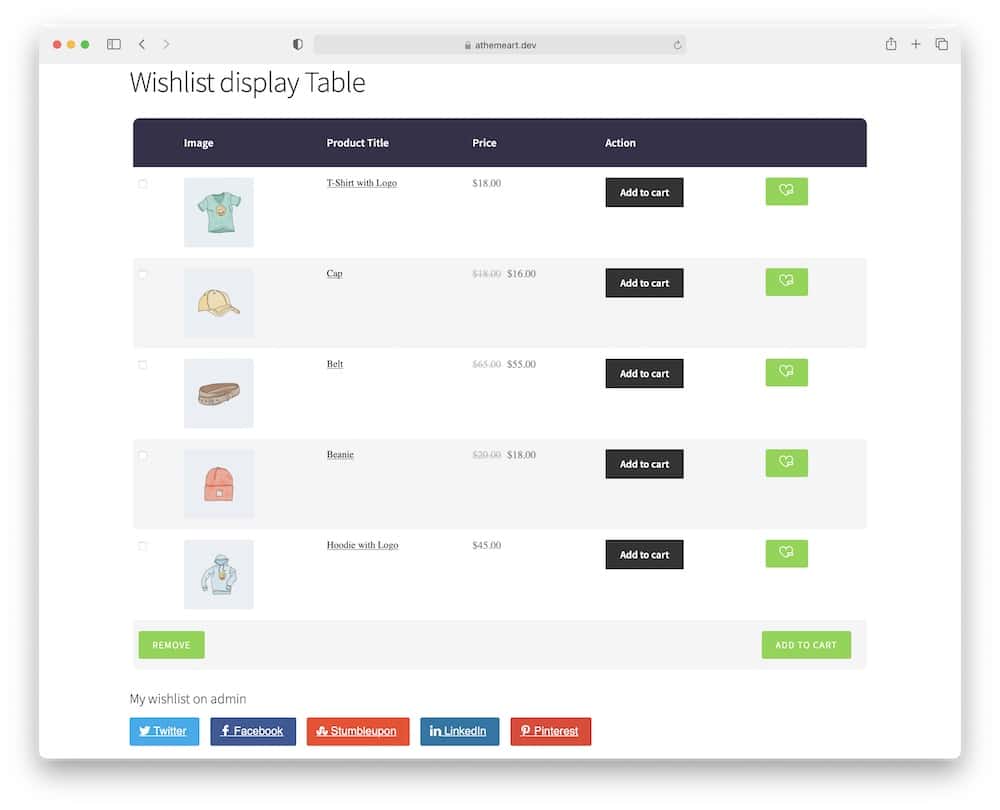 APWW is a powerful wishlist plugin with excellent customization options. This premium WooCommerce wishlist plugin ensures a pleasant experience and higher conversions.
We used it for multiple clients, so I HIGHLY recommend it!
Give your customers the ability to save their favorite products and, at the same time, share them on social.
This plugin also provides customization options for colors, fonts, borders, etc.
APWW is a fantastic solution to get an all-in-one plugin for wishlist functionality.
APWW features:
1,000+ sales
5/5 ratings
Translation ready (use any of our tested WordPress translation plugins)
Multiple wishlist button position
Price: $14+ (may vary)
MORE INFO / DOWNLOAD
Best Free WooCommerce Wishlist Plugins
6. YITH Wishlist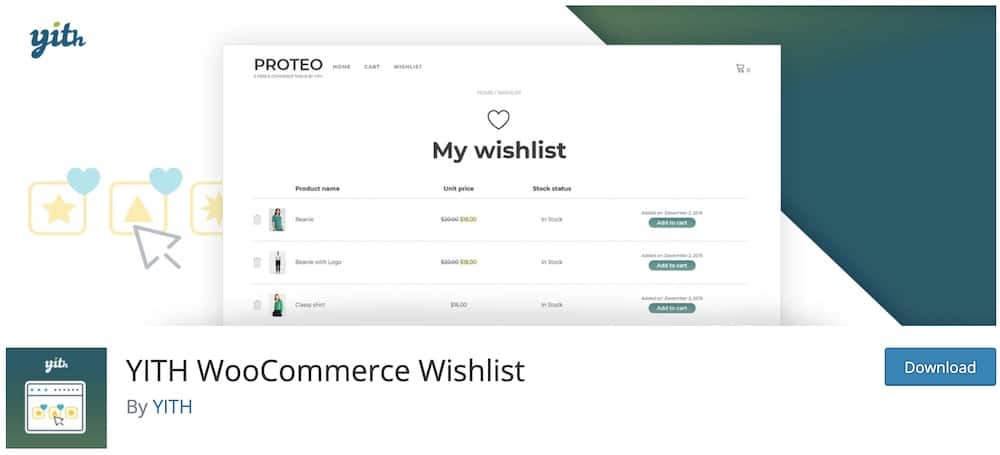 YITH Wishlist is the most popular (and our FAVORITE!) plugin on the market in this niche. This plugin will provide you with a lot of features and flexibility options.
You can allow your shoppers to create wishlists with their favorite products and share them with their friends with this free WooCommerce wishlist plugin.
Besides, this plugin comes with great support to help you with setup.
But we quickly learned everything on the fly even though we approached it from a beginner's perspective.
YITH Wishlist is a powerful plugin with all the necessary features you need.
YITH Wishlist features:
800,000+ active installations
4/5 ratings
Customizable columns
Product variation support
Unlimited wishlists
MORE INFO / DOWNLOAD
7. WishSuite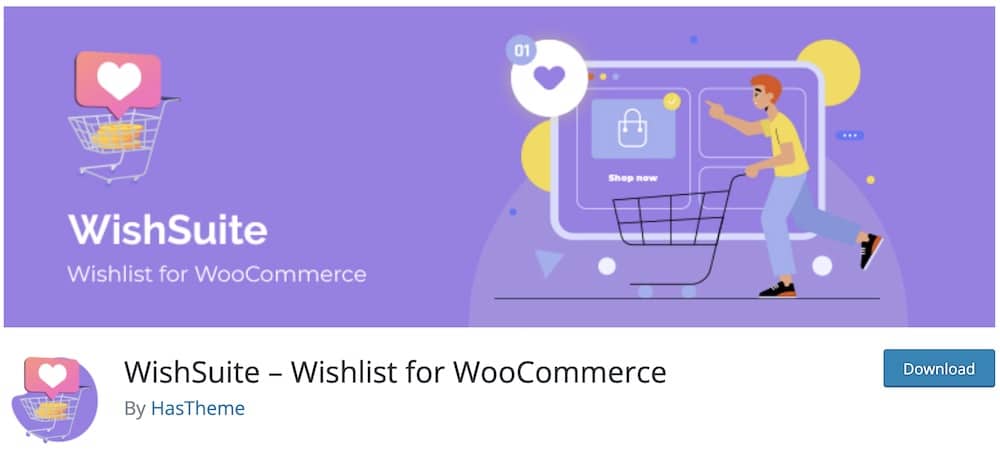 WishSuite is the beginner-friendly wishlist plugin that helped us create multiple wishlists for our clients' WooCommerce stores.
This free wishlist plugin has an effortless setup process. In addition, you can use the shortcodes to display your wishlist buttons throughout your entire website.
WishSuite is one of our GO-TO tools to add wishlist functionality. (Recommended!)
WishSuite features:
1,000+ active installations
5/5 ratings
Social media sharing
Product removal from wishlist
Customization options
MORE INFO / DOWNLOAD
8. TI WooCommerce Wishlist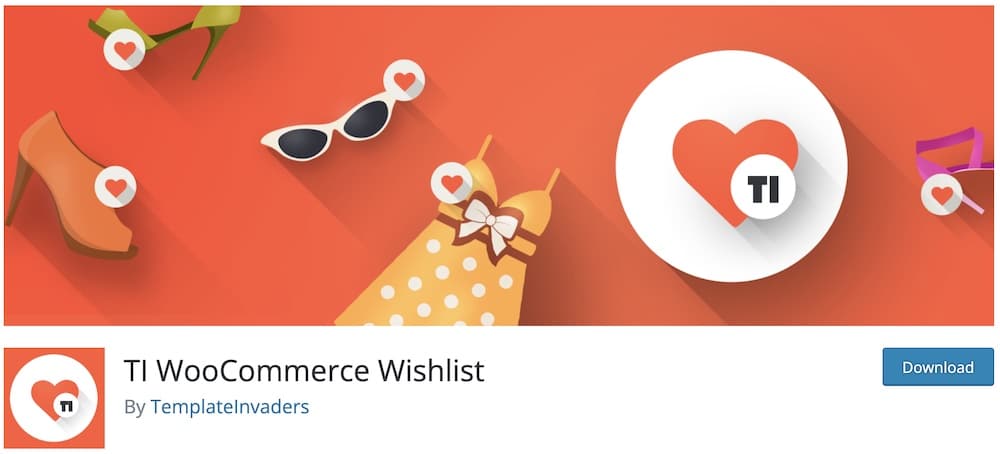 TI WooCommerce Wishlist comes with many features like the SHARING ability to popular social networks such as Twitter and Facebook.
Also, this plugin will allow you to create promotional emails based on comprehensive analytics. (Something we dug using!)
TI WooCommerce Wishlist is another top free solution for importing a wishlist function within seconds.
TI WooCommerce Wishlist features:
100,000+ active installations
4.7/5 ratings
Great support
Well documented
Support custom CSS styling
MORE INFO / DOWNLOAD
9. WPC Smart Wishlist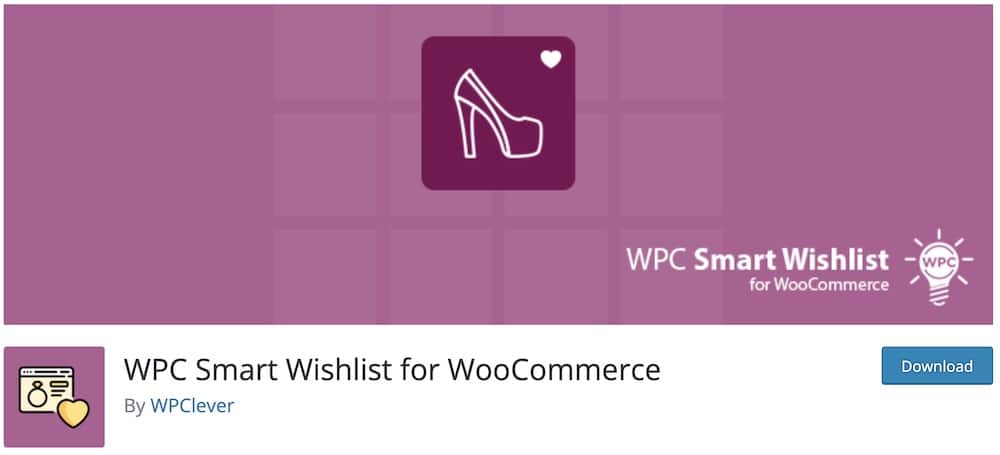 We choose one of the simplest wishlist plugins with our last pick, the WPC Smart Wishlist.
Great but straightforward! (Exactly how we like it best.)
This free WooCommerce wishlist plugin provides the BASIC wishlist icon and button.
WPC Smart Wishlist is great for all small businesses that don't want many features and options, only a simple wishlist function.
WPC Smart Wishlist features:
50,000+ active installations
4.8/5 ratings
Enable/disable the wishlist sharing button
Editable button text
Shortcodes for selected pages
MORE INFO / DOWNLOAD
What We Looked For In A Free Wishlist Plugin?
Adding a wishlist to your WooCommerce website may sound like no big deal – and you're right!
But there are still multiple boxes a plugin needs to tick to ensure everything is as you'd want it to be.
For this reason, we'd like to share with you the process of picking the best tools for your convenience.
Whish is trying to answer a bunch of questions.
5 big questions to ask before getting a wishlist plugin:
Does it receive regular updates?
Is it easy to set it up and use?
Can a customer purchase directly from the wishlist?
Is it lightweight? Will it slow down the website?
Does it offer access to users' wishlist data?
While these are some of the essentials that we tried to answer when testing each plugin, we also did additional studying.
For instance, how quality is premium plugins' support, and how insightful is the documentation of free ones?
Or does the plugin easily integrate with WordPress themes and other extensions?
On the other hand, we also thoroughly analyzed client feedback and ratings in case we missed something.
And the above nine plugins are everything YOU NEED!
::
Note: This article was originally published on April 16, 2022. But our team regularly reviews it and updates it with necessary improvements for accuracy.