Are you searching for the best free or premium WordPress review plugins to add to your site?
Most website owners want to know how their customers FEEL about products and services.
And we can't blame you!
Knowing your customers' opinions to improve your products and services (and your SEO rankings) IS VITAL.
So, don't hesitate to add a review or rating feature because it will help you increase your traffic and sales!
This post covers:
We reviewed and tested 30+ review plugins that include all the essential features you need for this blog post.
How ULTIDA Tested WordPress Review Plugins
While not all plugins have the same functionality (well, duh!), we still tested each extensively to ensure reliability, ease of use and great functionality.
One of the first things we wanted to ensure was responsiveness. When you embed reviews and ratings to your website or blog, they need to adjust to it when viewing on mobile or desktop.
Speaking of embedding, that was the second thing we checked. How EASY it is to embed reviews and how simple it is for the users to write reviews.
Does the plugin allow shortcodes and widgets for display?
Besides the reviews, (star) ratings are also highly valuable because not everyone wants to read the review – they just check the stars. This is especially practical when it comes to eCommerce sites. (But photo reviews are an even better option!)
Besides custom reviews generated on your website, it's also handy if the plugin allows you to sync 3rd-party reviews.
Also, we examined each plugin's admin dashboard to guarantee it's user-friendly and packed with settings for your customization.
Let's find out how your website visitors feel about your STUFF!
THE ULTIMATE 3:
Before you proceed, check out our tutorial on how to install a WordPress plugin.
Best Premium WordPress Ratings & Review Plugins
1. Taqyeem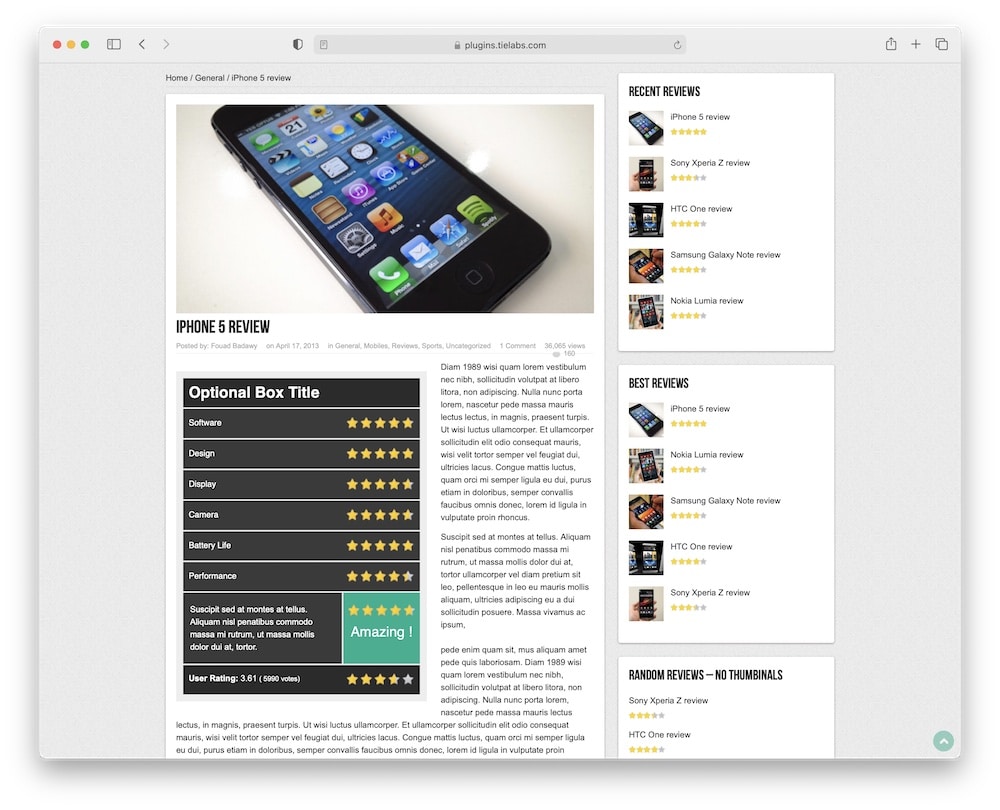 Taqyeem plugin is a great option for those who want to have FULL CONTROL over how their website rating section looks.
You can choose from a wide range of colors, styles and fonts.
The best thing about this review plugin is that you can easily add and remove unlimited criteria.
Taqyeem is an SEO-friendly plugin that will also help you rank on Google.
This plugin is designed for those who want to take control of their reviews and ratings and redesign it according to their needs.
Taqyeem features:
1,900+ sales
4.4/5 ratings
Many review styles
Works great if you want to enable RTL in WordPress
Price: $29 (may vary)
MORE INFO / DOWNLOAD
2. WooCommerce Photo Reviews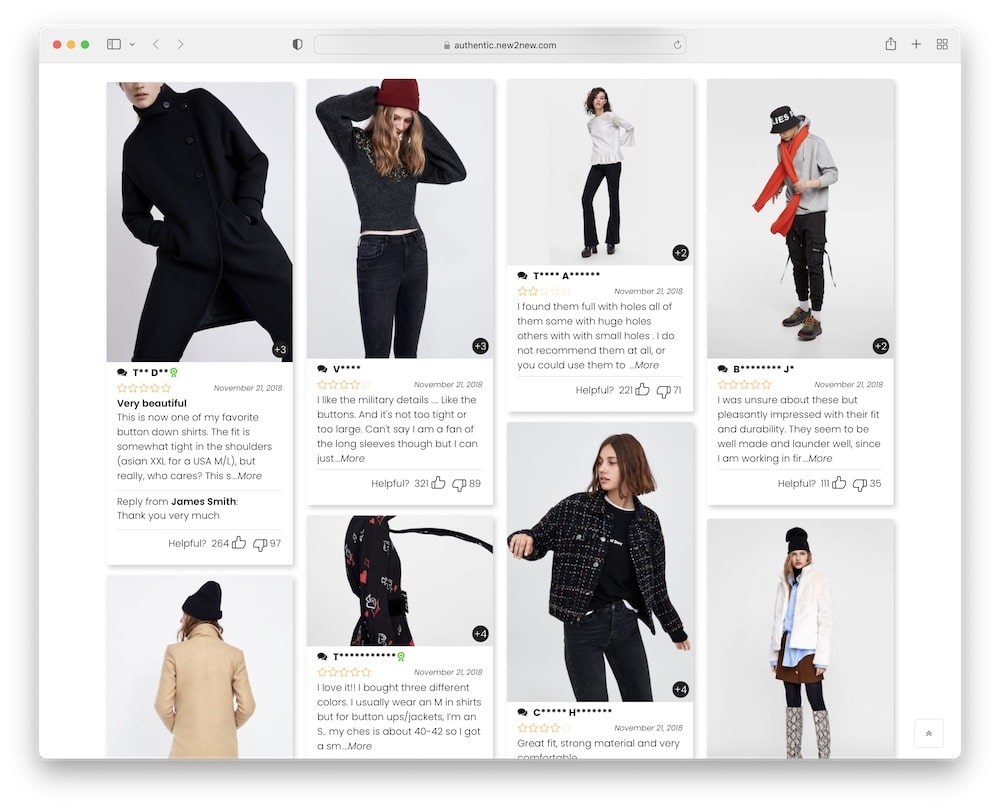 Reviews and star ratings are fine, but you can take things to the next level with photo reviews. This is the best plugin we have tested and we cannot recommend it more.
WooCommerce Photo Reviews is very easy to use but has endless settings and functions to tailor it to your online store needs.
One of our favorite features is the review for discounts, which encourages more customers to write reviews.
You can limit the number of photos, hide the author's name, create extra form fields and modify the design to fit your theme.
Let your loyal customers add content to your product pages with epic photo reviews!
WooCommerce Photo Reviews features:
2,700+ sales
4.9/5 ratings
Leave a review, get a discount
Email reminders
Price: $32 (may vary)
MORE INFO / DOWNLOAD
Best Free WordPress Review Plugins
3. Site Reviews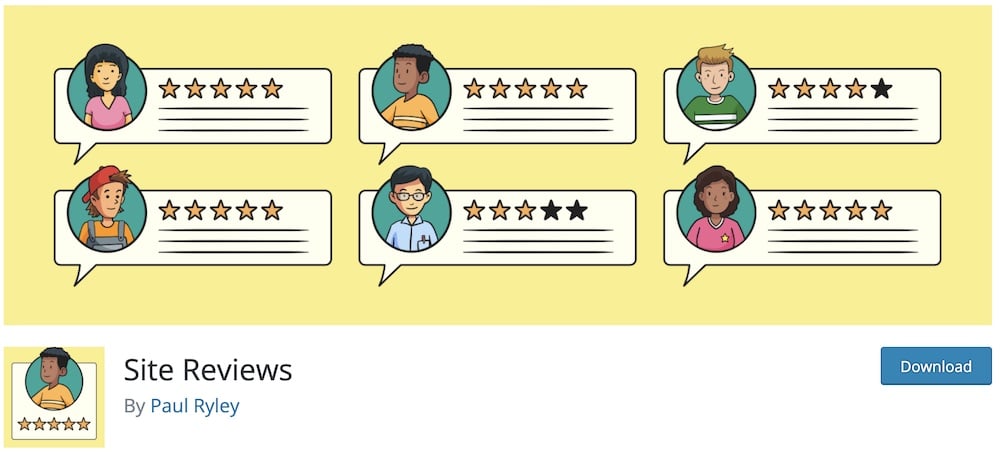 Our first free selection is the well-known Site Review plugin. This top-notch tool allows your visitors to rate your website with 1-5 stars. It is an easy-to-use and comprehensive plugin.
You can display the reviews in various formats.
One of the best features of this review plugin is that you can choose whether you want your visitors to rate the website, a specific product, page or service.
Also, you have the option to MANUALLY approve reviews before they appear on your website. This is a very helpful feature because it helps you avoid malicious comments.
Site Reviews features:
50,000+ active installations
4.9/5 ratings
Supports WP Multisite
MORE INFO / DOWNLOAD
4. Customer Reviews (WooCommerce)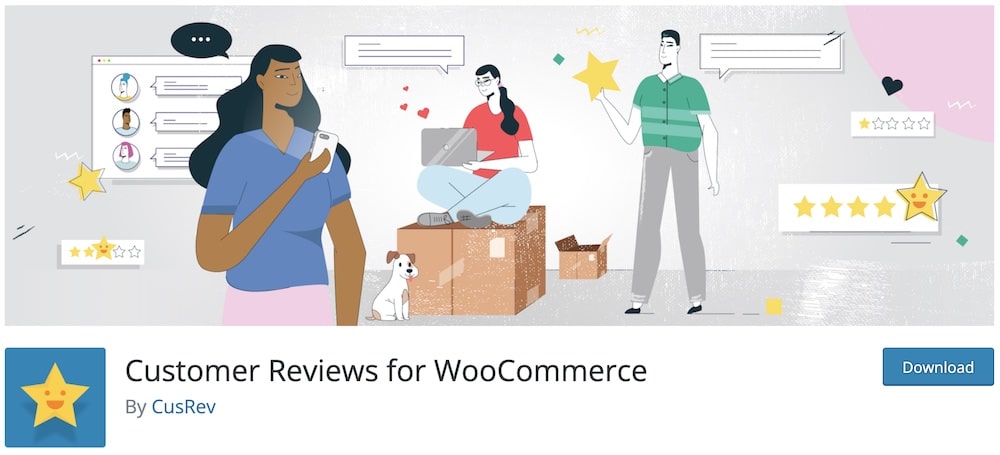 Customer Reviews is a powerful review plugin that includes many features. The tool is very useful for receiving recommendations from your customers.
It is MUCH MORE than just a review plugin.
This WordPress review plugin helps you create a site based on your customers' opinions and recommendations for your services and products.
It also offers many useful features like automatic email reminders, discounts in exchange for reviews, a FAQ page, and more.
If you are looking for an advanced review plugin that will increase your eCommerce traffic, Customers Reviews is the one for you.
Customer Reviews features:
50,000+ active installations
4.9/5 ratings
Easy setup
SEO friendly
Imports & exports reviews
MORE INFO / DOWNLOAD
5. Starfish Review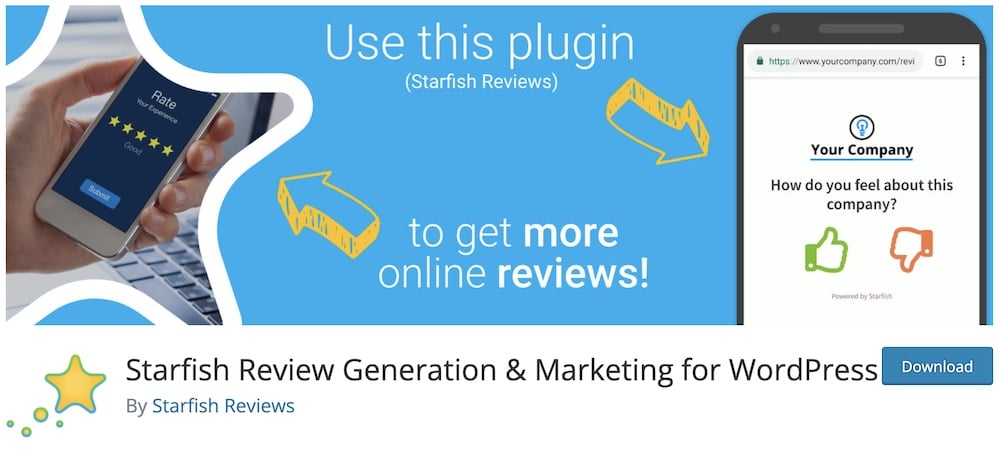 Starfish Review is a plugin that allows your clients to rate your website or services with 1-5 stars.
The plugin offers you the possibility to run marketing campaigns on your WordPress website.
All you need to do is create a "funnel" with an interface of your choice and send the URL of it to your visitors.
This "funnel" will then ask them what they think of your services. They can also leave a comment under the star rating section.
This WordPress rating plugin includes another great feature where it asks the customer if they want to give feedback directly to you.
Starfish Review features:
100+ active installations
4.7/5 ratings
Supports any review page & platform
Provides analytics
Beautiful design
MORE INFO / DOWNLOAD
6. WP Customer Reviews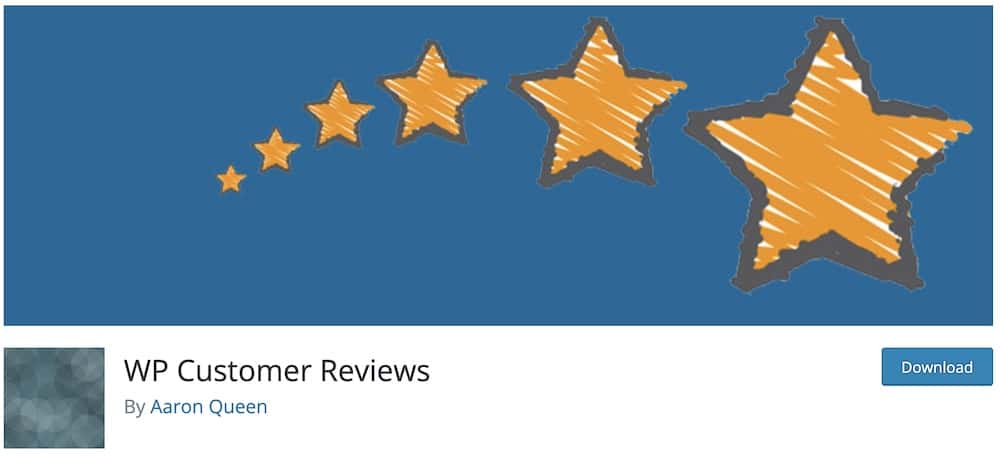 WP Customer Reviews is a fully customizable plugin that gives you TOTAL control of your customers' reviews.
You can choose which fields to add in the review sections, edit the theme, the content, the date of the reviews, and more.
The plugin allows you to moderate many fields of the ratings, so it fits your needs.
It will help you manage the reviews and create a good profile for your customers, especially if you're a beginner.
WP Customer Reviews features:
30,000+ active installations
4.3/5 ratings
Anti-spam feature
Add custom fields
Fast & Lightweight
MORE INFO / DOWNLOAD
7. Social Reviews & Recommendations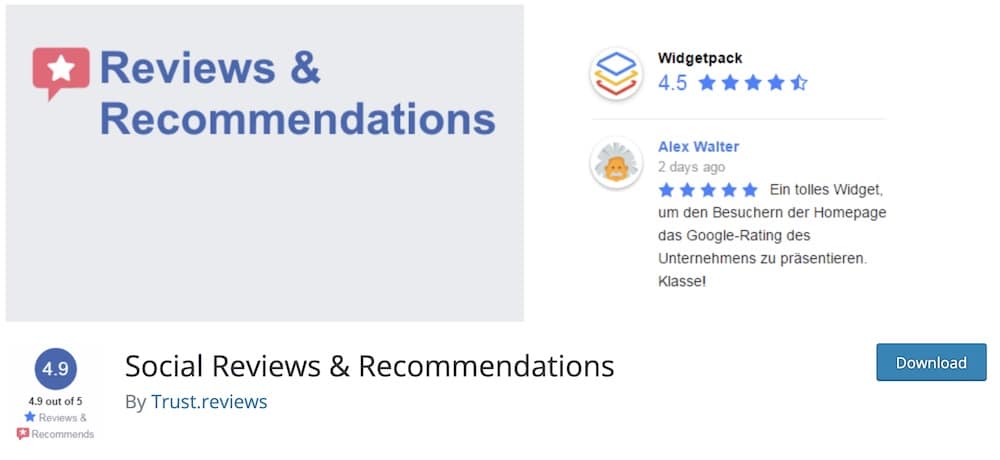 Social Reviews and Recommendations is a plugin that displays reviews from Facebook pages on your WordPress website.
You can use the WP widget in the WP sidebar or via shortcodes on different posts and pages.
This WordPress reviews plugin requires administrator rights for the Facebook page to retrieve the reviews.
It also includes a "Based on" section and adds a "Read more" button for long comments.
This is the BEST solution if you are looking for a responsive plugin for reviews on Facebook.
Social Reviews & Recommendations features:
20,000+ active installations
4.9/5 ratings
Supports Beaver Builder, Elementor, etc.
Merges reviews from different platforms
Fast cache
MORE INFO / DOWNLOAD
8. Widget for Google Reviews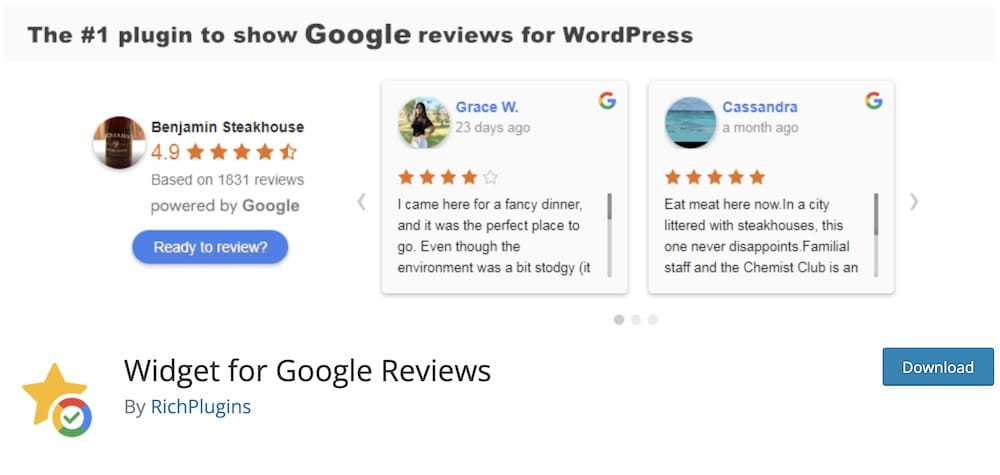 As the name suggests, this is a tool that will help you display Google ratings on your website. It is an approved Google API plugin.
This WordPress reviews plugin is an easy and effective way to increase your traffic and – of course – your sales.
It also supports other platforms like Yelp and Facebook, so you can MIX the features and get better results.
Some of our favorite features are the quick shortcode integration, the customizable layout and the review hiding setting.
This is a powerful rating plugin for Google proof!
Widget for Google Reviews features:
100,000+ active installations
4.9/5 ratings
Slider display (do you need a WordPress slider plugin)
Uses pagination to hide reviews
Excellent support
MORE INFO / DOWNLOAD
::
Note: This article was originally published on March 8, 2022. But our team regularly reviews it and updates it with necessary improvements for accuracy.