Hey custom typography fans, welcome to our review of the best free and premium WordPress font plugins.
You can now make your website or blog WAY more eye-catching and pleasing.
But instead of doing the research yourself and picking an unreliable plugin, we did the heavy work for you.
Choose a font plugin that emphasizes the character of your website (and business!).
And it doesn't matter if you are familiar with programming. You can now change the font of your WordPress website without experience.
How We Picked & Tested WordPress Font Plugins
It was important to us that the typography plugins we add to this list have decent (free) and advanced (premium) functionality.
Hey, every website and blog has different needs and requirements. Most importantly, the fonts you add to your page must be beautiful and easy to read.
Even though most WordPress themes have some present font customizations, you can gain much more control over typography with a plugin.
That's why we A-tested each plugin to pick the ultimate.
From being able to choose from 100s of fonts, altering colors and size, adding padding, and more – we looked for everything.
But we also wanted to include some more exclusive options, like text hover, secondary titles and title splitters, because so many of our users requested them.
This is how you do it – WITH a simple plugin install. (Is it your first time? Then check our guide on how to install a WordPress plugin.)
THE ULTIMATE 3:
Best Free & Premium WordPress Font & Typography Plugins
1. FontPress (Premium)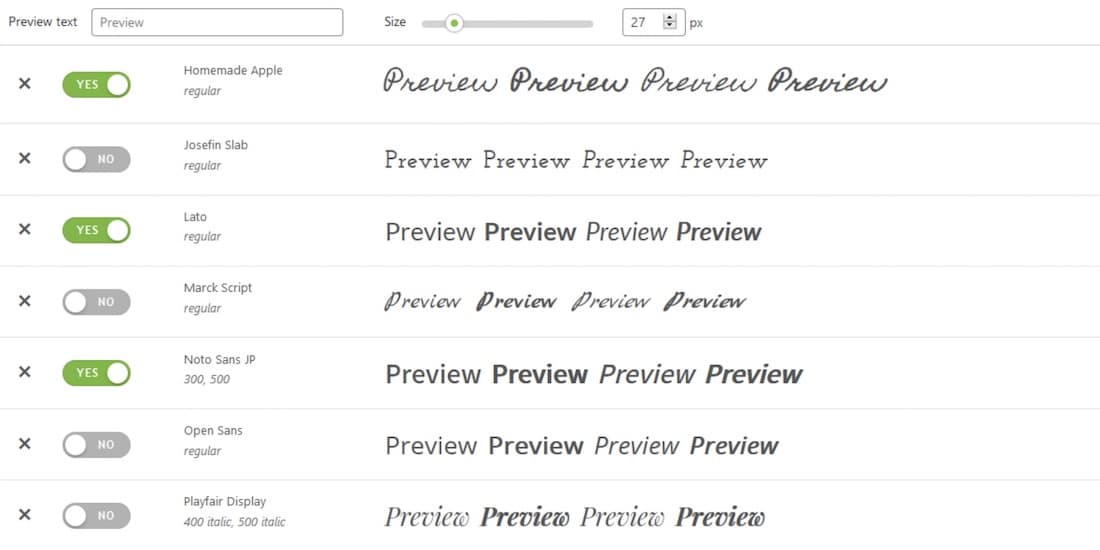 The first in our list of the best WordPress typography plugins is the well-known FontPress. It gives you access to numerous fonts from Google, Adobe Edge, Typekit, Cufon and Font Face.
This plugin has all the advanced features you need. You have the possibility to change many parameters such as font size, weight, height, style, text-decoration color, and more.
You can easily customize the text blocks you create with the typography shortcode.
To achieve better results, the font plugin includes a handy wizard that lets you fully manipulate your website font.
FontPress features:
1,300+ sales
4.5/5 ratings
Visual preview
Automatic updates
Price: $23 (may vary)
MORE INFO / DOWNLOAD
2. Easy Google Fonts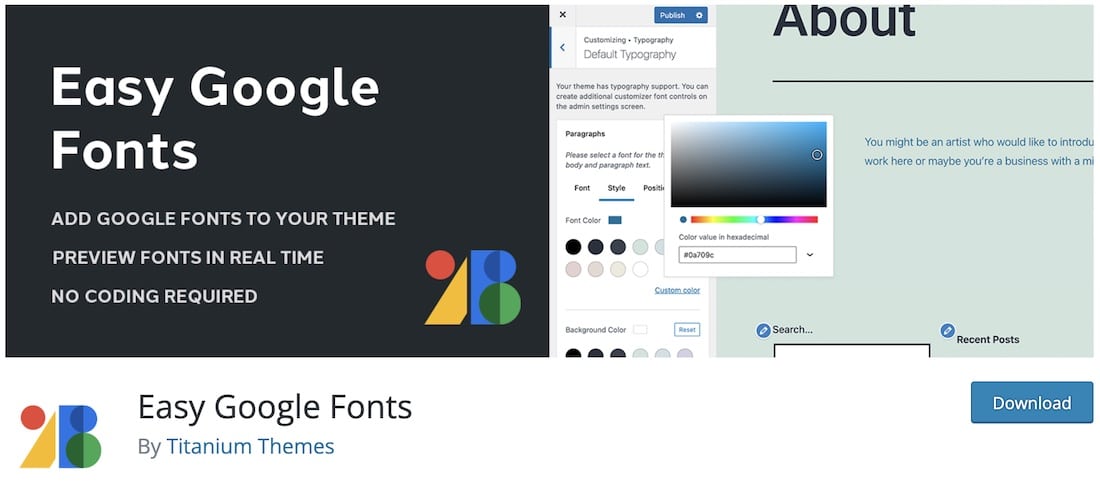 If you are a beginner and looking for a simple but flexible free WordPress font plugin, Easy Google Fonts is the best choice for you.
All you need are some basic CSS selector skills.
You can fully customize the typography of your theme on your WordPress website.
When you are done with all the changes, you can check them in the Customizer preview (in the admin panel) before applying them.
This plugin also proved to be a very safe solution for WordPress themes that do not include Google Fonts during our review.
We really liked the fact that Easy Google Fonts asked us for permission every time we made a change.
Easy Google Fonts features:
200,000+ active installations
4.6/5 ratings
600+ Google fonts
0 coding needed
MORE INFO / DOWNLOAD
3. Use Any Font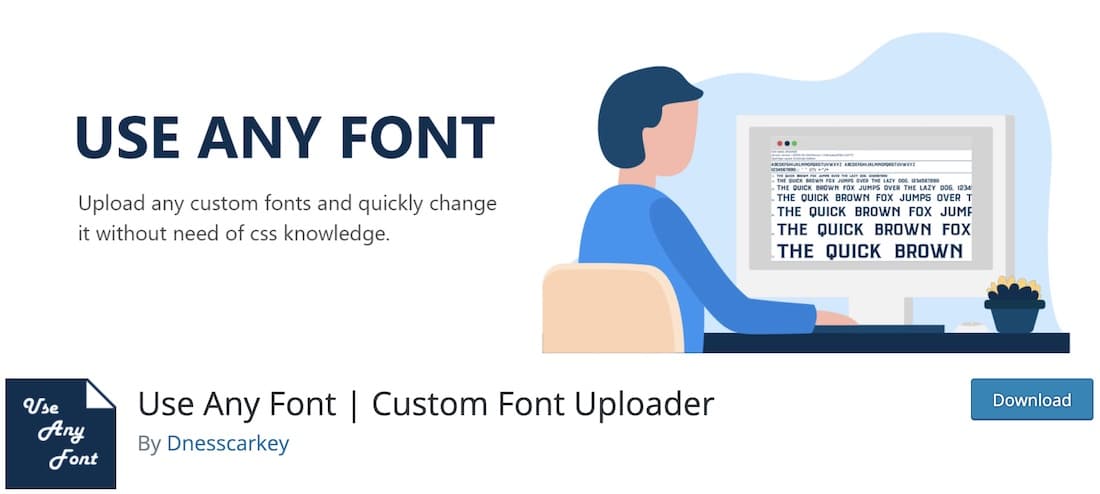 The Use Any Font plugin is one of the easiest to use. It allows you to use any customizable font up to a size of 25 MB.
Moreover, you don't need programming knowledge to use its features.
The best thing about this free WordPress font plugin is that you do not need a 3rd-party server to store your fonts. The font you import must be .ttf, .woff or .otf.
(If you have any problems (very unlikely), you can always read the detailed instructions.)
This font plugin is compatible with all browsers and supports Gutenberg editor. Finally, it is an SEO-friendly and lightweight tool that will not affect the speed of your website.
Use Any Font features:
200,000 active installations
4.7/5 ratings
Beginner-friendly
Excellent support
Needs API key
MORE INFO / DOWNLOAD
4. Better Font Awesome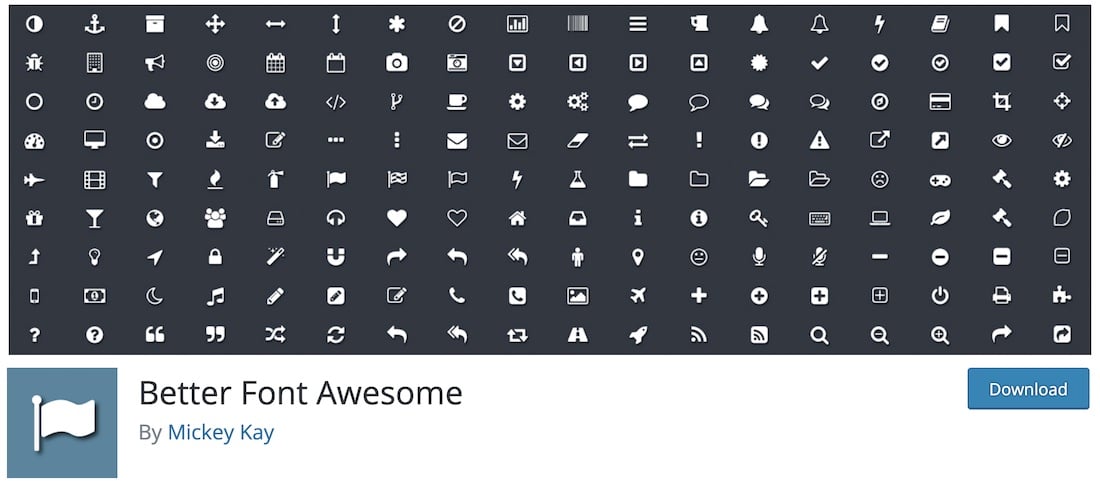 Better Font Awesome is both responsive and reliable. Even if you have no experience with shortcodes, the plugin will guide you via a well-designed shortcode generator.
Note: You can use it in three ways: via shortcode, TinyMCE and HTML.
Therefore, we consider this tool perfect for both beginner website owners and professional developers.
Better Font Awesome plugin fully justified its popularity while reviewing it.
Better Font Awesome features:
100,000 active installations
4.6/5 ratings
Shortcode generator
Constantly updated
Supports other plugins
MORE INFO / DOWNLOAD
5. Styleguide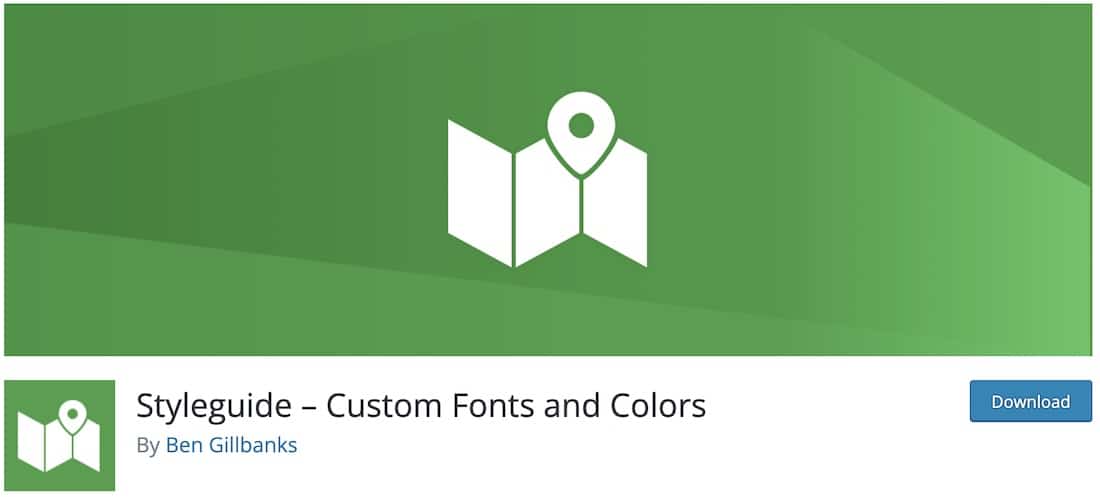 With excellent reviews and a large following, the next WordPress font plugin needs no introduction.
Styleguide is one of the most user-friendly font solution we tested.
You can edit your website's font (very) quickly with this free plugin. The tool allows you to adjust parameters like the colors and size of your fonts in a live area.
If you are a beginner and start creating your website now, you do not have to worry. Styleguide does not require any special development skills.
And you can expect it'll add even more fonts soon.
Styleguide features:
5,000+ active installations
5/5 ratings
Includes character sets
Supports 45 Google fonts
Uses filters
MORE INFO / DOWNLOAD
6. Zeno Font Resizer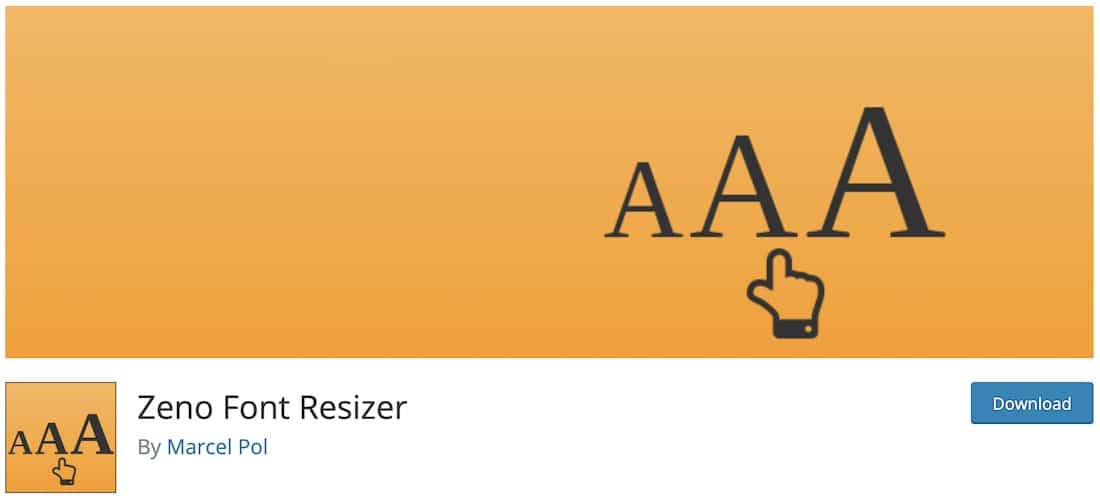 Zeno Font Resizer plugin gives your visitors the possibility to increase and decrease your website's font size.
This WordPress font plugin uses javascript and jQuery. The best thing about this Zeno is that when a visitor changes the font size, this setting is saved as a cookie.
So the next time they visit your website, they will see the font size they chose in the first place.
So. Cool.
Also, it's an easy-to-use plugin that does not require a learning curve.
If you add that Zeno is completely free, there's no reason why you should not add it to your website.
Zero Font features:
7,000+ active installations
4.6/5 ratings
Multilingual support
Easy-to-use
Fully responsive
MORE INFO / DOWNLOAD
7. Page Title Splitter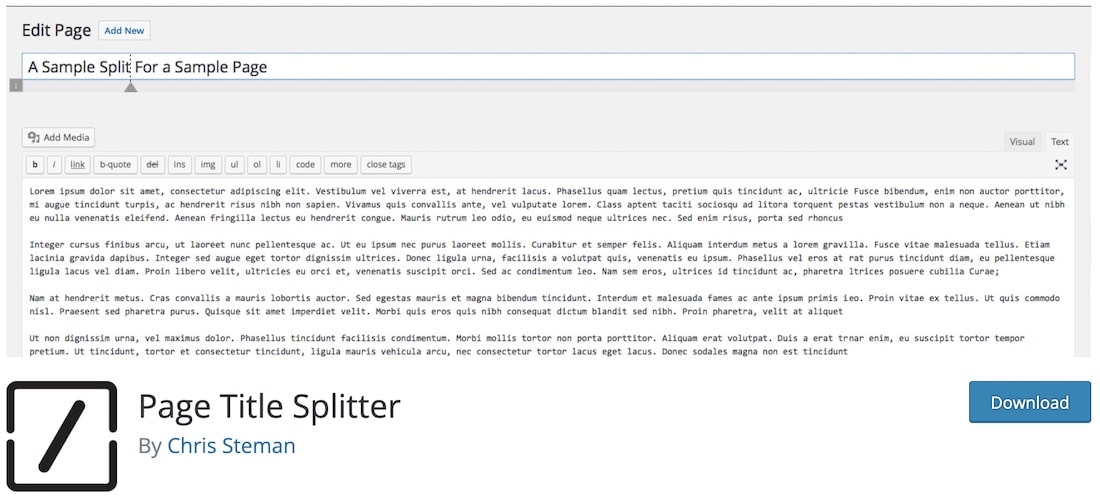 Another font plugin you will appreciate is Page Title Splitter. How many times have you had to split a long title into two lines in a single post?
This free WordPress font plugin does just that.
All you have to do is go to Add/Edit and use the grey bar below the title. The tool allows you to set breakpoints in the title. This will help you specify exactly where you want your title to break.
You can use the plugin for posts and custom pages. If you want to improve the layout of your titles, there is nothing better than this plugin.
Page Title Splitter features:
2,000+ active installations
4.1/5 ratings
Mobile-friendly
Quick set-up
Lightweight plugin
MORE INFO / DOWNLOAD
8. Secondary Title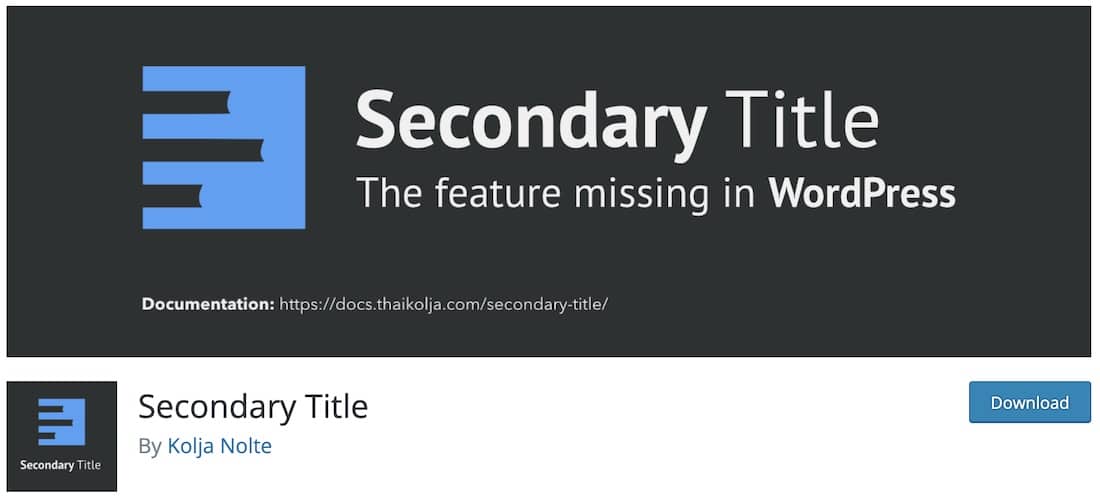 If you want to increase traffic to your website, Secondary Title can help you do that. This free WordPress typography plugin has excellent reviews for a reason.
It is an effective way to add an alternative title to your pages and posts.
The secondary title you create promises to keep your readers interested and give them a few more details about your post. (First few seconds matter!)
Also, the font plugin has a settings page that lets you fully customize the process according to your needs.
You can change the format of the titles, the position of the subtitle, the links you add, and much more.
Secondary Title features:
10,000+ active installations
4.9/5 ratings
Uses shortcode or PHP
Supports Classic Editor
Optional automatic add
MORE INFO / DOWNLOAD
9. Text Hover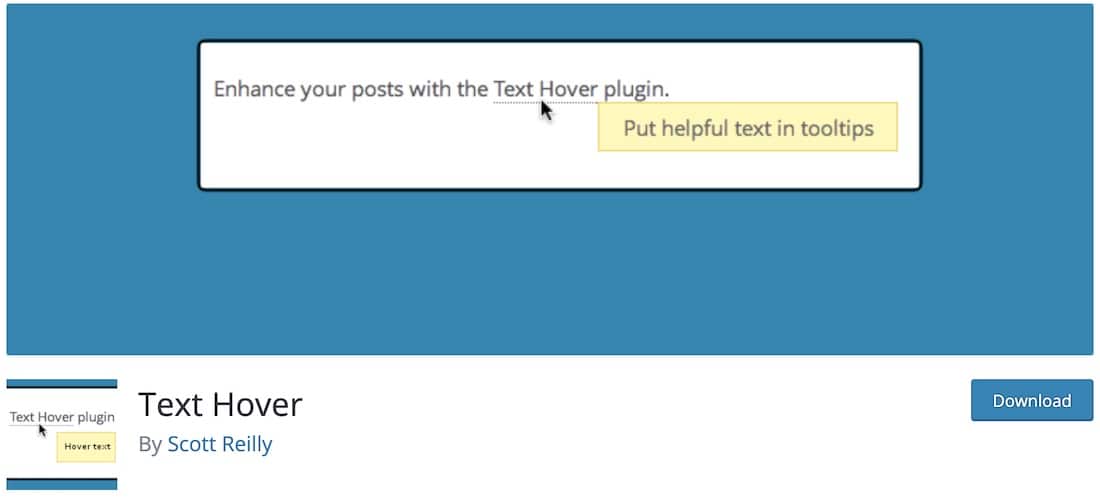 Last but not least, we come across Text Hover. This free plugin lets you add help text to your posts and pages. What that means is that when the viewer hovers the mouse over a phrase or word, a help text will automatically appear.
With this free WordPress font plugin, you can easily add additional information and details that you do not want to appear in the text.
During our testing, we liked using this plugin for definitions and acronyms. If you need something like this on your website, there's nothing better than Text Hover.
Text Hover features:
3,000+ active installations
4.5/5 ratings
Uses filters
Compatible with 3rd-party plugins
MORE INFO / DOWNLOAD
::
Note: This article was originally published on March 2, 2022. But our team regularly reviews it and updates it with necessary improvements for accuracy.