Our carefully tested WooCommerce food ordering plugins are ideal if you are running a food-related website.
This is simply the best solution for a personalized order menu or to display food items for delivery.
We know that dealing with payment gateways and managing food orders can be QUITE frustrating.
You want everything to work properly on your website as a business owner.
That's why we reviewed 25 food ordering plugins and picked the best 7 for you.
These have everything you need with a responsive design, advanced features, and great support teams. (+ SO easy to use.)
Since perfect food is born of perfect order, you can now create a fantastic food ordering experience for your customers!
YUM.
Note: Our ULTIMATE Recommendation – WooCommerce Food
Best WooCommerce Food Ordering & Delivery Plugins
1. WooCommerce Food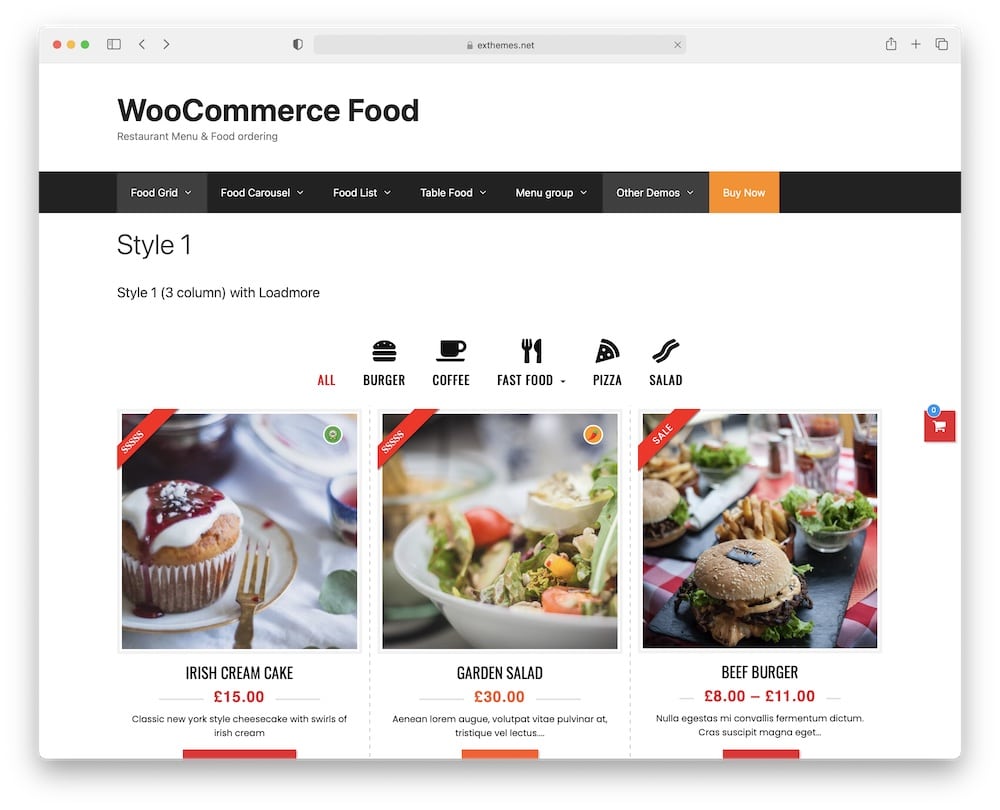 When it comes to food ordering plugins, there's simply nothing better than WooCommerce Food.
During our testing, this plugin proved to be the ultimate all-rounder.
With 10+ food layouts to choose from and an endless collection of add-on options (e.g. radio button, select box, etc.), WooCommerce Food is a very powerful plugin. (It's also RTL compatible!)
What sets this plugin apart from all the other tools are its ADVANCED shipping features. Namely, with WooCommerce Food, you can set a shipping radius via the Google Map API and limit your shipping via zip codes.
From our experience and our clients' experience, WooCommerce Food is the best solution.
WooCommerce Food features:
2,400+ sales
4.9/5 ratings
Supports addons for PayPal & Stripe payments
Works with a shortcode
Price: $49 (may vary)
MORE INFO / DOWNLOAD
2. WooFood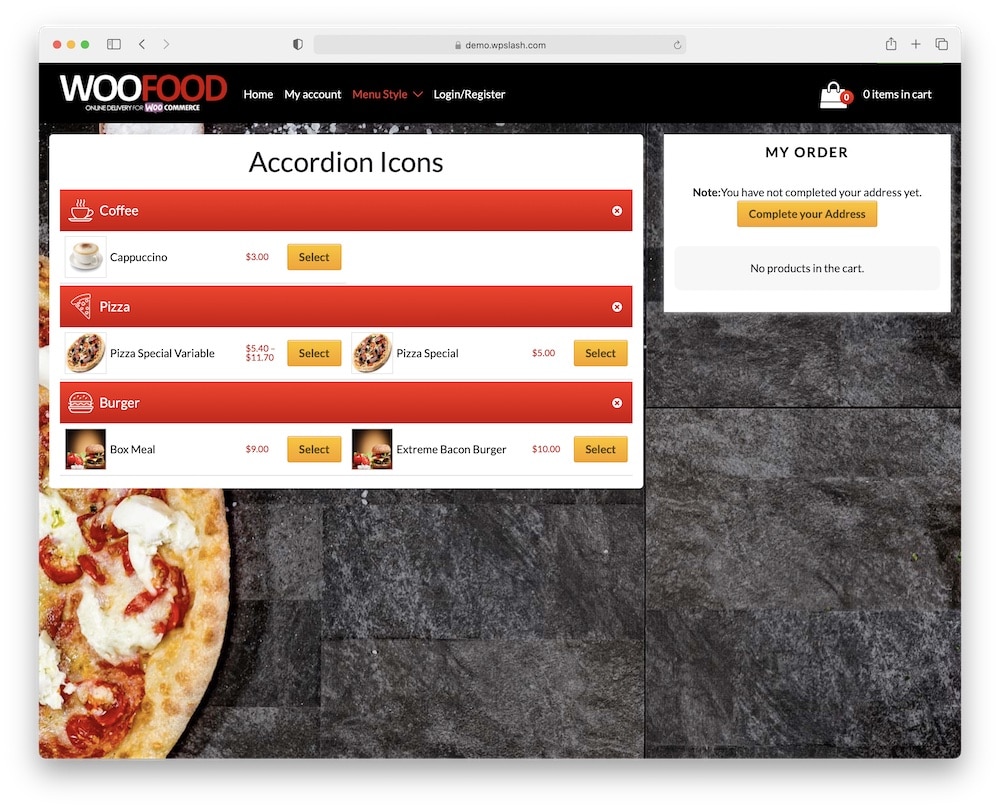 If you are looking for the MOST powerful WooCommerce food ordering plugin out there, WooFood is the one for you.
Although this plugin is the most expensive on our list, it's definitely worth the price difference.
Let us explain why.
With WooFood, you can do anything when it comes to your food deliveries. The plugin includes a responsive theme and automatic printing software.
All. In. One.
So if you want to print your orders automatically (compatible with various printers), this is the best solution for you.
During our tests, we had no problems creating a comprehensive menu either.
WooFood features:
1,500+ sales
5/5 ratings
Lightweight & responsive
Great for multi store businesses
Price: $199 (may vary)
MORE INFO / DOWNLOAD
3. FoodBook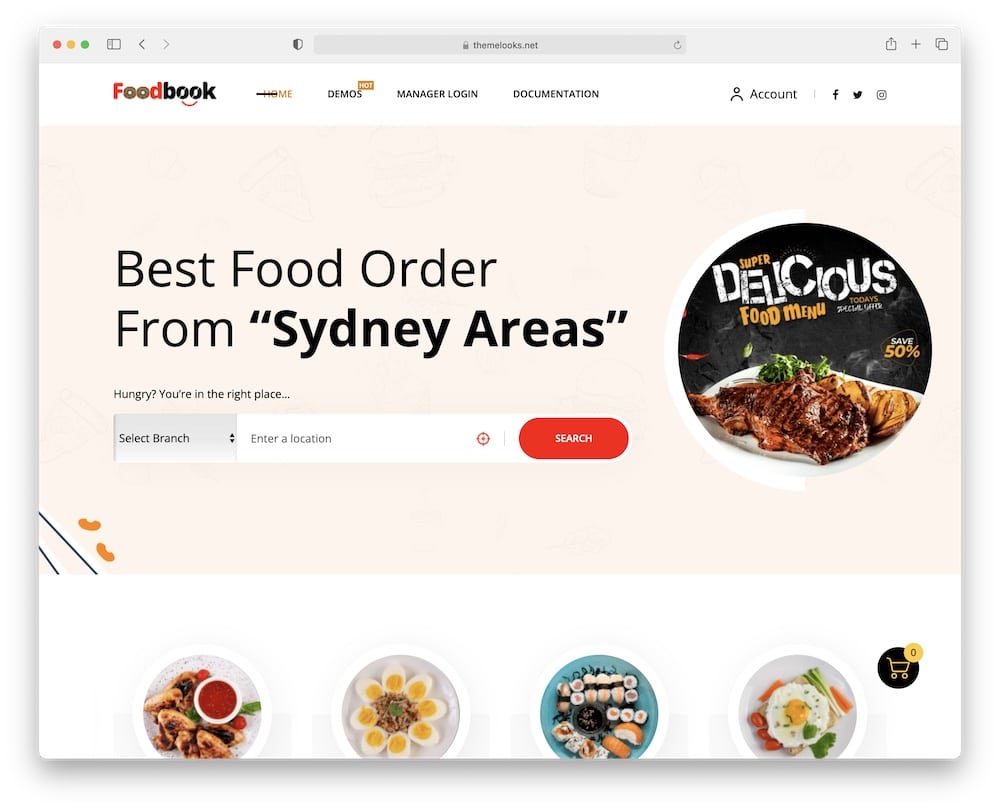 FoodBook is an advanced food ordering system for WordPress. With a fully responsive design and a great add-on for restaurant orders, FoodBook is a great solution for professionals. (But equally awesome for beginners.)
This plugin is FULLY compatible with any WordPress theme and supports numerous payment gateways. We also liked the modern design of the custom-built FoodBook theme.
FoodBook also lets you set time slots, business hours, holidays and print your orders (supports thermal/receipt printers).
Add to that the fully editable product views, and it's NO wonder why this plugin is so well-reviewed.
FoodBook features:
470+ sales
5/5 ratings
Works with Elementor
Perfect for developers (10 websites licence available)
Price: $49 (may vary)
MORE INFO / DOWNLOAD
4. Foodlify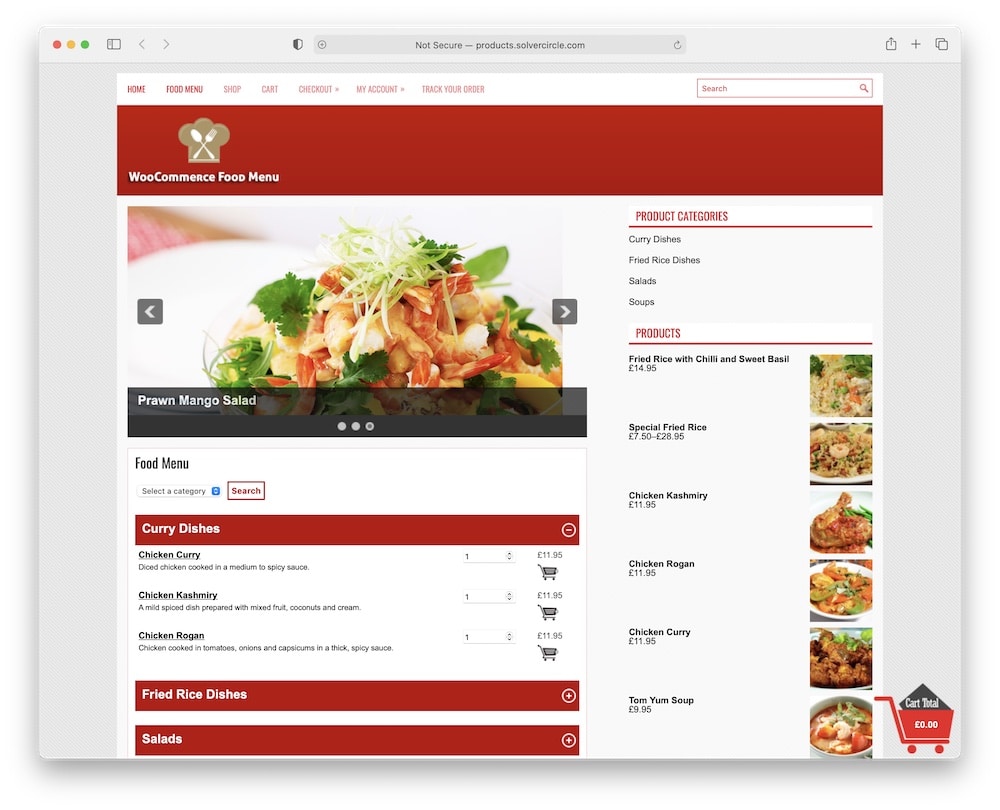 If you just created your food website, Foodlify is the WooCommerce food ordering plugin for you. We think it's the most beginner-friendly solution on this list for many reasons.
First of all, Foodlify lets you create your menu in a matter of a few clicks. While this plugin is not as customizable as WooFood, it has everything an administrator needs in one place.
Also, Foodlify is VERY responsive and allows your customers to place their orders quickly.
In a few words, this is the perfect solution for everyone looking to add a food ordering system to a new or existing WordPress website.
Foodlify features:
580+ sales
4.4/5 ratings
Search function
Free updates for life
Price: $39 (may vary)
MORE INFO / DOWNLOAD
5. GroceryBook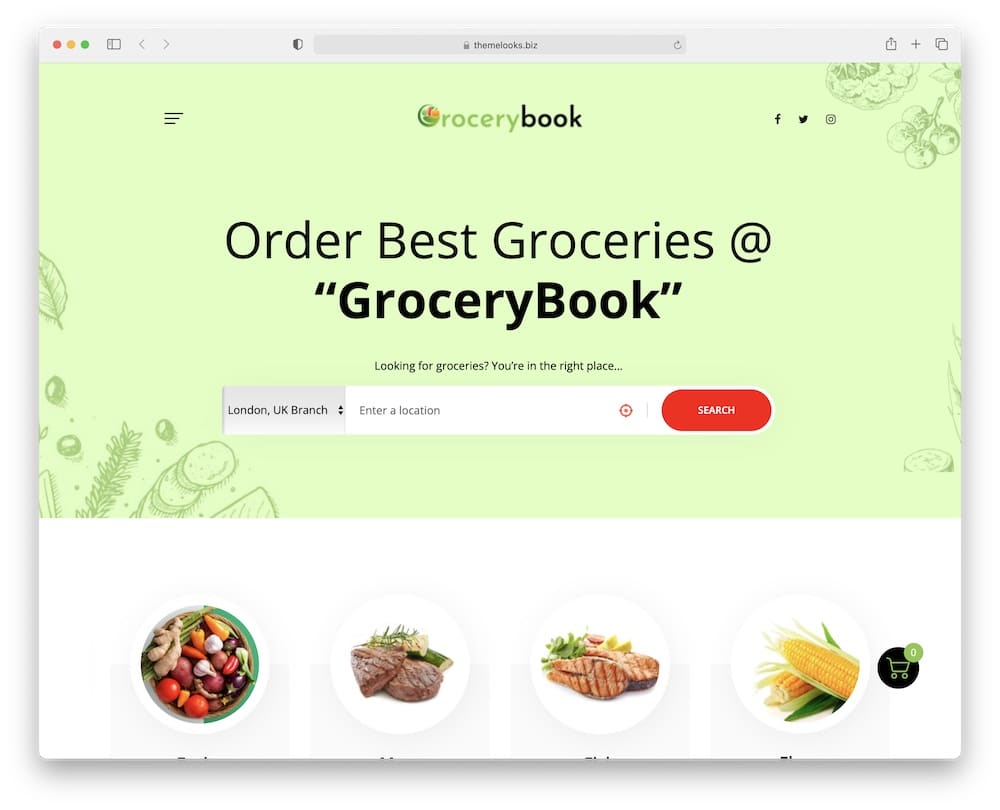 GroceryBook is a relatively new WooCommerce food ordering plugin that has a lot to be proud of. As a fully responsive single vendor ordering system, GroceryBook works perfectly with any WordPress theme and page builder.
The package includes a custom theme you can use with great editing functions.
The one-click order printing works excellent, and the plugin is entirely flexible when managing orders.
GroceryBook SUPPORTS all payment methods we can think of (PayPal, Google Wallet, WePay, and more).
Hence the name, it's a great tool for grocery stores but restaurants, fast foods and other businesses can profit from it, too.
GroceryBook features:
10+ sales
4.7/5 ratings
Offers live updates for customers (via email)
Fully-editable delivery settings
Price: $49 (may vary)
MORE INFO / DOWNLOAD
6. WooCommerce Restaurant Ordering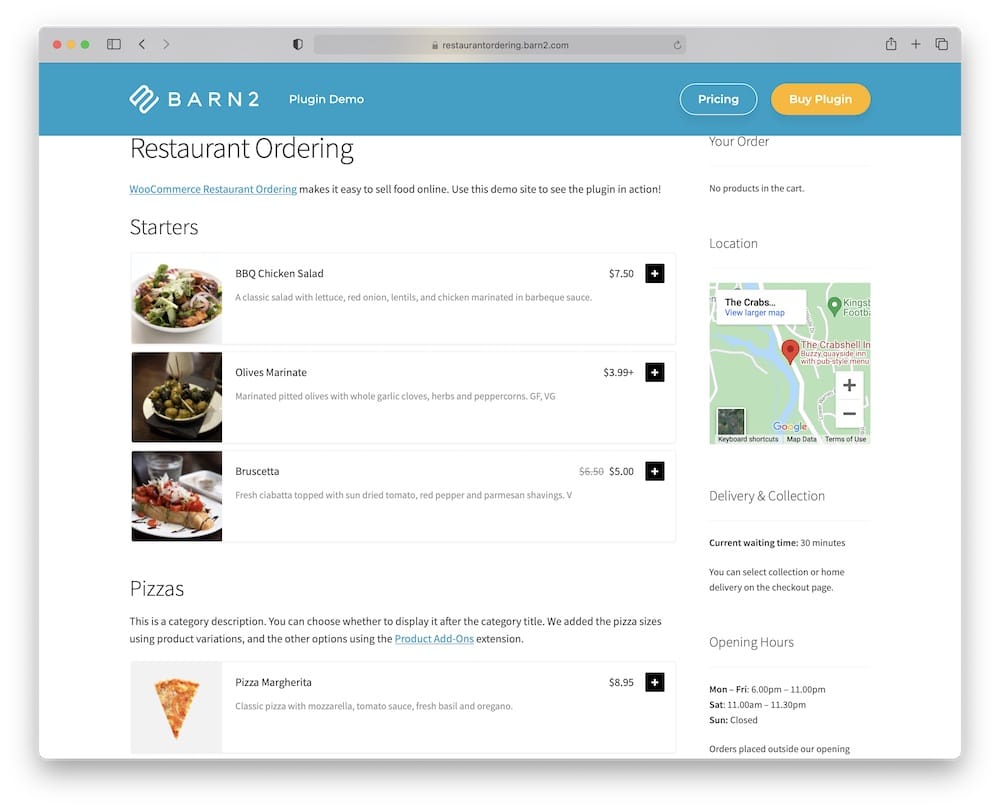 As the name suggests, this plugin is perfect for restaurants that need to create an online food ordering platform.
We really enjoyed using the SPEEDY one-page ordering. (So handy!)
So if you want the whole process to be easy for your customers, this is an intelligent solution. Like, REALLY smart!
As for the menu design, you can add and customize food details, buttons and list your menu in 1 to 3 columns.
This WooCommerce food ordering plugin proves to be very reliable and works perfectly with any WordPress theme.
Finally, the 2-in-1 package includes a useful on-page shopping cart and checkout feature.
WooCommerce Restaurant Ordering features:
600+ sales
5/5 ratings
Instant order forms
Offers multiple layouts
Price: $99 (may vary)
MORE INFO / DOWNLOAD
7. Restaurant For WooCommerce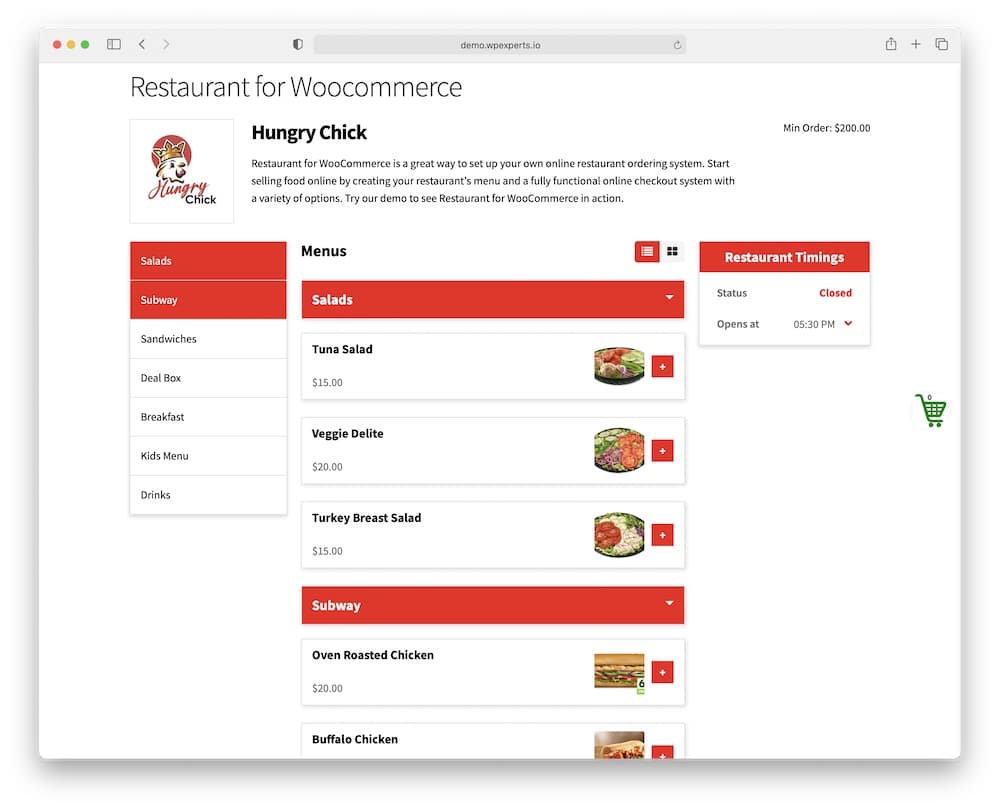 Our top selection wouldn't be complete without Restaurant For WooCommerce. Like WooFood, this is a fairly expensive plugin for professionals and businesses with multiple locations.
BUT.
By purchasing this WooCommerce food ordering plugin, you no longer need other tools to manage your online orders.
With one of the most minimalistic theme designs on the market, the menu you create will look modern and clean. (On all devices & screens!)
You can easily modify your products and categories via a drag-and-drop builder. Plus, you have ultimate freedom with your delivery options.
In a few words, this is the ideal way to turn your simple WooCommerce shop page into a top-tier online business.
WooCommerce Restaurant Ordering features:
600+ sales
4.8/5 ratings
Mini-cart widget
30-day money-back guarantee
Price: $149 (may vary)
MORE INFO / DOWNLOAD