Online ordering is on the rise, and so is the request for food delivery WordPress themes that we're getting from our clients (& users).
We saw many restaurant owners want to unlock a new stream of income.
What do all have in common?
A WEBSITE.
We ended up reviewing 75 (and more) WP themes over one and a half years after working on multiple projects.
These 16 are our ultimate picks based on:
Beautiful food menu (with photos!)
Extreme responsiveness (mobile first)
Clear CTA (call-to-action)
Fast loading
This post covers:
Fun fact: Online ordering is growing at a rate of 300% faster than dine-in. And! 60% of food business owners say online food ordering gradually increases sales.
You now have the right tools to make a BIG IMPACT on food ordering and delivery.
THE ULTIMATE 4:
Best Food Delivery Service WordPress Themes
1. Eatsy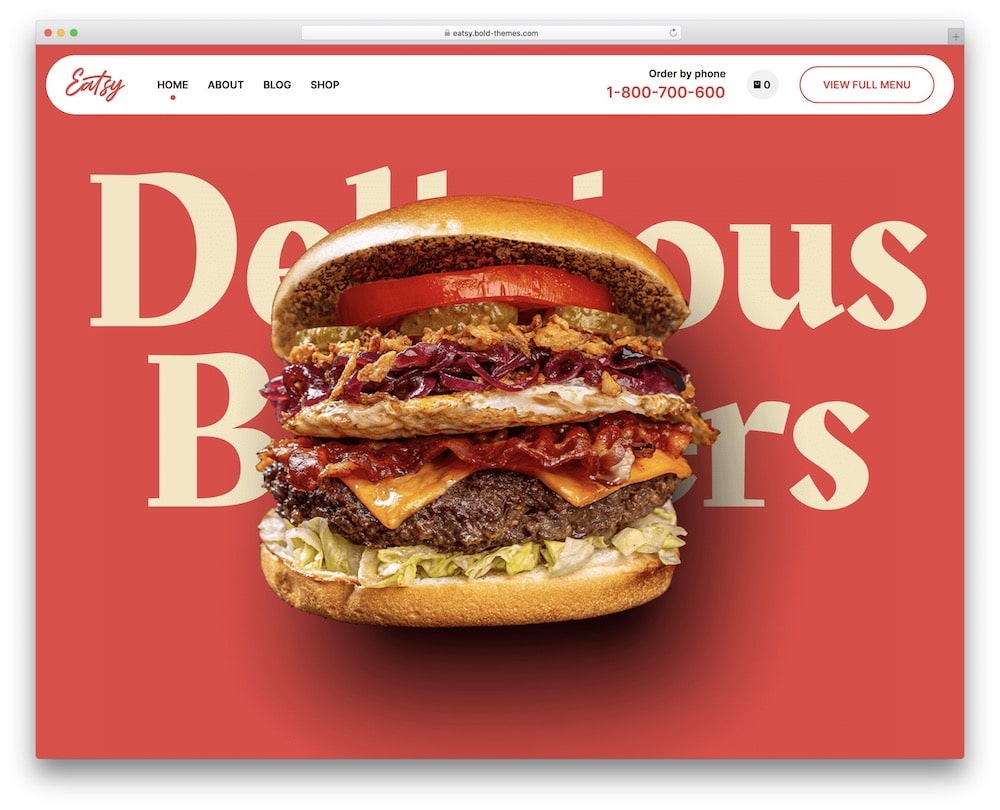 With a great site comes great business, yes?
If you answered yes, you need to check the modern and stylish Eatsy food ordering WordPress theme (looks incredible).
Eatsy was designed ESPECIALLY for online ordering and food delivery. Also, it comes with a bundle of features for just about everything.
You can have a fully functional website set in just a few minutes due to a one-click demo importer. (Choose from six ready-to-use homepages.)
(You can even use it as a bakery or grocery WP store if you plan to offer online ordering.)
Eatsy is simple to use and entirely customizable for all your desires.
Note: Eatsy offers a money-back guarantee if you do not fall in love with it.
Stand out with bold and smart Eatsy.
Eatsy features:
MORE INFO / DOWNLOAD
DEMO
2. Dinery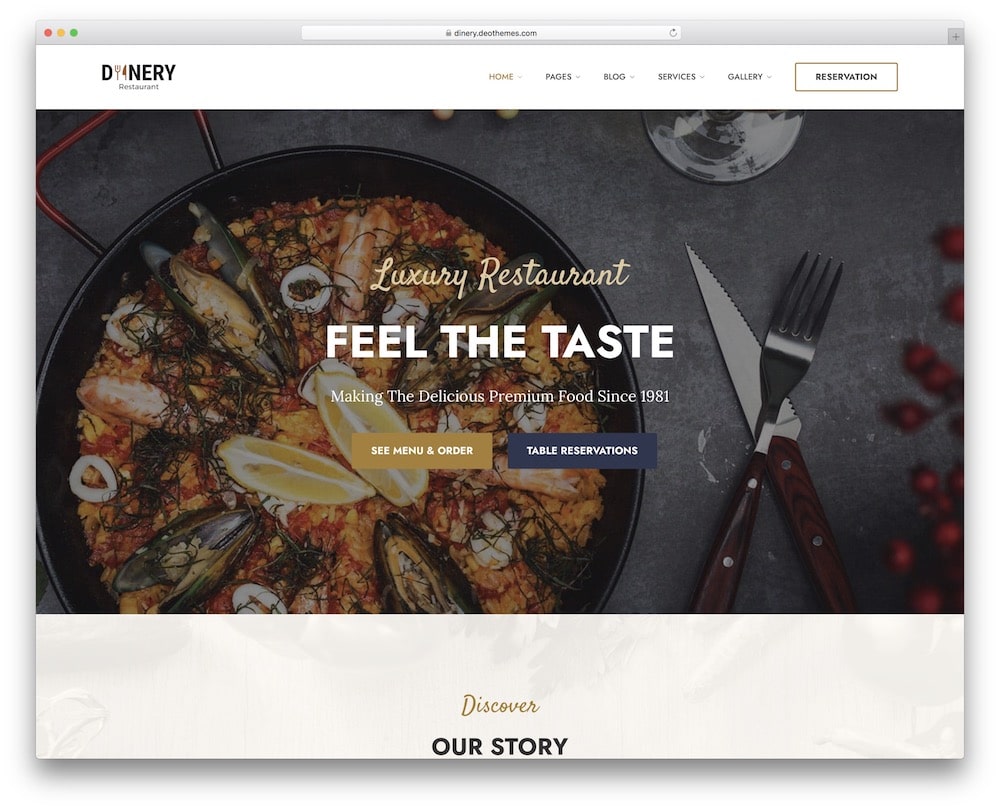 With Dinery food delivery WordPress theme you will deliver food and only good food.
Dinery is responsive, loads fast, and works like magic on different devices.
Besides, you have great building experience with the Elementor page builder. Hurray for the drag and drop option (live, visual editing).
RELAX, no coding knowledge required.
You win customers with direct online food orders and reservations (your customers can use smartphones, tablets, or computers). Fast and easy.
THINK. CLICK. ORDER. DELIVERED. EAT. REPEAT.
Good food and good delivery are Dinery's passions.
What's next? Your business's success!
Dinery features:
170+ sales
4.5+ star ratings
Your page feels like an app
Price: $29 (may vary)
MORE INFO / DOWNLOAD
DEMO
3. Optivit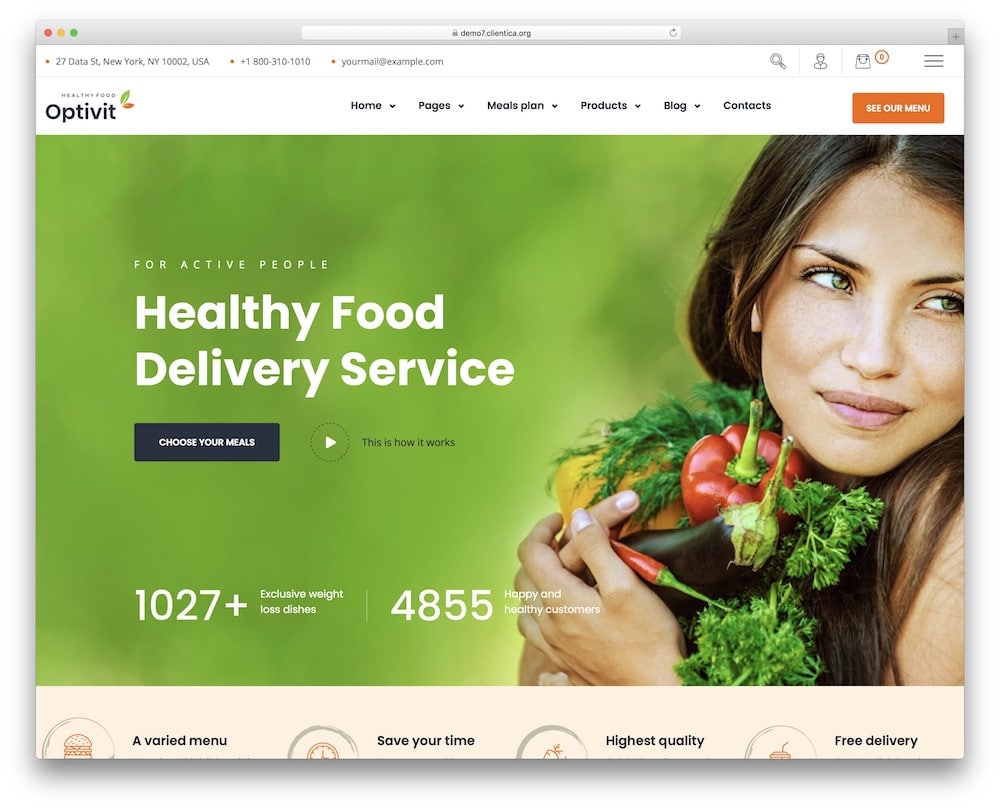 Optivit online food ordering WordPress theme is ready to serve your customers at any hour of the day (24/7).
Quick, classy, and user-friendly.
Crisp design, the best tools, five-star support – EVERYTHING at your fingertips.
Optivit comes with unlimited colors, Google fonts, headers with animations, pre-made inner pages, numerous elements, and three amazing index pages.
All of this is waiting for you to start creating.
Moreover, build emails, social ads, landing pages, and more with included MailChimp tool. Boost your sales and get new clients with emails.
YOU. GOT. THIS.
Reach the top with Optivit.
Optivit features:
MORE INFO / DOWNLOAD
DEMO
4. Gomoto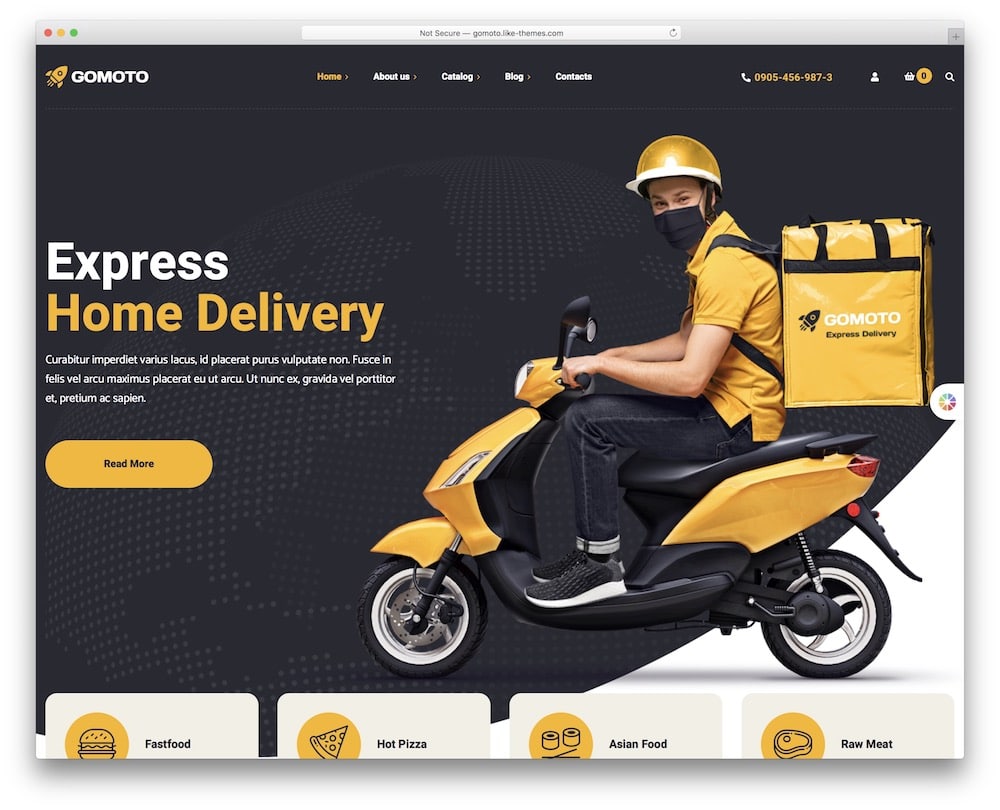 Deliver happiness with an outstanding Gomoto theme. Catchy designs, powerful plugins, easy customization, and various browser compatibility, to name a few attributes.
You can start your DREAM online business with little time and work.
Become unstoppable.
Gomoto works perfectly with the built-in parallax theme effect, which makes food images even more appetizing.
YEAH, pretty cool!
Try now pre-made and feature-rich Gomoto demo and do your best in online food ordering. (One click is all it takes.)
TASTE THE BEST.
Gomoto features:
370+ sales
4.3+ star ratings
Catchy scrolling animations
Con: infrequent updates
Price: $59 (may vary)
MORE INFO / DOWNLOAD
DEMO
5. Fitmeal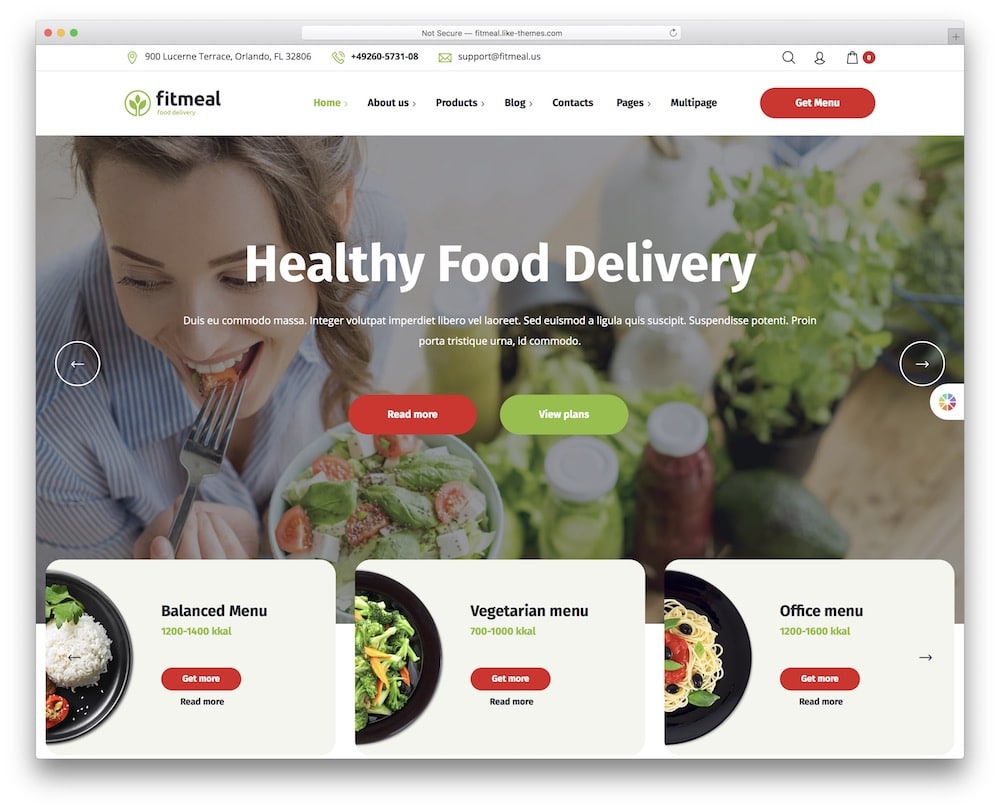 Bring the joy of food to every home with Fitmeal food delivery WordPress theme. Increase your circle of the best and loyal customers.
In short, build a perfect online experience.
Your journey to success starts easy and fast with ready-to-use templates (super convenient).
Of course, you don't need any coding or design knowledge. Just one click import and Fitmeal will take care of the rest.
Fitmeal also handles many outstanding tools such as WooCommerce, Contact Form 7, and MailChimp.
All of them assist you in creating the best website with amazing SUPERPOWERS for your customers.
So even if the magic of Fitmeal's developers is powerful, it's not power. Power is in your vision and idea.
Fitmeal features:
740+ sales
5-star ratings
Extensive documentation
SEO & speed enhanced
Price: $59 (may vary)
MORE INFO / DOWNLOAD
DEMO
6. FoodBakery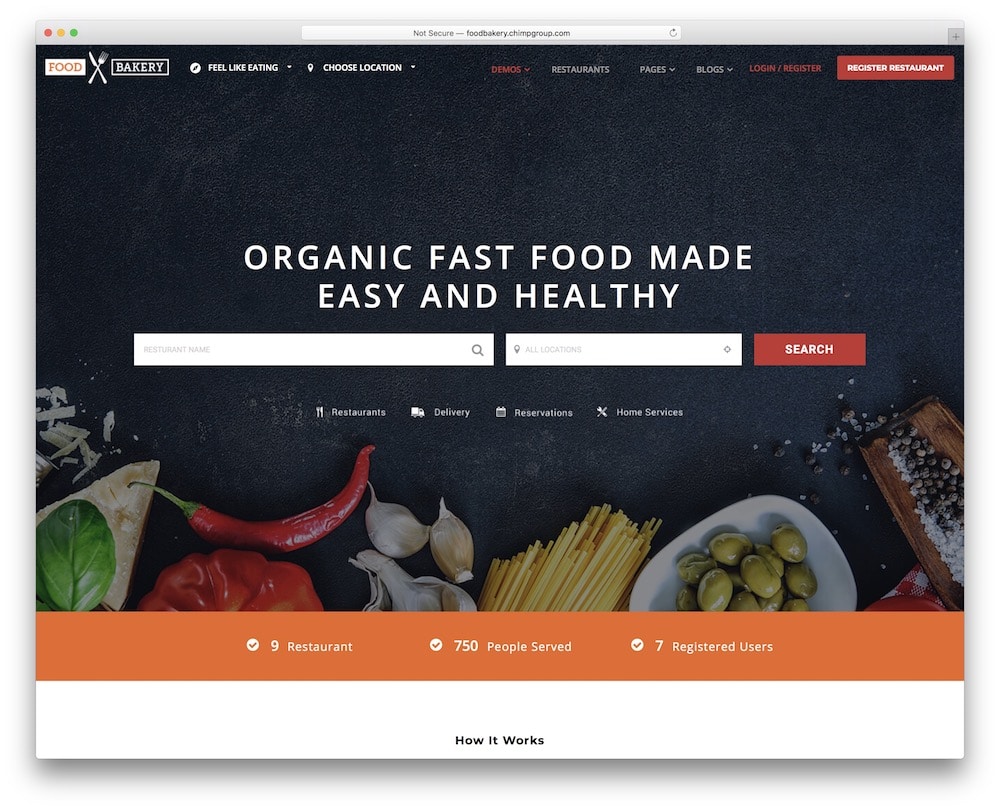 Taste the passion with the beautiful FoodBakery food ordering theme. This theme is fully customizable and flexible for all your ideas.
Simple installation and quick start guide included.
Till now, 3,000+ customers are supporting and using FoodBakery. All customers have a user-friendly experience with building their new site.
A powerful theme of great value.
Furthermore, FoodBakery offers 100% free translation and is RTL compatible.
Of course, FoodBakery multiple restaurants system is complete with simple-to-use online orders, booking, and payments.
Smooth work and incredible look.
FoodBakery features:
3,900+ sales
4.7+ star ratings
Regular updates
Price: $69 (may vary)
MORE INFO / DOWNLOAD
DEMO
7. Kudil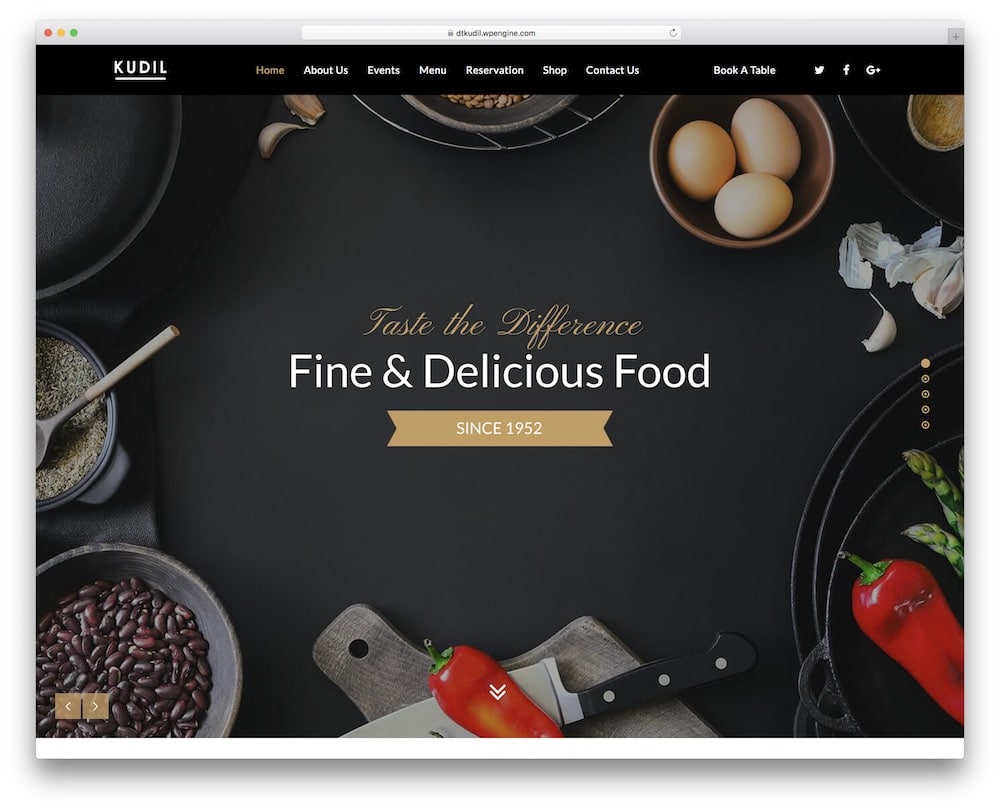 You can create an attractive and delicious website (easy peasy) with Kudil food delivery theme.
Make your customers eat with their eyes when scrolling through your online menu.
HELLO. ORDERS.
By the way, the ready-to-use designs of Kudil are unique and personalized.
You can choose from two gorgeous demos (one-click install) with many opportunities and customization options.
Kudil includes social media integration, simplifying sharing your ideas, food ordering, and special promotions with the world.
More eyes. More sales.
Yes, Kudil is worth your time and money.
Kudil features:
310+ sales
4.9+ star ratings
6 months free support
Price: $59 (may vary)
MORE INFO / DOWNLOAD
DEMO
8. GoResto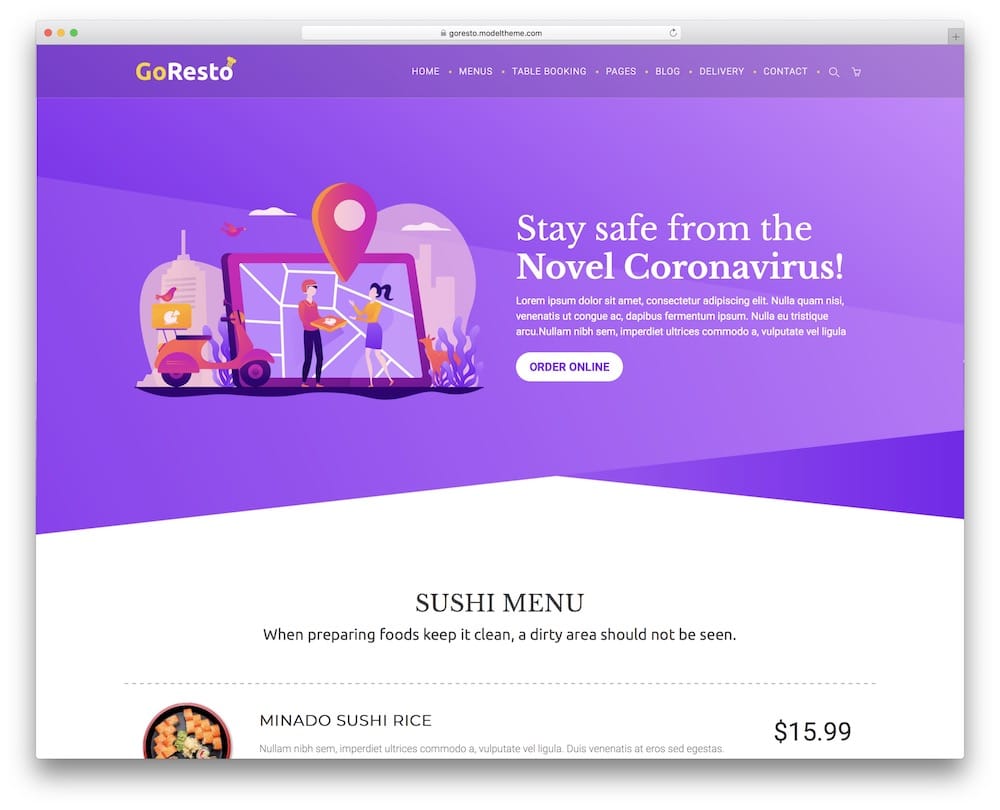 The cool thing is that the GoResto food delivery WordPress theme will wake your customer's taste buds.
They will have no power to resist good food from your online ordering with tasty and elegant design.
GoResto is a responsive theme with ten different index pages, sliders, Google fonts, and unlimited colors.
Imagine how many possibilities are within reach for all your ideas and desires.
GoResto is a smart choice that will help you stay ahead of your competition if you ask me.
STEP. UP. AND. SHINE.
Know your offering inside out and talk about your business with pleasure. Included advanced blog options will help you to engage with your customers more personally.
Besides, friendly and professional customer support has your back covered – always.
Grow with GoResto.
GoResto features:
MORE INFO / DOWNLOAD
DEMO
9. Madang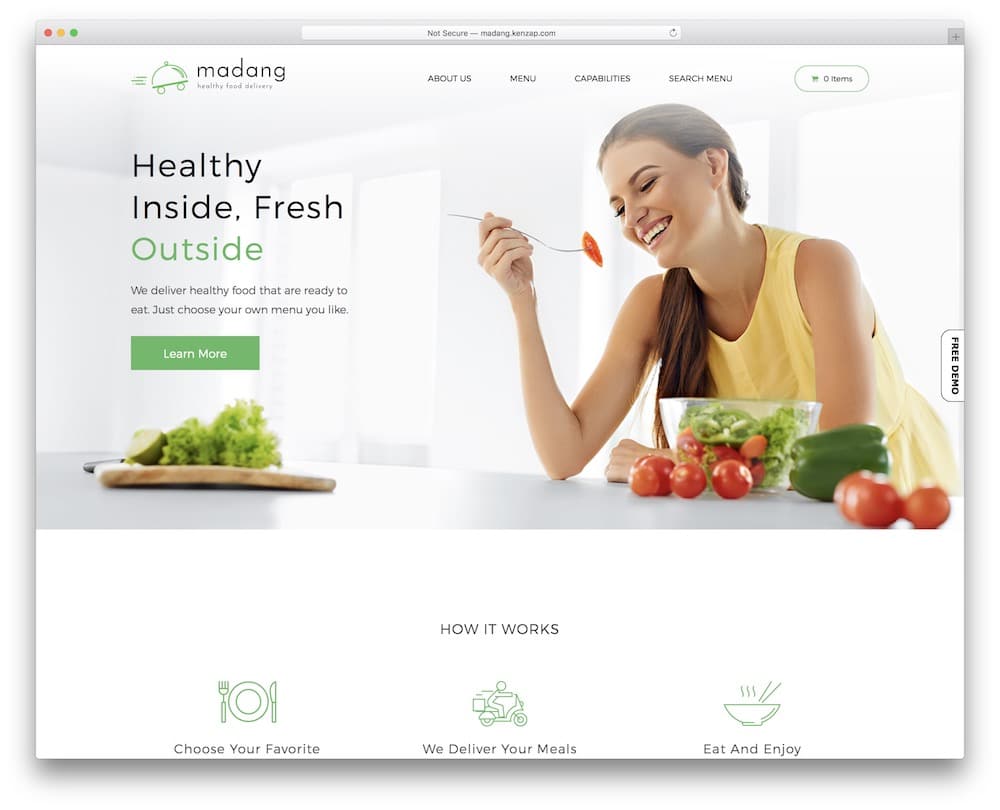 Madang is a modern and fresh food delivery WordPress theme with a beautifully organized product listing.
You can easily create a desirable-looking menu.
Add nutrition facts (calories, fats, proteins, etc.) to simplify how your customers choose the right meal. (Especially if they are on a diet).
Luckily, Madang has everything you need for a responsive and unique website. You can even start a blog about top food tips and nutrition advice.
But at the same time, you can present your new dishes and products on promotional sales pages.
Madang comes with pre-made landing pages to help you boost your business.
Do your BEST with splendid Madang.
Madang features:
1,300+ sales
4.5+ star ratings
Clean & minimal design
Cool meal plans option
Price: $112 (may vary)
MORE INFO / DOWNLOAD
DEMO
10. Fooddy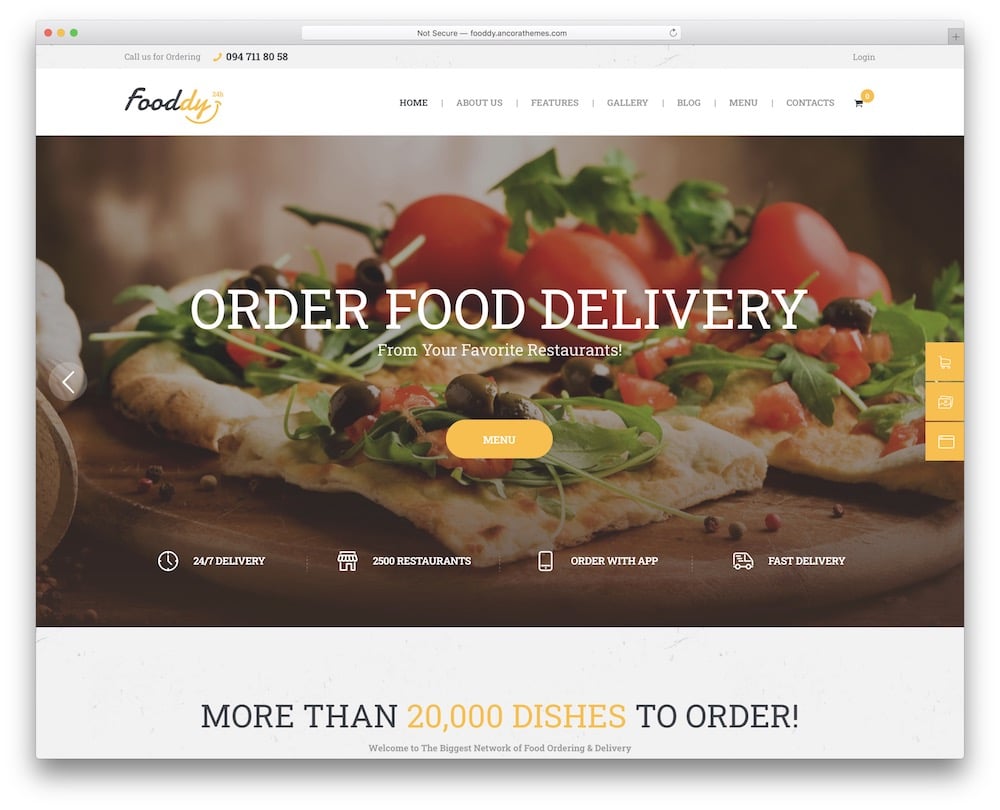 You can quickly put together a professional food ordering site with the responsive and mobile-friendly Fooddy food delivery WordPress theme.
CUT cost. BOOST sales.
Fooddy comes with tons of opportunities and possibilities. It is easy to operate, flexible, and fully customizable.
You're gonna love Fooddy for a good reason.
But wait, you also get the best and most used plugins such as WPBakery page builder, WooCommerce, MailChimp, and Ajax technology with Fooddy.
Choose between the finest ready-to-use templates, customized layouts, blog styles, various WP widgets, icons, amazing fonts …
And start building your DREAM BUSINESS, today!
Fooddy features:
700+ sales
4.9+ star ratings
Around since 2017
Easy menu management
Price: $69 (may vary)
MORE INFO / DOWNLOAD
DEMO
11. Food & Pizzeria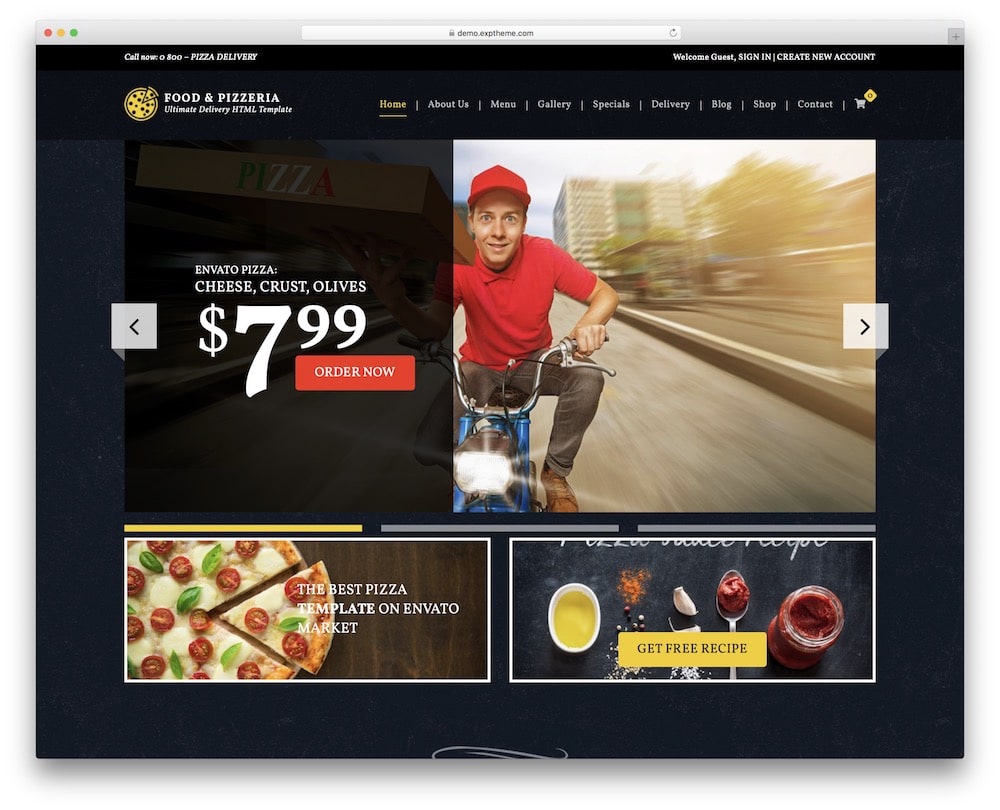 Make your customers happy with an easy-to-use food ordering site. Powerful and catchy food Food & Pizzeria theme wins in every category.
Pre-designed homepages, good-looking post layouts and different sidebars increase your creative energy.
There are a ton of opportunities to organize your new website beautifully and helpfully.
The good news is that Food & Pizzeria includes an amazing delivery system, customizable Google Maps, social media icons, and blog layouts.
All carefully crafted and easy to add to your site.
You can overtake the competition and win your customers with Food & Pizzeria's most popular tools. Plainly and Simply.
Let's do it!
Food & Pizzeria features:
290+ sales
4.7+ star ratings
Works for one- & multi-page sites
Practical video tutorials
Price: $59 (may vary)
MORE INFO / DOWNLOAD
DEMO
12. Food Drop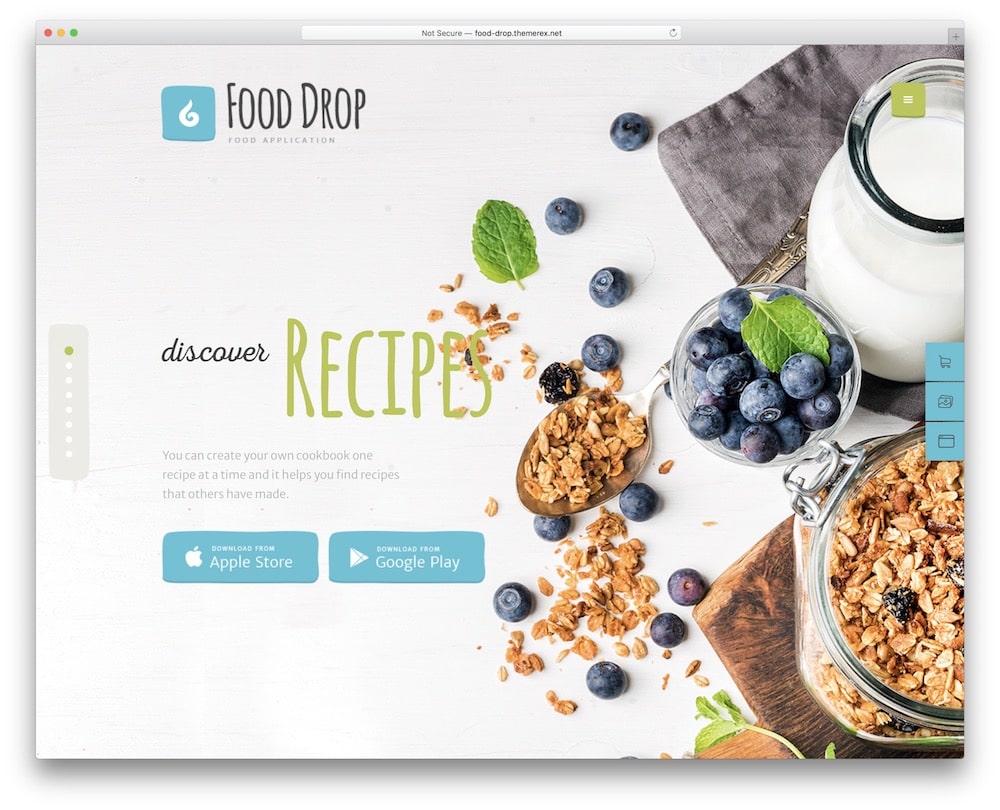 A moment of good online food ordering can be your customers' biggest joy in a day.
Pick the best food delivery theme and feel the difference.
Food Drop!
THE. BEST. PLACE. FOR. FOOD.
Food Drop is based on easy-to-use features that offer great customization (selected and set by you).
You can simply identify your preferences and build your site as you prefer.
Control design, simplify layouts, add plugins and display your information as you wish.
NO. LIMITS.
Keep in mind, professional customer support will be happy to guide and assist you when needed.
Food Drop is definitely worth taking a look at. Small investment = Great impact.
Food Drop features:
170+ sales
4.1+ star ratings
Instant demo import
Price: $69 (may vary)
MORE INFO / DOWNLOAD
DEMO
13. Foodmood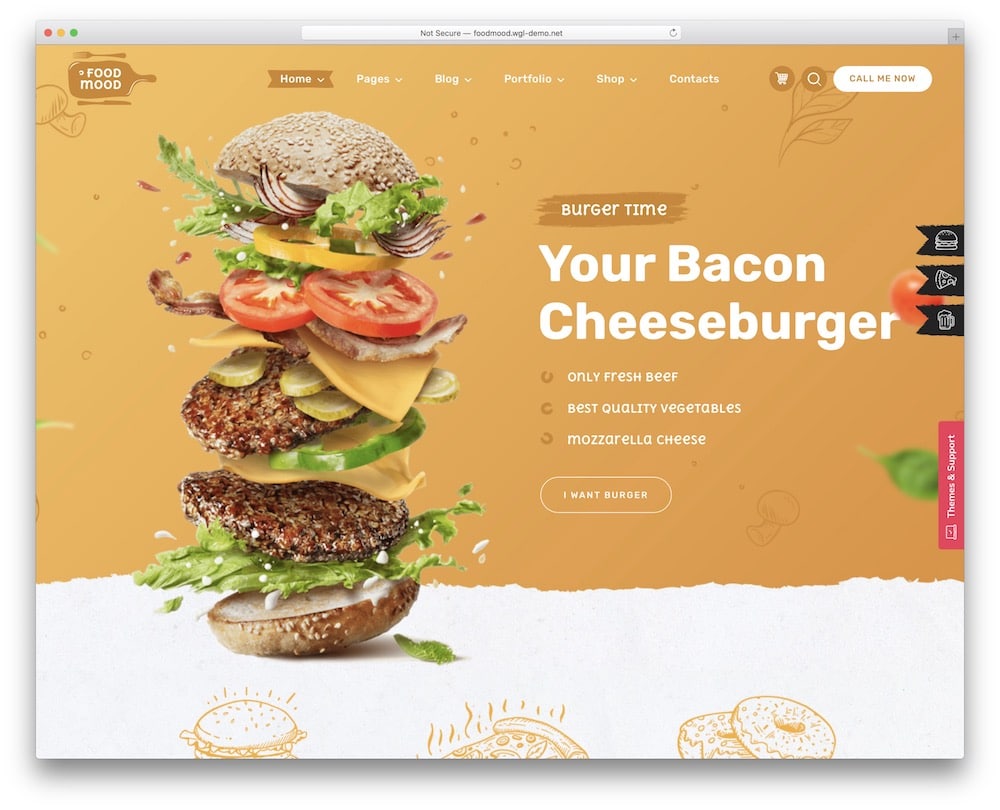 Your journey to successful food ordering can start with the popular Foodmood theme. Food, pizza, and beer is the slogan of Foodmood.
Fresh. Smooth. Real. It's all here.
With little work and time, you can start building your site.
Try one of the incredible demos and put your creative ideas to the test (no previous experiences needed).
Aha, I told you!
Foodmood also handles many great and likable plugins that make the performance of your website outstandingly good. No extra cost.
Of course, Foodmood is fully responsive and looks great on different screens. Consistent experience across all devices is guaranteed.
What's not to love?
Foodmood features:
420+ sales
5-star ratings
Drag & drop page building
Dark or light food menu
Price: $69 (may vary)
MORE INFO / DOWNLOAD
DEMO
14. Fast Food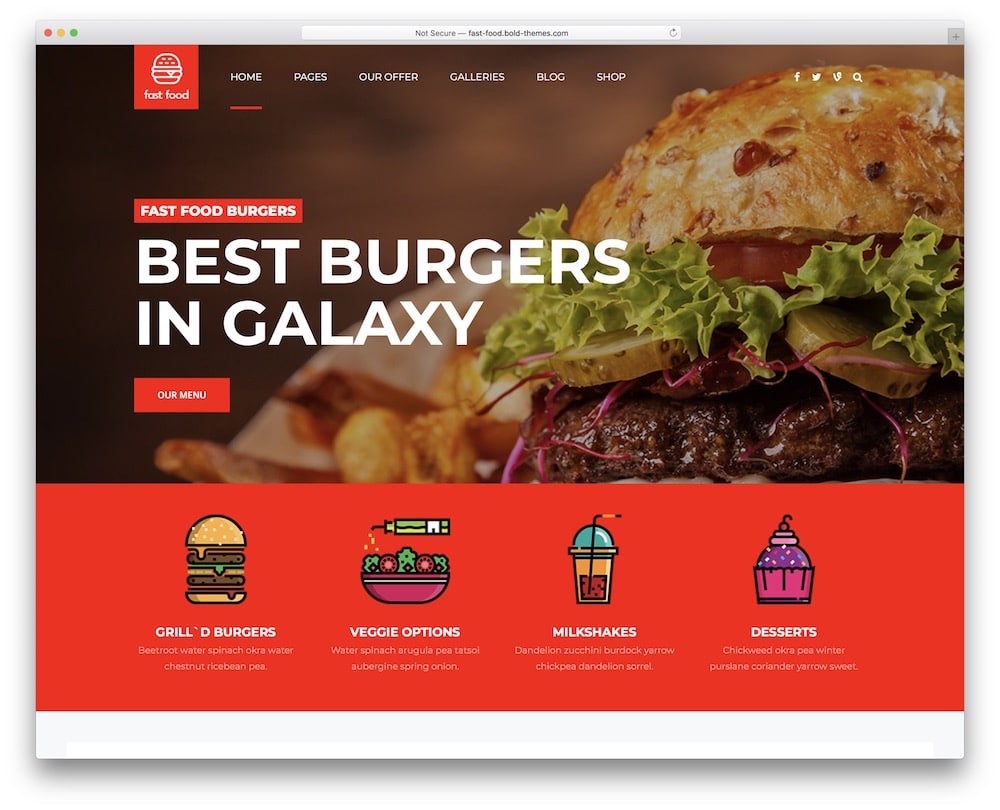 Why is Fast Food a popular food delivery WordPress theme?
It comes with ready-to-use templates, different layouts, a responsive menu, tons of widgets, the best tools, and dark or light headers.
IT HAS IT ALL.
Moreover, Fast Food is fully customizable. You can play with colors, fonts, layout combinations, custom icons, and shortcodes. How refreshing and fun!
Besides, amaze your customer with your simple and fast food ordering. (Included cost calculator makes ordering even better.)
Choose wisely and taste great business with Fast Food.
Fast Food features:
1,100+ sales
4.8+ star ratings
Online reservations made easy
Custom icons
Price: $69 (may vary)
MORE INFO / DOWNLOAD
DEMO
15. WebOn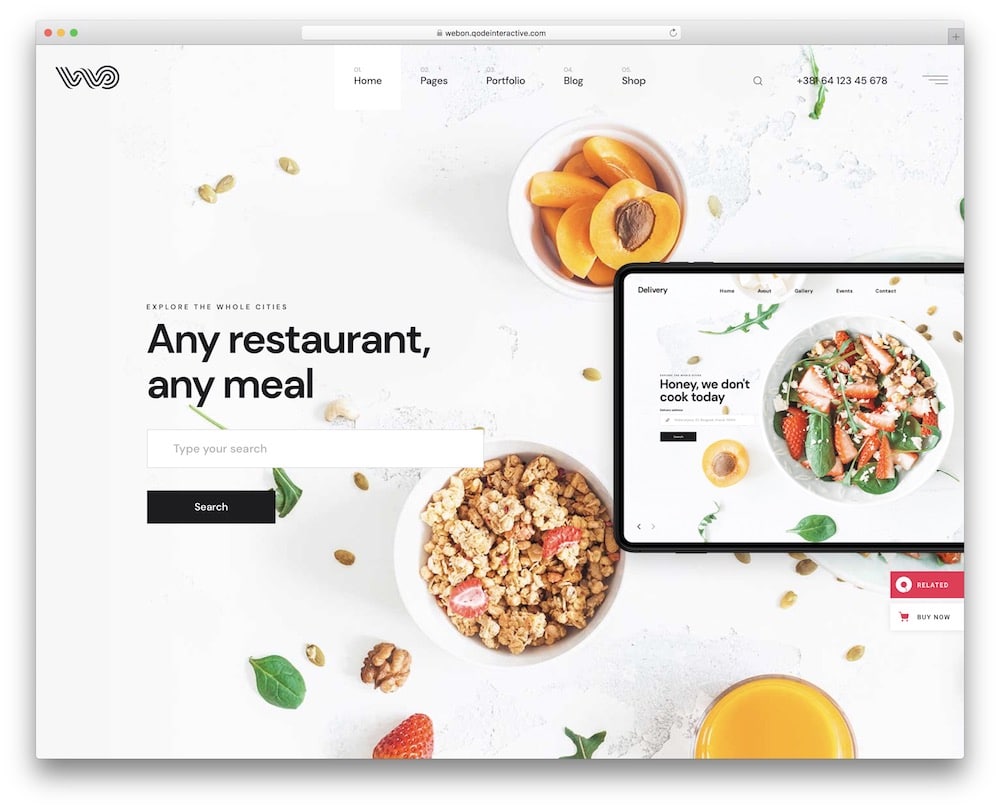 WebOn is an exclusive landing page theme that works fantastically well to promote your food ordering app.
You can share all the ins and outs of your unique new application that everyone MUST DOWNLOAD.
Excellent distribution of sections and content ensure a great experience.
Honestly, this is one of my favorite themes on this list. Beautiful, clean, but bold.
Everything you need to promote your business with style.
The performance on mobile is also exceptional – which is crucial for app owners.
What's best, since it's a multi-concept theme, you can use WebOn for numerous businesses, industries and landing pages for the price of one.
WebOn features:
1,000+ sales
4.2+ star ratings
Website builders compatible
Include testimonials (build trust)
Price: $75 (may vary)
MORE INFO / DOWNLOAD
DEMO
7 Must-haves Of A Great Food Delivery Service Website
While the website's design needs to be appealing to the eye and the performance breathtaking, there are a few other necessities to include in a food delivery website.
Instead of wondering what those may be, I prepared a list of the seven your website should not miss:
Easy and mobile-friendly online food delivery system is mandatory. Gone are the days of calling in to place an order. Everyone wants to do it quickly via an app or a website.
A practical navigation and a search bar should be easy to access, so all potential customers can find whatever they're into as fast as possible. And even though your menu may have plenty of elements, don't complicate it.
Integrate call-to-action buttons across your website so they're always at your visitors' fingertips.
Don't forget to add business and contact details, including a telephone number, email, or contact form. You may also want to use Google Maps to showcase your exact location.
Your food and drink menu is a MUST. Of course, include professional images and pricing. And if you add nutritional data besides the ingredients, you'll win big times.
Stand out from the rest in your industry with an active and regularly updated blog section.
Ratings and reviews contribute to social proof and can boost your orders through the roof.
You can also offer free and premium memberships, include a subscription form or even start a subscription business if you'd like to add a layer of predictability.
Luckily, all the themes above make your lives a whole lot easier by successfully including all the mentioned.
Now take your food delivery business to the next level.
::
Note: This article was originally published on June 13, 2021. But our team regularly reviews it and updates it with necessary improvements for accuracy.