We tested the best free WordPress landing page plugins to save you time when creating effective landers for boosting leads and conversions.
It took us less than 60 seconds to create a basic landing page! But only a few minutes for a more advanced one.
SO. GOOD.
And all these plugins are so beginner-friendly that everyone can make epic landers.
This post covers:
Our testing phase eliminated all the unreliable tools (there are quite many out there), bringing you the absolute best.
You'll have everything you need by the end of the list.
Enough with the boring intro.
How ULTIDA Tested Free WP Landing Page Plugins
It's essential to do extra testing and analyzing when it comes to free plugins.
Why?
Because it happens more often than not that such plugins aren't 100% reliable, offer poor functionality and sometimes aren't compatible with the latest WordPress version.
For this reason, we first examined 35 plugins by reviewing overall ratings, reading through reviews and checking update frequency.
(We also read through the documentation and checked the quality of support forums.)
This process alone allowed us to eliminate 20 plugins. (Yup, crazy!)
From there, we further examined each plugin individually by installing it on our demo site.
This helped us investigate its user-friendliness regarding installation and setup, whether or not it adds bloat to the website (does a plugin slow down the page?) and how smoothly it integrates with a WordPress theme.
Because landing page plugins offer a variety of features, we tested creating forms, creating full landing pages, adding call-to-action (CTA) buttons, and more. We also ensured to verify mobile-friendliness.
This brought us to the final eight BEST ONES!
It's time for ACTION, building the best landing pages.
Note: You may also want to read our guide on how to install a WordPress plugin.
Best Free WordPress Landing Page Plugins
1. SeedProd

Our first pick for this list is SeedProd. This plugin is one of the MOST famous landing page plugins for many good reasons.
It comes with many great features to create an amazing landing page in no time.
We like its easy-to-use drag and drop builder and all the pre-designed templates.
So. Quick.
SeedProd also integrates with famous plugins and services like ConvertKit, Active Campaign, Aweber, etc.
In addition, this plugin will also give you access to over 2+ million (!) photos that are available and free to use on your landing pages.
SeedProd features:
1+ million active installations
4.9/5 ratings
Works with any WordPress theme
200+ landing page layouts
Fully responsive
MORE INFO / DOWNLOAD
2. Beaver Builder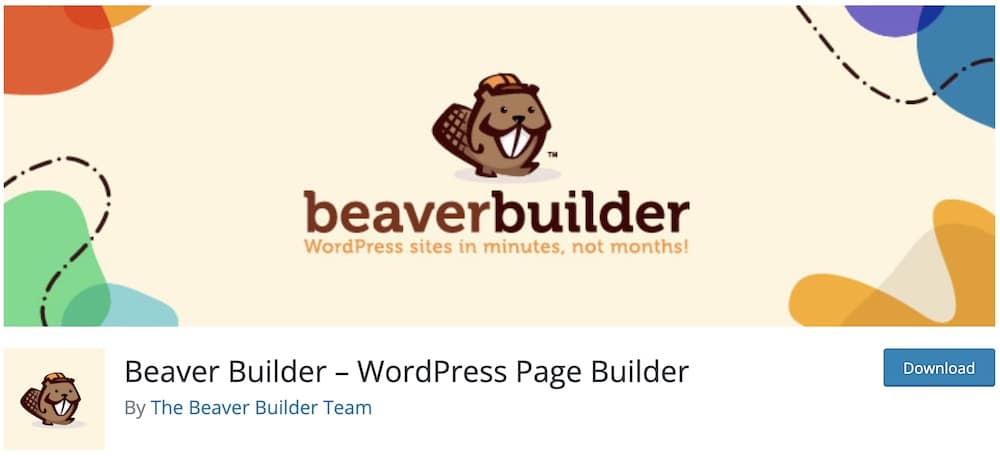 If you are looking for a free WordPress landing page plugin to create any full-width landing page you want, this one's for you.
You get a fantastic drag and drop editor with Beaver Builder to create stunning landing pages that load FAST.
Besides that, this plugin allows you to use media files on your landing page like video, audio, photos, HTML, etc.
Beaver Builder is a powerful option that provides you with the right tools to build top-notch landers in a breeze.
Note: Don't miss our collection of the best Beaver Builder themes!
Beaver Builder features:
MORE INFO / DOWNLOAD
3. Elementor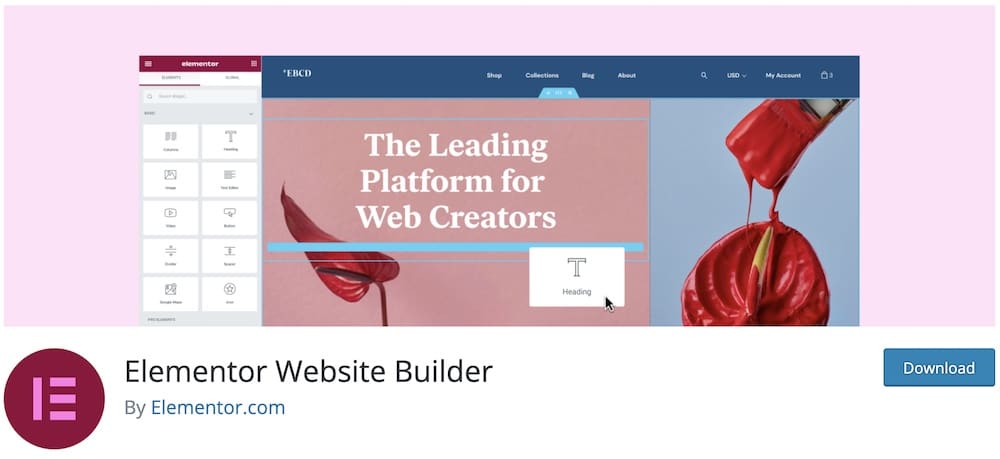 Elementor is the most popular landing and general WordPress page builder plugin available today.
You can start building landing pages without any need to work on code with this plugin.
This free WordPress landing page plugin works with any WordPress theme and is fully responsive. Plus, Elementor provides you with one of the best drag and drop tools on the market.
If you want to create fantastic landing pages and use the best plugin, Elementor HAS TO BE your first choice.
It's the tool we use the most often!
Elementor features:
5+ million active installations
4.7/5 ratings
Great support
Fast-loading website
40+ free widgets
MORE INFO / DOWNLOAD
4. Landing Page Builder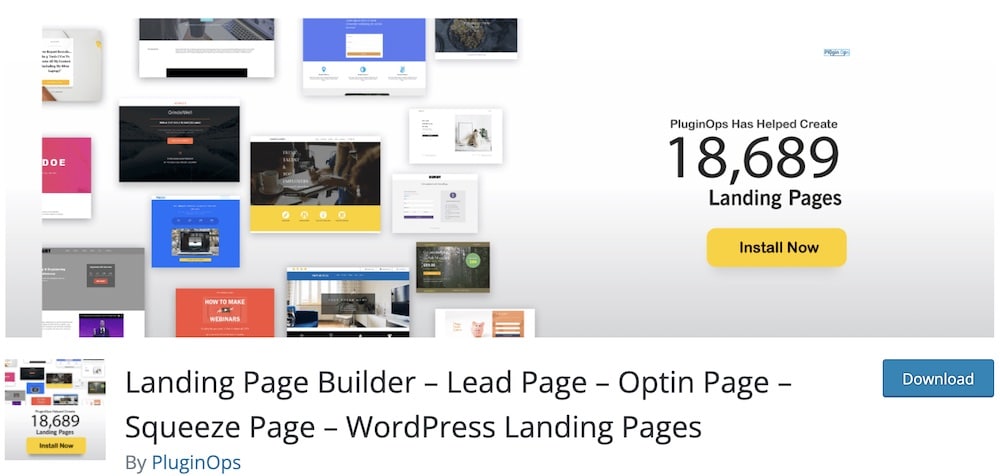 Landing Page Builder comes with a simple visual drag and drop system that dramatically simplifies the process of making landers.
You can use this free WordPress landing page plugin with your existing theme or apply any available templates.
We TESTED both options and the results were SUPERB!
Landing Page Builder is for classic landers, squeeze pages, opt-in pages, you name it!
Enjoy.
Landing Page Builder features:
MORE INFO / DOWNLOAD
5. LadiPage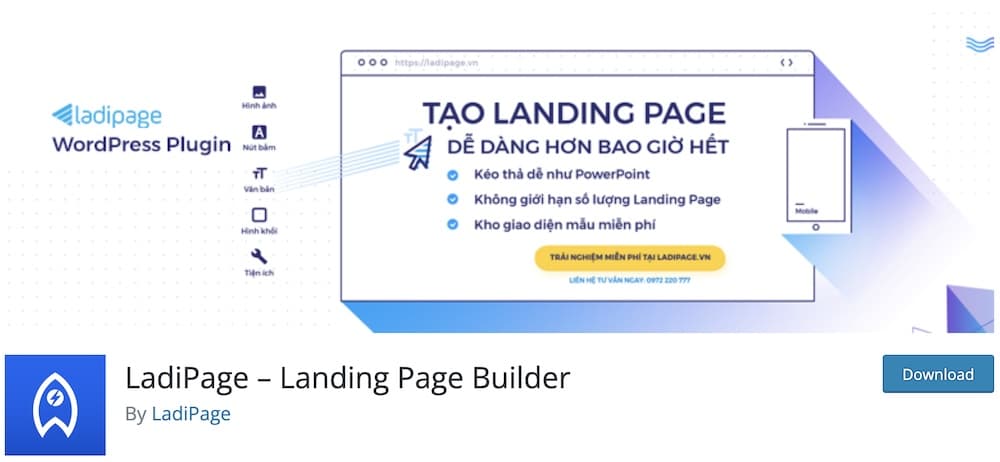 LadiPage plugin connects your WordPress website with the LadiPage designing platform.
This platform allows you to design beautiful landing pages without technical knowledge.
This free WordPress landing page plugin comes with a simple interface to create your pages, using the drag-n-drop tool and pre-made templates.
Connecting your website with the LadiPage platform is a piece of cake with this plugin.
Benefit from its features and BOOST conversions.
LadiPage features:
5,000+ active installations
5/5 ratings
Frequent updates
Well documented
Fully customizable
MORE INFO / DOWNLOAD
6. Landingi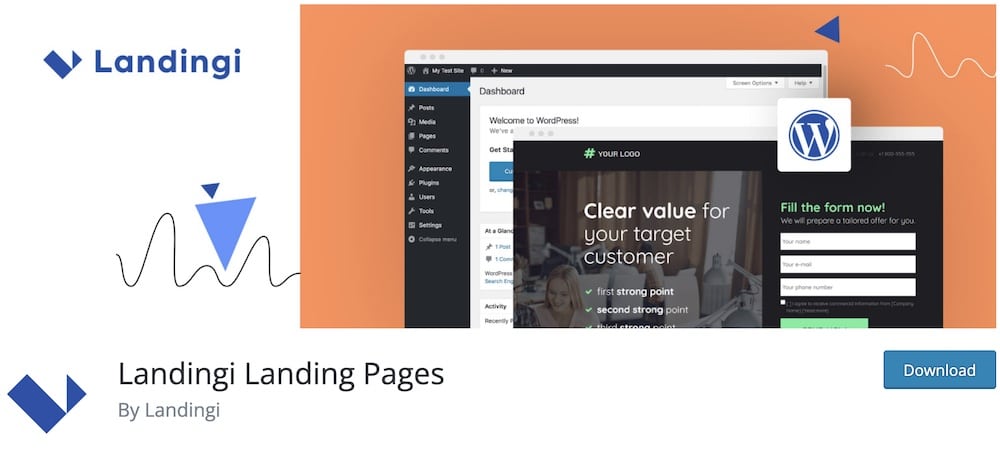 Landingi is the right choice if you are looking for a plugin with many options to create custom landing pages without programming skills.
This free WordPress landing page plugin comes with an extensive library of 200+ templates that will help you if you are unfamiliar with the designing process.
In addition, Landingi allows you to integrate Aweber, MailChimp, Active Campaign, etc.
NO design and NO coding skills? No problem! Landingi has you sorted.
We even gave it a WordPress newbie and he mastered it with ease.
Landingi features:
3,000+ active installations
5/5 ratings
30+ integration options
Analytics & tracking
Drag & drop system
MORE INFO / DOWNLOAD
7. Landing Page Builder w/ Templates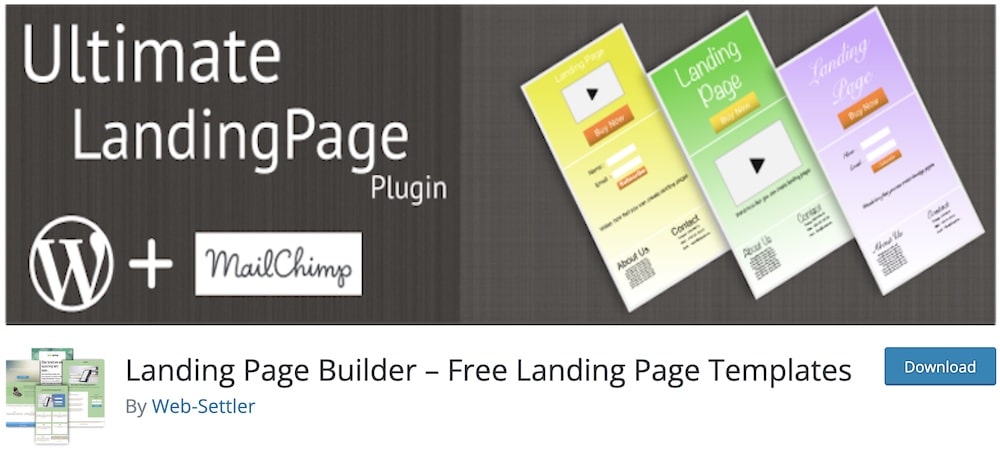 As we are close to finishing this list, we come across Landing Page Builder from Web-Settler.
It's one of the lesser-known tools we found, but it's so worth it! (0 coding necessary to use it!)
The greatest thing about this plugin is its built-in MailChimp subscription form that lets you boost your subs on the go.
We also like its SEO meta box for optimizing your lander and INCREASING rankings.
Enjoy the templates and the great SEO function and start collecting leads like a BOSS.
Landing Page Builder features:
1,000+ active installations
4.1/5 ratings
Coming soon page
Custom CSS option
MORE INFO / DOWNLOAD
8. Page Builder Sandwich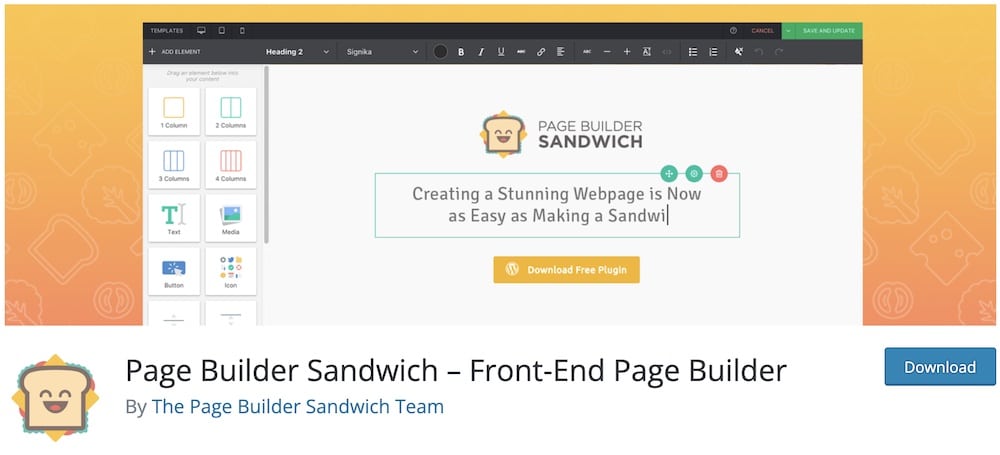 Our last pick for this amazing list is the Page Builder Sandwich. As the motto of the plugin says, creating a stunning webpage is now as easy as making a sandwich.
(But I may not be the right person to say this because I complicate things with my sandwiches too much, lol.)
This free WordPress landing page plugin is a drag and drop visual editor to design beautiful pages effortlessly.
You have MULTIPLE customization options for elements to create your desired landing page.
Page Builder Sandwich is a perfect option for beginners, but we quickly created more complicated landing pages as experts.
Page Builder Sandwich features:
10,000+ active installations
4.4/5 ratings
Can build a lander o mobile
MORE INFO / DOWNLOAD
::
Note: This article was originally published on April 18, 2022. But our team regularly reviews it and updates it with necessary improvements for accuracy.