You're ready to make big things happen with these best free and premium WooCommerce multi-vendor plugins.
Wanna build an Amazon-, eBay- or Etsy-like platform?
Let's GO!
(Easier to do than you think, trust me.)
We don't want you to go through the challenges of picking the right plugin (so many unreliable ones!), so we did all the work instead.
Welcome to the ULTIMATE eight after testing several dozen plugins.
This post covers:
A top-notch multi-vendor plugin has all the features you need, but is self-explanatory and easy to learn.
Note: Our four newbie webmasters had a blast using the first two, fourth and fifth plugins.
Create a multi-vendor marketplace now.
What To Look For In WooCommerce Multi-Vendor Plugins?
In other words, this is us revealing how we curated this collection of the best plugins for multi-vendors.
After choosing thirty plugins to test, we first made a general selection by reviewing ratings and reading through users' feedback. We also checked the update frequency.
Unfortunately, seventeen showed no signs of reliability, so we were left with thirteen to test further.
We thoroughly examined each WordPress plugin by installing it on our ULTIDA demo page. We also have a complete guide on how to install a WP plugin on your website.
We always first test the effect it has on the speed.
Because, no, you don't want a multi-vendor plugin to drop your WooCommerce website's performance. Two of them did, so we had the final eleven competitors.
This was when the more granulated studying came into play.
We found out how user-friendly the front end is, payment solutions, support for physical and digital products, (in some cases) tax collection, etc. We also read through the documentation and contacted the support team.
Remember, a premium plugin comes with more settings freedom, while a free one is more limited.
THE ULTIMATE 2:
Do you want to sell more? Check our best-of free WooCommerce and eCommerce plugins!
Top WordPress WooCommerce Multi-Vendor Plugins
1. Multi Vendor Marketplace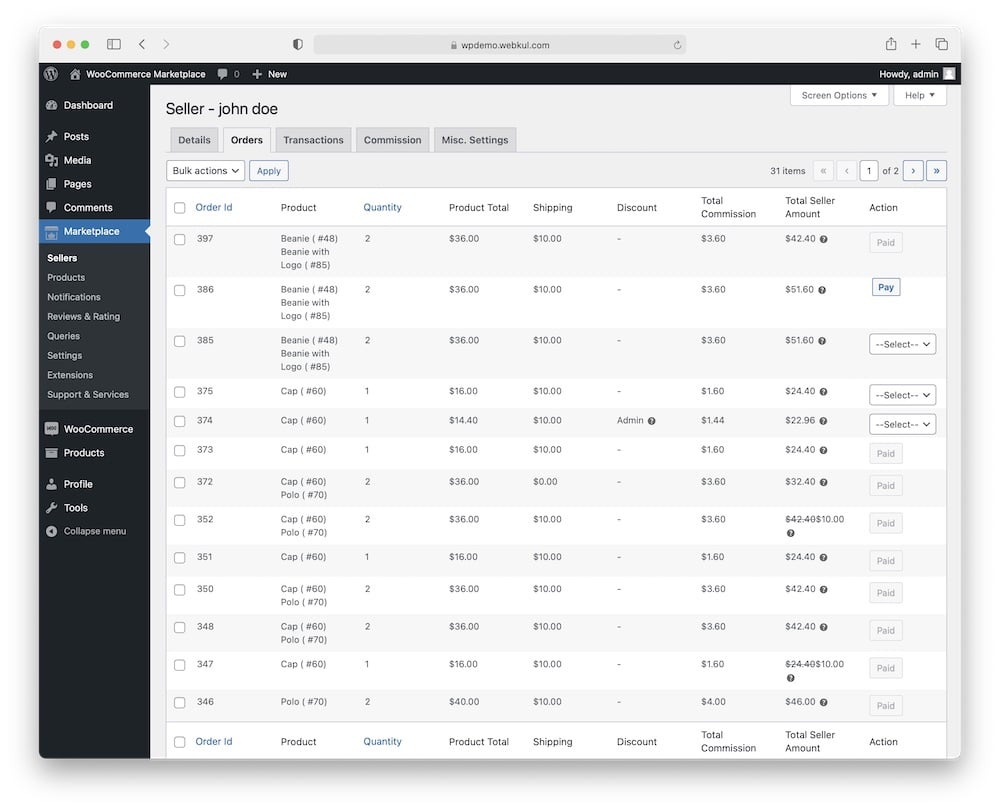 Consider your multi-vendor WooCommerce store as a connection point between your website's sellers and visitors/buyers.
This connection point needs to be fully functional, easy to navigate and accessible, right?
Our first proposal fulfills all of this for you.
Multi Vendor Marketplace is one of the most powerful plugins on the market. We experienced the easiest way for sellers to manage their profiles from a simple front-end dashboard.
Your vendors (sellers) can manage their shipping methods and products effortlessly.
But you, as the administrator, have ultimate CONTROL over the products in the marketplace (delete, edit, approve, set privileges, etc.).
Multi Vendor Marketplace features:
1,500+ sales
4.6/5 ratings
Flexible commission management
Regular updates
Price: $99 (may vary)
MORE INFO / DOWNLOAD
2. Mercado Pro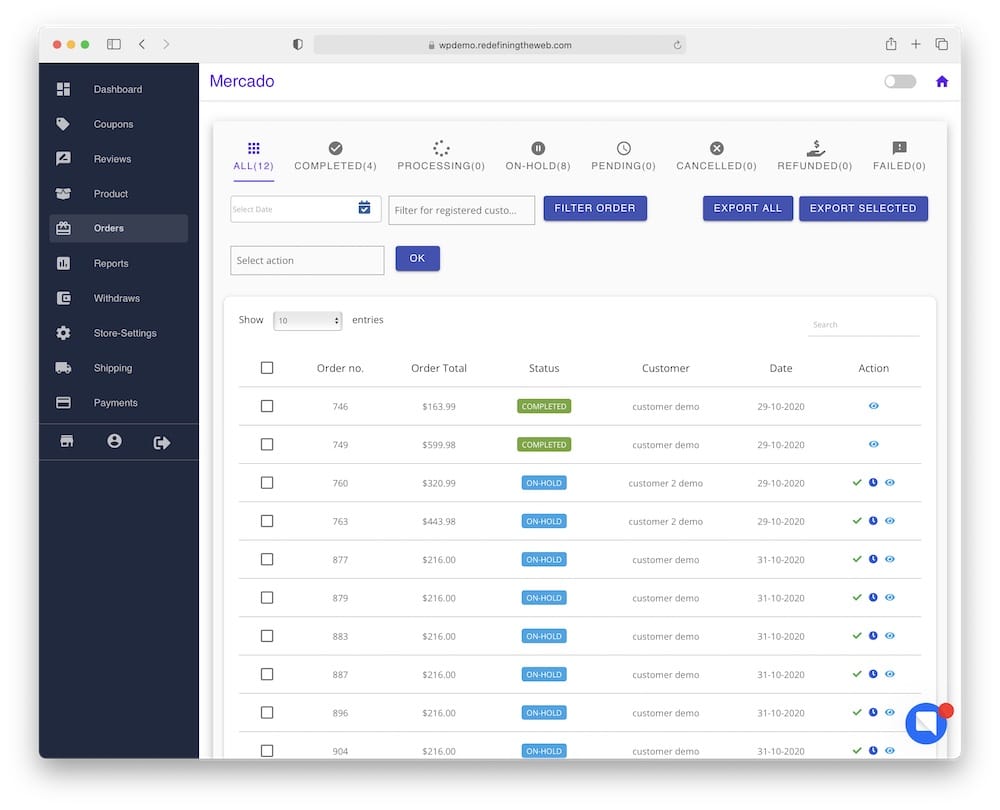 We are big fans of well-designed, robust admin dashboards. And Mercado Pro simply has the best dashboard on this list.
YUP!
It was so hard picking the best WooCommerce multi-vendor plugin.
Mercado Pro has ALL the features you and your sellers need.
During our test, we especially enjoyed the seller profile setup and commission rate management.
Where Mercado Pro really outshines most multi-vendor plugins is in the analytics section.
We had access to valuable customer and vendor data through the dashboard's management reports.
Mercado Pro features:
440+ sales
4.5/5 ratings
Live Ajax search
Top-notch live tracking panel
Price: $49 (may vary)
MORE INFO / DOWNLOAD
3. YITH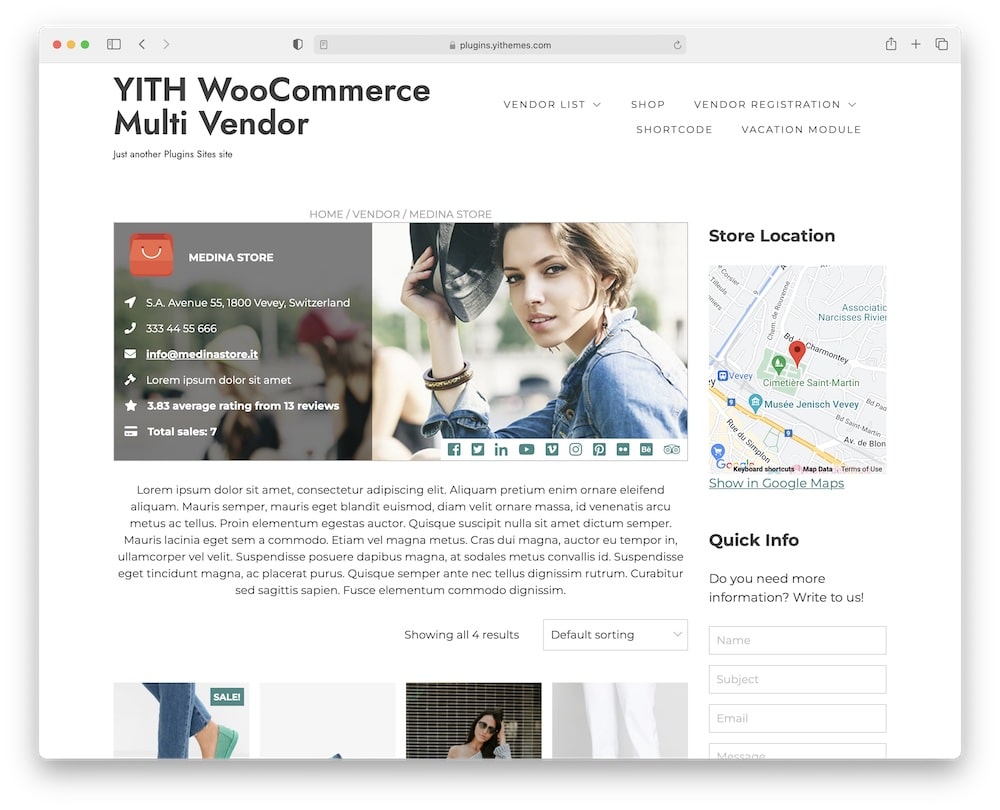 YITH is one of the few WooCommerce multi-vendor plugins on the market that treats your website as a business model.
After installing the plugin, we immediately understood the plugin's professionalism.
Let us explain: YITH makes passive income a simple task. The plugin lets you view a detailed sales and commission report and optimize your marketplace accordingly. (So necessary!)
Apart from that, all ESSENTIAL features are present: From organizing marketing campaigns and selecting multiple administrators to creating unique catalogs and special coupons – it leaves nothing out.
YITH features:
19,700+ sales
4.5/5 ratings
Fully-scalable
WP widgets for shipping zones, policies & cost calculation
Price: $149.99 (may vary)
MORE INFO / DOWNLOAD
Best Free WooCommerce Multi-Vendor Plugins
4. Dokan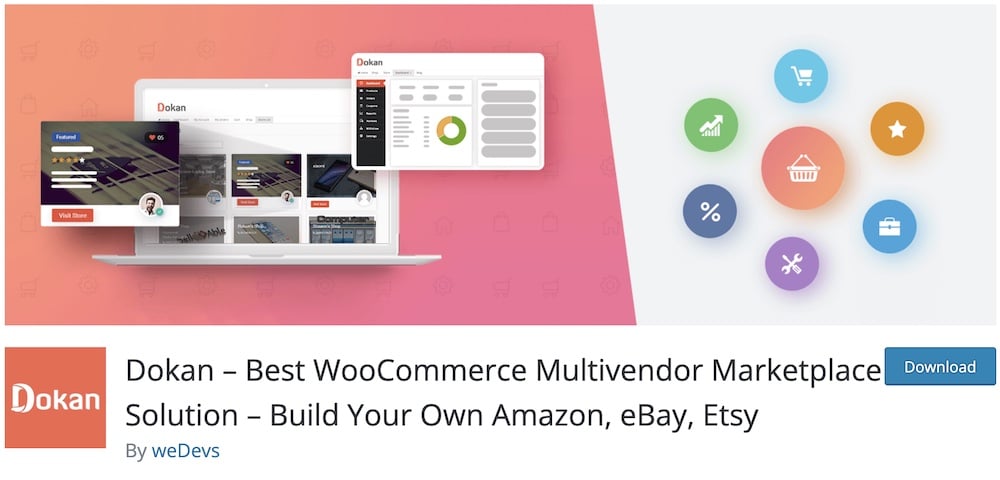 Is it possible to build a professional multi-vendor platform for free? A few years ago, it definitely was not.
But that was until Dokan came along. This one is epic!
The developers of this free WooCommerce multi-vendor plugin claim that it is a powerful yet beginner-friendly solution.
Well, our test proved them right.
Indeed, Dokan's free version offers everything a beginner needs (AND MORE!). Creating product lists, setting commissions, and developing a marketing strategy is a breeze!
We did not feel the need to upgrade to the Pro version right away, which is rare for this type plugin.
That's why Dokan is the best free plugin, in our opinion.
Dokan features:
60,000+ active installations
4.5/5 ratings
Extended documentation
Multiple shipping features
Supports Elementor page builder
MORE INFO / DOWNLOAD
5. WC Marketplace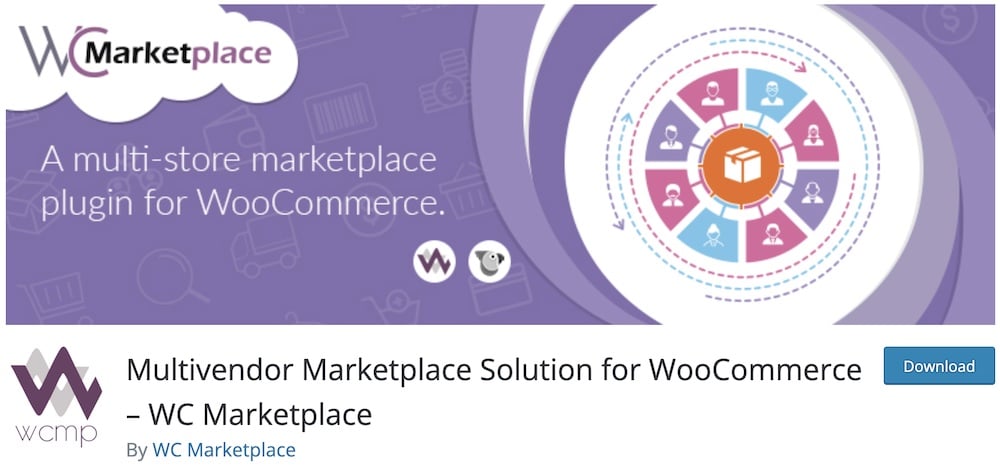 If you have tried to create a virtual eCommerce marketplace like Amazon or Etsy and it seemed impossible, you should try WC Marketplace.
This WooCommerce multi-vendor plugin makes everything EASIER with a centralized and self-explanatory control panel.
We loved that WC Marketplace does not require any programming knowledge (nor do others on this list).
We set up our vendors and products quickly with the help of a simple startup guide.
The dashboard is also fully customizable to focus on the things that matter most (commissions, vendor communication, etc.).
WC Marketplace features:
7,000+ active installations
4.8/5 ratings
Integrates management tools like to-do lists
Create social marketplace
MORE INFO / DOWNLOAD
6. WC Vendors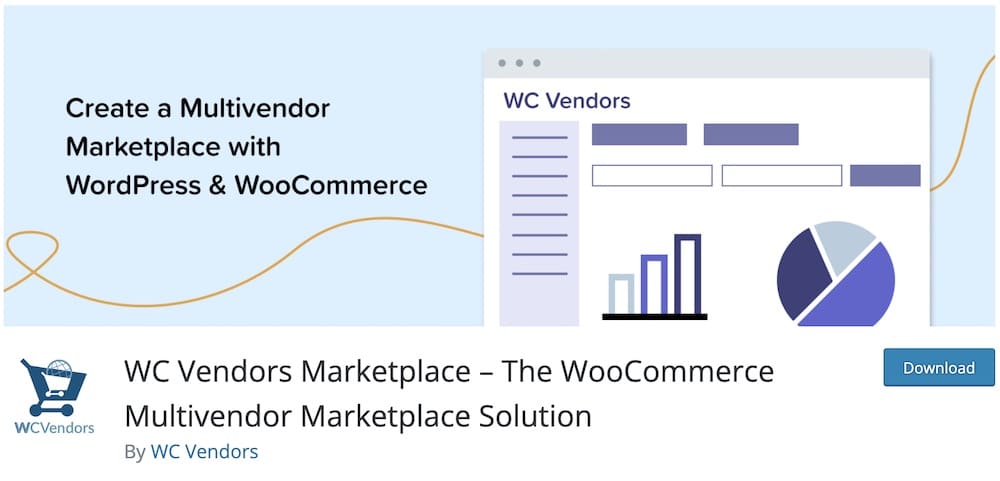 Do not be fooled by a similar name. WC Vendors is a very different plugin than our previous selection. First of all, this WooCommerce multi-vendor plugin is more niche-oriented.
With some special customization features, WC Vendors is the best choice if you want to create a comprehensive marketplace for art, cooking, furniture and more.
It gives you ultimate control over commissions and manages how products are added and sellers interact with customers.
SO. FLEXIBLE.
WC Vendors features:
8,000+ active installations
4.8/5 ratings
Integrates management tools like to-do lists
Variable products
Beginner-friendly
MORE INFO / DOWNLOAD
7. WCFM Marketplace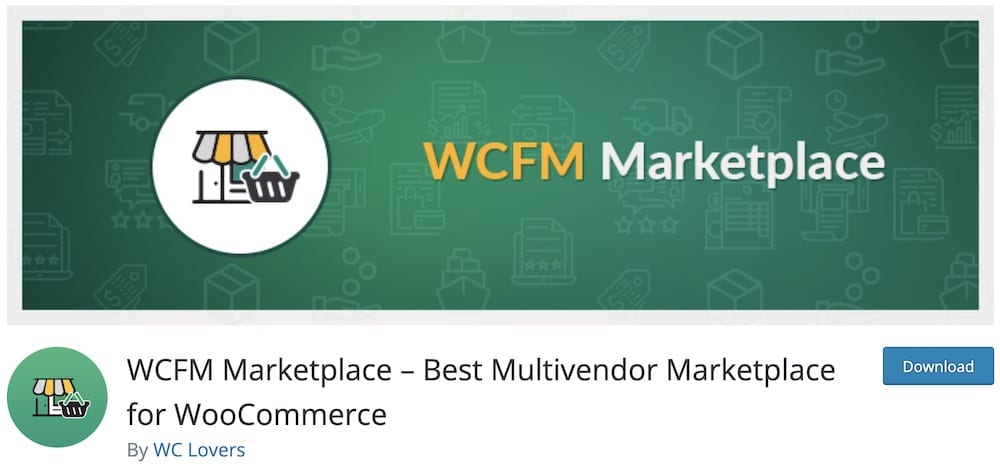 If you're tired of long-hour setups, WCFM Marketplace might be the best WooCommerce multiple vendor plugins for you.
We had a blast getting everything organized WITHIN minutes while testing this plugin.
The features include numerous store filters and a radius search, a top-notch commission system, and one of the most flexible shipping management systems.
Finally, you can use 10+ payment gateways, including PayPal (feel free to also check our WP PayPal plugins), Skrill, cash and bank transfer with WCFM Marketplace plugin.
WCFM Marketplace features:
30,000+ active installations
4.7/5 ratings
SEO-friendly
Templates for store hours, policies & invoices
MORE INFO / DOWNLOAD
8. WCFM Frontend Manager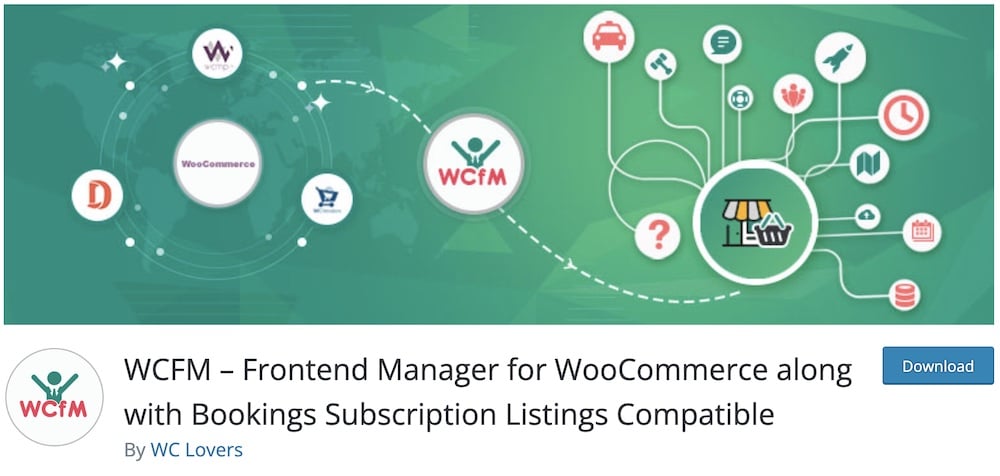 If there's something missing from most of the WooCommerce multi-vendor plugins we have tested in this list, it's ADVANCED vendor support. If that's what you want, our final pick is just what you need.
WCFM is a resourceful front-end dashboard for your vendors. Your marketplace sellers can easily import and export their listicles, create invoices and communicate with your admin(s).
And you, as the owner, can manage everything easily.
The plugin is fully compatible not only with the WCFM marketplace plugin but also with most of the plugins mentioned above (WC Vendors, Dokan, etc.).
WCFM Frontend Manager features:
30,000+ active installations
4.5/5 ratings
Includes analytics
Ultimate payment/shipping management
Compatible with any modern WordPress translation plugin
MORE INFO / DOWNLOAD
::
Note: This article was originally published on May 1, 2022. But our team regularly reviews it and updates it with necessary improvements for accuracy.