I've often been asked how to add a contact form in WordPress.
The time has come to solve the mystery. But there's no real mystery because anyone can do it easily and quickly!
Whether you need a simple form for people to get in touch or for users to allow guest post submissions and client application processes – you'll MASTER it ALL.
This post covers:
How To Create A Contact Form In WordPress
When creating and adding contact forms in WordPress, you have two options.
The BORING and the FUN one.
1. Option BORING (Without A Plugin)
You can add a form manually by coding it from scratch.
The benefit of this approach is that you can create a completely custom form that perfectly meets the needs of your business.
(You can achieve just as impressive results with the FUN process.)
The downside is that you must learn to code (TIME!) or hire a developer.
If you don't want to learn how to code, you'll need to hire a developer (MONEY!) every time you need to add a new form to your site.
This is not a very practical solution.
2. Option FUN (With A Plugin)
Luckily, there's another way: a WordPress contact form plugin.
Numerous contact form plugins are available for WordPress, and you can install many of them for free.
Note: You may also be interested in reading our guide on how to install a WordPress plugin.
The process is simple.
Follow the steps below, and you'll have a working contact form in no time.
How Do I add A Contact Form In WordPress? (In 3 Steps!)
1. Install A Contact Form Plugin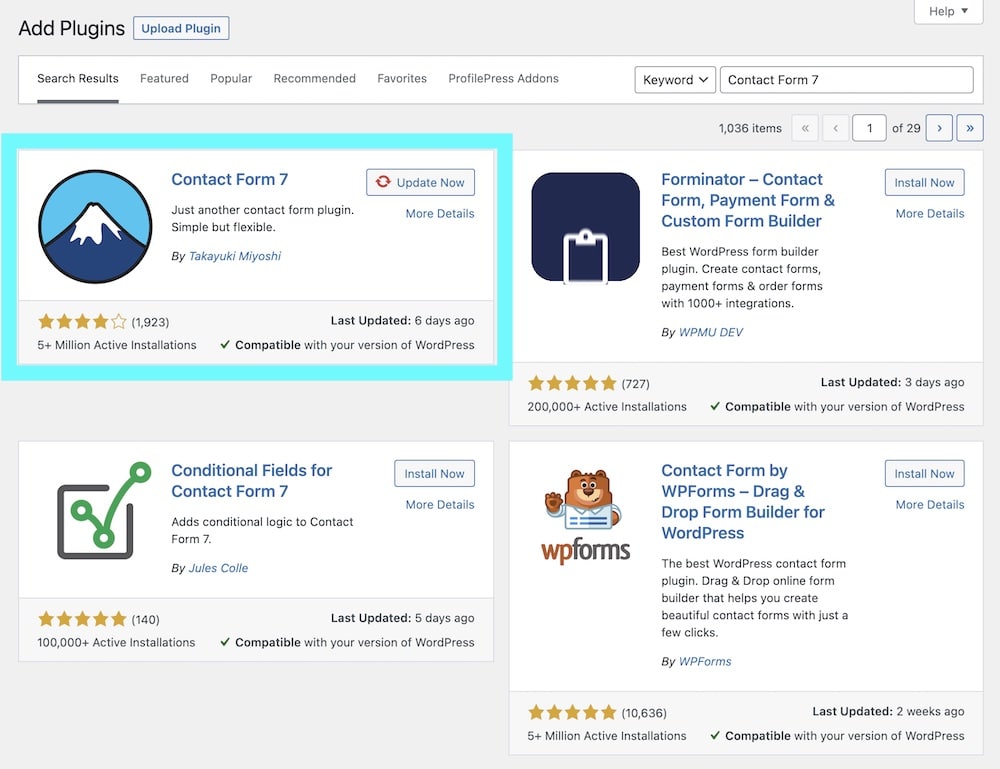 Log into your WordPress dashboard, go to Plugins, and click Add New.
From there, search for a contact form plugin. You'll get many results, so choose a form plugin you like, install it, and activate it.
To pick a reliable one, choose from our selection of the best WordPress contact form plugins.
But you can go with our top-notch, tested and proven recommendations below. (I highlighted the three ultimate ones.)
(They're so easy and powerful to use – you can master them on the fly. No need for all those long-form tutorials!)
2. Create Your Form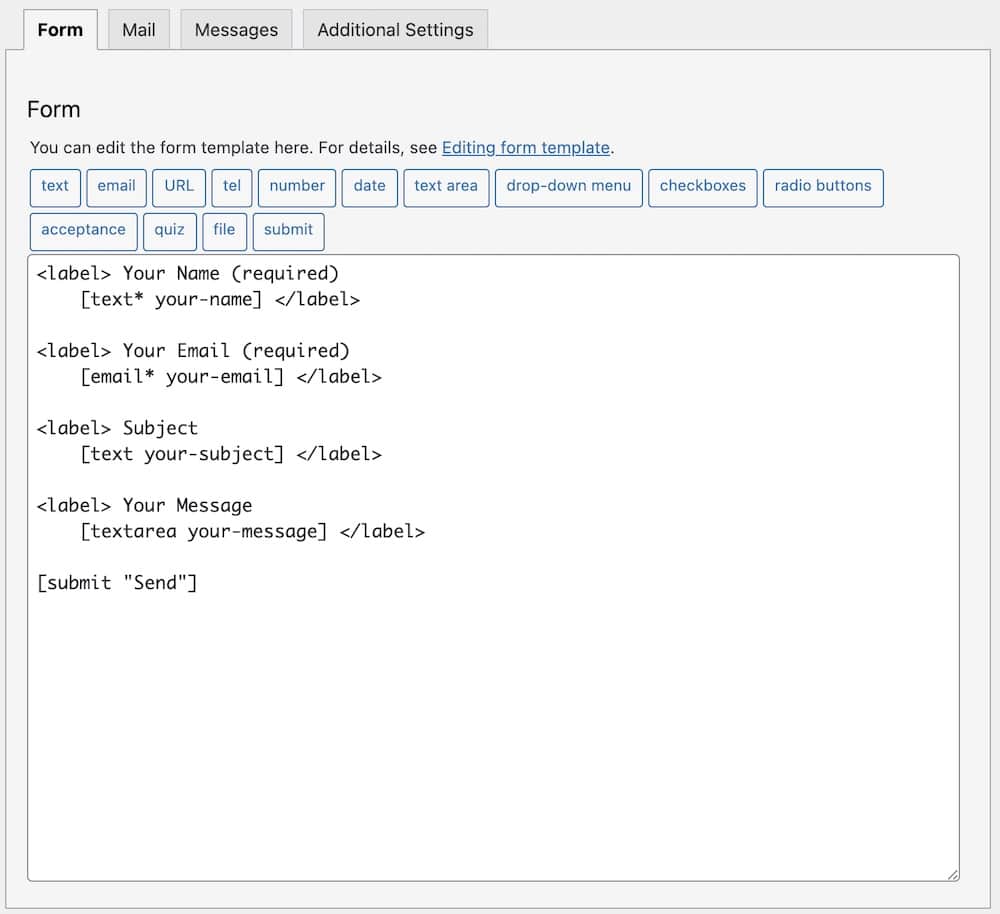 Once the plugin has been activated, use the form tools to create your contact forms.
You'll want to add the essential fields such as name, email, and message but feel free to add other areas as well.
It depends on the plugin you choose, but the options are ENDLESS. You can tailor the form to your needs specifically in a few clicks.
That's exactly how easy (and fast!) it is.
3. Add The Form To Your Contact Page
The last step when you create your form is to add it to your contact page.
Many form plugins have a Gutenberg block that quickly adds a form to any page.
Sometimes, you'll get a WP shortcode that you'll need to copy and paste onto the page where you want the form to appear.
Very beginner-friendly.
3 Best Free Contact Form WordPress Plugins
Now that you know how to add a contact form in WordPress, here are our top 3 free contact form plugins for WordPress.
1. Contact Form 7 (Our Favorite!)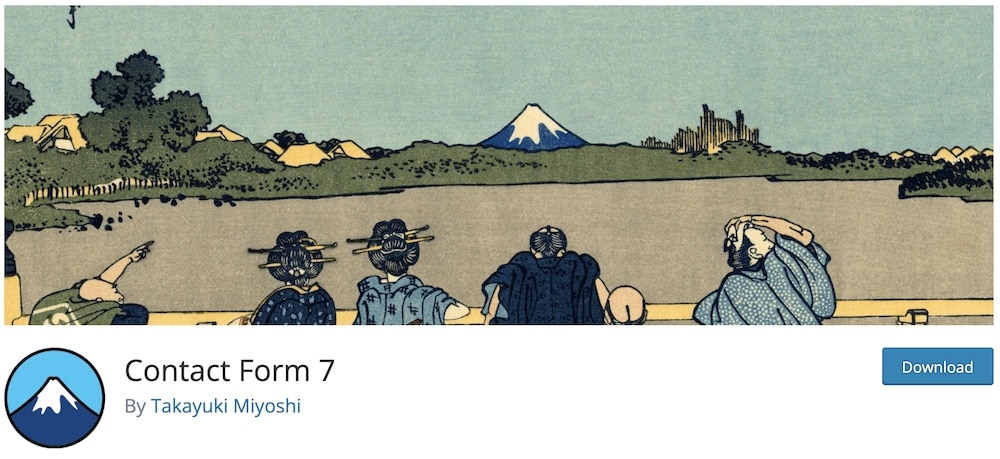 Contact Form 7 is one of the oldest and most popular free contact form plugins.
You can create simple and more advanced forms and there are even free add-ons that add extra features to the plugin.
Contact Form 7 features:
5+ million active installations
4.1/5 ratings
reCAPTCHA integration
Ajax-powered submissions
Spam filtering
MORE INFO / DOWNLOAD
2. Ninja Forms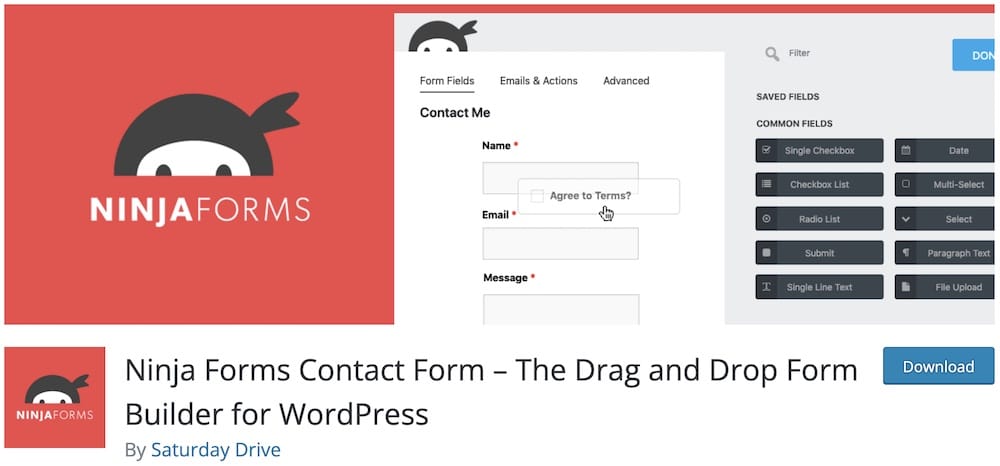 Ninja Forms is another free contact form plugin for WordPress that touts itself as the beginner-friendly form builder. And it really is!
It comes with a drag and drop interface and you can use it to create basic and more advanced contact forms.
The core plugin is free and suitable for most needs. But, if you need more advanced features such as integration with 3rd-party apps or the ability to accept payments, you can upgrade to the premium version.
Pricing starts at $29/year for individual add-ons or $49-$249/year for membership plans.
Ninja Forms features:
1+ million active installations
4.4/5 ratings
27+ form field types
Customizable form notifications
Regular updates
MORE INFO / DOWNLOAD
3. Contact Form by WPForms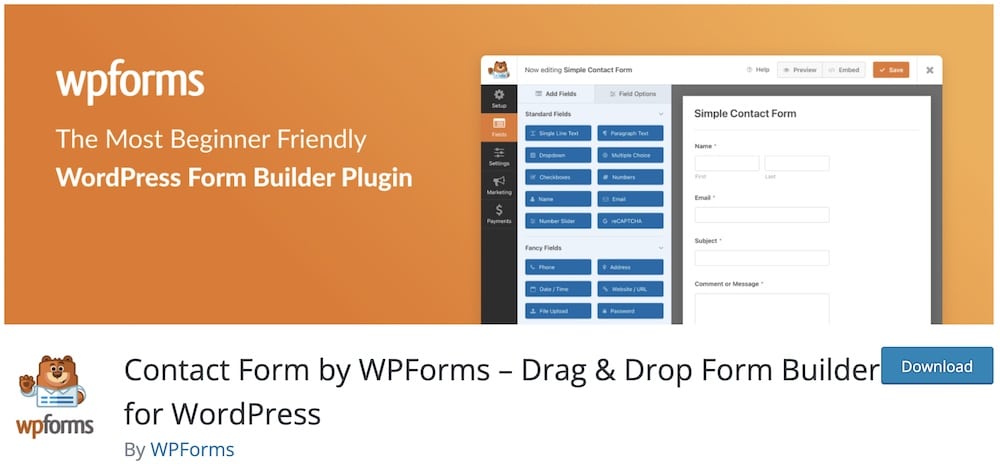 Contact Form by WPForms is another easy-to-use form plugin. It comes with a drag and drop builder, so you can easily create all kinds of forms. (Click, click, click.)
This is another form that offers several features for free. But if you need something special, such as multi-page forms, you'll need to upgrade to the pro version. (Plans start at $79/year.)
Contact Form by WPForms features:
5+ million active installations
4.9/5 ratings
Custom success message
Payments-ready
Instant notifications
MORE INFO / DOWNLOAD
Conclusion: Add A Contact Form With Ease
As you can see, adding a contact form in WordPress is simple. Like, VERY SIMPLE.
(Oh, and quick, too!)
All you need is the right form plugin for the job. (No, I don't recommend coding it because it's boring and unnecessary.)
Use the tips in this article, find the right contact form plugin and add the contact form on your WordPress site.
::
Note: This article was originally published on December 3, 2021. But our team regularly reviews it and updates it with necessary improvements for accuracy.