Are you trying to find a list of the best podcast WordPress themes because you'd like to create an online hub for your episodes?
It's true; when it comes to taking your podcasting career to the next level, having a well-design and established website can make all the difference.
Luckily, you can now build a SOLID online presence to share your episodes, attract new listeners and build a loyal following.
In this WordPress theme roundup, I'll share with you the ultimate themes for podcasters, highlighting their features, functionality and design.
This post covers:
I'm sure these themes will help you whether you're a seasoned podcaster or starting out.
Note: If you already have a website but want to expand it, skip themes and pick a WordPress podcast plugin instead.
How I Chose The Best Podcast WP Themes
While you can scroll down and check the themes straight away, I also want to share with you a quick overview of the testing process I did to pick the best themes.
First, I looked at user feedback (did they have any problems with the theme?), checked overall ratings and update frequency (you don't want to go with an outdated theme).
Second, I got feedback from theme support and studied documentation. Hey, you need a theme that has your back – always.
Third, I installed each theme on our demo site to find how fast it loads and how responsive it is. (Pingdom Tools and Google Mobile-Friendly Tool helped me + manual analyzing.) Speaking of speed, check how to choose a fast WP theme.
Fourth, I tried answering the following question: "Can a beginner install and set up the theme easily and quickly?"
Fifth, I also tested compatibility with the latest WP version and plugins to ensure you can use and expand the theme with new features and functions.
By using these methods, I tested and evaluated all podcasting themes to guarantee they'll meet your needs.
QUICK-PICK: Best WP Themes For Podcasters
By the way, do you want to see how to install a WordPress theme? We have a tutorial for you!
Best Podcast WordPress Themes
1. Vlog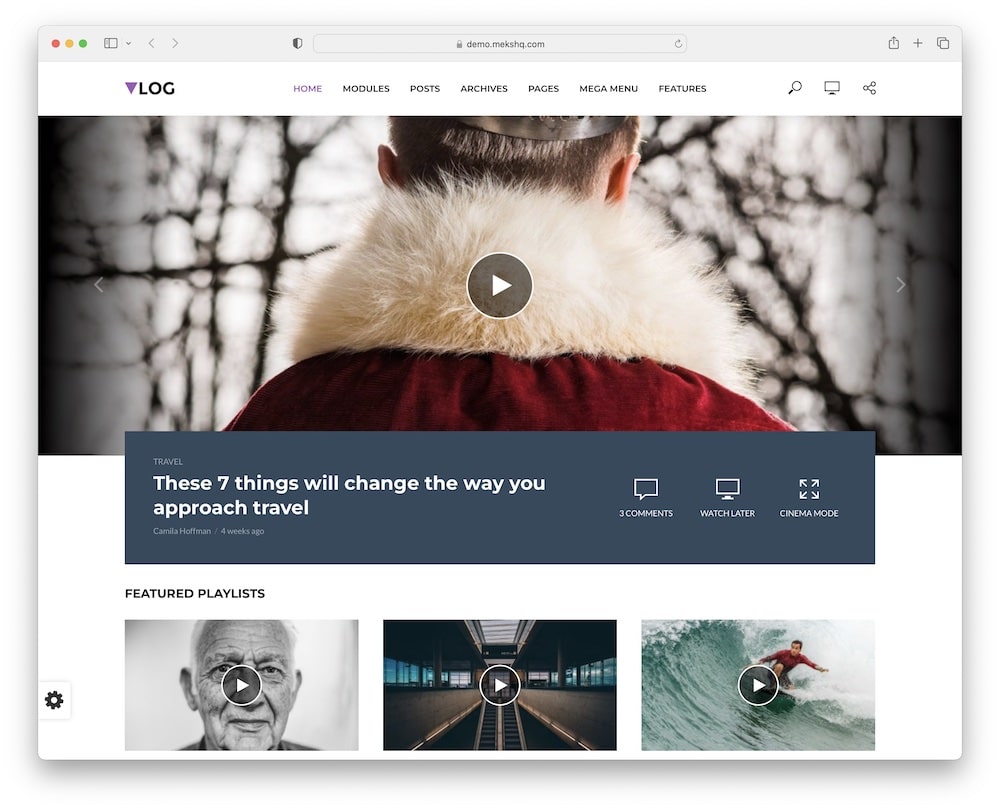 The modern Vlog podcast theme is the best way to host, promote, and track your podcast.
Your videos will look AMAZING and can be displayed from YouTube, Vimeo, DailyMotion, Twitch, or any other video platform.
Plus, you can post valuable articles on your blog.
Moreover, smart Vlog includes numerous features for user-friendly viewing like cinema mode, watch later, video playlists, sticky video, and handy categories module.
Besides, Vlog is optimized for great performance, ensuring fast speed, responsive design, and one-click updates. Of course, you also get full documentation for step-by-step setup.
And social media integration?
Yup, it's here! Connect with your platforms, encourage sharing, and build your brand bigger. (You may also want to check our tutorial on how to add social share buttons in WordPress.)
Vlog features:
6,000+ sales
4.9+ star ratings
Automaic YouTube & Vimeo import
Multiple custom WP widgets
Price: $59 (may vary)
MORE INFO / DOWNLOAD
DEMO
2. Megaphone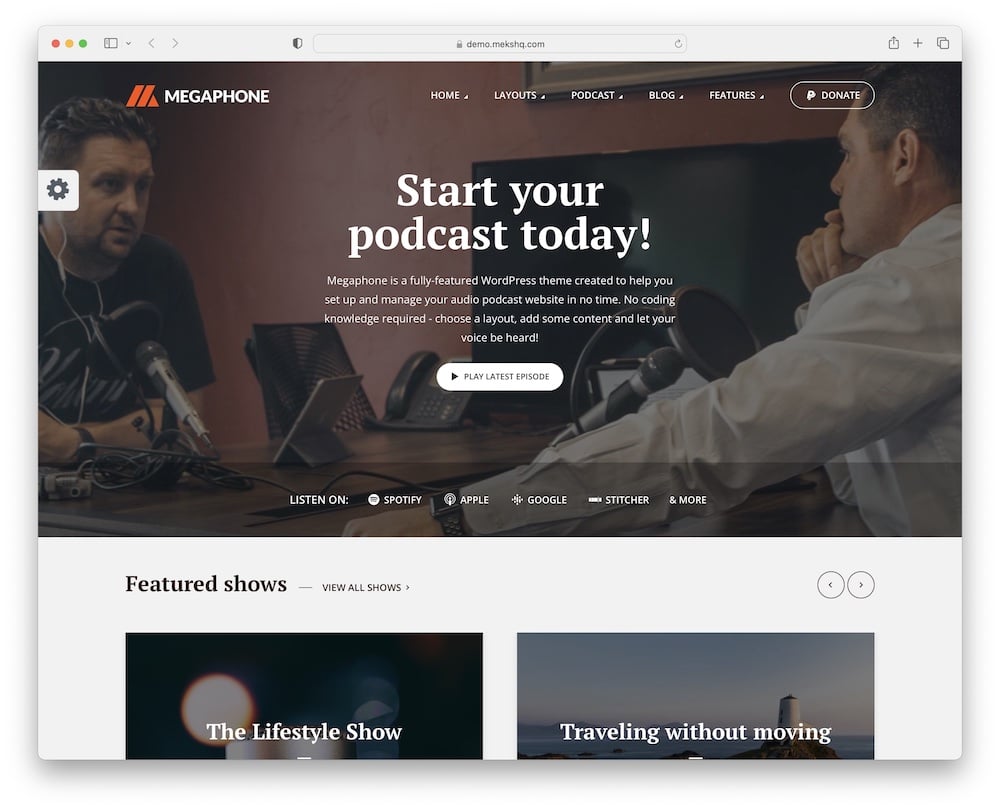 Let's talk podcasting!
The stunning Megaphone podcast WordPress theme is perfect for newbies and seasoned podcasters.
Remember, your content will look and sound professional on Megaphone.
You can immediately import a ready-to-use demo and customize (live preview) it exactly as you wish. Choose from numerous layouts, colors, fonts, sliders, and shortcodes.
Plus, build your online store with Megaphone via the HANDY WooCommerce plugin. I find this fully functional plugin with advanced shop features is a pleasure to work with.
Moreover, Megaphone customer support provides quick help, answers, and productive feedback if you need it. To make your journey (definitely) MORE fun.
Now it's time to commit. Take action!
Megaphone features:
1,600+ sales
4.8+ star ratings
Host your podcast from your favorite platform or directly on your website
Supports all popular WP podcasting plugins
Price: $69 (may vary)
MORE INFO / DOWNLOAD
DEMO
3. Roogan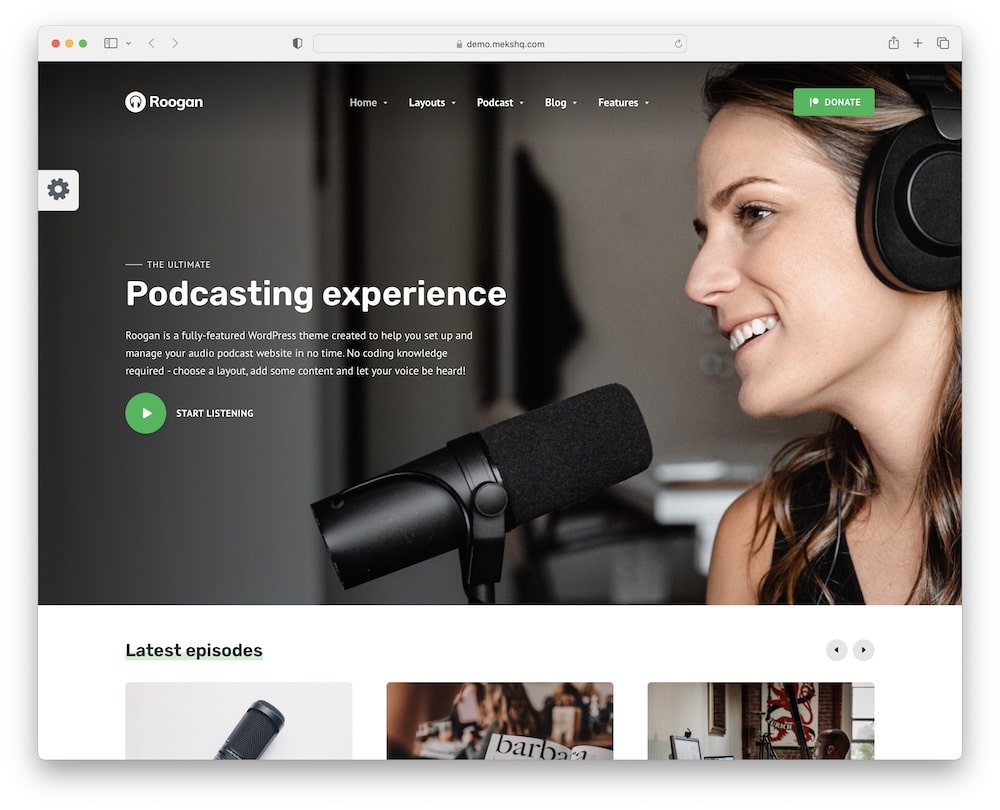 The beautifully designed Roogan podcast theme is a haven for content creators and their fans.
All you need is your idea and a microphone!
Choose from various layouts, pre-made headers, unlimited WP sidebars, and popular plugins. Roogan also includes a powerful audio player, so users don't have to leave your website to listen to your podcasts. (Check Rok's free WP audio player plugins list if you want alternative options.)
Moreover, with Roogan, you can monetize your site by placing ad banners or inserting affiliate links. Yup, you can make your money while you sleep!
I also LOVE different Roogan options for neatly organized videos, like grouping them into categories of multiple shows and older-newer post navigation.
Oh, and, super important (!), create a newsletter notification for the latest posts and grow your business through email marketing.
Put your podcasts in front of your audience TODAY!
Roogan features:
760+ sales
4.6+ star ratings
Automatic episode detection
Compatible with enabling RTL mode in WP
Price: $69 (may vary)
MORE INFO / DOWNLOAD
DEMO
4. Podcaster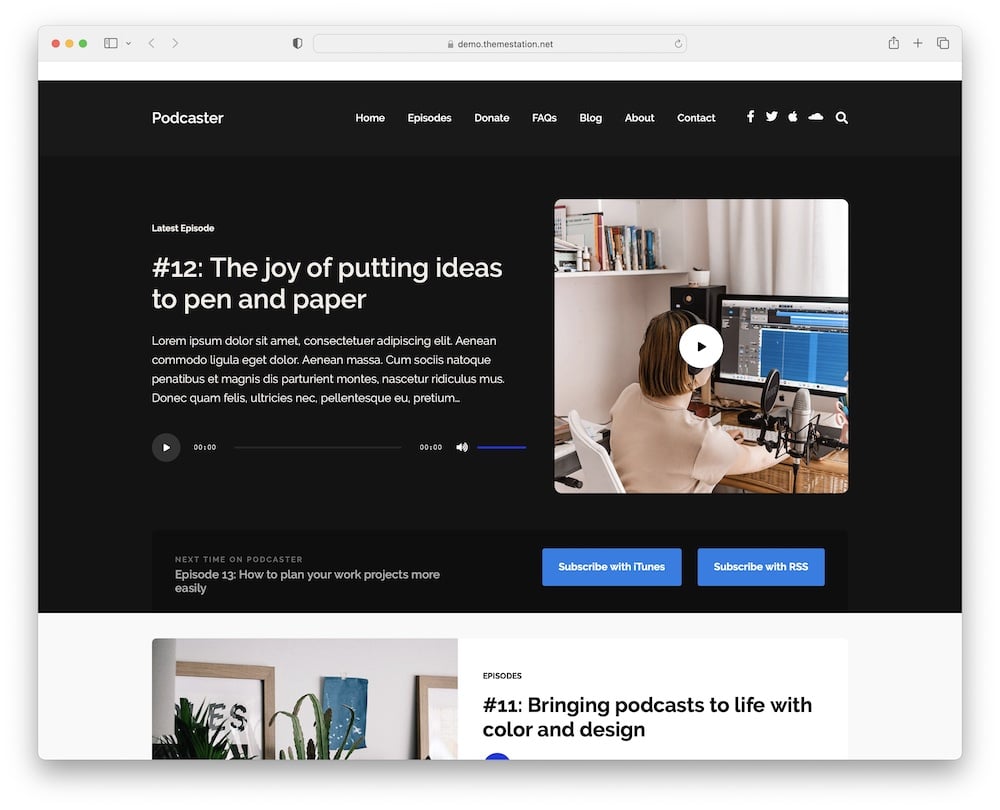 Become your own BOSS and start building your future website with a podcast WordPress theme today!
Podcaster is a clean and stylish theme that offers everything you need for a quick and easy start. Remember you can mix, match, adjust or delete pre-made elements (NO coding skills required).
Woowie!
Moreover, you get unlimited podcast archive pages for attractively organized episodes accompanied by audio and video players.
Plus, don't forget about the power of blogging!
Of course, you can also greet and meet your visitors through a subscription form.
I am a BIG fan of the sticky menu and dark-light mode. (You may also be interested in Ales's guide on adding dark mode in WordPress.)
About my obsession with parallax theme scrolling, you probably already know! Maybe you CAN have it all? YES, you can.
Podcaster features:
3,300+ sales
4.1+ star ratings
30+ one-click demos
Price: $39 (may vary)
MORE INFO / DOWNLOAD
DEMO
5. Castilo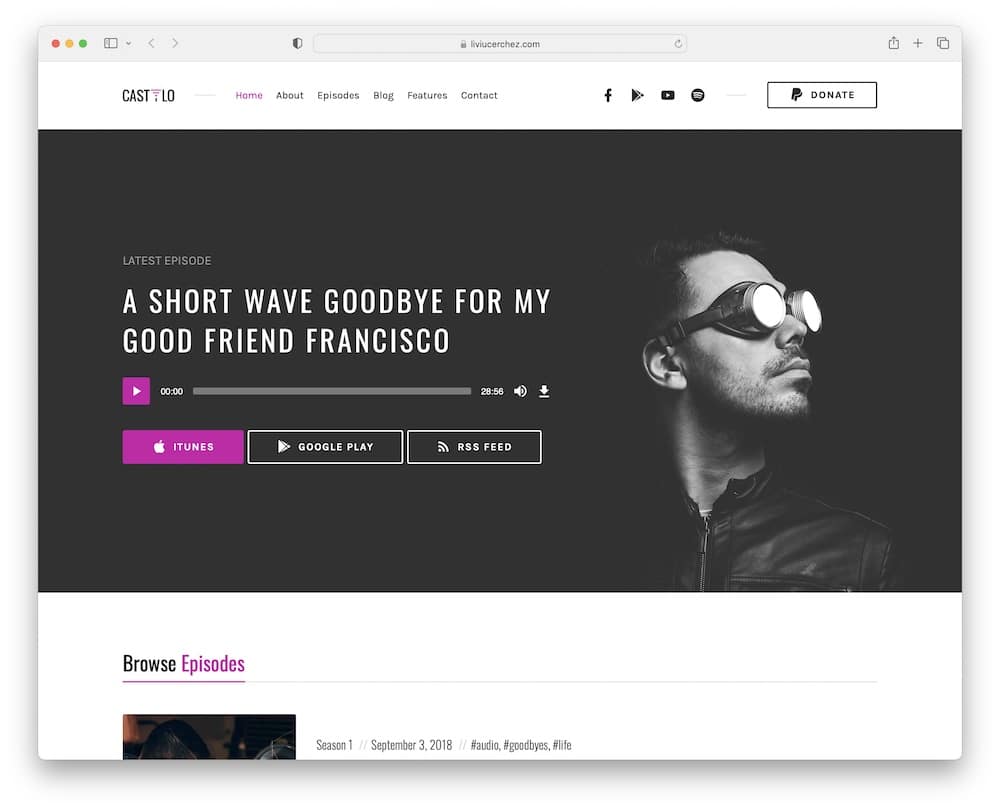 Improve your reach with the Castilo audio podcast theme and activate your fans by offering AWESOME content!
You can easily add your personal touch and customize existing demo design to all your needs without any coding knowledge.
Remember, Castilo is integrated with Gutenberg, meaning you will work with flexible blocks and have a user-friendly publishing experience.
Moreover, Castilo can be translated into any language for those who want to go local or global. Pretty COOL, right?
But most importantly, it includes pages with a built-in player, downloadable show notes, podcast statistics, and links to podcast platforms.
Huge value!
Take advantage of Castilo's practical design and media-rich elements. That is it.
Castilo features:
1,400+ sales
4.7+ star ratings
Transcripts & episode jumping points
Embed 3rd-party podcast feeds
Price: $50 (may vary)
MORE INFO / DOWNLOAD
DEMO
6. Soundbyte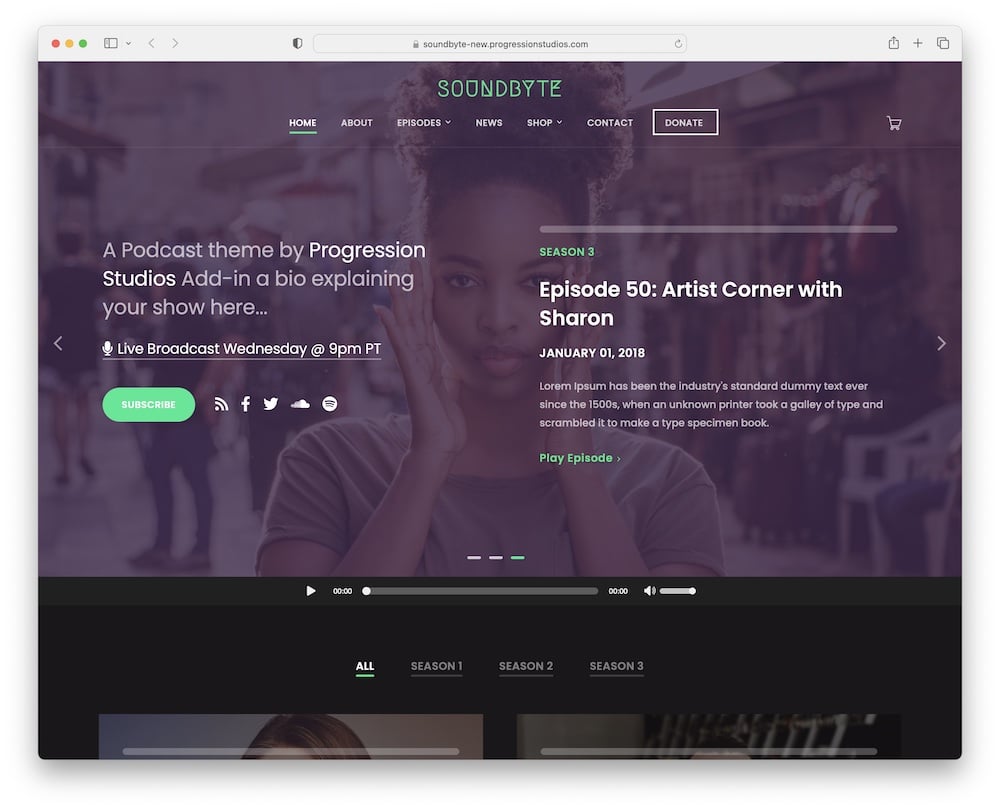 Over-the-top, must-make, Soundbyte theme, WEBSITE. Grab a coffee and build it.
Create beautiful sliders, organize the mega menu (my favorite navigation solution), and set up a WordPress sticky header to always be visible.
Don't forget: Top-notch customer support will handle all your dilemmas, SO keep calm. You got this!
Furthermore, Soundbyte is responsive and retina ready to look great on any device and screen size. New life rule: Great usability on smartphones is essential.
Oh, and with brilliant Contact Form 7, you can display attractive contact forms so fan can get in touch with you with ease.
Are you down?
Soundbyte features:
MORE INFO / DOWNLOAD
DEMO
7. Viseo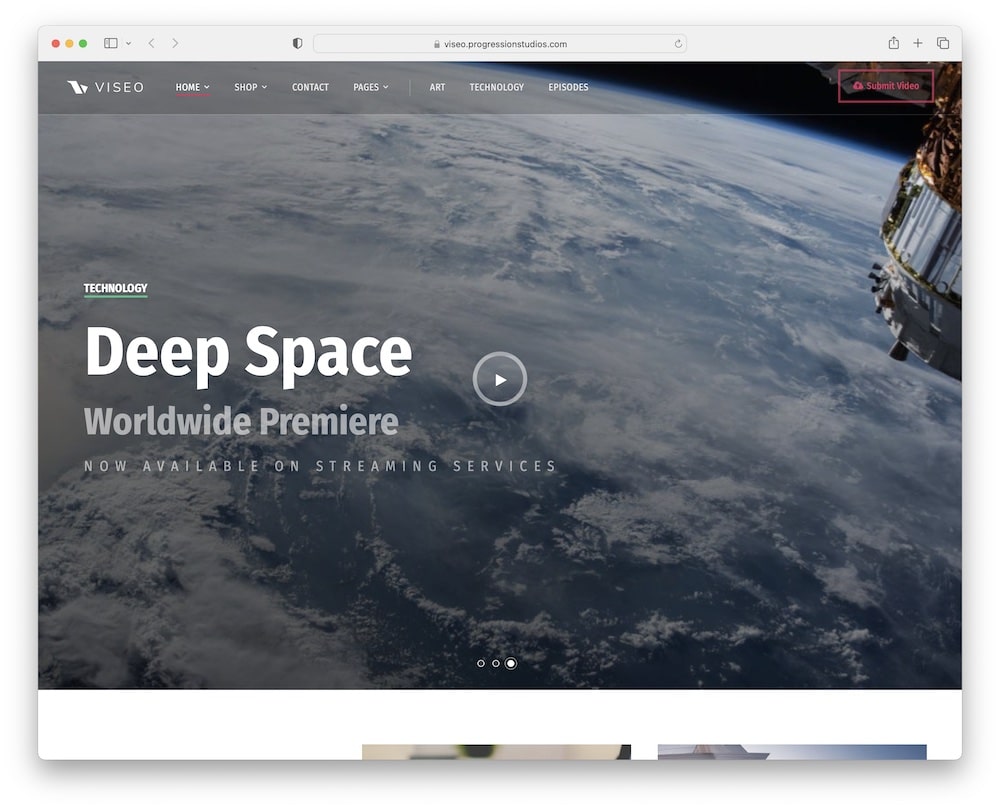 Modern Viseo podcast WordPress theme is for people with big dreams!
Build your site with stunning drag and drop motion, use the most popular plugins, create sliders, set up popups on your WP site, and more. Very COOL time ahead.
Viseo is SEO-friendly to help you rank high in search engines. Because we all want and need to be visible in the online world (Hi, my best friend Google!).
Moreover, Viseo has a built-in audio and video player to take your new website to the next level. Yup, you will display your content interactively and enjoyably.
Viseo features:
1,200+ sales
4.4+ star ratings
Locally hosted audios & videos
Easily changeable WP fonts
Price: $59 (may vary)
MORE INFO / DOWNLOAD
DEMO
8. Wpcast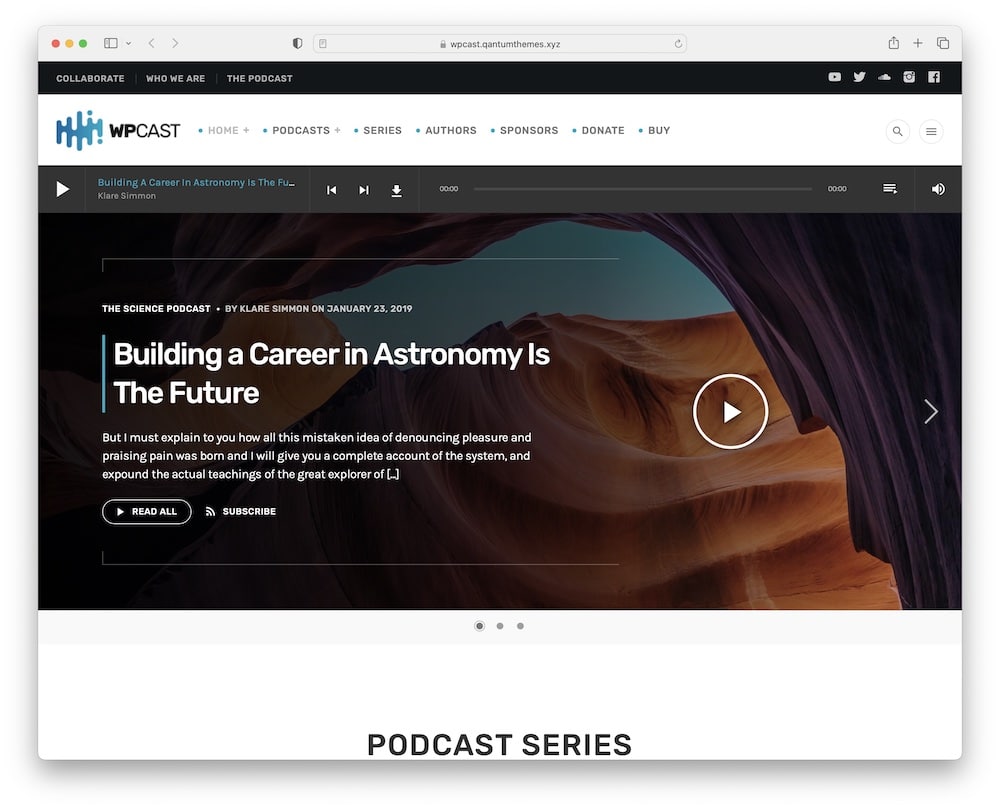 Create a podcast website that matches your unique story with the pretty Wpcast theme.
You can publish your episodes immediately and reach millions of potential listeners using a compatible plugin for various podcast directories with Wpcast.
Hurray!
Plus, this professional theme comes with a stunning NON-STOP player.
Furthermore, Wpcast offers numerous useful shortcodes, colors, fonts, and call-to-action buttons to choose from. Also, like and share icons help your fans engage with your content on social media platforms.
You can even set up a donation form (using Give WP donation plugin) to make it possible for people to support your cause. Your choice!
Check, check, check, Wpcast.
Wpcast features:
1,000+ sales
4.9+ star ratings
Boost engagement with ReAktions plugin
Integrated Apple & Google podcast feeds
Price: $69 (may vary)
MORE INFO / DOWNLOAD
DEMO
9. Ncmaz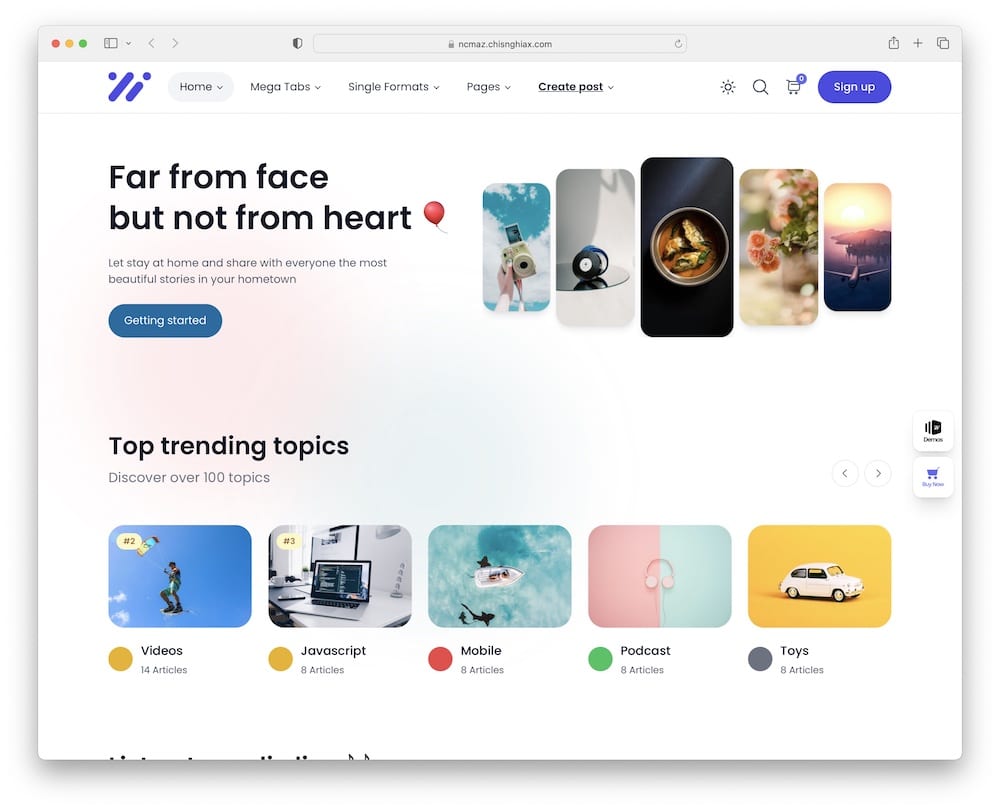 Everything you need to have a successful podcast is included in the stylish Ncmaz podcast WordPress theme.
Ncmaz's homepage is built with Gutenberg blocks offering you quick and simple work. Remember that you can mix, match, change, adjust or remove elements with an amazing live preview.
FANTASTIC.
Of course, you can display videos, podcasts, music, and much more with Ncmaz's ready-to-use tools.
I would definitely recommend you also to start a blog. #obsessed
Moreover, Ncmaz's light and dark adjusting mode give the eyes the needed break. Plus, it looks good.
One more thing, step-by-step documentation is another way of saying "no worries" you get it all!
Ncmaz features:
650+ sales
4.8+ star ratings
Handy episode search & filtering functions
Modern mobile-like design
Price: $39 (may vary)
MORE INFO / DOWNLOAD
DEMO
10. Resonator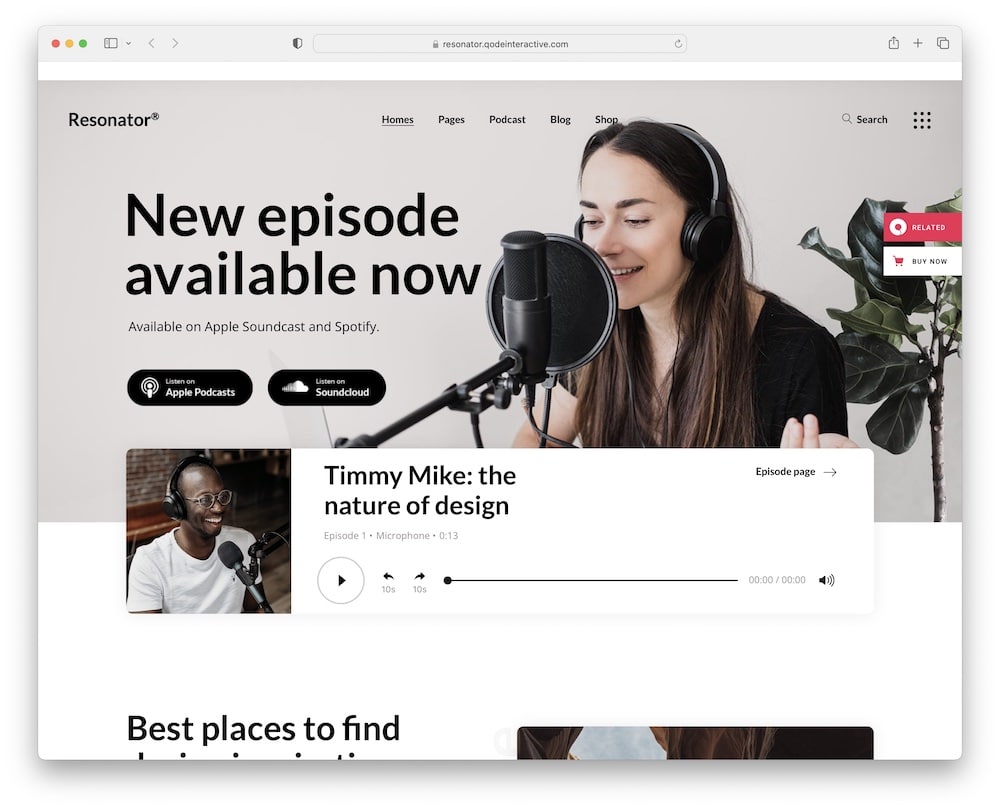 Launching a podcast can feel frightening if you're doing it yourself, SO do it with the responsive Resonator podcast WordPress theme.
Resonator will have your back (no matter what)!
Here are the components worth mentioning: beautiful ready-to-use homepages, practical elements, handy inner pages, and fresh blog layouts.
But anyways, you also get stunning plugins such as Elementor page builder, Slider Revolution, WooCommerce, and Contact Form 7. Let's celebrate it!
Looking to reach a wider audience? Then the translation-ready option is a great idea.
Oh, and you even get a WP child theme. Thank you, Resonator!
Absolutely ROCK your world in the best possible way.
Resonator features:
550+ sales
4.5+ star ratings
Create engaging slideshows
Start a blog & an online store
Price: $85 (may vary)
MORE INFO / DOWNLOAD
DEMO
11. Megabyte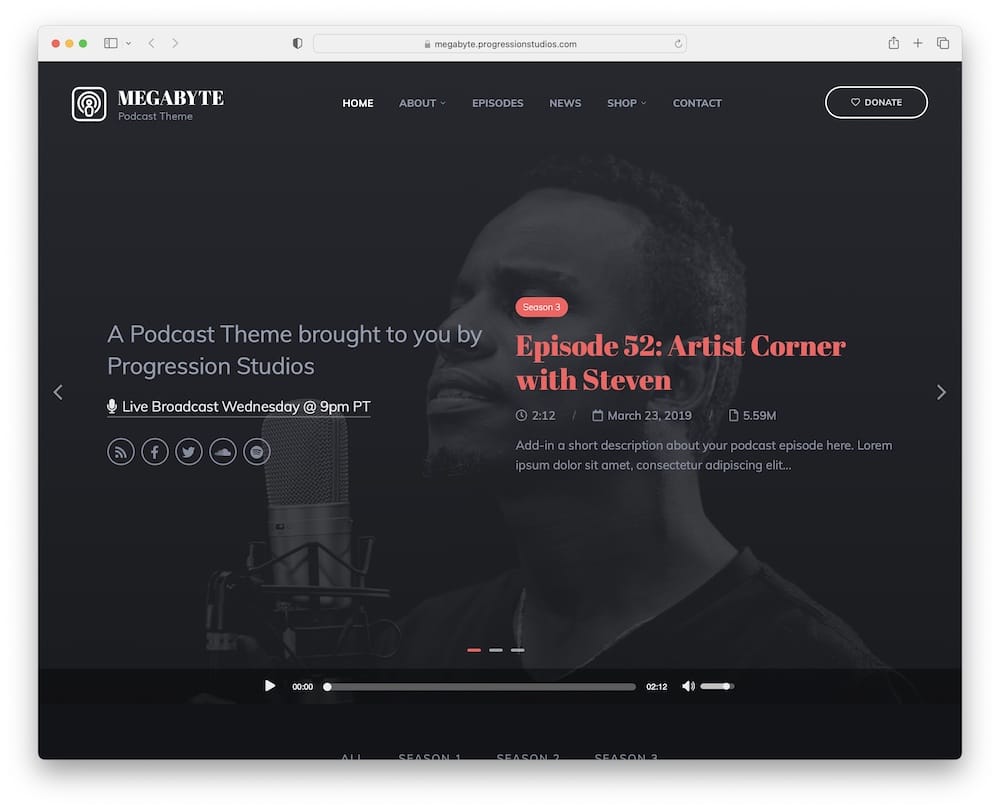 Grow an excellent podcast business with the elegant Megabyte podcasting WordPress theme.
Easy drag-and-drop motion is all you need to change and set up your demo (single click import).
Is this real life? Yup, it is!
However, you also get a premium slider for pretty slideshows, a smart mega menu for transparent navigation, and a brilliantly designed header & footer for the top-notch display of key information.
Besides, you can choose from unlimited colors and fonts. So what did you decide?
Furthermore, you can even build an online store and sell your audio content, merchandise, and other goods. Thumbs up for multiple streams of income!
Attract the right listeners and stay committed to your show along Megabyte.
Megabyte features:
490+ sales
4.3+ star ratings
Includes Boosted Elements add-on
Start within minutes with ready-made demo material
Price: $59 (may vary)
MORE INFO / DOWNLOAD
DEMO
::
Note: This article was originally published on April 26, 2023. But our team regularly reviews it and updates it with necessary improvements for accuracy.