These free photography WordPress themes prove that you don't need to spend a penny to create a pro-level website.
HOWEVER!
When it comes to free themes, you can often come across unreliable solutions that perform poorly.
That's why I spent the last six months reviewing 40+ themes to bring you this BEST-OF collection.
You can now build a photography website as a freelancer or an agency quickly, without coding knowledge, and – most importantly – FOR FREE.
You have everything you need. Just. Take. Action.
Best Free WordPress Themes For Photographers
1. Shapely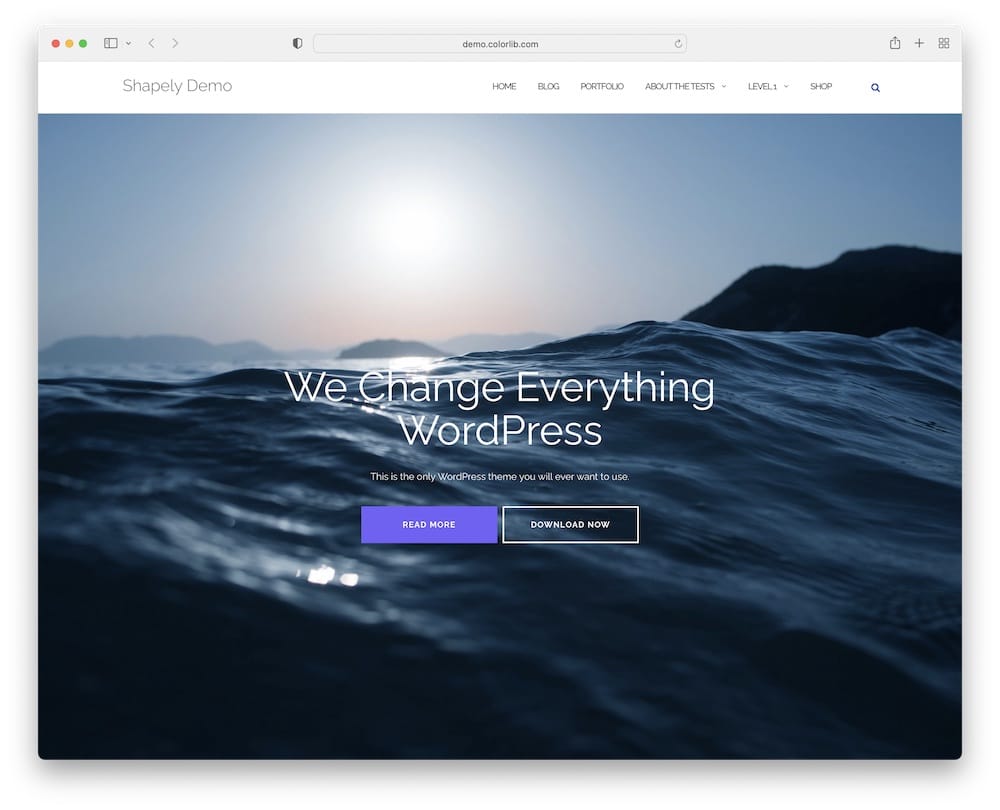 Looking to refresh your professional appearance? Great, you are in the right place at the right time. High five!
Shapely theme comes with loads of customization options and outstanding functionality. Plus it supports the most popular plugins out there. Bingo!
Simply showcase your favorite photography, stylish projects, and (of course) don't forget to add a valuable blog with some COOL tips and tricks.
And, yes, you are right, Shapely is also SEO friendly (Hi, Google, my FAV friend).
Be inspired with responsive Shapely and jump straight into creating best in class photography site (TIME. IS. NOW.)!
Shapely features:
MORE INFO / DOWNLOAD
2. PhotoFocus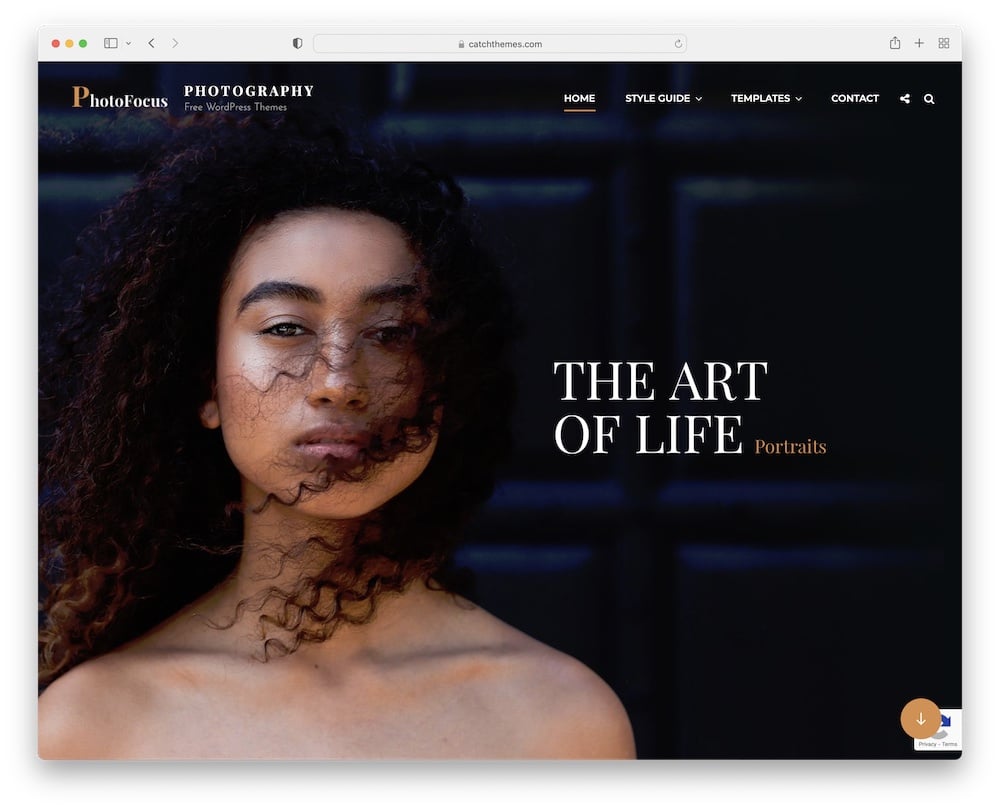 PhotoFocus is the TOP free photography WordPress theme for building your business (!).
This beautiful and modern theme is perfect for creative photographers, photo bloggers, and freelancers. That's right, PhotoFocus can enhance every aspect of your work!
Besides, PhotoFocus is easy to use and you can adjust it as you wish (no coding knowledge required). MAGIC.
Oh man, and PhotoFocus is translation ready – Yup, you heard me, everyone is WELCOME!
Pursue your dream of becoming a highly wanted and successful photographer with the modern PhotoFocus.
PhotoFocus features:
6,000+ active installs
Featured slider
Customizable menu
Testimonial
Cool portfolio creation
MORE INFO / DOWNLOAD
3. Fotografie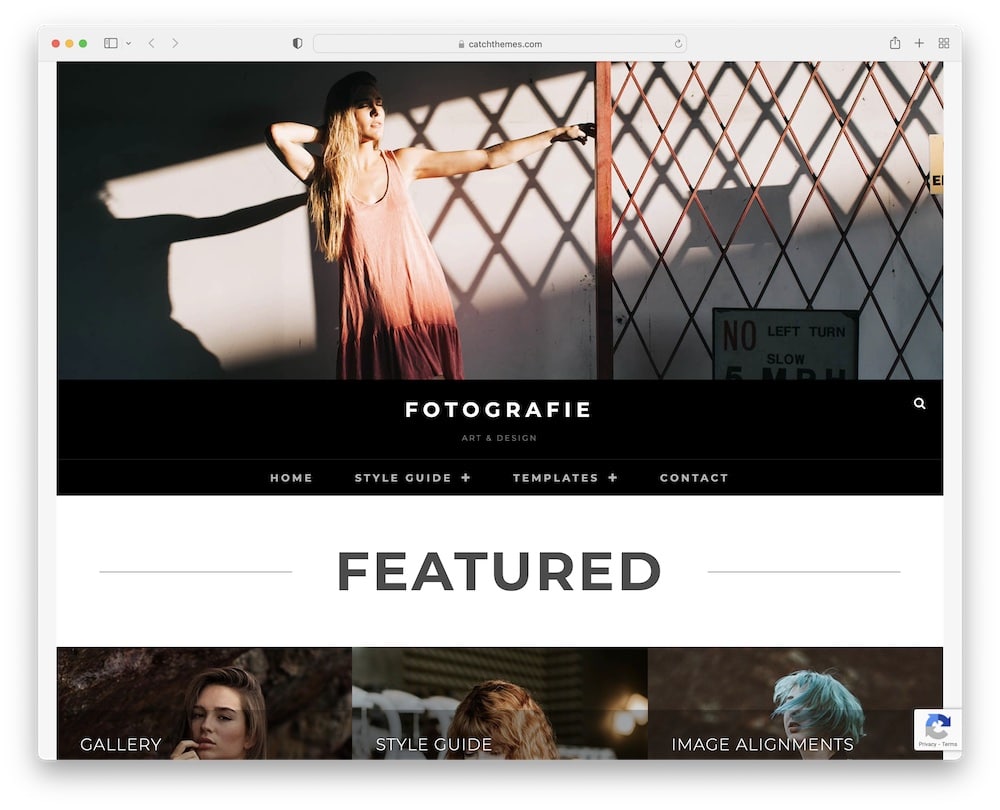 Come on this creative journey with a brilliant Fotografie free photo WordPress theme. Evoke your feelings, inspirations, and photography fantasies – online (the whole world can be your playground!).
Yes, Fotografie is translation-ready (HURRAY!).
Clean design, pretty details, and high-quality code are just some of Fotografie's benefits. Remember, your photographs will stand out immediately on this elegant theme!
Plus, unlimited color possibilities, a unique menu, smart sidebars, and various header & footer options are available. Construct a fantastic visual appeal.
Check out Fotografie today and make an immediate difference.
Fotografie features:
7,000+ active installs
Social media icons
Regular updates
MORE INFO / DOWNLOAD
4. Pixgraphy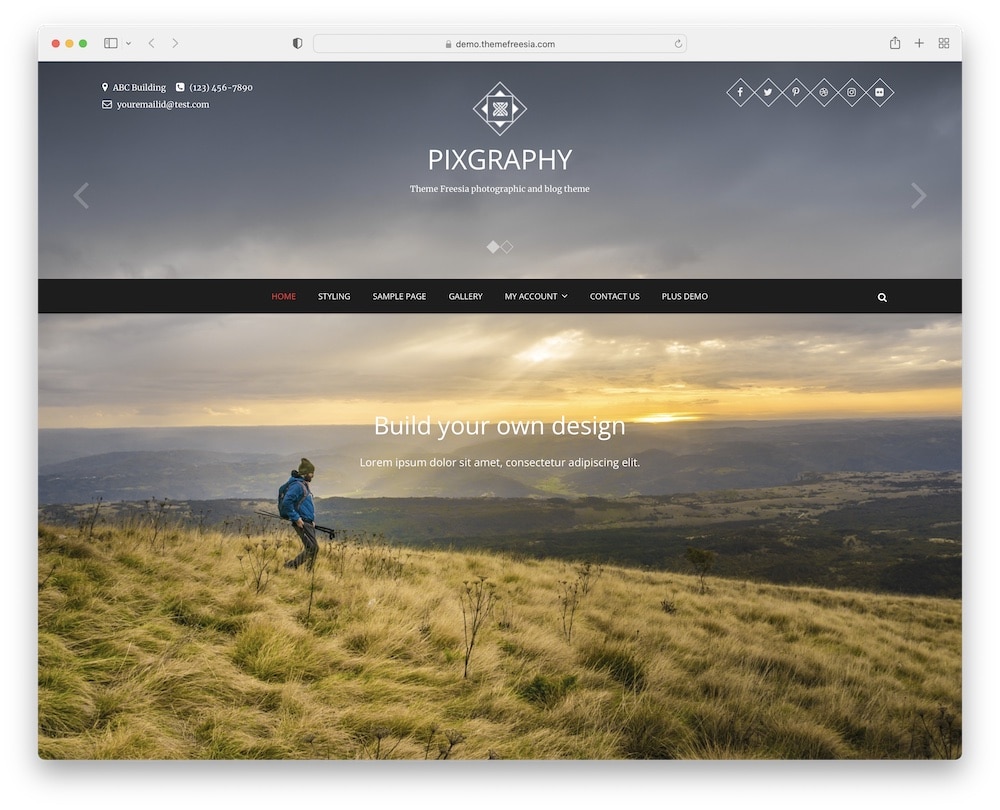 Call it an online magazine, call it a limitless gallery, call it a photo blog – all of them do the trick. Pixgraphy is simple to set up and 100% customizable.
Amazing isn't it?
The bundle includes: various widgets, sidebars, contact forms, and beautiful gallery templates. Plus Pixgraphy supports the best plugins on the market.
GO. FLEX.
And HEY, if you wish to be present in different countries you can be (!) due to Pixgraphy translation-ready option.
Multilingualism, here we go!
Show up next to the world's biggest websites with brilliant Pixgraphy!
Pixgraphy features:
3,000+ active installs
Free support
Online shop friendly
MORE INFO / DOWNLOAD
5. Photograph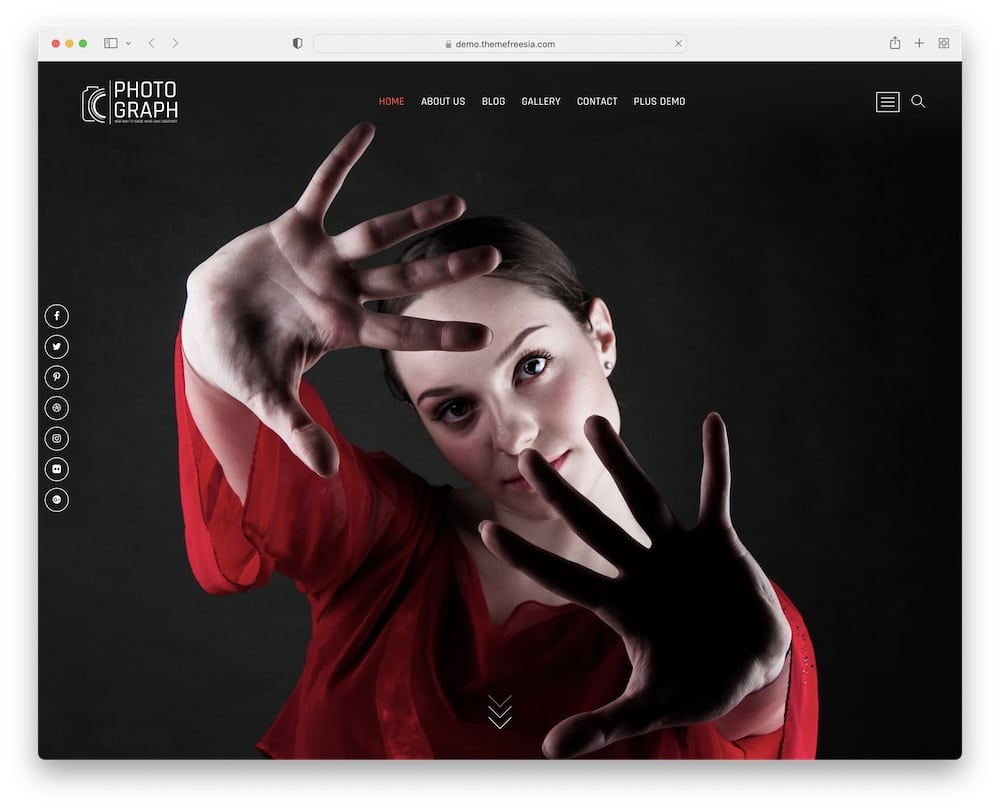 Spend enough time on Photograph and you will agree: it's one of the best photography blog WordPress themes out there. It offers a modern, responsive, and clean design.
The best part? One-click demos and free lifetime updates.
OMG – LIKE!
To jazz up the Photograph look & functionality, you can style it with widgets, sidebars, plugins, a custom menu, and unique background.
OH, it even has free customer support available.
Elevate the way you live and work with a fully adjustable Photograph that adapts to your unique ideas.
"CLICK" on the door to success!
Photograph features:
MORE INFO / DOWNLOAD
6. Freedom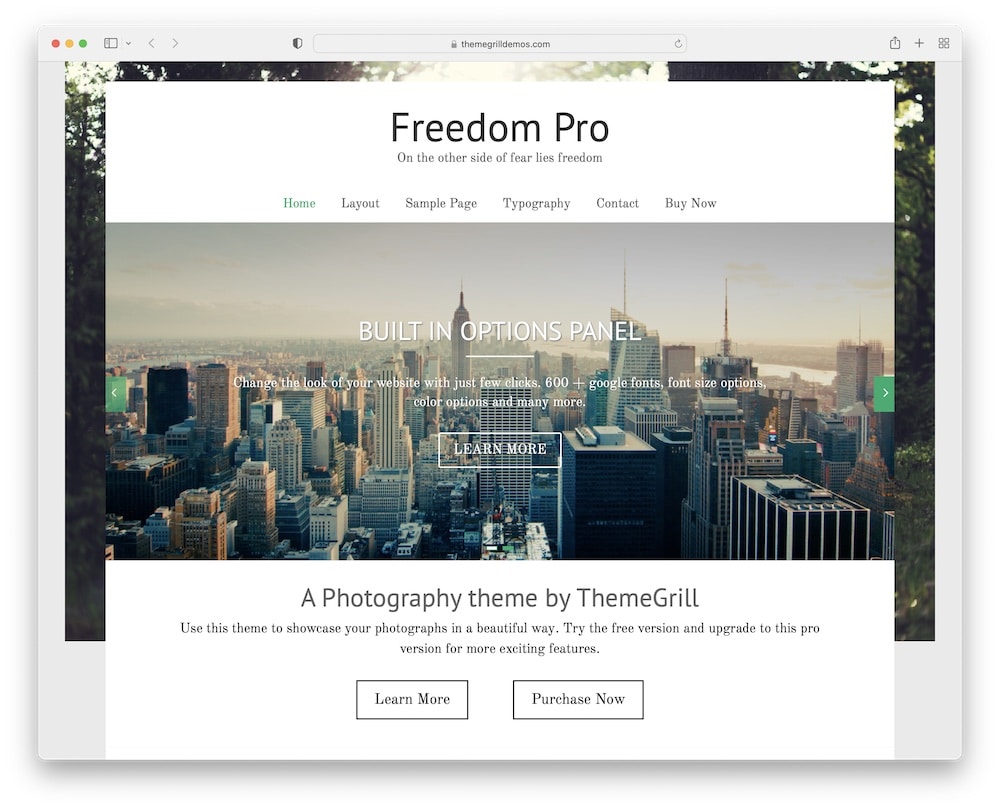 With Freedom free photography WordPress theme your audience can see and feel what means to be a photographer with a purpose. Be you!
Freedom is beautifully balanced between technical and artistic perfection.
Your BIG IDEAS can be realized with aid of unlimited color possibilities, various layouts, beautiful slides, useful widgets, and a flexible menu.
You can create a spectacular experience for your visitors with little time and work!
Besides, Freedom is totally responsive, meaning it works smoothly on different screens and devices (double finger pistols bang bang).
SO, come on, the world of Freedom is waiting!
Freedom features:
1,000+ active installs
Grid layout
Image (custom) background
Fast page loading
Elementor, SiteOrigin, Beaver Builder, Gutenberg, etc. support
MORE INFO / DOWNLOAD
7. Bold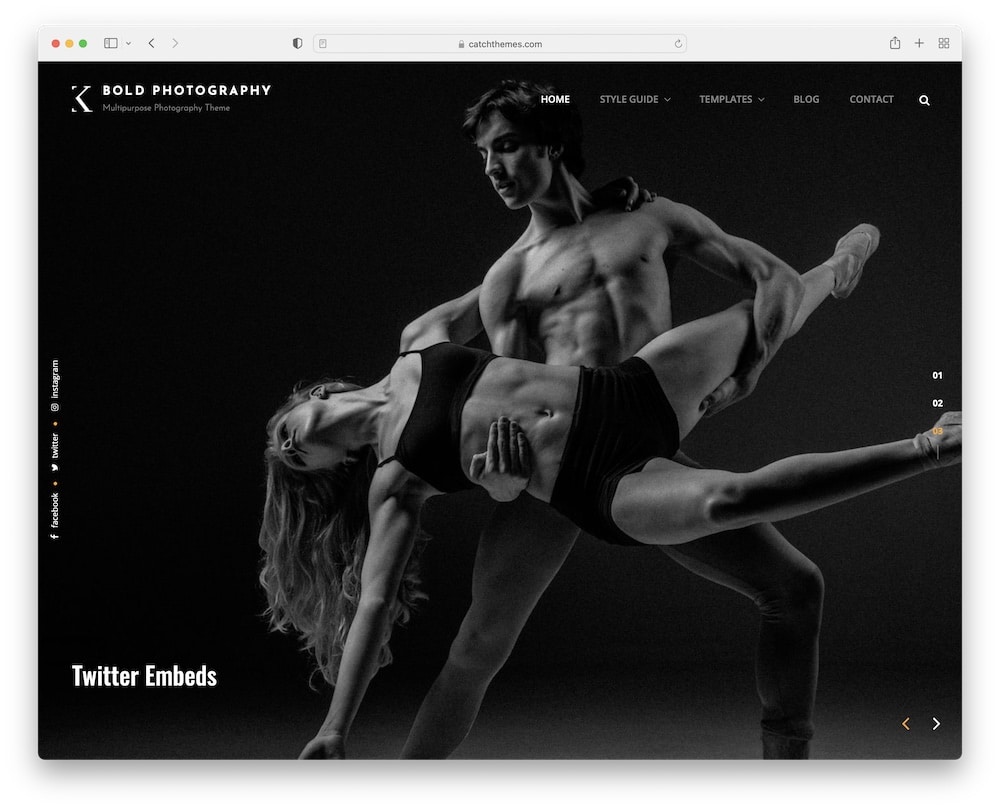 Bold free photography WordPress theme is nothing but a JOY to watch and pay attention to. This dark theme comes with a sleek design and astounding functionality.
Pretty COOL.
Come to the dark side (we have cookies)!
Plus, take advantage of Bold features like portfolio, testimonials, and blog.
Now you have a chance to showcase your work, past projects, artistic collaborations, and you can even create a place to share your tips and tricks.
The good news is: Producing a photography site is easy! And there's so much you can blog about!
Bold features:
3,000+ active installs
Header video
Ready for translations
Service promotion
MORE INFO / DOWNLOAD
8. Tracks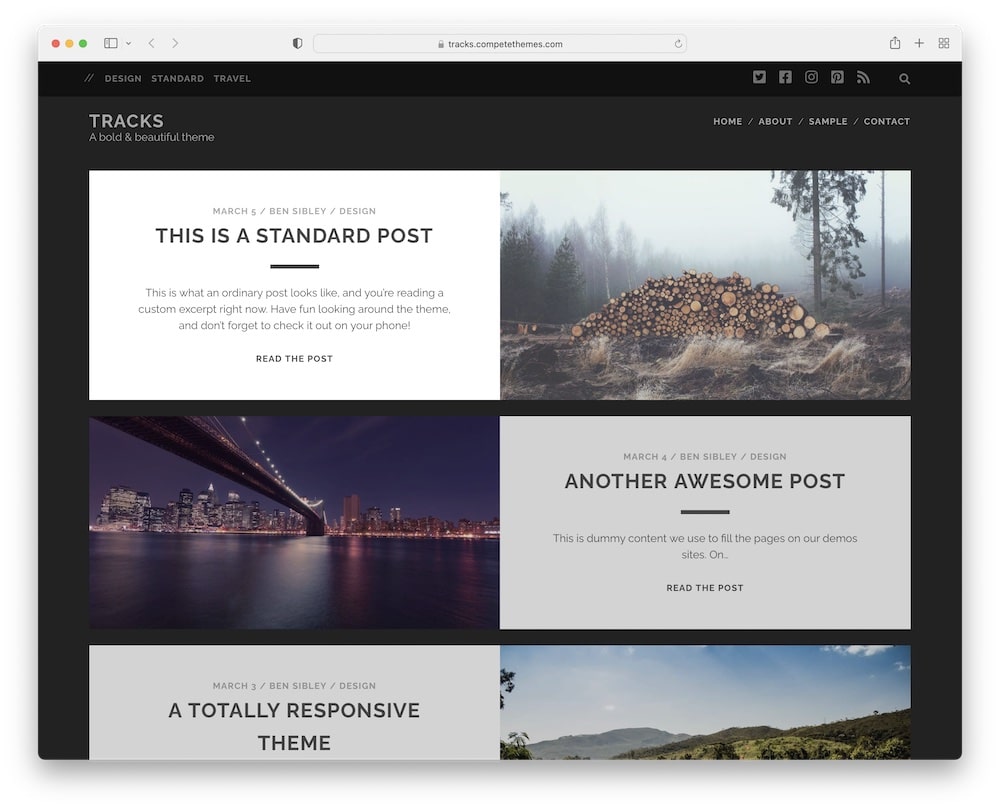 No matter where you are in your photography career, starting a website is always a good idea. Tracks free photo WordPress theme is a gorgeous and responsive option for valuable blogs, online magazines, and professional (personal) sites.
Tracks offer tons of icons, premium layouts, logo uploader, and different widgets.
The clear, bold, and minimalistic design is great for publishing both images and text.
And you can even create an online store due to WooCommerce compatibility. NO. LIMITS.
Oh man, let's not forget, Tracks also works harmoniously with Gutenberg page editor (!) – great publishing experience guaranteed.
Enjoy an excellent head start with powerful Tracks!
Tracks features:
5,000+ active installs
Elementor-ready
Step-by-step instructions
Minimal design
MORE INFO / DOWNLOAD
9. Origami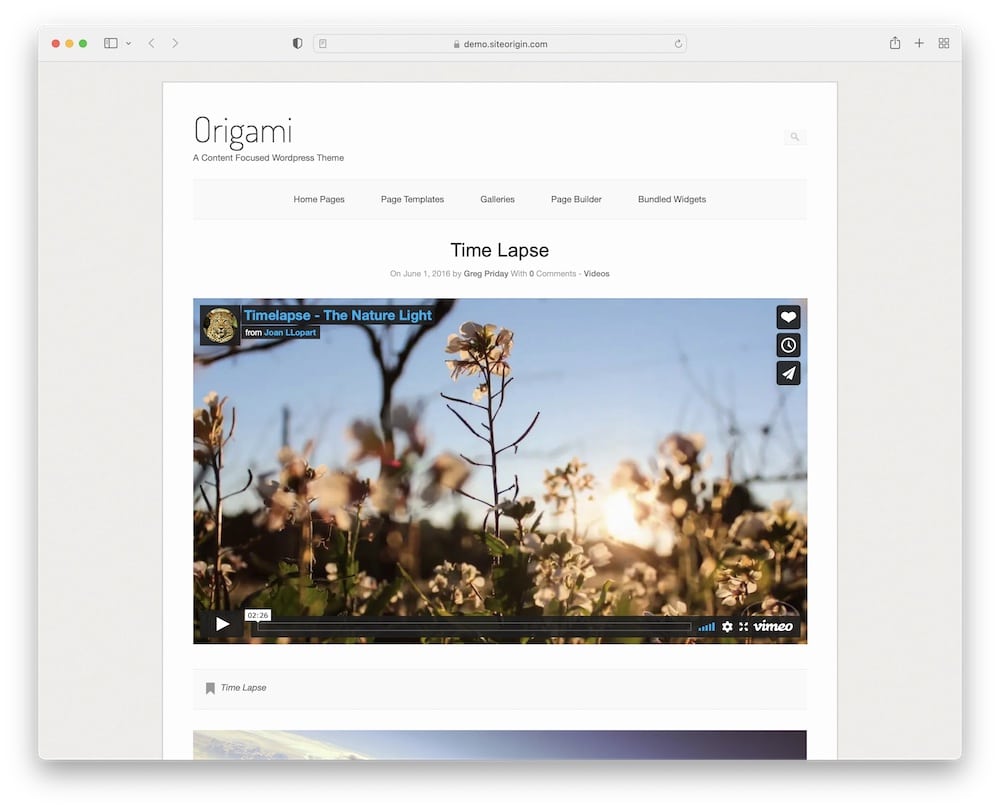 Suppose you're looking for a sign just to get started. This is it!
Origami presents a minimalistic and modern design. You can easily understand how to set it up and change or include different options on your new site, thanks to a simple admin panel.
Of course, you don't have to be a web developer to start a website that looks great and is completely functional.
You can't go wrong with the amazing drag and drop builder!
The good news: Origami is responsive and looks great on all devices (super important!) for a great viewing experience.
Check this eye-pleaser now!
Origami features:
3,000+ active installs
Distraction-free look
Strongly content-focused
CSS editor
Extensive documentation
MORE INFO / DOWNLOAD
10. Keenshot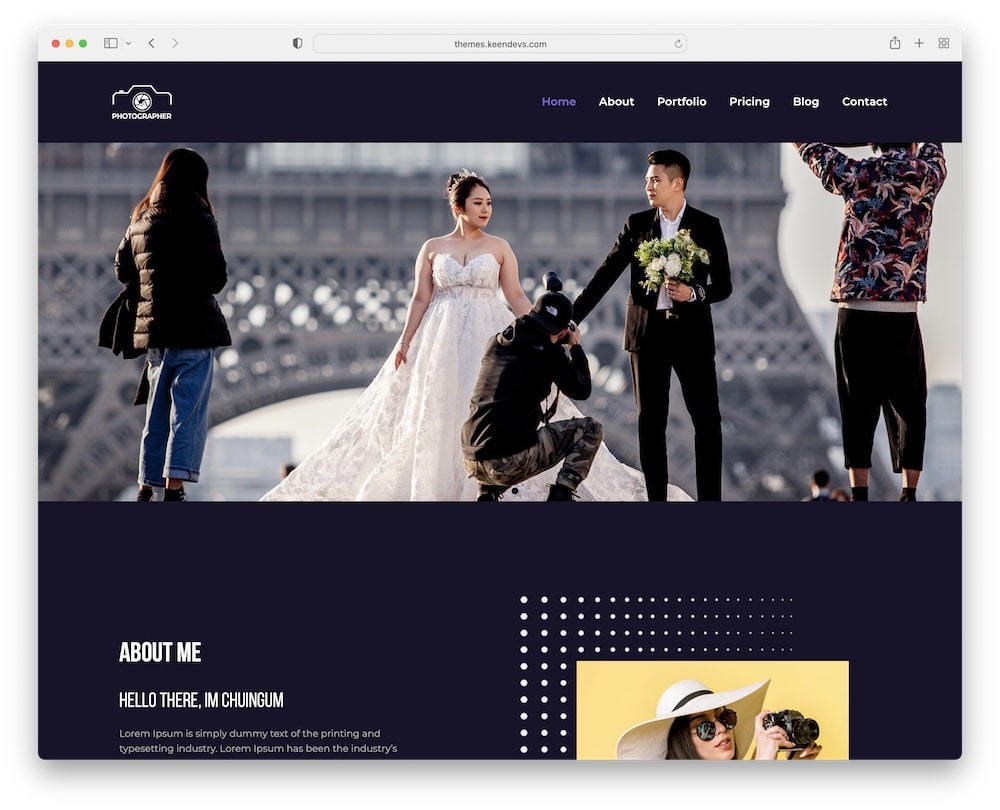 If your love of photography is BIG, then Keenshot free photography WordPress theme is a great way to nurture this side of your life & work.
All you need to do is pick your favorite layouts, colors, upload your photos, write your artist portfolio and contact information.
Plus, customize the template to match your visual branding or idea. BAAAM.
Yup, that's it! Keenshot is easy to use and shockingly accessible.
Besides, once you decide to work with Keenshot you can benefit from friendly customer support. Questions, or dilemmas? Just get it touch and help will follow.
Give Keenshot a try!
Keenshot features:
300+ active installs
Works for one- & multi-page sites
Instagram widget
MORE INFO / DOWNLOAD
11. Chique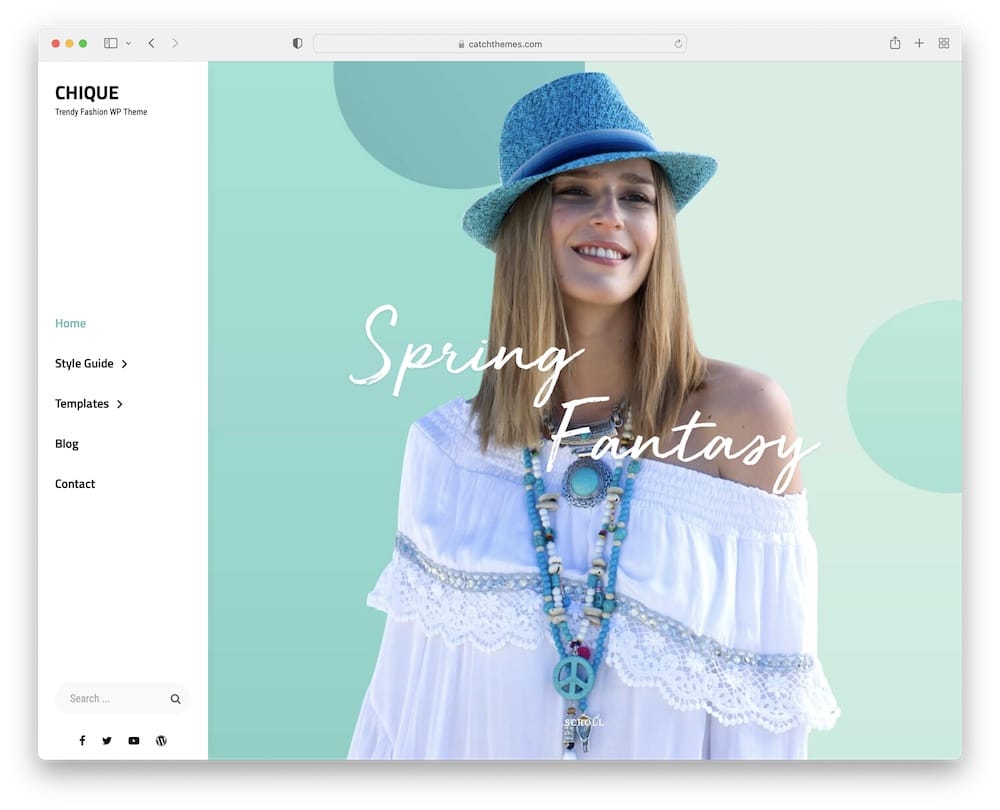 Rather than displaying your photography and sharing your knowledge on a platform that you don't own, build your portfolio website and additionally start your own blog.
BE. SMART.
Chique is an elegant and visually appealing free photographer WordPress theme. Along with a stylish design, it also comes with many easy-to-customize features.
HI5!
In fact, Chique is responsive and cross-browser compatible to make sure your photography looks amazing across all screen sizes and online service providers. Keep smiling!
On top of that, Chique is translation ready – reach all the customers around the world effortlessly.
Start building, today!
Chique features:
600+ active installs
Sticky sidebar menu
Beginner-friendly instructions
Team section
Back to top button
MORE INFO / DOWNLOAD
12. Scapeshot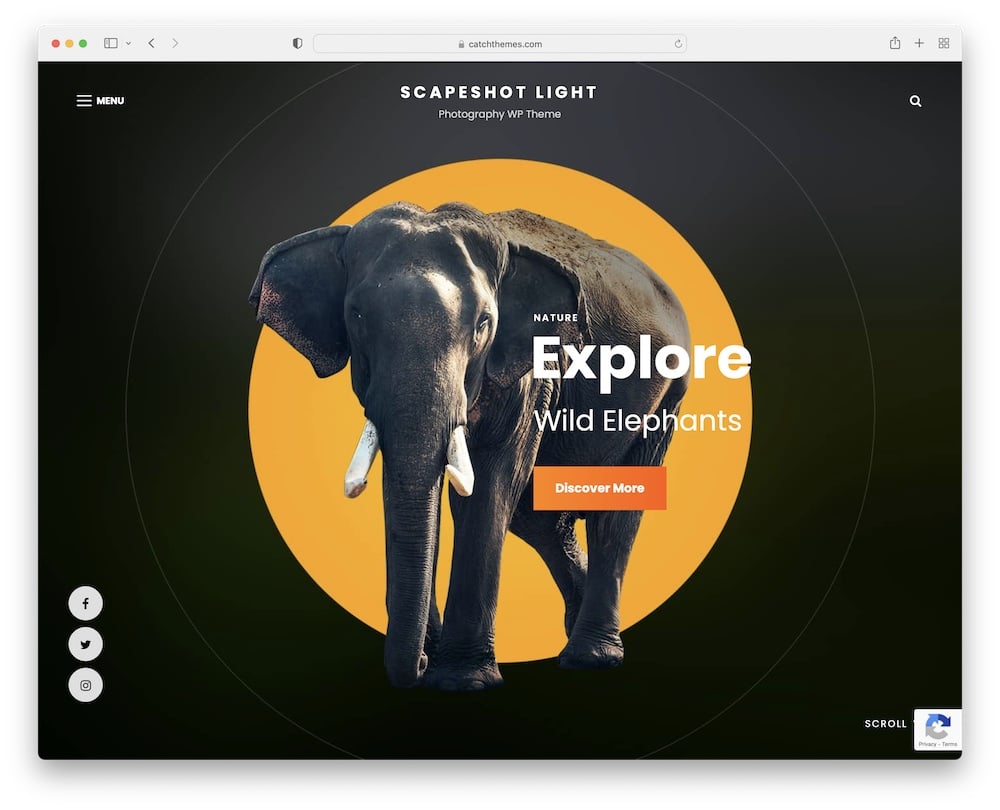 Whether you're a professional or an emerging photographer, Scapeshot free photography WordPress theme should be on your radar.
Scapeshot is a perfect choice if you want to showcase your professional portfolio, recent project, or your best work (create various photo galleries).
Plus you can include your contact info, services, price list, and even client testimonials.
Pretty COOL.
Moreover, you can help your visitors to find what they are looking for through an engaging blog. Connect with the right people!
Decide to promote your photography business with a professional look and crisp design of Scapeshot. That's the way to do it, pals!
Scapeshot features:
600+ active installs
Custom header
Configurable navigation
Full-width layout
Looks very premium
MORE INFO / DOWNLOAD
13. Fashion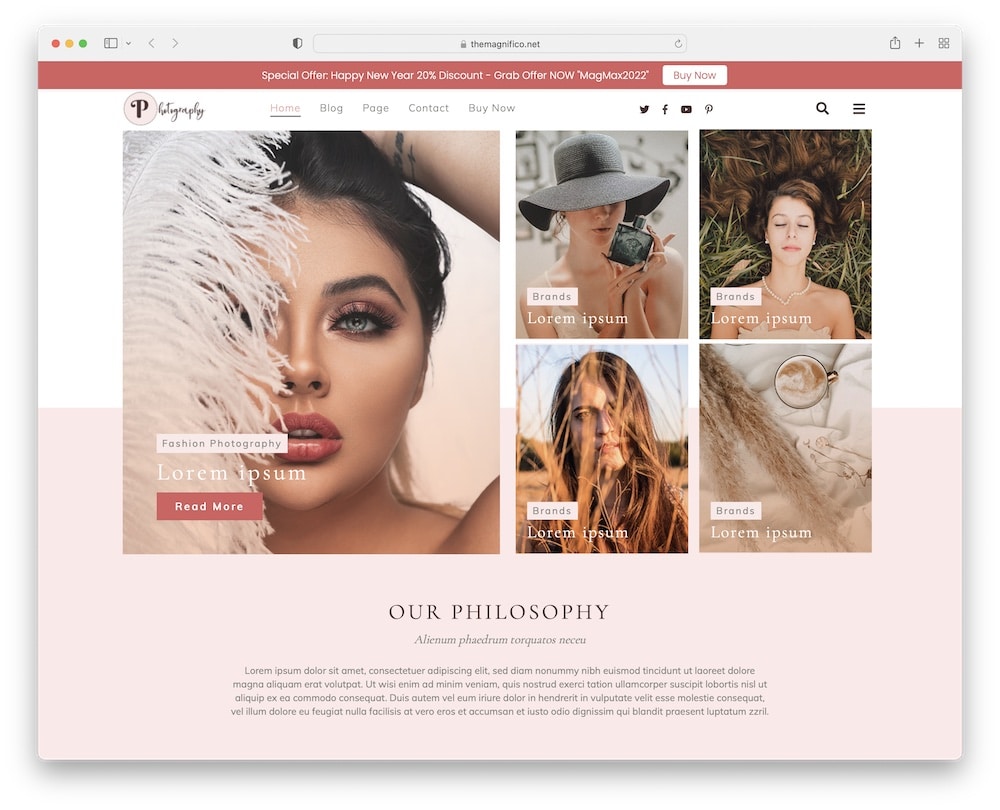 Here's a scenario: You search on the internet, find a Fashion free photography WordPress theme, and fall in love with it! Match made in heaven, I'd say.
Gorgeous Fashion is SEO friendly, optimized for speed, and mobile-approved (Woowieee). In other words, it fits perfectly in the online world.
Luckily, Fashion also comes with integrated social media. So, connect your channels together for credibility and better engagement.
Activate your fans!
Plus, if you want the world to see your photography, Fashion speaks multiple languages. YES, it is translation ready.
Show us your spark and start spreading the word about your photography business!
Fashion features:
200+ active installs
Newsletter subscription widget
Editable footer
Works with shortcodes
MORE INFO / DOWNLOAD
14. BlogJr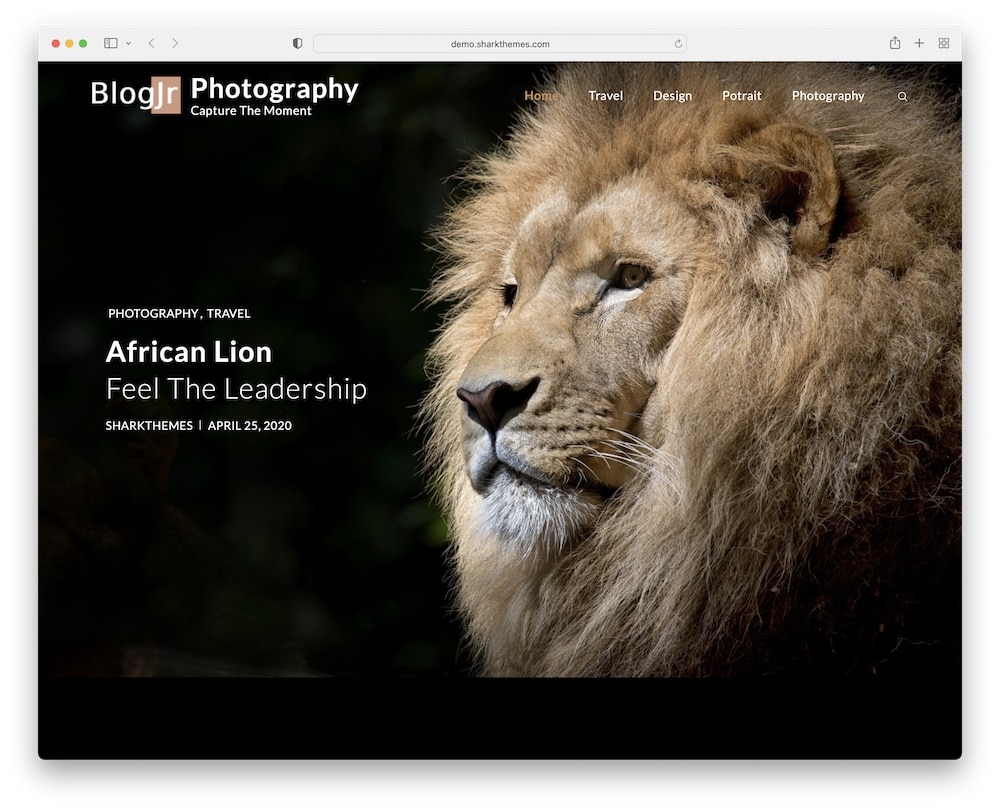 If you want to get more people looking at your artistic work, check out the minimalistic but bold BlogJr free photography WordPress theme.
BlogJr focuses on showcasing your best photography, with a motto: YES, you can brag about it! 🙂
Moreover, you can start a blog (fast and simple) but remember: make your voice casual, explain your tips and tricks in a way that is easy for your readers to digest.
Try to create a BIG fan base and WELCOME all (even those who are amateurs).
Of course, you can customize BlogJr, SO change colors, add columns, set background and upload your logo. BE. BOSS.
BlogJr features:
100+ active installs
Child theme compatible
Cool live customization
Edit footer credit text
Optimized for performance
MORE INFO / DOWNLOAD