Are you searching for the best free WordPress consulting themes to reach more clients and grow your business?
We are finally confident to bring you the ultimate collection after months of extensive testing and reviewing.
All these themes ensure you a TOP-NOTCH online presence that will BOOST your reach over and beyond.
Excellent performance, great mobile and SEO optimization, and all that modern jazz – each tool sports it all and more.
This post covers:
You're welcome.
It's now time to take things into your hands and scale your consulting business – with a website like none out there!
Go.
Note: You may also want to read our tutorial on how to install a WordPress theme first.
Best Free WordPress Consulting Business Themes
1. Consulting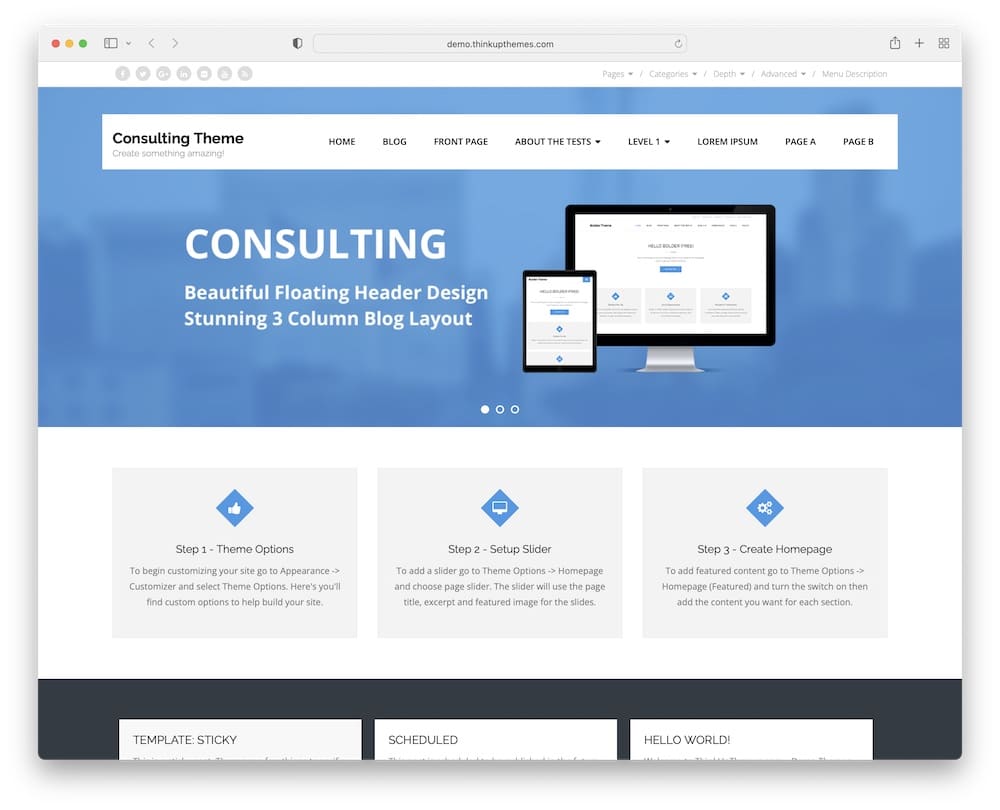 If you want to be an independent advisor to solve problems & achieve results for your clients – you came to the right place!
Professional Consulting comes with a clean design, a beautiful slider, a custom menu, flexible layouts, etc.
OH, and you can create a portfolio or blog to improve your recognition. I say; it is ideal for resourceful (business) people.
Moreover, Consulting includes built-in social media buttons, background images, and unlimited color choices. Plus, it's mobile-friendly!
Focus on the BIG picture with brilliant Consulting!
Consulting features:
20,000+ active installs
Works with Gutenberg
Regular updates
3 page sections
MORE INFO / DOWNLOAD
2. Spintech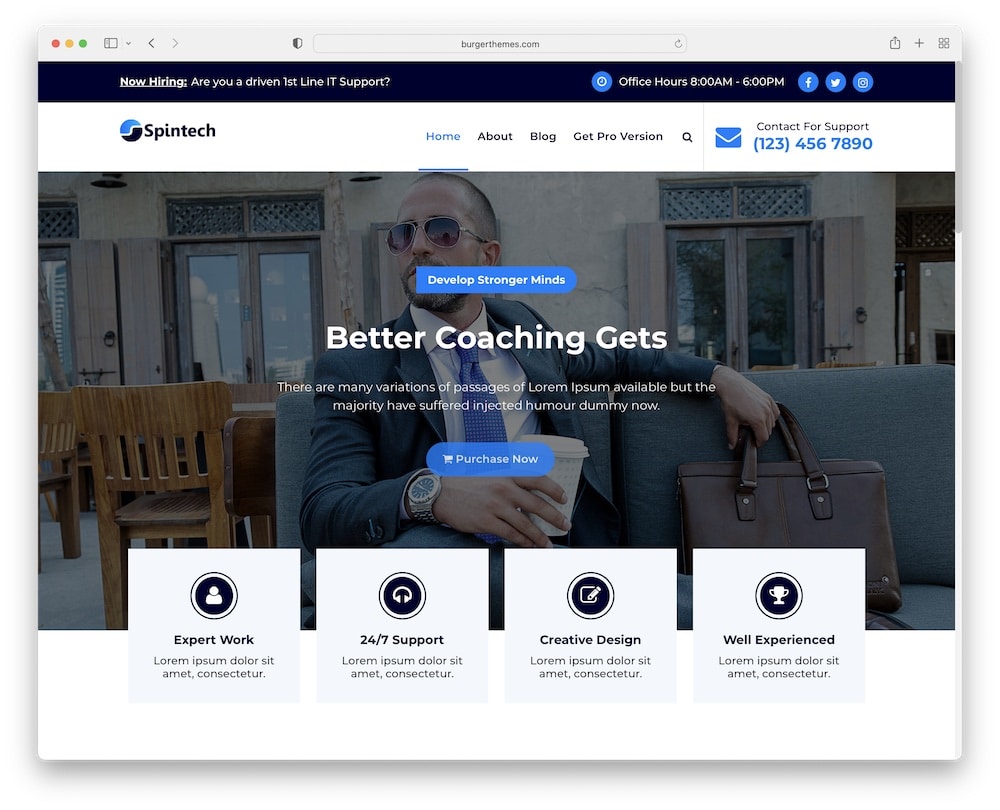 Market and sell your consulting services with a stunning Spintech free WordPress consulting theme. Be an expert that clients need for better results.
I was stoked that I could import the pre-built homepage with a single click.
You can adjust the menu, upload the logo, set up images on the slider, start a blog, rearrange layouts, and change colors without coding!
Of course, you should also create an intuitive pricing section and insert valuable client testimonials.
Best of all, you can even use COOL animations and smooth transition effects.
Yup, Spintech includes everything you need for a professional-looking website. Enjoy!
Spintech features:
2,000+ active installs
Works with Elementor
Sticky menu
Top bar news ticker
MORE INFO / DOWNLOAD
3. Agencyup

You can't rely on the stroke of good luck to run a successful consulting business. Instead, create a meaningful website with Agencyup free WordPress consulting theme.
Amazing CHOICE!
Agencyup is a perfect solution for online agencies, freelancers, corporate firms, etc.
It is effortless to work with it (feel like a PRO from the start). Choose between header, WP widget, and layout options to create your site exactly as you wish (Hi, BOSS!).
You can also add the most popular plugins to magnify the functionality of your site. LIT.
Moreover, you can GO WORLDWIDE due to its translation-ready (use your fav WP translation plugin) benefit with Agencyup. Master your business story!
Agencyup features:
2,000+ active installs
Multiple layout options
Footer widgets (you may also want to check these WP footer plugins to add more functionality)
SEO-friendly
MORE INFO / DOWNLOAD
4. BC Business Consulting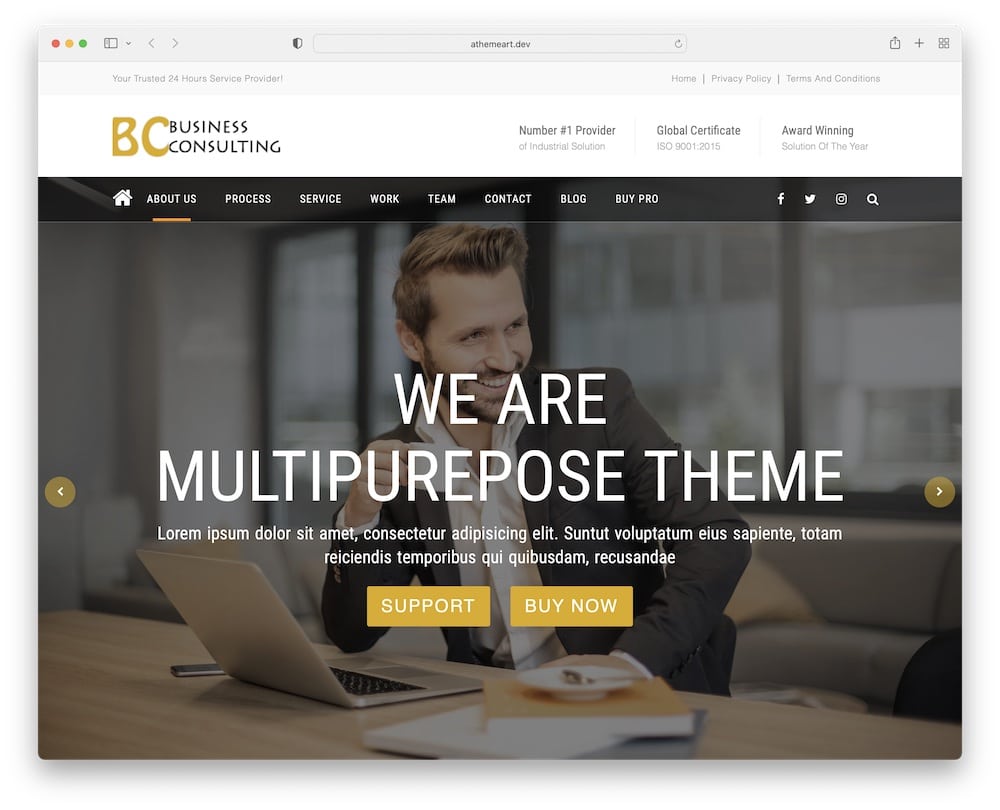 Start building your consulting business and unlock your true potential with BC Business Consulting.
Adventure worth pursuing!
BC Business Consulting is fully responsive and SEO friendly (I imagine you want Google to be your best friend, like me?). And you also get a page builder for a convenient drag-n-drop experience (endless freedom).
It also includes extended documentation to help you better understand the theme: step-by-step setup instructions.
BUT, in any case, simply contact fantastic customer support (BC Business Consulting treat) if you have further questions!
Grab tight to this opportunity & deliver results with BC Business Consulting!
BC Business Consulting features:
1,000+ active installs
One-page layout
Cool effects
Filterable portfolio
MORE INFO / DOWNLOAD
5. VW Consulting

Success looks like YOU with the slick & stylish VW Consulting free WP theme.
You will fall in love with the power of adjusting colors, fonts, WP sidebars, animations, and columns (all by yourself). PLUS, you can easily use different widgets for extra functions.
Above all, I love all the high-quality design details! (Thank you for asking 🙂 )
Furthermore, VW Consulting is responsive and compatible with the best tools available on the plugin market. HURRAY!
TIP: Few bright sections that you should put on your website are about us, services, latest projects, meet the team, pricing, and testimonials.
Be an expert on your future!
VW Consulting features:
300+ active installs
Custom logo
Quick setup
Compatible with WooCommerce
MORE INFO / DOWNLOAD
6. ConsultStreet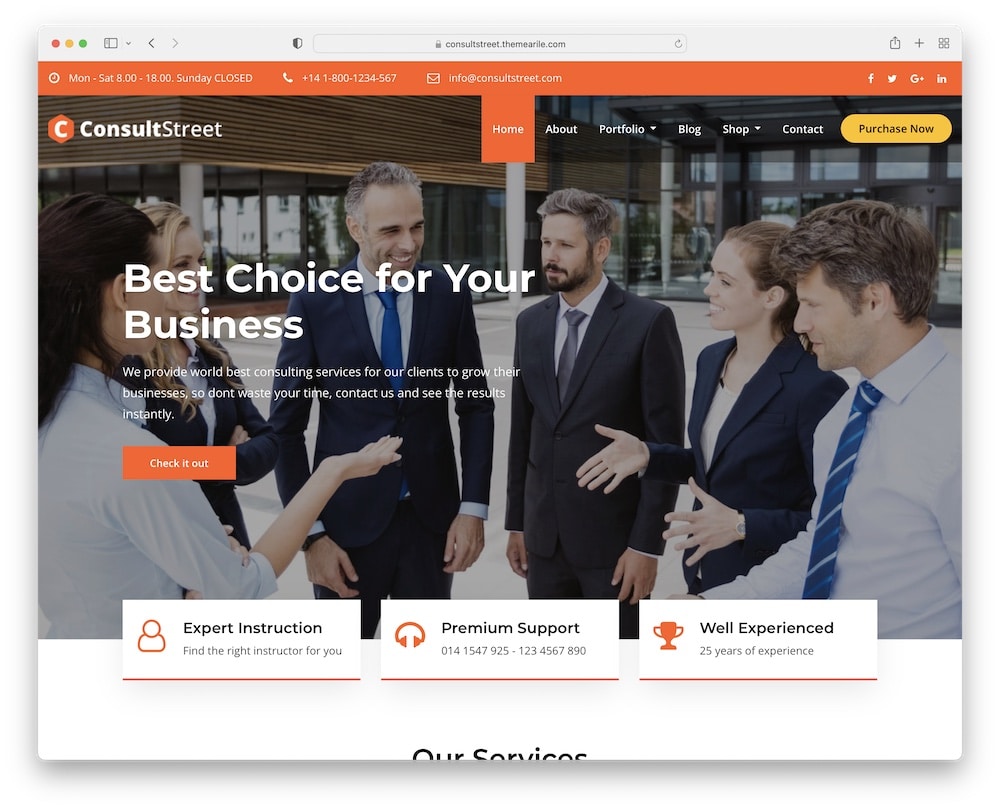 As a consultant, you are selling what's in your head, SO use your time wisely. Introduce your way of thinking through the flexible ConsultStreet free WordPress consulting theme.
I am all about personalization! No matter your coding & design knowledge, you can rework ConsultStreet to your style and business look. Hooray!
Change typography, match colors, set up a sticky menu, upload the logo, add images, and brilliant widgets easily. (It supports the most popular plugins!)
You can even start writing your blog – one of the most valuable things online (hint, hint).
Make space for ConsultStreet and perform better!
ConsultStreet features:
1,000+ active installs
Contact Form 7 plugin support
Excellent user experience
Video tutorials & documentation
Lightweight
MORE INFO / DOWNLOAD
7. IT Solutions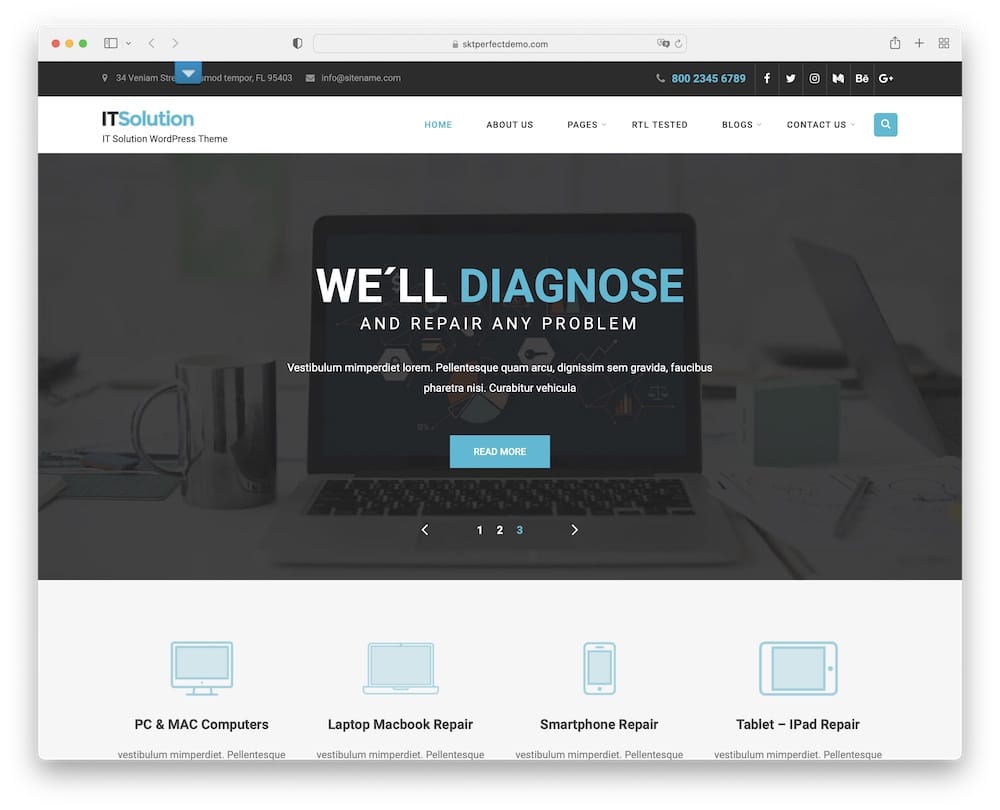 Yes, this is JUST what you need – check out professional-looking IT Solutions free WordPress consulting theme.
This simple, undemanding theme is compatible with the best plugins like Gutenberg, Beaver Builder or Elementor builders, WooCommerce, and Contact Form 7.
Remember, you deserve creative collaboration with these fantastic tools!
You also get full access to IT Solutions' pre-made inner pages, WP shortcodes, widgets, icons, and colors. Plus, create a GREAT first impression with a beautiful slider.
CRUSH it!
IT Solutions ensures best SEO practices, cross-browser compatibility, responsive design, and translation-ready options. I agree that this review is a dream come true.
You got this!
IT Solutions features:
MORE INFO / DOWNLOAD
8. Bosa Consulting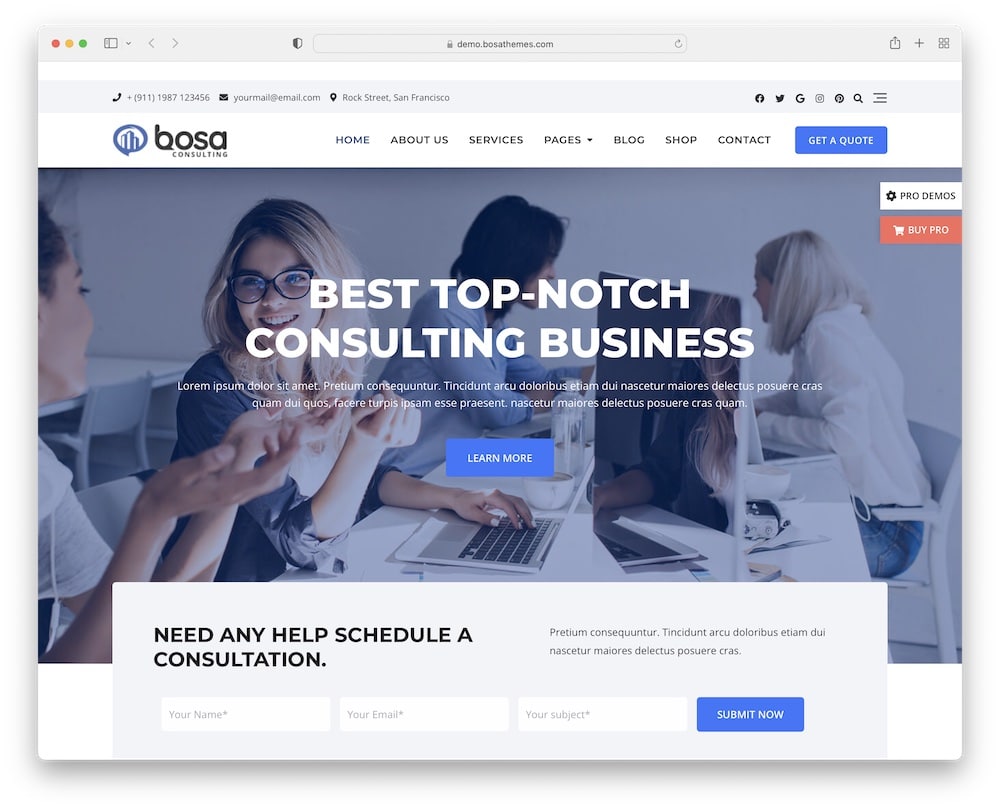 Use brilliant design possibilities of the Bosa Consulting theme to create a valuable & engaging website. Look no further!
Bosa Consulting handles many valuable features and supports the most popular tools.
It has adjustable: header & footer, inner pages, sidebars, colors, fonts, banners, and menu. You can also set up social media icons on your homepage (blend nicely).
Oh, and Bosa Consulting's PERFORMANCE is excellent due to SEO optimizations, cross-browser compatibility, and fast loading time. I am in seventh heaven!
Go right ahead.
Bosa Consulting features:
400+ active installs
Background image
Light & dark skins
MORE INFO / DOWNLOAD
9. eConsulting Agency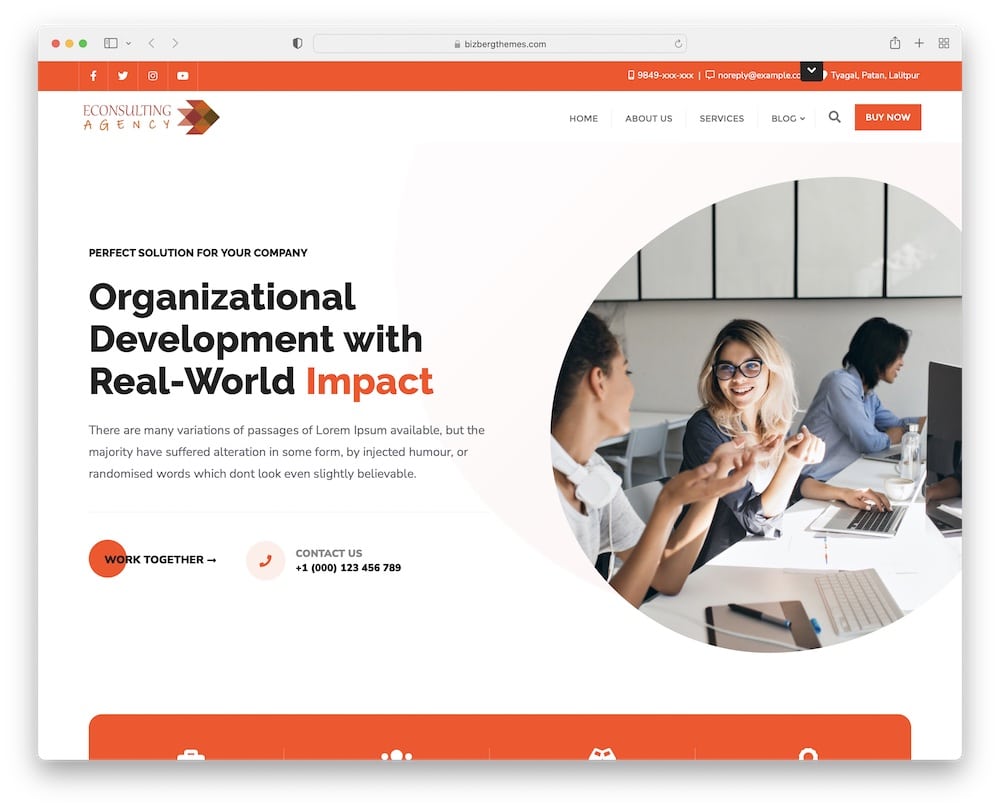 As a consultant, you must offer your expertise and knowledge to the people. Now, let's talk about creating your website with stunning eConsulting Agency free WordPress theme.
I know you want to improve your online visibility: NO more holding back for you!
This modern theme comes with various layouts, beautiful typography, sticky menu, slider, and social media icons.
To be honest, just import ready-to-use demo and decide what you want to change, rework or add. SO simple, but OMG.
Besides, mobile-friendly design is always a GOOD thing!
Let's begin, shall we?
eConsulting Agency features:
700+ active installs
Custom CSS
Breadcrumbs
Start a blog
MORE INFO / DOWNLOAD
10. Expert Consultant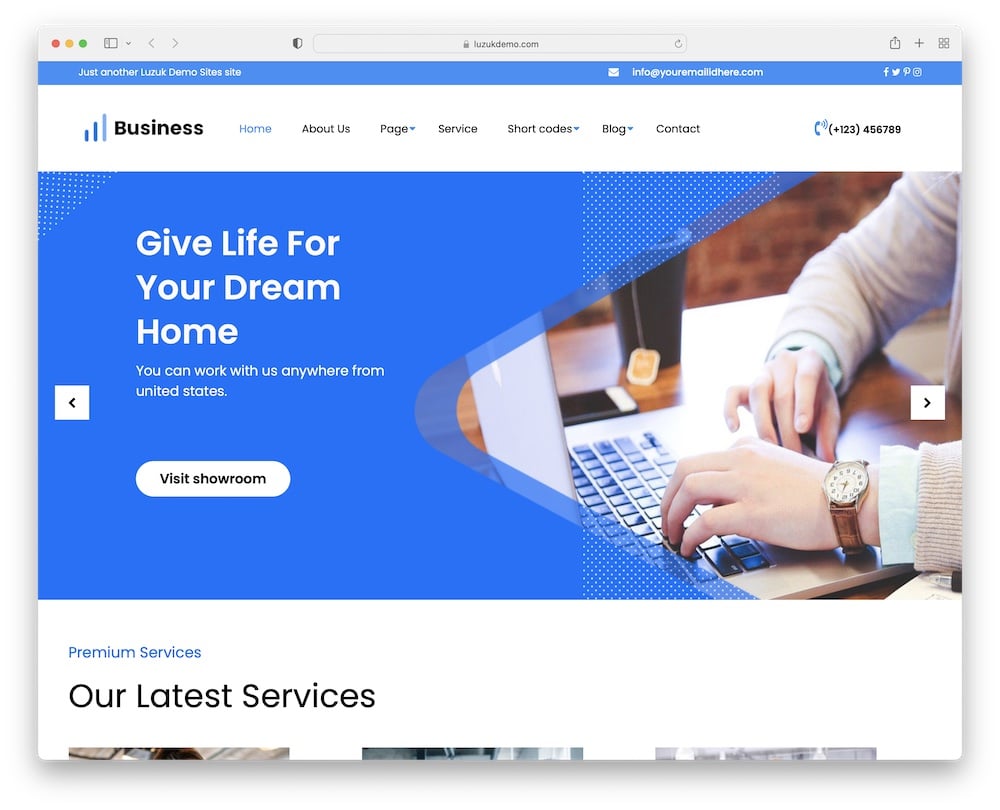 Decide your goal and build yourself up with the free business-oriented WP theme, Expert Consultant. I am thrilled!
You can smoothly change Expert Consultant elements, fonts, colors, header layout, etc. The best part: you can be a complete beginner.
BUT don't overthink your site's look (!), remember less is more. Use its pre-made clean and minimalistic design and make it happen fast. You know, the good stuff.
Plus, you can "teach" Expert Consultant to speak your native language (translation-ready) with little work and time. Pretty COOL.
Now let's make this actionable.
Expert Consultant features:
200+ active installs
Custom colors & images
Animations & effects
Brand logo slider
Newsletter subscription
MORE INFO / DOWNLOAD
11. Online Consulting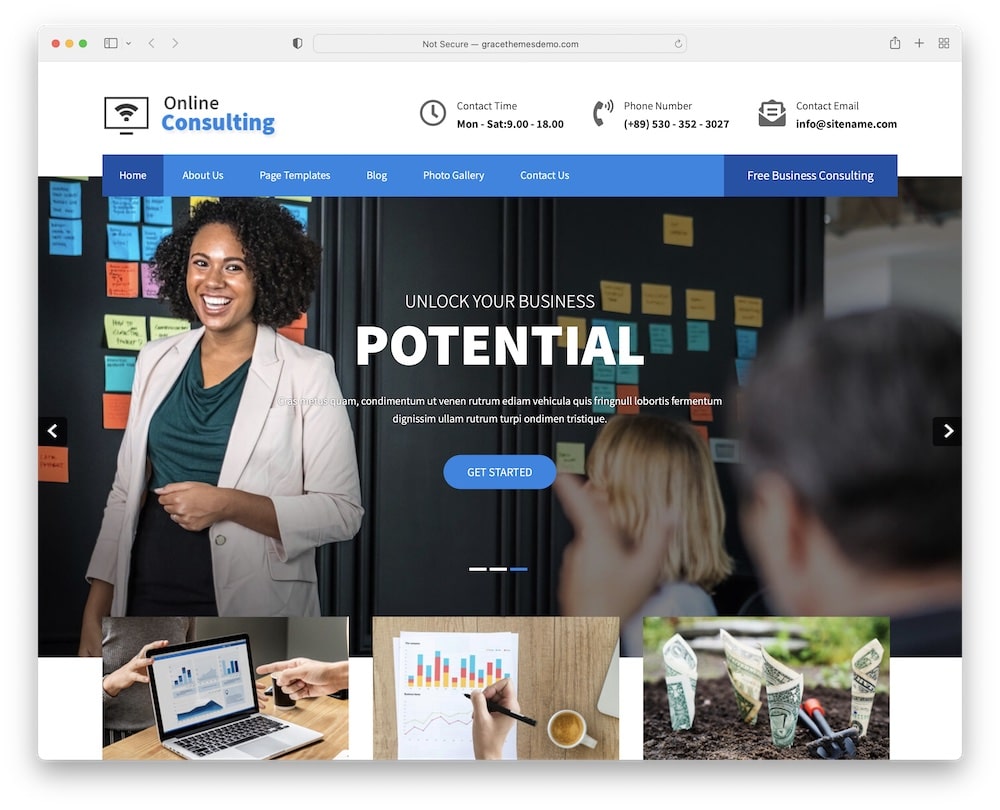 The real action that matters most is building your online presence – GET in front of your ideal clients.
Gain exposure and visibility with Online Consulting free WordPress theme. That's it!
You can quickly modify this reliable theme to your needs. Change background, colors, columns, and set up menu. Import the pre-made demo and put your creative mind to the test.
Also, I think (know!) you should start writing a blog with helpful information to attract more potential clients to your website. (A fantastic way to promote yourself or your business.)
Meet new people with the aid of all-in-one Online Consulting.
Online Consulting features:
600+ active installs
Add features with shortcodes
Google Fonts
Client feedback
Social integration
MORE INFO / DOWNLOAD
12. Bizberg Consulting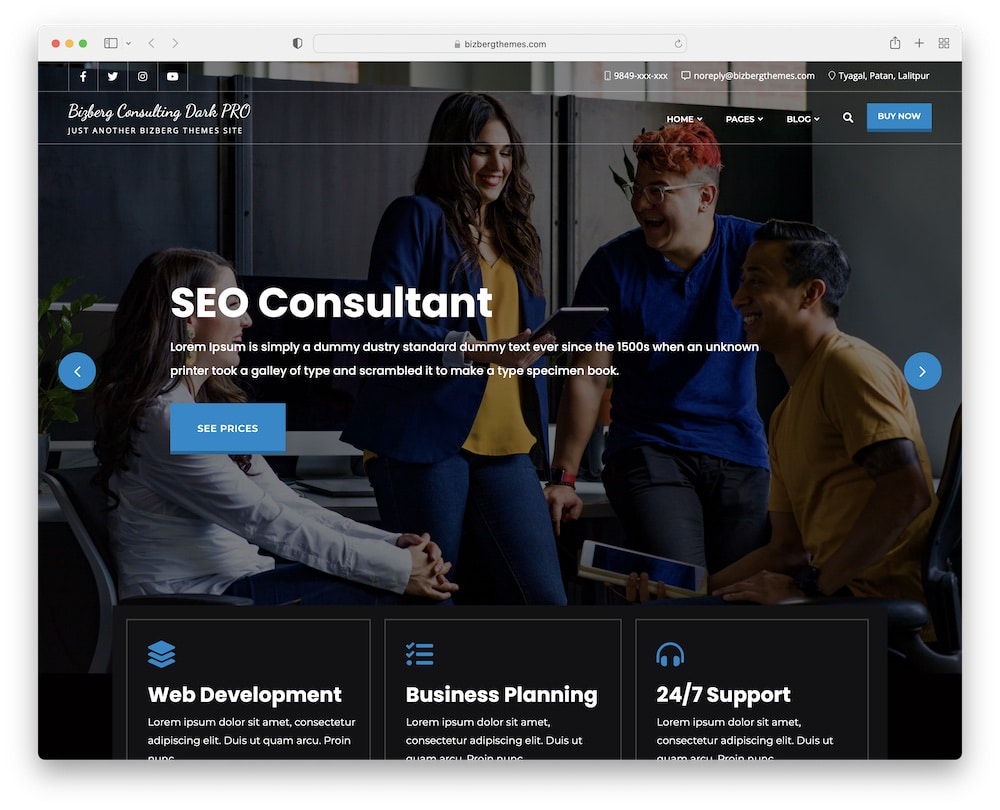 People, your clients, need to know that you exist. (Duh!) And with that in mind, separate yourself from others with the aid of Bizberg Consulting free theme.
It is time for you to shine (brighter than now)!
Professional Bizberg Consulting is responsive, cross-browser compatible, SEO friendly, and offers extensive documentation (first aid).
BUT if you need more info, shoot the most friendly customer support an email. GODSENT.
Design whiz, Bizberg Consulting fully supports Elementor page builder, comes with a gorgeous slider, various layouts and unlimited typography & color options.
OH MY.
Keep up the good work!
Bizberg Consulting features:
500+ active installs
Fast loading (lightweight)
1-click import
Blog
MORE INFO / DOWNLOAD
13. Crowl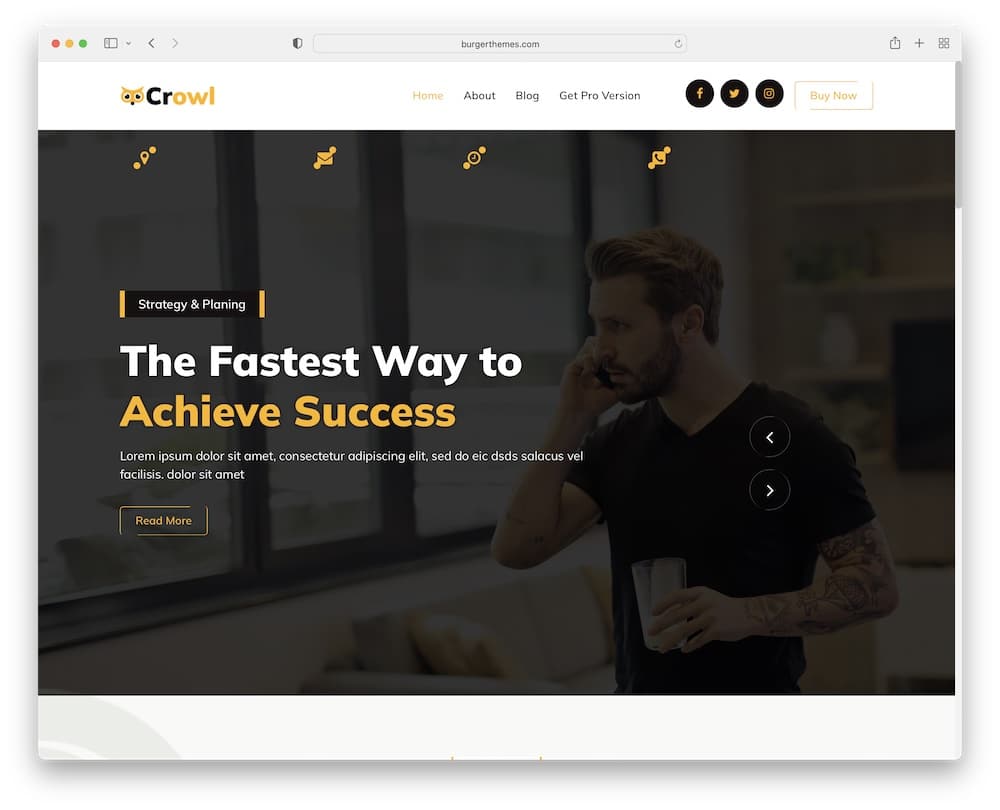 You can increase your business value with a premium website (that costs you nothing!) – beautiful visuals, useful content, and professional level of communication.
YES, it is a must to invest in the superb Crowl theme.
Crowl offers (ready to use) one-click import demo that looks perfect on all popular browsers and works smoothly on different screen sizes.
INSTANT. ACCESS.
To make it EXTRA special, you can use animations and unique effects. Yes, I am cheering you to go for it!
Beginner-friendly Crowl includes everything you need to start. Plus, it is well documented, regularly updated, and GPL compatible – all for FREE.
Crowl features:
300+ active installs
3 header layouts
Hover effects
Back to top button
Gallery (but you can also install a WP gallery plugin with more features)
MORE INFO / DOWNLOAD
14. Consultco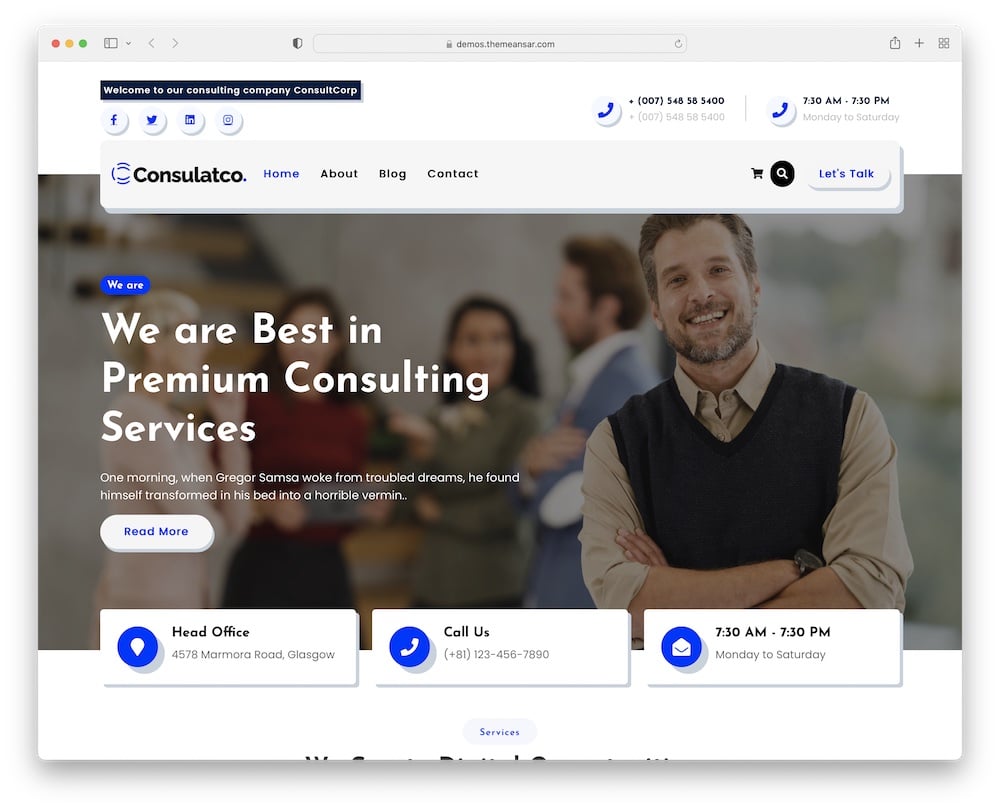 Fantastic Consultco free WordPress consulting theme can easily become part of your business.
I was blown away by how convenient modifying Consultco's design is. You can choose from different layout options, tons of colors, custom widgets, and icons.
Feel free to mix and match features according to your specific situation!
Moreover, Consultco is compatible with stunning plugins such as Elementor, WooCommerce and Contact Form 7. Love you guys.
And for the best online results, Consultco includes SEO optimization, responsive design, and clean coding.
Please WELCOME into your life: Consultco!
Consultco features:
300+ active installs
CTA section
Quick to translate
Live editing
Hint: My FAV design
MORE INFO / DOWNLOAD
7 Key Features Of A Great Consulting Business Websites
Many factors make a great consulting website, but we found these seven to be the most essential.
And for this reason, we also ensured to test all the themes with these in mind, so either the theme features them, or you integrate them easily by installing a WordPress plugin.
Your online presence will shine with:
Great performance: Your page needs to load fast and perform smoothly on mobile and desktop devices. We included lightweight (thanks, Pingdom Tools) and responsive (thanks, Google Mobile-Friendly Test) themes that contribute to a better user experience. We also have a guide on how to select a fast WP theme.
Services & pricing: You need to display your amazing services and how your consulting skills can help your clients. Additionally, we also recommend you add pricing because it's always handy to know how much something costs.
Cases: One great strategy to build trust is by adding case studies to your website. This allows potential clients to learn about the quality of your work, the result, etc.
Testimonials: Do you want to build social proof? Include client testimonials (it's best to have them on your home or services page).
About us: Write a compelling "about us" page where you can also introduce the team and show who stands behind the business.
Contact details: Make it easy for everyone to get in touch with you through a contact form, a clickable phone number, a live chat or even through social media.
Professioanl blog: If you would like to take your consulting business website to the next level, starting a blog is inevitable. Show the world you're a professional, become an authority and grow more traffic to your website, which means more business. (Google loves high-quality content!)
One more advanced function of a great consulting website is an integrated calendar and online scheduling system, which can save you plenty of time when booking appointments.
Take your page seriously, starting with a WordPress theme.
::
Note: This article was originally published on April 29, 2022. But our team regularly reviews it and updates it with necessary improvements for accuracy.