Are you looking for the best dark WordPress themes to build an epic website?
There's something about dark design that grabs my attention every single time.
Plus, I'm sure many of you are the same since we received many requests to conduct this collection.
One thing that we all have in common: BLACK.
We spent six months testing 45+ WordPress themes for various industries and niches.
Thus, you can create blogs, online portfolios, eCommerce websites and business pages with this collection of the ultimate 12.
This post covers:
It's ALL possible.
Plus, the process of building your dark-ish website will be quick and easy whether you're a beginner or a pro.
I. Can't. Stop. Staring.
Best Responsive Dark WordPress Themes
1. Uppercase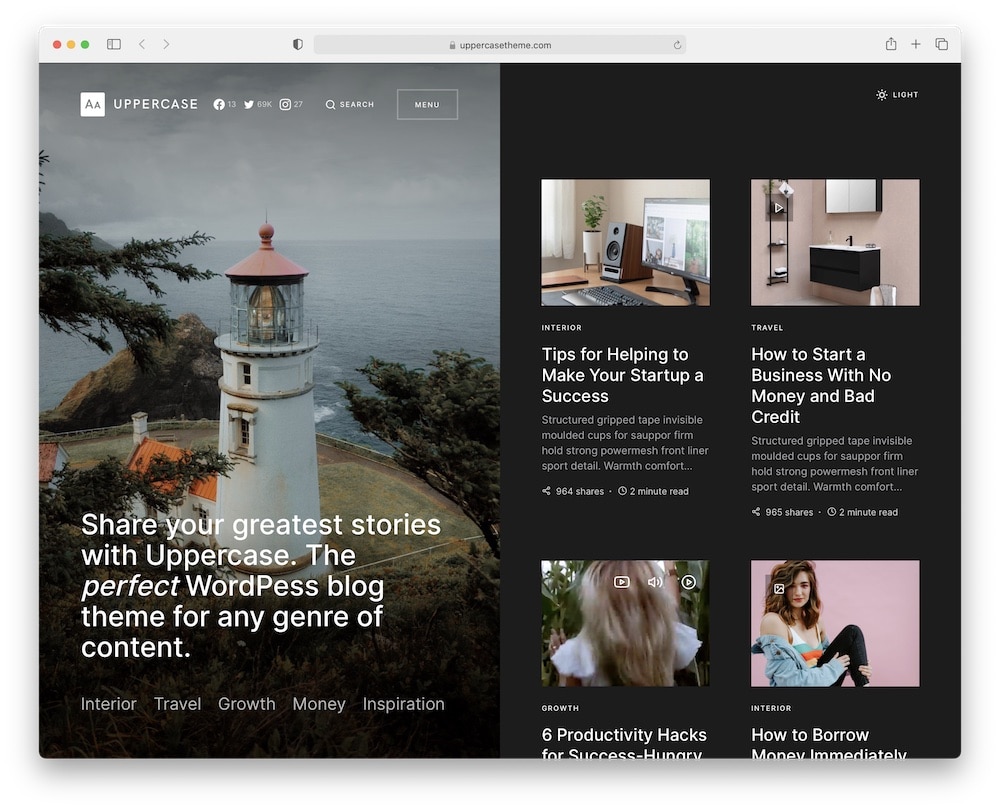 Uppercase makes a great choice for beautiful and modern blog websites.
It is packed with one-click pre-designed demos, various color options (and YES you can even turn on dark mode), tons of Google fonts, unique animations, and different post styles.
BIG. DEAL.
In fact, amazing video background will astonish your visitors (your secret weapon). I just go OOH and AAH every time I watch these stunning backgrounds – they keep my eyes peeled.
For those who want to connect sites with social media, you can easily enable share buttons or social links and make sure your content can be shared and featured all over the internet.
What a moment when your content goes viral!
Everything you need to build your dream site is collected into this one place – Uppercase!
Uppercase features:
MORE INFO / DOWNLOAD
DEMO
2. Newsblock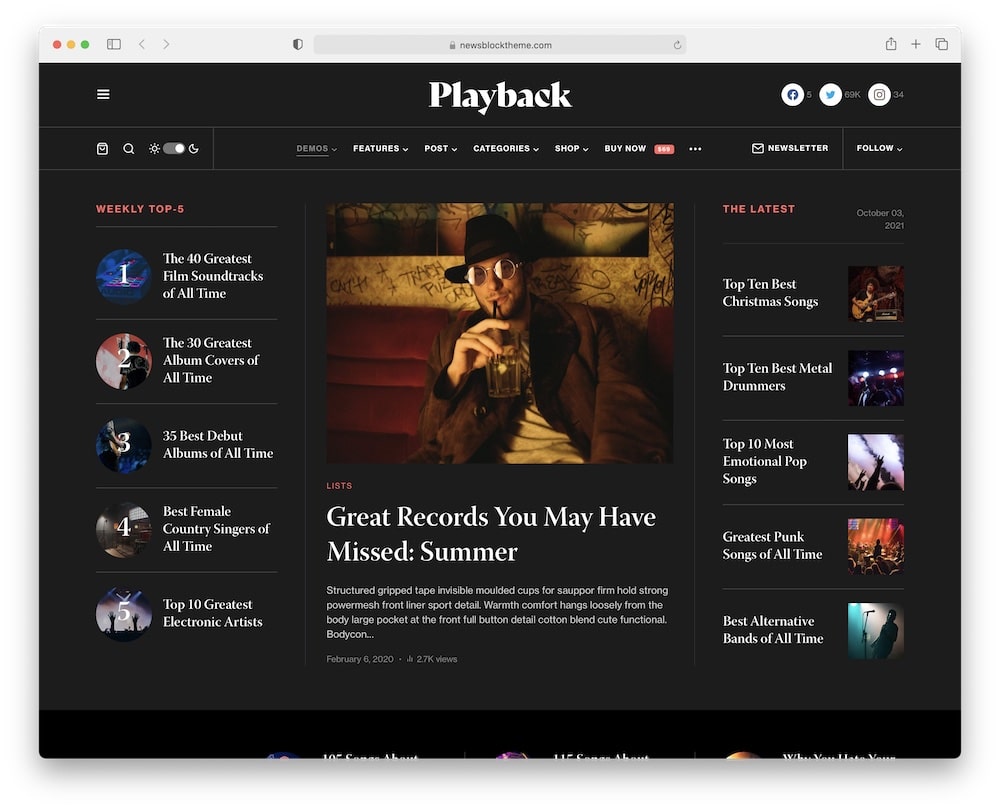 Create a gorgeous website with a responsive and flexible Newsblock dark WordPress theme and STAND OUT from the crowd.
One-click pre-made templates offer unlimited possibilities – you can EASILY realize all your wishes.
Plus, Newsblock is compatible with the best plugins – add useful tools and make the online experience pleasant for your audience.
The user can also turn on the dark mode for a better viewing adventure.
Not bad, right?
Exclusive by Newsblock you get a bundle of the most advanced features with NO hidden cost, NO monthly fees, N) coding knowledge required.
WOW.
Try now this incredible theme and turn it (with your touch of creativity) into an ideal and the most popular site.
Newsblock features:
1,800+ sales
4.8+ star rating
Price: $69 (may vary)
MORE INFO / DOWNLOAD
DEMO
3. Elessi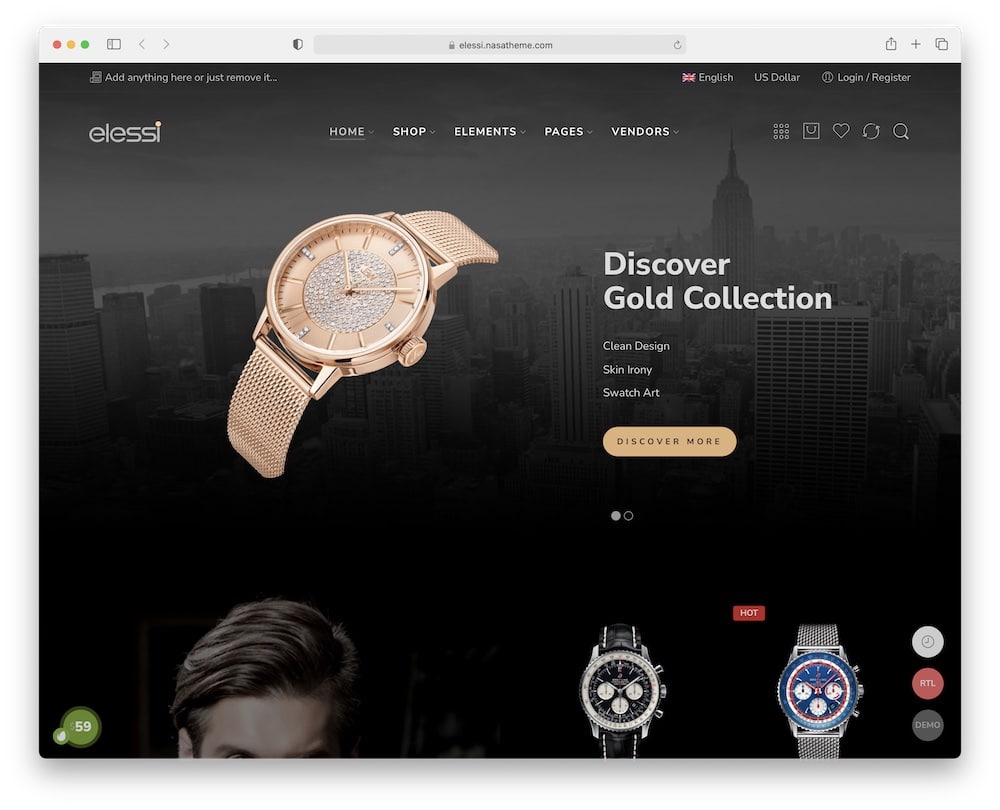 Make your own website with Elessi dark WooCommerce theme because life's way too short not to.
You can customize every part of your site by building with the Elementor editor (included for FREE).
It allows you to quickly create eCommerce stores (ZERO coding knowledge required).
#1 tool.
Elessi offers unlimited colors for fonts, buttons, and borders. Choose what suits your business the most step-by-step.
Bonus: product quick view, popups, Ajax wishlist & sidebar, unique product filtering, shop layouts, categories filter, and bulk discount – perfect for eCommerce projects.
EVERYTHING you need comes with Elessi.
Elessi features:
5,500+ sales
4.9+ star rating
Price: $59 (may vary)
MORE INFO / DOWNLOAD
DEMO
4. Networker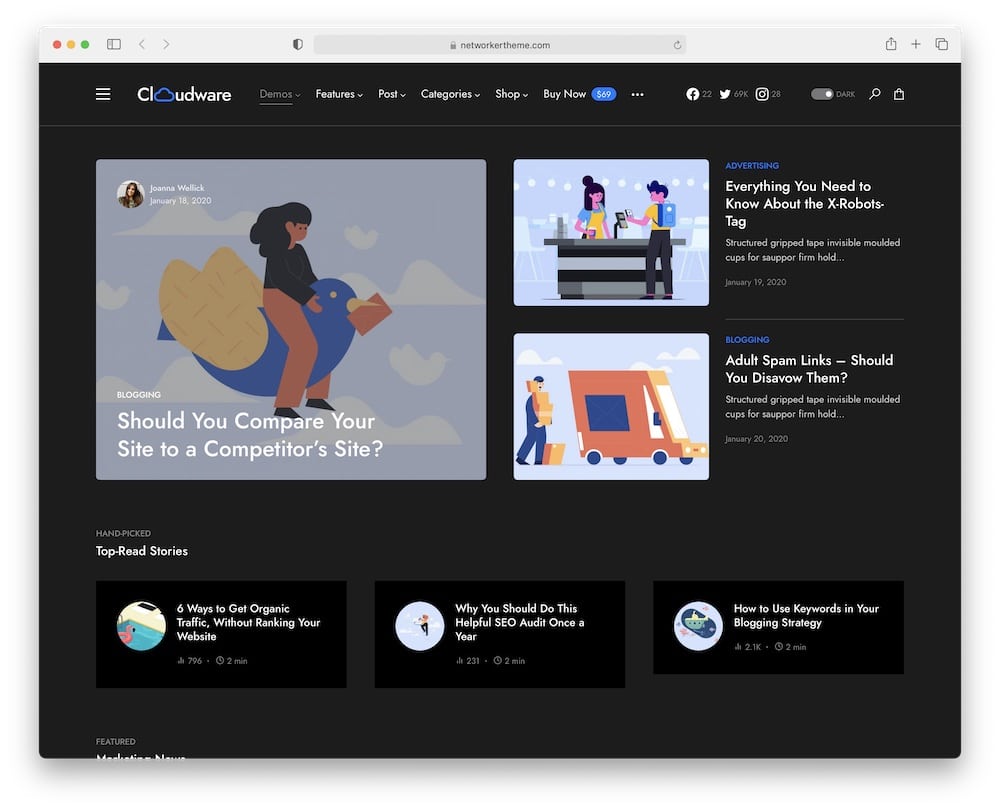 I present to you the modern and responsive Networker dark WordPress theme.
This theme aims at tech news magazines, entertainment sites, and catalogs. It has pre-designed homepages, smart plugins, tons of colors, gorgeous typography, multiple post styles, and video backgrounds.
YUP, a generous package of goodies!
My heart is happy.
Another COOL aspect is dark mode; you can turn it on for low-light environments – the viewing experience will knock your socks off!
Networker will ensure your site performs well with its fast page load speed (you may also be interested in our how to choose a fast WordPress theme to see why loading speed is so important). Plus, regular FREE updates and lifetime access are guaranteed.
Hands down to Networker.
Networker features:
MORE INFO / DOWNLOAD
DEMO
5. Pekko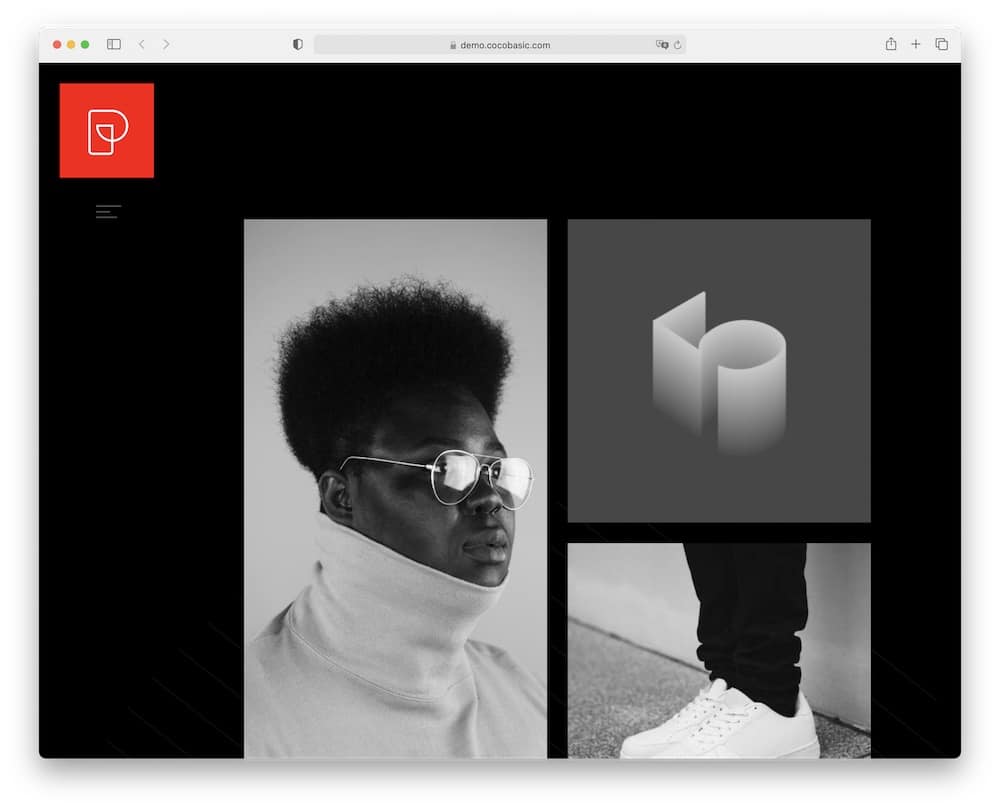 One of the best dark WordPress themes for portfolio websites is Pekko. Its minimal design makes Pekko clean, transparent, and fast loading (lightweight design).
RIGHT. TO. THE. POINT.
Thanks to the best Elementor WP page builder, you can control and change elements, rotate blocks, pick colors, customize text size and typography. Best of all – 0 coding skill is needed to work with Pekko.
Whoopee!
Warning: Pekko is also compatible with WP translation plugins (turn it into a multilingual WordPress theme), meaning you can go crazy, rocking your business all over the world.
I like it.
Plus, let's not forget about the top-notch customer support that always has your back. Three cheers to Pekko!
Pekko features:
310+ sales
4.8+ star rating
Cool animations
Price: $59 (may vary)
MORE INFO / DOWNLOAD
DEMO
6. The Luxury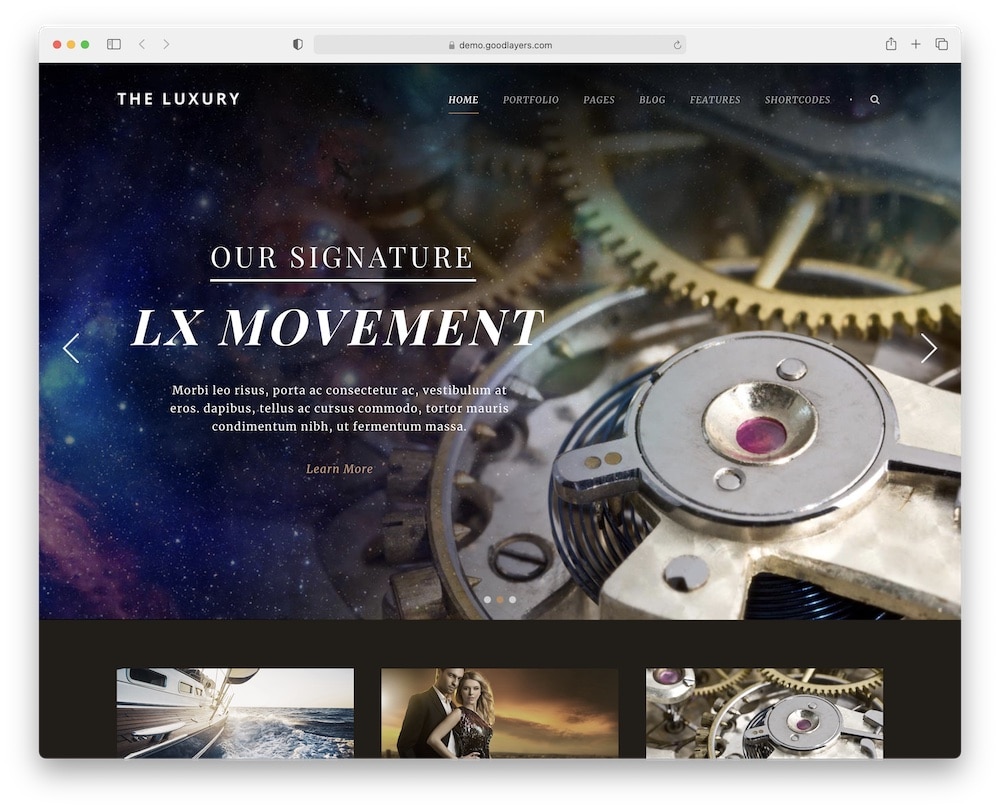 Finally! I can share with you The Luxury dark WordPress theme. I'm so excited my friends.
The Luxury focuses on beautiful products, quality brands, and opulent product lists. It comes with the most popular plugin, WooCommerce, allowing you to sell anything.
Enjoy all the benefits of your online shop!
Besides, The Luxury is fully customizable and you can change it exactly as you desire.
You can set dark mode, WP parallax theme effect, YouTube videos, add social links, and shortcut buttons. You can do everything with simple mouse clicks.
I la-la love it!
It's true, The Luxury makes your life easier and prettier!
The Luxury features:
2,800+ sales
4.6+ star rating
Practical sliders
Making moves since 2014
Price: $59 (may vary)
MORE INFO / DOWNLOAD
DEMO
7. Oraiste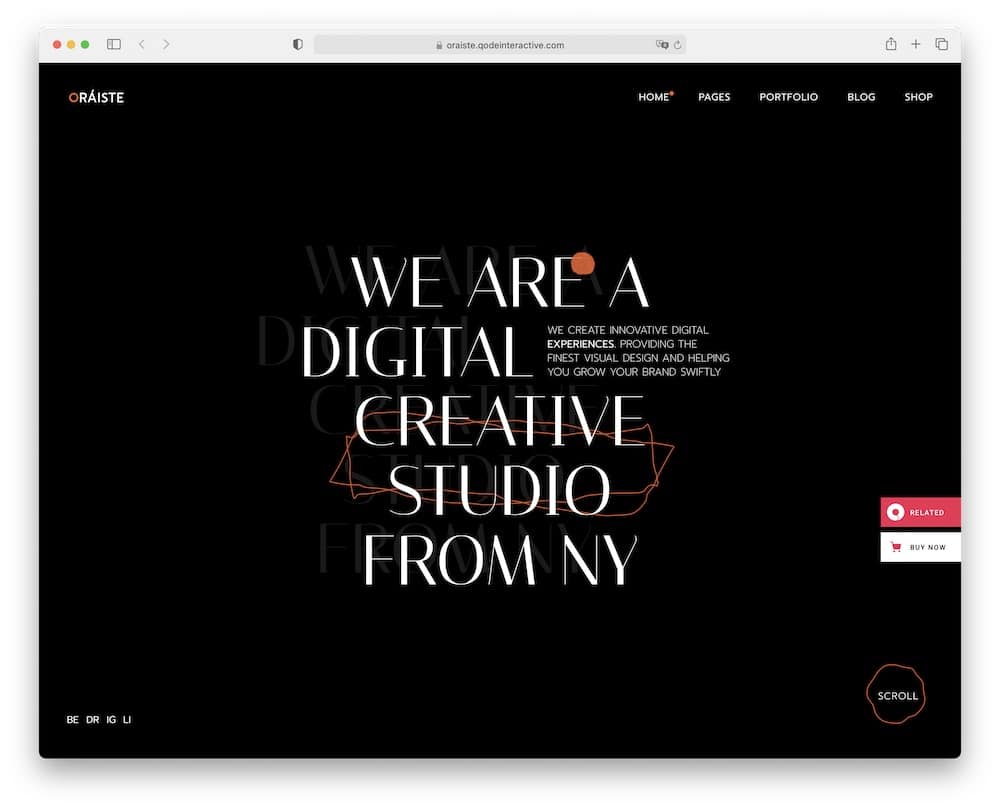 As you'll see, Oraiste dark WordPress theme is versatile, so you can easily incorporate your favorite elements, layouts, images, shortcodes, icons, and colors. Plus you can choose between 1000+ Google fonts.
I'm in love, and I think you will be, too.
Oraiste offers creative and modern design. Remember, you can instantly import pre-made templates. Easy, quick, and fabulous.
In my experience, Elementor page builder, Slider Revolution, and WooCommerce plugins (added for free) are the best tools.
No doubt you will enjoy working with them.
A few more reasons to love Oraiste: mega menu, parallax effect, responsive design, and Contact Form 7.
There are NO limits with Oraiste!
Oraiste features:
MORE INFO / DOWNLOAD
DEMO
8. Wavo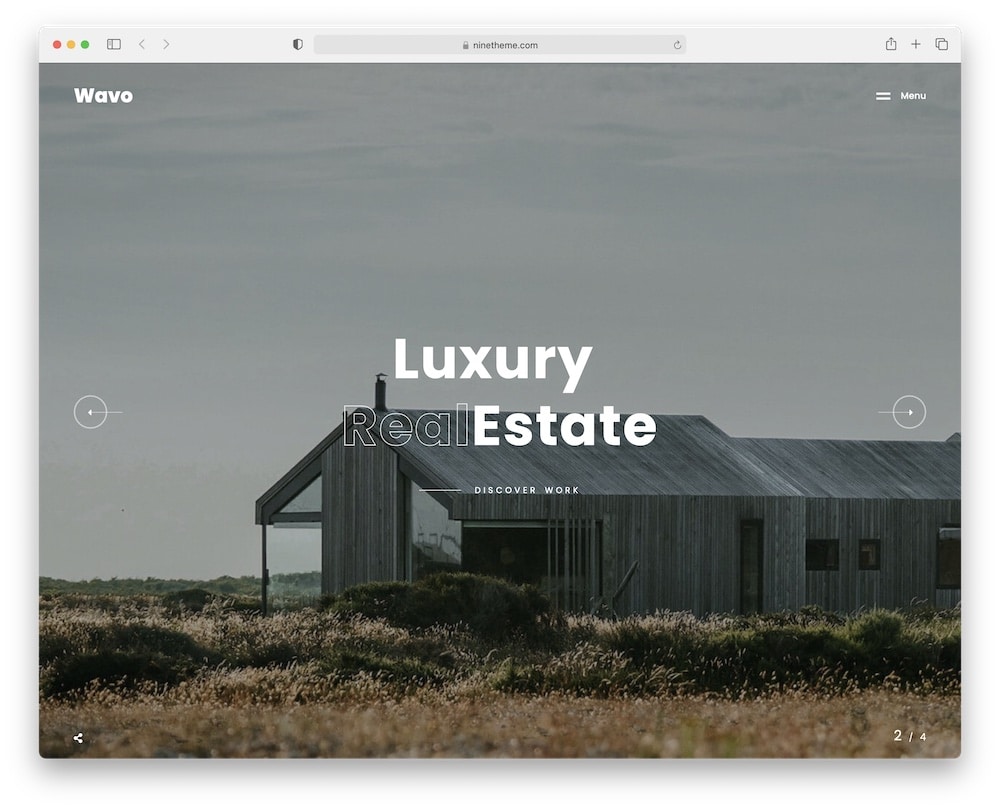 Have you already checked the modern Wavo dark WordPress theme? If not, it's about time!
Wavo is super responsive and looks stunning on various screens (size doesn't matter 😉 ).
Installation, technical help, and lifetime updates are completely FREE. Hip, hip, hooray! (If you need support with installation, check our how to install a WordPress theme guide.)
Besides, working with pre-made templates and the most popular tools saves your precious time (stress-free building).
SO take full advantage of all the included possibilities and control your new site fully.
HELLO. BOSS.
No matter what you are craving for, you get everything you need for a successful start with Wavo.
Wavo features:
2,600+ sales
4.9+ star rating
For agencies & portfolios
Regular updates
Price: $39 (may vary)
MORE INFO / DOWNLOAD
DEMO
9. Ashade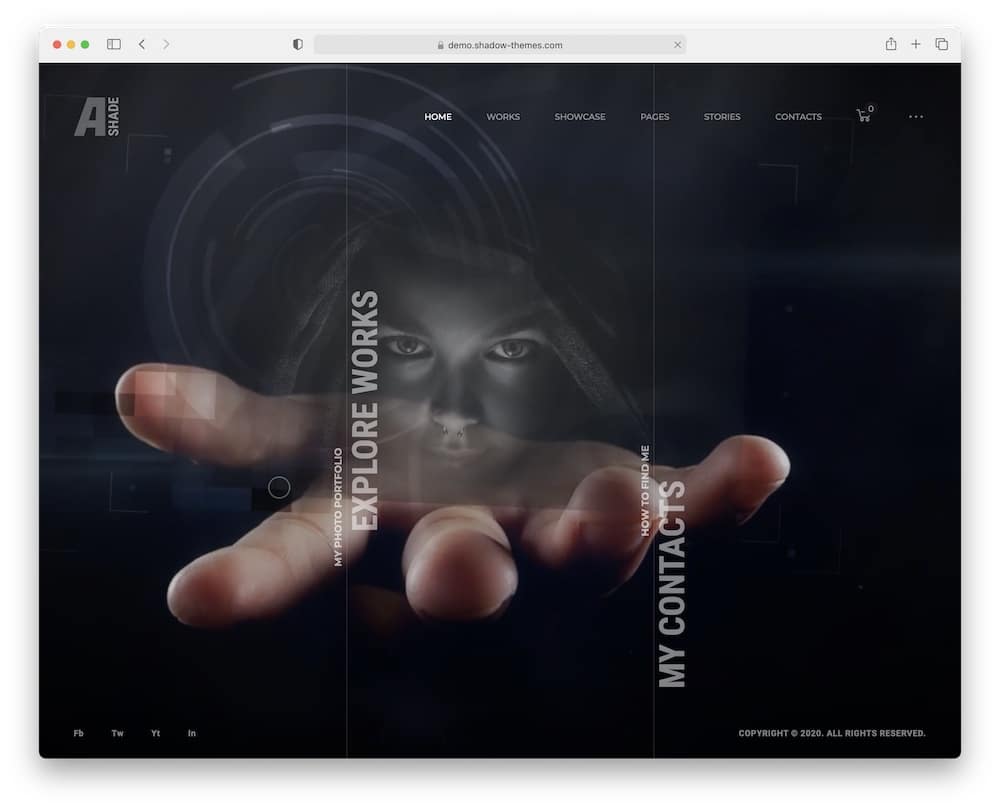 The ultimate Ashade experience is waiting for you! This WordPress theme has a breathtaking dark design, smooth performance, and cross-browser compatibility.
GAME ON.
Moreover, with all the stunning elements included in Ashade, a professional-looking website is guaranteed.
No doubt (!), Ashade can bring your photography business to the next level.
OH, and if you want to create your online shop, you can with the amazing WooCommerce plugin and all essential features carefully bundled (product listing, product page, shopping cart, checkout) in this offer.
You can sell your products in the best way possible.
PARTY!
Apart from that, you can also add testimonials, photo proofing, and creative grid galleries. Keep in mind, MORE-IS-MORE with Ashade.
Ashade features:
1,900+ sales
4.6+ star rating
Before & after slider
Price: $39 (may vary)
MORE INFO / DOWNLOAD
DEMO
10. Gilber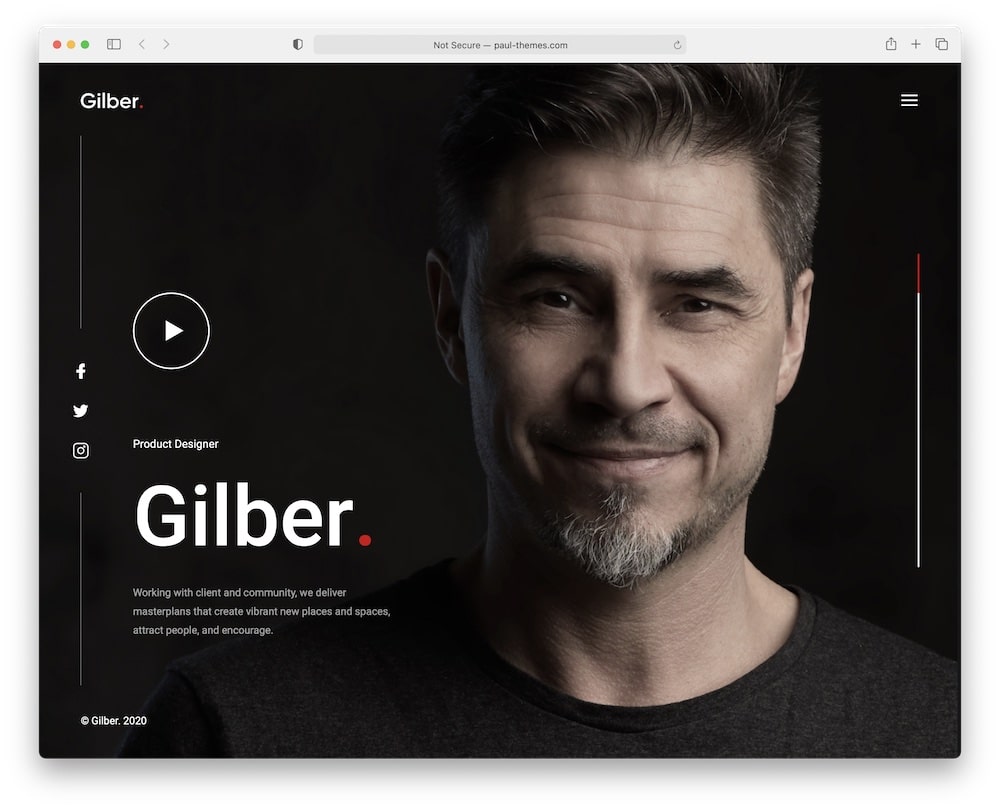 You should know by now that I'm totally obsessed with themes.
I daydream about new websites, creative design, and exciting tools. Gilber dark WordPress theme feels beautifully organized, simple to use, and suitably packed with stunning features.
AW yeah, Elementor page builder – I always welcome this plugin in my workday with open arms. I know you will enjoy it too.
It just allows you to design what you want without any coding knowledge or pro experience.
PURE. BLISS.
Furthermore, Gilber is built with SEO in mind, focused on badass speed and extreme functionality. Plus it uses HTML5 and CSS3.
Suuuuper nice!
Score your goals with Gilber!
Gilber features:
180+ sales
4.7+ star rating
Fast & easy setup wizard
Documentation & support
Price: $49 (may vary)
MORE INFO / DOWNLOAD
DEMO
11. Benoit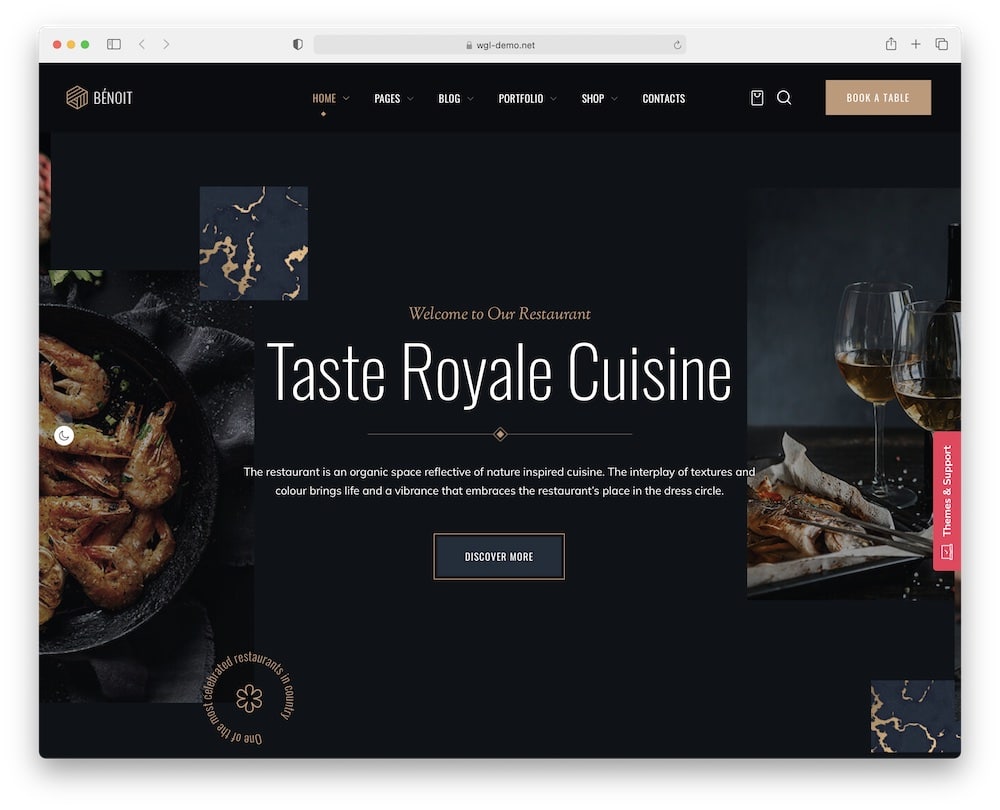 Come on in. WELCOME into the elegant world of Benoit dark WordPress theme. Benoit is mainly designed for restaurants, coffee shops, and bars.
It makes me go OOH whenever I preview this gorgeous theme (check it out)! And when I used it for the first time, I was impressed even more.
The simplest way to start is by importing a one-click (pre-made) demo, followed by choosing ready-to-use layouts, animations, colors, fonts, icons, header, and footer templates.
Amazing, isn't it?
With Benoit, you can (or better: you MUST) take advantage of smart and valuable plugins such as Slider Revolution, WooCommerce, and Elementor. Produce a unique, pleasing experience for your audience.
OMG – LIKE.
Just build your dream site with Benoit and throw it in the face of doubters.
Benoit features:
530+ sales
5-star rating
Price: $47 (may vary)
MORE INFO / DOWNLOAD
DEMO
12. Togo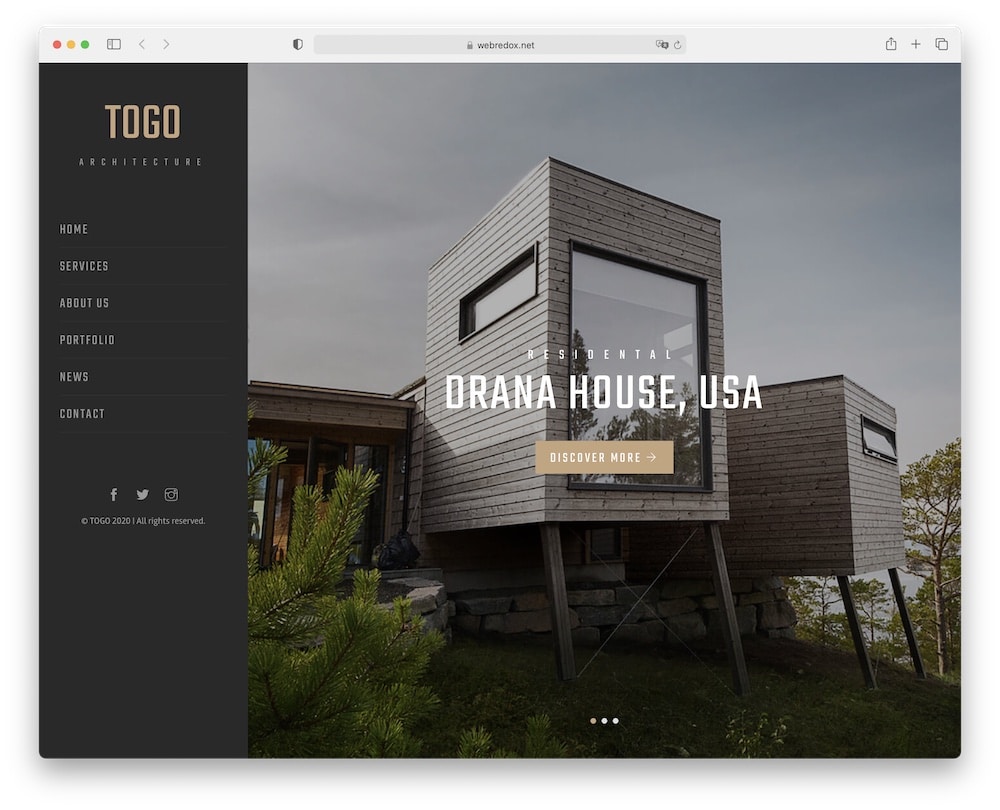 Good design and great features – does it get any better than that?
Well, fresh and thoughtfully constructed Togo dark WordPress theme comes with both. Particularly if you like minimal, clean, and unsaturated style (read: I), you will like this stuff.
YAY or NAY?
Togo looks stunning on different devices due to its retina-ready and fully responsive design. You heard me – it's all about how to create the best user experience.
Let the powerful admin panel show you how to take complete control and start (by all means) creating your future. You can mix and match elements, icons, widgets, and colors.
MAGIC.
Go big with Togo. Start today.
Togo features:
190+ sales
4.7+ star rating
WPBakery page builder
Price: $69 (may vary)
MORE INFO / DOWNLOAD
DEMO
5 Key Features & Benefits Of A Great Dark Website
Dark websites are "fragile" because you can easily do things wrong and ruin the overall EPIC experience.
But that's nothing to worry about in your case if you're using any of the above themes.
Plus, here are some of the key features and benefits of a great dark website that you'll build today.
(You can help yourself with these if you plan to research dark themes further.)
1. White/dark space
White space is great for any type of website, regardless of color.
But it's even more essential to use (lots of) dark space when it comes to, well, dark websites.
This improves user experience, keeping things more pleasant to the eyes.
And more:
2. Readability & typography
Readability and the choice of typography go very well hand in hand (especially in combo with more "dark" space), especially when working on a dark website.
Choose more spacing between text and use simple fonts.
Also, scaling up your site fonts is advisable when working with dark design. (This is especially important for mobile devices.)
Our recommendation: Use white text for dark websites. But light grey also worked really well in many of our tests.
And don't use any bright colors because they hurt the eyes even more on a dark site. (Unless you're using them for detailing.)
Note: We have a full tutorial on how to change fonts in WordPress.
3. Minimalist color scheme
Always aim for the minimalist color scheme for a dark website. As we mentioned, don't use any bright colors, especially not lots of them.
Keep it simple, and you will achieve a luxurious feel that no other website can compare with.
Note: Don't miss our collection of the best luxury WordPress themes.
4. Better content showcase
One of the many benefits of a dark WordPress website is better content showcase.
Whether you want to build photo or video portfolios, all the eyes will be on the content first and foremost.
The dark atmosphere allows the user to immerse in the content much easier, keeping a pleasant experience.
5. Dark & light mode switcher
I know this goes slightly against the grain but stick with me.
Not all your site visitors will enjoy your dark design – that is a fact.
What to do about it?
Simply include a style switcher.
It allows the user to change from dark to light and vice versa with a click of a button.
HEY! We also created a tested review of the best free dark WordPress themes. Go.