Are you searching for the best free and premium WordPress gadget themes to start a review site or online store?
One of the hardest things about WP themes is this:
How do you know which WordPress to pick when there are SO MANY available?
Here's the thing: You don't have to know.
We did all the necessary reviewing and testing to deliver you a collection of the thirteen best.
You now have everything you need to start an online gadget project.
This post covers:
Quick-Pick: Best WordPress Themes For Gadgets
Best Premium Gadget Review Themes
1. Newspaper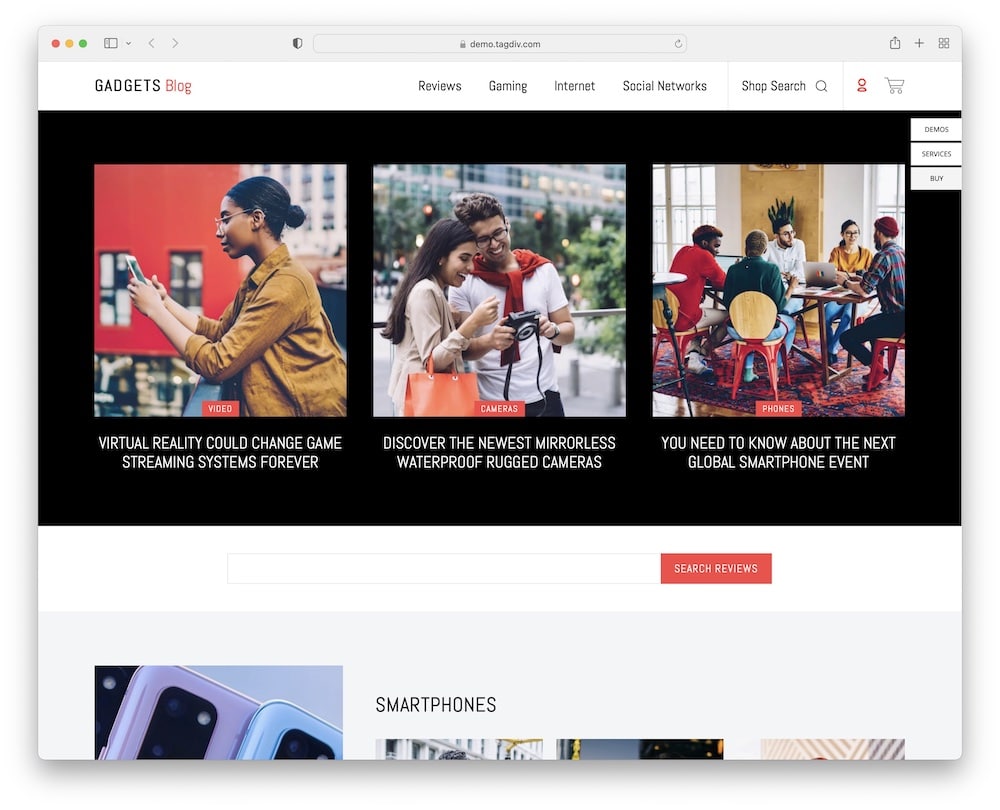 Ready to upgrade your business? Have a good look at the absolutely insane Newspaper theme.
First and foremost, you don't need any coding skills (!) to work with Newspaper. Import the pre-designed demo and create your dream site via the WordPress drag-and-drop builder.
Plus, you can add elements, customize the header, make a unique footer, and set up ad banners ($$$).
Luckily, you can build an online store without stress (zero, niente) with WooCommerce (the all-in-one tool)!
Moreover, Newspaper is SEO-ready (out of the box), loads fast, and performs extra GOOD on mobile phones. (You may also be interested in knowing how to pick a fast WordPress theme.)
Oh man, you even get FREE lifetime updates!
And outstanding customer service?! Just proceed with a happy face on the buy button!
Newspaper features:
MORE INFO / DOWNLOAD
DEMO
2. Newsmag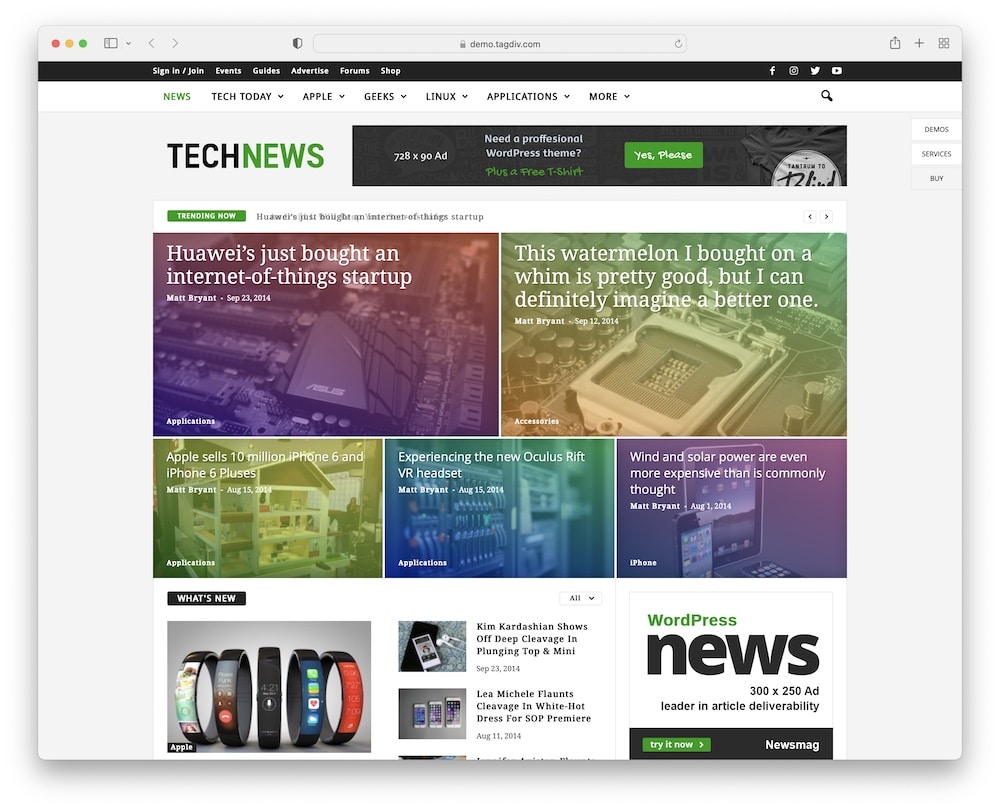 I found the new love of my life: This. Theme.
Newsmag WordPress gadget theme is gorgeously designed, but you can fully customize it with the drag & drop function.
Drag, drop and elements, rearrange layouts, create a header and insert content.
The best part? You see every change you make live instantly before publishing it.
So reliable and COOL to work with!
BTW: It includes the amazing lazy load effect (Hurray, your site speed will stay as fast as a racing cheetah)!
Furthermore, Newsmag encourages you to share your business idea with the world by the translation-ready option. You can do it straight from wp-admin.
Go for it!
Newsmag features:
MORE INFO / DOWNLOAD
DEMO
3. Huber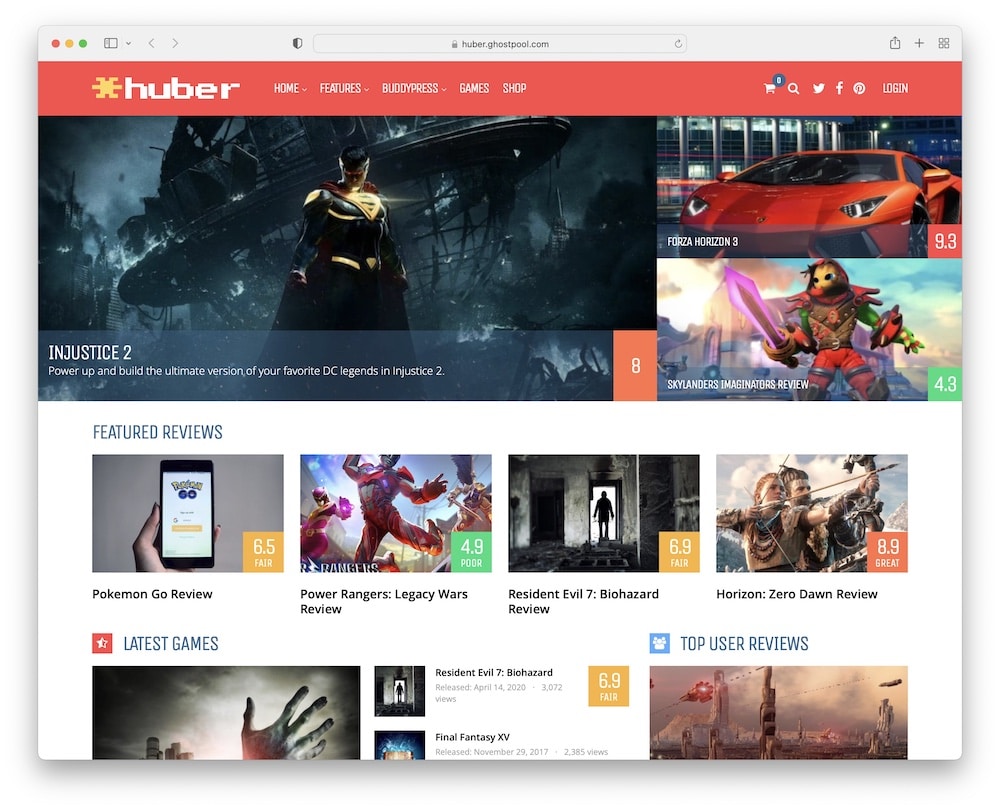 Cover the world of electronics with the modern Huber gadget review WordPress theme.
Expertly crafted Huber is fully responsive, SEO friendly, and compatible with all popular browsers. Yup, it guarantees the perfect first impression!
The FUN part?
You can customize the header, add icons, create sidebars, and change colors. WPBakery page builder offers many design options (simple drag & drop feature).
And, of course, there's nothing like a good WooCommerce store!
You probably already know a thing or two about advertising?!
Huber offers great advertising areas, plus you can add affiliate links to your content. I guess we all like to earn while we sleep.
It's time to rock.
Huber features:
530+ sales
4.8+ star ratings
Create a community with a WordPress forum plugin
Visitors and logged-in users can submit reviews
Price: $249 (may vary)
MORE INFO / DOWNLOAD
DEMO
4. Magzine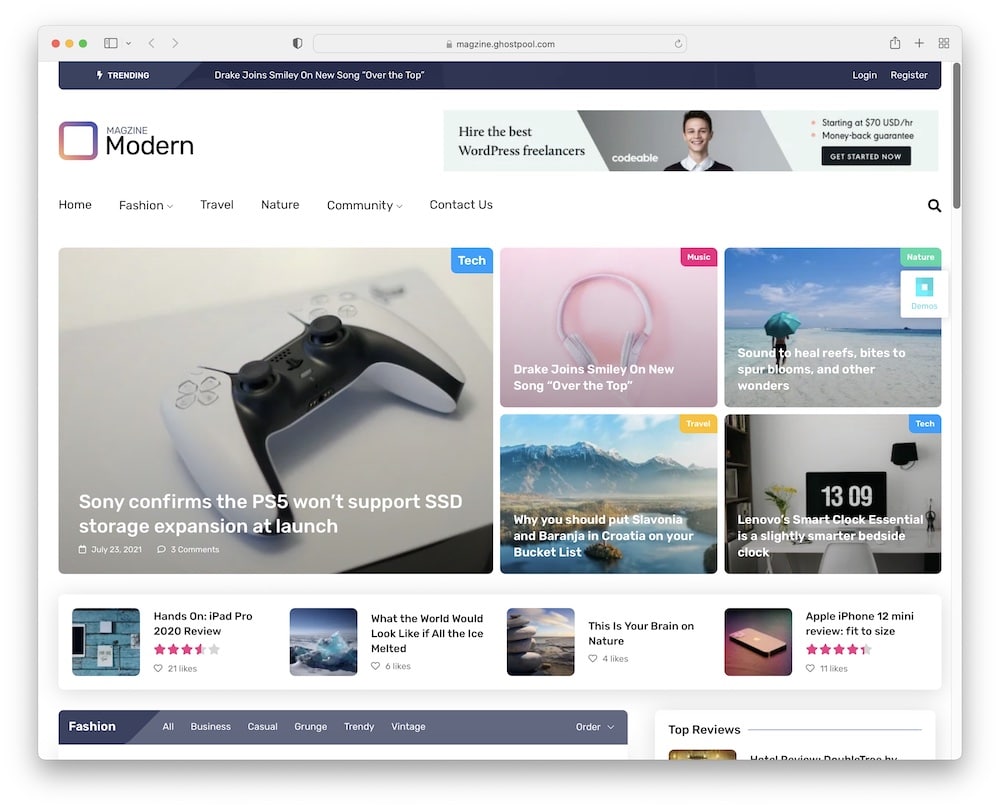 Create a popular destination for tech lovers with the Magzine WordPress gadget theme.
Focus on the latest news, analysis, tools, geeky gear, product stories, and gadget reviews.
You can even allow your users to review products via comment form or by clicking the rating icons.
HI5!
Luckily, Magzine includes numerous design elements (time savers), so you can improve the aesthetics and functionality of your site. Plus, it's optimized for speed and organic search.
Moreover, Magzine makes connecting your social media accounts with your site easy.
Boost your recognition and brand awareness with this performance wizard.
OMG – you get free lifetime updates and amazing customer support?! Buy now or cry late!
Magzine features:
370+ sales
4.7+ star ratings
Price: $69 (may vary)
MORE INFO / DOWNLOAD
DEMO
5. Puzzles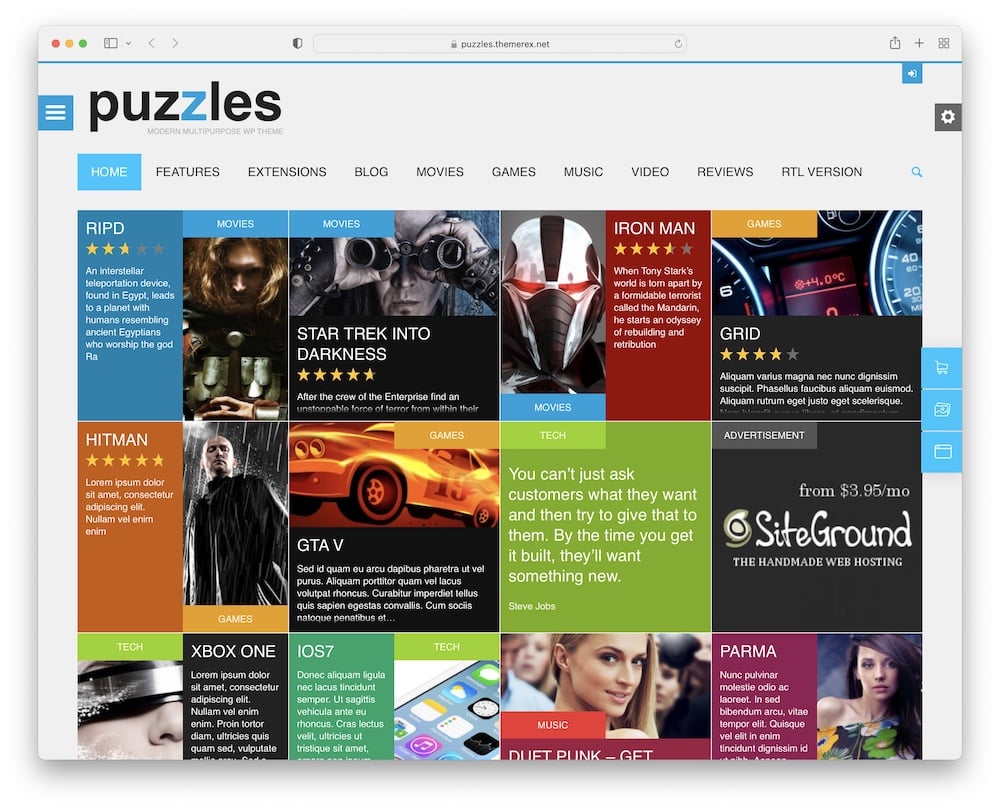 Spread the word about everything new in trendy electronics with Puzzles.
This gadget review WordPress theme has five pre-made homepages, various color schemes, tons of WP shortcodes, and WP widgets for a quick and simple build. It is designed to include a handy blog and forum.
You also get detailed docs and lifetime updates (no extra cost).
YEAH!
Oh, man, and I am pumped about the advanced review and rating system!
Create hype around gadgets.
Note: If needed, top-notch customer support (don't be shy, just ask) will passionately help you. I salute Puzzles smooth service!
Puzzles features:
1,400+ sales
4.6+ star ratings
Regulard updates
Performance grade: B86 (by Pingdom Tools)
Price: $69 (may vary)
MORE INFO / DOWNLOAD
DEMO
6. Foxiz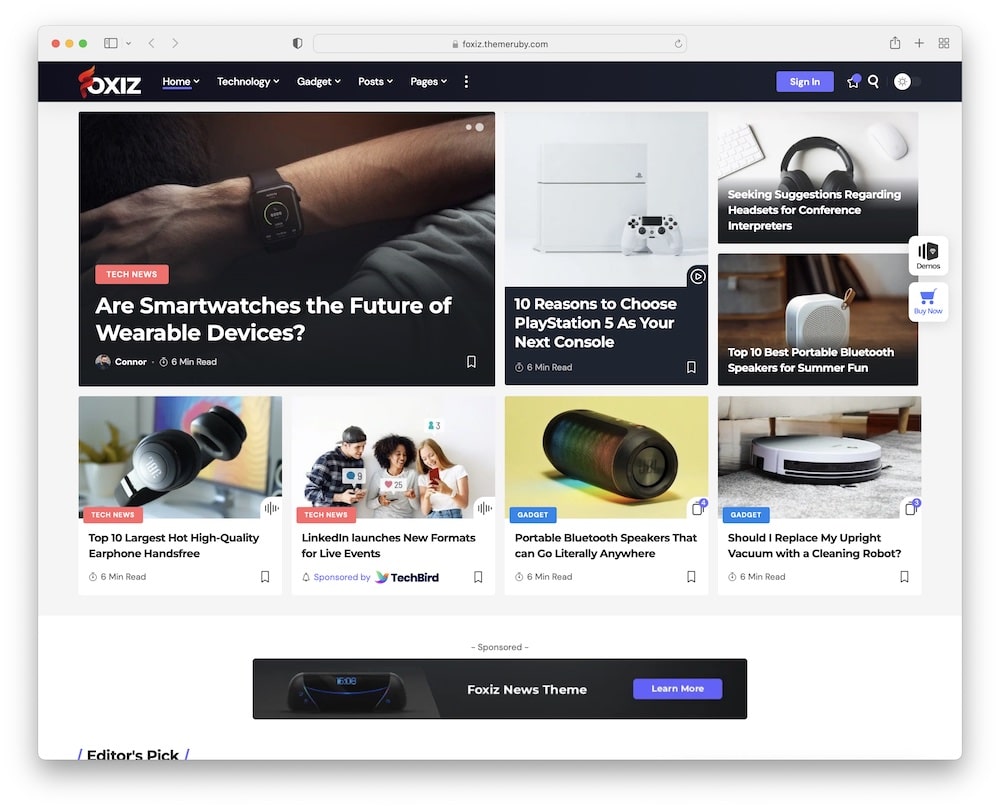 Share your thoughts and news on technology with Foxiz WordPress gadget theme.
Start and never stop!
Modern design is fully responsive (great for mobiles), optimized for speed, and SEO friendly. Plus, your visitors can join your website from various search engines!
Foxiz includes the most popular plugins such as Elementor page builder, WooCommerce, WordPress Ajax technology, and MailChimp to save you time.
Spice up your site with emoji reactions (I love the dead emoji the most!).
TIP: From my experience, dark mode keeps visitors on a site longer, but you can even leave it as a choice for visitors to turn it on or off by themselves.
Pretty COOL, right?
And don't forget to set up a WordPress newsletter popup!
Foxiz features:
MORE INFO / DOWNLOAD
DEMO
Best Premium Gadget eCommerce Themes
7. Digi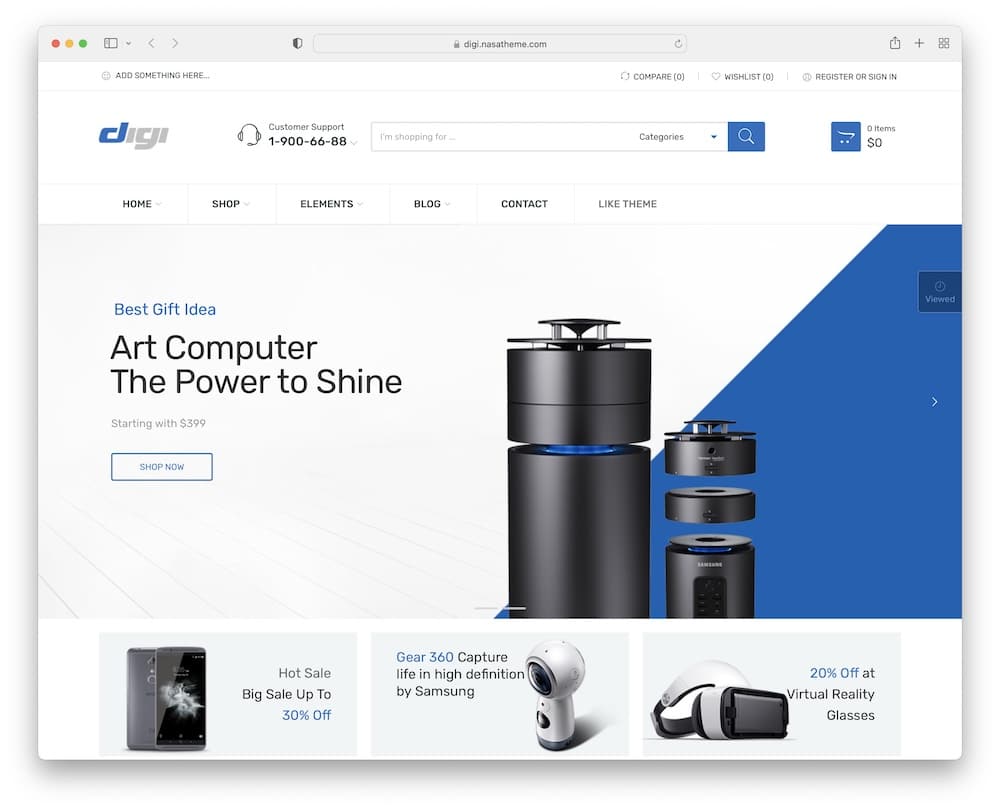 Tech is an ever-growing niche, so be a part of it with the gorgeously designed Digi theme.
Once you select a ready-to-use homepage, you can set up its header, footer, typography, and colors.
The key to fast and simple creation is the No.1 WPBakery editor (never disappoints).
Plus, you also get Slider Revolution to WOW your visitors with an AMAZING slideshow section (trusted by 9+ million users).
EPIC.
You can start building a functional online gadget store via WooCommerce in minutes. And get even more out of it with Ajax technology, shop sidebars, and popup promotions.
Use Digi cleverly and WIN.
Digi features:
510+ sales
4.9+ star ratings
Built-in WordPress slider plugin
Gadget compare & wishlist functions
Price: $59 (may vary)
MORE INFO / DOWNLOAD
DEMO
8. Marketo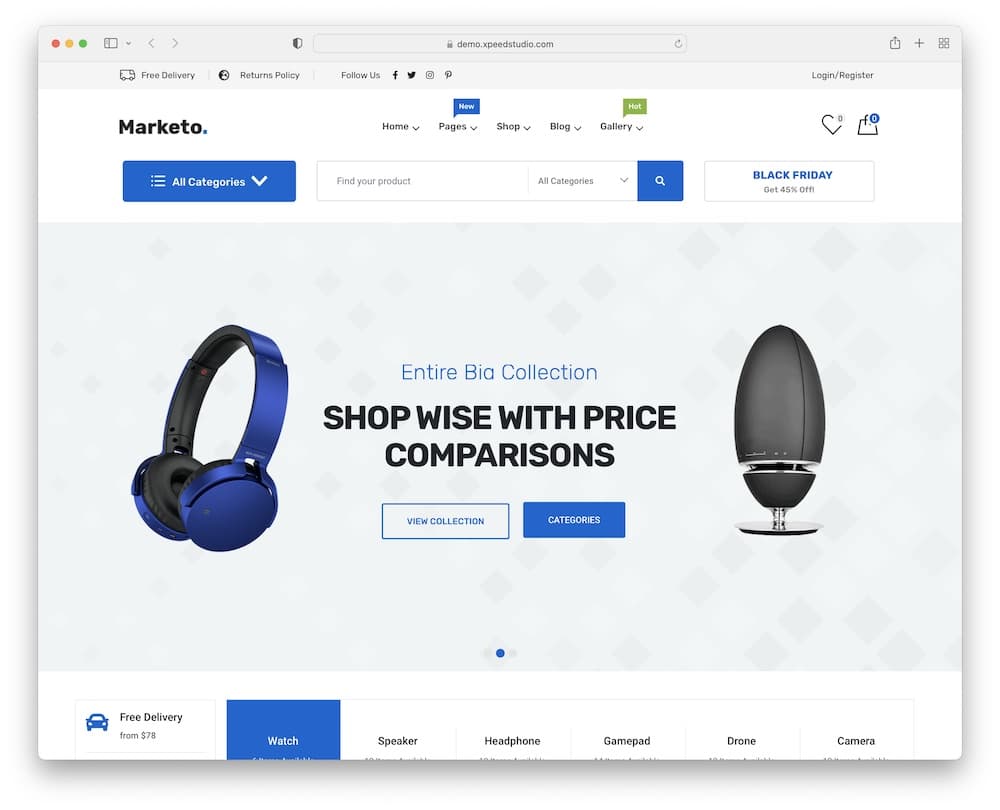 Search, browse and compare the latest technology on the Marketo gadget theme.
It's always good to start by importing the pre-designed homepage and work towards its final look. You can easily change the header (various options), colors, footer, and fonts.
Quickly.
Moreover, the smart mega menu can make a huge difference on your site! It offers great navigation, and you can even add icons, maps, and images to it.
This is just the best.
And you can add Google Maps to your WP site if you want to display your business location on Marketo.
Let's GO, now!
Marketo features:
MORE INFO / DOWNLOAD
DEMO
9. Ekommart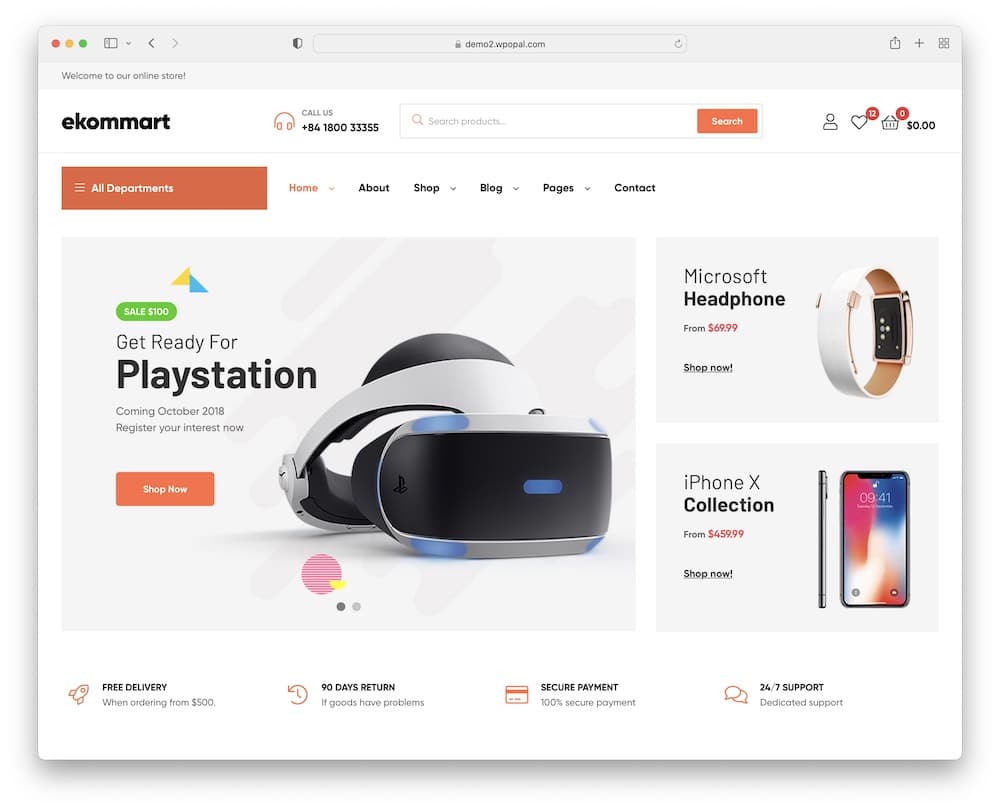 Ekommart is your all-in-one WooCommerce solution for selling anything you want, mobile phones, cameras, smartwatches, laptops, TVs, etc.
The sky's the limit.
Yup, you can promote anything that runs on electricity and include Google Reviews to build trust.
Ekommart offers a quick online store creation with different payment gateways, beautiful product page styles, unlimited button designs, flexible sidebars, and the impressive quickview feature.
Oh my, it also includes a stunning parallax effect. If you ask me, you need to have it!
As a bonus, Ekommart comes with a few powerful gems that can easily increase the functionality of your site.
Yup, I am talking about plugins: Elementor, Slider Revolution, Contact form 7, and MailChimp. You got the sauce!
Ekommart features:
3,900+ sales
4.7+ star ratings
Product quick view
Works for gadget brands and general gadget stores/marketplaces
Price: $58 (may vary)
MORE INFO / DOWNLOAD
DEMO
10. Electro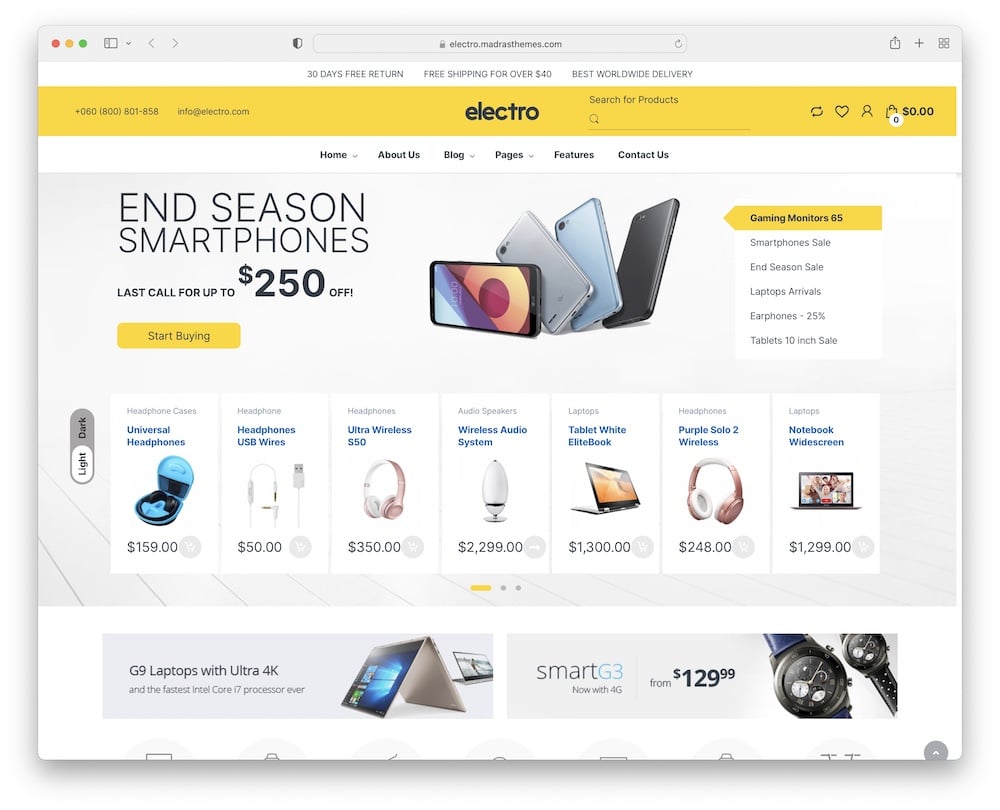 Sell gadgets online like a pro from the very beginning with Electro. You'll master the game even if you're building your first electronics eCommerce site.
I'm going to cut to the chase.
Electro offers eleven complete homepages that you can use out of the box or customize to your personal needs. Your site will stand out with Electro in both cases.
God bless pre-made demos!
On the one hand, Electro supports WooCommerce with all its features, BUT on the other, you can use it as an affiliate website (based on links).
You can use one or the other or both.
Moreover, Electro look can be light or stunningly dark (yup, you guessed it right, I love dark mode).
And if you ask me, a classic blog layout is essential. #worthyourtime
Electro features:
22,700+ sales
4.8+ star ratings
Excellent video tutorials
Supports custom CSS
Price: $59 (may vary)
MORE INFO / DOWNLOAD
DEMO
11. Razzi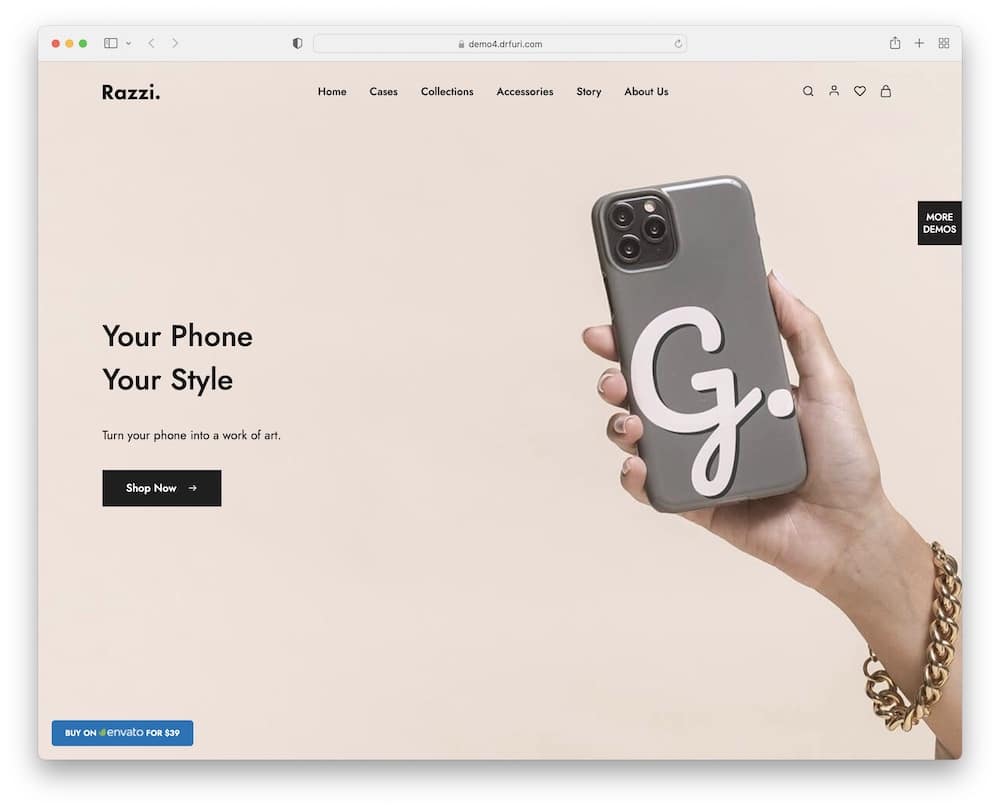 Build your site block by block with the AWSOME Razzi WordPress gadget theme.
Let's dive in.
Razzi is fully responsive (great for mobile devices), SEO optimized, and translation-ready. Magic.
And did you already build a website with Elementor? You need it in your life!
Razzi also includes the flexible mega menu. Remember, this is the core part of your site – I tested and can guarantee you that good navigation is vital.
Furthermore, Razzi extended WooCommerce features are ALL you need to create a beautiful and functional online store.
BTW: Display options are just brilliant!
Excited to try it? Waste no time!
Razzi features:
4,400+ sales
4.8+ star ratings
Integrated search with suggestions + filters
"Buy now" button
Price: $49 (may vary)
MORE INFO / DOWNLOAD
DEMO
Best Free WordPress Gadget Themes
12. Affiliate Review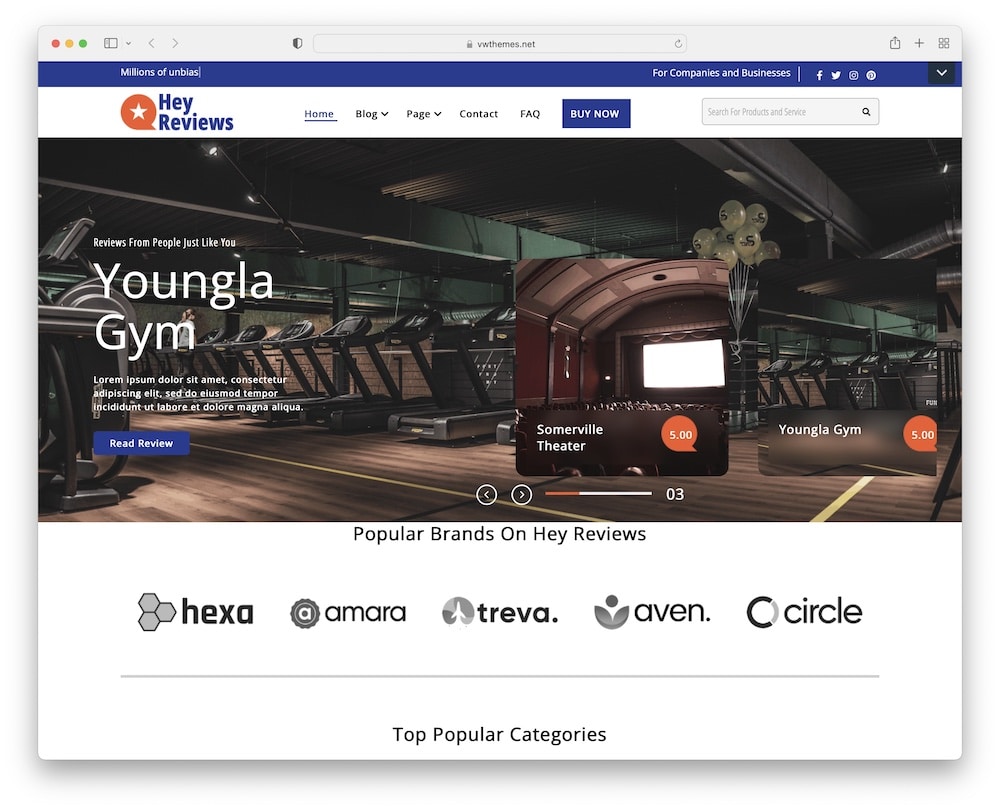 Keep the BUZZ on tech things with the brilliant Affiliate Review WordPress gadget theme.
This minimal theme offers a fully retina-ready design and fast page load (I love it when people notice how fast my site loads).
Besides, you can easily translate Affiliate Review to the language you desire.
And, of course, there's nothing like a good header with a flexible menu (!) and search bar.
Also, connect Affiliate Review with your social media accounts (buttons and links for quick jump).
Really handy when you want to display important content, a special offer, or a newsletter sign-up form.
Click the buy button!
OMG, you don't have to, Affiliate Review is FREE!
Affiliate Review features:
500+ active installs
Frequents updates & improvements
100% responsive
Follows latest SEO practices
User-friendly admin theme panel
MORE INFO / DOWNLOAD
13. ExS Tech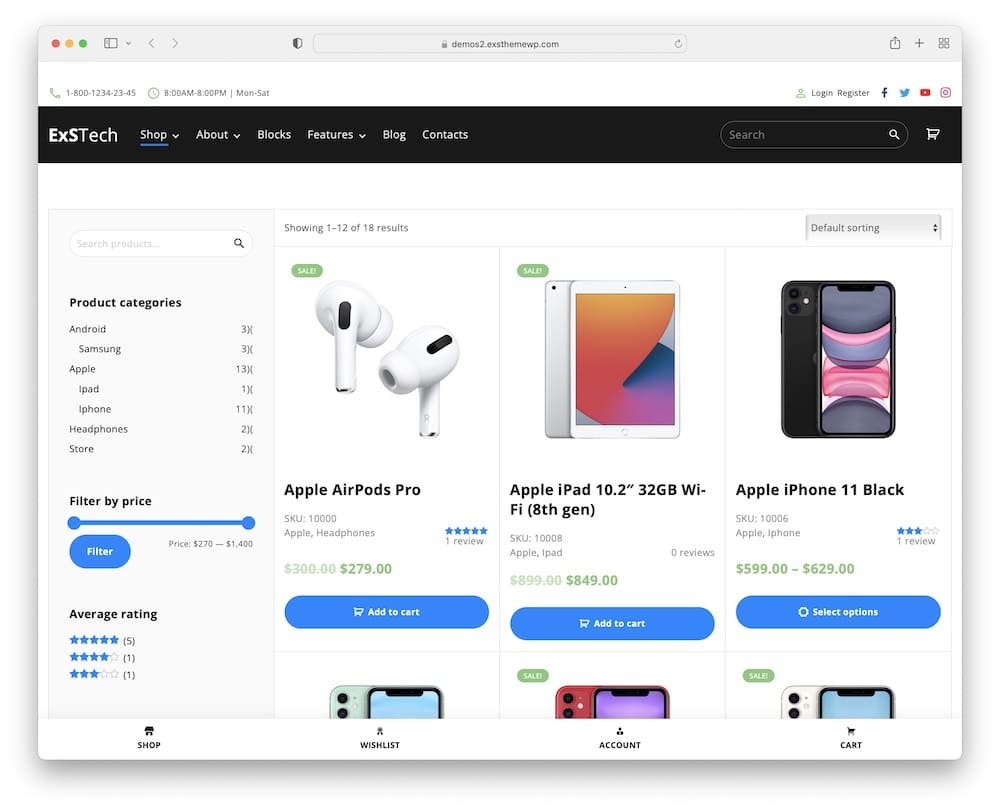 ExS Tech free online gadget store WordPress theme is the place to display any electronic item.
Just import the pre-made demo, add the logo, adjust colors, set up WordPress typography, manage WordPress sidebars, and choose the header.
I agree; it has never been easier!
ExS Tech also includes blog layouts (you can and SHOULD write a consistent blog).
Plus, ExS Tech is compatible with the WooCommerce plugin (hurray!) – the perfect business partner for your online store. Trust me!
Do it right with ExS Tech without the need to pay for anything.
ExS Tech features:
400+ active installs
Minimalist and clean design
Starter material for quick site building
Great support
Supports WordPress comments plugins
MORE INFO / DOWNLOAD
6 Key Features Of A Great Electronics & Gadgets Website
Even though we decided to break this list of the best WordPress gadget themes into sub-categories, the principles are very similar.
Here are the six key factors that we closely tested when conducting this review.
1. Responsiveness
Whether you're building a gadget review site or an online gadget store, it MUST be mobile-friendly.
You need to look for a theme with an optimized code without too many lines, so it keeps loading fast. (Also, it must not be stuffed with plenty of scripts because they can slow down the website.)
Note: Responsiveness and fast loading are two of Google's core ranking factors.
2. Customization options
Let me tell you something: I doubt you'll pick a theme, install it (here's how to install a WP theme if you need help with it), keep everything as is, add your items and content and go live.
No, that won't happen.
You will want to customize it.
And that's great! Actually, I highly encourage you to add your creative twist to differentiate from the masses.
Luckily, you can achieve great things with a customizable theme even if you don't know how to code.
Thus, we included themes that are user- and beginner-friendly but expendable and scalable.
3. Built-in eCommerce functionality
Luckily, a gadget eCommerce WordPress theme comes with WooCommerce and ready-to-use custom shopping cart, checkout, product, and other necessary pages.
I recommend avoiding any theme without preinstalled WooCommerce and a lack of quality online selling pages and elements.
4. Review system
We also added a special section because so many people like to write gadget reviews or would like to start a fresh review site.
Here's a simple rule that I follow: If I'll pay for a theme, it needs to have a built-in review system.
And if I'm picking a free theme, I'm fine if I need to install a review plugin.
The review system can be open only for logged-in users or the public with star ratings and more.
5. Social media
Social media integration is highly beneficial for selling gadgets or writing gadget reviews.
Hey, we all like sharing cool stuff online!
While every theme comes with built-in social media functionality, you can also unlock even more options with a social media WordPress plugin.
6. Search
Last but not leat, SEARCH!
Preferably a live search with recommendations, so a user can quickly find the perfect item or review they're looking for.
Note: You can also check our best WordPress search plugins collection for more options.
Great search (and navigation) also improve your site's overall user experience, which is one of the more powerful ranking factors for scoring better placements in SERPs.