The best WordPress fitness themes for your epic gym, regardless of its size.
I spent months carefully testing and reviewing 50+ themes to conduct a list of the best.
Looking at all the specs and key features of great fitness websites was so necessary for me.
I also used a few for my client sites for the ultimate tests.
This post covers:
You now have everything you need if you offer fitness classes, want to start a fitness blog or build an online fitness store.
But what I like the most about all these WordPress themes is: You can include all the functionality on a single website!
PUMP IT.
THE ULTIMATE 6:
Best WordPress Fitness & Gym Themes
1. GymBase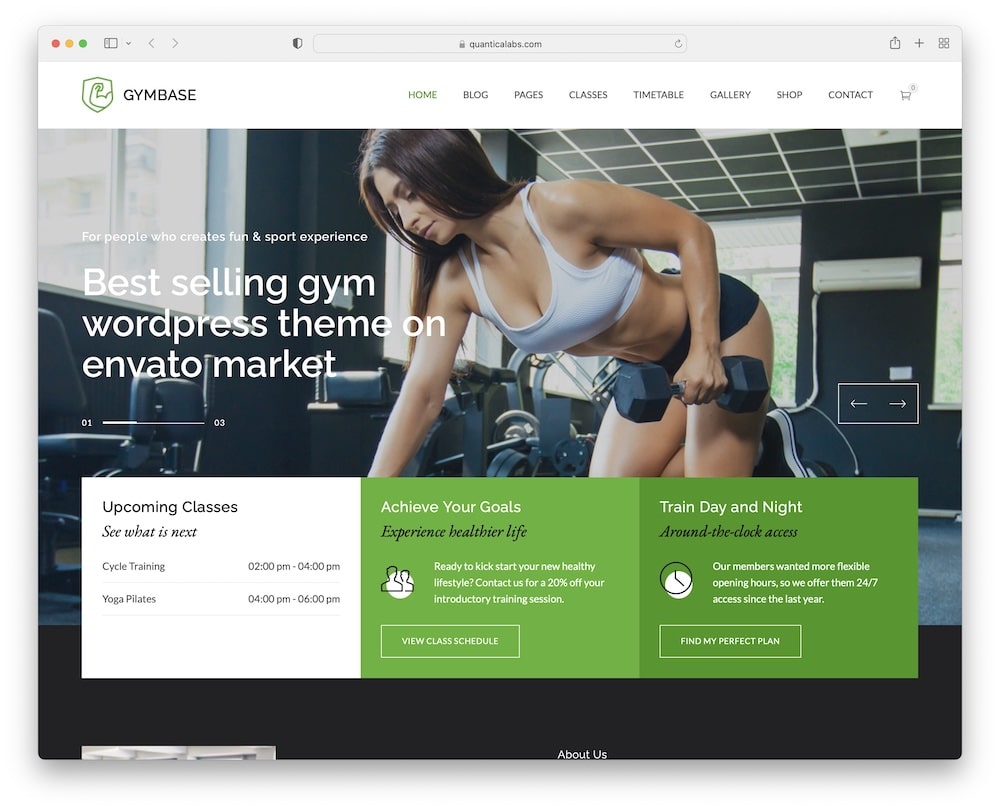 Everything you want is smartly packed in the GymBase theme.
GymBase comes with modern design, the most popular tools, and numerous useful elements.
And it's super easy to build a website with drag & drop page builder (WPBakery included).
Just rearrange, add or delete rows, components, and columns.
You can also create a COOL fitness blog with workout strategies, recipes for a healthy lifestyle, gym tips, and much more.
Yes, we all need daily motivation!
BTW: GymBase offers a timetabling tool for an online selection of workouts, trainers, and classes. Display a schedule, prices, and events online. Amazing.
Plus, you can even sell your products with WooCommerce directly from GymBase.
Fit for life!
GymBase features:
MORE INFO / DOWNLOAD
DEMO
2. Fitness Zone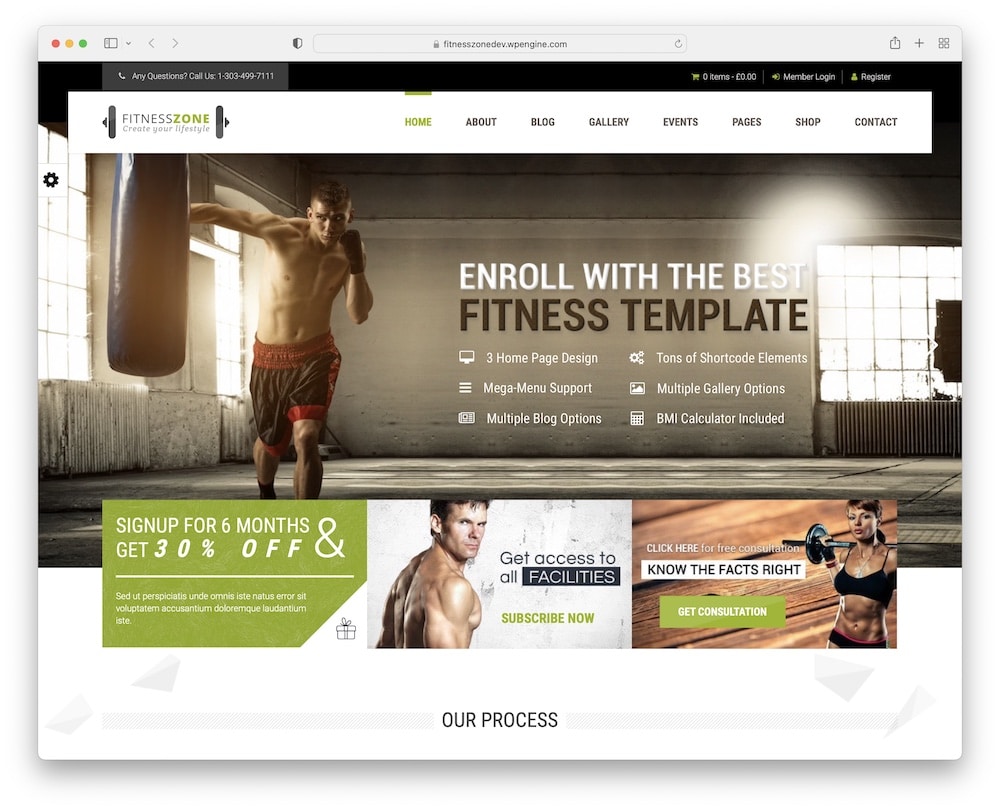 Dare to be great with the beautifully designed Fitness Zone gym WordPress theme.
Fitness Zone is fully responsive (!) to look great on various screens and devices.
Plus, it's social media friendly, including social icons for easy accessibility and connection with your fans. You can also include social share buttons on your WP site.
If you're in a hurry, you can use Fitness Zone out of the box (five functional homepages) and just upload your images, content, and information.
If you are not, take your time and mix, match, and change header, skins, columns, boxes, colors, typography, etc.
Countless possibilities!
FACT: I love Google Maps because who has time to figure out business location?! Simple click on the map WP widget, and Voilà, you know where to go!
Fast. Convenient. Affordable. Fitness Zone.
Fitness Zone features:
MORE INFO / DOWNLOAD
DEMO
3. Vive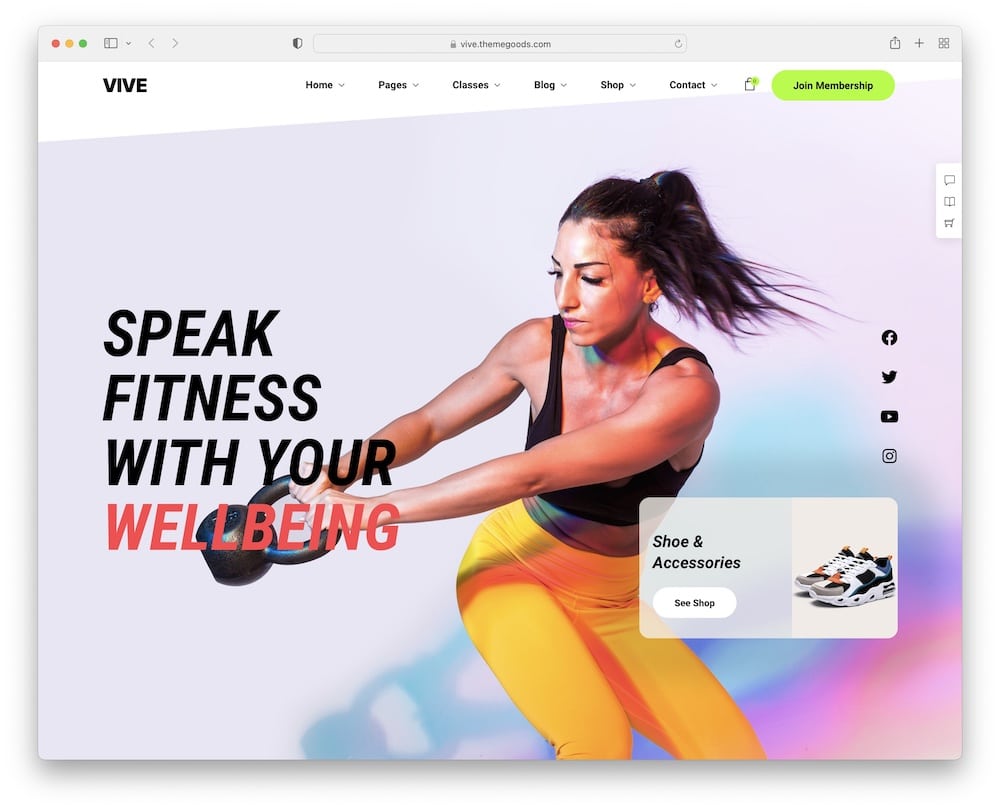 Forever fit & strong with the modern Vive WordPress fitness and gym theme.
You can install the ready-to-use demos with one click and customize them with the AMAZING Elementor page builder. (If you need help, check how to install a WP theme first.)
No coding, no design skills needed. Heaven.
Choose from various header and footer layouts, plus take time to make a transparent and easy-to-use mega menu (it will pay off).
I am a BIG fan of flexible galleries and love to mix between different gallery layouts. Check out all the amazing options! (But you can also use a WordPress gallery plugin for even more options.)
Moreover, with a blog, you can create a place where important questions about health, fitness, and nutrition are answered.
Yay!
Vive is also SEO optimized, integrated with social media, and compatible with MailChimp for newsletters. DOPE. DEAL.
Vive features:
MORE INFO / DOWNLOAD
DEMO
4. Gym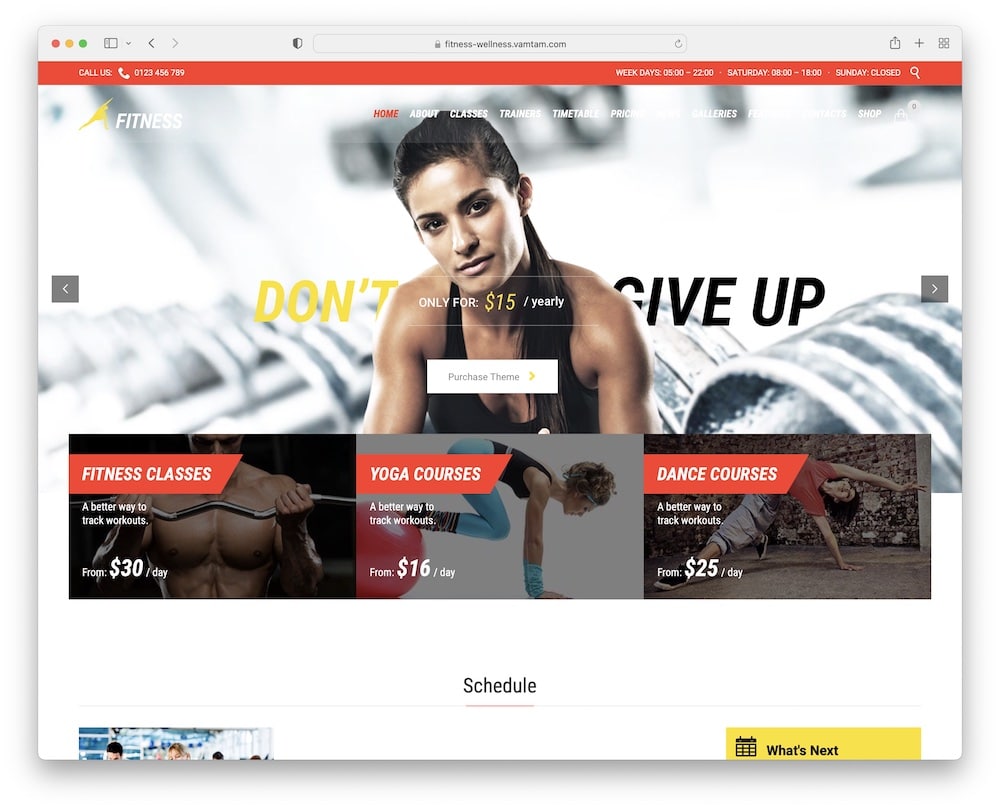 Push yourself with the responsive Gym WordPress fitness and bodybuilding theme.
Gym has indispensable tools such as an online schedule for classes, events, timetables, pricing plans, and subscription cards. It's all about your business goals!
Besides, the motivational HD gallery and "About the team" info (ask the experts) are, in my opinion, brilliantly designed.
I also recommend you to take full advantage of Slider Revolution with jaw-dropping (swole) images!
Furthermore, Gym is optimized for high-speed performance and you can fully translate it.
You will also enjoy Gym's parallax builder, CSS animations, numerous WP widgets, and useful WP shortcodes with various functions (buttons, icons, drop cap, divider, styled list, etc.).
And what about customer support? Fantastic!
Gym features:
MORE INFO / DOWNLOAD
DEMO
5. Gym Edge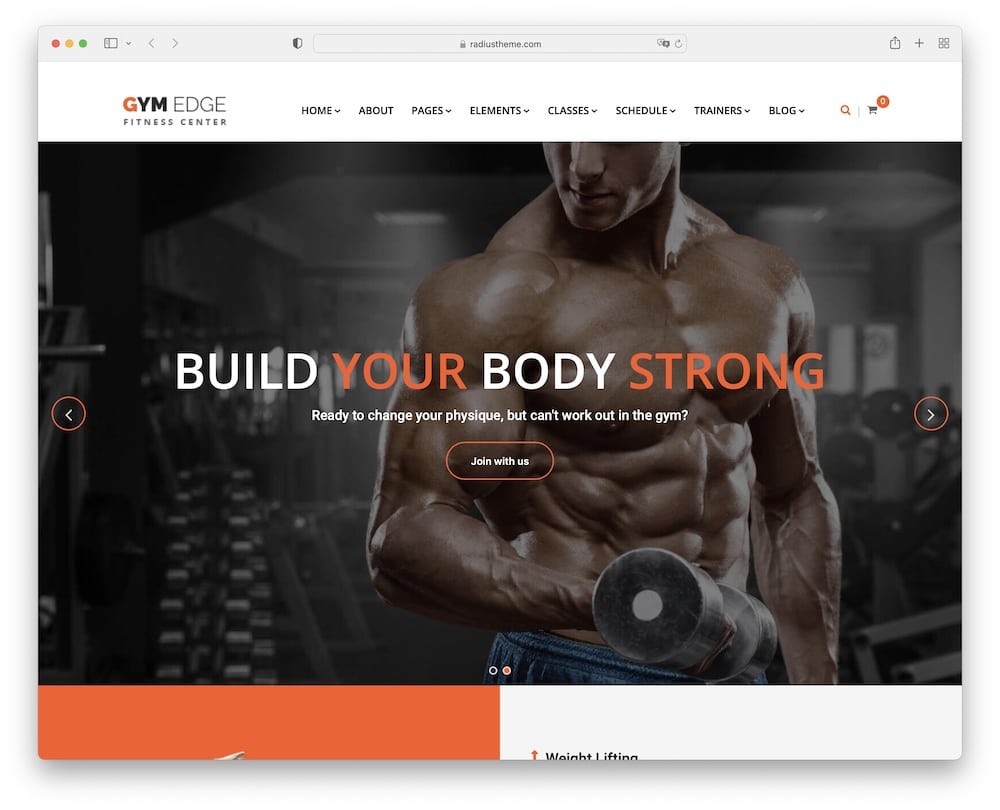 Make fitness fun with the stunning Gym Edge personal trainer WordPress theme.
Keep in mind, you can create and customize your pages even if you are a beginner with WPBakery. (EASY-TO-USE drag & drop interface).
Tell your story, display classes, offer discount coupons, and create a popular blog.
Oh, and don't forget to upload your client's testimonials.
Why? For two reasons: trust & encouragement. (You can also use a WordPress testimonial plugin.)
Moreover, Gym Edge offers a simple and fast-to-fill contact form for instant connection. Not only that, you can as well insert your Google Maps location.
BTW: Social media. This is key. You must be easy to follow!
Gym Edge features:
MORE INFO / DOWNLOAD
DEMO
6. Zium (So beautiful!)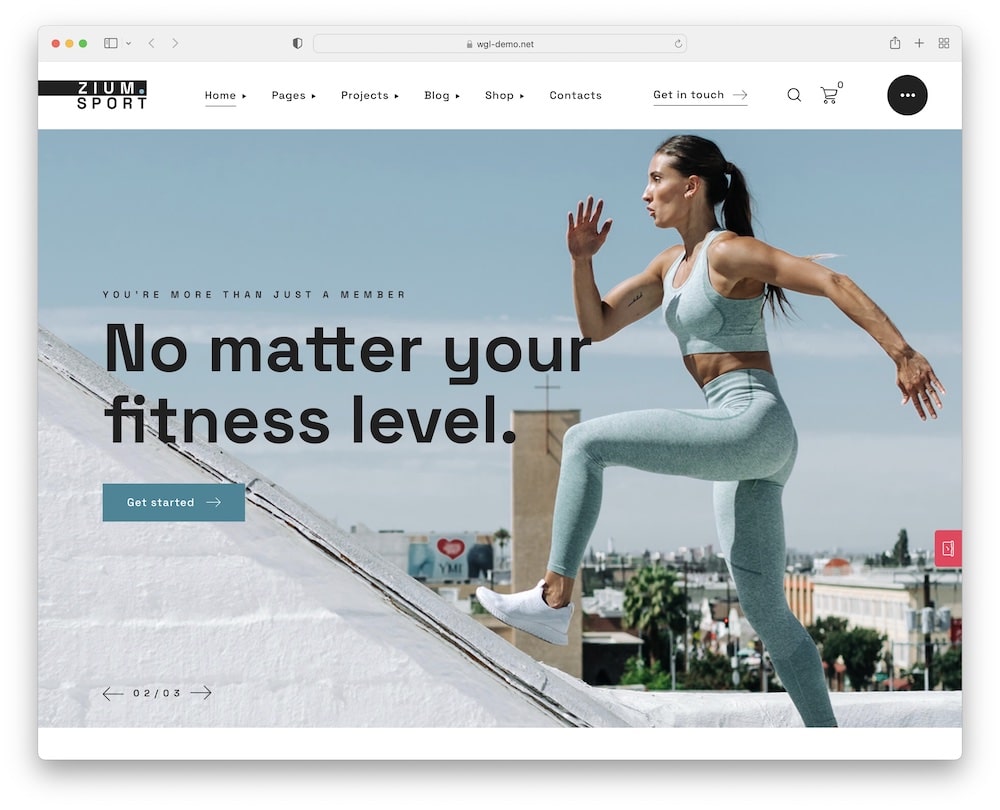 Forge a great business decision with the gorgeous Zium WordPress sports and fitness theme.
Choose between unique home & pre-made inner pages and customize every part of Zium with (THE BEST) Elementor builder.
Let's jump in real-time editing, so you can start seeing results immediately (even before going live)! I love it.
Plus, you also get the Slider Revolution and WooCommerce plugins – two super important elements of every modern gym website.
Moreover, with Zium you can create a professional WP portfolio – display the skills, abilities, and knowledge of your team of coaches.
Zium will help you get BIG and STRONG with extensive documentation and top-notch customer support.
Over the moon.
Zium features:
MORE INFO / DOWNLOAD
DEMO
7. Fitness Club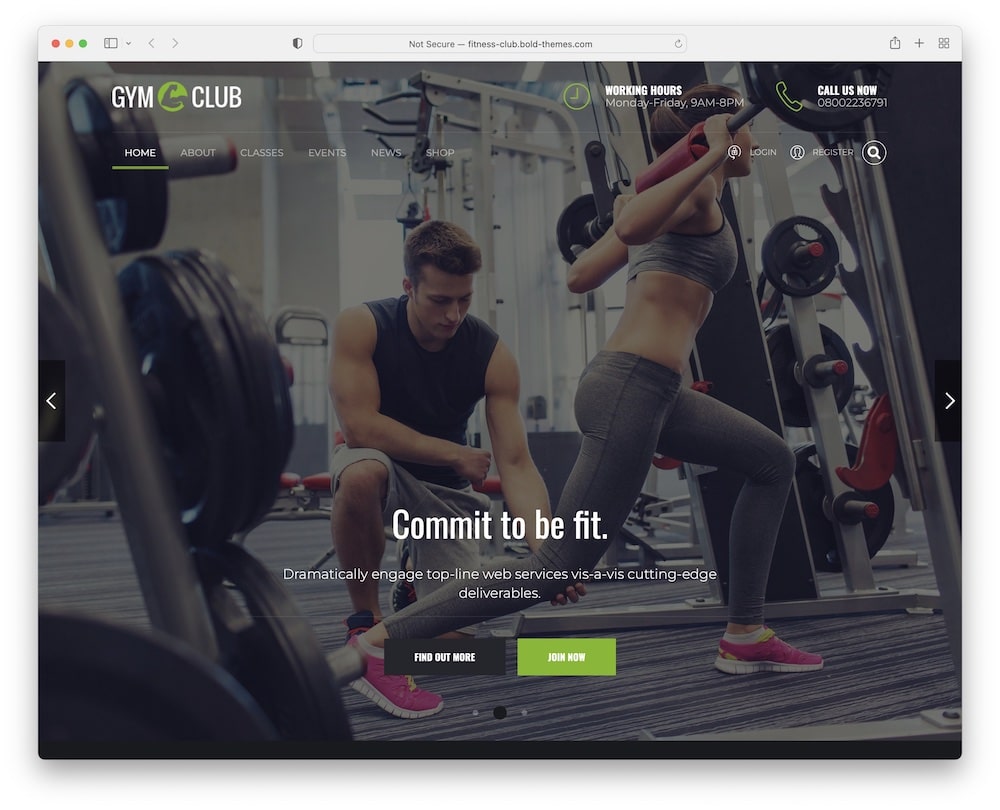 Move and encourage with the colorful Fitness Club WordPress theme. Be an inspiration.
Fitness Club offers dark and light headers and 500+ Google fonts to play around with. (Don't miss our guide on how to change fonts in WordPress easily.)
You also get a flexible menu which elements you can customize to your liking.
TIP: I like incorporating contact info, social media icons, and the search button in the header.
Besides, displaying the workout timetable, schedule, and quick view of all classes on the homepage is super smart!
And yes, you can start selling your products with the AMAZING WooCommerce (easy-to-work-with).
OMG, and how CUTE are Fitness Club sports (custom-made) icons?!
Fitness Club features:
1,000+ sales
4.5+ star ratings
Great documentation & support
Regular updates
Price: $69 (may vary)
MORE INFO / DOWNLOAD
DEMO
8. Zele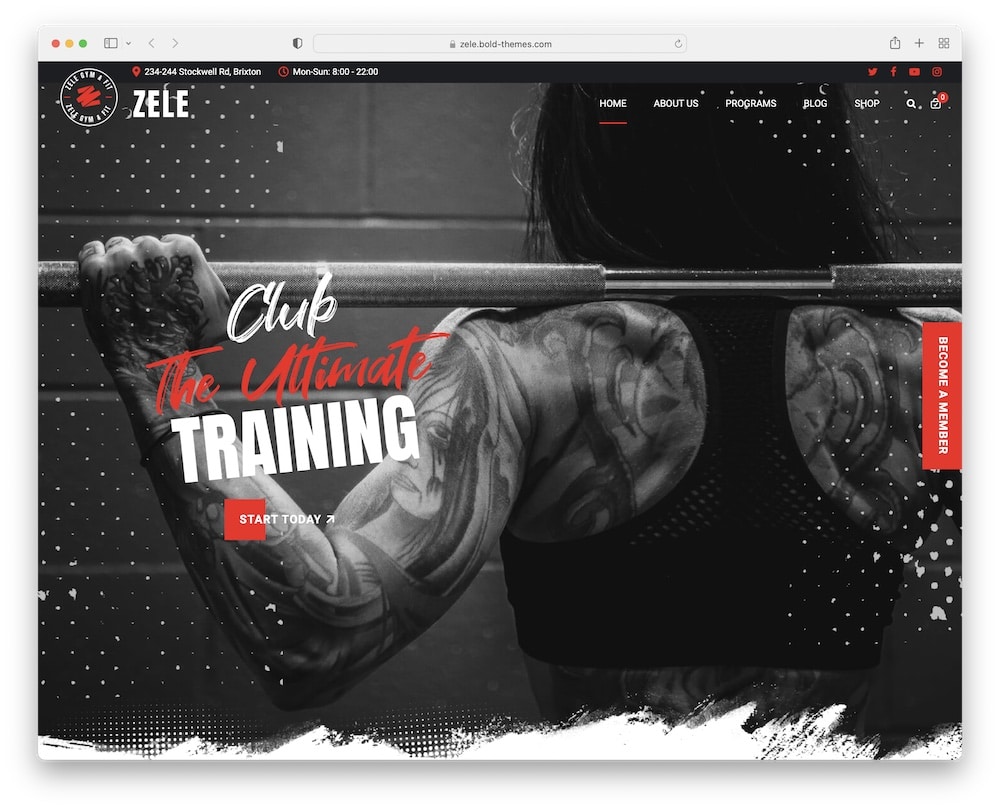 Commit to the Zele WordPress fitness theme and create an awesome place for advice and daily motivation!
Responsive Zele includes one-click demos so that you can import a fully functional website ASAP. Yup, you will build your site with confidence due to its NO-coding policy.
Plus, the best plugins will add a BIG VALUE to your site.
Moreover, Zele is also optimized for performance – offering the best user experience.
Training schedule, BMI calculator, animations, smooth transition, and parallax effect are just some of its brilliant features.
Oh, and the functional contact form can make the connection with your visitors effortless.
Expect excellent results with Zele!
Zele features:
450+ sales
4.5+ star ratings
Multi-sport theme
WordPress Multisite support
Price: $79 (may vary)
MORE INFO / DOWNLOAD
DEMO
9. F7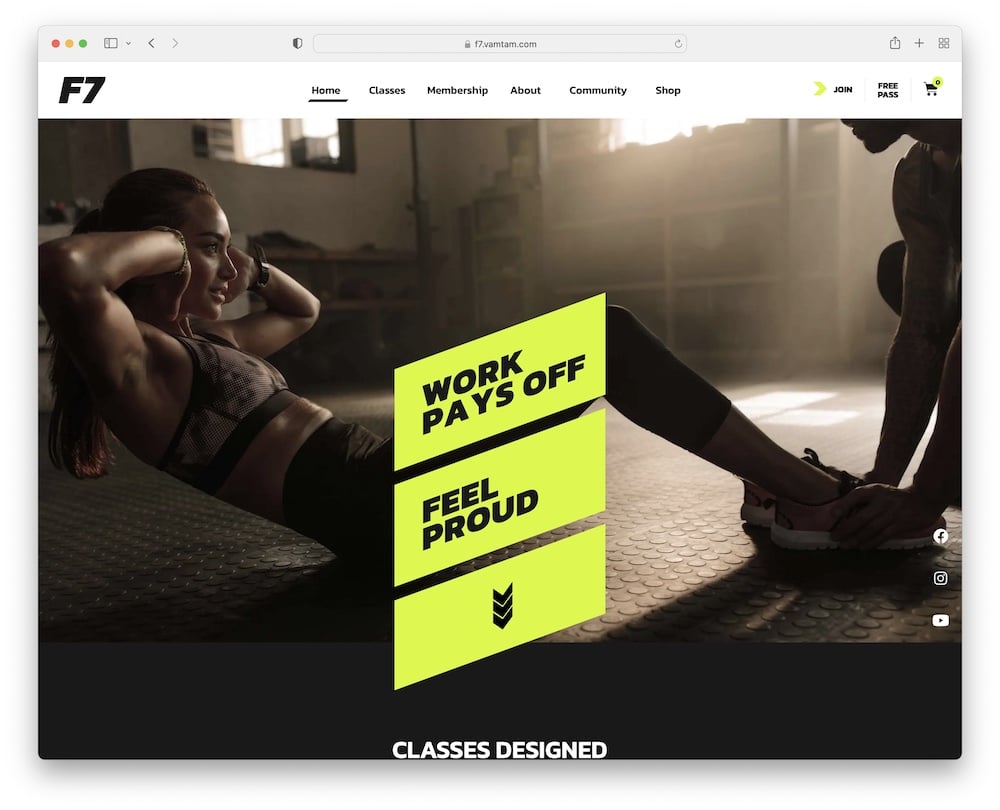 Celebrate health with the modern F7 WordPress fitness theme.
F7 is smartly crafted to the full nature of the industry and designed to be as helpful to your business as possible.
It is packed with ready-to-use pages, dynamic layouts, mega menus, animations, pop-ups, and much more.
Of course, you can start selling your products, courses, and webinars with F7.
I love to work with included WooCommerce tools and play with product design & galleries, set up a cart, checkout options, buttons, and search results. You can even offer promotions and discount banners.
And who doesn't like FREE stuff? Well, I do! F7 includes free updates and professional customer support (24/7).
New website – new you!
F7 features:
740+ sales
5-star rating
Compatible with WordPress RTL version
Excellent video tutorials
Price: $89 (may vary)
MORE INFO / DOWNLOAD
DEMO
10. Maruthi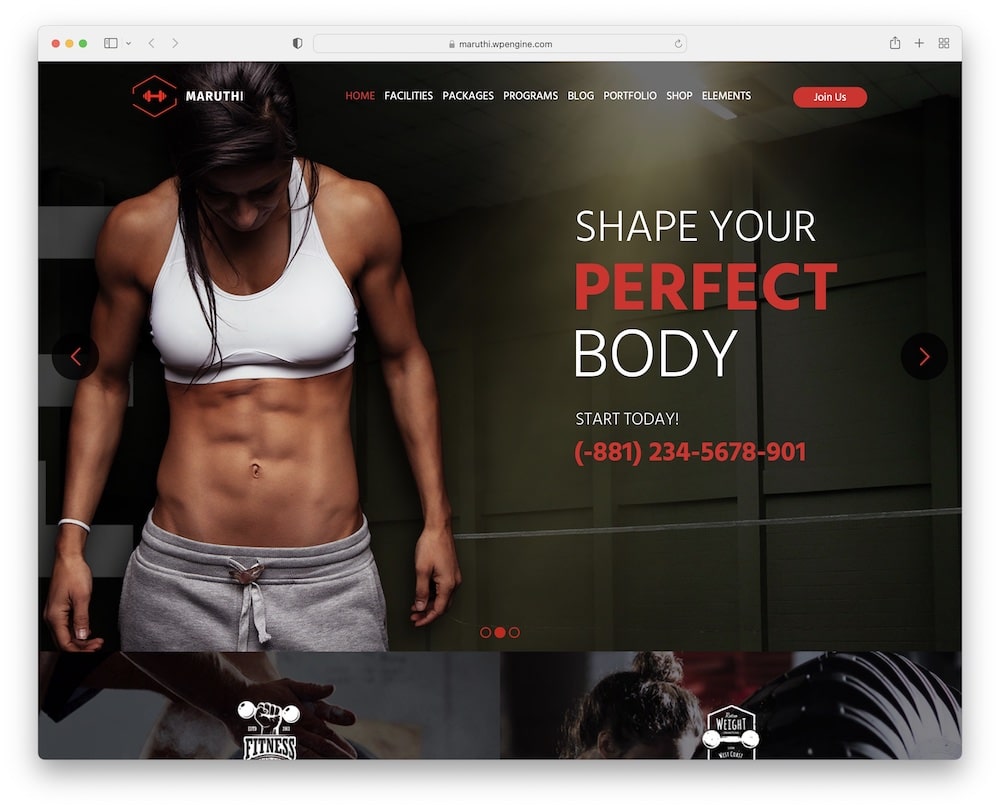 Don't stop till you drop (!) is the slogan of the Maruthi gym WordPress theme.
Maruthi follows all the latest trends and includes all the advanced tools with countless possibilities.
Click the install demo button and start customizing it with the WPBakery page builder.
Showcase everything you do; promote classes, workouts, personal trainers, and your location online.
Plus, your clients can book, reserve, pay, and connect with your gym directly on your new website.
BIG. DEAL.
Moreover, Maruthi offers six blog types for a quick and simple start. Share your ideas, tips, highlight common mistakes, and training advice to attract new audience.
Remember, you can become the established and appreciated authority.
Oh, and I really like the integrated body mass index calculator!
Maruthi features:
330+ sales
5-star rating
Multiple training package types
Price: $59 (may vary)
MORE INFO / DOWNLOAD
DEMO
11. Zyth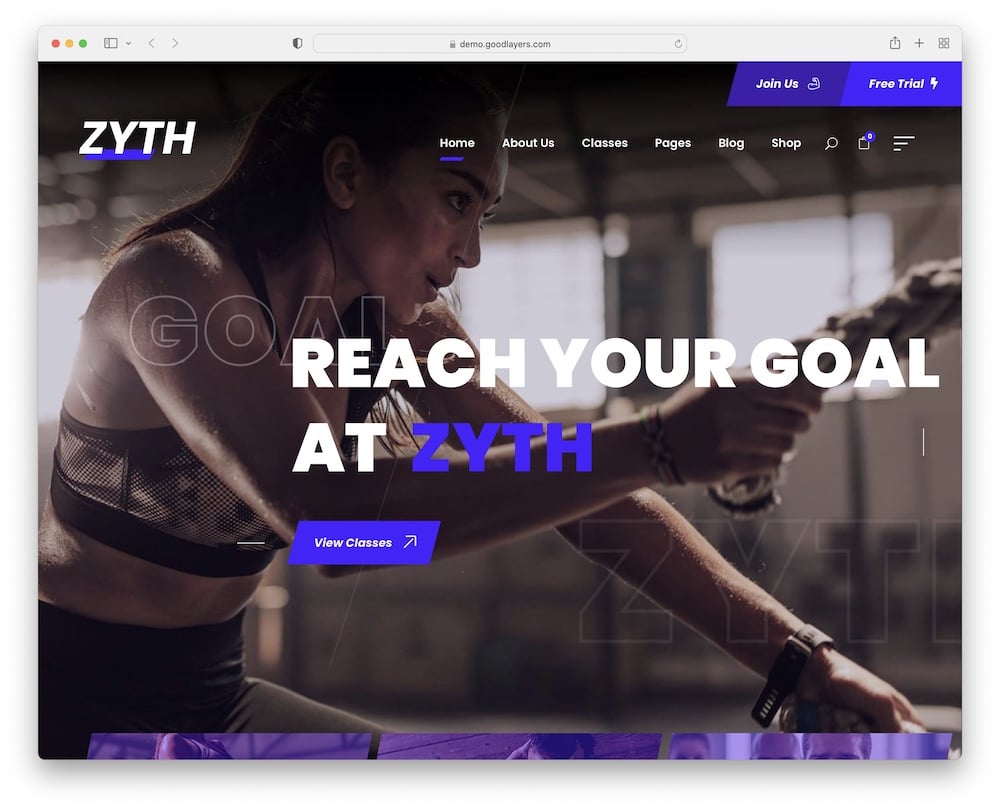 Zyth is where fitness comes naturally.
Powerful Zyth is an uncomplicated tool that you can master without any coding or design knowledge due to drag & drop page builder.
In my opinion, top bar of any website is super important – for all your most important info!
Besides, you can choose between unlimited WP sidebars, Google fonts, and colors. Pretty COOL!
Of course, you can display your gym portfolio, introduce your trainers and upload a gallery of your fitness equipment.
And I always recommend a consistent blog!
BTW: Zyth can be turned into a selling machine with the popular WooCommerce. Smooth and uncomplicated user experience – guaranteed!
Zyth features:
MORE INFO / DOWNLOAD
DEMO
12. Gymat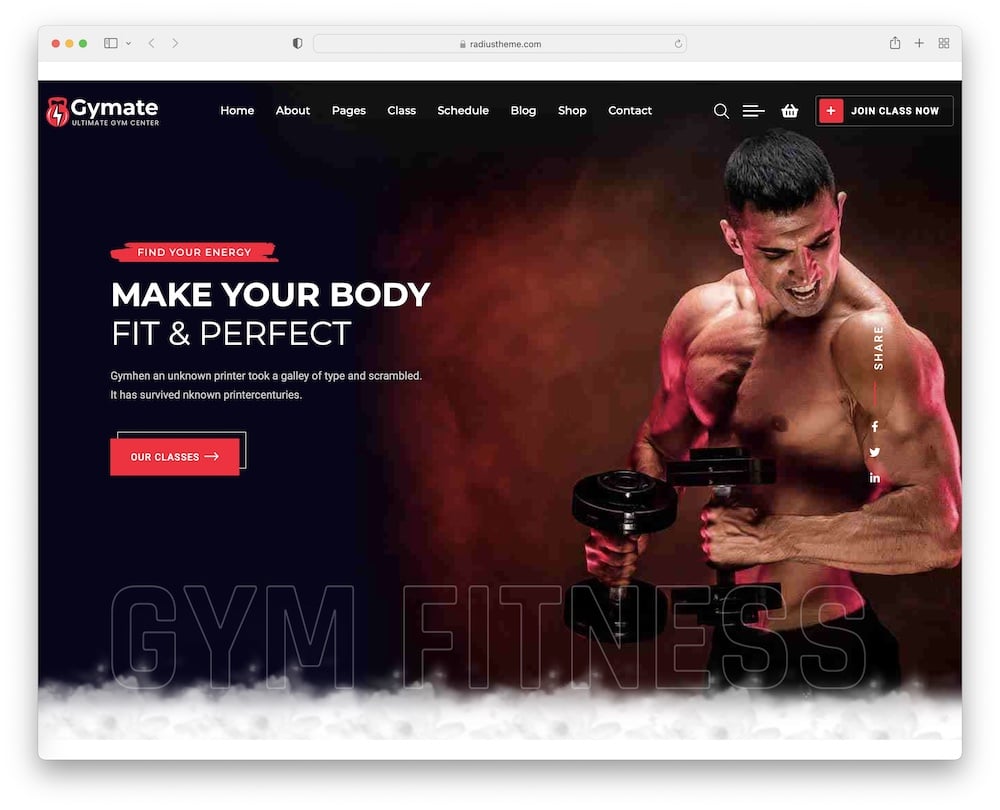 Work it out with the responsive Gymat WordPress fitness theme.
Gymat has a dark and powerful look (I really like it), and as a result, your new site will appear advanced & modern.
Win-win situation.
Some of the features of Gymat are essential and will benefit your visitors greatly.
Yup, I am talking about the online class schedules (multiple pre-made styles), BMI calculator, upcoming events, a quick class for her or him, online pricing chart, and Gymat store with popular products.
Moreover, you can include testimonials from your clients and showcase your top trainers directly on our homepage. Not only that, you can even brag about your modern equipment!
Why put off feeling good? Choose Gymat!
Gymat features:
290+ sales
4.5+ star ratings
Multiple class schedule styles
Great page loading speed (1.66s by Pingdom Tools)
Price: $39 (may vary)
MORE INFO / DOWNLOAD
DEMO
8 Key Features Of The Best Fitness Website
You cannot just throw a website together and think it's good for fitness without considering at least six of these key features.
I also paid special attention to these factors when studying and testing each theme for this review.
How I picked the best WordPress fitness themes
Note: You can expect even better results if you add the "optional" features to your site.
Responsive layout: A mobile-ready website is a must because you'll surely receive many visitors using smartphone devices (even tablets). For this reason, your website also needs to be fast loading, which is something all these themes guarantee. You may also be interested in reading our guide on how to choose a fast WordPress theme.
Online portfolio: Showcase your fitness facility, before and after photos and anything else that'll promote your services. Hint: Videos are a big thing in the fitness industry, so I encourage you to create a theme. (You can even use our video portfolio WordPress theme collection for inspiration.)
Class schedule: You may offer a bunch of classes, so having a schedule or a timetable on your website is very clever.
Pricing: Yes, do add pricing to your website. In fact, add pricing on your home page, so everyone can quickly learn about how much your services cost.
Bookings/appointments: And when the services and pricing work for the visitor, they can make a booking directly on your website through a dedicated form. (But you can also use a WordPress booking plugin if you need more functionality.)
Contact: A contact form, a clickable phone number and Google Maps with your physical location are another MUSTS for a fitness website. Just do it.
Optional (Online store): You can grow your business with an online fitness store that's so easy to add with WooCommerce. Luckily, many of the above themes have eCommerce functionality built-in.
Optional (Blog): I'm sure you're already providing a lot of quality content on social media and YouTube, but you can reach an even wider audience through a blog. My tip: If you're heavily focused on YouTube videos, you can create written versions and use them on your SEO-optimized blog.
But if you need more details, peek at our guide on how to choose a WordPress theme the right way.
::
Note: This article was originally published on October 1, 2022. But our team regularly reviews it and updates it with necessary improvements for accuracy.