Are you searching for the best WordPress landscaping themes to build a beautiful website for your business?
These WP themes are perfect if you're creating stunning outdoor spaces and providing the ultimate landscaping and gardening services.
While I tested 27 themes for landscaping, these twelve ended up being the ABSOLUTE ultimate.
Use these themes (any you want because they're all tested and proven to work wonders) to showcase your work, create a portfolio and attract new clients through a strong online presence.
It's SO simple – you don't need any coding and design skills!
Trust me, my mother's best friend, Sally, built a website for her little landscaping business easily. (And she had no experience!)
Get ready to TRANSFORM your website into a captivating digital showcase for your landscaping talent!
How I Tested Best WP Landscaping Themes
I always want to include only the tested and proven themes in ULTIDA's roundups.
This ensures that you do the right thing regardless of the theme you pick – because they all work and perform so damn well.
First, I checked each theme's ratings, comments/reviews and update frequency. The latter is crucial because an outdated theme can cause compatibility issues.
Second, I contact the theme's support team (how responsive and friendly are they?) and read through the documentation (is it beginner-friendly?).
Third, (I was down to fifteen themes at this state), I used our demo/testing website to install each theme to investigate it further, starting with reviewing the simplicity of the initial setup. Is the theme easy to install and its demo content quick to import?
Fourth, I then used Pingdom and Google Mobile-Friendly tools to study performance (site speed) and responsiveness. But I also experienced each theme manually on a laptop, tablet and smartphone.
Fifth, I answered, "How well is the theme's interface structured? Will a beginner user know what he/she is doing from the get-go?"
Sixth, I always put all the theme (customization) features in a notepad and compare them with those listed on the official (ThemeForest) product page. "Are there any deviations?"
QUICK-PICK: Ultimate WordPress Themes For Landscapers
After you choose the theme you like, I'm sure you'll also enjoy Ales's tutorial on how to install a WordPress theme to avoid inconveniences.
Best WordPress Gardening & Landscaping Themes
1. The Landscaper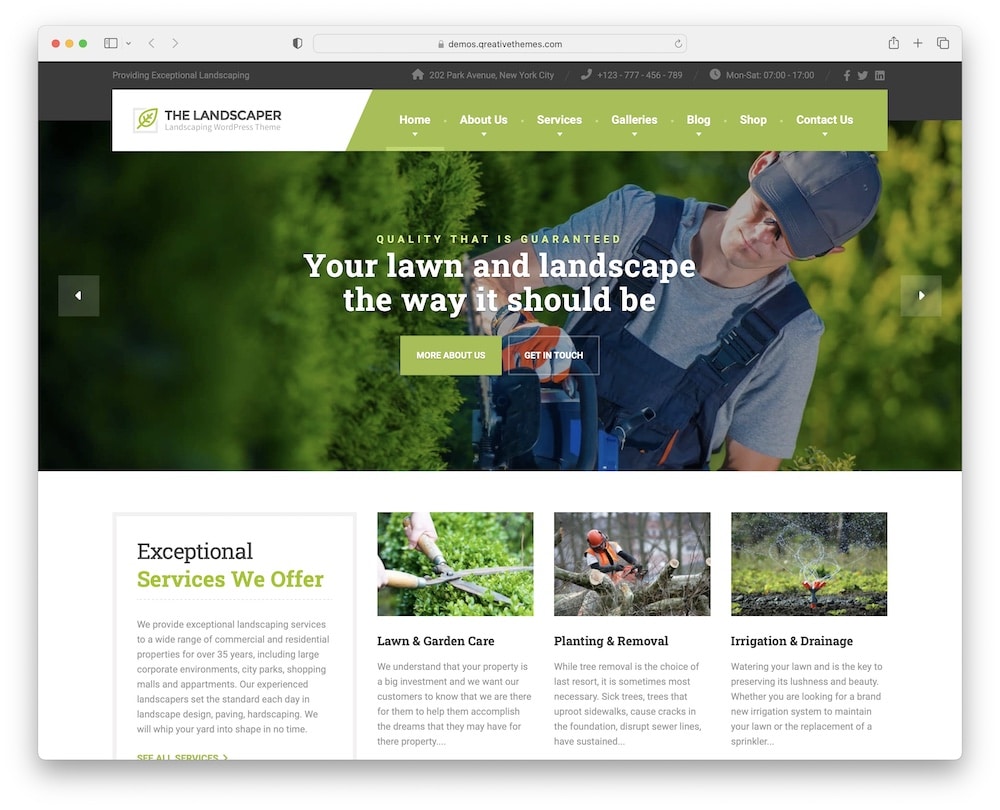 You will make a statement with The Landscaper WordPress landscaping theme. Period.
The Landscaper has five ready-to-use homepages (one-click import) that can be easily customized in real-time via the amazing Elementor page builder.
GOOD. VIBES.
On top of that, you get numerous building blocks (included for FREE) so that your design possibilities are endless.
Thumbs up!
And remember, an engaging gallery is the best place to showcase your brilliant projects, creative solutions, and affordable landscaping ideas. Make sure that your photos will stop the scrolling of your visitors.
The Landscaper was even coded with SEO in mind to give you the best starting point on the web.
Ready, set, create!
The Landscaper features:
MORE INFO / DOWNLOAD
DEMO
2. Landscaping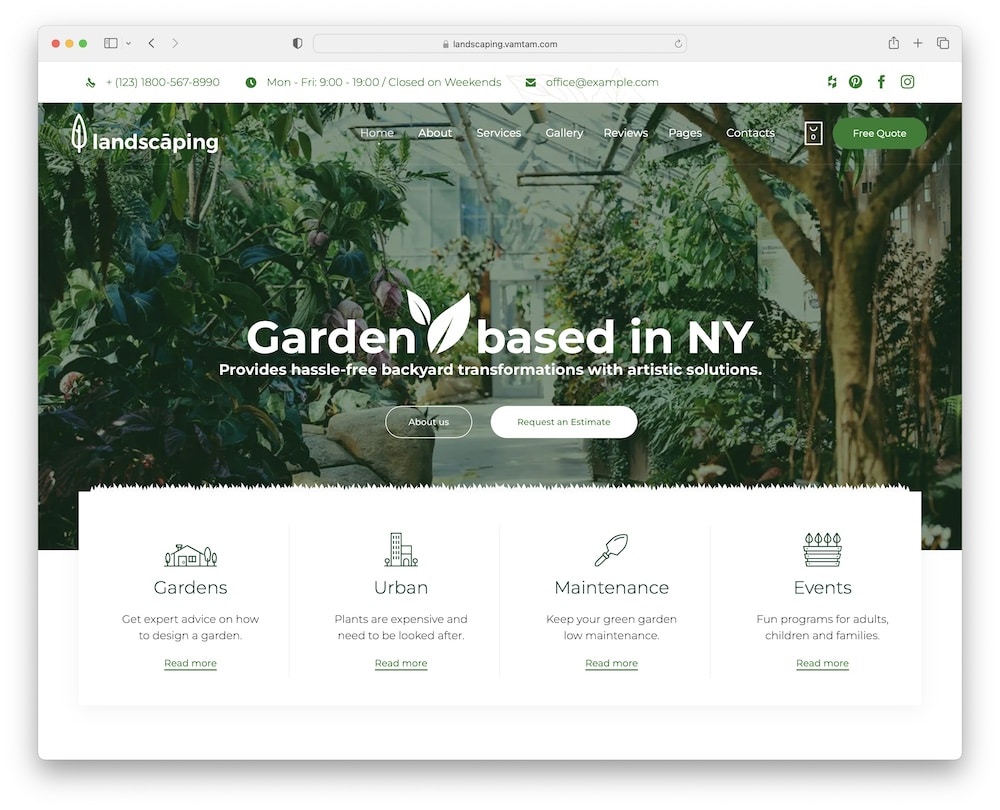 It's a no-brainer: You will fall in LOVE with the professional-looking Landscaping!
This theme is affordable and attractive, designed with exceptional performance in mind. Suitable for advanced developers or first-time users.
I am super excited about the premium stock images included in the Landscaping bargain. My friend, you will save so much of your time by not having to search for images and buy licenses.
However, I still recommend you create your own to stand out.
Also, I can't help but mention gardening-themed icons. OMG, so cute!
Moreover, choosing from unlimited colors, Google fonts, video backgrounds, and animations is always a "have fun" day at work.
Go forth, and make the Landscaping your own!
Landscaping features:
2,000+ sales
4.7+ star ratings
It's a Beaver Builder WP theme
23 video tutorials & 100+ help articles
Price: $89 (may vary)
MORE INFO / DOWNLOAD
DEMO
3. Greenova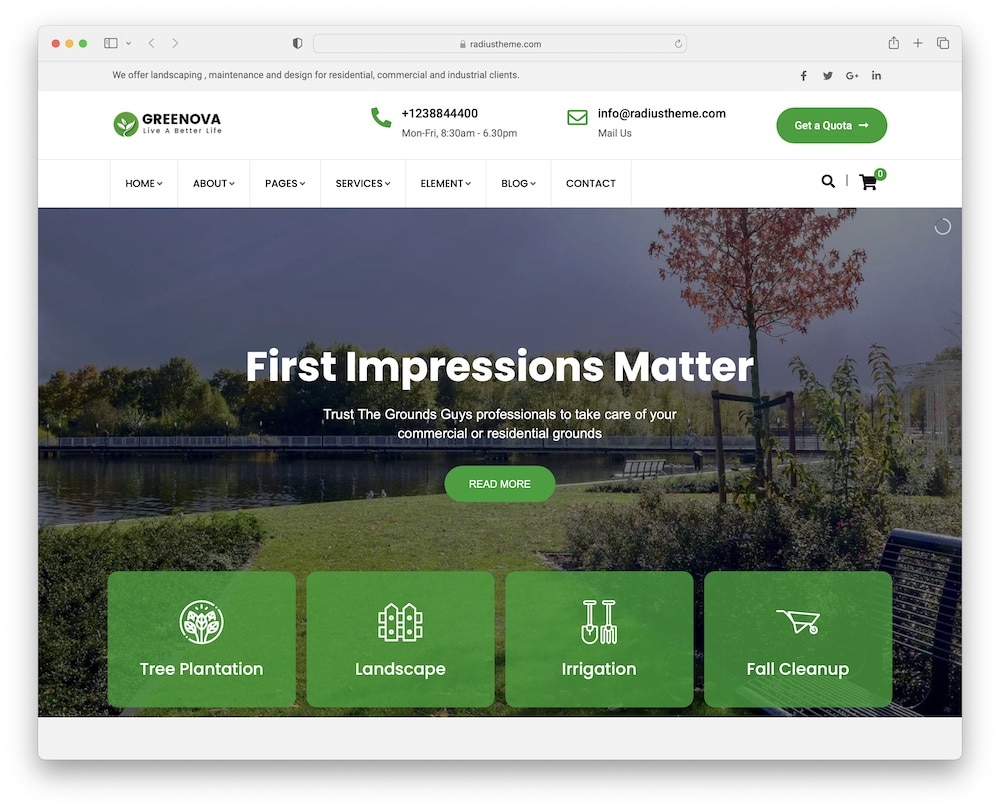 Your grass will always be greener with the modern Greenova WordPress landscaping theme.
In my opinion, the coolest part is the WPBakery, aka drag & drop page builder. No coding (!) just change or rearrange pre-designed elements to where you want them.
Greenova also offers various header options. Hint: I love option 4! (You can also create a sticky menu in WordPress.)
Furthermore, you can choose between elegant portfolio layouts and even start a blog about garden landscaping, horticulturists, relaxing outdoors, backyard tips, and useful landscape architectural styles.
Of course, you can display your services, price tables, and valuable testimonials transparently. Plus, customers can pay directly on your website for your helping hand. WIN. WIN.
Get busy with Greenova!
Greenova features:
1,200+ sales
4.7+ star ratings
7 one- & 7 multi-page demos
Quick 1-click import
Price: $39 (may vary)
MORE INFO / DOWNLOAD
DEMO
4. Garden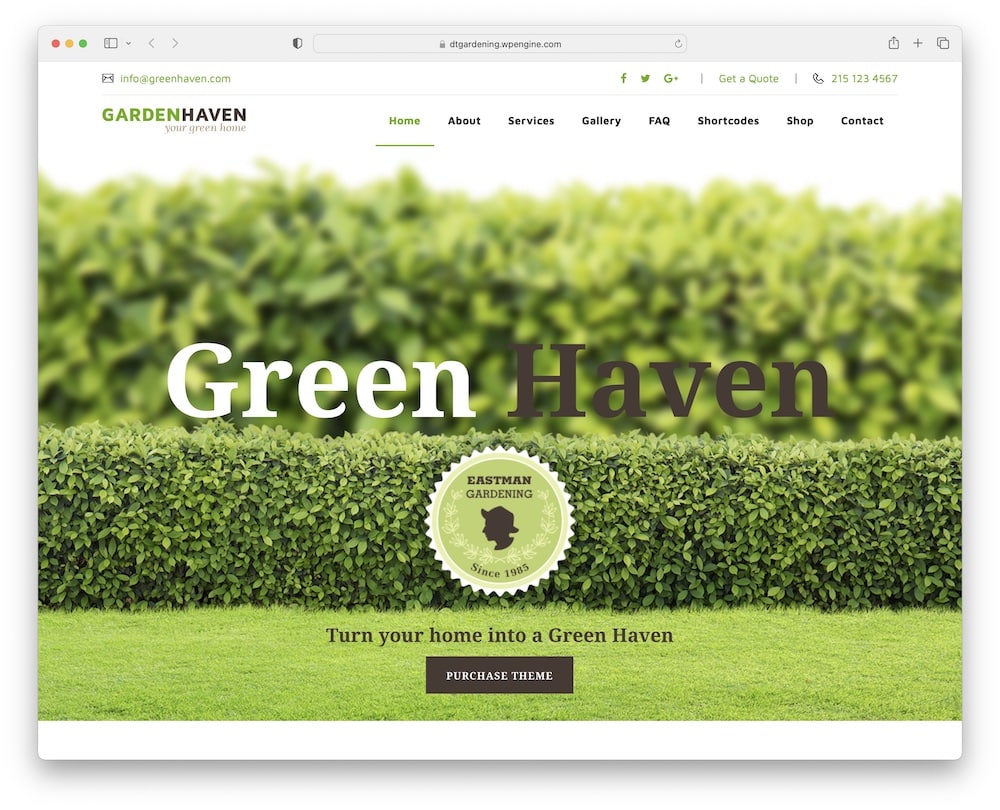 Mow down your competition with the Garden WordPress landscaping theme!
Garden is a responsive and retina-ready theme that comes with two brilliant homepages.
And YES, you will save lots of money on already included tools such as Slider Revolution, WPBakery page builder, WooCommerce, and Contact Form 7.
Take advantage of this deal!
BTW: I love to work with the user-friendly mega menu.
Designing a good navigation menu and showing all the business options in a horizontal or vertical structure is always handy.
Also, an appointment scheduler is a practical tool that will make your client's life much easier. All they have to do is fill in their contact details, choose services, and pay. Voilà.
Garden features:
750+ sales
4.9+ star ratings
CSS Minifier for speedy loading
Handy online appointment scheduler
Price: $69 (may vary)
MORE INFO / DOWNLOAD
DEMO
5. Landmaster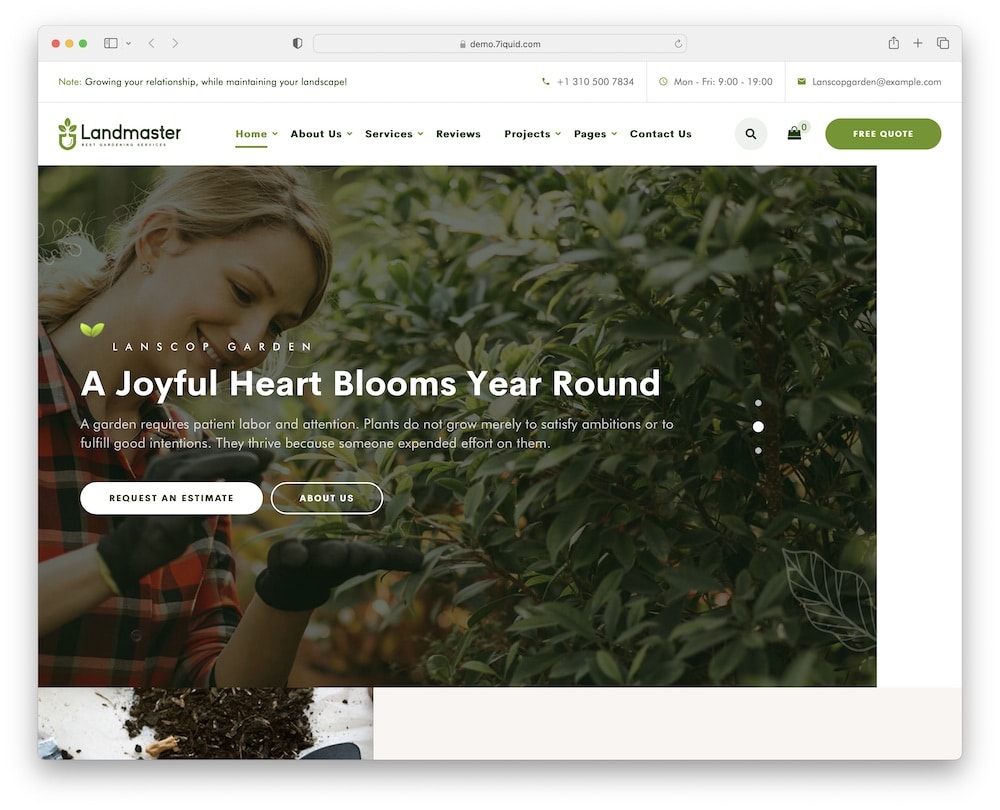 Does Landmaster, just in general, make the gardening world better? Yes.
This gorgeous landscaping theme offers one-click demo import, amazing customer support, and FREE lifetime updates! That is how you roll.
Choose from unique header styles, beautifully designed pages, numerous blocks, and superb layouts.
Overall, I love CSS3 animations and video backgrounds!
Optimized Landmaster will also offer your visitors responsive design and fast performance. Yup, it's all about HAPPY customers at Landmaster.
Moreover, Landmaster is translation ready and can be displayed in any language you desire. Done!
The best part?
Landmaster guarantees 30 days money refund if something goes wrong with the theme. You know, like any good friend would.
Landmaster features:
670+ sales
4.8+ star ratings
Works with any modern WP translation plugin
90+ UI elements
Price: $59 (may vary)
MORE INFO / DOWNLOAD
DEMO
6. Gardena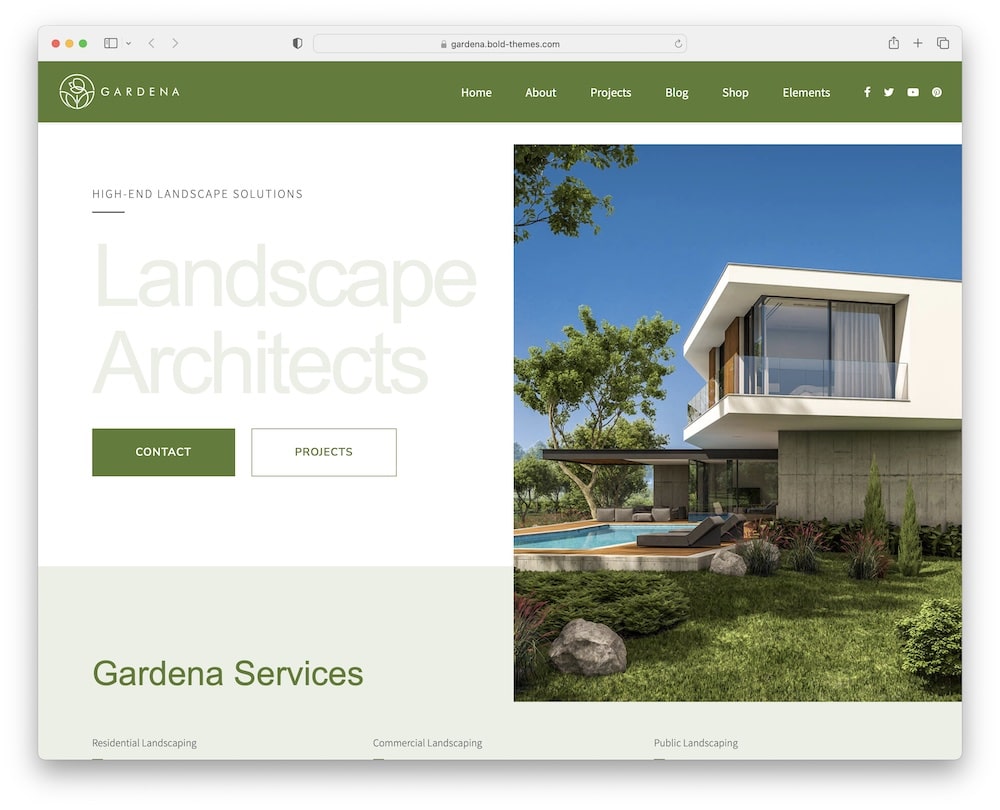 The attractive Gardena WordPress landscaping theme is a step towards a better future.
You can easily customize the ready-to-use homepages via the reliable drag-n-drop page builder.
Plus, Gardena includes smart features that will help you and your customers to make and benefit from better solutions!
I would mainly like to point out the online cost estimate form. I think it is a really COOL tool for your customers to see and calculate how much your services cost. No loss of time on both sides!
Moreover, Gardena can be connected with your social media accounts for simple social sharing (here's how to add social share buttons in WordPress) of your content and offers. On top of that, it's great for building brand awareness.
Knock on wood; today is your lucky day!
Gardena features:
500+ sales
4.7+ star ratings
Time-limited content appearance
Landscaping services cost calculator
Price: $69 (may vary)
MORE INFO / DOWNLOAD
DEMO
7. Lawnella

Stay close to nature with the stylish Lawnella WordPress landscaping theme.
Mix and match pre-made designs, use the latest technology options, and enjoy the outstanding performance of top-class Lawnella.
I think you will go crazy about Slider Revolution with its attention-grabbing animation effects, too.
Just LOOK AT IT!
It might also be helpful to check out included documentation (always a good idea!) to learn useful tricks for a comfortable setup. And you even get a child theme if you want to take customizations to the next level.
Moreover, Google Maps is a smart solution to help your visitors find your business efficiently. It's easy and quick to add Google Maps to your WordPress site. As a customer, I am super grateful when a (multi-location) map is on the website.
Keep it green with Lawnella!
Lawnella features:
470+ sales
5-star rating
Includes PSD files
Supports WordPress multisite installs
Price: $59 (may vary)
MORE INFO / DOWNLOAD
DEMO
8. Green Thumb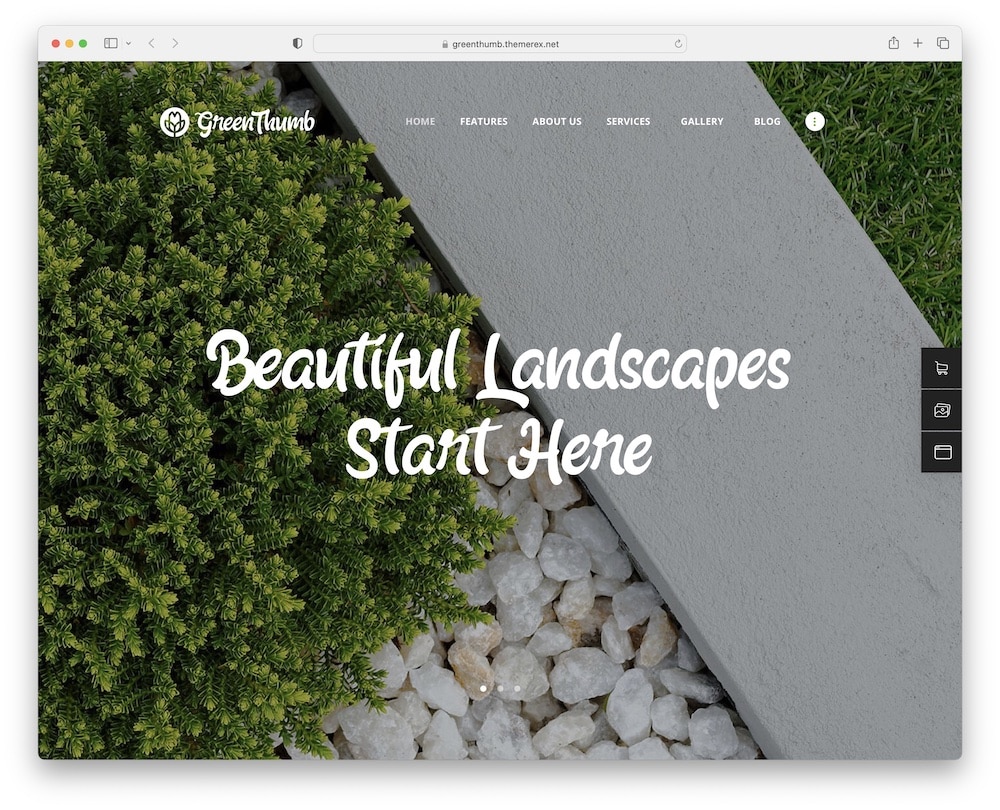 Make the landscape a hero of your story with the splendid Green Thumb!
This fresh and clean WordPress theme comes with a ready-to-use demo and is easy to work with via a user-friendly page builder (Hi, WPBakery!).
Yup, you can create a stunning website in just minutes! Pretty COOL, right?
Moreover, Green Thumb is smoothly scrollable on all smartphones. Remember, good performance is crucial in an online business site.
I also recommend that you check out the sticky menu and sidebar options. Seeing a menu and sidebar all the time are UX boosters.
Create your dream site and feeeeeel gooooood!
Green Thumb features:
450+ sales
5-star rating
Simple header & footer builder
Amazing theme interface
Price: $69 (may vary)
MORE INFO / DOWNLOAD
DEMO
9. GRD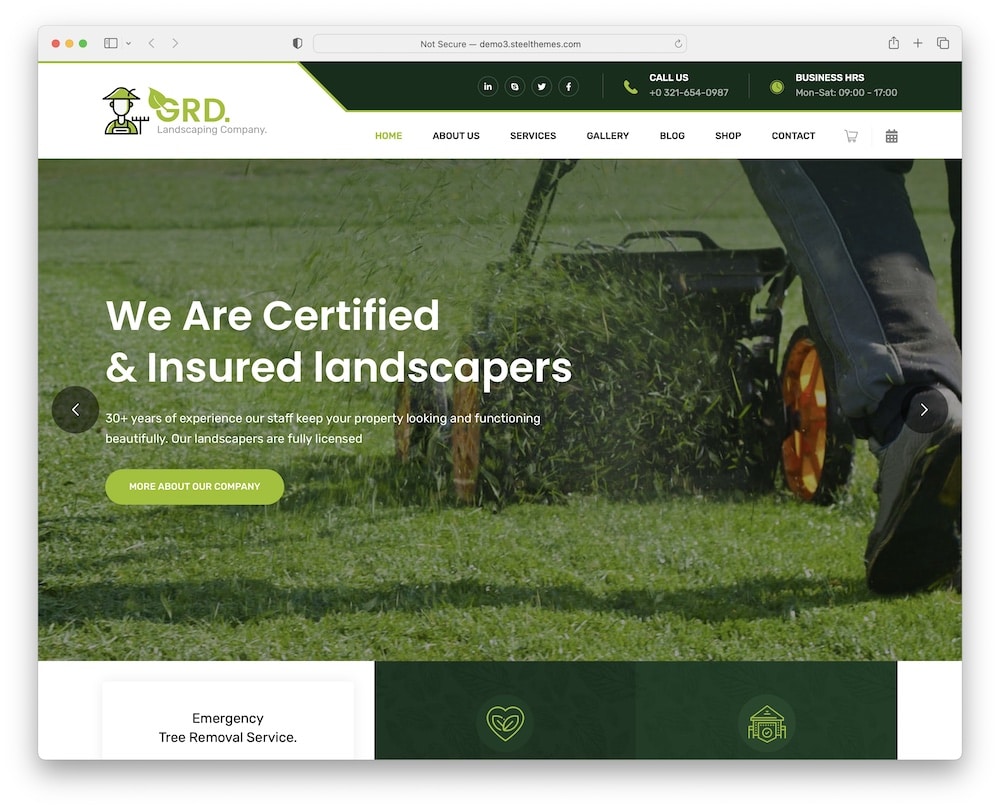 All the gardeners and landscapers out there (!) check out the modern GRD WordPress theme!
Is it just me, or should it always be time to mown the grass? I LOVE the smell of freshly cut grass.
The bundle of practical GRD tools will make your life so much easier.
You can select and apply unlimited elements, widgets, sidebars, colors, and Google fonts to your full advantage.
Furthermore, the GRD background is entirely customizable and can be adjusted to all your desires. You can even set up a parallax theme effect (my FAV).
By the way, GRD works harmoniously with brilliant WooCommerce so that you can sell your services and products directly online.
Everyone = happy.
GRD features:
370+ sales
4.8+ star ratings
Built with SEO, speed & mobile in mind
Full-width & boxed layouts
Price: $39 (may vary)
MORE INFO / DOWNLOAD
DEMO
10. Pruners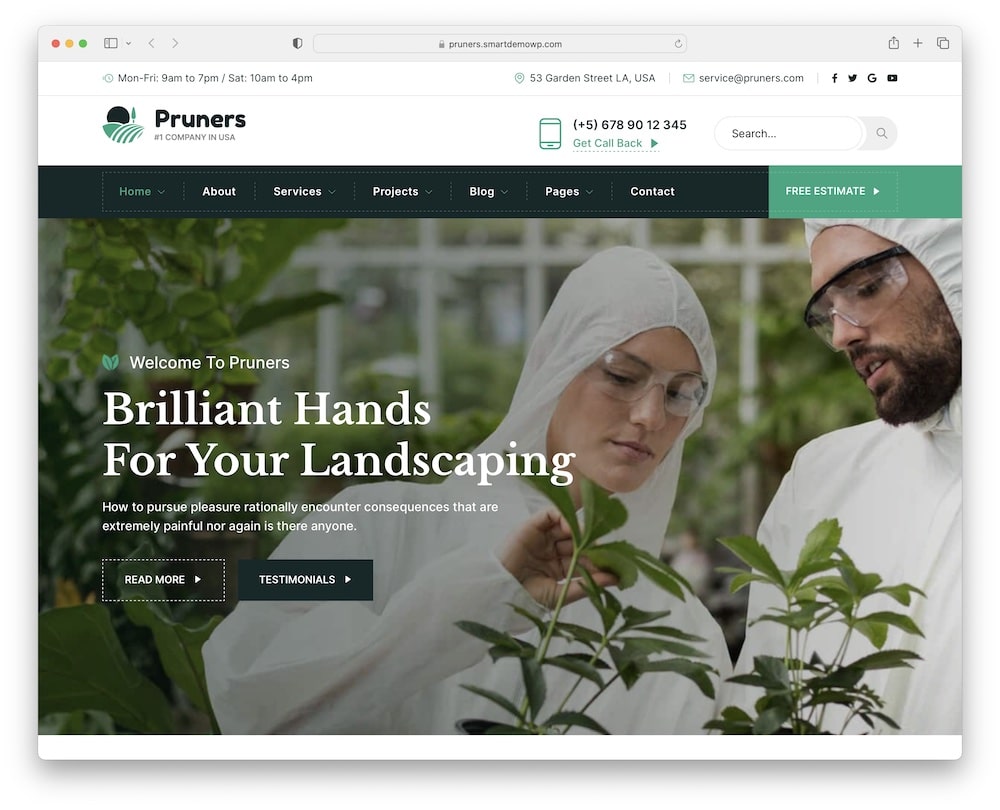 STOP right there.
Up-to-date Pruners WordPress landscaping theme will never request coding knowledge or ask you to think like a designer. To build with Pruners is plain fun!
Choose, import, and create your website in no time.
Pruners works out of the box, BUT, of course, you can replace, mix, adjust, and set up its elements via real-time page builder.
I just know you will fall in LOVE with the drag and drop motion (like me)!
Keep in mind, Pruners' customer support is dedicated to helping you create THE BEST website. So in need of advice or to resolve a dilemma, simply contact them.
Finally, a winning performance is guaranteed!
Pruners features:
120+ sales
5-star rating
Sticky header/navigation
Back-to-top button
Price: $39 (may vary)
MORE INFO / DOWNLOAD
DEMO
11. Garden HUB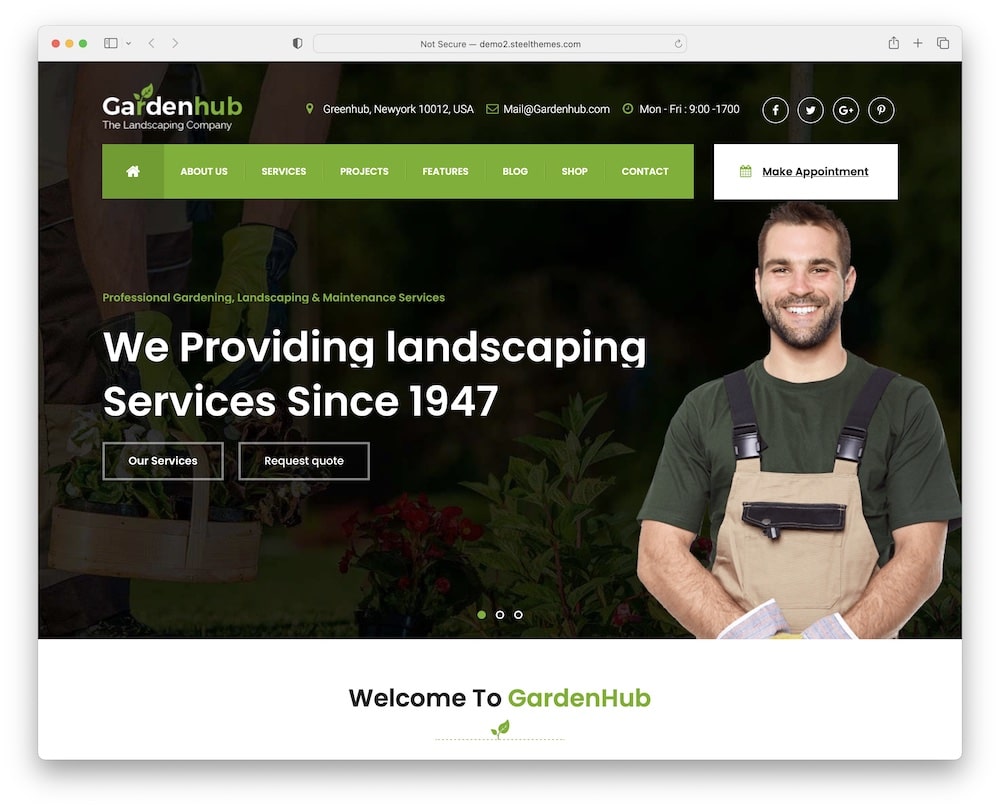 Perfect Garden HUB WordPress landscaping theme is all you need to grow your business.
You can choose your favorite demo among four divine designs and import it with a simple mouse click.
That's it. High-five yourself!
Garden HUB is also integrated with the amazing WooCommerce plugin, offering troubleless online store creation.
Yup, you will make sales like a PRO.
Furthermore, I encourage you to start a blog by sharing words of wisdom from your talented team of horticulturists, landscape gardeners, and landscape architects.
OH, and picking from unlimited colors and various Google fonts is pure FUN.
Take advantage of rich options and WELCOME Garden HUB in your life now!
Garden HUB features:
MORE INFO / DOWNLOAD
DEMO
12. Buisson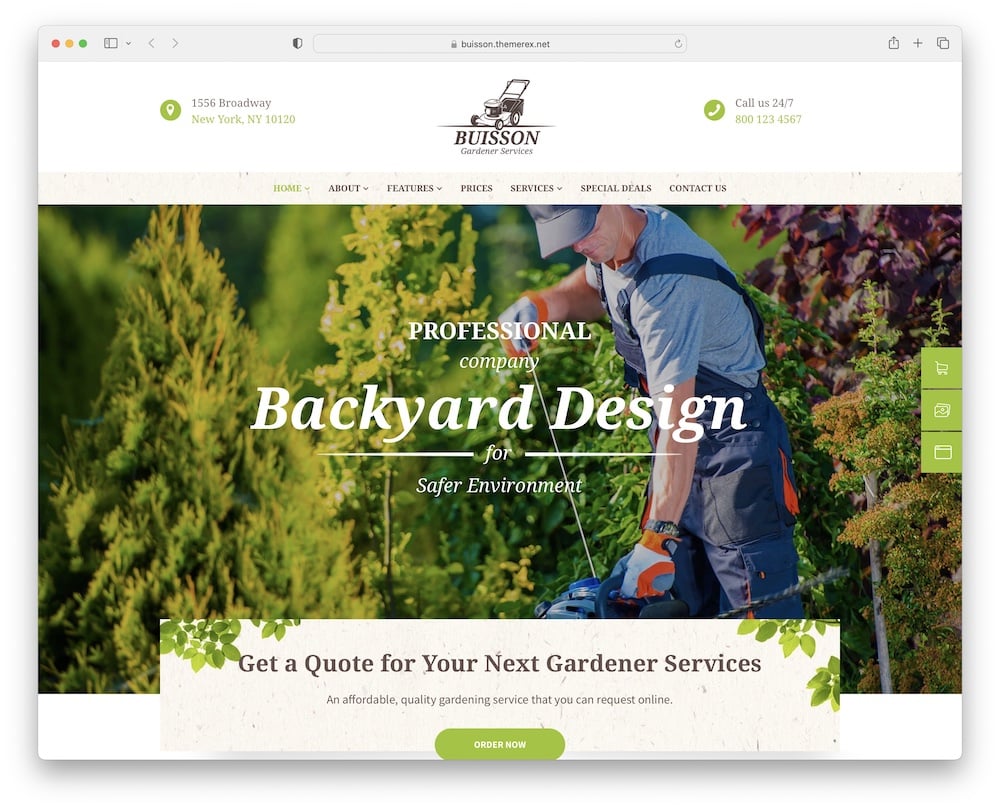 Just try not to become a garden lover when looking at the Buisson WordPress landscaping theme.
This colorful and clean theme offers detailed documentation, professional customer support, and free (!) lifetime updates. I say, GAME ON.
You'll become a big FAN of the popular plugins Buisson supports. You have to check out Slider Revolution, WooCommerce, and MailChimp!
Moreover, Buisson is responsive and retina ready for an excellent user experience on all devices.
Is it also cross-browser compatible? Of course!
BTW: Buisson makes translating your website into a new language easy – a smart choice if you want your brand to go global or to reach a local audience.
Make it pop!
Buisson features:
160+ sales
5-star rating
Simple sidebar manager
Multiple WP shortcodes for quick features integration
Price: $69 (may vary)
MORE INFO / DOWNLOAD
DEMO
::
Note: This article was originally published on May 28, 2023. But our team regularly reviews it and updates it with necessary improvements for accuracy.