Are you searching for the best wedding photography WordPress themes?
Every spring and summer, we open our folder with a carefully selected list of wedding photography themes to fulfill photographers' website desires.
Since all these themes are available to everyone, we want to share them with you.
How We Chose The Best Wedding Photography Themes:
We are pretty picky when collecting web designs because not all are great.
Unfortunately.
But that's not something you need to WORRY about.
All the WP themes below are powerful, reliable and cheap (compared to hiring a developer!).
We based our picks on:
Stimulating design (especially home page)
Attention to detail
Personalized introduction/about page
Easy-to-access contacts
You will have an ABSOLUTE BLAST creating a wedding photography online portfolio website.
In a hurry?
THE ULTIMATE 3:
Enjoy and have fun!
Best Wedding Photography WordPress Themes
1. Solene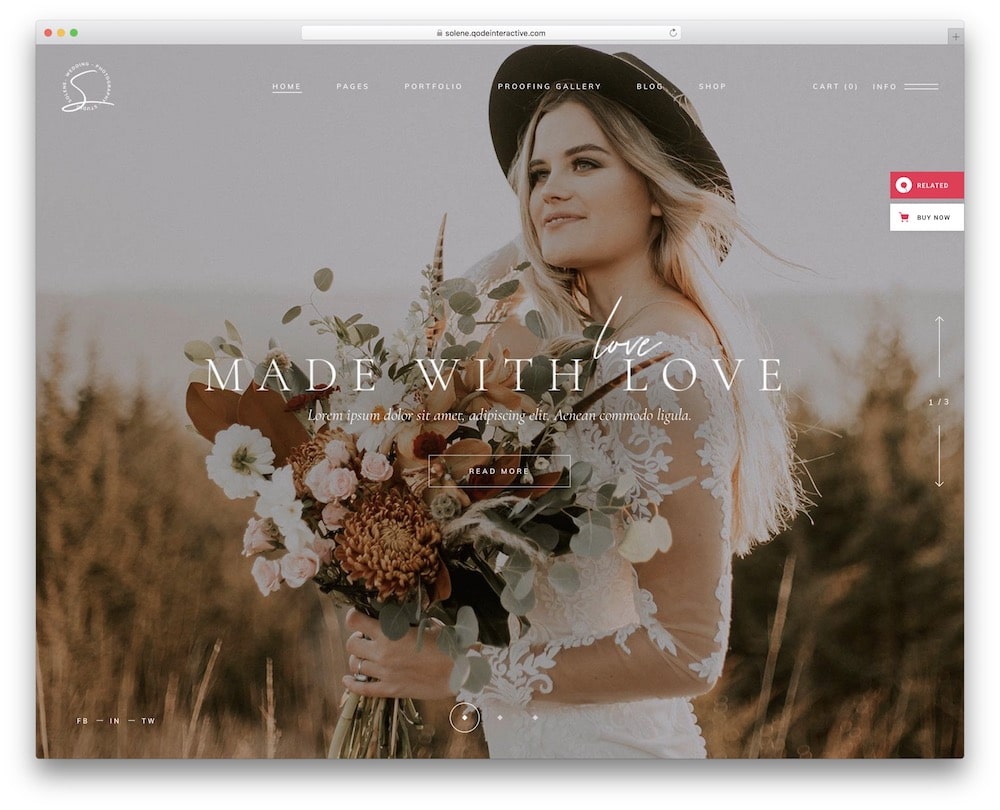 With Solene WordPress theme, you can accompany the newlyweds to a NEW beginning.
Solene offers a beautiful space for your dreamlike photography, including gorgeous portfolios.
Showcase your talents, work, and creative imagination with pride.
Solene lets you create, update and maintain your website as you desire. Besides, you will get numerous pre-made templates, mega menu, layouts, pages, and designs for quick and easy use.
MAKE-ART.
Moreover, the theme has all the necessary tools and features for a successful and useful site.
Also, you can create a high-quality online shop for your products and services due to the WooCommerce plugin.
Capture SPECIAL MOMENTS with popular Solene.
Solene features:
MORE INFO / DOWNLOAD
DEMO
3. Luminis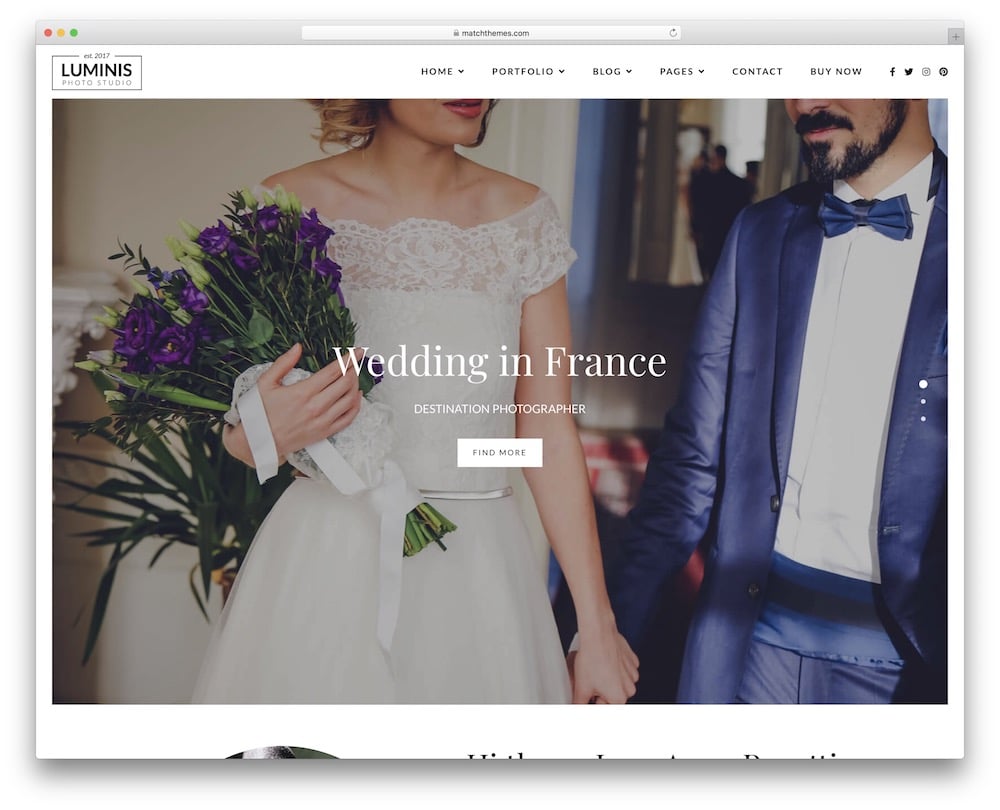 Make pictures that are worth 1,000 words and create timeless treasures for the bride and groom.
Luminis wedding photography WordPress theme invites your future clients in your word of memories and love stories.
EVERY. MOMENT. MATTERS.
Luminis is a clean, minimalistic theme bundled with rich features and powerful tools.
The quickest way to customize your new website is with the ALL-IN-ONE Elementor.
You can control and build your custom site with 100% visual design.
Simple.
Additionally, if you want to have a business that Google loves – it's your lucky day.
Luminis is SEO-friendly, focusing on your website's high rankings.
Yeah, pretty cool!
Luminis features:
290+ sales
4.9+ star ratings
Multiple ready-made page templates
Share news through a WP blog
Price: $32 (may vary)
MORE INFO / DOWNLOAD
DEMO
4. The Aisle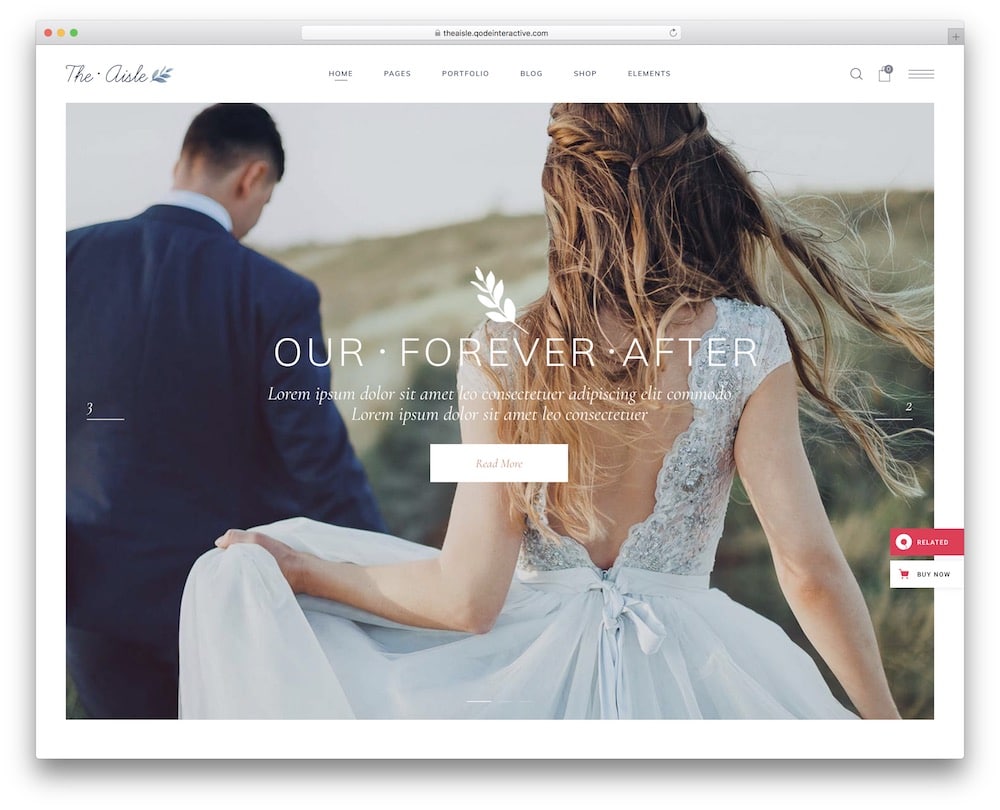 The Aisle is a beautiful and professional wedding photography WordPress theme created for everlasting memories. A million feelings – thoughts – smiles captured in one day.
This theme is packed with elegant and charming templates, different ready-to-use homes, shop layouts, gorgeous inner pages, and portfolio lists.
ONE-CLICK IMPORT.
Moreover, create valuable posts and increase traffic to your site and your services' pre-designed blog layouts.
Be a smart blogger.
Build trust with your readers and grow your business (inexpensive way).
Like The Aisle?
The possibilities are vast. SIMPLE. MODERN. EASY TO HANDLE.
The Aisle features:
2,300+ sales
4.3+ star ratings
Regular updates
Quick support
Price: $69 (may vary)
MORE INFO / DOWNLOAD
DEMO
5. Artale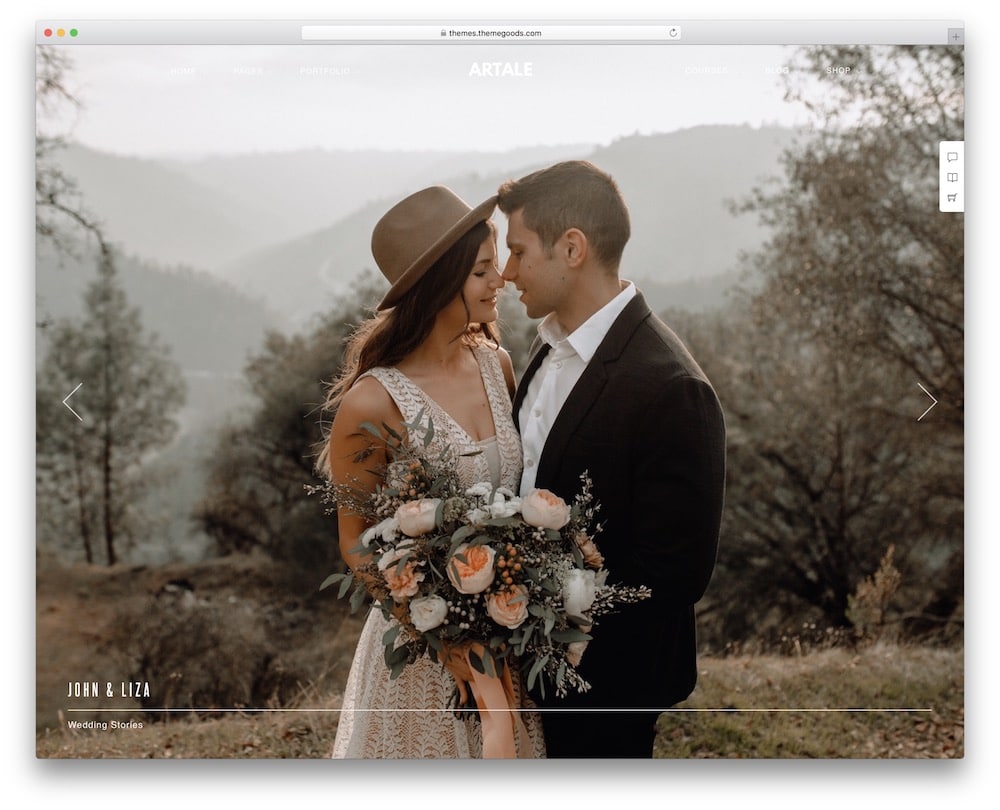 Artale wedding photography WordPress theme includes hand-crafted portfolios to get you started with a smile on your face.
With Artale, you can create care-free, flexible galleries. You can manage and sell photos on your website within minutes.
PRIVATE AND SECURE. (Or make them public.)
Moreover, Artale doesn't require coding knowledge, offers free updates, friendly customer support, and a lifetime license. I love it!
Wait, there's more.
Artale is ready to set up instantly in a matter of seconds.
Just select the demo, template, and plugins you want and import it (that's it).
Wait, what? YES.
Plain and simple is the motto of Artale.
Artale features:
790+ sales
4.9+ star ratings
Engaging demo content
Free demo installation
Price: $59 (may vary)
Note: You can also view our tutorial on how to install a WP theme for a step-by-step guide.
MORE INFO / DOWNLOAD
DEMO
6. Loversy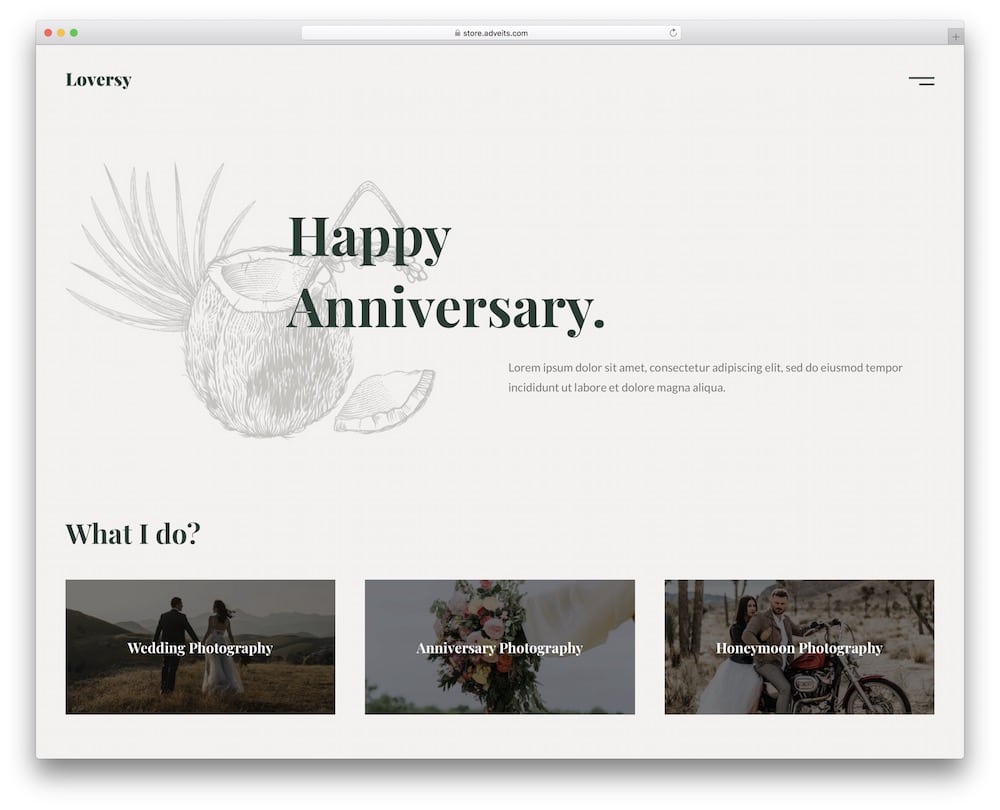 Two hearts that beat as one. The romantic story is the main focus of Loversy wedding photographer WordPress theme.
It has a creative, unique, and professional design.
Loversy includes the best tools and unlimited options of customization. You will get the popular Elementor page builder, friendly Ajax technology, and useful Contact Form 7.
The good news is that Loversy offers automatic updates, extensive documentation, and friendly support for all your specific questions.
SAVE. TIME. AND. WORRY.
Develop a better website than your competitors with Loversy (go all-in, unlike many others).
Loversy features:
20+ sales
4.5+ star ratings
Eye-pleasing minimal design
Speed & SEO ready
Price: $59 (may vary)
MORE INFO / DOWNLOAD
DEMO
7. Avala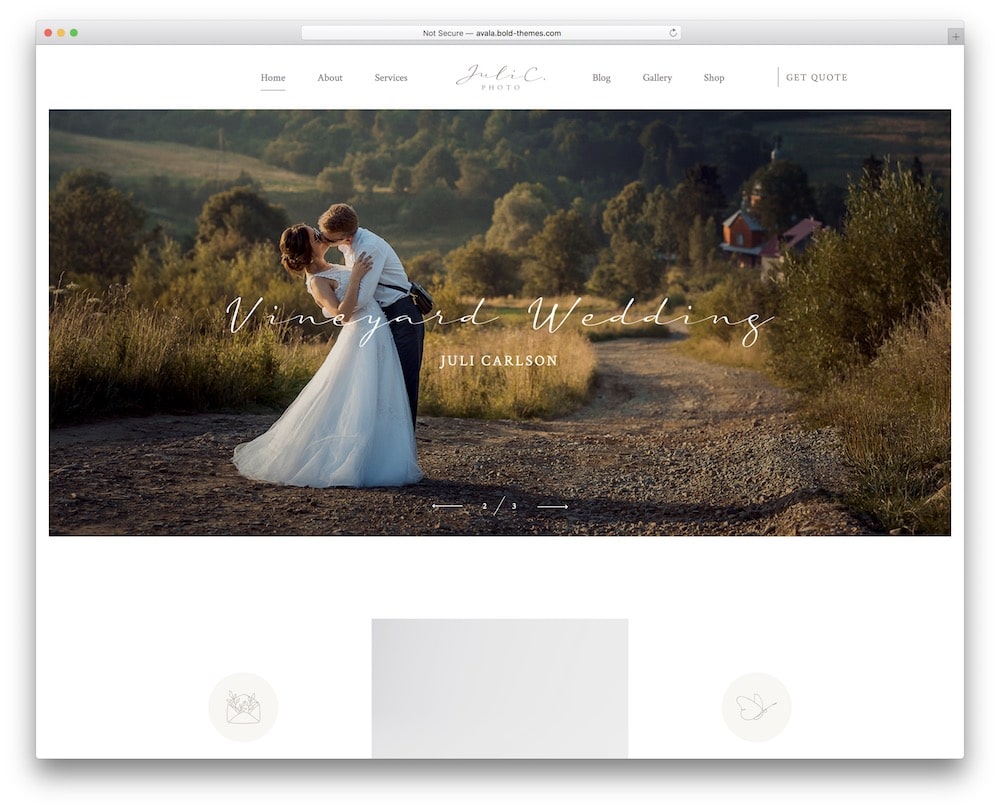 Collect happy memories of your clients with Avala wedding WordPress theme. This beautiful and luxurious theme feels like watching real life on screen.
Avala has four demos and matching inner pages divided into autumn, spring, winter, and summer.
This GORGEOUS and INNOVATIVE concept will impress you (big time).
Moreover, unlike in other themes, you get the cost calculator plugin 100% free with Avala.
Customers hate it when sellers dance around with their price of service.
Make them feel secure.
Keep in mind, Avala provides a money-back guarantee.
SWEET.
So grab some coffee and start creating your future.
Avala features:
670+ sales
5-star ratings
Cool time-limited content appearance
Money-back guarantee
Price: $69 (may vary)
MORE INFO / DOWNLOAD
DEMO
8. Fototag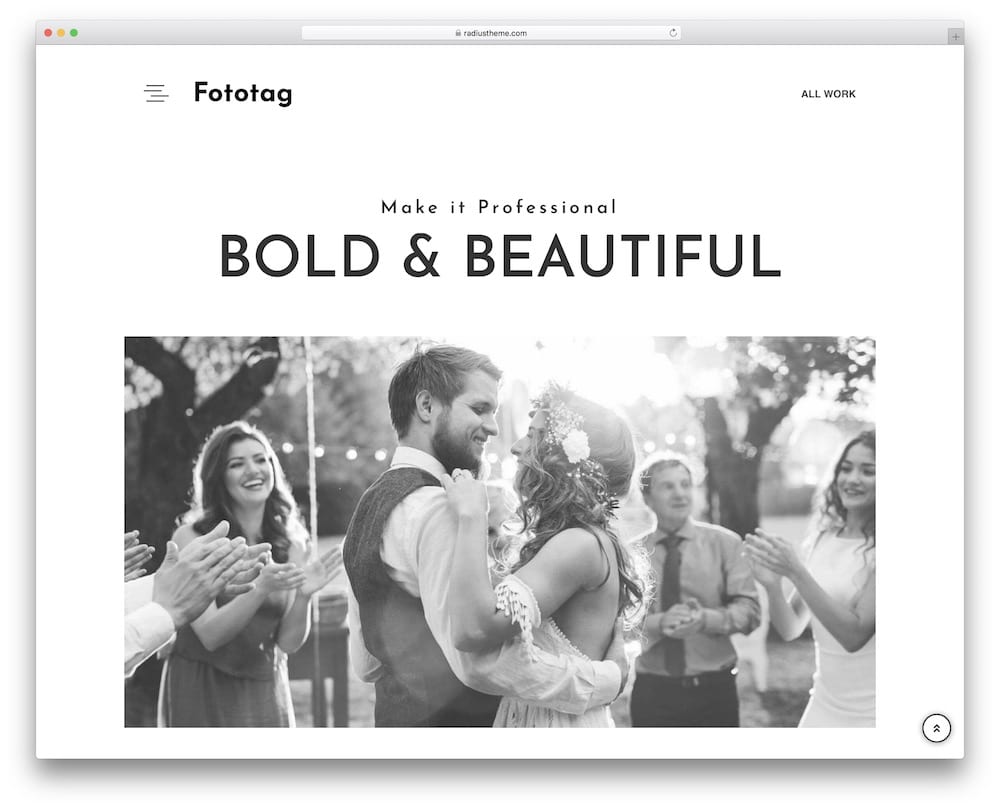 Fototag photography WordPress theme has everything you need to run your photo business.
Flexibility and convenience of features, the best tools, and unique design will help you to create an efficient and attractive new site.
Memories NEVER FADE and are composed of little moments. Every client wants to collect and protect them for life.
You can create an online shop and offer luxury photo albums, wall prints, and special photo gifts.
Furthermore, Fototag comes with easy to use Elementor, but if you prefer to use Gutenberg – you can.
Of course, Fototag is fully responsive and mobile-friendly. LIKE. THE. BEST. Add this theme to your shopping basket ASAP.
Fototag features:
170+ sales
5-star ratings
10 demos & 30+ add-ons
Easy photo management
Price: $29 (may vary)
MORE INFO / DOWNLOAD
DEMO
9. Reflector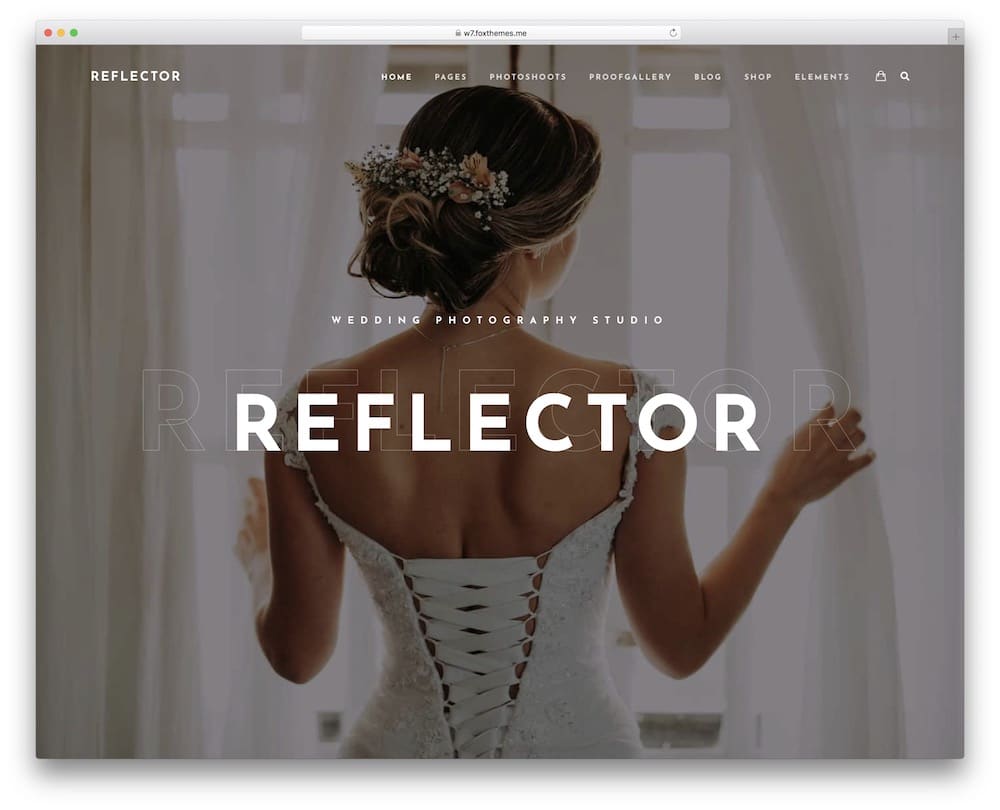 Life is pleasant and memories help to keep it that way.
Create and share the life story of your clients on Reflector photography wedding photography WordPress theme.
Reflector is a creative theme, that will give you a BIG amount of control over design, structure, elements, and style.
You can choose from gorgeous pre-made templates and showcase your projects with pride.
INVEST. LIKE. THE. BEST.
You pay for what you get – Reflector photography is definitely worth it.
It gives tons of opportunities to create what you desire (your killer new site).
You can set up your online shop, blog, portfolio, and much easier.
Take your pick with Reflector Photography and grow to the extremes.
Reflector features:
1,600+ sales
4.6+ star ratings
A home page demo for everyone
90+ practical WP shortcodes
Price: $49 (may vary)
MORE INFO / DOWNLOAD
DEMO
10. Wedding Photographer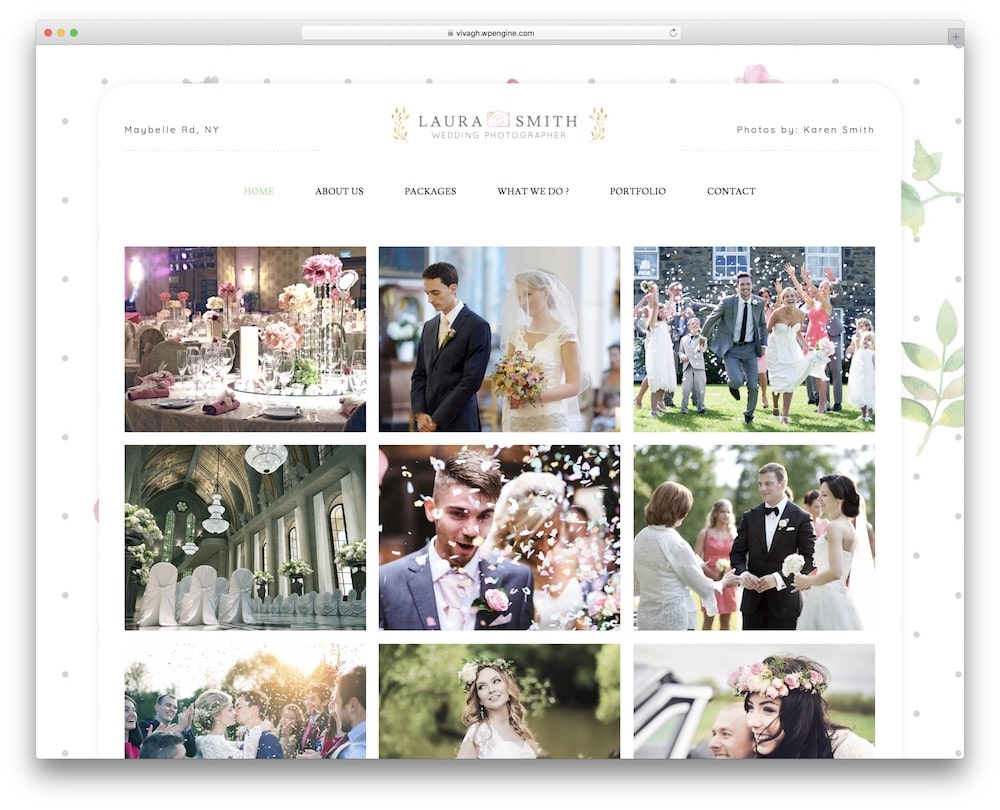 You can tell beautiful stories from your photoshoots with the Wedding Photographer WordPress theme.
Online.
Wedding Photographer comes with unique and interesting index pages and styles. (It's bundled with various useful shortcode elements and top plugins.)
Note: You can create your site due to drag and drop visual editing in just a few minutes.
FLEXIBLE. FAST. POWERFUL.
Besides, unlimited layout possibilities can boost your site look. You can create any type of layout and as many as you need.
Using included portfolio carousels and sliders will get you amazing results.
Play smart with Wedding Photographer.
Wedding Photographer features:
400+ sales
5-star ratings
Monthly updates
Unlimited layout & design options
Price: $49 (may vary)
MORE INFO / DOWNLOAD
DEMO
11. Pinhole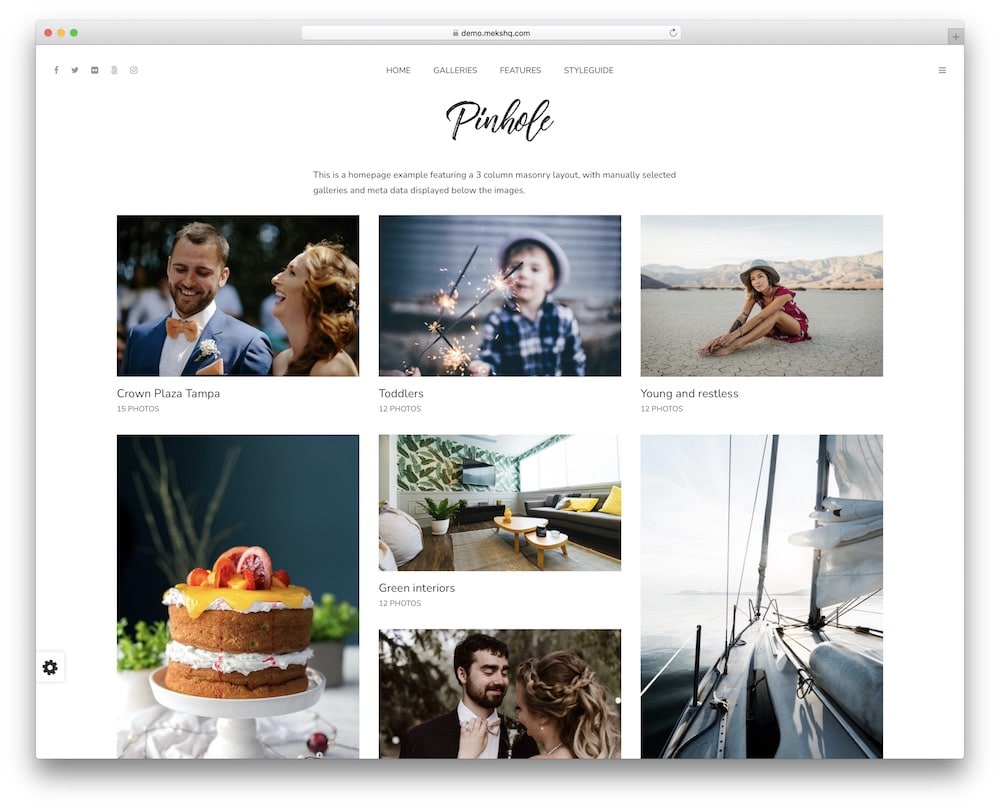 Wedding photos deserve only the best treatment when it comes to cherishing them.
Pinhole wedding photography WordPress theme is a leading choice to showcase all of your amazing works of art.
PICTURES. FIRST.
Minimalistic and hand-crafted designs, different templates, numerous galleries, and useful elements will make you happy-go-lucky.
Keep in mind that you can load 100s of photos instantly and protect them from unauthorized access with Pinhole.
NO. MORE. IMAGE. THEFTS.
Moreover, you can easily learn how Pinhole works from the amazing setup guide with extensive and organized documentation.
Shoot for success with Pinhole.
Pinhole features:
850+ sales
4.8+ star ratings
Portfolios & galleries made easy
Show EXIF data
Price: $69 (may vary)
MORE INFO / DOWNLOAD
DEMO
12. TwoFold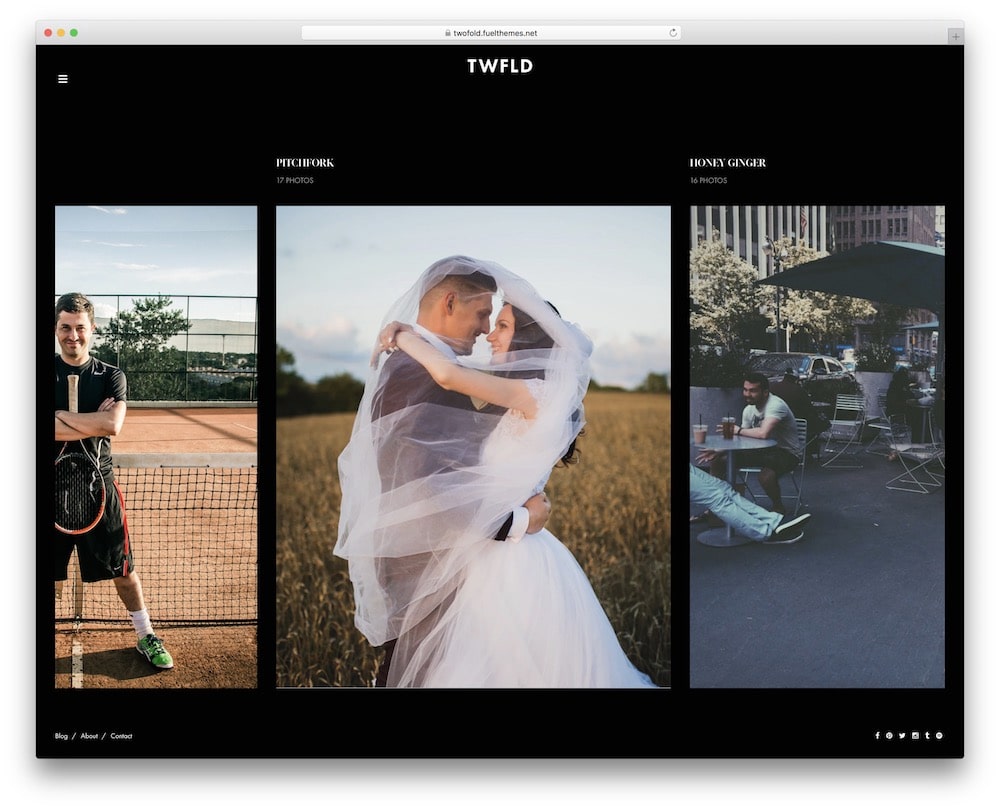 Walk, look, stop, take a picture, and put it online. TwoFold WordPress theme offers a lot of space for your captured moments.
You can easily create vivid albums and galleries with pre-made layouts and various customization options.
SIMPLE. AND. FAST.
Color-changing logos, amazing WP animations, numerous tools, photo proofing, password-protected galleries, infinite scroll options – TwoFold is one-of-a-kind.
In fact, you can win customers with a special photo hover effect. It will bring motion into your photos, for a more dynamic user experience.
After all, IT'S SMART to be unlike anyone else. Be unique with TwoFold.
TwoFold features:
2,500+ sales
4.4+ star ratings
Plenty home demo styles
Great filtering for navigation
Price: $89 (may vary)
MORE INFO / DOWNLOAD
DEMO
13. Snapster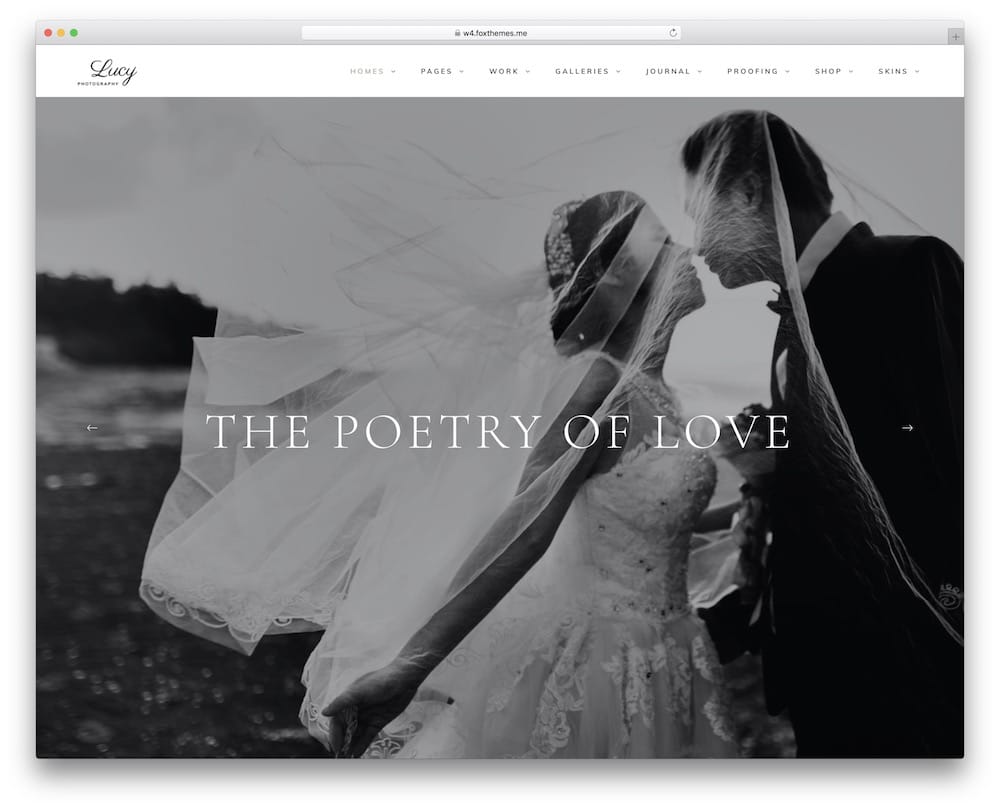 Fun fact: There were 62+ million married couples in the United States last year, and they all cherish beautiful images from weddings.
Say HELLO to all unmarried couples with your new website (powered by Snapster theme).
Promote your business to your advantage.
Snapster looks fresh and elegant, amazingly well designed, optimized for mobile, and is an overall high-functional theme.
Showcase your projects with beautiful and creative galleries.
Visitors are always in a hurry. So that's why Snapster is organized and easy to use, with no clutter for better navigation through content on your site.
With the booking form, everyone can hire you right away.
Besides, don't miss WooCommerce integration and build your shop.
Grow your business with Snapster.
Snapster features:
1,100+ sales
4.1+ star ratings
18 demos (WOW)
Stunning slider styles
Price: $59 (may vary)
MORE INFO / DOWNLOAD
DEMO
14. Wedding Industry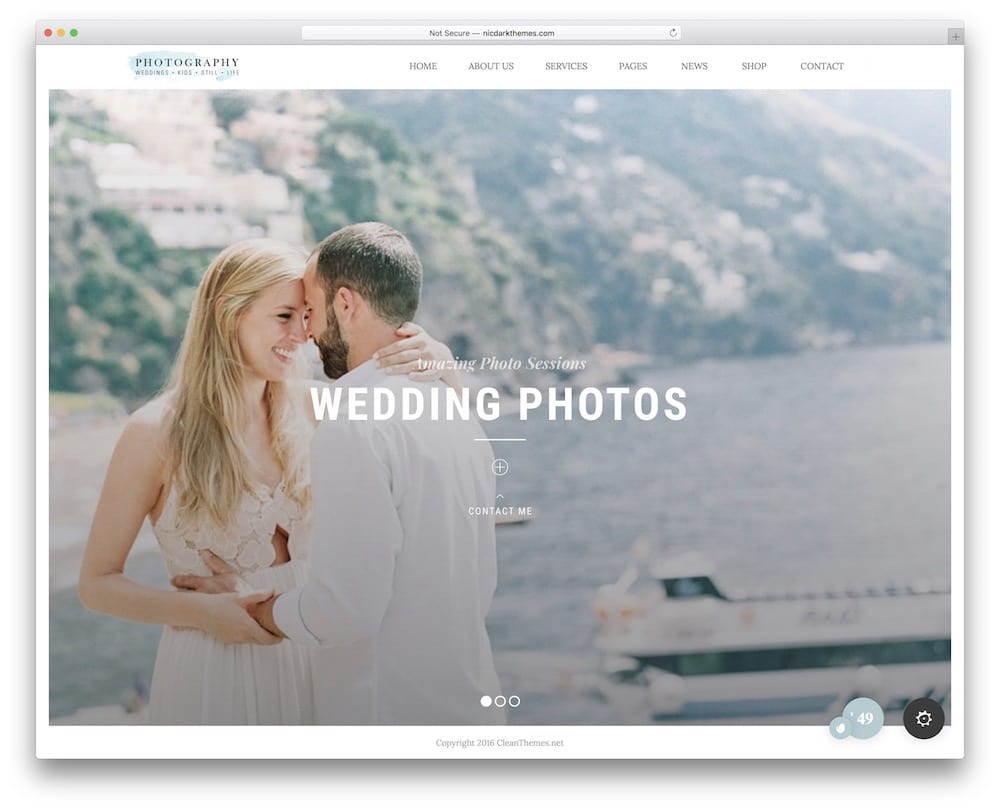 You can't make everyone happy, but you can make the newlyweds PLEASED with amazing photography of their special day.
With Wedding Industry WordPress theme, you can stand apart from your competitors.
Wedding Industry is a soft and dreamy theme with pre-made demos made in heaven.
Developers used a lot of their imagination and creativity.
THE. BEST. TEAM.
You can import amazing pre-made sliders, photo galleries, custom forms, and set-to-use pages (about us, prices, contact, location) with just one click.
In addition, NicDark team offers a monthly update guarantee. (100% FREE.)
Updating the theme periodically is essential to maintain the full compatibility of the features and WordPress.
Say: "I do." to Wedding Industry.
Wedding Industry features:
MORE INFO / DOWNLOAD
DEMO
15. Gretna Green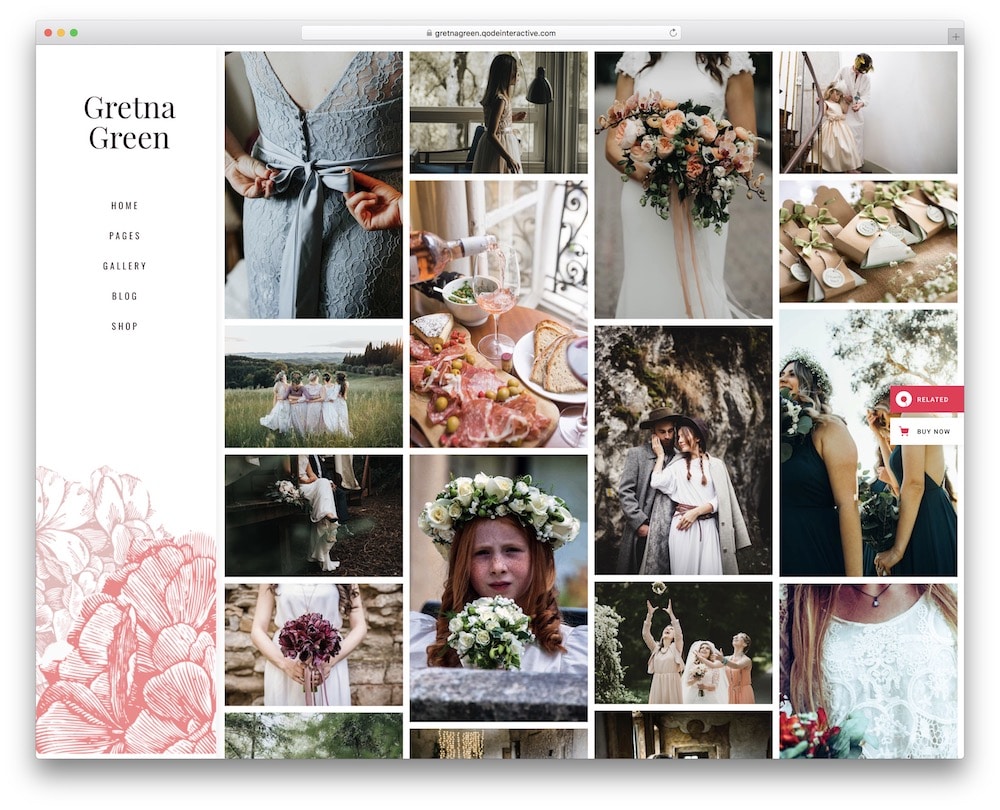 Cheers to love, laughter, and happiness – FOREVER. Gretna Green feminine WordPress theme is made to steal your heart.
DISCOVER. GORGEOUS. DETAILS.
Gretna Green includes beautifully crafted templates, stunning inner pages, lovely blog layouts, and different portfolio options.
Special moments deserve a special theme.
Gretna Green is super easy to use (no coding knowledge required), flexible, and fully customizable. (You can even build a stylish online shop.)
Like a boss.
The theme has all the features and tools you need to create a successful wedding site.
Set big goals. (Yes, you can do it!)
You also get social media WP widgets and icons to connect with your valuable platforms automatically.
Take action with Gretna Green, today. Sometimes later becomes never.
Gretna Green features:
550+ sales
4.6+ star ratings
Shop & portfolio
Charming design
Price: $85 (may vary)
MORE INFO / DOWNLOAD
DEMO
16. Kirsten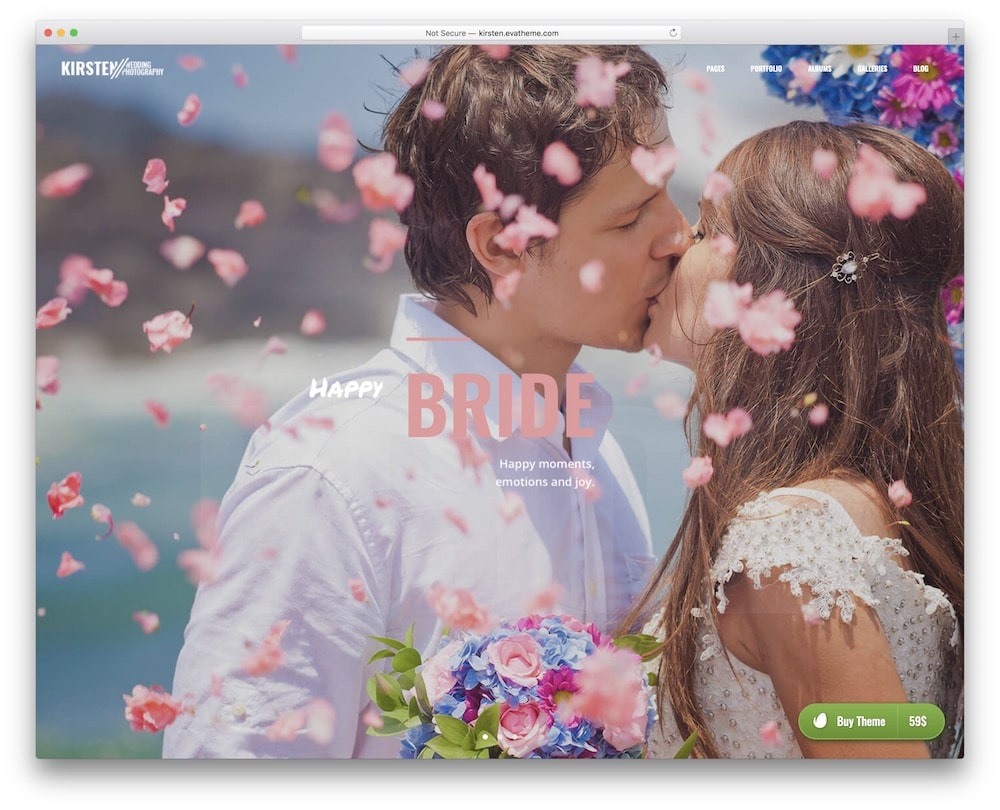 Connect with just marrieds via the beautiful and modern Kirsten wedding photography WordPress theme. Improve your online appearance to get new customers.
KIRSTEN is a SIMPLE SOLUTION.
A powerful framework in conjunction with the WPBakery page builder gives numerous options for customization (easy and fast).
You can change pages, layouts, icons, forms, colors, Google fonts, and tools.
Easy peasy.
I know Kirsten will affect you deeply with its capabilities.
The cool thing about Kirsten is that you can show all your photos with numerous styles of galleries or albums. Test your ideas and figure out what people like the most.
More likes + More traffic = More business.
Embrace social media, start a blog, understand SEO and win.
Kirsten features:
280+ sales
4.3+ star ratings
Optimized for speed, SEO, mobile
Catchy animations & effects
Price: $59 (may vary)
MORE INFO / DOWNLOAD
DEMO
Friendly note: We constantly hunt to learn from others and gain additional inspiration.
Thus we found this awesome collection of great wedding photography website designs that I'm sure you'll enjoy reviewing.
Also, don't miss our reviews:
::
Note: This article was originally published on June 2, 2021. But our team regularly reviews it and updates it with necessary improvements for accuracy.