Our team spent thirteen weeks testing 100s of luxury WordPress themes and chose the top 16 for your thriving businesses.
We based our picks on quick and actionable use, resourcefulness and performance optimization.
You can now enjoy a SAFE and SOUND luxurious website creation that takes little time to complete.
All the WP themes guarantee responsiveness, fast loading, SEO-friendliness and code-free editing. For a fraction of a professional's hefty fee!
What You Can Use Luxury WordPress Themes For?
Designer brands & fashion
Fine watches
Expensive jewelry & accessories
Opulent real estate & villas
Luxury & boutique hotels
High end furniture
Premium cosmetics and makeup
Extravagant stores, etc.
Make some noise now!
THE ULTIMATE 4:
Ultimate Luxury WordPress Themes
1. Chandelier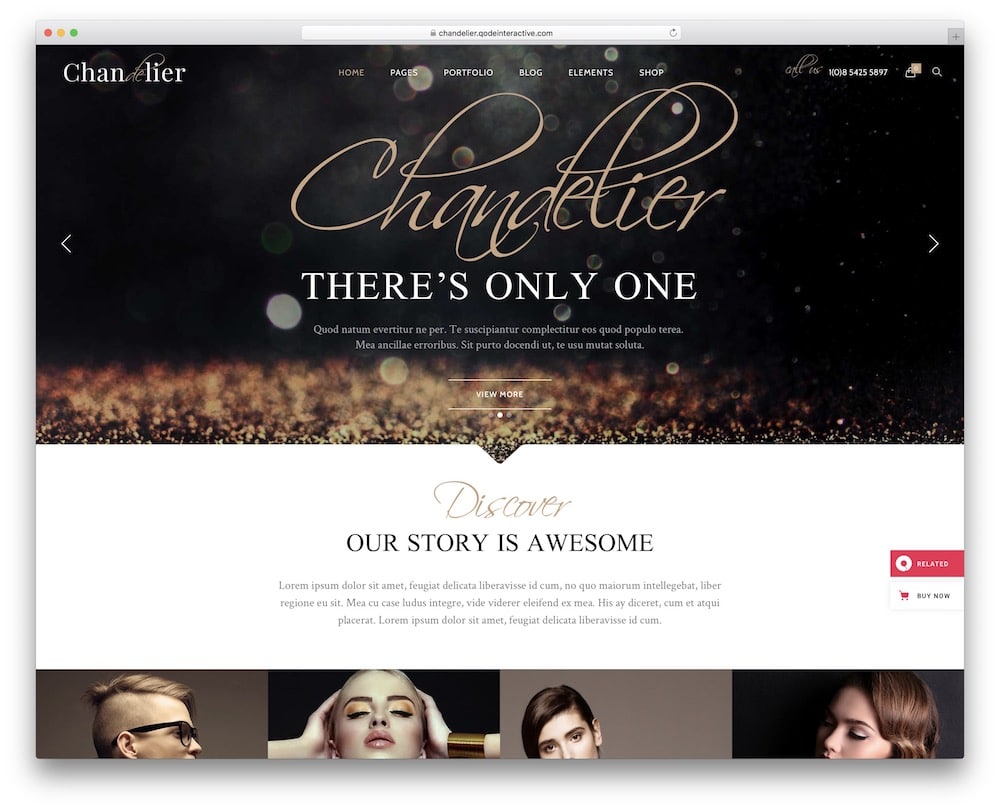 Chandelier is a beautiful and elegant WordPress theme for DESIGNER brands. It will let you showcase your content and products with a touch of extravagance.
Chandelier is fully responsive and retina-ready, offering a stunning view on any screen your visitor is using.
We know how important a SMOOTH WORKING site is to your audience.
Imagine how easily your visitors will immerse in your brand and product with an elegant website design. That's what to expect from Chandelier.
Also, Chandelier comes with different pre-made layouts, widgets, shortcodes, and tons of useful options.
Don't worry if you have O experiences; support team wizards will help you with all your dilemmas and questions at all times.
Chandelier features:
MORE INFO / DOWNLOAD
DEMO
2. The Luxury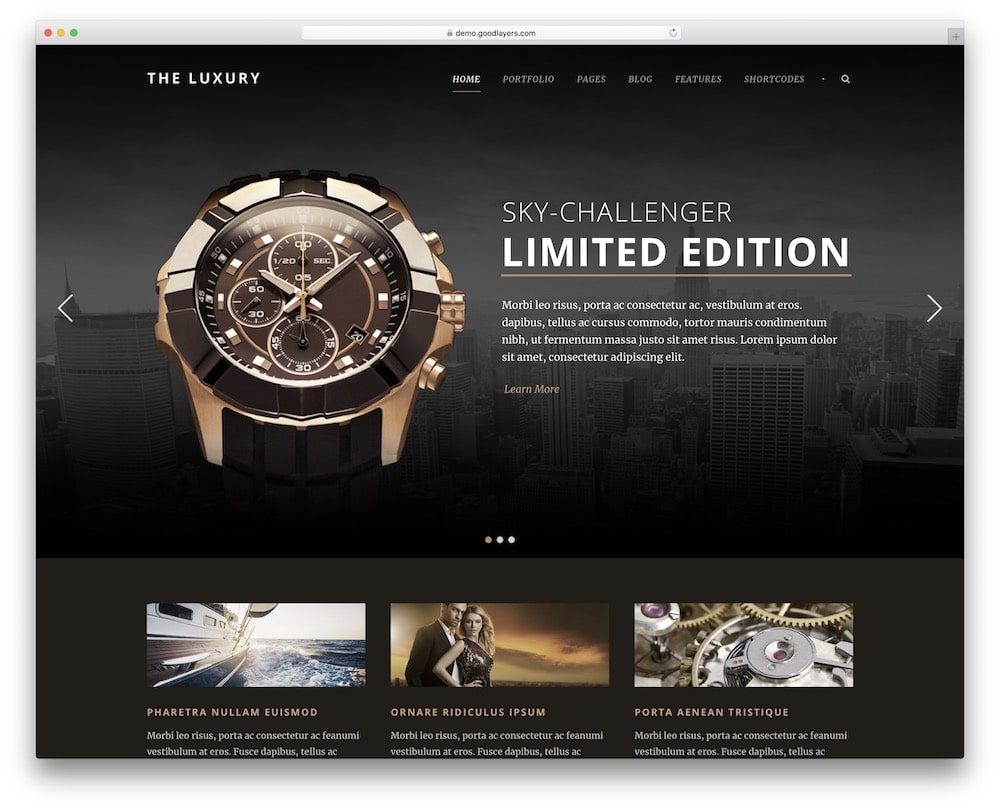 The Luxury is by far the best WordPress theme for LAVISH products and OPULENT lifestyles.
You can create a quality-looking site that will immediately impress your visitors. All this due to the dark and light option style.
The Luxury is easy to implement and use. You will have no problems building a functional website in no time.
The Luxury includes ready-to-use index pages that are simple to customize and expand to all your desires.
In short, your new website can be WHATEVER YOU WANT it to be.
With The Luxury, you also get WooCommerce. The most complete plugin out there for creating online shops.
It's time for YOU to SHINE.
The Luxury features:
2,800+ sales
4.7/5 star rating
Regular updates & upgrades
Shortcode generator
Price: $59 (may vary)
MORE INFO / DOWNLOAD
DEMO
3. Laramiss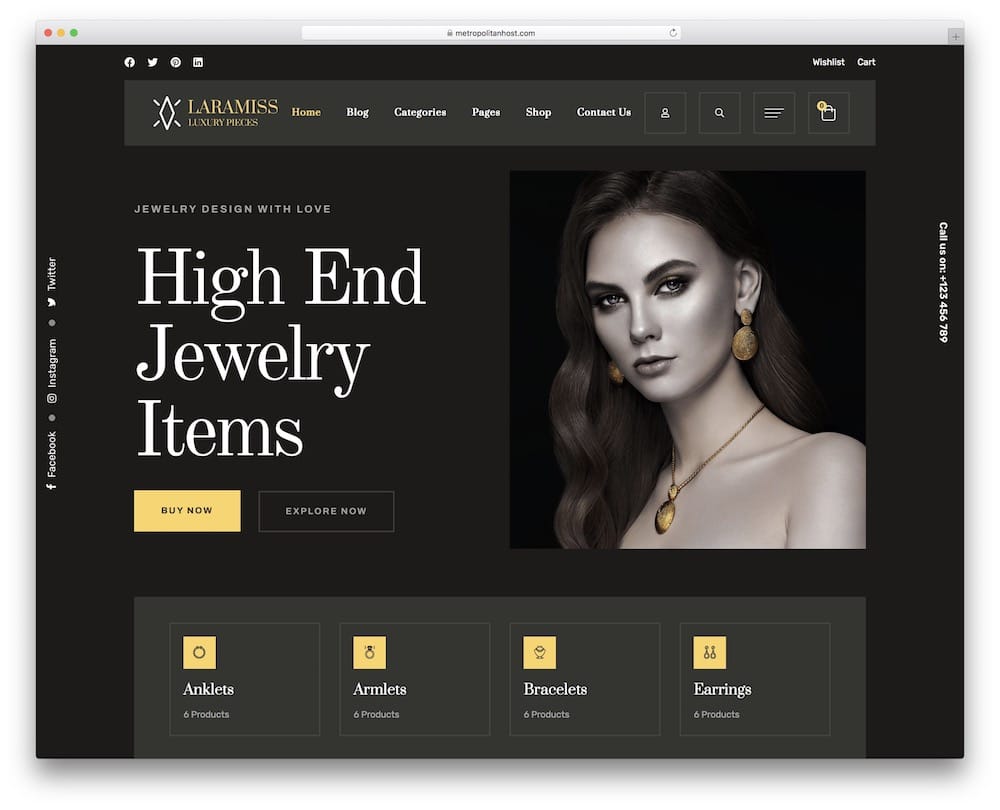 Luxury is in each detail of modern and professional Laramiss WordPress theme. Laramiss has a luxuriant design and looks that will easily come along with your products and way of life.
Impressively Laramiss is fully responsive and retina-ready for various screens and devices. Viewers will enjoy a long stay on your new site.
Best for jewelry and fine accessories.
But. Works. For. Something. Else. Too.
Moreover, Laramiss includes all the must-needed and popular features. It's easy to change and modify options due to the well organized and designed structure.
The best thing about it is that you can look at changes on your actual site immediately before saving them eventually.
Hurray, LIVE CUSTOMIZER!
Laramiss is all that you were looking for.
Laramiss features:
90+ sales
5/5 star rating
24/7 prompt support (6 months)
Price: $69 (may vary)
MORE INFO / DOWNLOAD
DEMO
4. Lava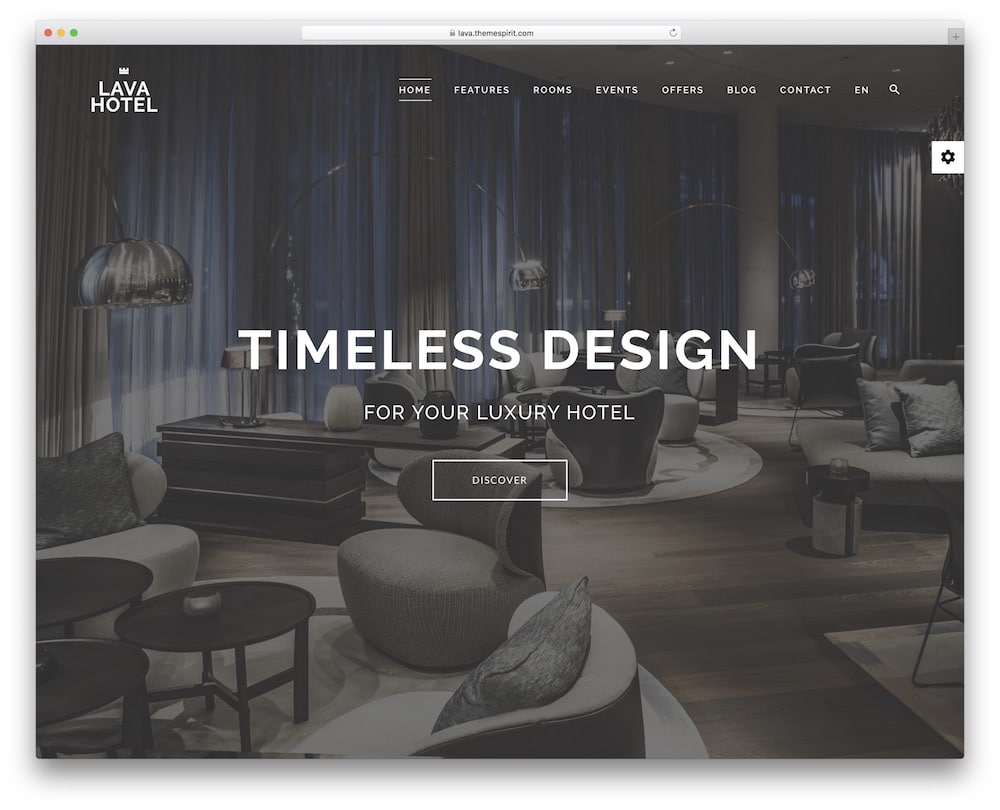 Luxury is a necessity that begins with the Lava luxury WordPress theme. This HIGH-QUALITY theme is amazing for magnificent hotels, splendor resorts, or fancy vacation rentals.
Lava comes fully integrated with the most advanced Hotel Booking system. You will manage your customers with ease.
Moreover, with Lava, you get VITAL tools such as a mega menu, Contact Form 7, multi-currency support, Event Calendar, and WooCommerce.
Besides, you can choose a ready-to-use demo that you can install with one click. You may also check our tutorial on how to install a WP theme.
Easy and fast solution for creating your new gorgeous site with just a twinkling of an eye. Bring extravagance into the lap of your customers with elegant Lava.
Lava features:
480+ sales
4.6/5 star rating
Tried & tested
In-depth documentation
Price: $59 (may vary)
MORE INFO / DOWNLOAD
DEMO
5. Luxa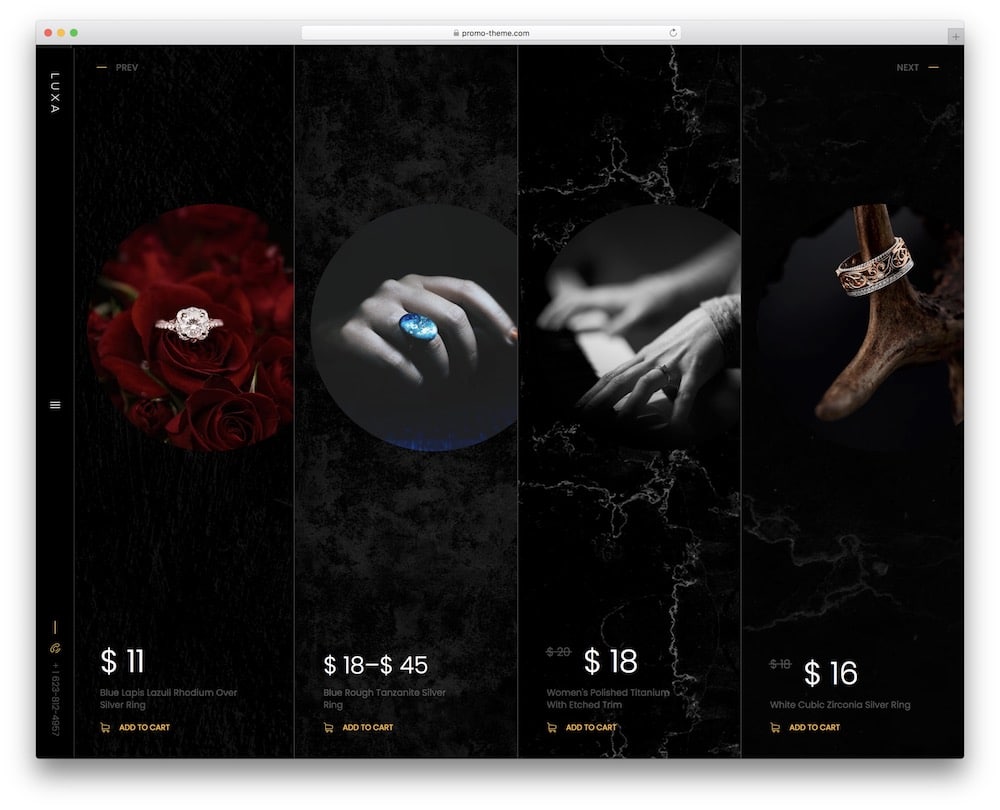 Luxa is a beautiful and comfortable luxury WordPress theme focused on people who enjoy a touch of richness in a web design.
Yes, you and me!
Trust me, Luxa will impress you with modern design, a professional look, and reliable tools.
Luxa assists you with displaying your products or services on a HIGH LEVEL and with polished efficiency.
Break the selling record and try something new with Luxa.
Moreover, Luxa includes twelve complete index pages, tons of functional templates, and neat blog layouts for all of your big ideas.
Also, Luxa ensures you fast-moving and easy-start straight away. Surround yourself with PLEASANT, CREATIVE, and RICH customers.
Luxa features:
1,100+ sales
4.8/5 star rating
Great for DARING freelancers & agencies
Quick setup process
Price: $59 (may vary)
MORE INFO / DOWNLOAD
DEMO
6. Reprizo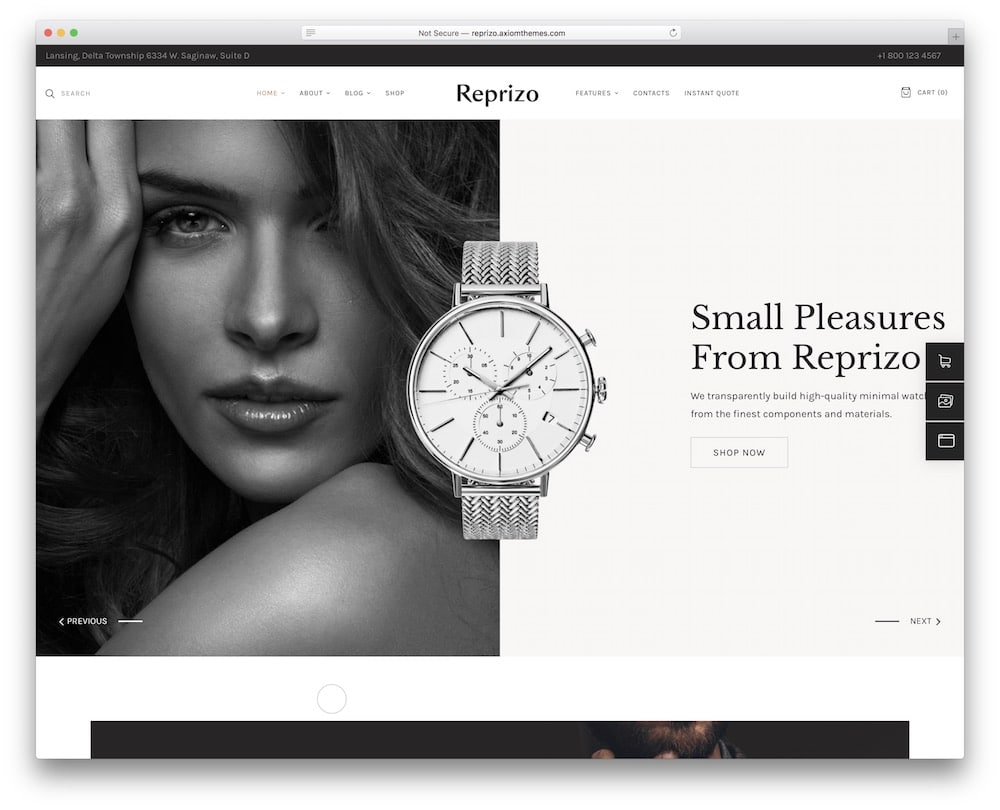 Reprizo luxury WordPress theme is combined with three main principal ingredients: luxury, lifestyle, and design.
It is a beautiful, elegant web design ideal for online stores or exclusive services. You can choose from various pre-made layouts, different index pages and multiple fonts.
Don't forget: enjoy the benefits of popular and powerful plugins.
Furthermore, Reprizo includes the Elementor WordPress page builder. It is well-known for its flexibility and user-friendliness.
You can create complex layouts visually and design your new site 100% in live mode.
NO. EXPERIENCE. NECESSARY.
Reprizo assists you to build your website quickly to fit all your brand needs. Go high-class with Reprizo.
Reprizo features:
590+ sales
5/5 star rating
Luxury jewelry & watch shops
Custom shortcodes & widgets
Price: $69 (may vary)
MORE INFO / DOWNLOAD
DEMO
7. Frank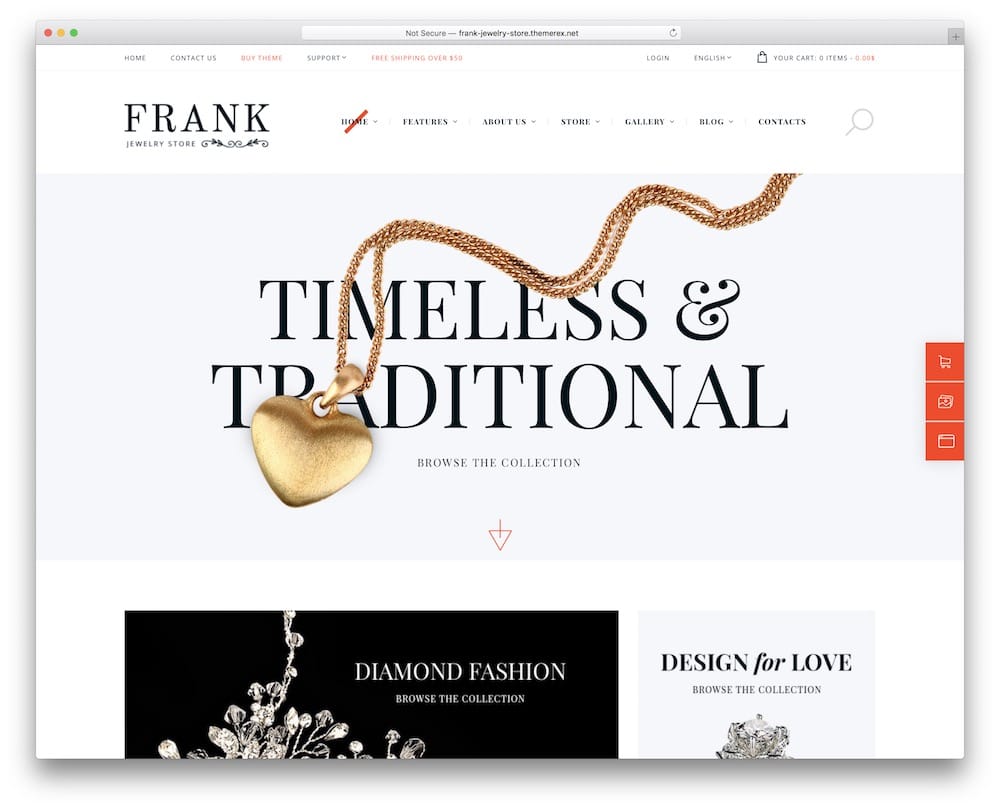 Build authentic relationships with your clients through a clever and stylish Frank luxury WooCommerce theme.
You have a POWERFUL opportunity to start building your mighty luxury brand, store, or company.
Frank includes the most trusted and popular features for easy and unique creation.
The theme is mobile optimized, fully responsive and retina ready to take good care of your visitors. You don't need any coding or design knowledge to work with Frank.
Besides, you will get the best WooCommerce tools and components to kick off your own perfect online shop.
Everything you need for a smooth and satisfying site comes with Frank. Take your first step into your new future.
Frank features:
1,300+ sales
4.9/5 star rating
Drag & drop page building
One-click demo data import
Price: $69 (may vary)
MORE INFO / DOWNLOAD
DEMO
8. Swiss Eagle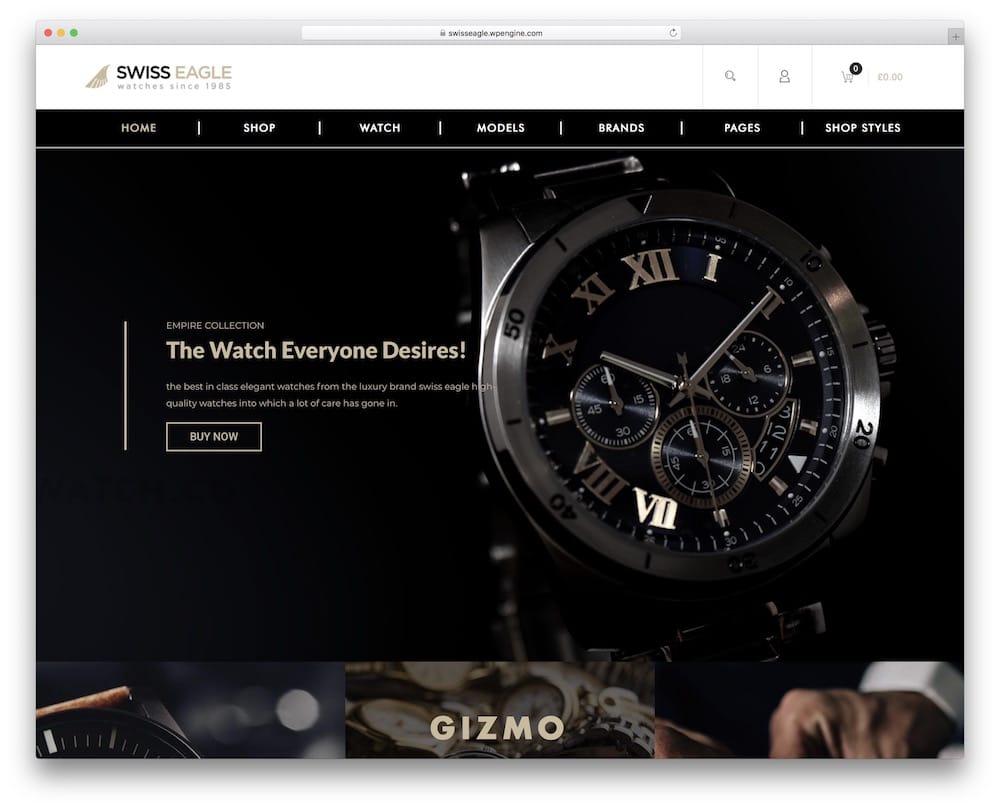 If your timepieces have elegance and uniqueness then the Swiss Eagle luxury watch WordPress theme is right for you.
This theme's dark and professional layout will impress and motivate you to create a dynamic and functional website. Swiss Eagle is entirely customizable.
You can EASILY CHOOSE different WP sidebars, icons, numerous fonts, amazing carousels, and gorgeously animated content.
Moreover, with Swiss Eagle, you will get the popular Contact Form 7 plugin that can manage multiple contact forms directly on your site.
Any visitor can fill out the form and submit it to your promotional messages.
BIG ADVANTAGE.
Your vision is the only limit when working with Swiss Eagle.
Swiss Eagle features:
340+ sales
5/5 star rating
Luxury watch stores (or other items)
Many watch-store-specific details
Price: $59 (may vary)
MORE INFO / DOWNLOAD
DEMO
9. Luxury Spa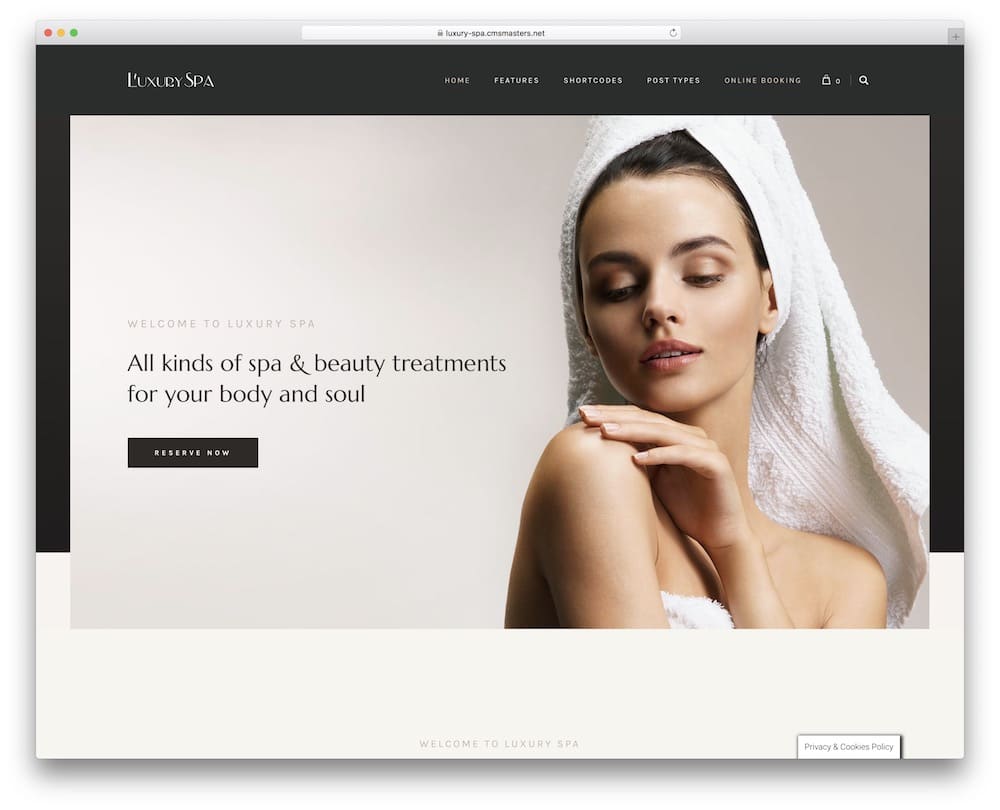 You can start chasing your dream with Luxury Spa theme. It's ideal for cosmetic salons, spa centers, opulent resorts, and beauty services.
You can kick off your own online store WITH EASE. Even selling extravagant products on your new website will be a piece of cake.
Thanks, WooCommerce!
Moreover, with Luxury Spa you also get several unique and pre-designed blog styles to choose from.
Start writing compelling content that your readers will love and keep them returning to your site.
Hint: Content marketing.
All the useful options and popular templates of Luxury Spa will save lots of your time and effort.
Luxury Spa features:
780+ sales
4/5 star rating
Promote services & products
Price: $49 (may vary)
MORE INFO / DOWNLOAD
DEMO
10. Luxi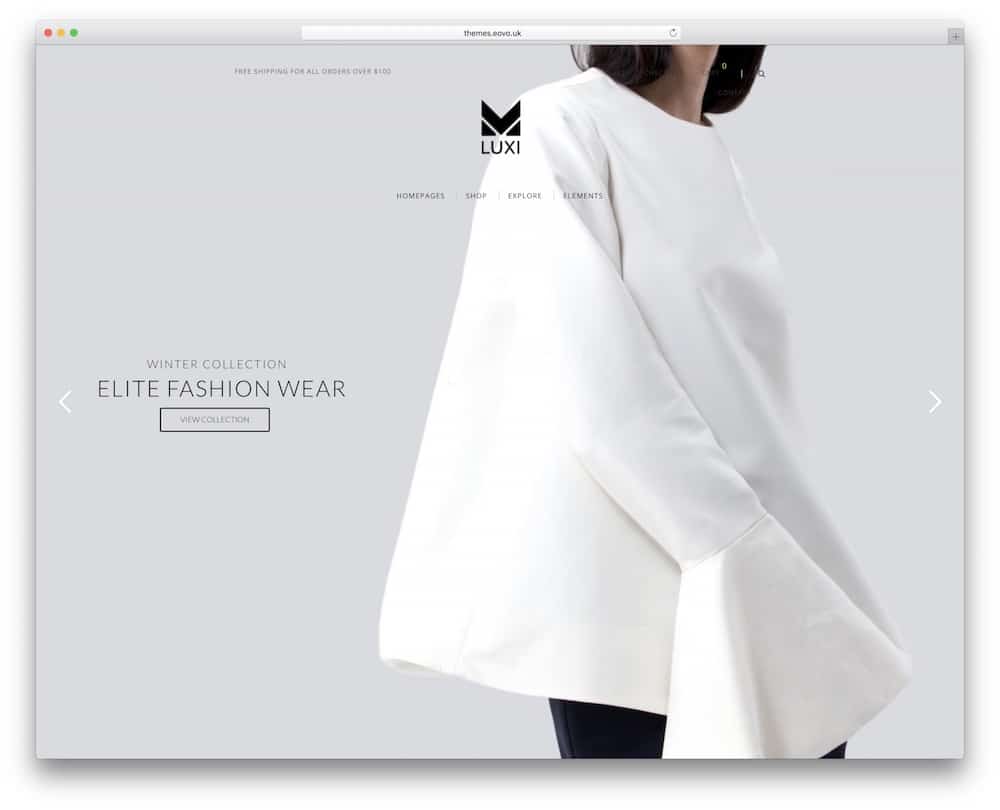 Style is luxury. Luxi blends the two very well, making you stand out from the masses. It also adds a touch of elegance to smoothen the experience.
Luxi is a gorgeous and freshly designed theme that will showcase your products with class. This theme includes quality features and the most advanced tools.
You get Slider Revolution, WooCommerce, and WPBakery page builder, to name a few.
Luxi will make YOU HAPPY due to its effortless use and powerful customization. You can quickly change colors, typography and slides. (Even the theme language.)
Professional customer service will answer your questions and puzzles at any time. Don't think too much and try Luxi NOW.
Luxi features:
590+ sales
4.4/5 star rating
Catchy CSS effects
Price: $59 (may vary)
MORE INFO / DOWNLOAD
DEMO
11. Turez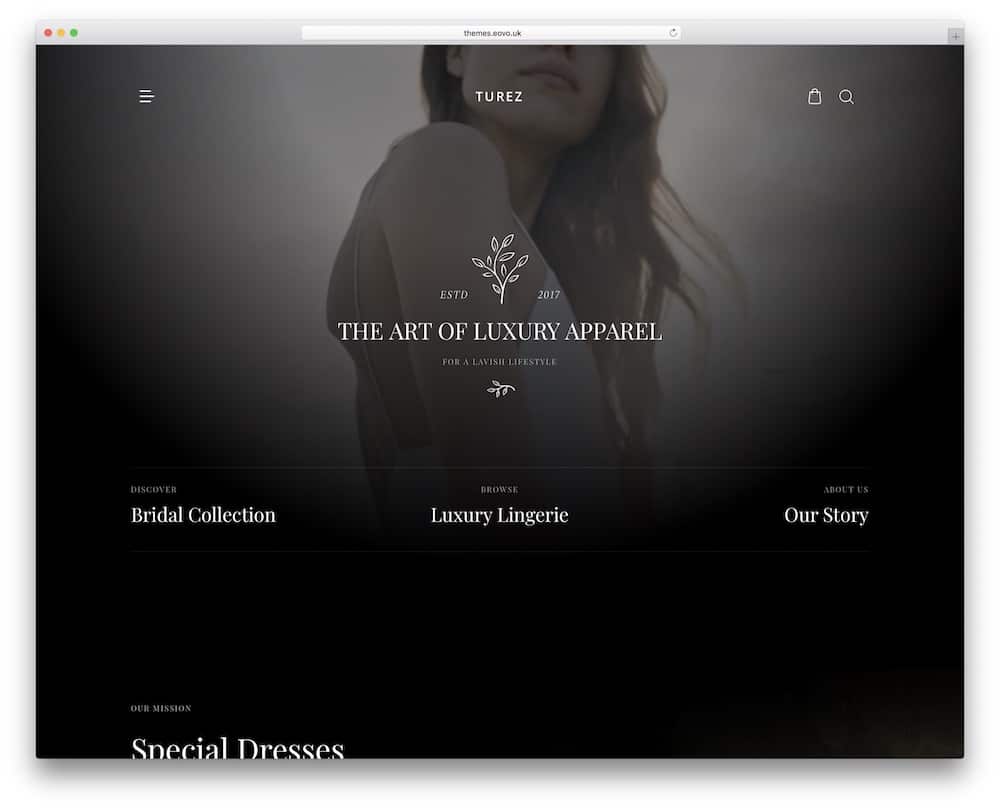 Choose well and make your business last with Turez. This elegant and clean theme has an eye-catching design and sophisticated look.
With a strong focus on luxury, Turez makes a stunning new site for your lavish bridal and wedding products or high-end services.
Turez is packed with the most reliable features and is optimized for the Gutenberg editor. The editor will assist you with creating amazing posts, pages, and blocks.
Keep in mind, the main goal is to make it EASIER for you.
Feel the richness with Turez.
Turez features:
100+ sales
4.6/5 star rating
Price: $49 (may vary)
MORE INFO / DOWNLOAD
DEMO
12. Carna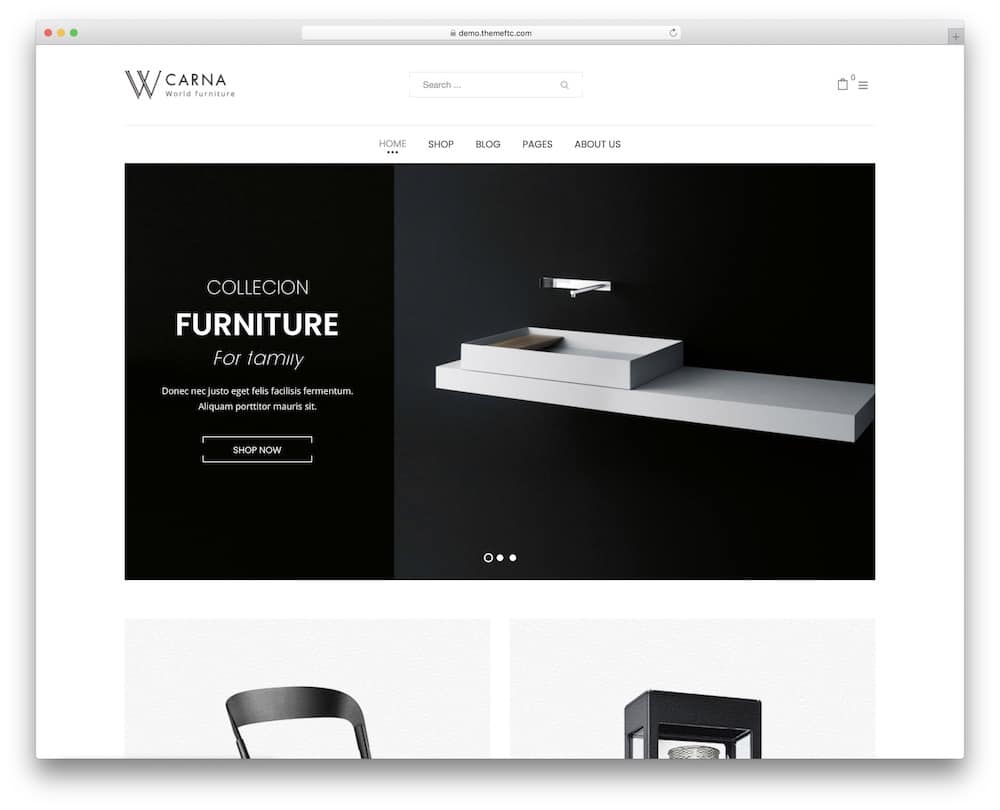 KEEP CALM and LOVE OUR LUXURY PRODUCTS is the main trademark of Carna. This is the best luxury furniture WordPress themes coupled with WooCommerce.
It comes with eight stunning and beautifully pre-designed index pages. When you choose the right one for your business, you can install it with just one click.
Carna immediately becomes a powerful design tool with the creative possibility to sort out your ideas.
You can build anything you want.
The theme is also easy to use and (without exception) will take no extra time in your spare moments.
Carna will care for your dedicated luxury clients and your far-reaching furniture business.
Carna features:
120+ sales
5/5 star rating
Fast loading speed
Ready-to-use designs
Price: $59 (may vary)
MORE INFO / DOWNLOAD
DEMO
13. Homepark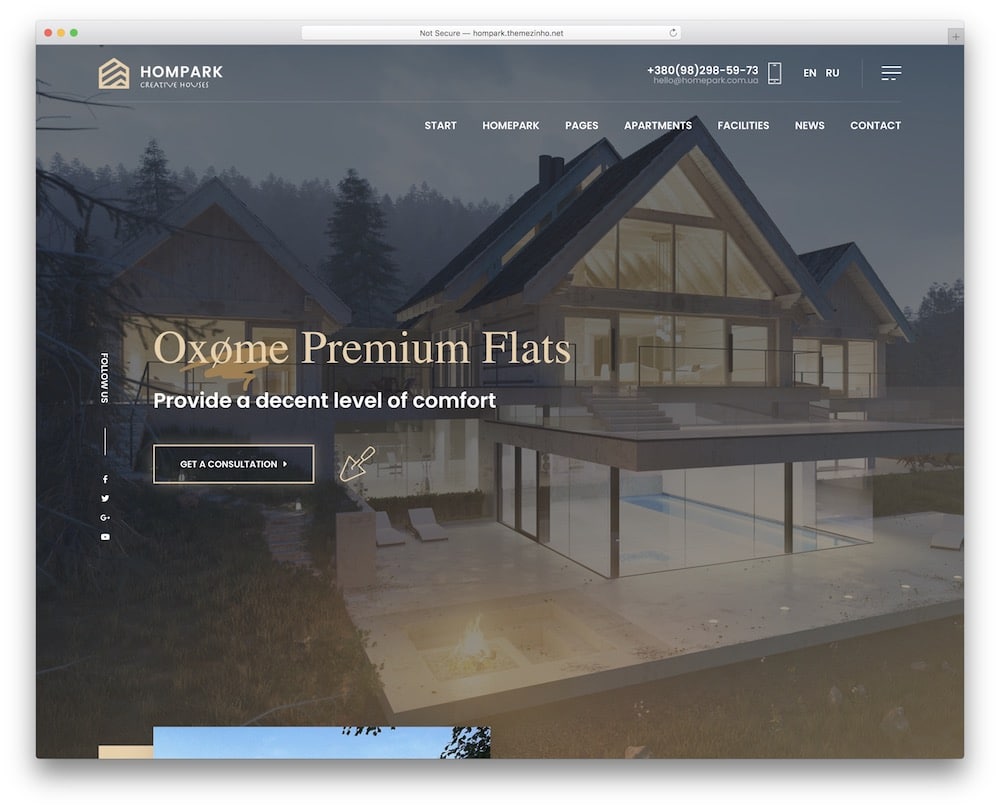 Present spacious living spaces with Homepark luxury real estate WordPress theme. You can showcase dream homes in beautiful galleries with all the useful details and important info.
Homepark offers your visitors a QUICK and EASY online form to choose a date to simply view the property they love.
Moreover, you can regularly share news about real estate changes, new laws, luxury construction plans, available homes, and amazing opportunities with a blog.
Present your polished properties in the best way possible. With the fully responsive and professional Homepark.
Homepark features:
240+ sales
5/5 star rating
For real estate agents & agencies
Extensive online documentation
Price: $59 (may vary)
MORE INFO / DOWNLOAD
DEMO
14. RoyalGold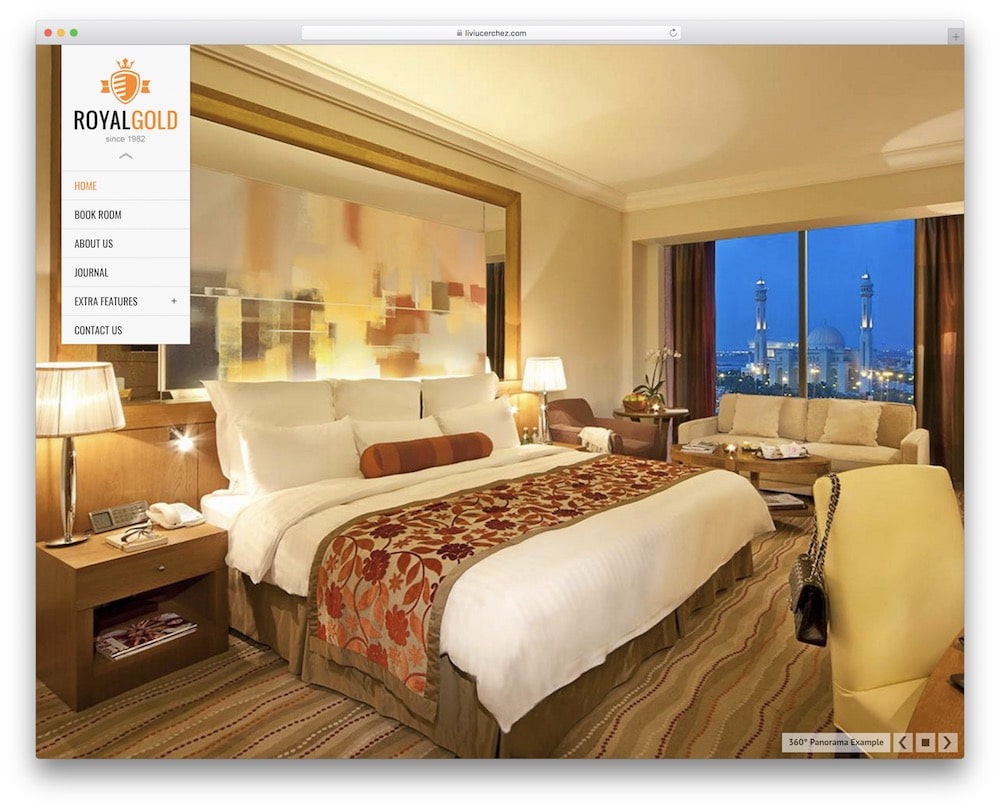 The luxury life is here, where are you? Feel the beauty of DOLCE VITA with RoyalGold luxury WordPress theme.
This elegant and impressively designed theme has everything you need for a successful and extravagant accommodation business.
You can easily customize the default look of RoyalGold to fit all your needs. Even the busiest hotel owner can do it!
The theme is also ready to translate it into any language you wish.
GO WORLDWIDE.
Top-quality plugins and RoyalGold's layouts handle your bookings and customers with ease.
Your customers can make a reservation or send you a direct message about your comfortable accommodation within seconds.
CHANGE THE GAME with RoyalGold.
RoyalGold features:
700+ sales
4.6/5 star rating
Around since 2013 (!)
Immersive 360-degree panorama view
Price: $50 (may vary)
MORE INFO / DOWNLOAD
DEMO
15. Luxury Restaurant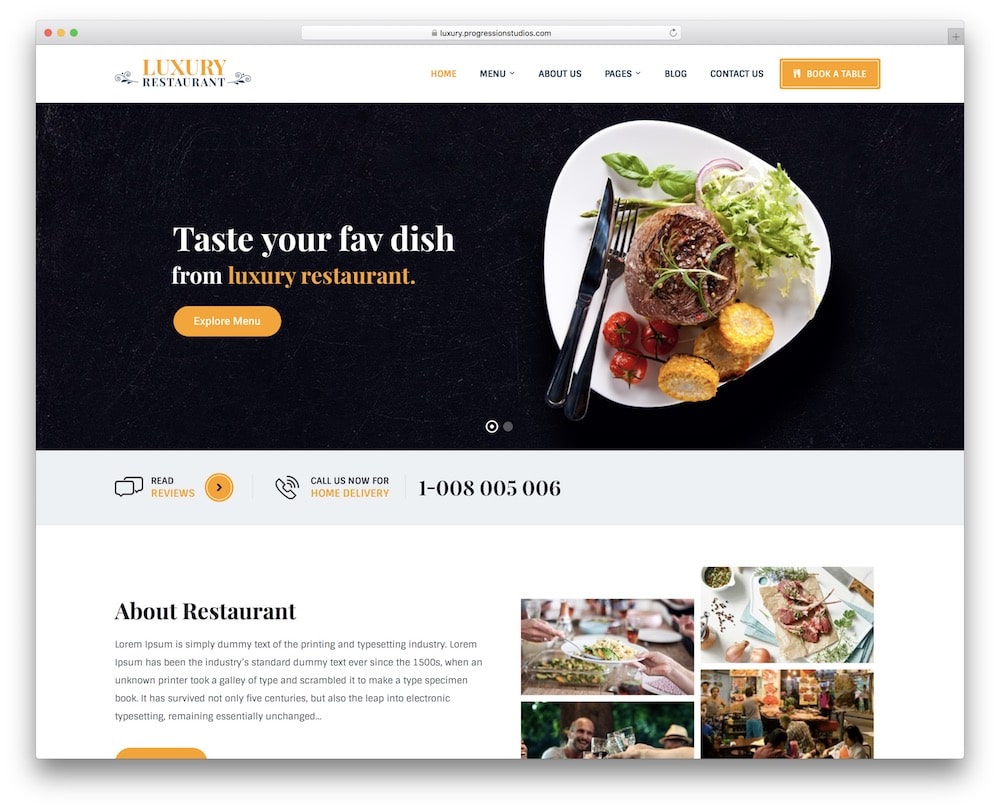 Rich, luxurious, and convenient WordPress theme, Luxury, will BLOW YOUR MIND away. Luxury offers two homes, various elegant inner pages, and multiple menu options.
Legendary Luxury includes the most popular tools such as WPBakery, Slider Revolution, and mega menu plugin.
The theme is also SEO-ready and includes an eCommerce element for your fancy products.
The time for Luxury and your extraordinary dish masterpieces has arrived.
Luxury Restaurant features:
60+ sales
4.6/5 star rating
Food business owners – You're WELCOME
Practical demo data installer/wizard
Price: $59 (may vary)
MORE INFO / DOWNLOAD
DEMO
16. Luxury Wine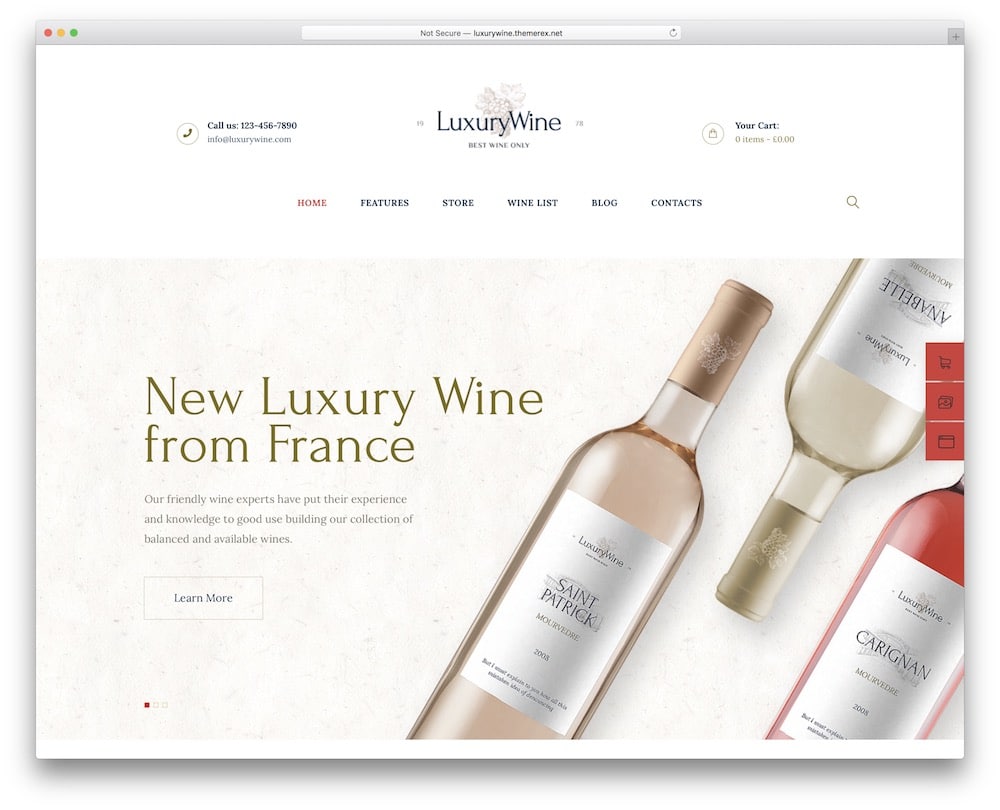 Think Luxury? With a fresh and modern Luxury Wine theme, you will reach new heights and add spice into your life.
Keep in mind, your wines (and yummy grapes) are for people who deserve the best. Luxury Wine has MULTIPLE SOLUTIONS on how to present your vineyard business to new amazing customers brilliantly.
Luxury Wine provides an excellent user experience on your new website. It features an awesome swipe effect, responsive design, and mobile optimization.
Besides, Luxury Wine is easy to use, fully customizable, and bundled with BADASS tools and features.
NO. CODING. REQUIRED.
Luxury Wine outshines the rest.
Luxury Wine features:
540+ sales
4.8/5 star rating
High-star ratings
100% GPL licensed
Price: $69 (may vary)
MORE INFO / DOWNLOAD
DEMO
::
Note: This article was originally published on May 8, 2021. But our team regularly reviews it and updates it with necessary improvements for accuracy.