Agencies, companies, and freelancers, welcome my carefully researched and tested list of (the best!) marketing WordPress themes.
These are for everyone.
I eliminated 50+ themes, narrowing things down to the ULTIMATE 15.
Displaying your services, case studies & pricing, managing appointments, creating a portfolio and starting a blog is SO simple.
(You can even create an online store!)
You have everything you need for a fast start, creating a pro-level marketing website like a champ (without experience).
THE ULTIMATE 5:
Best Digital Marketing WordPress Themes
1. SEOWP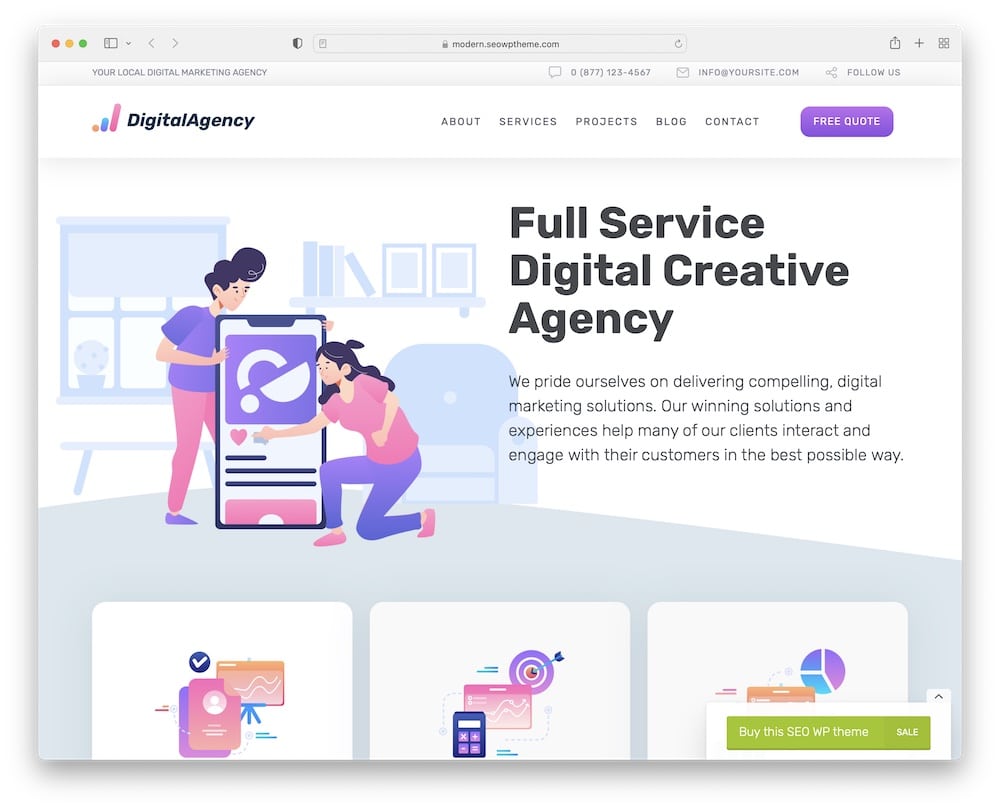 Let's start with SEOWP marketing WordPress theme. This theme comes as a complete ready-to-use solution for instant building (super simple install).
SEOWP focuses more on useful inner pages than numerous home pages (unlike other themes).
You get stunning 32+ custom designs to create anything you want! Plus modern icons, ingenious plugins, and useful elements.
Job done.
Also, it includes all the beautifully illustrated images – save thousands of dollars over time!
To top it off, SEOWP is totally translation-ready (no limits) – you can spread your business all over the world.
Pretty. COOL.
And now you can immediately connect with your audience through the social media plugin. HI5!
Just have fun with SEOWP.
SEOWP features:
15,200+ sales
4.6/5 star rating
90 custom illustrations (yew!)
Price: $59 (may vary)
MORE INFO / DOWNLOAD
DEMO
2. Panda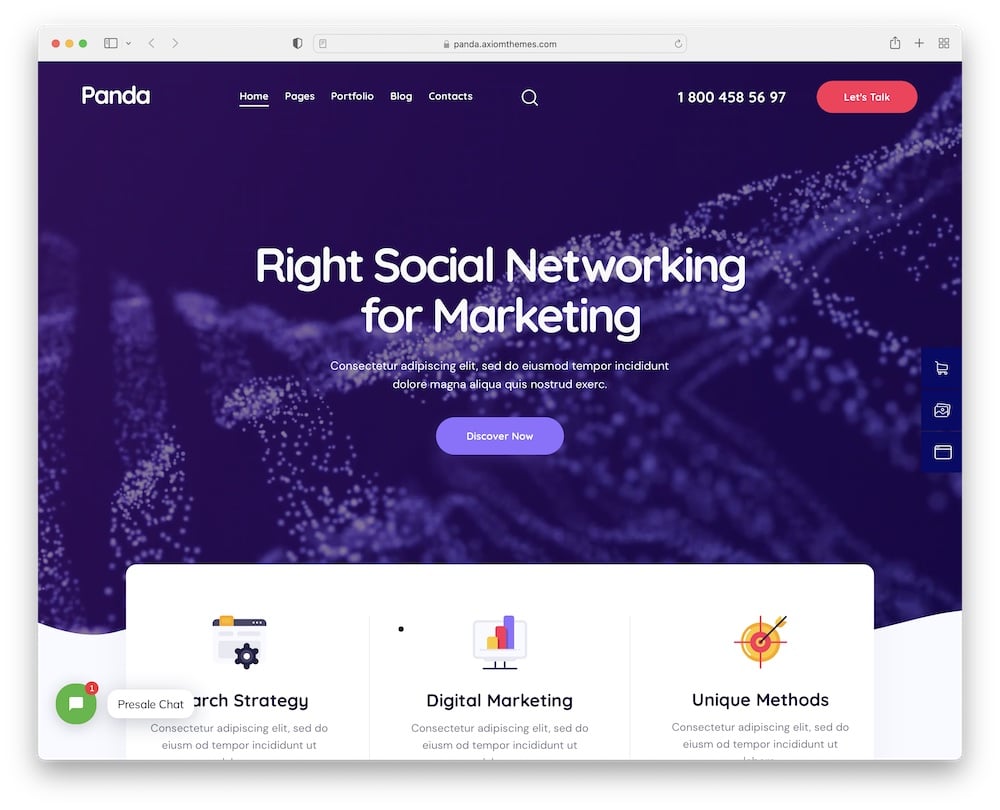 Let's keep going to see how you can use a gorgeous Panda marketing WordPress theme. Best suited for creative agencies, marketing bureaus, advertising firms, or digital & graphic design.
HIGH-POTENTIAL.
Panda includes three different homepages, several blog post layouts, portfolio design, and a unique header style. YUP, it is modern, flexible, and fully adjustable.
Besides, Panda is cross-browser compatible (Firefox, Chrome, Safari, etc.), meaning all of your visitors are equally welcomed by your amazing website.
And if you're like most people – you will LOVE the bundle of plugins you get! SUCCEED AT 100%.
Detailed documentation, regular updates, and professional support? OH YEAH, Panda has your back.
Now over to you!
Panda features:
110+ sales
5/5 star rating
Multi-level drop-down menu
Price: $59 (may vary)
MORE INFO / DOWNLOAD
DEMO
3. Seocify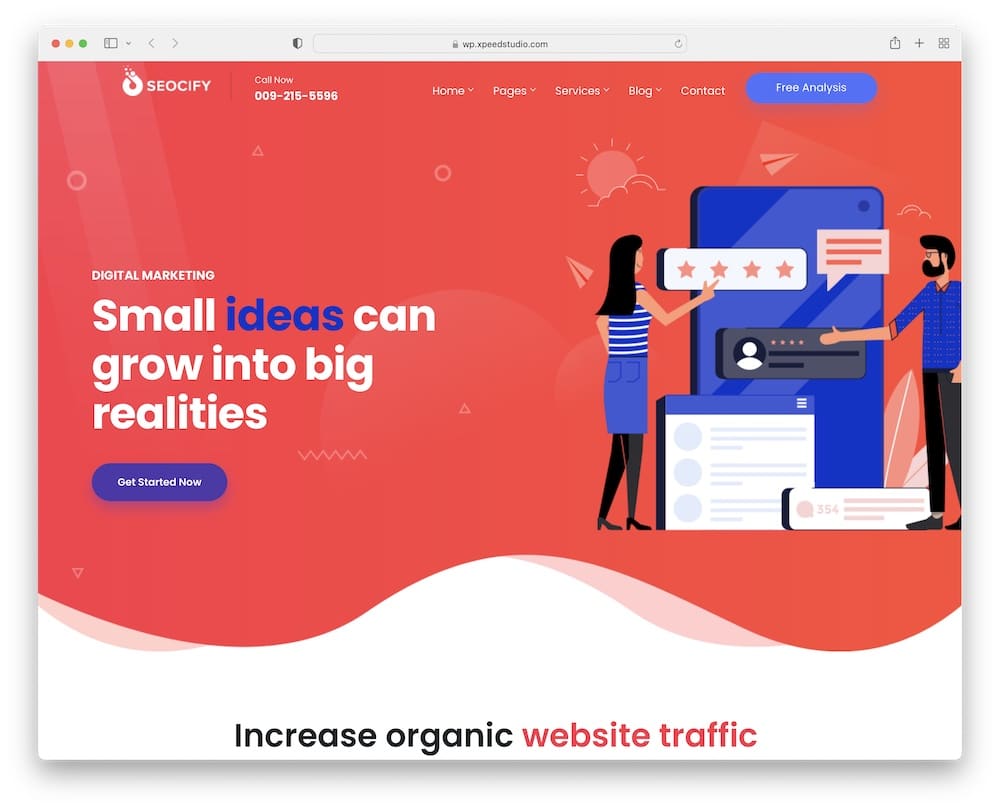 Seocify marketing agency WordPress theme has a number of really great things about it!
First: It includes Elementor page builder. YES, just drag & drop, baby (O coding or design experience required)!
Second: it's jam-packed with helpful tools such as Slider Revolution, WooCommerce, Contact Form 7, and MailChimp. I know sunshine and rainbows!
Too much greatness to enumerate further:
Ready-to-use homepages, numerous icons, smooth animations, unlimited colors, and Google fonts, etc.
What more can I say? You get it all!
Once you've determined what your site should look like, there is "no end" for you with Seocify!
If some problems show up (?) troubleshoot them with brilliant Seocify customer support. Oh, and you even get FREE lifetime updates! My jaw dropped as well.
Seocify features:
2,400+ sales
4.8/5 star rating
Supports one-page layout
Price: $49 (may vary)
MORE INFO / DOWNLOAD
DEMO
4. Borgholm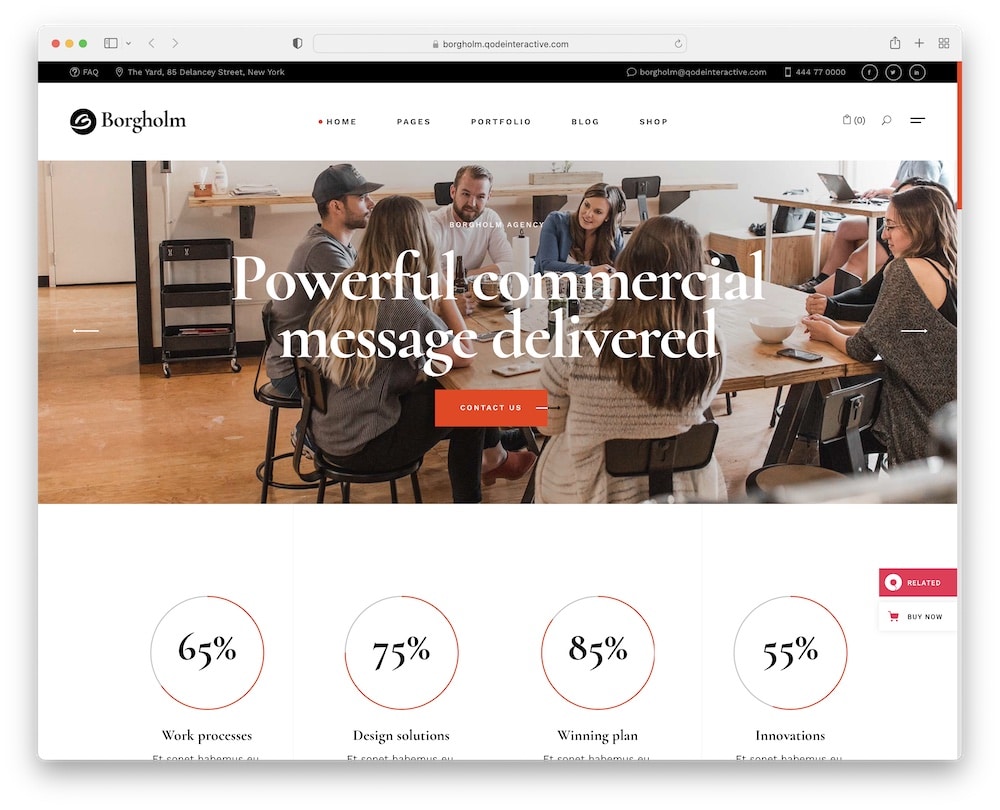 Okay, by now, you've got a better idea of marketing WordPress themes. With previously described features in mind, I present you clean and minimalistic Borgholm.
Such a stunner!
Do yourself a favor and elevate your business (the easy way) with this highly customizable theme. RISK. FREE.
Memorable pre-made demos will definitely help you smash successfully through your goals. Plus, fully responsive design of Brogholm offers reliable display on all devices & screens.
LUV.
Want to showcase your joyful projects?
No prob, Borgholm is packed with gorgeous templates and multiuse layouts. Also, you can build your online store due to the amazing WooCommerce plugin (so practical)!
Oh man, and Borgholm is SEO optimized (BLISS) and even comes with a child theme.
Stay on top with BADASS Borgholm.
Borgholm features:
1,000+ sales
4.6/5 star rating
Just stunning design (!)
Price: $69 (may vary)
MORE INFO / DOWNLOAD
DEMO
5. Kudos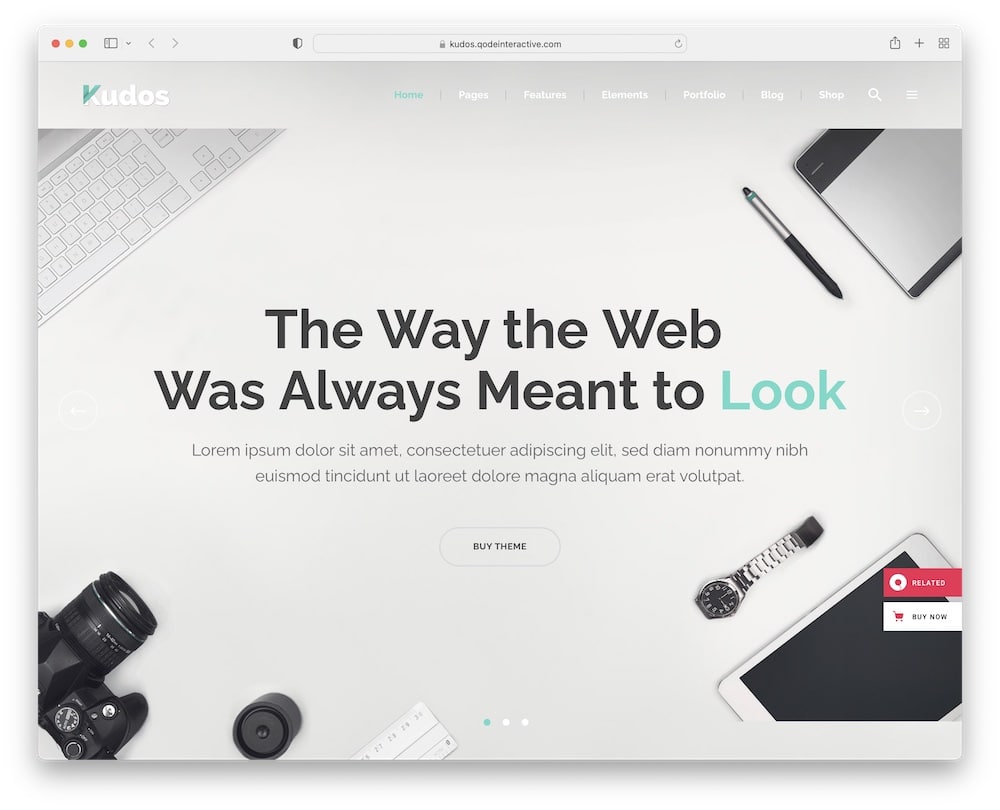 Quality marketing offers juicy rewards for those who can pull it off successfully. SO create a good business website with stunning Kudos marketing WordPress theme and be a HIGH-TICKET brand.
Kudos is a modern, elegant, and flexible theme, created for innovative agencies, freelance designers, or marketing experts.
It offers 27+ homepages (import with one click), various portfolio styles, different blog layouts, numerous shortcodes, and custom sidebars.
Everything you see can be quickly customized (hassle-free!).
Go straight in.
And mate, Kudos is translation-ready. Hit as many countries as you wish!
Kudos features:
930+ sales
4.7/5 star rating
Portfolio & gallery
Price: $69 (may vary)
MORE INFO / DOWNLOAD
DEMO
6. Seofy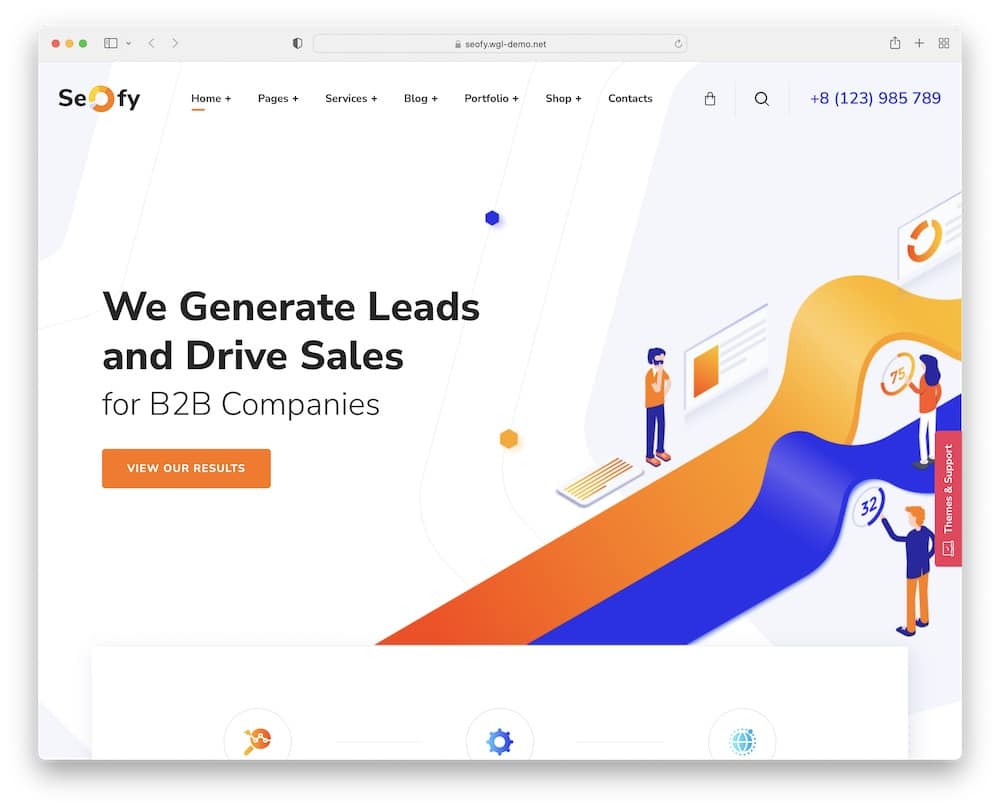 Go above and beyond the call of duty for the success of your business with a modern Seofy marketing WordPress theme.
I am IN!
Seofy is fully responsive and looks great on all devices.
Plus, it is cross-browser and high-speed optimized: remember how unbearable it is when a website works slow, right?
Moreover, Seofy is 100% customizable (repair and correct whatever you want), AND you don't need any coding or design knowledge to do it.
Heck YES!
By the way, with a fantastic WooCommerce tool, your online store is just minutes away!
Oh, and if you run into any problems or dilemmas, Seofy customer support has your back. Everyone can win with sassy Seofy.
Seofy features:
1,500+ sales
4.5/5 star rating
Blog, portfolio & shop
Price: $69 (may vary)
MORE INFO / DOWNLOAD
DEMO
7. Ewebot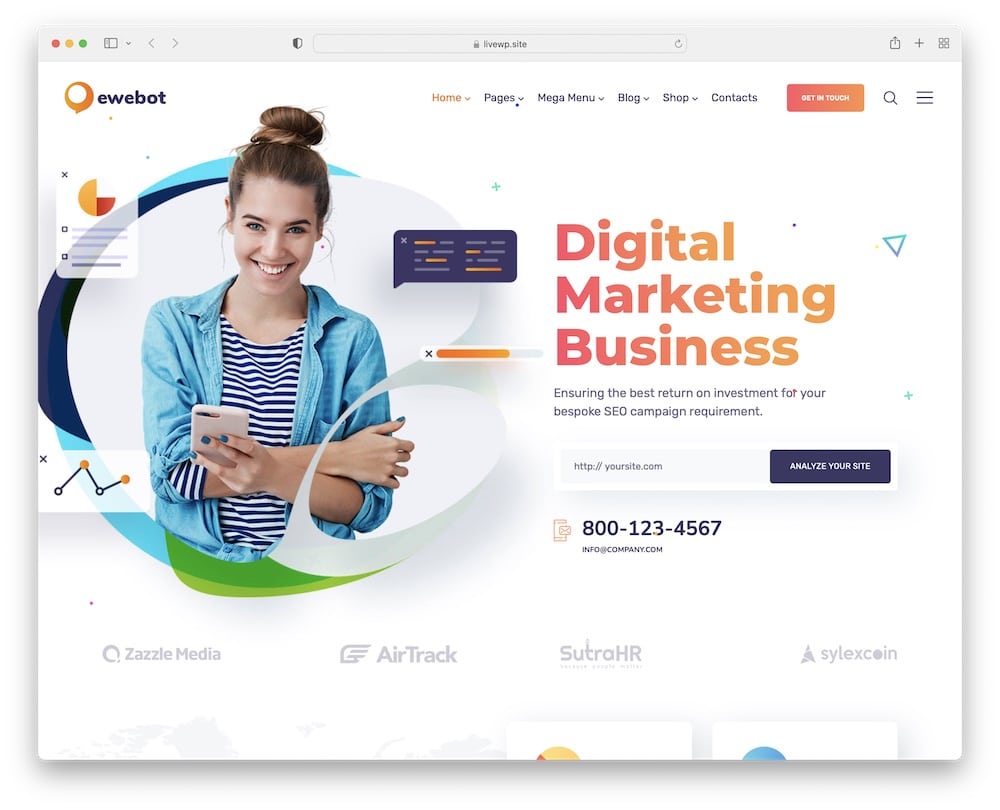 Get creative with a beautiful and responsive Ewebot SEO marketing WordPress theme. It includes 12+ hair-rasing homepages, awesome pre-made layouts, and various widgets.
HOT.
Ewebot comes with a powerful Elementor page builder – a drag-n-drop technique that is simple to learn and use. In short, you are in full control of your website look.
HI, BOSS!
Not to mention, Ewebot has a good structure (well-written code), is SEO optimized, and offers lifetime support and update (what a bargain!). Oh, man, it's also fast as a speeding train.
And to kick ass + conquer the world Ewebot is WPML & translation ready. Smart business goals have no limits!
Let's get crafting!
Ewebot features:
3,500+ sales
4.7/5 star rating
Unique slider
Price: $65 (may vary)
MORE INFO / DOWNLOAD
DEMO
8. Optimax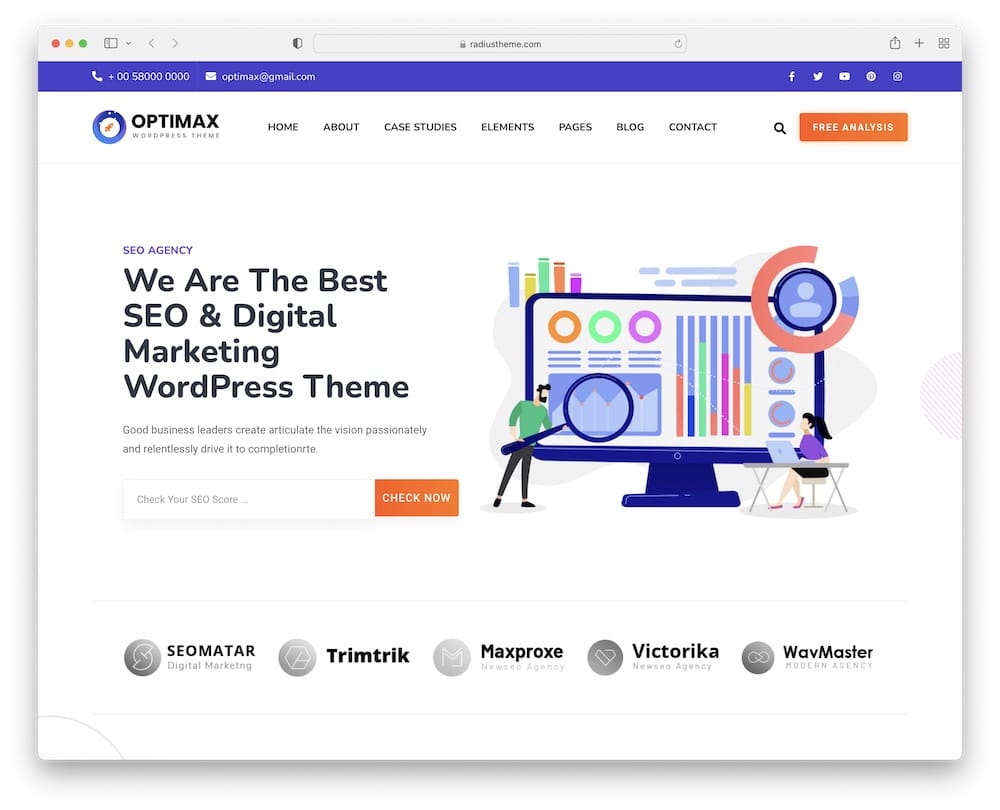 Optimax is a high-ticket marketing WordPress theme created for SEO service providers, email marketing, or digital and design agencies. It allows you to change, mix and match its elements, pre-made designs, and blocks, as you wish & desire (included Elementor builder, YAY).
It comes with three ready-to-use demos, five header styles, different inner pages, two portfolio layouts, and case studies pages. Also, you can work with a child theme.
How about that?!
Keep in mind that Google fonts and colors are unlimited. It's okay, you can brag about it.
I agree, everyone deserves to work with the best (!) SO Optimax fully supports Gutenberg. Be a part of revolutionized future of publishing and building with WordPress. Lots of fun potential.
Give it a try – today!
Optimax features:
220+ sales
4.8/5 star rating
Cool case study layouts
Quick support
Price: $29 (may vary)
MORE INFO / DOWNLOAD
DEMO
9. Markino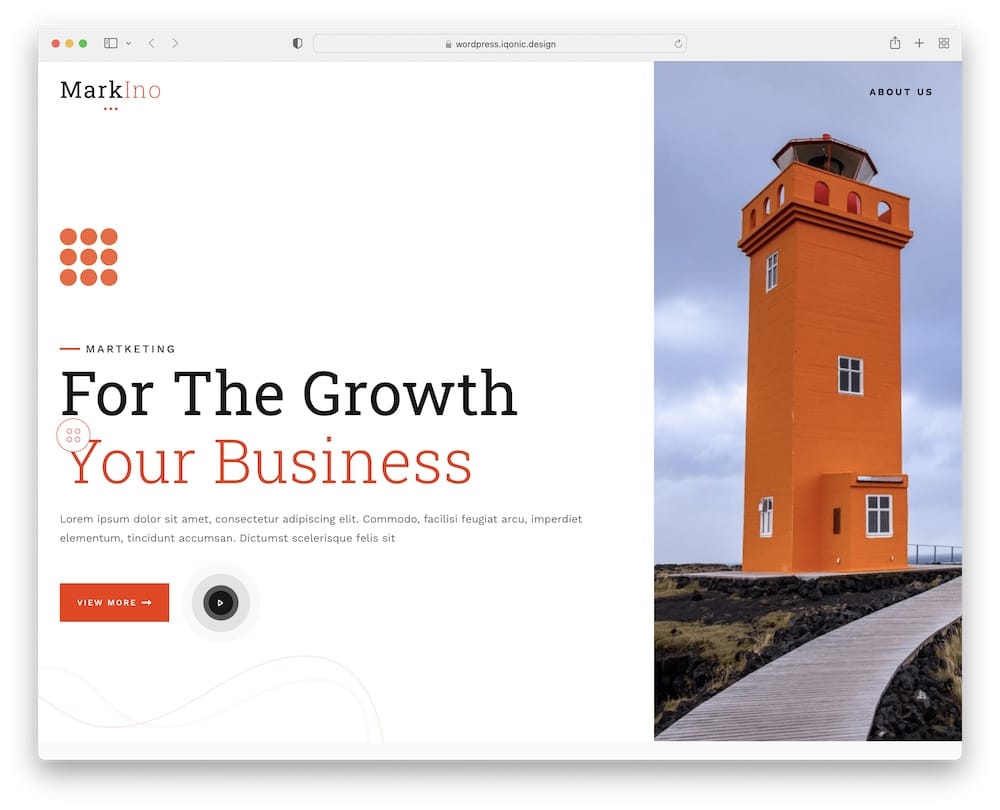 I am very enthusiastic about a minimalistic Markino marketing agency WordPress theme. The design of Markino immediately arouses brand trust, and awe visitors with its professional look.
Dynamic and powerful.
Elementor, Slider Revolution, and Contact Form 7 dominate their performance. WORK with the most popular (Hall of Fame) out there!
Moreover, with customizable Google Maps, simply show people how to find or contact your business.
Also, you can offer customers credibility through reviews of your previous services.
Win-win scenario.
And above all Markino provides a guarantee with its clean code, professional customer support (top of its class), and lifetime free updates!
I know you know Markino is perfect for you.
Markino features:
10+ sales
4.5/5 star rating
Minimalist look FTW!
Excellent documentation
Price: $49 (may vary)
MORE INFO / DOWNLOAD
DEMO
10. BoostUp

Let's talk about your future with BoostUp marketing WordPress theme. This gorgeous theme is goal-focused to build the best website for your business. Plus it comes with everything you need (irresistible offer).
With a pre-made collection of portfolio styles, you can display your creations, projects, work, and much more stunningly!
BE. BOLD.
Moreover, your stories are powerful weapons, SO start blogging, share your experiences and engage with your audience in a smart way. Blog layouts and social media shortcodes are waiting for you.
HURRAY!
Remember, BoostUp is highly customizable, fast to install (one-click demos), responsive, and packed with the perfect plugins.
Just hit the buy button!
BoostUp features:
570+ sales
4.6/5 star rating
Price: $69 (may vary)
MORE INFO / DOWNLOAD
DEMO
11. Ultima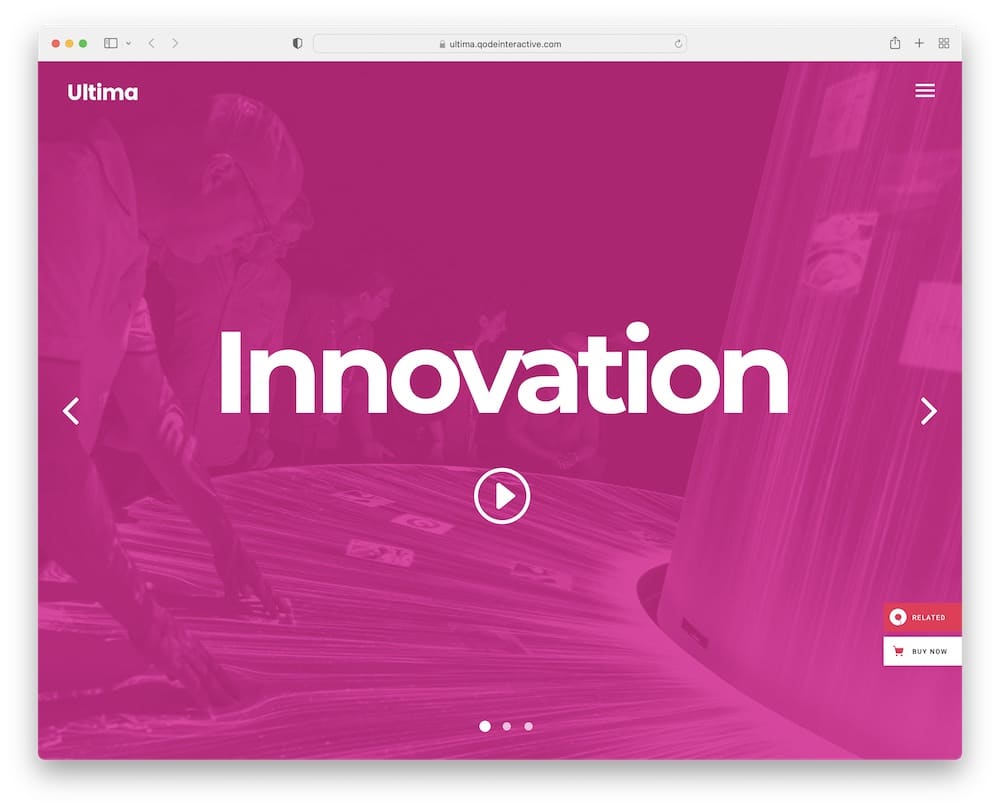 Use the power of a fresh Ultima digital marketing WordPress theme and create your dream website, today!
Ultima comes with a huge collection of useful shortcodes, beautiful pre-designed (24!) homepages, numerous layouts, and different header types. You also get smooth transition, video background sections, and unique icons.
AWESOME.
Of course, Ultima is integrated with social media – offering you a simple connection with your audience.
Oh, and you can even address your potential clients in different languages due to totally translation-ready options. Ultima is open to all!
Brand and style your page, original, BE you with Ultima.
Ultima features:
910+ sales
4.4/5 star rating
Interactive infographics
IG & Twitter feeds
Price: $69 (may vary)
MORE INFO / DOWNLOAD
DEMO
12. Qutiiz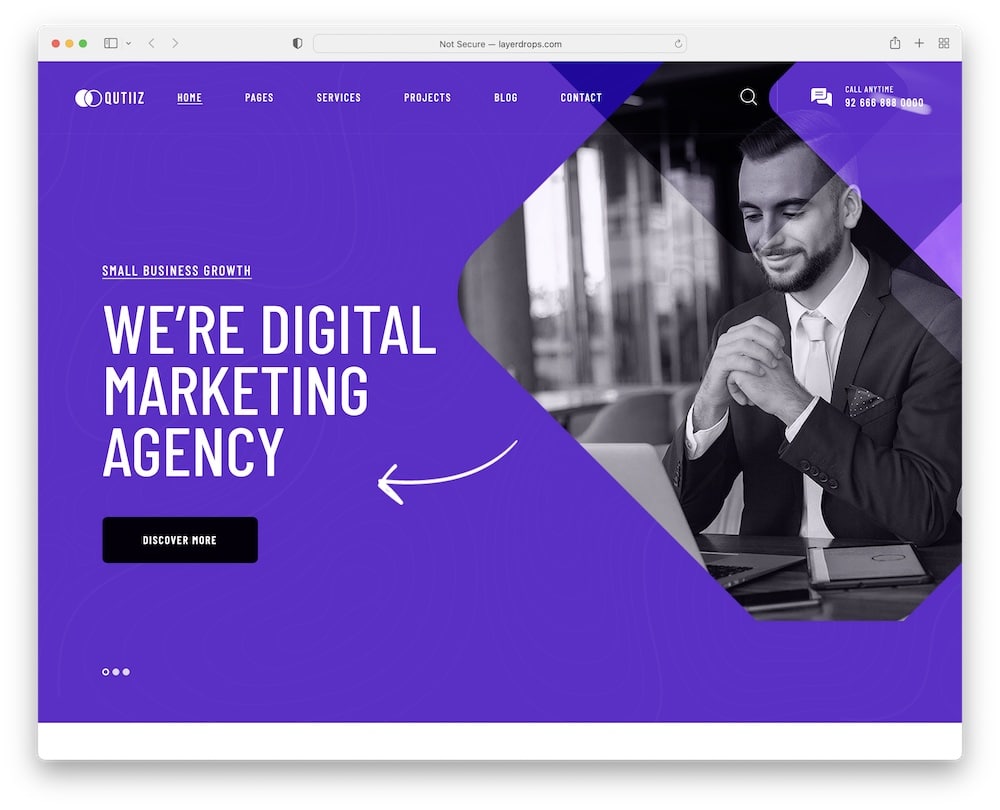 Qutiiz marketing WordPress themes is perfect to create the most popular website for your business. (Whether you are building your first site or writing code for a living!)
First: Awesome demos! YUP Qutiiy comes with different ready-to-use versions for quick and simple impact.
Of course, import and setup are easy-to-do, plus rich features offer many possibilities.
REARRANGE. IT. AS. YOU. WISH.
We tested Qutiiz on real devices to guarantee the fully responsive design & cross-browser compatibility, so your visitors will have the best experience surfing your website. GREAT!
And buddy, say HELLO to stunning animations & parallax backgrounds. My pleasure, uh?
Grab Qutiiz at this great price!
Qutiiz features:
60+ sales
4.5/5 star rating
Fast loading
MailChimp integration
Price: $39 (may vary)
MORE INFO / DOWNLOAD
DEMO
13. Ryse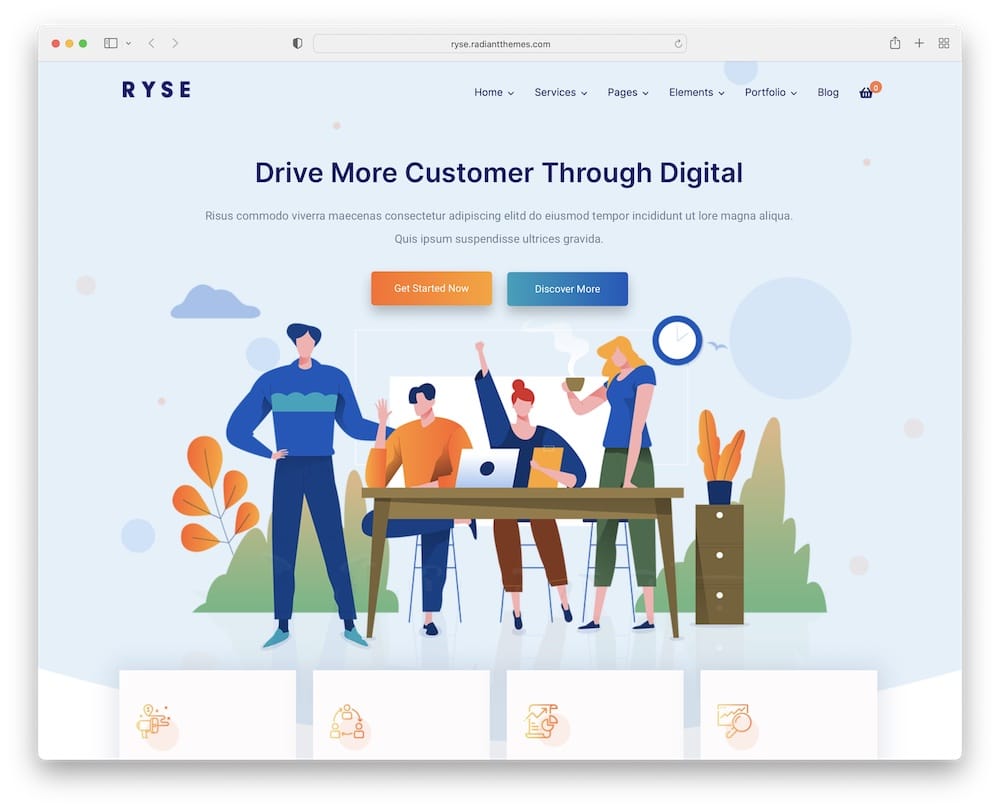 If you're ready to build your website, keep on going and check Ryse digital marketing WordPress theme.
Ryse was created for businessmen (saves you lots of time) – YUP, you need just 15 minutes and you are setup-n-running with your new site (stunning ready-to-use designs).
A true masterpiece!
Besides, Ryse includes amazing tools (!!!!) such as Elementor, Contact Form 7, and WooCommerece. Also, my friends, it is Gutemberg ready.
BIG. DEAL.
Loading speed? Makes me OOOOOH and AAAAAH every time!
Plus, Ryse comes with multiple blog layouts with various styles and formats.
Let the magic start with Ryse!
Ryse features:
1,700+ sales
4.6/5 star rating
Price: $49 (may vary)
MORE INFO / DOWNLOAD
DEMO
14. SEOLounge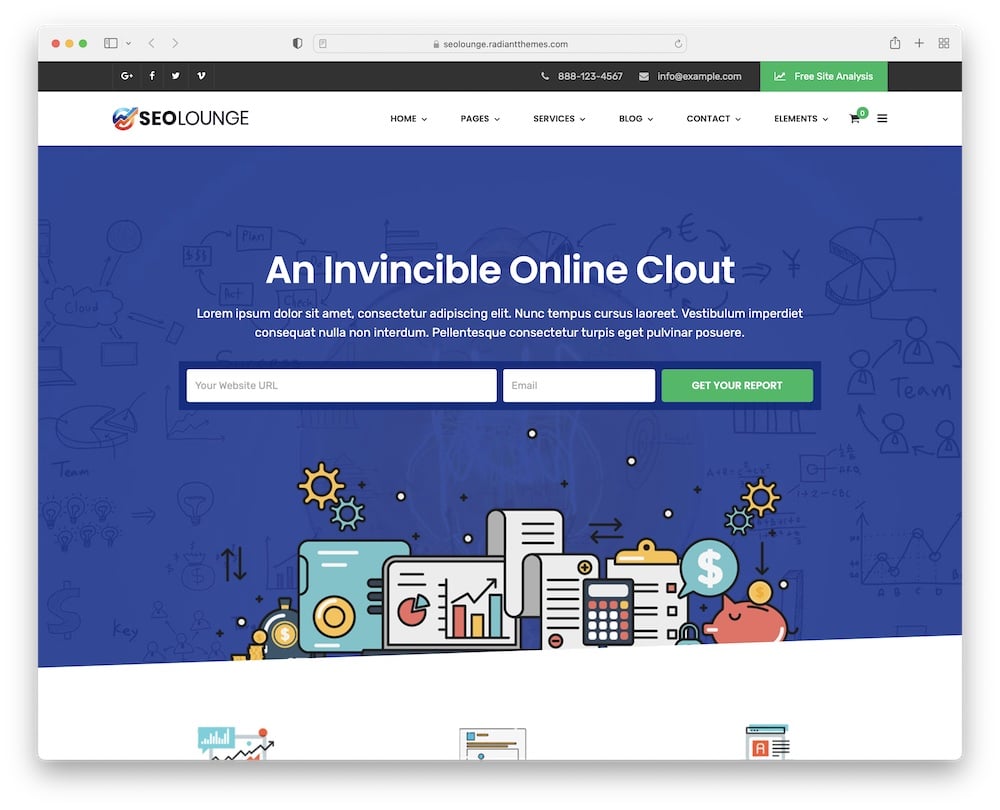 SEOLounge marketing theme is a refreshing, effortless way to create your website. Ideal for digital agencies, marketing companies, or design studios (where imagination lives).
Unclog your potential!
Remember, brilliant SEOLounge undoes your design blockage (NO previous coding knowledge required), so you can do business the way you want!
SHOWTIME.
You can easily mix and match from tons of designs, demos on the fly, template blocks, pre-built inner pages, and custom elements. Plus, a bundle of popular plugins (FREE) is a playful path to success.
More, with the added mega menu you can re-style menus and change them exactly as you wish. Just say GOODBYE to poor, ineffective-looking navigation.
Show off your SEOLounge site! #pride
SEOLounge features:
2,000+ sales
4.7/5 star rating
110+ template blocks
Creative buttons
Price: $59 (may vary)
MORE INFO / DOWNLOAD
DEMO
15. Betakit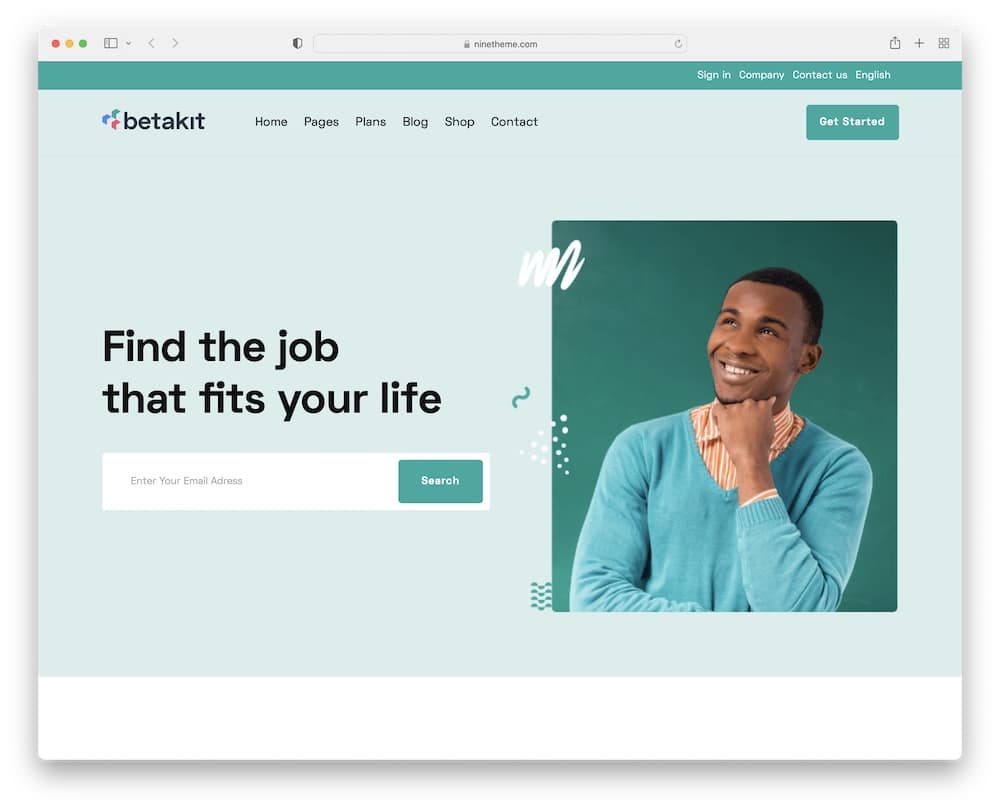 Keep it light-hearted with stunning Betakit digital marketing agency theme. This modern and responsive theme is both flattering and extremely customizable (unlimited editing options).
If like me, you love powerful features (!), prepare for amazing Elementor, Slider Revolution, Contact Form 7, and parallax effect.
HIGH. SCORE.
Also, Betakit is translation-ready – YUP, you can turn your site into any language you want. (Happy dance.)
Facing problems? No worries, experienced customer support is available and here to help you. I slap your hand, you slap my hand, and we all slap a Betakit hand!
Betakit is really worth a look!
Betakit features:
350+ sales
4.9/5 star rating
Client logos
Price: $49 (may vary)
MORE INFO / DOWNLOAD
DEMO