Are you searching for the best library WordPress themes to create your website fast?
This is the collection I have been working on for the past three months after studying 30+ WordPress themes, including their smallest details.
But it's these nine that are the GREATEST ones.
Each comes with fantastic designs and a (large) set of features and functions to cover the making of your library website.
And you don't need any skills and experience to make it happen!
This post covers:
You've never been readier than you are right now.
Quick-Pick: My Favorite WP Themes For Libraries
Remember to check how to choose a WordPress theme, where we reveal the nine key tips.
Best Library WordPress Themes
If you need assistance with installation, check Ales's approach to how to install a WordPress theme quickly.
1. Scientia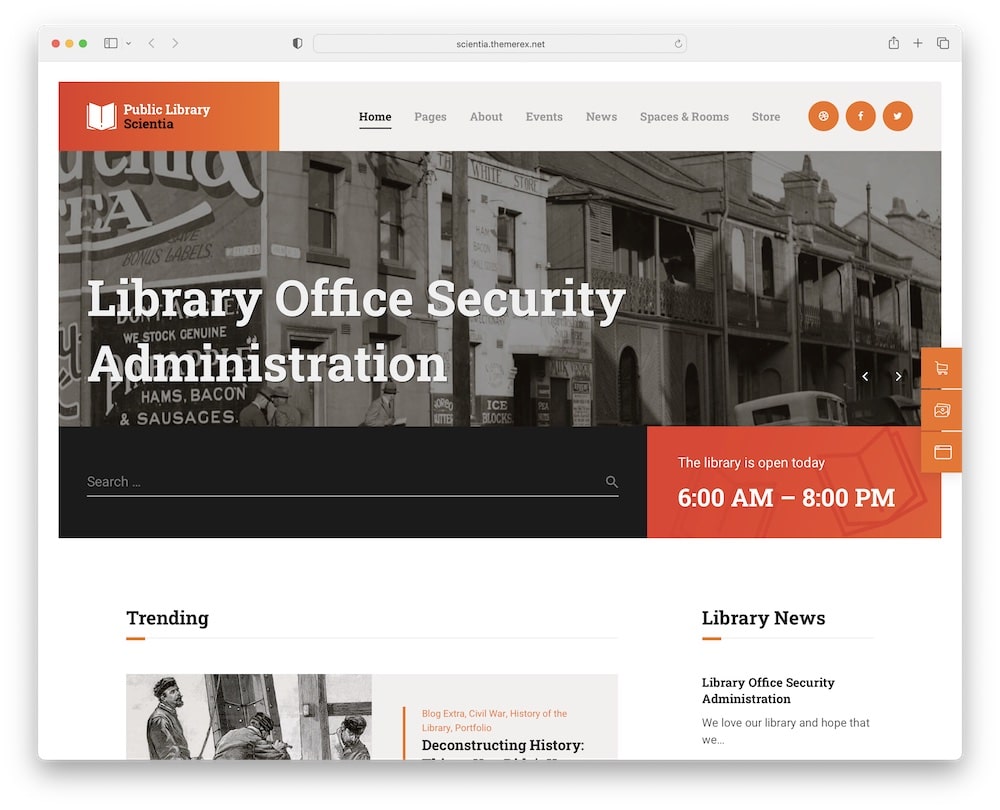 A truly AWESOME public library contains something for everyone!
My point?
Check out the Scientia theme and build a powerful community for passionate readers.
Modern Scientia comes with a one-click demo installation, pre-made blog layouts, fully customizable header & footer design, and unique icons.
You will have so much FUN exploring all the possibilities!
Furthermore, Scientia is bundled with the most popular plugins like WPBakery, Slider Revolution, Contact Form 7, and MailChimp. Yup, that's all good!
Plus, the Events Calendar plugin is a great tool for managing events, introducing services, and promoting upcoming venues. You can also use Zoom for classes and events (I like it).
Welcome to the Scientia!
Scientia features:
260+ sales
4.8+ star rating
Regular updates
Comes with a WP child theme
Price: $69 (may vary)
MORE INFO / DOWNLOAD
DEMO
2. Bookshelf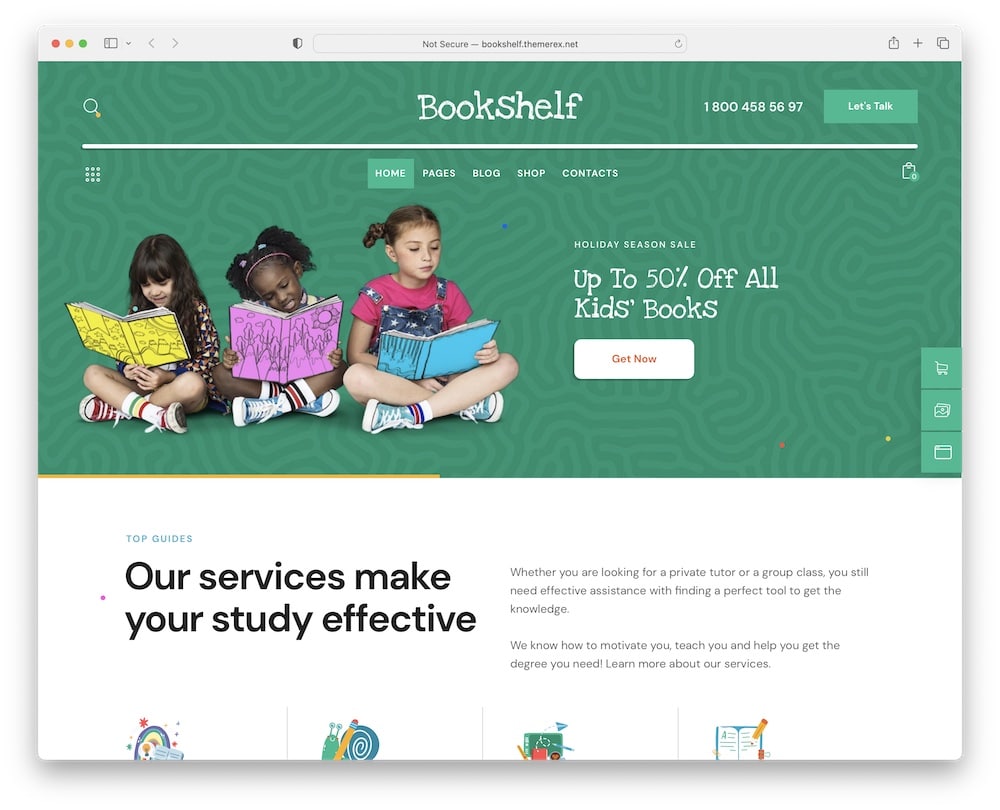 I think you should look at the Bookshelf library WordPress theme (trust me, I love libraries!).
This colorful theme is super easy to use (choose one out of four demos) and customize it to your desires.
A huge collection of elements, fonts, plugins, and layouts are at your fingertips to spice things up!
Bookshelf is 100% responsive, ensuring excellent performance on all devices. Yay.
Moreover, you should interact with the library community on Facebook or even make shorter TikTok or Instagram videos! Of course, Bookshelf is social media integrated (or use a social media WP plugin for extra features).
The best part: You get FREE lifetime updates. Fantastic.
Bookshelf features:
1,060+ sales
4.8+ star ratings
Price: 69$ (may vary)
MORE INFO / DOWNLOAD
DEMO
3. Pustaka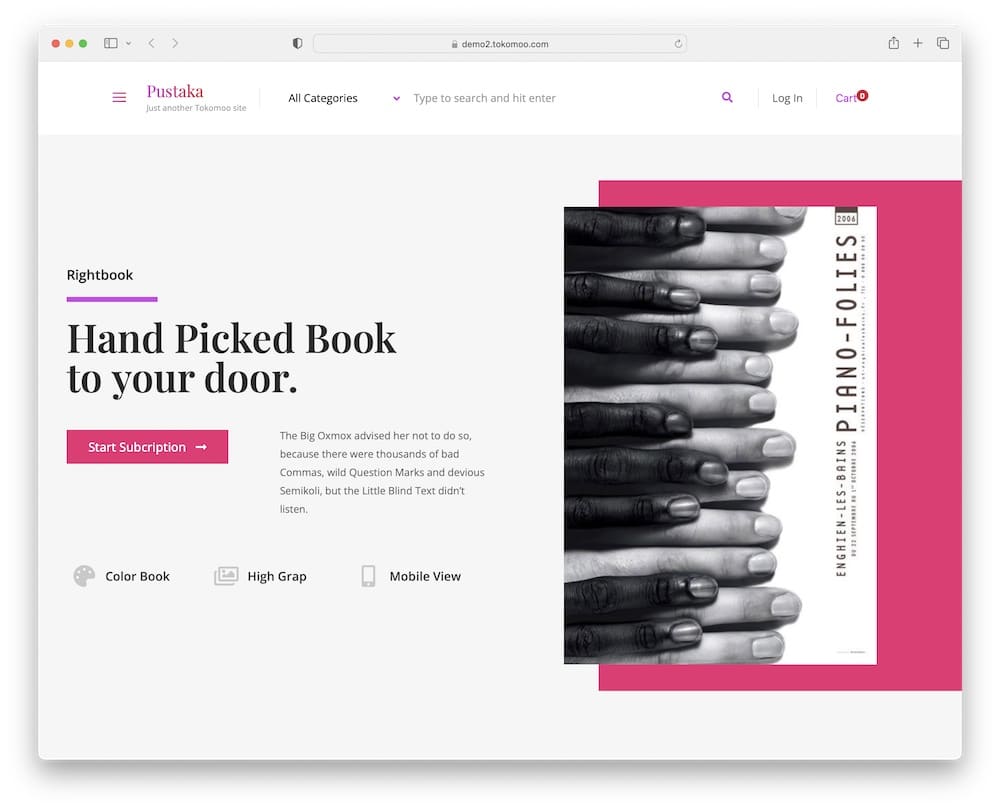 Post weekly content about the library industry, book trends, and librarian's stories through the Pustaka library WordPress theme. Time to set goals (and crush them!).
But at the same time, sell books!
This responsive theme includes a flexible mega menu, various headers (with a search bar – yay) & footer styles (with social media icons, yay-yay), and pre-made pages.
I also immediately noticed Pustaka's beautifully designed display for staff.
Moreover, a subscription form is always a good thing to have. Why? Because email marketing is still a thing!
Oh, and you should showcase valuable testimonials. I think we all know the phrase that HAPPY customers are the biggest advocates.
G.O.L.D.
Pustaka features:
890+ sales
4.1+ star ratings
Awesome book, movie, audio & game previews
Special section for authors & publishers
Price: $37 (may vary)
MORE INFO / DOWNLOAD
DEMO
4. Bookie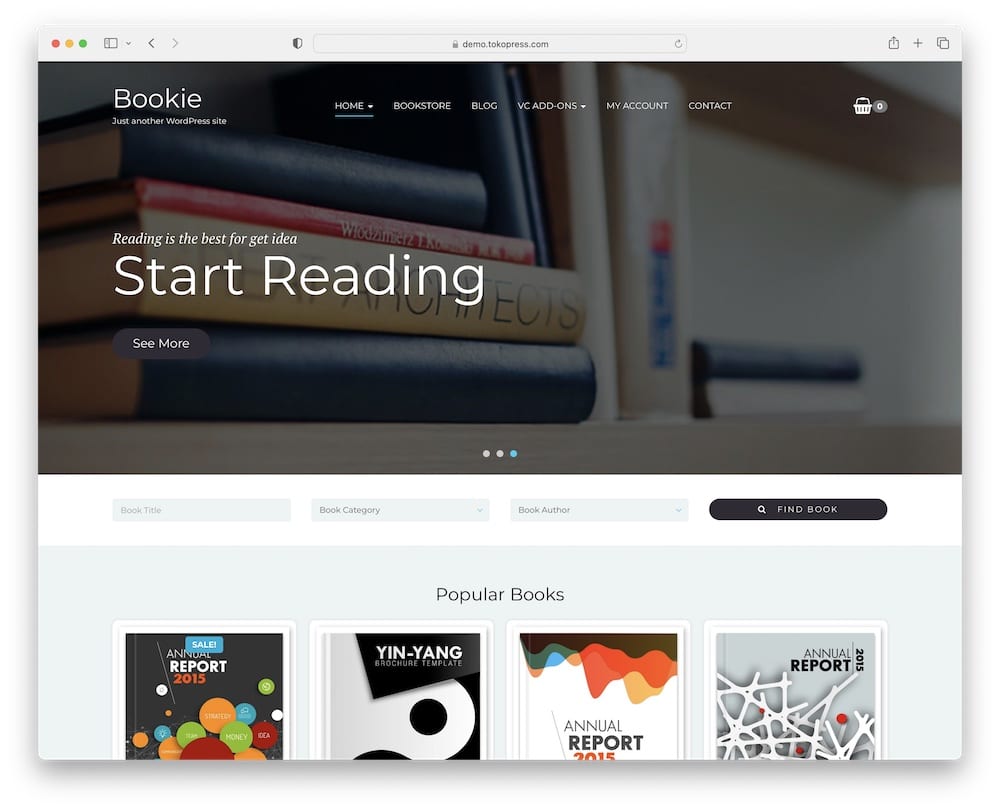 Modern Bookie library and bookstore WordPress theme is the perfect way to bring the library closer to people.
Simply shape your online presence with the aid of the WPBakery page builder (0 coding skills required).
You get a whole new look just by changing elements, adding functionality, customizing background and colors or fonts.
Easy and beautiful is how we roll!
Bookie is also fully translation ready if you want to go global or launch a website with multiple languages available simultaneously. (Use your favorite WordPress translation plugin.)
Nice.
Also, set out a red carpet and invite your visitors to the Bookie blog. As you know, I am a BIG fan of creative blogs with images, videos, or quotes.
Ultimately, do the best (I know you can!).
Bookie features:
670+ sales
4.3+ star ratings
Quick start with ready-made templates
Tested for fast loading speed
Price: $37 (may vary)
MORE INFO / DOWNLOAD
DEMO
5. Booklovers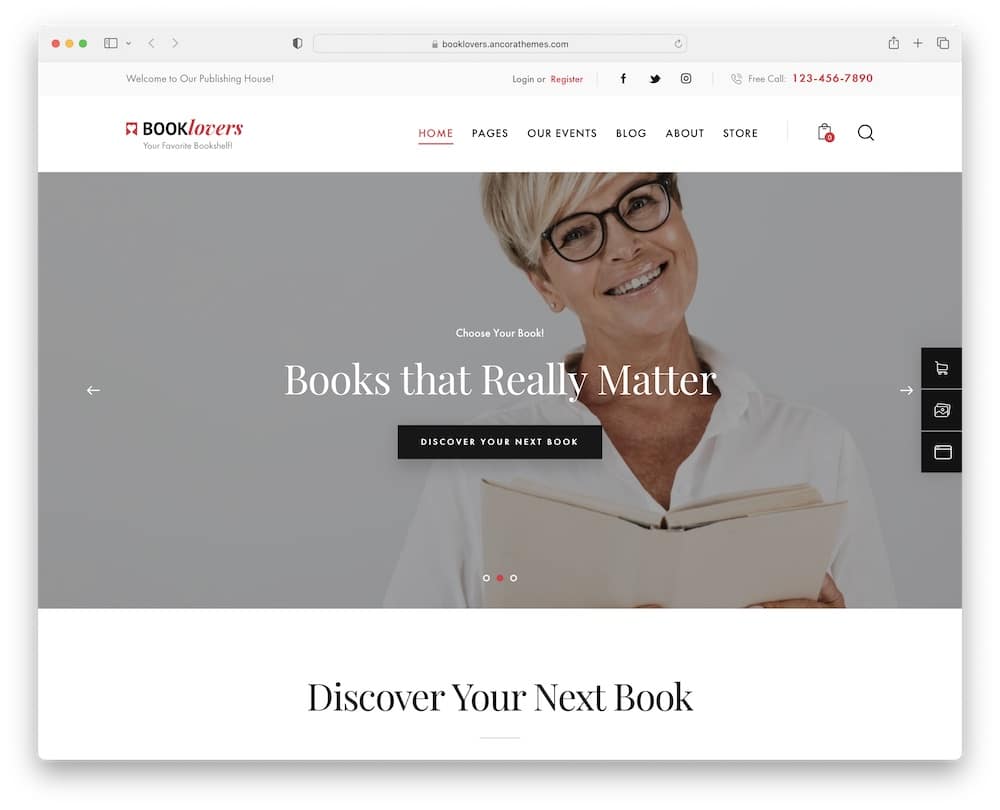 Take your library into the FUTURE with the elegant Booklovers WordPress theme.
Booklovers offers advanced design, the most popular plugins, and dedicated customer support.
Talk about leaving an impression.
Be impressed (like me!) with ready-to-use pages, the Events Calendar, extra WordPress widget areas, and social media integration. (You can also add social sharing to your WP site.)
More, please!
Booklovers is also SEO optimized – meaning you are prepared for a successful encounter with Google. Which is pretty COOL (obviously)!
Oh, and smart popups (no one likes annoying ones) can trigger great results. Tip: Give it a try. Don't forget to read our simple guide on how to add popups in WordPress.
Now translate all of this to your library.
Booklovers features:
1,600+ sales
4.8+ star ratings
Practical WP shortcodes
PDF flipbook (we also best WP PDF viewer plugins collection for more options)
Price: $69 (may vary)
MORE INFO / DOWNLOAD
DEMO
6. ChapterOne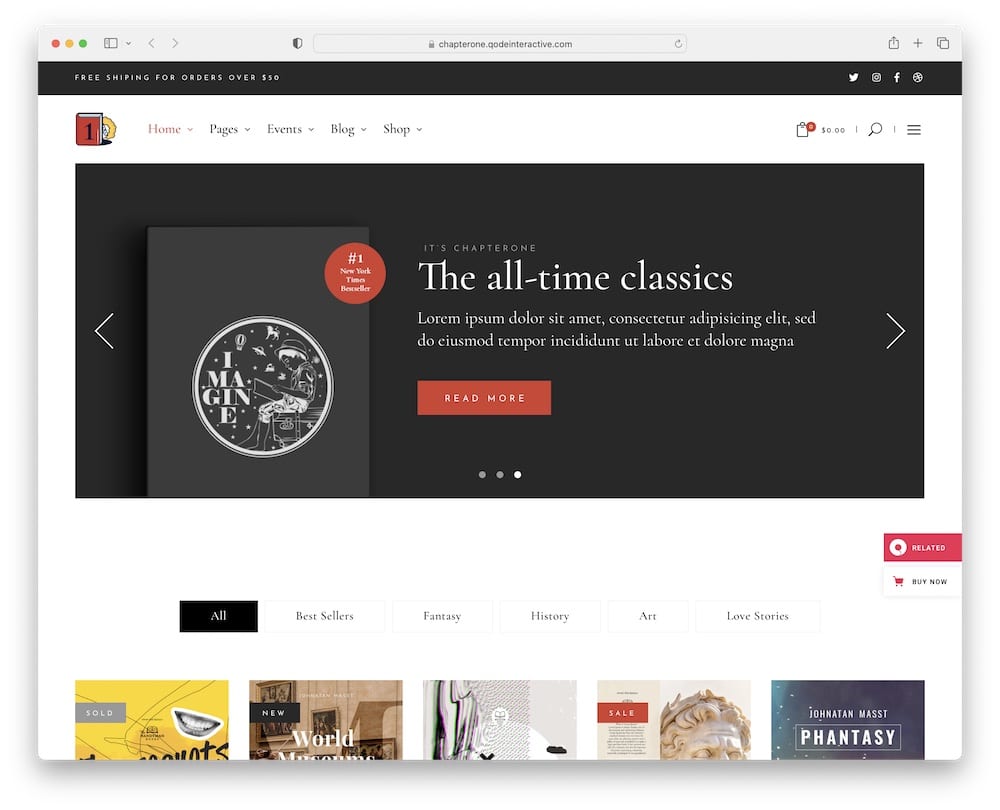 Ah, reading. Gotta love it!
If you want to share your love for books, you are in the right place: The ChapterOne bookstore and publisher WordPress theme.
This colorful theme includes ready-to-use homepages, useful layouts, and flexible inner pages.
Besides, I love the parallax theme effect and the magnificent smooth scroll.
Not to mention, ChapterOne comes with the best bundle of plugins! Yup, you get Slider Revolution, WpBakery, and WooCommerce. Hurray!
Plus, I think the mega menu is a brilliant navigation tool, SO use it wisely.
Moreover, you can also pick from many Google fonts and playful colors. (Or check our guide on how to change fonts in WordPress.)
And you don't have to wait!
You can start right NOW.
ChapterOne features:
980+ sales
4.5+ star ratings
Supports audiobooks
Various WP shortcodes
Price: $79 (may vary)
MORE INFO / DOWNLOAD
DEMO
7. Bookworm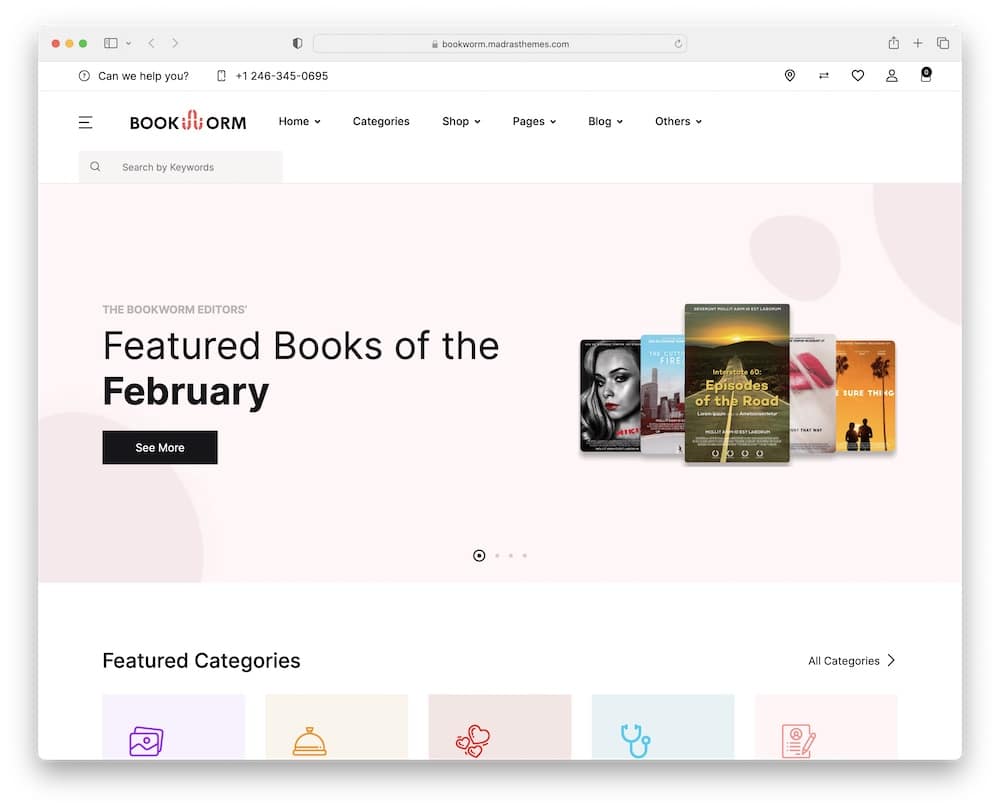 Here are some highlights about the pretty Bookworm library WordPress theme:
Bookworm offers thirteen pre-made homepages to choose from (!), so you have all the options to discover the one that thrills you the most.
One of the coolest things is 0. CODING. SKILLS. REQUIRED. to be creative with Bookworm.
Besides, you get pre-made header & footer styles, special presentation pages, and blog layouts.
I know what you are thinking: "I am in the right place right now." (I agree, you are!)
Plus, Bookworm is Gutenberg-ready. Yup, this block editor is all yours to style columns, galleries, colors, products, add widgets, and much more.
You'll have fun!
Bookworm features:
440+ sales
4.7+ star ratings
Author pages
Ajax product blocks
Price: $59 (may vary)
MORE INFO / DOWNLOAD
DEMO
8. Printpress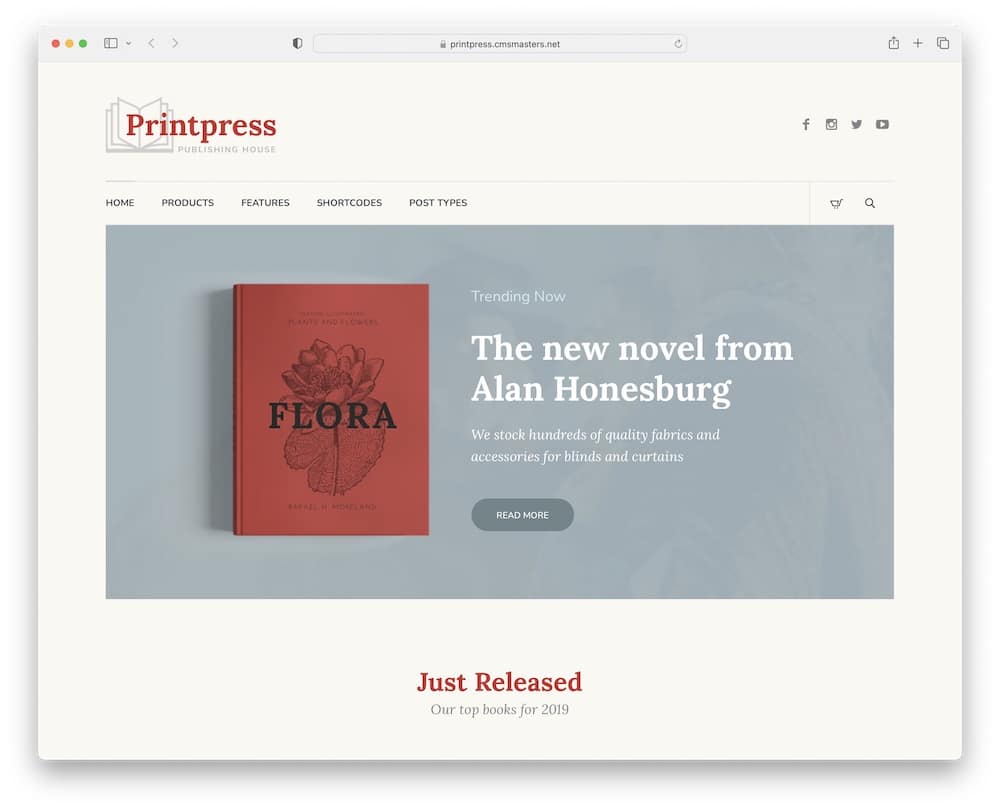 It's time to reach new audiences with the Printpress library WordPress theme!
You can start instantly with Printpress due to its pre-designed demos (it works right out of the box).
Pretty COOL, right?
Upload your content to create sections like About us, Staff, Portfolio, Gallery, and Contact info.
Besides, I think you should start a blog, introducing the latest library news, trending books, and literature projects.
Moreover, the Events Calendar plugin offers a handy display and schedule of meetings.
Printpress is optimized for great performance and even better user experience.
Important: especially young people need to have a great mobile experience while using the library on their phones.
Are you ready?
Printpress features:
310+ sales
4.7+ star ratings
Powerful & intuitive WordPress admin panel
Custom blog & portfolio templates
Price: $59 (may vary)
MORE INFO / DOWNLOAD
DEMO
9. Bookory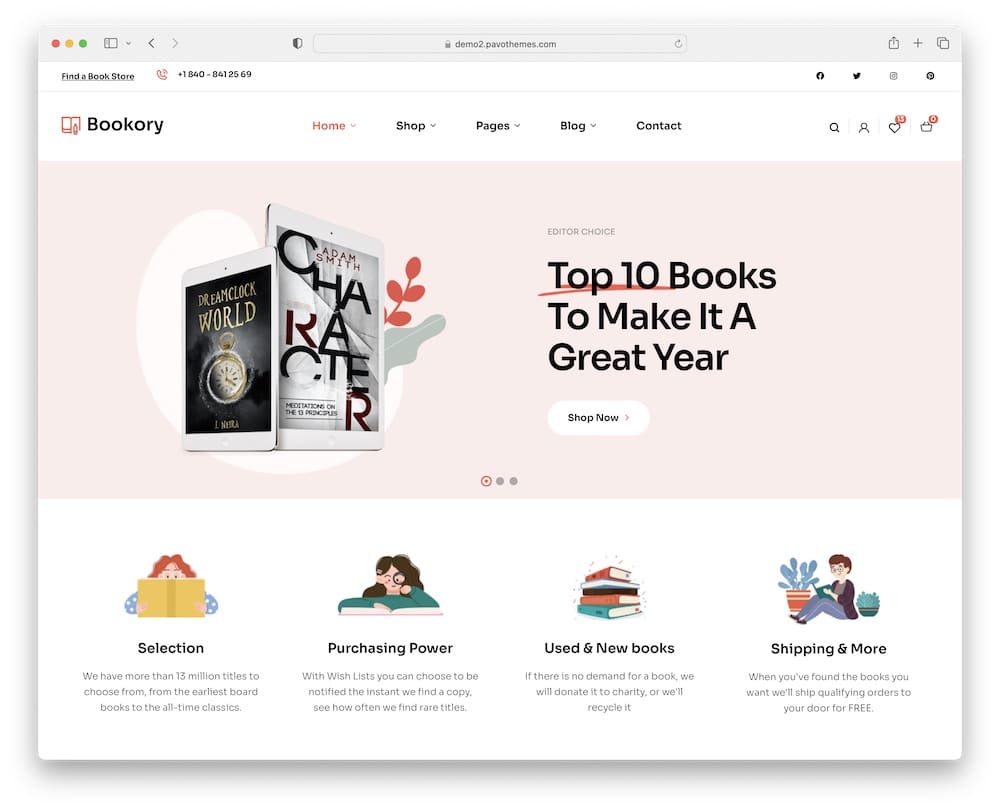 Have you heard of the Bookory library WordPress theme? I'm pretty new to this one.
It's ALL about a BOOK-focused design that you can easily customize to your desires. Remember, Elementor page builder is a magical tool!
At first, it seems complex but (trust me!) once you jump in, it's easy to work with.
Also, Bookory is optimized for high-speed performance and is SEO-friendly – I love it!
Settle in folks, it gets even better.
Modern Bookory includes detailed documentation and FREE customer support (6 months) if you encounter any dilemma. I'm happiest when I know somebody has my back!
Take a peek at Bookory today.
Bookory features:
480+ sales
4.4+ star rating
Deals countdown timer
Product quick view popup
Price: $58 (may vary)
MORE INFO / DOWNLOAD
DEMO
7 Features Of A Great Library Website
You want your library website to rock, so I want to share with you the seven key features it needs to have.
You cannot expect to reach the success you want to achieve without these.
These are must-haves, which I also looked for when testing the themes for this greatest collection.
How I Chose The Best Library WordPress Themes:
Responsive layout: It's a MUST that a website works and looks great on mobile devices, tablets and desktops. For this reason, I used Google's Mobile-Friendly Test to double-check that every theme is 100% responsive.
Speed optimized: The second important factor of a great library website is that it loads fast. While the lightweight theme (I used Pingdom Tools to test them) greatly contributes to this, you must also have solid web hosting to ensure fast loading. You can also read our tutorial on how to pick a fast WP theme. Plus, I also recommend a WordPress image optimization plugin.
Simple & practical navigation: Great navigation is mandatory whether you operate a small or a large library. I'm particularly a fan of mega menus, but you can make it happen with a more traditional drop-down menu. Also, don't forget about the search bar! (You can also use a WP search plugin if you need better functionality.)
Accessibility: Everyone needs to be able to access your website, including users with disabilities.
Minimalist design: Keeping things simple and clean will take you a long way. Don't bloat your website with unnecessary elements; stick to minimalism, focusing on your library items and content.
Blog: A library blog with news, tips, whatever, can be extremely rewarding for your users. Not just that, but you can also gain more traffic with great SEO optimization.
Events: I bet you'll be hosting events, too, right? A WordPress events plugin is a great solution to simplifying hosting an event – plus, you'll keep things a lot more organized.
This is it!
You now have everything you need to build the best library website.
Good luck.
::
Note: This article was originally published on November 5, 2022. But our team regularly reviews it and updates it with necessary improvements for accuracy.