Many users approached me to share my pick of the best mega menu Shopify themes because they wanted a solution to offer the ultimate navigation.
And then I thought, "If all of them want to know, I'm sure many more will benefit from them, too."
This collection was in the making for many years and included many clients.
The ultimate themes with mega menu feature that cater to any niche and general eCommerce website. (Quick & easy creation!)
You can use them for food, single product, boutique, landing page, bookstore, jewelry, etc. websites.
Make online shopping a happy experience for all your visitors.
This post covers:
Are you ready? I SO AM!
Quick Pick: My Favorite Mega Menu Shopify Theme
Best Overall Mega Menu Theme: Ella (works for EVERY store)
Best Mega Menu Shopify Themes
1. Ella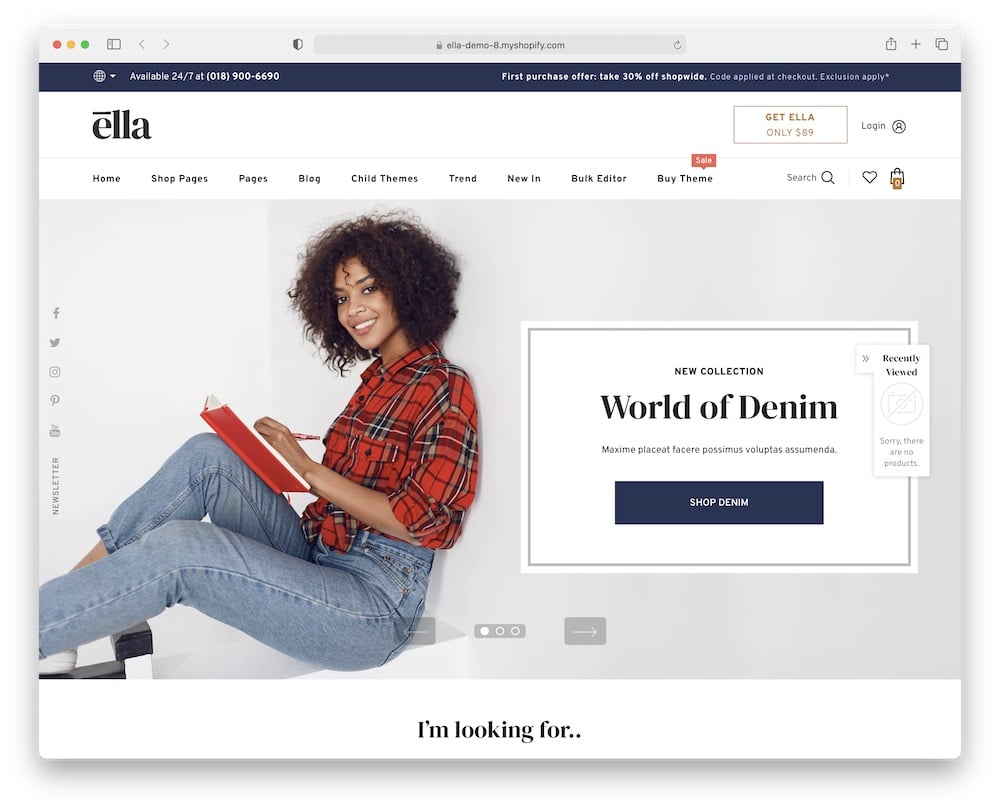 Now you can sell your products or services to anyone (online) through your own website! YUP, you can start, run and grow your business with Ella like a KING.
This all-in-one tool comes with multiple homepages, numerous header+footer options, different mega menu layouts, and valuable pre-made pages at this great price!
Manage everything yourself!
Plus, Ella includes EVERYTHING your customers need for happy & simple shopping.
You get Ajax technology, one-click checkout, pop-ups, wishlists module, upsell features, product labels, and much more!
Besides, the fantastic customer support of Ella is OMG-like.
Ella features:
31,600+ sales
4.8/5 star rating
Regular updates
Multi-currency & language + RTL
Price: $89 (may vary)
MORE INFO / DOWNLOAD
DEMO
2. Barberry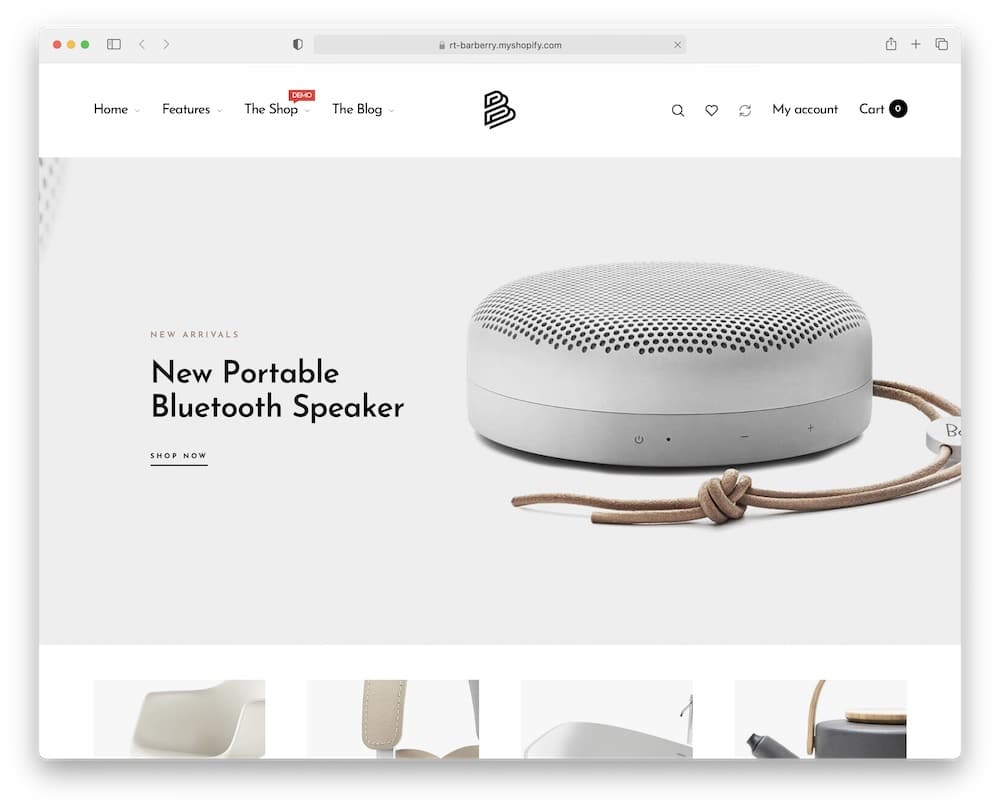 Let's check out the amazing Barberry mega menu Shopify theme. With this theme, you can unlock a range of opportunities and personalize it exactly as you wish.
100% customization.
It comes with suuuuper useful features (product filtering, 3D support, lazy load, age verification, and much more) to help you sell like a PRO.
Barberry welcomes all your ideas with open arms and prepares for success!
Besides, Barberry is fully responsive and retina-ready for different devices. Bless you, all visitors.
Plus, the advanced design of Barberry offers various header, footer, and homepage layouts. Also, social media integration lets your customers easily share your products with friends.
A win-win situation.
Sounds good? Great.
Barberry features:
2,200+ sales
4.7/5 star rating
Cool footer reveal effect
Catalog mode
Price: $59 (may vary)
MORE INFO / DOWNLOAD
DEMO
3. Banita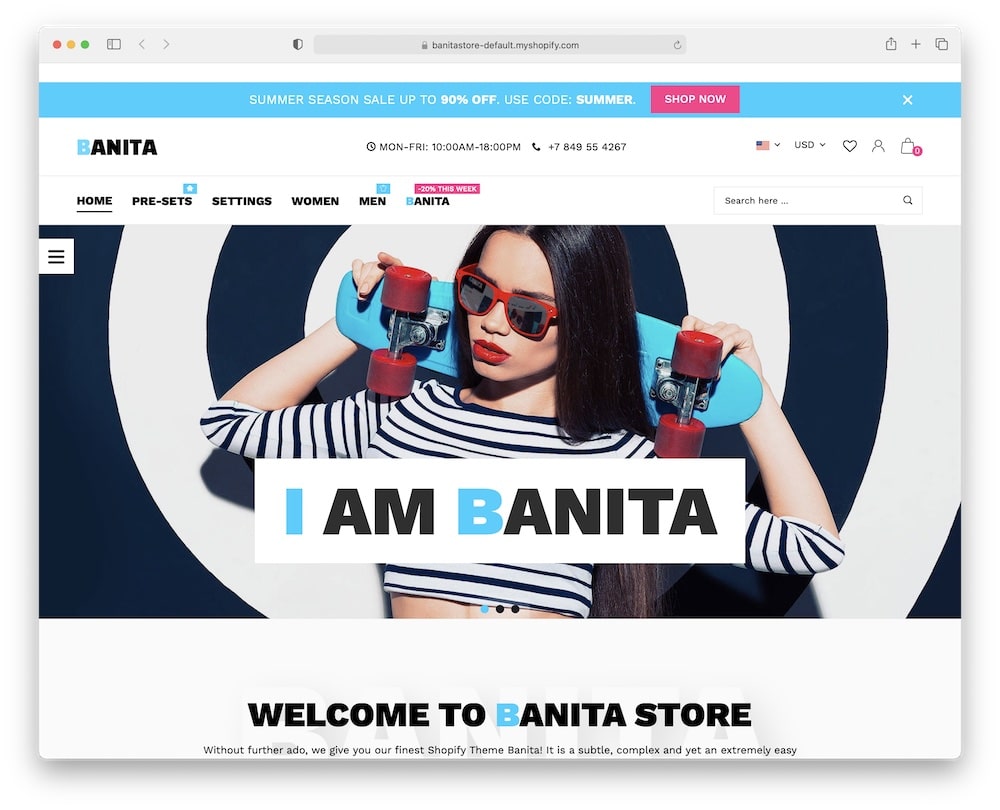 This fresh and modern theme is perfect for fashion, cosmetics, sportswear, kids' clothes, or bags. But it adapts to other niches, too!
Banita mega menu Shopify theme has 100s of happy customers (clapping hands!), SO take leadership and build an awesome website.
Shopify's drag and drop sections are easy to work with (once you try it, you will never stop using it) – just decide what you want to DO.
Also, Banita offers versatile design options such as pre-made headers, useful widgets, interactive sliders, banners, unlimited colors, and beautiful typography.
The "average" people (you and me) have everything we need here!
Banita is SEO optimized – focused on driving engagement on your website through tactical keyword selection.
BOOST your content and win new customers.
Try me. Banita.
Banita features:
1,000+ sales
4.9/5 star rating
Contact page with form & map
Interactive slider
Price: $114 (may vary)
MORE INFO / DOWNLOAD
DEMO
4. Home Market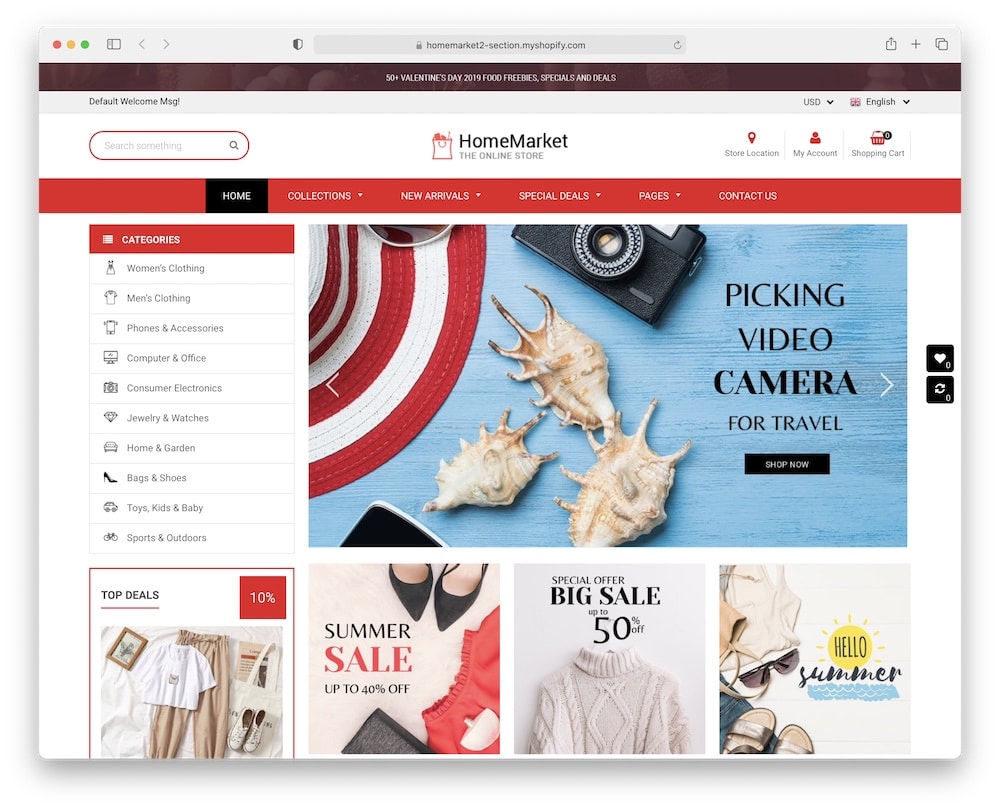 Your website should always focus on providing value to your potential customers. You can build a powerful product store with useful info, thanks to Home Market mega menu Shopify.
HURRAY!
Home Market has handy tools such as a mega menu, Ajax technology, advanced filters, color swatches, and a product reviews app. It also supports product videos.
Moreover, enjoy the luxury of ready-to-use layouts, inner pages, smooth slideshow, and flexible blocks.
Home Market makes it easy and quick for you to create.
In my experience, Home Market customer support provides right-to-the-point service. NO more stress, drama, and worries.
BIG. YES.
Home Market features:
640+ sales
4.7/5 star rating
Quick buy
Simple configuration
Price: $39 (may vary)
MORE INFO / DOWNLOAD
DEMO
5. eMarket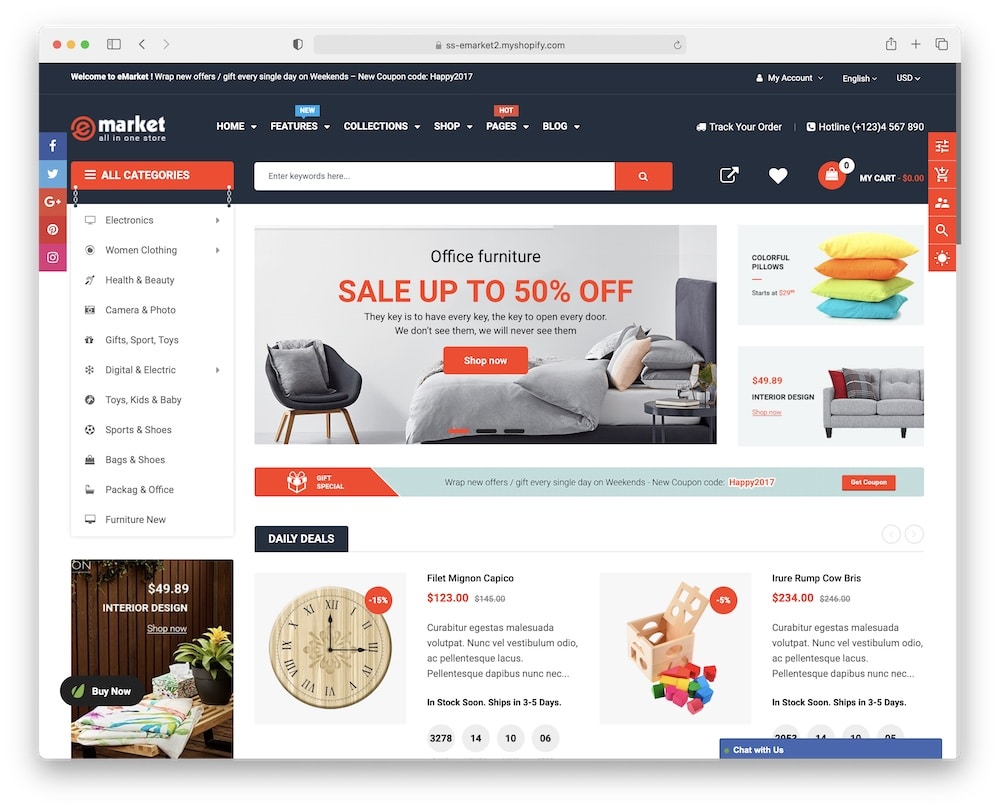 Draw inspiration from gorgeous eMarket mega menu Shopify theme and differentiate yourself from your competition.
Luckily, eMarket is jam-packed with helpful tools, pre-made demos, unique layouts, multi-level navigation, and blog.
A KILLER blog is one of the best ways to build a long-term customer relationship. Take care of your customers and they will take care of your business. Simple.
Also, you get everything you need to control your online store – like a BOSS.
Well-functioning customer support of eMarket is fast and always available if you need something.
Perfect for when your feel like you are at a dead end.
eMarket features:
240+ sales
4.4/5 star rating
Newbie-friendly admin
Live chat support
Price: $59 (may vary)
MORE INFO / DOWNLOAD
DEMO
6. EtroStore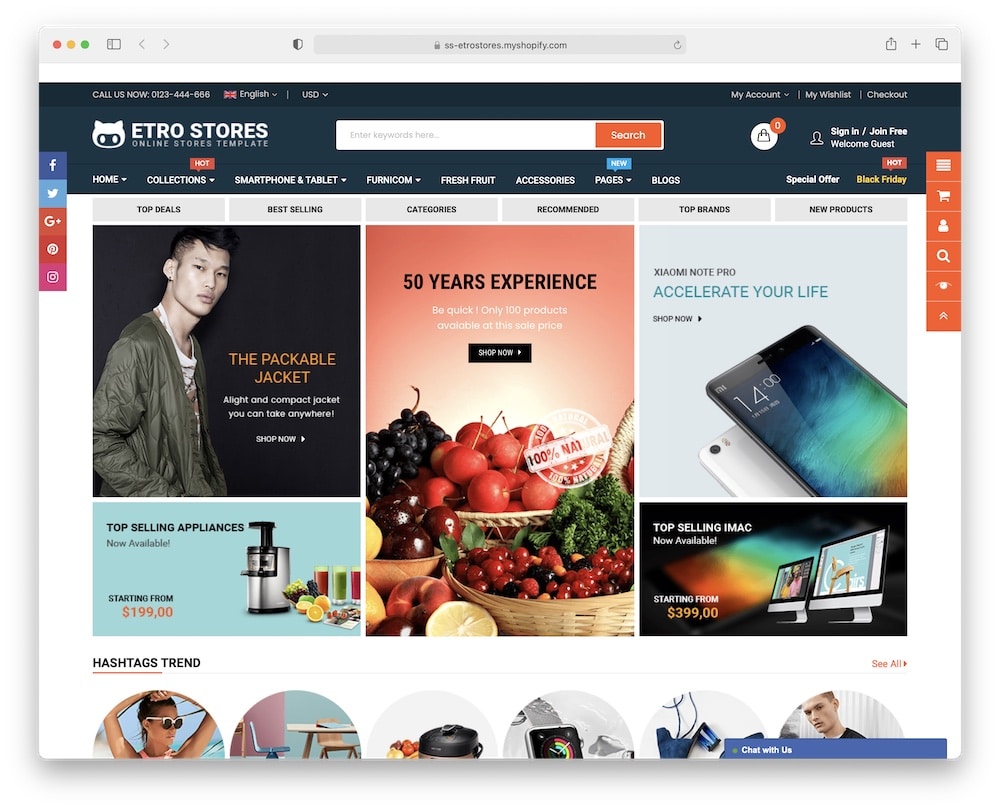 Right from the start, you can create a beautiful and modern website with EtroStore Shopify theme.
From 23+ homepage designs and Ajax tech to unlimited colors and Google fonts – YES, EtroStore comes with much of what you need for a successful shop.
Here are a few of my favorite (free!) tools to help you out: hover style effect, drop-down shopping cart, product label, shipping calculator, reviews, mega menu, lazy loading, and newsletter signup pop-up.
Give me five!
The powerful admin panel of EtroStore is simple to use (like a child play) without any coding knowledge required. You have full permission to change and update your site.
You the a LEADER!
EtroStore features:
200+ sales
4.4/5 star rating
Editable header & footer
Bootstrap Framework
Price: $59 (may vary)
MORE INFO / DOWNLOAD
DEMO
7. Peacock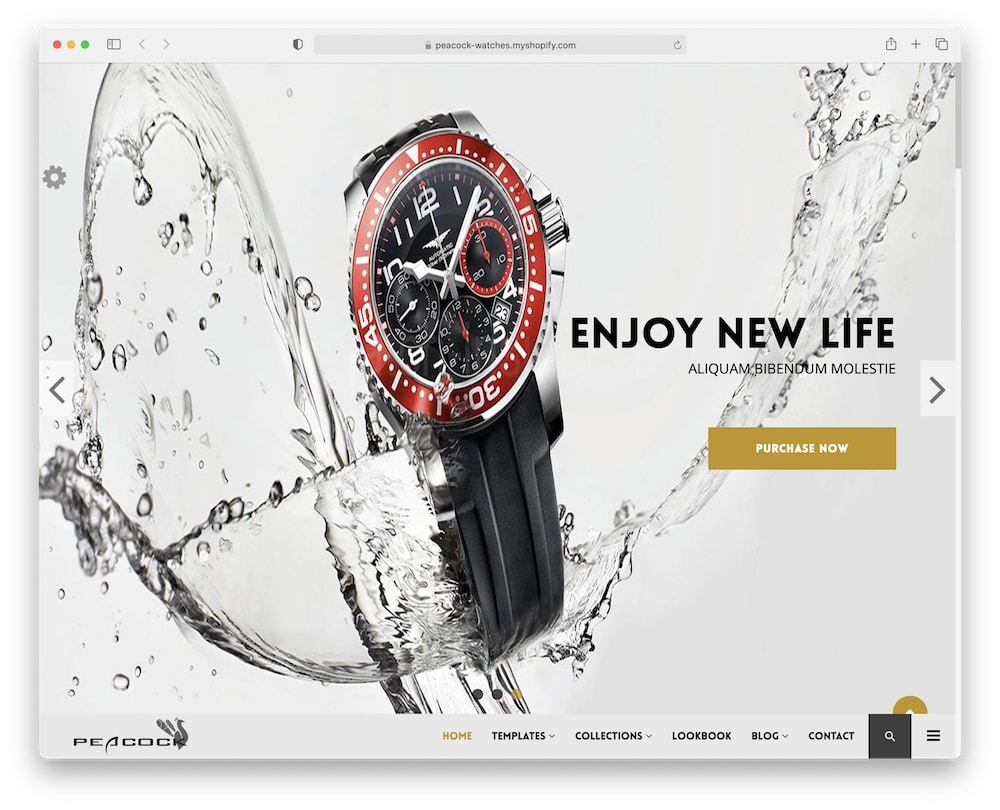 Peacock mega menu Shopify theme is here to help you smash your goals from the foundation to the tools.
Peacock is a responsive, multipurpose theme with social media and simple to install and customize to any style you wish.
Welcome newbies!
The mega menu is handy, impressing me every time I work with it. After all, who doesn't like a well-organized menu?
Peacock also includes advanced product filters, recently viewed products, Ajax cart & wishlist, shipping calculator, product zoom, and much more.
OMG.
Take advantage of Peacock and display your products online with glamour.
Peacock features:
150+ sales
4.9/5 star rating
Works for dropshipping
Instagram & Twitter
Price: $56 (may vary)
MORE INFO / DOWNLOAD
DEMO
8. Btrend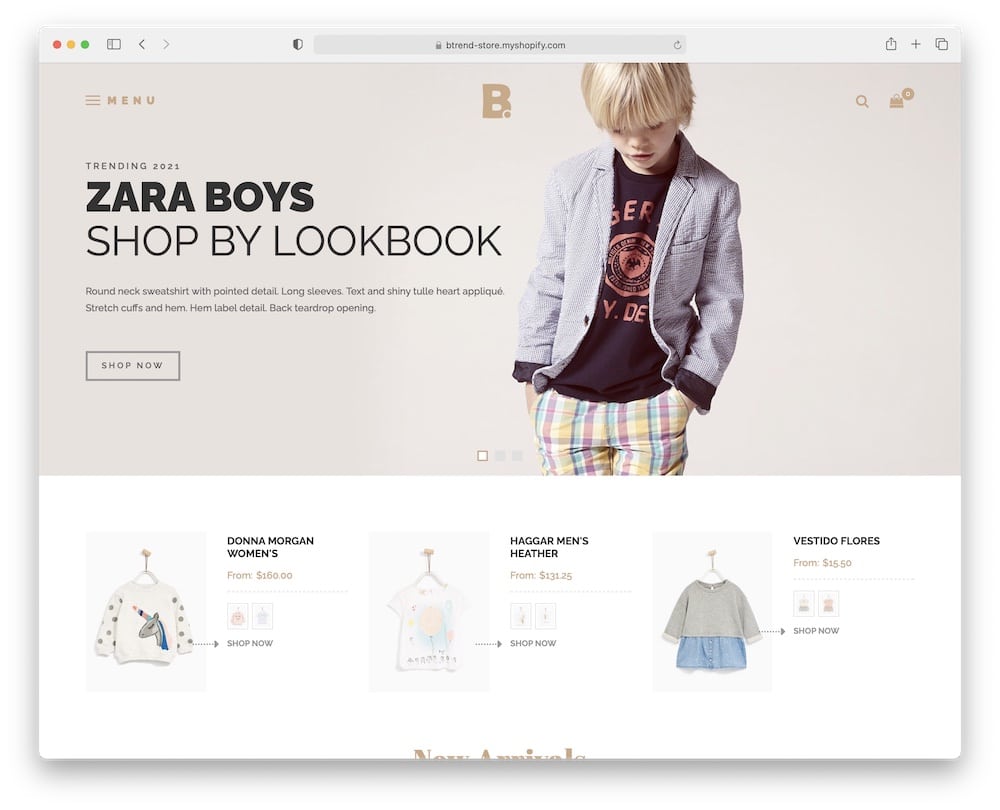 Btrend mega menu Shopify theme is a dream come true for people who want to start their online business without knowing how to code or design.
MEGA. GOODNESS.
And the best part…
You can change, mix & match elements, layouts, colors, fonts, icons, and much more with just some clicks.
You get a bundle of features and a great head start for a small investment. Btrend, you rock!
Besides, Btrend is SEO optimized, browser compatible, and mobile-friendly. Absolute bliss.
Also, Btrend is well documented (every day is a good day if you are a nerd). Start now!
Btrend features:
110+ sales
5/5 star rating
Friendly support
Video tutorials
Price: $59 (may vary)
MORE INFO / DOWNLOAD
DEMO
9. TopDeal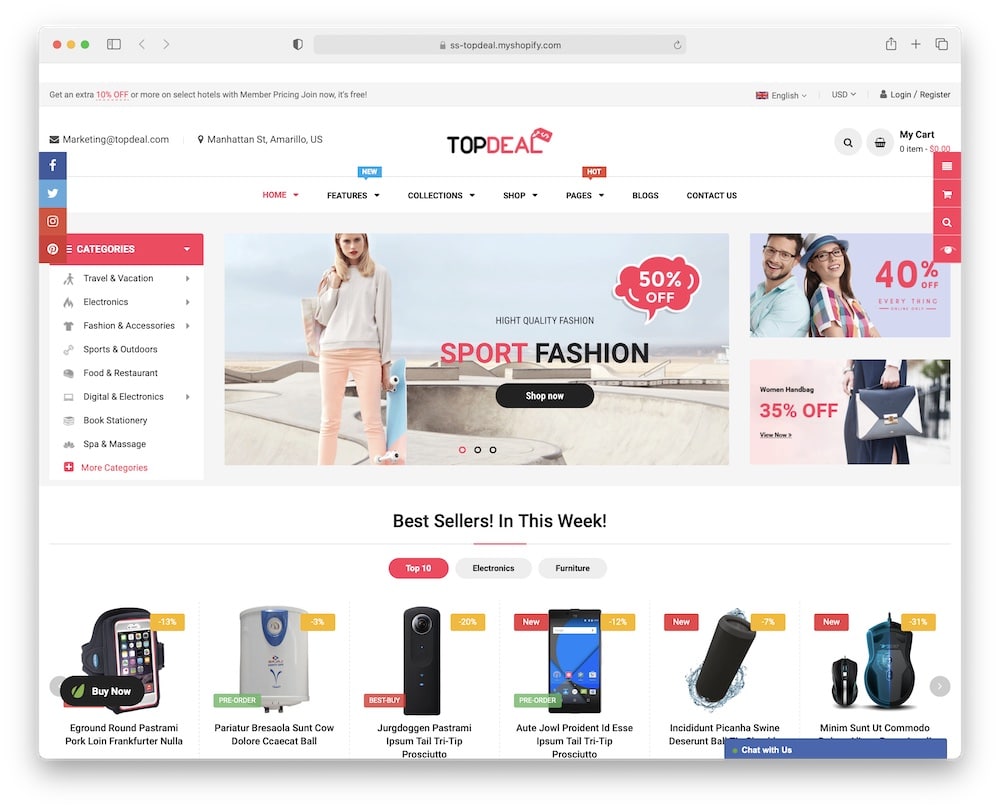 Your customers can almost touch, feel, hold, or smell your products with the brilliant design of TopDeal mega menu Shopify theme.
Yes, design can be a powerful tool to provide the right feeling to your visitors. (And more sales.)
Useful and smart features can play an important role on your site. And with TopDeal you get lots of them!
There's a whole bible of them waiting for you to start building (!).
Ready-to-use homepages? Of course, you get four of them, ready to repair and correct them. (You have a magic wand in your hands.)
And the mega menu, oh man, you can create it with up to five columns (description, price, image, video, effects, etc.).
Choose between vertical or horizontal layout and even mobile menu is adaptable.
Make sure you select a winner. Enjoy TopDeal.
TopDeal features:
100+ sales
4.6/5 star rating
Custom tabs
Visual builder
Price: $59 (may vary)
MORE INFO / DOWNLOAD
DEMO
10. Revo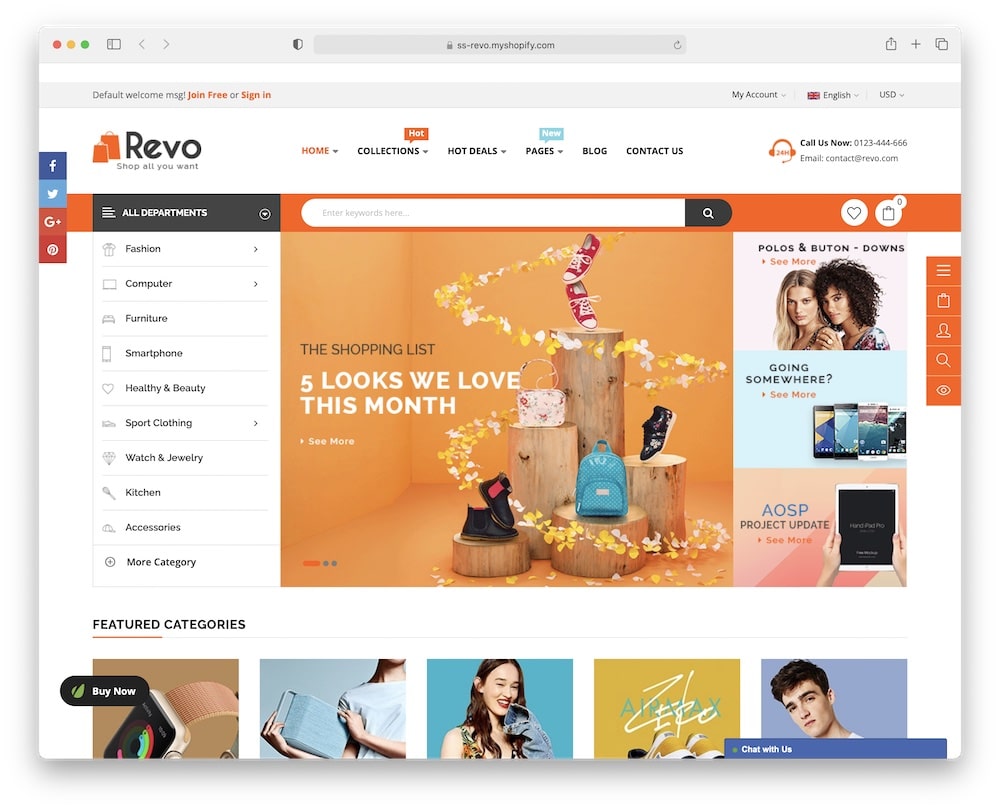 Revo is designed to save people's time with a successful online shopping experience.
The essence of Revo is to use appropriate product filters such as quick view, pop-ups, search, layer navigation, color swatches, and more.
Surprise your customers with simple and fast shopping, using the amazing Revo. (Modern, elegant, and responsive.)
Woowza!
Always show your professional look with stunning colors (unlimited choice), mention the product quality, use typography with great readability, create a transparent mega menu, and display product reviews.
Rewarding steps!
And, GO BIG with a blog (pre-made pages added). Take time to write content you would love to read, promote your story and business.
INSPIRE with Revo!
Revo features:
100+ sales
4/5 star rating
10+ home designs
Con: Infrequent updates
Price: $59 (may vary)
MORE INFO / DOWNLOAD
DEMO
11. StyleShop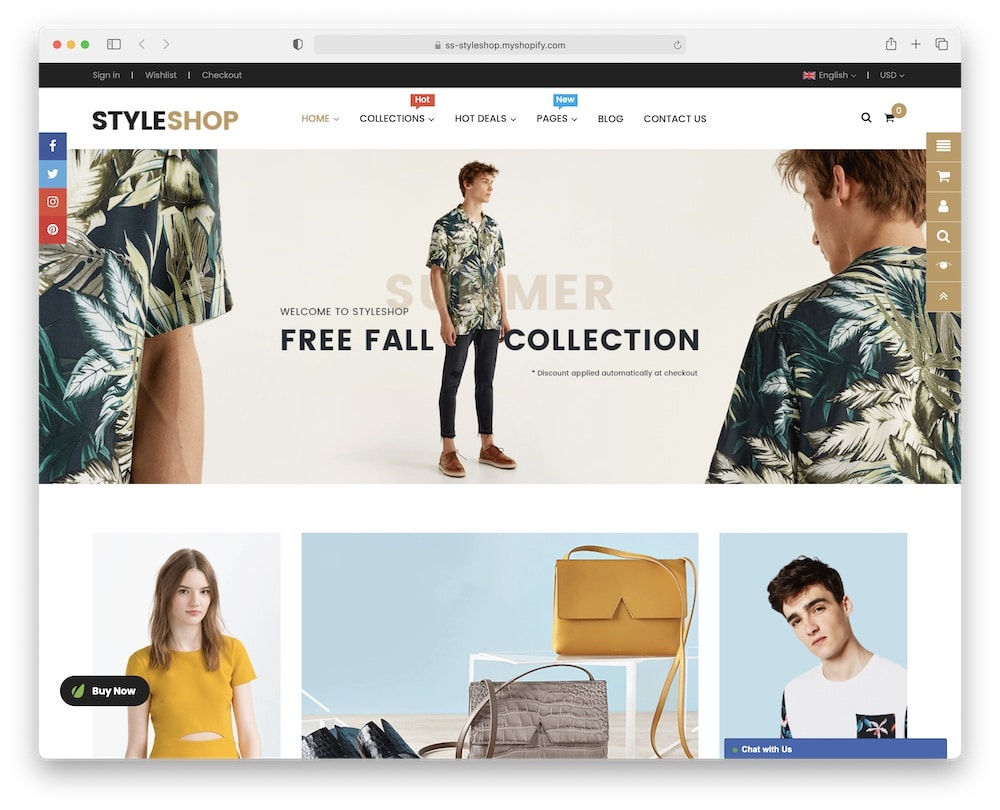 StyleShop is one of the most modern-designed mega menu Shopify themes. You can start by importing any pre-made homes with a single click (so simple!).
Fear not, even if you are a newcomer.
StyleShop has a brilliant drag-n-drop builder (!) – what else do you want? Just create and don't limit your imagination.
I know, you are off to an excellent start.
Besides, StyleShop offers different listing layouts, various sidebars, drop-down shopping cart, shipping calc., and support multiple currencies.
Oh, and don't forget to set newsletters (Mailchimp support). Every time you have a new product drop, or valuable content just email your potential customer.
Optimize your business with StyleShop, today!
StyleShop features:
90+ sales
4.3/5 star rating
Live search
Countdown timer for deals
Price: $59 (may vary)
MORE INFO / DOWNLOAD
DEMO
12. UltraStore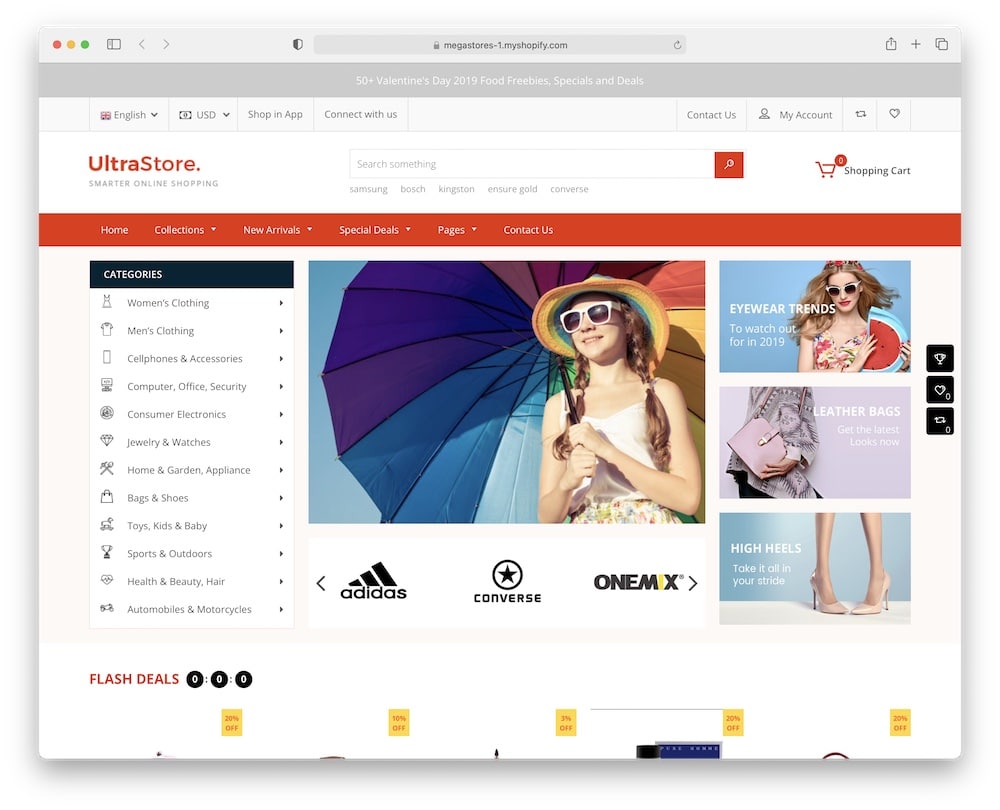 Next up, UltraStore mega menu Shopify theme. It allows you to easily create an eCom store, product descriptions, titles, blog, and even add a smooth slider.
PERFECT.
UltraStore is designed especially for supermarkets, retail, Aliexpress, dropshipping, or grocery. You can customize colors, Google fonts and add edit remove hide sections.
You do you.
On top of that, UltraStore offers as many columns as you wish in a mega menu – WOW!
And any problem you may encounter is a piece of cake to solve for UltraStore's customer support. SO don't hesitate if you have a question or dilemma (take advantage of their service).
I tell you, prize winners!
Kickoff with gorgeous UltraStore.
UltraStore features:
90+ sales
5/5 star rating
Easy translator
Optional demo setup
Price: $59 (may vary)
MORE INFO / DOWNLOAD
DEMO
13. BestShop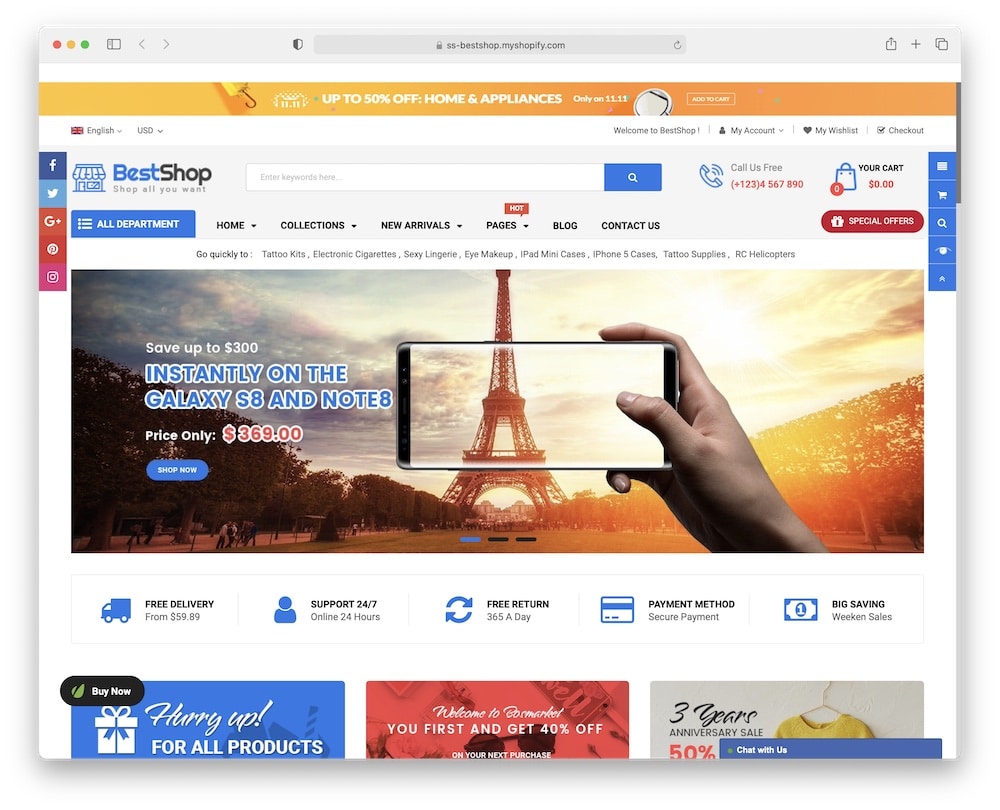 With BestShop mega menu Shopify theme, you can expect fast building due to the drag-n-drop function and three ready-to-use homepages.
Many different layouts give options to create everything you wish to!
Polished design is responsive and mobile-friendly, meaning your website will be sharp on all devices. JOY.
BestShop also supports various Ajax options for an amazing shopping experience. You get color swatches, layer navigation, live search, custom tabs, drop-down shopping cart, and more.
It's also SEO optimized, built with CSS3 & HTML5, and comes with many fantastic plugins.
Grab this user-friendly BestShop to have a valuable and worthy site!
BestShop features:
80+ sales
4/5 star rating
Google Rich Snippets
Various payment options
Price: $59 (may vary)
MORE INFO / DOWNLOAD
DEMO
14. Nomos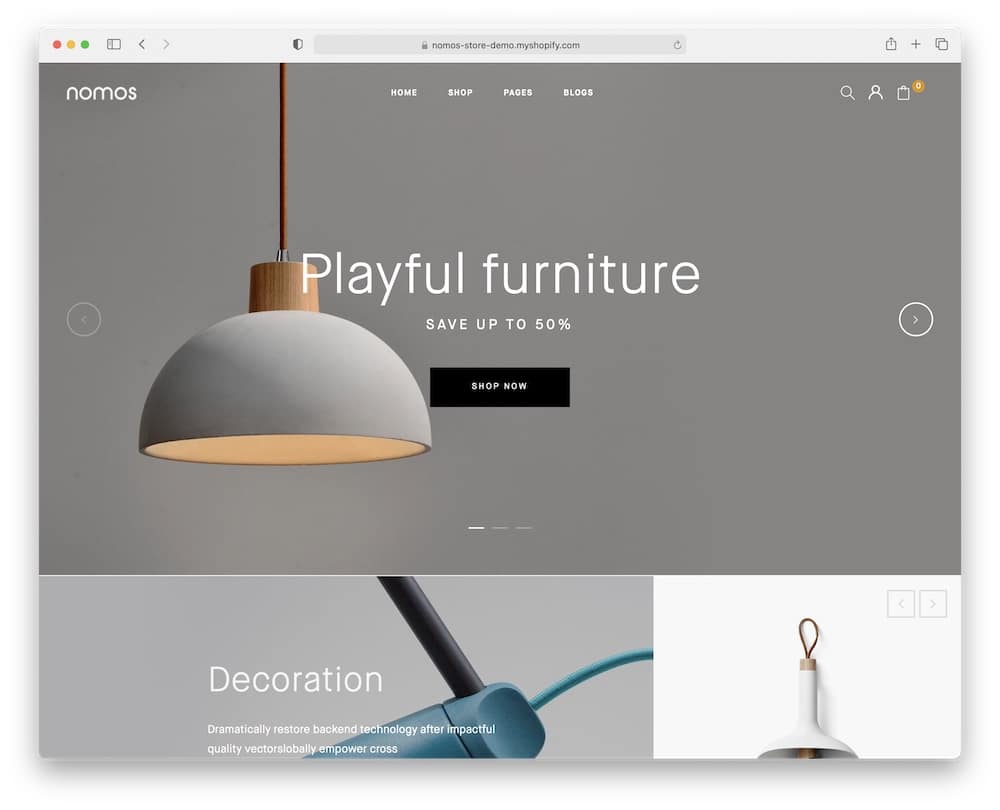 Nomos is an elegant solution for those who want a modern, clean and minimal website for unique items. (Perfect for furniture, interior design, house decor.)
BUT you can also use it for multiple other niches.
Nowadays, most online visits come from mobile devices, SO Nomos is focused to bring a great experience for mobile users.
WOOHOO!
You will notice how many useful and powerful tools (everything you can imagine) you get with Nomos when you start building an online store. (Even 360-degree product view.)
Remember Nomos is professional and risk-free.
Installation? It takes just one click (15+ pre-made demos). And Nomos is updated regularly.
Sit back (with double espresso), and start NOW.
Nomos features:
70+ sales
4.5/5 star rating
Facebook chat
Dynamic checkout
Price: $56 (may vary)
MORE INFO / DOWNLOAD
DEMO
15. Orgafe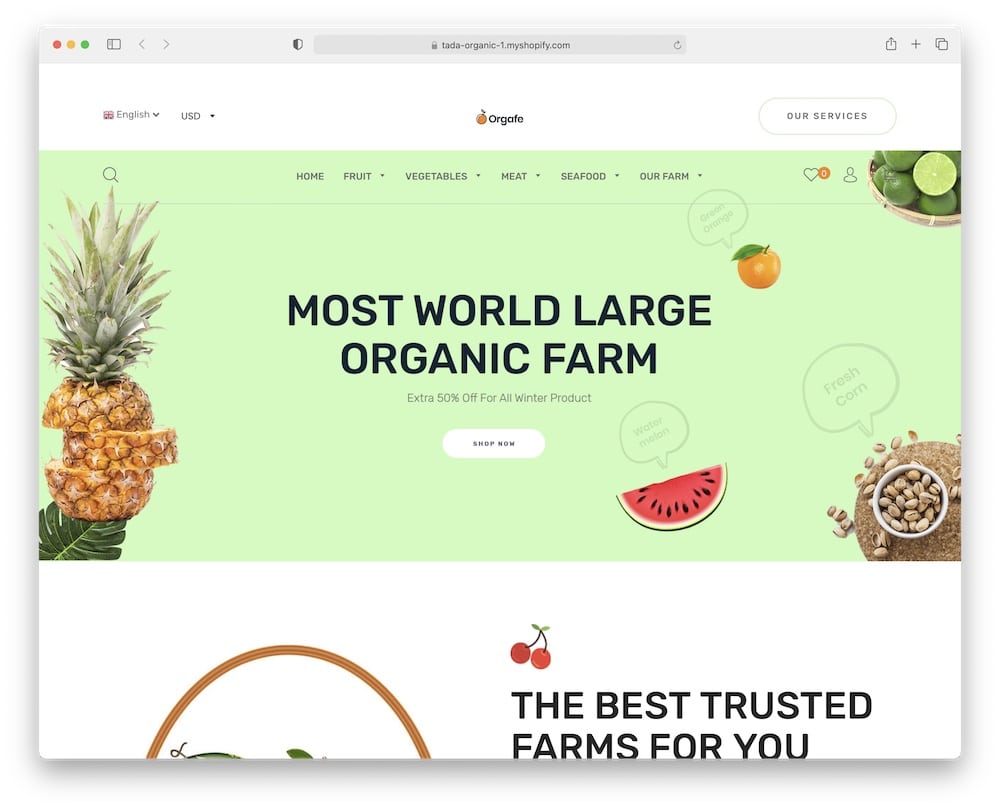 Moving swiftly along to the last one from my list – Orgafe mega menu Shopify theme. "Eat best forget the rest!" is the motto of this fresh and stylish theme.
Stunning homepages, various inner styles, gorgeous layouts, and different footer options will make you happy (guaranteed).
BUT if you're not happy with how the default design looks, don't worry – you can customize whatever you want (without coding).
Stress-free, I promise.
Of course, Orgafe is speed optimized, well documented (HI, man of letters), and comes with brilliant customer support (champions!).
It also includes the latest Shopify functions. Pretty COOL.
Share your offers in videos, powerful slideshows, and engaging photography. Every single time you post, be on point with Orgafe.
I Orgafe. You Orgafe?
Orgafe features:
60+ sales
5/5 star rating
20+ sections
Fast loading
Price: $39 (may vary)
MORE INFO / DOWNLOAD
DEMO
5 Benefits Of Using A Mega Menu For Your eCommerce Website
1. More content
You can add a lot more useful content that benefits the user because the mega menu offers a lot more space than traditional navigation.
Thanks to this, an online shopper can find the right product, category or something else much more quicker and simpler.
2. Product links
One of my favorite benefits of a mega menu is that you can put links to products, and not just categories and other parts of your eCommerce website.
You can add best sellers, new drops or special deals – it's up to you. You can get as creative as you want.
I advise you not to use the mega menu to sell stuff exclusively.
Use it smartly so you don't discourage the user.
3. Images & icons
A mega menu can be a lot more visually appealing once you stuff it with beautiful images and icons. Some even add a video!
You can create a lot better browsing experience with visual content in the mega menu.
4. Organized
Because it takes more space and allows you to add more content, you can keep the mega menu more organized to boost your Shopify store's overall user experience.
5. Additional features
What's also cool is that you can add other features to the mega menu, such as a contact form, Google Maps (to showcase location), and more.
Luckily, you're in full control with these mega menu Shopify themes to create the exact navigation that you want.
You may also be interested in our other Shopify theme collections:
Note: Mega menu works great for all these categories!
::
Note: This article was originally published on December 30, 2021. But our team regularly reviews it and updates it with necessary improvements for accuracy.