Are you looking for the best Shopify jewelry themes to build a strong online store?
We (unexpectedly) received a ton of requests for this list.
We also got many questions similar to, "Is Shopify good for selling jewelry?" The answer is: YES!
We tested 50+ different themes, focusing on performance, design, customizations, and more over 21 weeks.
Only 11 met our criteria.
Yes, we're HARSH when it comes to selecting and eliminating items.
Only because we want the best for you.
This post covers:
The ULTIMATE jewelry and accessories Shopify themes are now ready.
Promoting diamond, silver and gold products, rings, pendants, you name it, has never been easier.
You get all the necessary: page layouts, cart, checkout, wishlist, product compare, index page designs, contact and blog.
Enjoy building your eCommerce website!
QUICK-PICK: Best Shopify Jewelry Themes
Best Shopify Jewelry Store Themes
Fun fact: I'm not really too heavy into jewelry. (Yes, even if I'm a woman!)
But did a research and realized that the jewelry industry is expected to reach $300 billion in revenue very soon. (Yikes!)
1. Kalles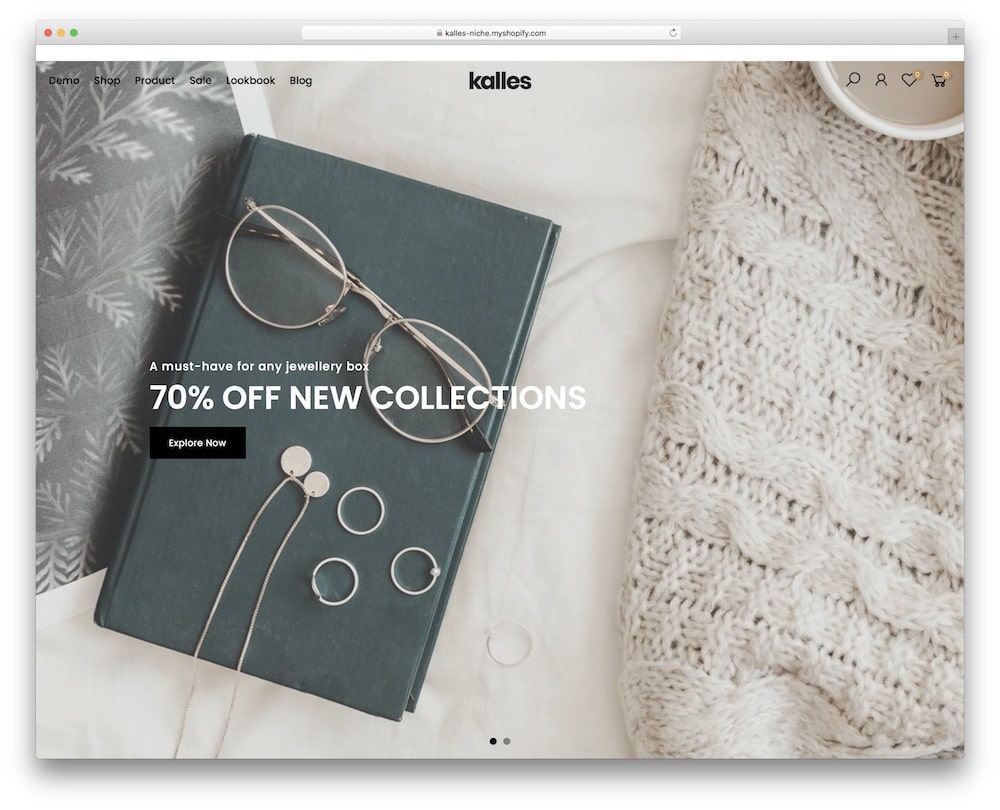 Expert in the field, Kalles, is a jewelry theme that will give your customers the BEST and SMOOTHEST shopping experience.
The elegant and modern design displays your jewelry and accessories with style.
It doesn't matter which device your customers are using to view your site on, Kalles is fully responsive and mobile-optimized to adapt to all screens.
Collections of amazing features offer for 3D and video product presentations.
Kalles comes with 20+ eye-catchy demos for you to choose from. Affordable, easy to use and innovative Kalles is just a click away.
Kalles features:
14,700+ sales
4.9+ star ratings
Frequently bought together products
Great for single product stores
Price: $89 (may vary)
MORE INFO / DOWNLOAD
DEMO
2. Anamika

Easy to customize Anamika Shopify theme will seduce you with its elegant and modern style.
Your jewelry and accessories will look awesome on feminine pre-made stylish sliders that you can customize and perfect.
Outstanding Ajax technology will make sure customers will easily add items to the cart, fetch information, and update quantities – in short, help you get more sales.
Anamika is social media friendly and integrated with all the elements to help you share your products with the world.
The shopping experience is SUPER user-friendly and the theme also supports multiple currencies.
Due to its responsive and retina-ready design, your jewelry will look shiny on all devices.
Anamika features:
100+ sales
4.5+ star ratings
Order tracking
Price: $59 (may vary)
MORE INFO / DOWNLOAD
DEMO
3. Cartior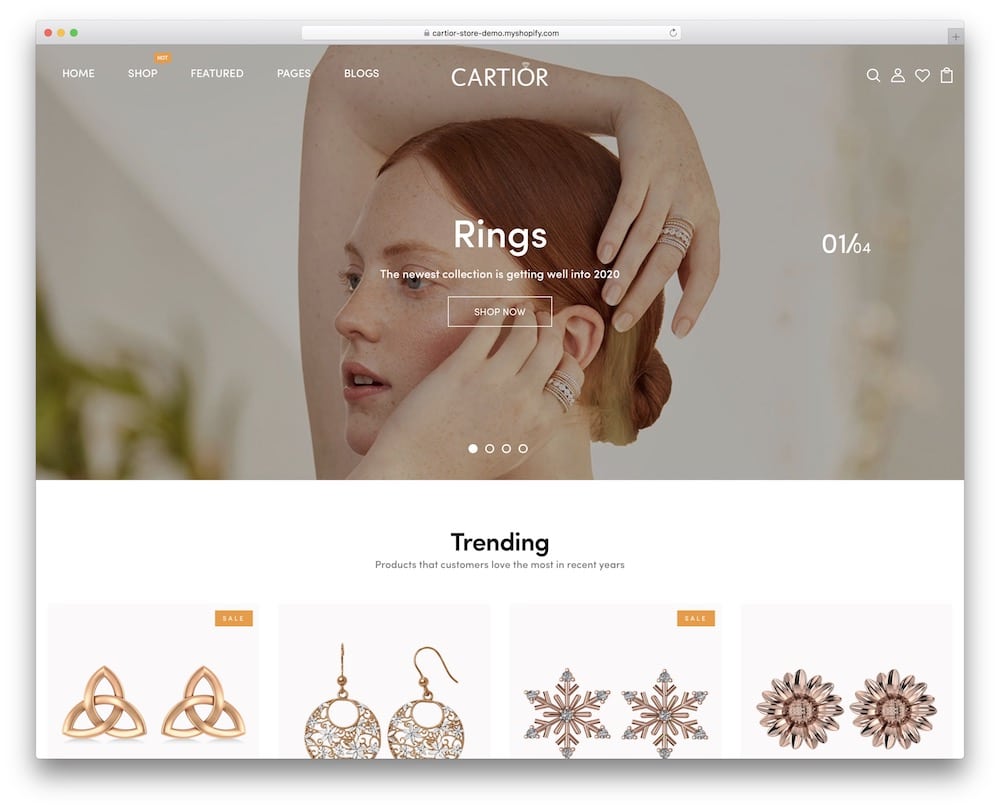 Cartior is a splendid Shopify theme for selling accessories and jewelry.
You can START your eCommerce website establishment process RIGHT AWAY with multiple gorgeous demos.
You can easily work with the out-of-the-box versions, but if you would like to customize the default settings, you can do that, too.
Cartior is here to help everyone kick-start their online business in the snap of a finger.
Keep in mind, the theme also works fantastically well if you are building a jewelry brand or for general online stores.
It just shows that Cartior is very versatile and highly adaptive.
Cartior features:
MORE INFO / DOWNLOAD
DEMO
4. Jewelshop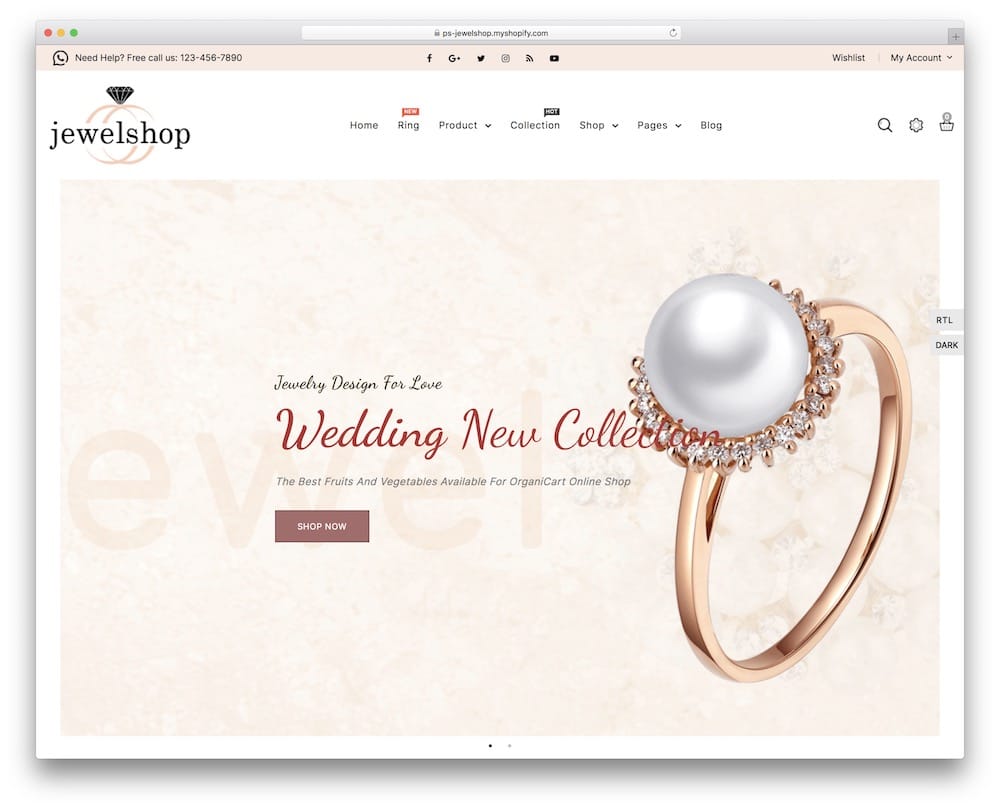 Jewelshop, will help you BOOST your jewelry business on the internet.
This beautiful and elegant theme comes with twelve product layouts and eight shop templates, so you find your perfect match quickly.
Jewelshop is easy to customize. Keep in mind that you can change and add, layouts, headers, colors, fonts, product styles, labels, and widgets.
Powerful sliders and banners will make your boutique website even FANCIER.
Let's just make it short; Jewelshop has all that you need for your success.
Jewelshop features:
60+ sales
4+ star ratings
Great for dropshipping
Supports affiliate products
Price: $49 (may vary)
MORE INFO / DOWNLOAD
DEMO
5. Nagai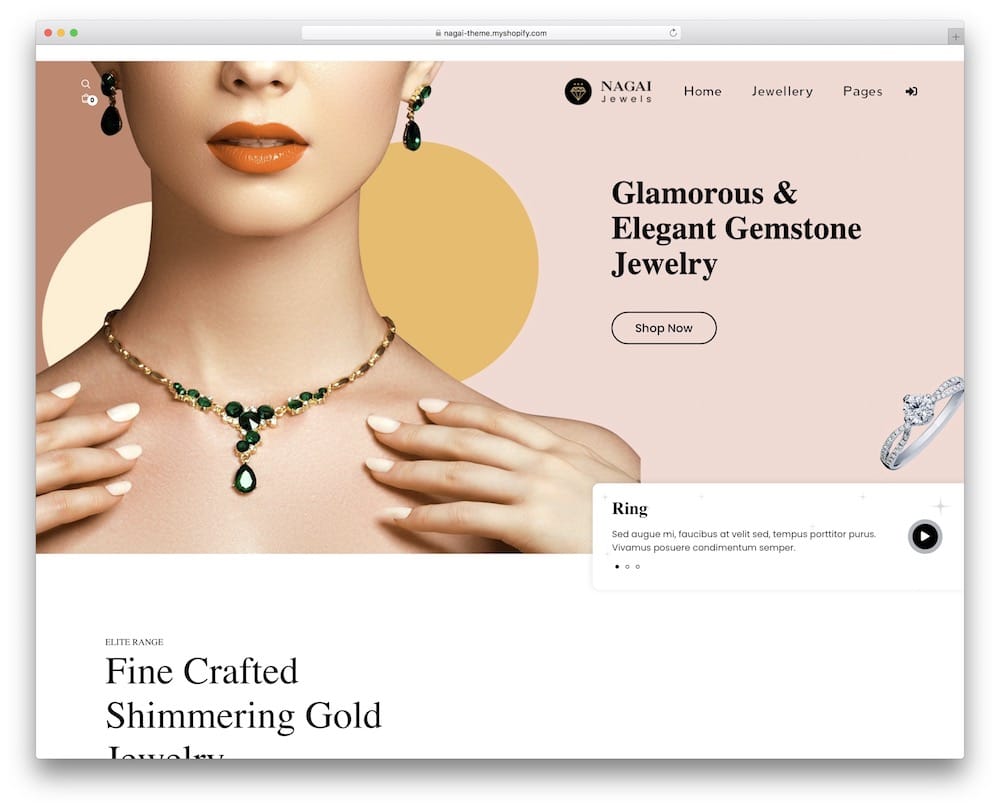 Elegant and glamorous Shopify jewelry theme, Nagai, is coded with HTML5 and CSS3.
Two of the fundamental foundations that will take care of your page, assuring that will look great.
However, you will never need to code with Nagai.
Nagai has a lot of customization options for example you can organize text, add images and videos. Also, you can customize blocks and structures of the website.
Nagai is a great tool for selling your jewelry with special shop pages and all the other practical features.
Your accessories will get the perfect and beautiful room to showcase and WOW your customers with Nagai.
Nagai features:
10+ sales
4.5+ star ratings
Multi-currency support
Quick shop
Price: $59 (may vary)
MORE INFO / DOWNLOAD
DEMO
6. Silver Store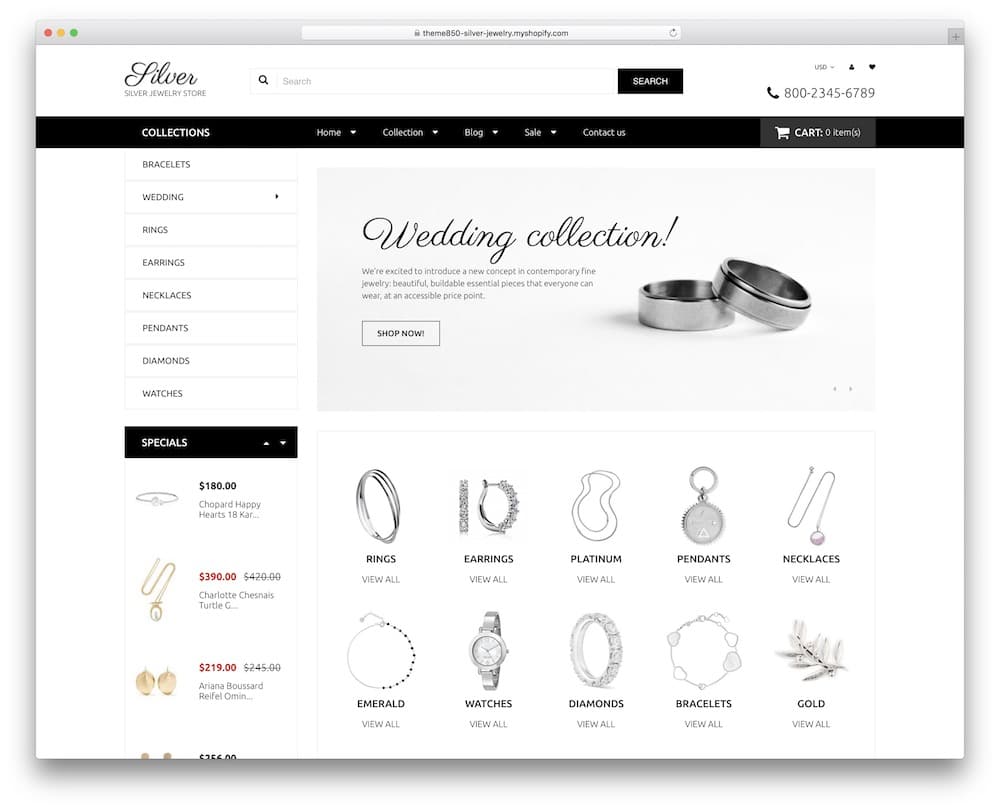 Start, run, and enjoy the benefits of Silver. It is a Shopify theme that is fully focused on selling jewelry items and accessories.
Silver's design comes in black and white palette colors to showcase your pretty jewelry in the MOST elegantly and tastefuly.
A highly responsive, SEO-friendly, and mobile-optimized layout makes sure your site performs great all the time.
Silver Store offers you an easy start even if you are a total beginner.
Pre-made layouts, banners, blocks, colors, and fonts can all be customized with your ideas. Besides, Silver Store is dropshipping-ready.
Waste no time and begin now.
Silver Store features:
35+ sales
4.7+ star ratings
Mega & drop-down menus
Fast loading speed
Price: $39 (may vary)
MORE INFO / DOWNLOAD
DEMO
7. Zeexo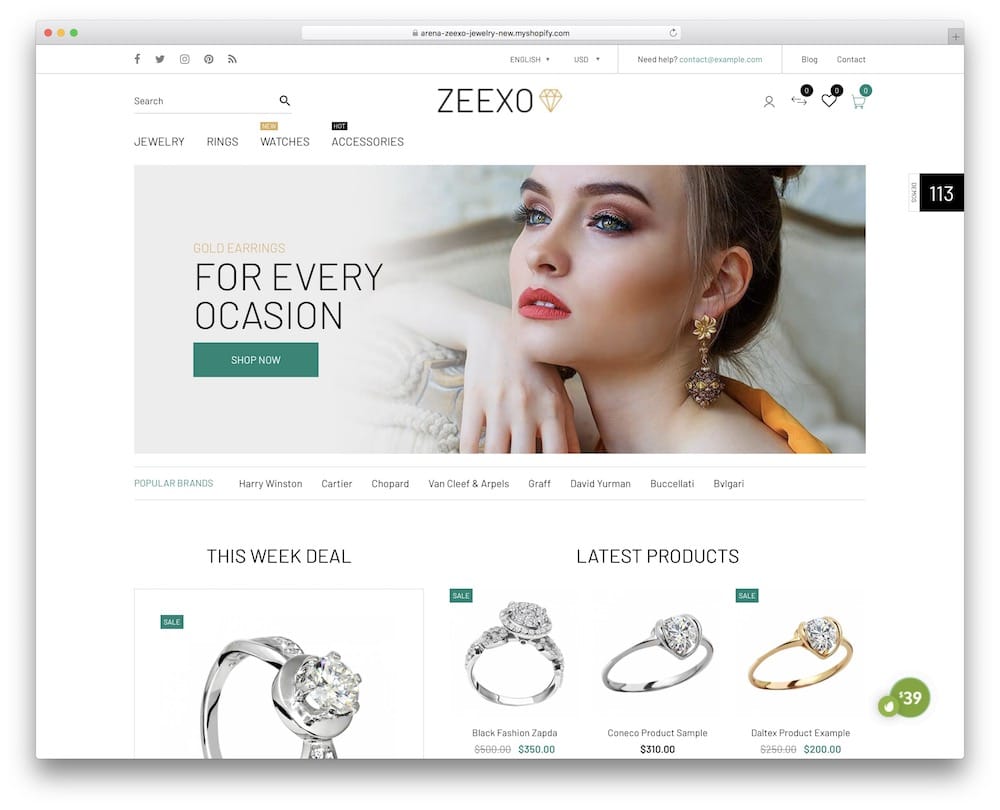 Multipurpose Shopify theme, Zeexo, is professionally designed and easy to use. You can import, beautiful demos with just a few clicks.
Zeexo is regularly updated to deliver the best performance possible. This tool offers various shop page layouts and excellent filtering.
Some of the great tools you can use with Zeexo are swap image effect, lookbook pins, estimated delivery date, category layout, and frequently bought suggestions.
You have TONS of options and possibilities with Zeexo to top up your online presence.
Moreover, friendly five-star customer service will be HAPPY to guide and help you when in need of assistance.
Zeexo features:
2,100+ sales
4.8+ star ratings
RTL support
One click demo data installation
Price: $59 (may vary)
MORE INFO / DOWNLOAD
DEMO
8. Vodoma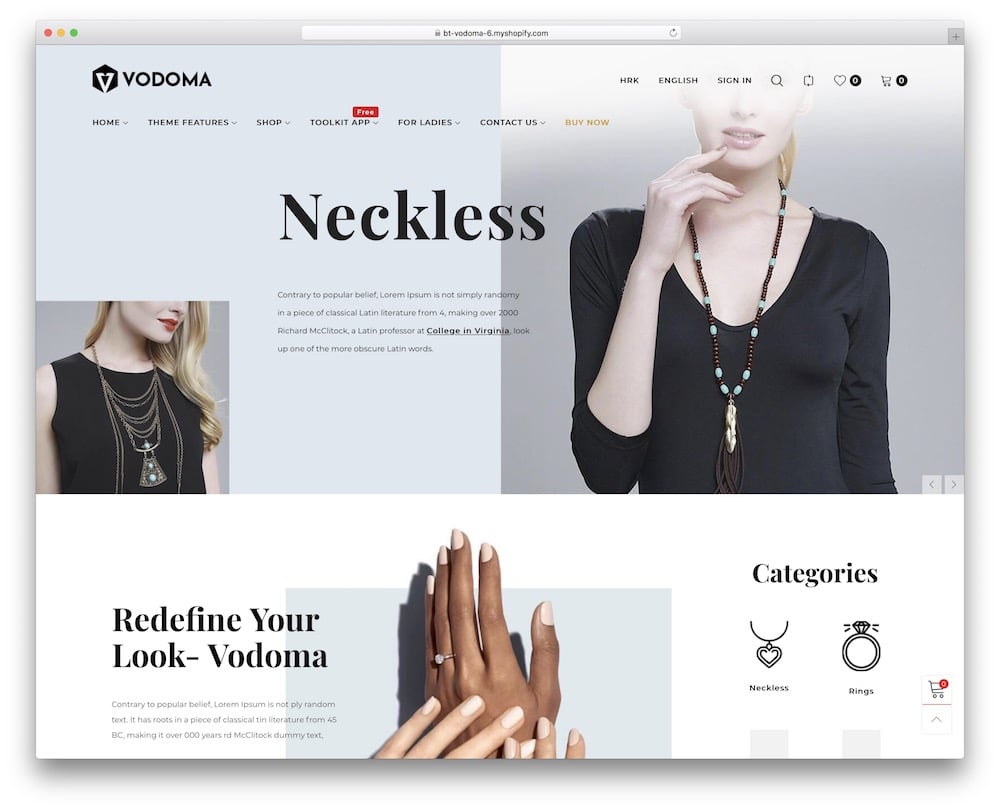 Unique and trendy design is the main characteristic of Vodoma.
You get to choose from 40+ multi-purpose and eye-pleasing demos to find the one that will perfectly promote your jewelry and pretty accessories.
Vodoma offers you to translate your site into multiple languages for a better user experience and extra sales all over the world.
You should not miss the drag and drop option to build and easily mix different items and styles to create exactly what you want.
You can create your own promotional banners with the included creator. Vodoma supports a really WIDE range of amazing possibilities and features.
Once you will decide to work with Vodoma you will see that the only option is to succeed.
Vodoma features:
820+ sales
4.9+ star ratings
Google rich snippet
Cross-sells and up-sells
Price: $69 (may vary)
MORE INFO / DOWNLOAD
DEMO
9. Roxxe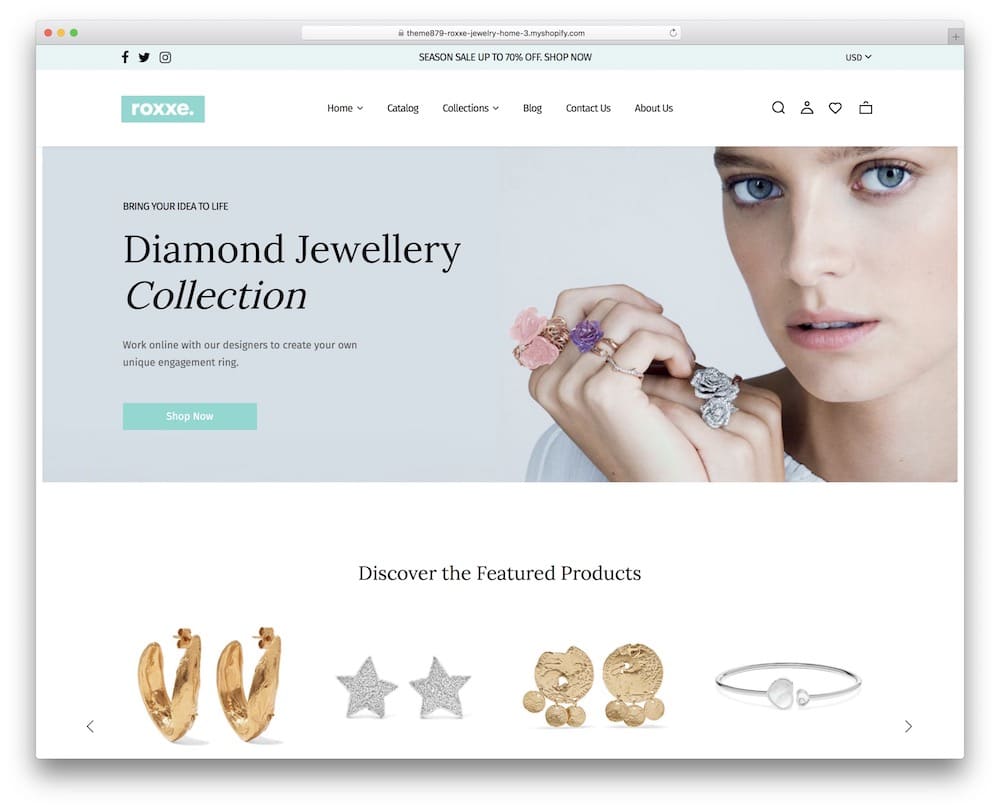 Roxxe Shopify jewelry theme offers unlimited design options and is easy to use.
From the collection of beautiful ready-to-use site templates and pre-designed homepages, you can start easily and immediately creating your online store.
Roxxe is compatible with all the most popular apps to make sure your site will work to the highest level.
Roxxe is an all-in-one solution, with all the elements you need for your success.
Apps like Klaviyo, Trust Hero, Exit Intent, and Ultimate Sales Boost will help you improve sales, engage with visitors, and victoriously promote your site.
You will APPRECIATE the advantages that Roxxe offers.
Roxxe features:
1,000+ sales
4.9+ star ratings
Multiple apps
Free shipping bar
Price: $69 (may vary)
MORE INFO / DOWNLOAD
DEMO
10. November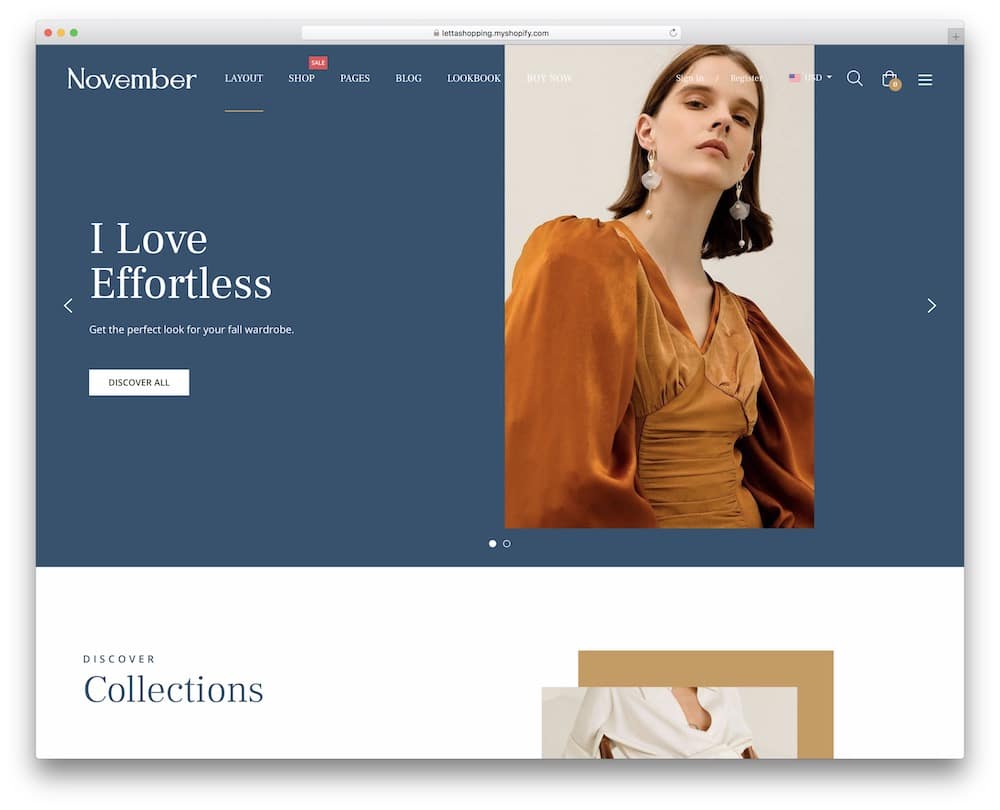 We all know how irreplaceable jewelry is in everyday life.
November Shopify jewelry theme will perfectly display all your pretty jewelry and accessories on your new online store.
You will have no problem customizing and building the site you dream about with unlimited options of design, numerous features, and new technologies.
With November you will easily edit content or layouts with no need for knowledge of programming. You can freely pick up the elements that meet your needs.
A new blog and sharing your useful articles and trends about jewelry will make a great user experience and help you to ENGAGE with your potential customers.
Each day is a new beginning, make this one amazing.
November features:
1,100+ sales
4.9+ star ratings
Easy installation
Fast loading
Price: $56 (may vary)
MORE INFO / DOWNLOAD
DEMO
11. Infinite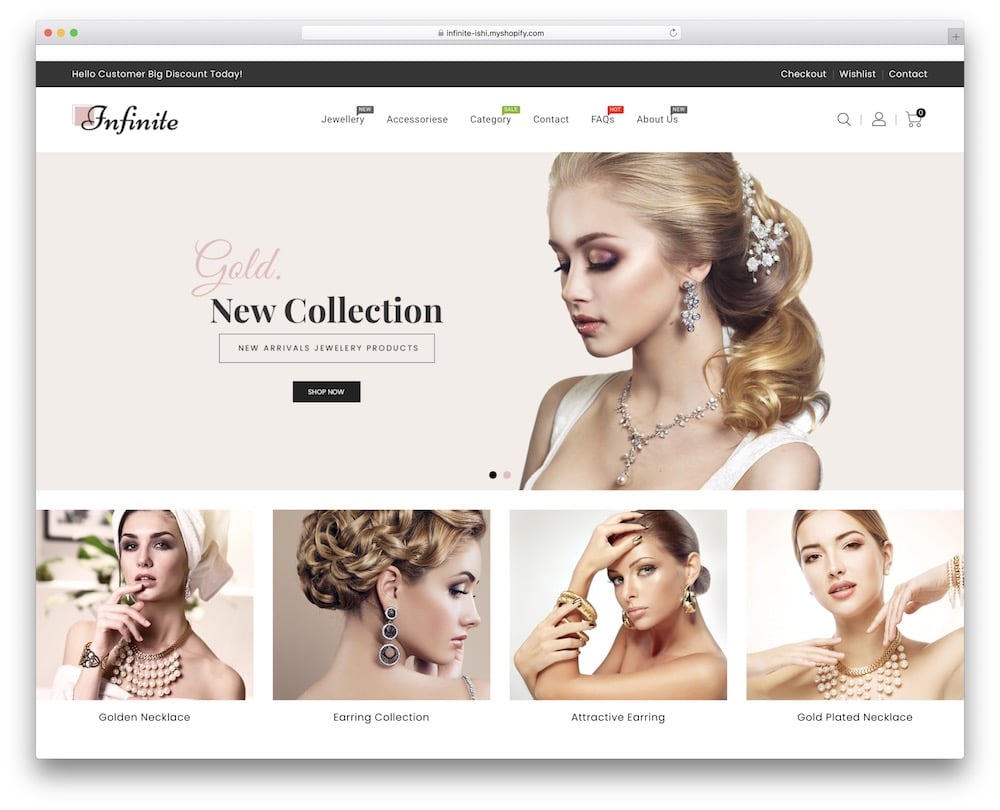 Always be first with Infinite, a flexible and pretty Shopify jewelry theme.
Innovative design, layouts, elements, styles, and special apps that come in the Infinite theme will make your site look awesome and functional.
You will find all the necessary for displaying your precious jewelry and accessories in the style they deserve.
The amazing parallax scrolling effect is also part of the kit to spice things up.
Infinite is fully documented and transparent to ensure you are well informed about the smallest details.
Moreover, Infinite is retina-ready and responsive, compatible with all devices and screens.
The list of goodies that come with Infinite is vast and enticing. Make your first step towards your new SUCCESS today.
Infinite features:
280+ sales
5-star ratings
Instagram feed
Brand logo slider
Price: $49 (may vary)
MORE INFO / DOWNLOAD
DEMO
6 Key Features Of A Great Jewelry Website
Even though you might create the best jewelry or have an epic social presence, that doesn't necessarily mean you'll have a successful jewelry website.
That's why I wanted to add these six key features to help you get on the right path right from the get-go.
Luckily, any of the Shopify themes above gets most of the job done instead of you.
Your website needs to have amazing performance and offer the best user experience. (Responsiveness and fast loading play key roles!)
Your website needs a simple and quick checkout process.
Your website needs high-quality product images (preferably shot at different angles).
Your website needs compelling and detailed product descriptions.
Your website needs social sharing (so your visitors and customers can help spread the word).
Your website needs social proof (integrate reviews and ratings).
Bonus: Focus on a simple and minimalist design so all your jewelry and content shines more.
You're now ready to rock-n-roll!
Enjoy.
::
Note: This article was originally published on December 21, 2020. But our team regularly reviews it and updates it with necessary improvements for accuracy.