Are you looking for the best WordPress vlog themes to build the best video blogging website?
Every vlogger and YouTuber wants MORE success.
And that's when a website comes into play.
I used two of the WP themes (Vlog & Alinan) below for three of my clients.
However, I reviewed 30+, which allowed me to find 11 powerful solutions.
All are INSANELY good.
Why Build A Vlog Website?
You can now build your video blog website with no coding (hurray for page builders!) and little time to:
Promote your YouTube channel
Gain more fans from SEO traffic
Add another layer of income
Start a blog & implement content marketing
Build a store with your gear
Make an online video portfolio that will take your vlogging journey to extreme success.
Like you deserve it!
Best WordPress Video Blog Themes
1. Vlog (The Ultimate!)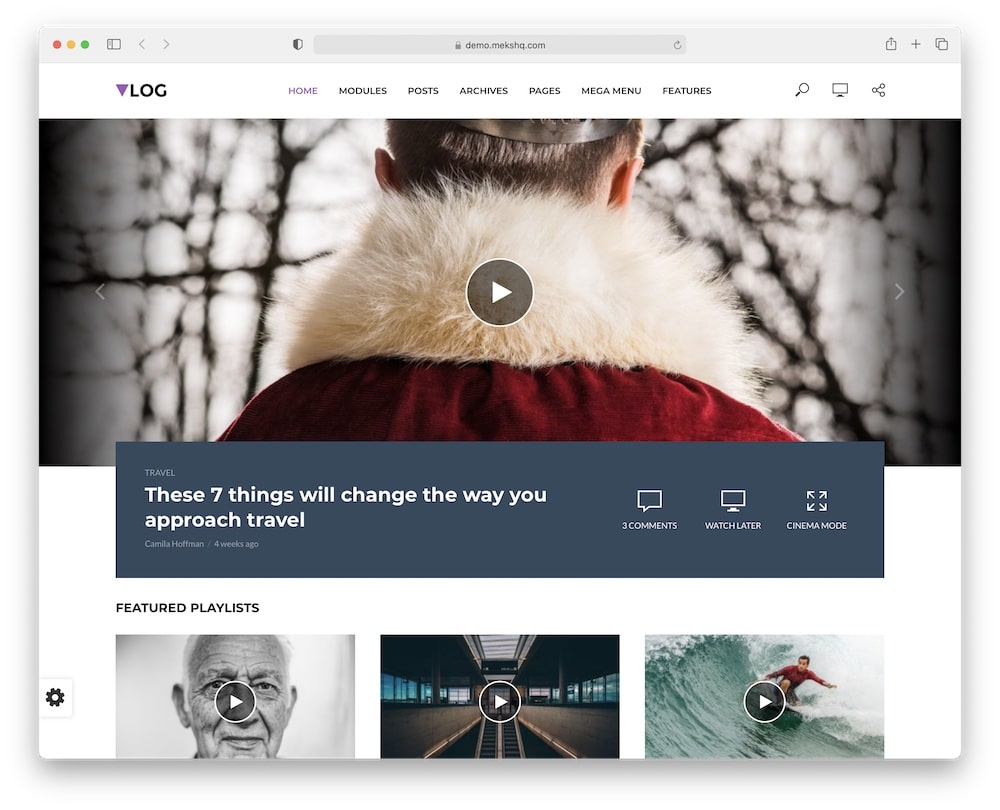 If you're considering starting a video vlog, then this is the right place to start. The cool thing about Vlog theme is its full compatibility with YouTube, Vimeo, and Dailymotion.
Basically, it doesn't matter which platform you choose – Vlog makes it look great and professional.
Vlog focuses on showing the world through your eyes and understanding it.
So, BE YOU.
Oh, and the amazing Series plugin (included for free) can also improve the look of your videos and articles into a transparent and effective playlist.
S.W.E.E.T.
Your first steps in building your new site will be simple due to Vlog's ready-to-use layouts, useful widgets, unlimited sidebars, supports most plugins, flexible shortcodes, and on and on.
Brilliant.
Vlog features:
6,000+ sales
4.9+ star ratings
Regular updates
Easy monetization
Price: $59 (may vary)
MORE INFO / DOWNLOAD
DEMO
2. Surround

Create a vlog website that will make people forget they need to breathe with a responsive Surround WordPress theme.
The whole point of Surround is to share your thoughts, ideas, and amazing experiences with the whole world.
Here's how it works:
You just need to choose one of the pre-defined homepages (comes with six) and click the install button. (You can learn how to install a theme by reading our tutorial.) Demos are fully customizable and you can change them exactly as you wish.
Yup, you'll be super fast with building your new site!
Stop wasting your time and simply share ALL of your creative energy online (and you can even earn money).
BONUS POINTS: You get the best plugins, various layouts, tons of shortcodes, unlimited Google fonts, and never-ending possibilities of colors.
Surround features:
90+ sales
5-star ratings
Clean & distraction-free design
Review plugin (for free)
Price: $69 (may vary)
MORE INFO / DOWNLOAD
DEMO
3. Vipo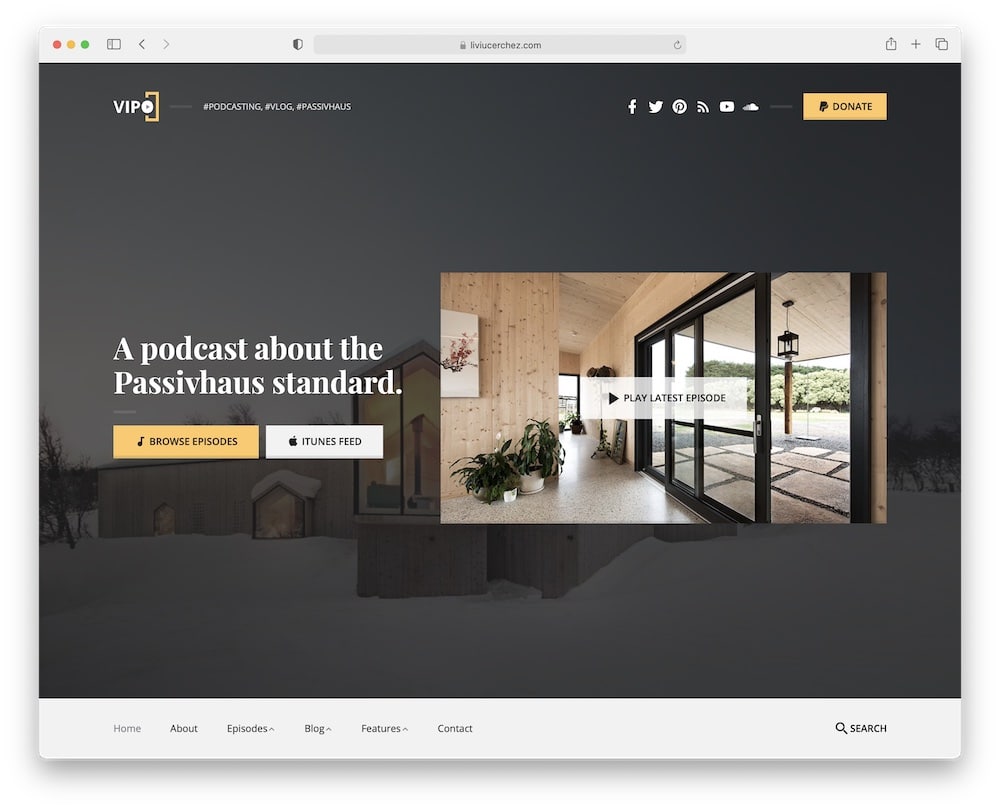 The best thing you can do is, to be honest, fun, and creative – that is basically the whole point of bloggers and podcasters.
Vipo WordPress vlog theme will fuel your work (that matters to you) in the best (functional) and most beautiful (design) way possible.
If you are looking for a responsive and mobile-ready theme, Vipo is the way to go!
Seriously, just check the preview and enjoy the smooth and easy-on-the-eyes look.
You will even gain access to the new Gutenberg editor, for an even simpler way of creating posts, layouts, pages, and release of your new episodes.
Oh, and DON'T FORGET about Vipo's amazing customer support (aid behind the scene). Right, when you get stuck they come with their extensive knowledge.
I am thrilled!
Vipo features:
110+ sales
4.5+ star ratings
Supports HTML5 videos & audios
Transcriptions & time tags
Price: $40 (may vary)
MORE INFO / DOWNLOAD
DEMO
4. Alinan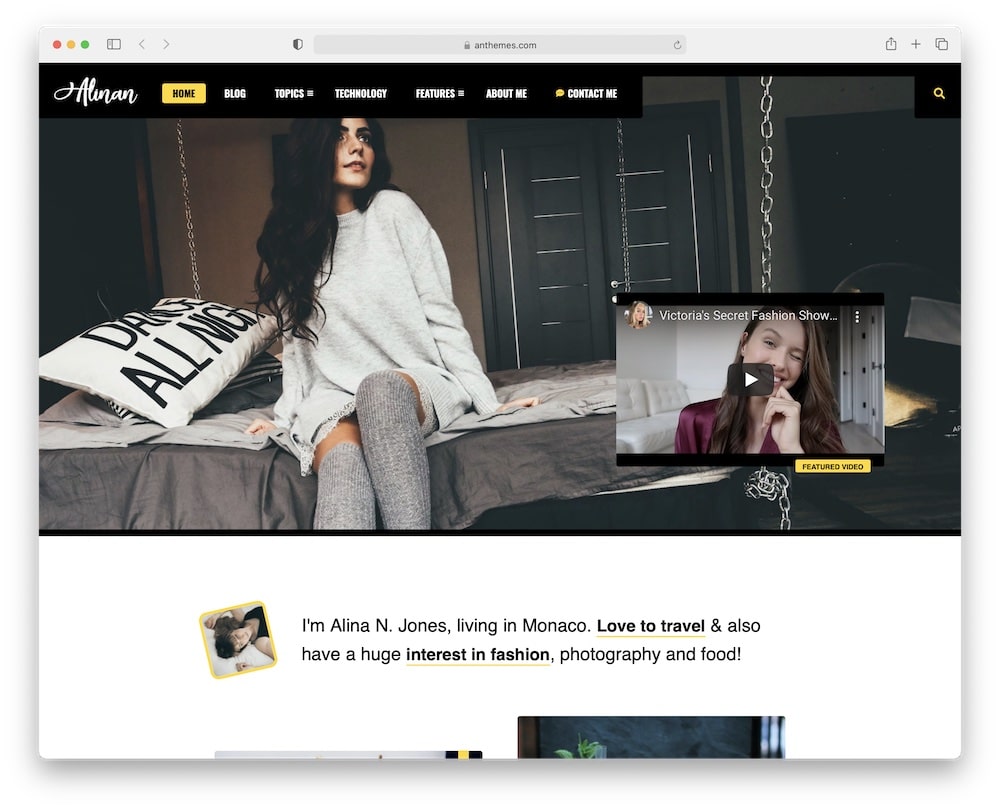 What is the secret sauce that makes you different? Focus on yourself and be one-of-a-kind with an amazing Alinan WP vlog theme.
Aside, don't forget to be a silly, fun, different, crazy YouTuber. BE ORIGINAL with Alinan WP.
All in all, customizing Alinan WP is a lot easier than you think. Choose your favorite demo, make some clicks and start building your dream video site.
Alinan WP included widgets, icons, layouts, and unlimited colors that give all the possibilities to simply create what you want.
Or maybe you want to be present in different parts of the world? Keep CALM and SMILE, Alinan WP is translation-ready. Thankfully!
Just start.
Alinan features:
70+ sales
4.6+ star ratings
Free lifetime updates
Convenient live search
Price: $59 (may vary)
MORE INFO / DOWNLOAD
DEMO
5. Zoya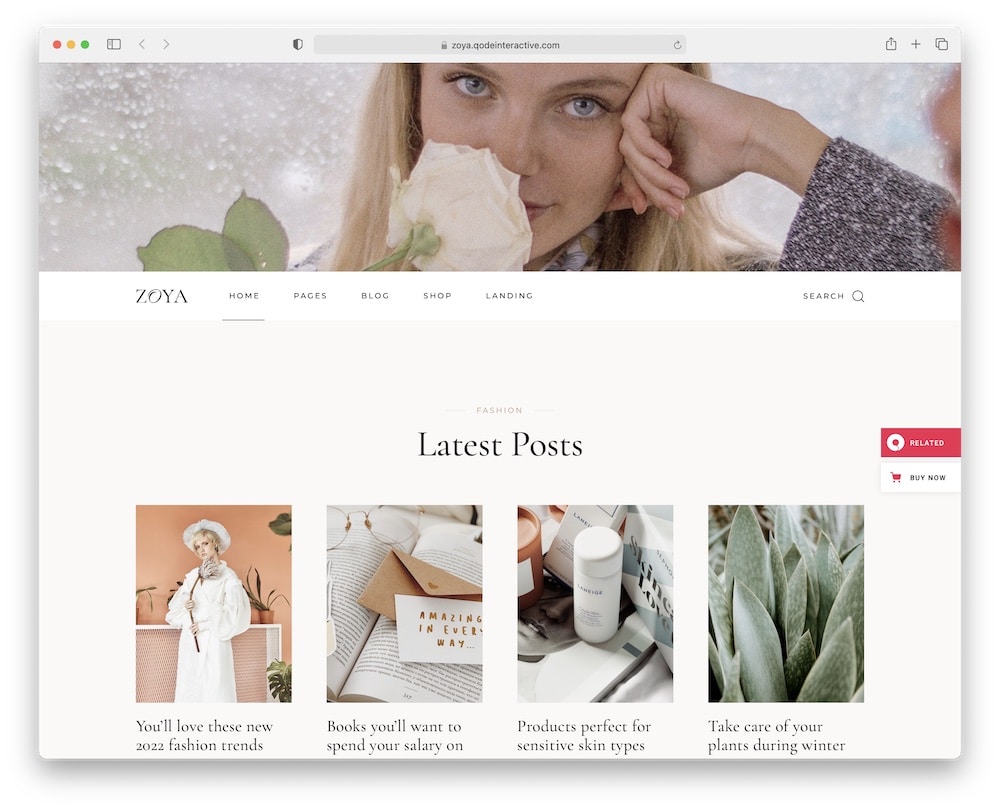 The big idea behind Zoya WordPress video blog theme is modern lifestyle, trends, and stylish items.
So, if you love the variety and beauty of living in style – Zoya will wake up all your interests!
Think about it, how freely and easily you can integrate yourself into Zoya and inspire people with your everyday video blog.
After all, Zoya is fully customizable (0 coding knowledge required).
Zoya includes one of the best tools out there – so it handles all the essential functions on your new site with a breeze.
Of course, Zoya is also SEO optimized – we all want the Google juice!
Ready to open a new door in your life?
Zoya features:
370+ sales
5-star ratings
Optional online store
Price: $69 (may vary)
MORE INFO / DOWNLOAD
DEMO
6. Kicker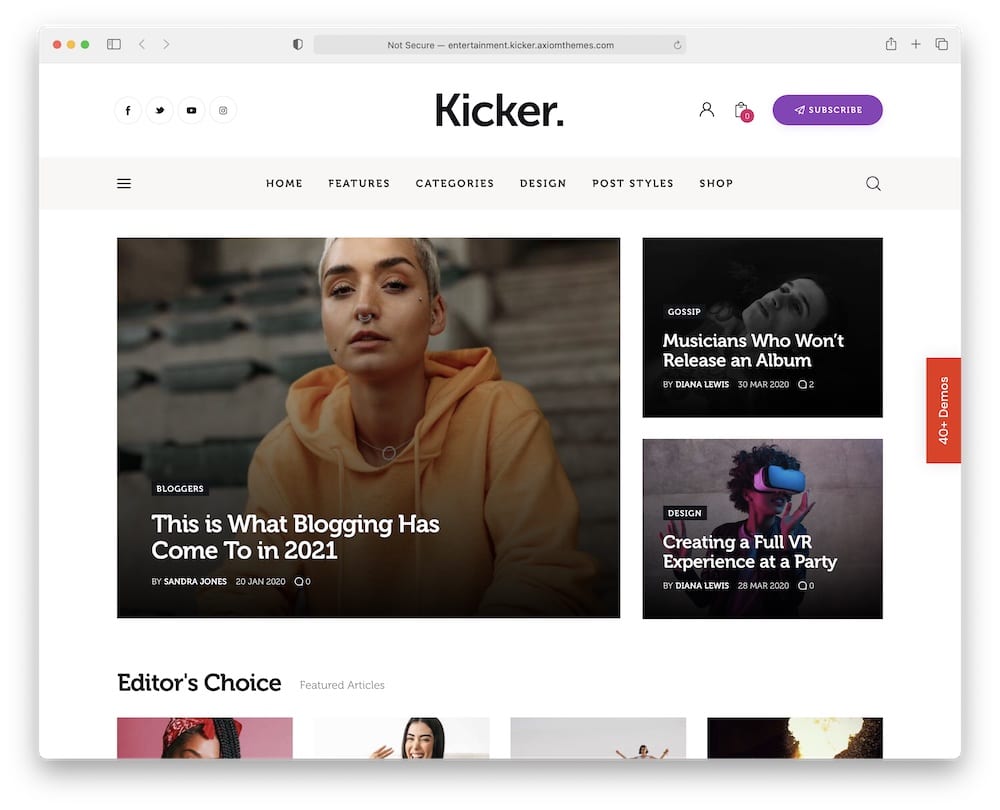 Take a step further with a responsive and fresh Kicker WordPress theme.
Designed for web presence, with a perfectly crafted layout to showcase your valuable video content and daily work.
Kicker works like a charm!
In short, you can install Kicker with a click and completely customize it without coding.
Pretty COOL.
If like me you love highly navigable menus and clear websites then the added mega menu will impress you.
Oh, and included pop-up boxes can also help improve your business game.
Let's get crafting with versatile Kicker.
Kicker features:
2,400+ sales
4.7+ star ratings
Fast loading speed
Make money with ads & posts
Price: $59 (may vary)
MORE INFO / DOWNLOAD
DEMO
7. MyVoyage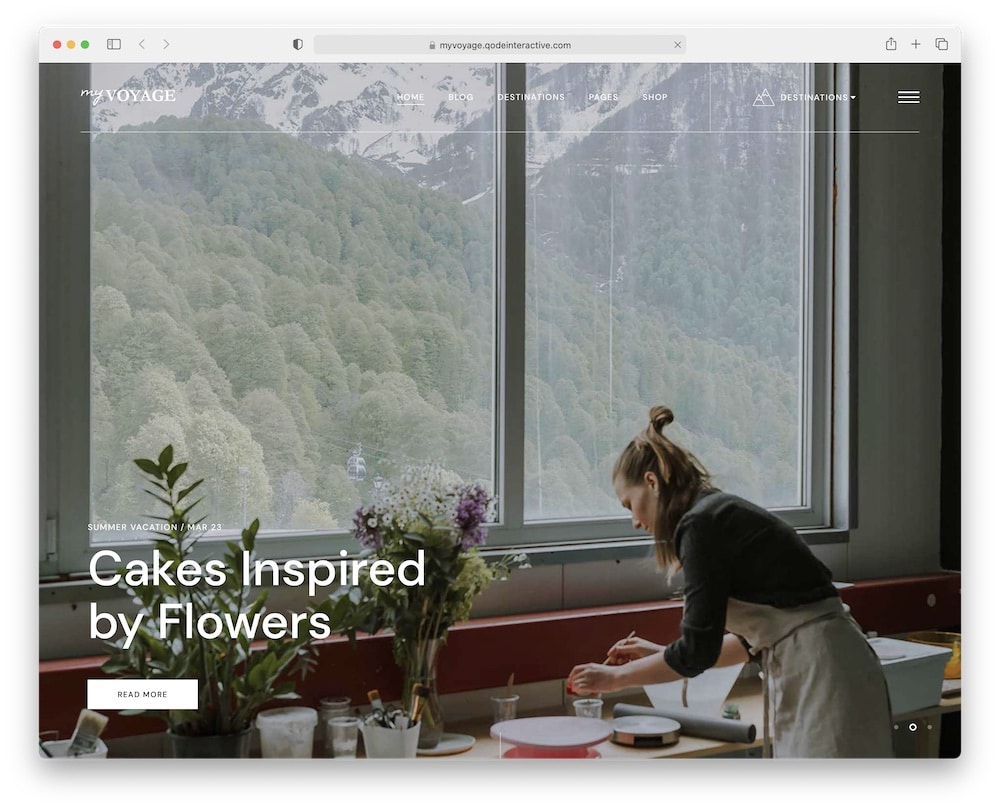 If your head is full of life energy and inspiring thoughts that hide around inside of you, then you need to broadcast yourself with a video blog.
MyVoyage is a great destination for your stories and hair-raising adventures.
What do you get with MyVoyage?
You will be immediately HOOKED with a selection of pretty layouts, multiple header options, pre-made inner pages, and homepages (jaw-dropping!).
You can connect MyVoyage with your social media accounts with no extra work. And not to mention, the stunning parallax effect option adds action and depth to your visual elements.
DAMN COOL.
Scroll into the YouTuber mindset with MyVoyage.
MyVoyage features:
MORE INFO / DOWNLOAD
DEMO
8. Backpack Traveler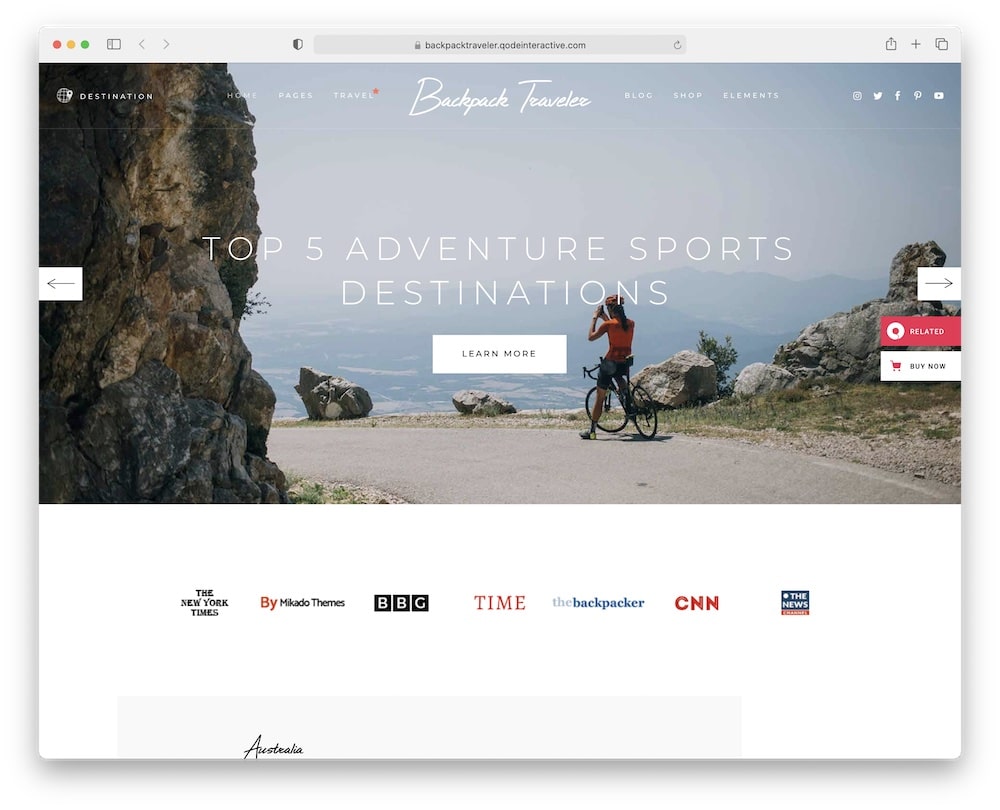 Do you have goals to set yourself on a great vlogger adventure?
You get a one-way ticket to absolutely everything you need for an amazing website with Backpack Traveler theme.
Yes, even I WANT the TICKET, please!
Remember, Backpack Traveler is easily one of the best options (even if you don't have experience with building sites) to create a popular online business.
It offers so many useful options such as a variety of templates, eye-catching sliders, essentials tools, fully flexible layouts, tons of shortcodes, and 800+ Google fonts.
BIG. YES.
I am literally smiling the whole time reviewing and testing Backpack Traveler's design and features.
Backpack Traveler features:
2,900+ sales
3.9+ star ratings
Supports all types of content
Price: $69 (may vary)
MORE INFO / DOWNLOAD
DEMO
9. Veen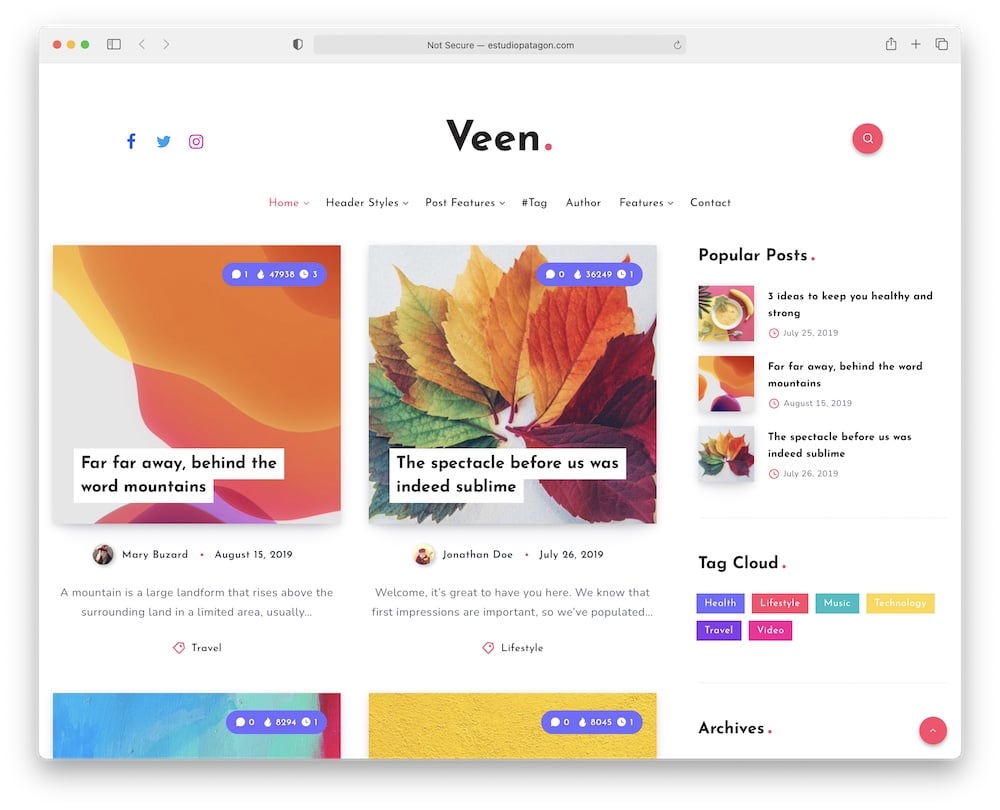 Too many people are chained to destructive habits or thoughts that are designed to keep them in an unproductive loop. Please, don't be one of them.
Focus on your dreams with a modern Veen WordPress vlog theme.
Take on your HERO cape, create what you love, do things you enjoy, and share your new story with the whole world.
No matter what your vlogging passion's all about, make it happen with Veen.
Veen is simple to use and fully customizable (the quality of the code is great). Also, it is responsive, fast as a shark, and is created with SEO in mind.
Very, very helpful.
Just do it with Veen!
Veen features:
1,800+ sales
4.9+ star ratings
SEO, speed & mobile optimized
Price: $45 (may vary)
MORE INFO / DOWNLOAD
DEMO
10. Ruki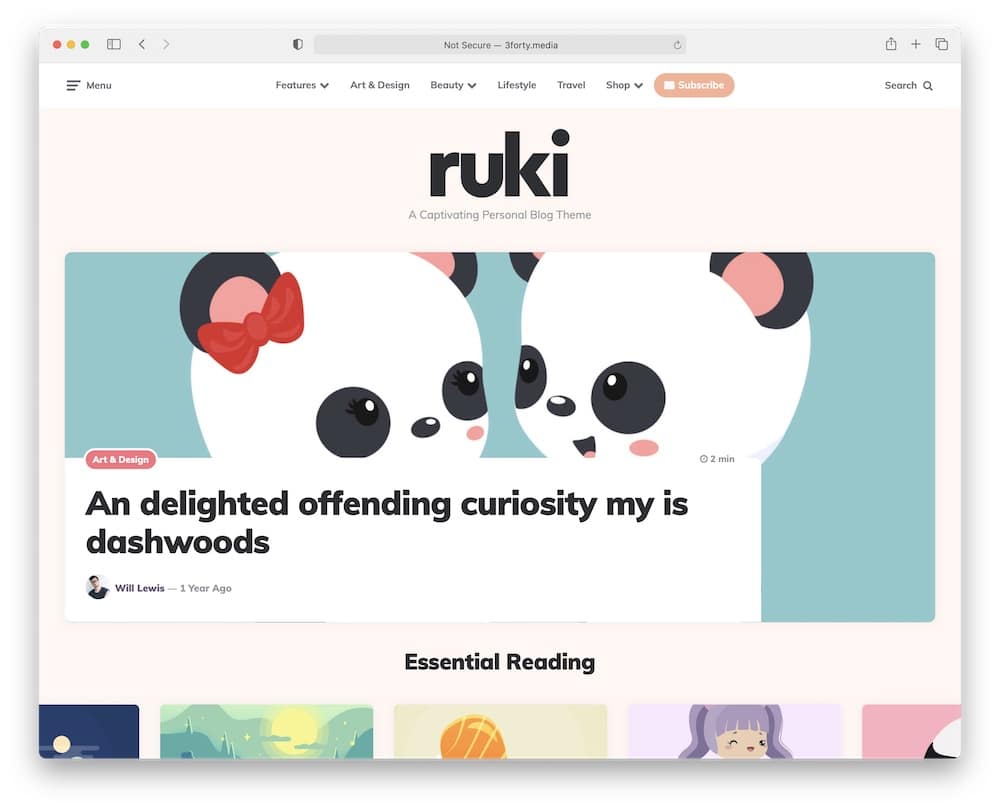 The only thing that's missing in Ruki WordPress vlog theme is your valuable content and powerful video galleries.
But you can pull that easily together and start your online journey – ASAP.
Need more?
Check out all the playful pre-made designs and useful features included in Ruki!
Besides, when it comes to building your new site, Ruki possesses the power of the Gutenberg editor. Simple to use, plus (I am sure) you will create beautiful posts and pages.
Quick and easy option of changing theme color scheme, element or widget colors, and tag colors, can make a huge difference on the look you are searching for on your site.
Push yourself into the vlogger sphere with Ruki.
Ruki features:
1,000+ sales
4.9+ star ratings
Sticky menu & back-to-top button
Price: $59 (may vary)
MORE INFO / DOWNLOAD
DEMO
11. Squaretype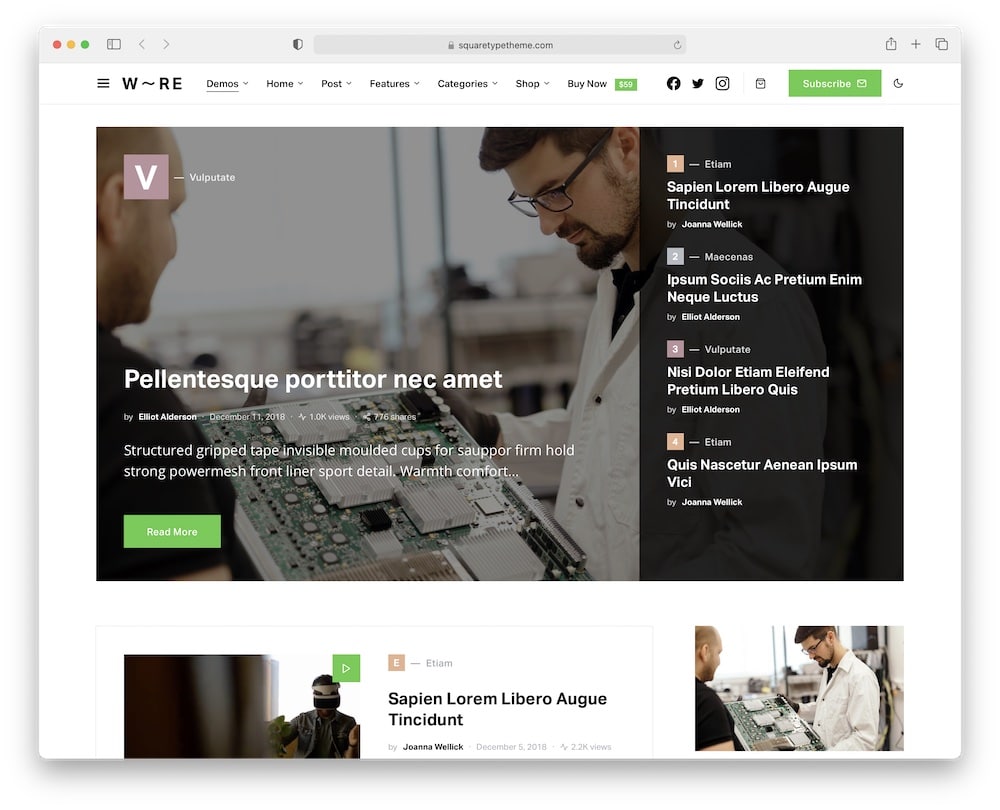 Interesting content doesn't only have the power to pull people into your WORLD but also can help you build your own online business.
You can create a dynamic look, amazing posts, and astonishing video galleries with the use of Squaretype WordPress vlog theme.
Squaretype offers nine hand-crafted and ready-to-install demos with a completely different appearance (very easy to customize).
Plus you can select video to make your vlog website's experience even more extraordinary.
SWEET.
With customizable share buttons, you can connect (ultra-fast) with your social accounts. An almost essential feature for all vloggers.
Make your content go viral (today!) with Squaretype.
Squaretype features:
2,500+ sales
4.9+ star ratings
Beautiful dark mode
Customizable hero section
Price: $59 (may vary)
MORE INFO / DOWNLOAD
DEMO
::
Note: This article was originally published on August 9, 2021. But our team regularly reviews it and updates it with necessary improvements for accuracy.