Are you searching for the ultimate hiking WordPress themes to build the best business website fast? (Even a hiking blog?)
We worked on ten projects and tested 30+ WordPress themes, but these nine proved to be the MOST resourceful.
Yes, we highly recommend them.
The themes are easy to use and versatile to fit all kinds of activities (besides hiking), like camping, trekking, climbing, adventure tourism, etc.
What To Look For In A Hiking WordPress Theme?
While hiking websites and themes vary quite a bit, there are still a few essentials that you need to pay close attention to.
At least we did when curating this collection for your convenience.
HOWEVER, you probably won't need to do any further research because the themes below cover it all.
First things first, we always look for themes with positive user feedback, excellent ratings and frequent updates. Remember, sometimes updates are less regular than we'd want, but the theme still performs fantastically, so we add it.
Then, you want to choose a hiking theme with extensive yet organized documentation, so it's easy to skim and understand. But another way of getting help is through a customer support or support forum, which we always triple-check is quick and friendly.
Important: You need a WP theme that's 100% responsive and fast loading, so every visitor has a blast browsing your hiking-related site.
The final must-have is the user-friendly theme admin interface, so everyone gets the most out of it – even a beginner WordPress user.
You can start immediately and have a hiking page live FAST!
Enjoy.
QUICK-PICK: Best Hiking WP Themes
Best Hiking WordPress Themes For Trekking, Campings, Outdoors
Before you continue, we have a complete tutorial on how to install a WP theme in case you haven't installed one yet.
1. Alpins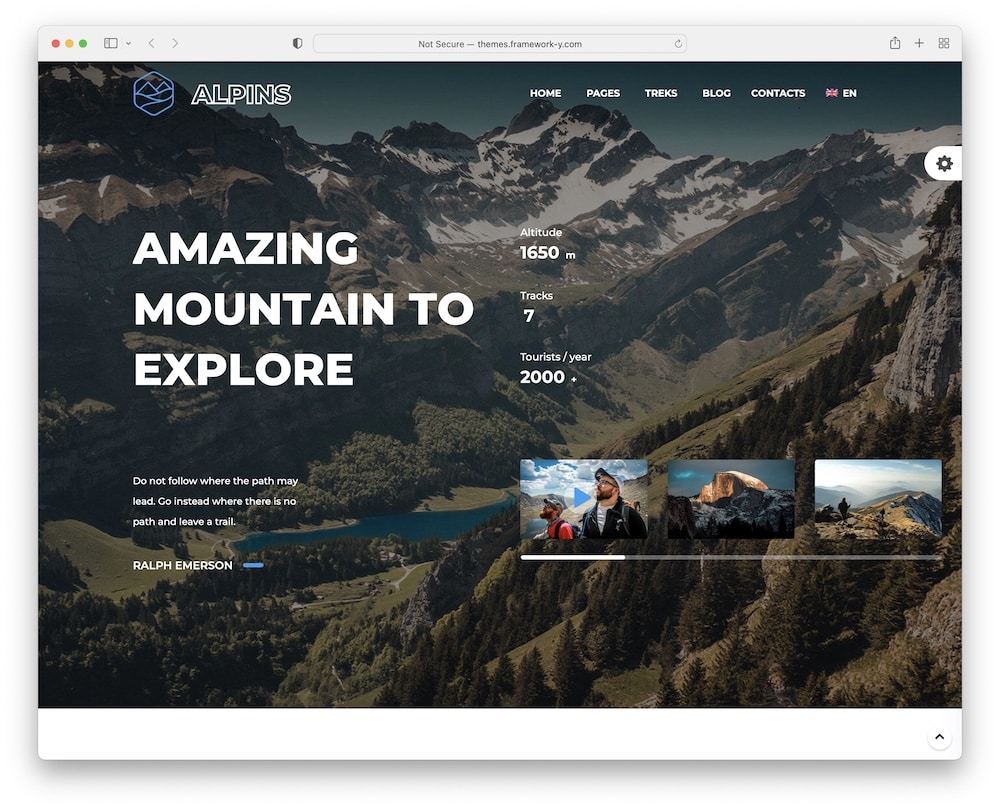 If you love to hike and write, you can now combine the two passions via Alpins theme.
WooHoo!
Alpins comes with numerous homepages for a quick and smooth start.
Advanced menu set-up, widgets-ready footer, and flexible WP sidebar can not wait for your creative touch.
Enjoy full control (0 coding)!
Plus, Alpins offers tons of icons – I think it is smart to kick off with social media ones (say it out loud: "Follow me!").
Moreover, Alpins is optimized for fast page speed. Yup, it is similar to moving very fast through the woods.
Nobody likes sluggish websites or hikers!
Oh, and don't forget to set up a COOL newsletter subscription and grow your community.
Take the best road with Alpins!
Alpins features:
360+ sales
4.9+ star ratings
Price: $59 (may vary)
MORE INFO / DOWNLOAD
DEMO
2. The Mounty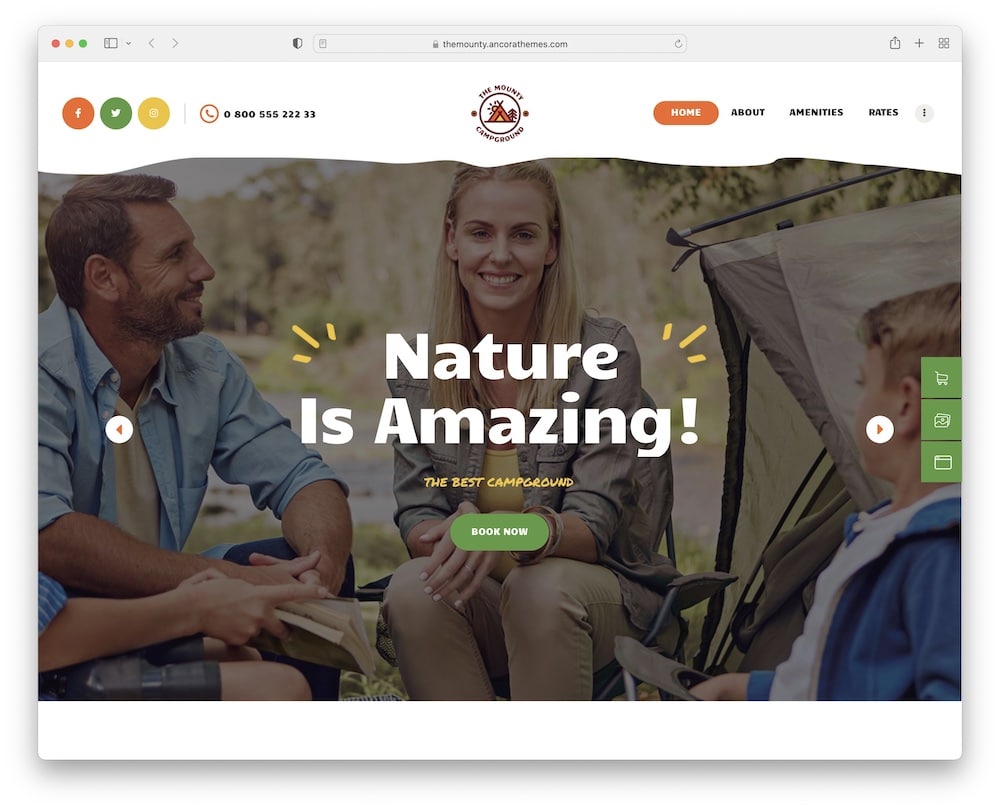 Create an online place for the world's most exciting hikes and campgrounds with The Mounty WordPress theme (performance WIZARD).
The Mounty offers the most popular plugins such as WPBakery page builder, Slider Revolution, WooCommerce, and Events Calendar.
FULL. GEAR.
The cherry on top is the parallax theme effect background (absolutely!).
Of course, you can create a well-established (pre-made layouts included) "tell all" blog.
TIP: include gear reviews, trekking stories, trip reports, or inspiring videos.
Moreover, The Mounty's customer support will handle all your questions – EVERY TIME.
Ooooh, man, and you get free lifetime updates!
Are you down?
The Mounty features:
710+ sales
4.9+ star ratings
Built-in mega menu
Price: $69 (may vary)
MORE INFO / DOWNLOAD
DEMO
3. SevenHills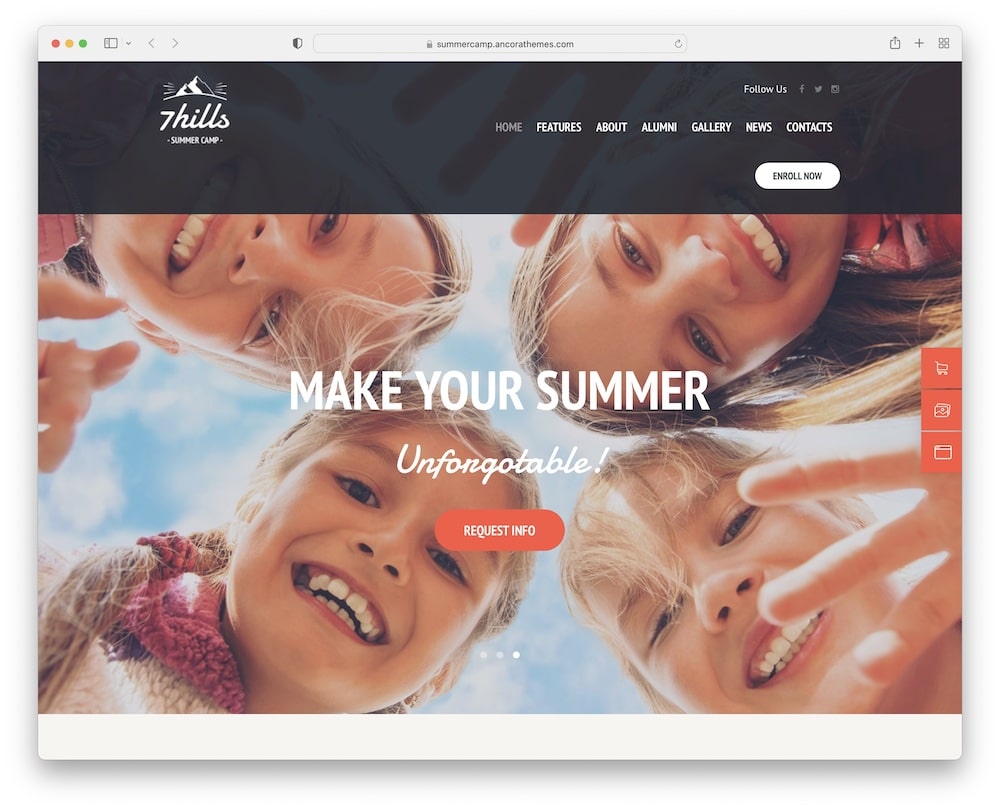 It doesn't matter what your adventure is: cost, jungles, mountains, or deserts!
Share your built knowledge, pix, and informative info with confidence and all advantages of the gorgeous SevenHills hiking WordPress theme.
You bet this one is an online champ!
Remember, if you want to create an online store – is just one click away (WooCommerce ROCKS)!
Moreover, SevenHills is fully responsive and retina ready because you and your visitors deserve CRISP images. HI5!
You can edit your site like a pro due to SevenHill's collection of widgets, shortcodes, and various layout options.
I la-la like it!
SevenHills features:
980+ sales
4.8+ star ratings
Quick 1-click install
Price: $69 (may vary)
MORE INFO / DOWNLOAD
DEMO
4. Adrenaline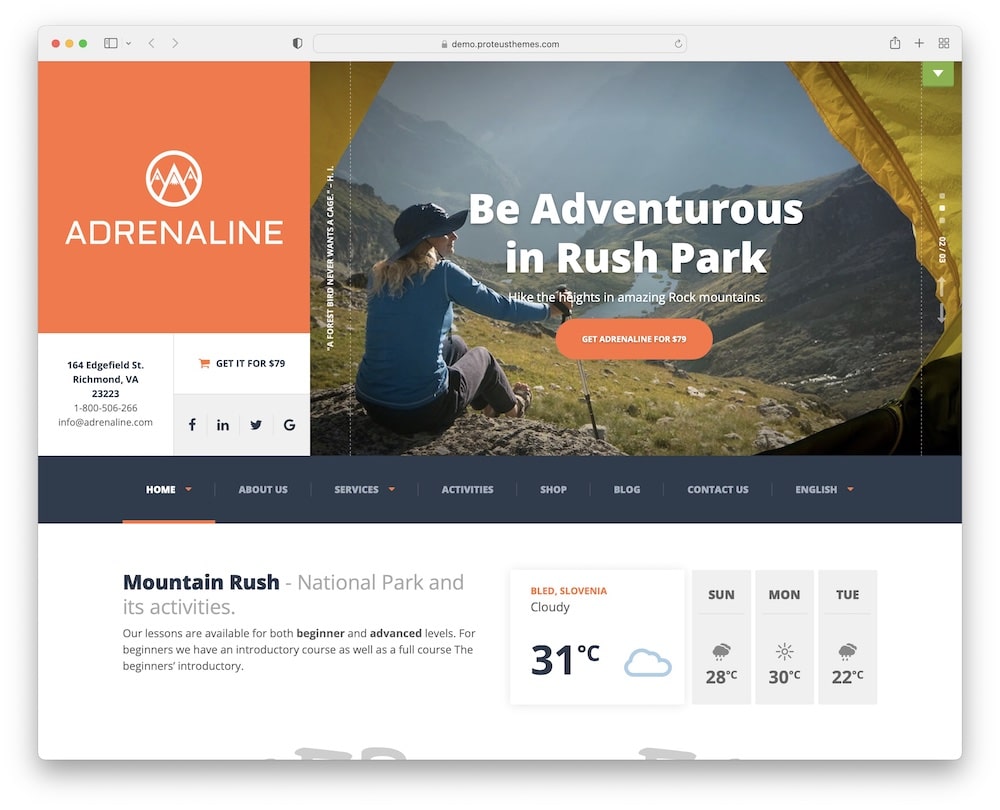 Wanna hit the trails?
Discover Adrenaline hiking WordPress theme (!) packed with many multi-functional features and many more pre-made designs. Feast your eyes on this info!
Plus, fresh Adrenaline will look GREAT today and in the future (so MODERN).
Repeat after me: I can quickly change layouts, sidebars, widgets, fonts, and colors with the drag and drop WP page builder. (Which you get included in the bundle!)
Also, full documentation (step-by-step guide) will help me with painless installation.
I think every hiker should check out Adrenaline.
It's also worth mentioning that Adrenaline can be translated into 14 languages (a massive opportunity to go global). And it comes with a WordPress weather widget.
Adrenaline features:
350+ sales
4.3+ star ratings
Fast loading
Testimonials (or unlock more features with these WP testimonial plugins)
Price: $99 (may vary)
MORE INFO / DOWNLOAD
DEMO
5. Camping Village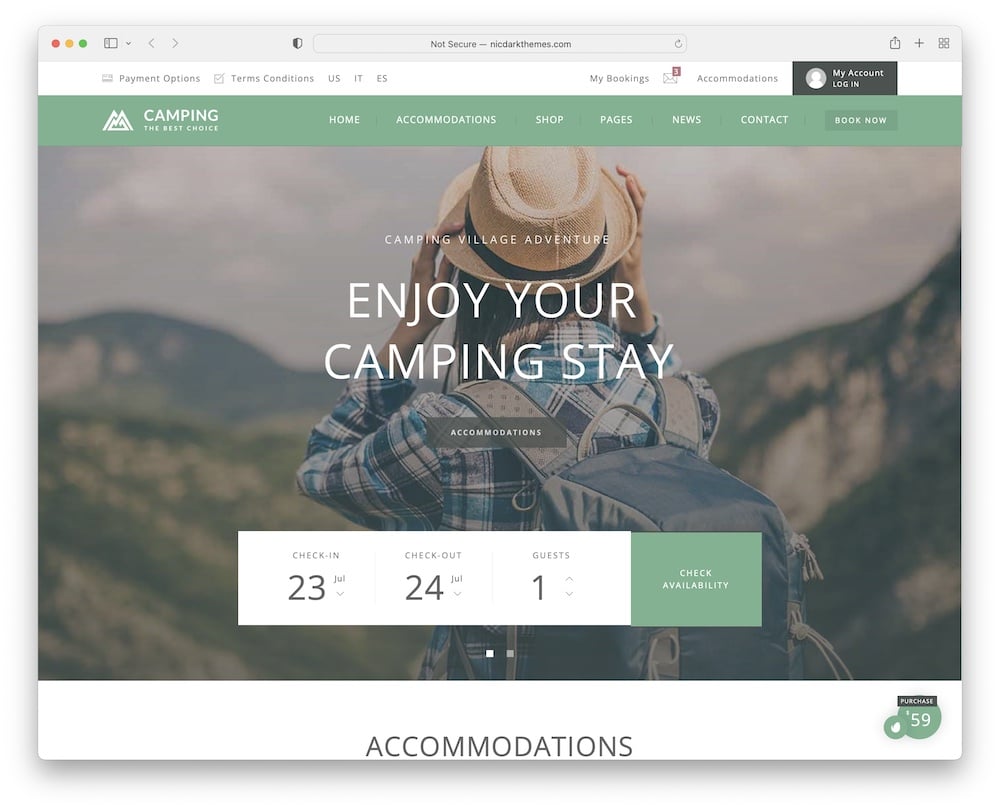 Camping Village hiking WordPress theme takes care of everything (!). From designs, plugins and SEO to high speed and unlimited colors & Google fonts – here you go!
Take the upper hand of integration with the most popular booking systems (Airbnb, Trip Advisor, Booking, or Hostel World) and offer hikers awesome motels, campsites, or hostels.
We all need a place to get every single thing out of the pack after a long hike.
HIKER. EXPLOSION.
Besides, Slider Revolution works like magic!
In short, I love that I can make as many changes as I wish to my gorgeous slider, making a custom version (animations, fonts, backgrounds, buttons).
You can also easily add locations as a preview image on Google Maps.
INSTANT DIRECTIONS.
Pretty cool, right?
Camping Village features:
MORE INFO / DOWNLOAD
DEMO
6. Upking

Choose a COOL companion (Upking hiking WordPress theme) for a long trail and build up to high levels together.
Time to act!
Upking is packed with all the essentials. It includes everything you need for the effortless building of your new website.
YES.
You are right to think that it's life-changing!
Customize the look and feel of your site with the flexible mega menu, 300+ blocks, unlimited icons, and unique widgets. Right here, right now.
Plus, pre-made blog layouts await your valuable content (stretch your hiking ideas & knowledge).
And if you are like me, you will LOVE Upking's cross-browser optimization and retina-ready design.
Upking features:
60+ sales
4.5+ star ratings
Handy video tutorials
Price: $29 (may vary)
MORE INFO / DOWNLOAD
DEMO
7. Kamperen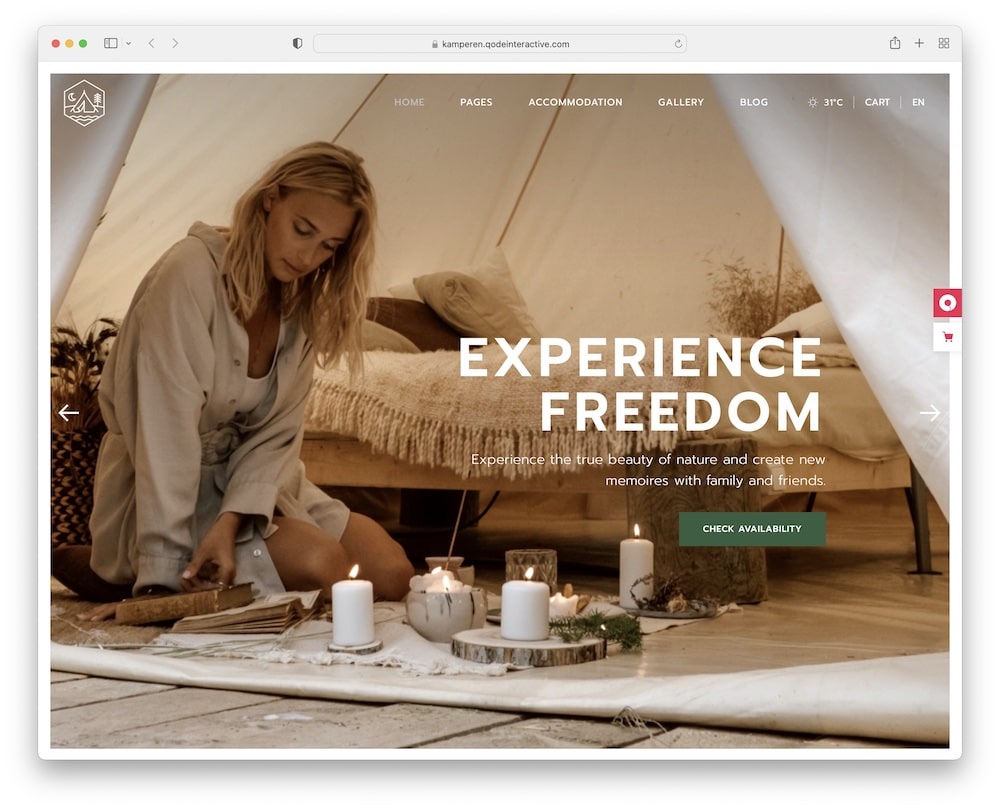 Build a strong foundation for your hiking career with Kamperen WordPress theme.
Kamperen is like when you find a pair of boots that fit perfectly (Hi, Cinderella!).
Easy to use admin interface is great for quick customization (NO coding knowledge required).
Plus, the Elementor page builder is "hands-off" AMAZING.
I'm super love-love-loving it.
Kamperen includes WooCommerce for the online store and various shortcodes to promote & offer accommodations on trekking routes.
Plus, with a pre-made portfolio, easily create a gallery that will make people forget they need to breathe.
I mean, wasn't life just MADE for sharing? Well, Kamperen even has social media icons and share widgets. Huzzah!
Done deal.
Kamperen features:
630+ sales
4.6+ star rating
Availability calendar
Practical filtering
Price: $85 (may vary)
MORE INFO / DOWNLOAD
DEMO
8. MyVoyage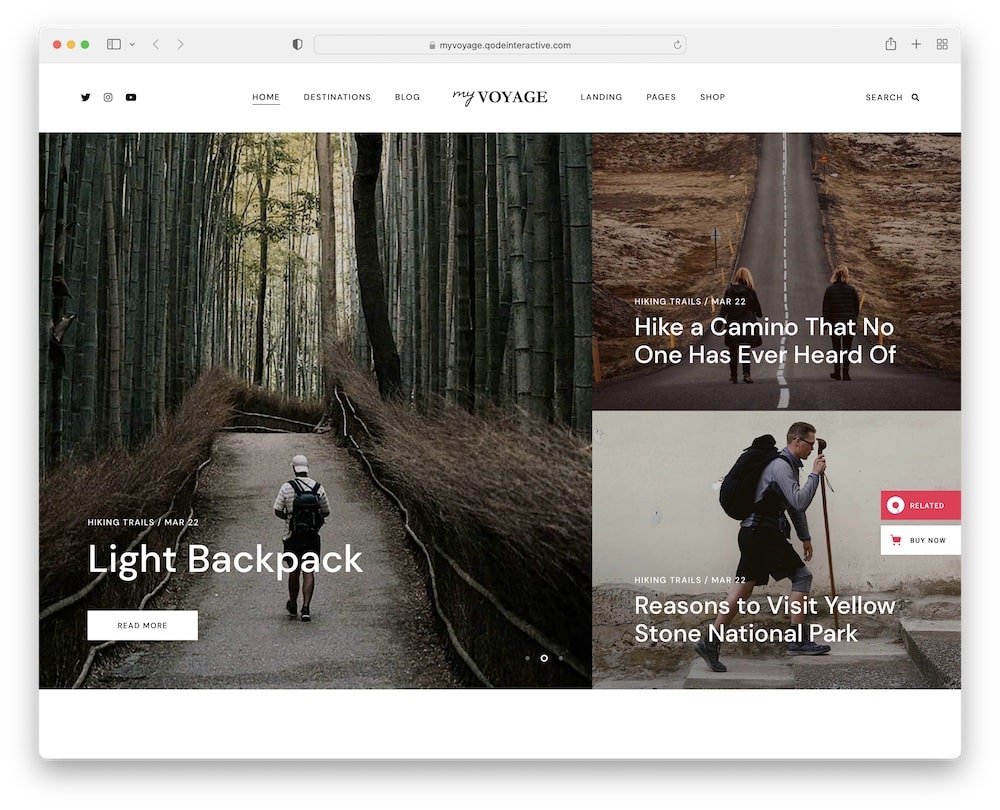 You can always rely on the wonderful MyVoyage hiking WordPress theme!
It has many creative ways to redesign, change and adjust its style (without overdoing it).
So let's take a look.
You can fully personalize the header (multiple options), inner pages, and buttons, create sidebars, and set up useful widgets.
MyVoyage includes the most popular plugins such as Elementor, Slider Revolution, WooCommerce, and Contact Form 7. Wow!
I am also pumped about pre-made blog layouts (lots of options!).
Present your story, team, best tips, write reviews, organize giveaways, and much more.
Extra bonus: Child theme!
Join MyVoyage hiker's oasis today.
MyVoyage features:
310+ sales
4.5+ star ratings
Integrated search function
Price: $85 (may vary)
MORE INFO / DOWNLOAD
DEMO
9. Activland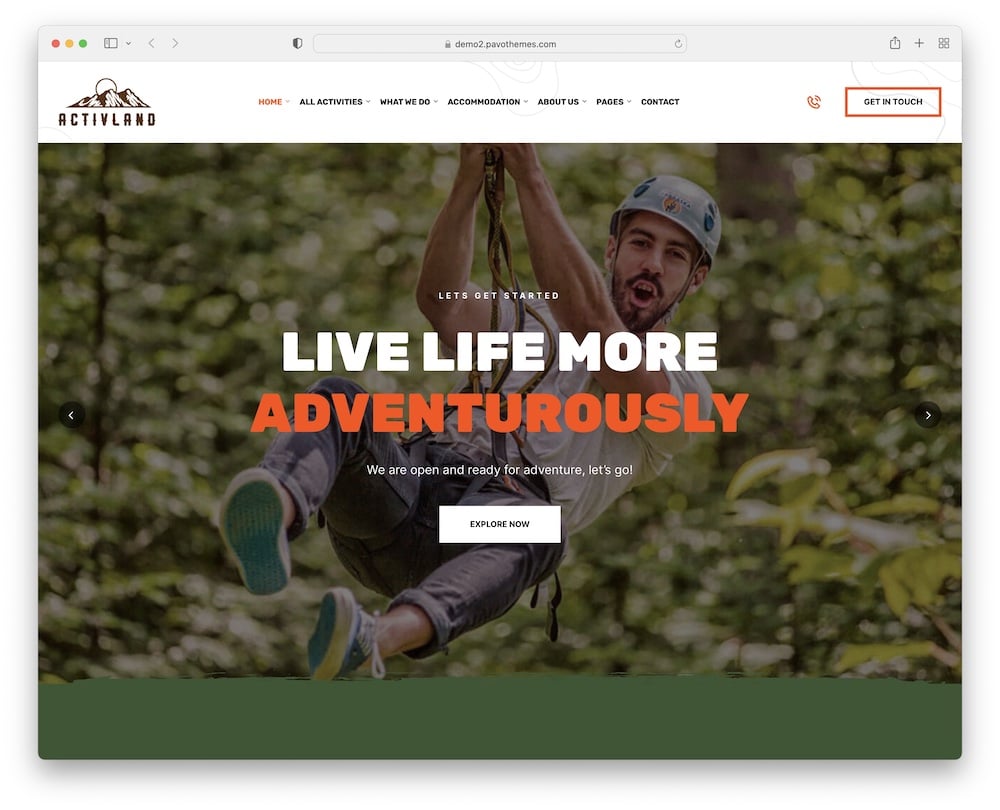 Go on a climb with Activland hiking WordPress theme because life is better in hiking boots!
It comes with three fully functional homepages (awe-inspiring designs), pre-made layouts, and THE BEST plugins.
Plus, the integrated WordPress booking system is easy to use and activates through an online form.
Moreover, Activland offers great navigation on your site due to its mega menu. Don't take my word for it, check it out!
Sure, I use Elementor to craft my pages (game changer), especially because you see every little change in real time before going live.
It's a big, big deal!
Set up your business with Activland (detailed documentation & friendly support guaranteed). What's not to love?
Activland features:
260+ sales
5-star ratings
Online booking
Price: $48 (may vary)
MORE INFO / DOWNLOAD
DEMO
::
Note: This article was originally published on July 31, 2022. But our team regularly reviews it and updates it with necessary improvements for accuracy.