Are you searching for the best Shopify landing page themes to create a strong online presence?
We used these for our clients' products and services SUCCESSFULLY. (Ella & Boom worked really well.)
We added a few extra designs because they are so PERFECT. (Like Iooi, Fabulous & Escoot.)
You'll also find an excellent and reliable FREE one, Narrative.
All themes work great for:
Most of the themes support code-free Shopify sections, which simplify the whole process.
This post covers:
Enter with a BANG and make BANK.
QUICK-PICK: Best Shopify Landing Page Themes
Best Shopify Landing Page Themes
1. Unero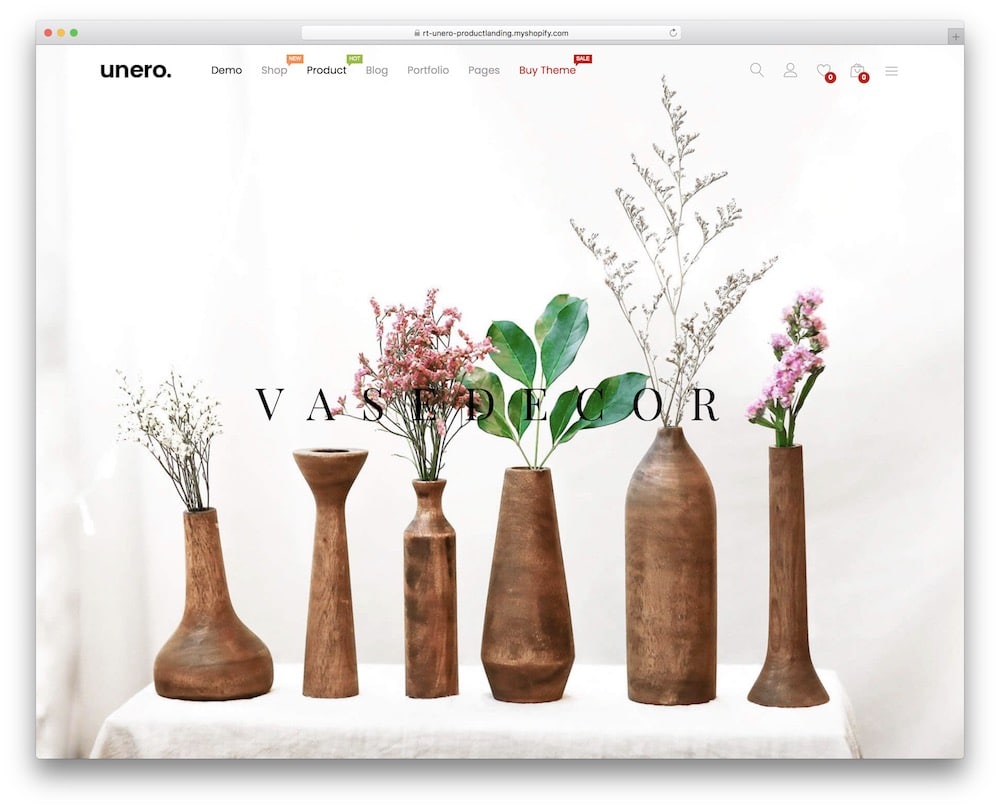 If you are looking for a clean and minimal-looking Shopify landing page theme, Unero is worth a look. Its simple design and focus on products make your online store more attractive to visitors.
Unero is well-suited for different eCommerce websites, such as decoration, fashion, furniture, etc.
It comes with a range of features, including over twenty homepage variations, four collection page layouts, eight product page layouts, a wishlist and a slider.
Like other Shopify themes, Unero is a section-ready theme too. So, rearranging the sections and elements will be EASIER.
Unero features:
950+ sales
4.7+ star rating
Dynamic checkout
Age verification
Price: $56 (may vary)
MORE INFO / DOWNLOAD
DEMO
2. Matres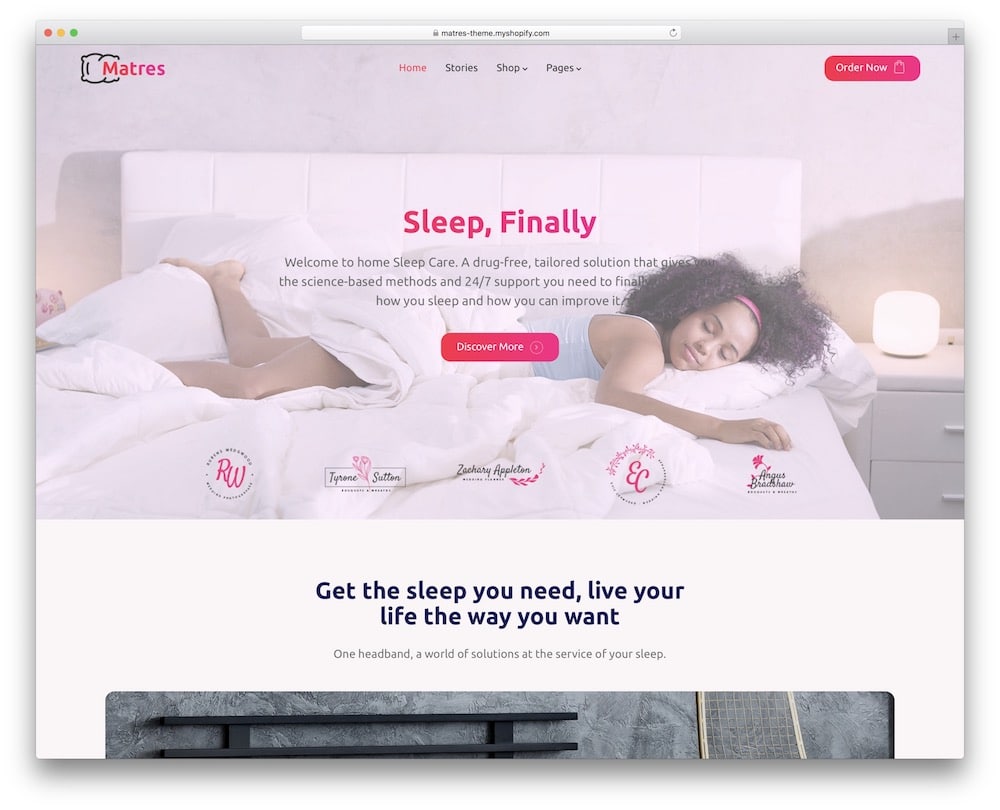 If you are looking for the best Shopify landing page theme, Matres is the best option. It is 100% responsive and developed with HTML5 and CSS3.
This user-friendly theme offers stylish page layouts and sections to help you design the store and attractively showcase the products.
The intuitive drag and drop interface lets you alter Matres to your liking easily and effortlessly.
The customization options you get with Matres are UNLIMITED. Matres use the best speed and search engine optimization strategies.
Some other amazing features include five product page variants, tons of home sections, dynamic check buttons, color and size swatches, product comparison and more.
Matres features:
75+ sales
4.5+ star rating
Amazing filtering
Currency switcher
Price: $58 (may vary)
MORE INFO / DOWNLOAD
DEMO
3. Ella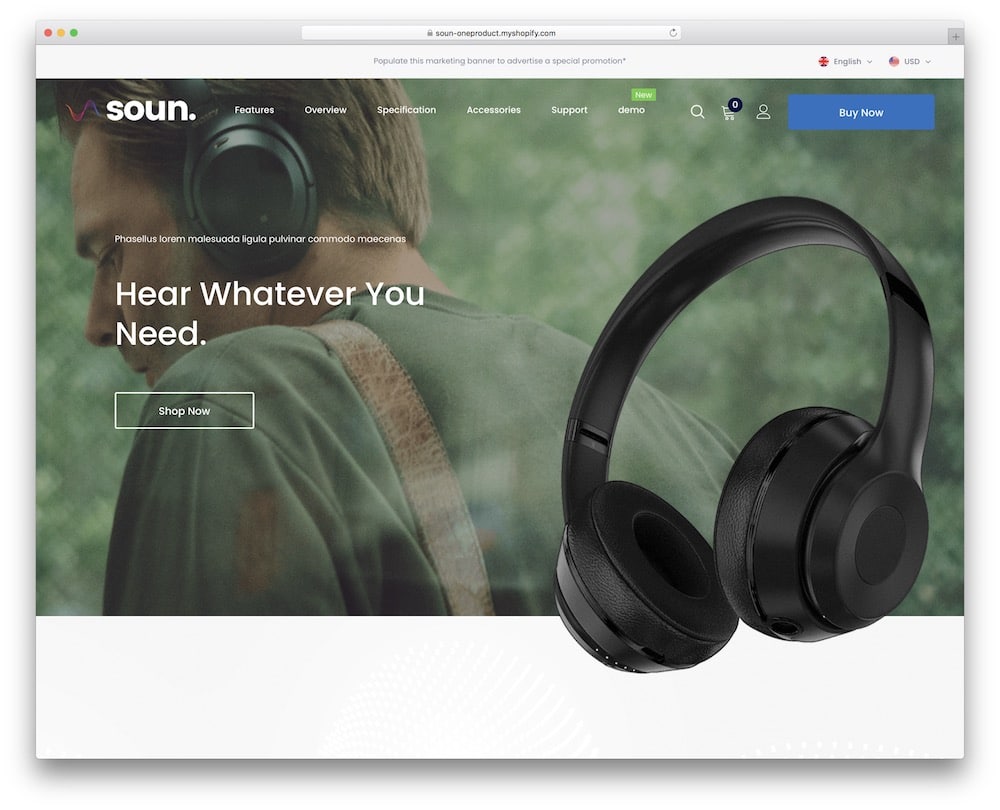 Ella is an all-in-one Shopify theme having different layouts and styles to enable you to create multiple structures and provide you with child themes for various businesses.
This theme is 100% responsive and cross-browser compatible, ensuring a seamless shopping experience every time.
It supports Shopify sections, enabling you to drag and drop elements within your design.
The main features of Ella include seventeen index layouts, sixteen child themes, multiple header and footer options, multiple languages and currencies, and many more in between.
Similar to the design, the code structure of this Shopify landing page theme is also clean and simple to make the programmer's job easy.
Ella features:
34,600+ sales
4.7+ star rating
RTL support & translatable
Quick shop
Price: $89 (may vary)
MORE INFO / DOWNLOAD
DEMO
4. Boom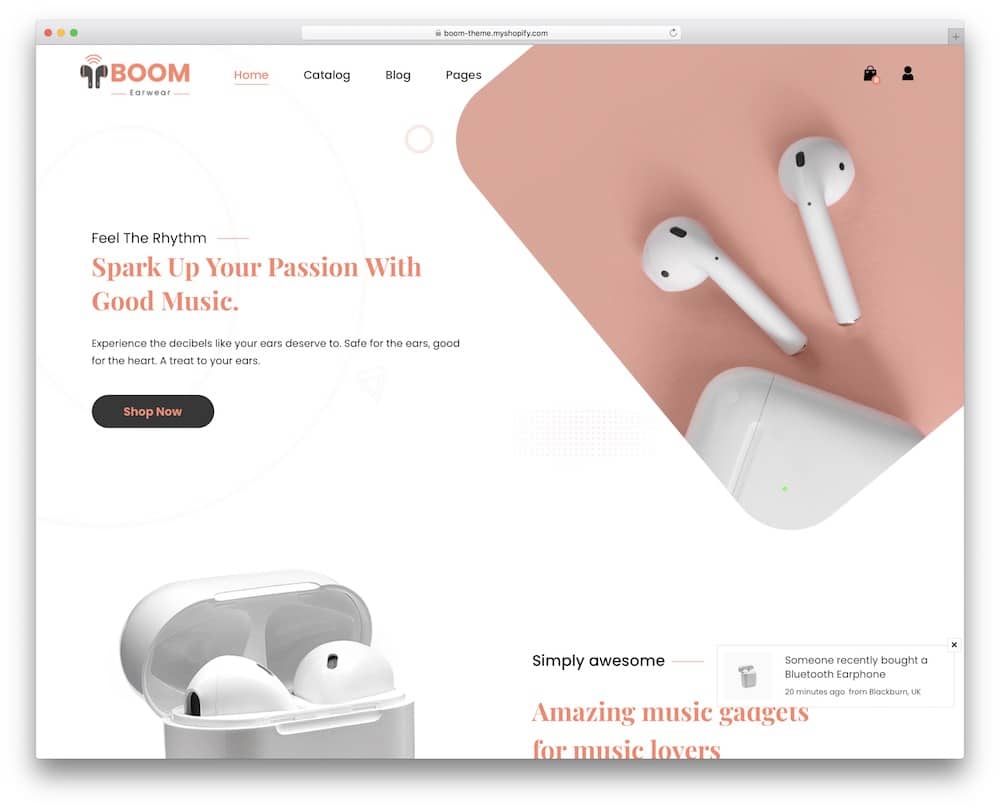 Boom is a one-product Shopify theme, having a clean and modern design with several features.
The tool comes with a responsive design, order tracking, robust admin panel, currency switcher, product carousel and more.
Boom is also search engine optimized, which is another advantage to consider when selecting an eCommerce theme.
Like other Shopify themes, Boom also comes with documentation, enabling you to understand more about how everything works and make changes WITHOUT breaking the basic design.
In addition to that, you can also speak to the friendly support team at any time.
Boom features:
3,600+ sales
4.9+ star rating
Cart summary drop-down
Product quick view
Price: $59 (may vary)
MORE INFO / DOWNLOAD
DEMO
5. Fabulous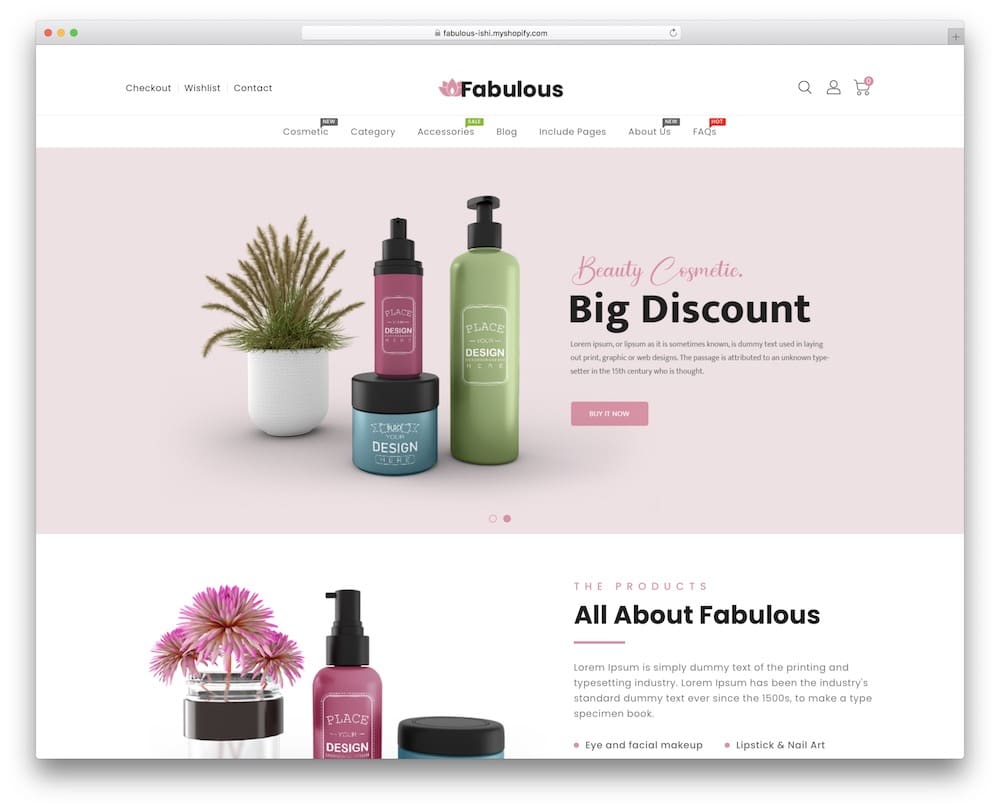 Fabulous is a multi-concept Shopify eCommerce landing page theme that works for any product you want to market.
Create a solid lander for your marketing campaign and take your business to the next level.
You can begin with the many samples at your disposal and quick installation.
You will NEVER need to work with code or do any other advanced tasks with Fabulous. This site canvas is for everyone, beginners and professionals alike.
Start your journey to a successful launch of a product landing page now with Fabulous and never look back.
Fabulous features:
570+ sales
4.6+ star rating
Product countdown timer for urgency
Price: $49 (may vary)
MORE INFO / DOWNLOAD
DEMO
6. Wuso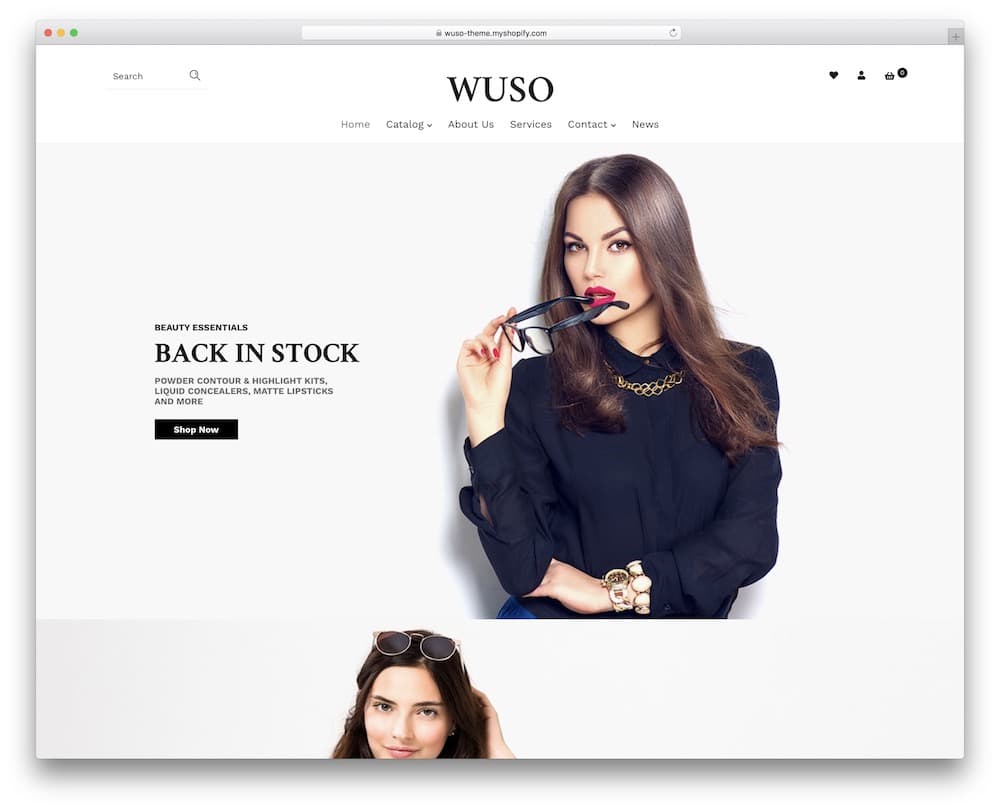 If you are looking for a fully functional Shopify landing page theme, you should give Wuso a try. It is one of the best and most highly sought themes for online fashion stores in the market due to its amazing features.
Coded with HTML5 and CSS3, Wuso is a versatile and user-friendly theme with over fifty home sections and five product page variants.
Besides its stylish page layouts, you get elegant sliders, carousels, icons, and special effects.
You can design your webpage layouts and showcase your products as per your business needs using Wuso's POWERFUL drag and drop option.
We successfully built a lander for a boutique store with Wuso.
Wuso features:
20+ sales
4.5+ star rating
Social media integration
50+ home page sections
Price: $58 (may vary)
MORE INFO / DOWNLOAD
DEMO
7. Escoot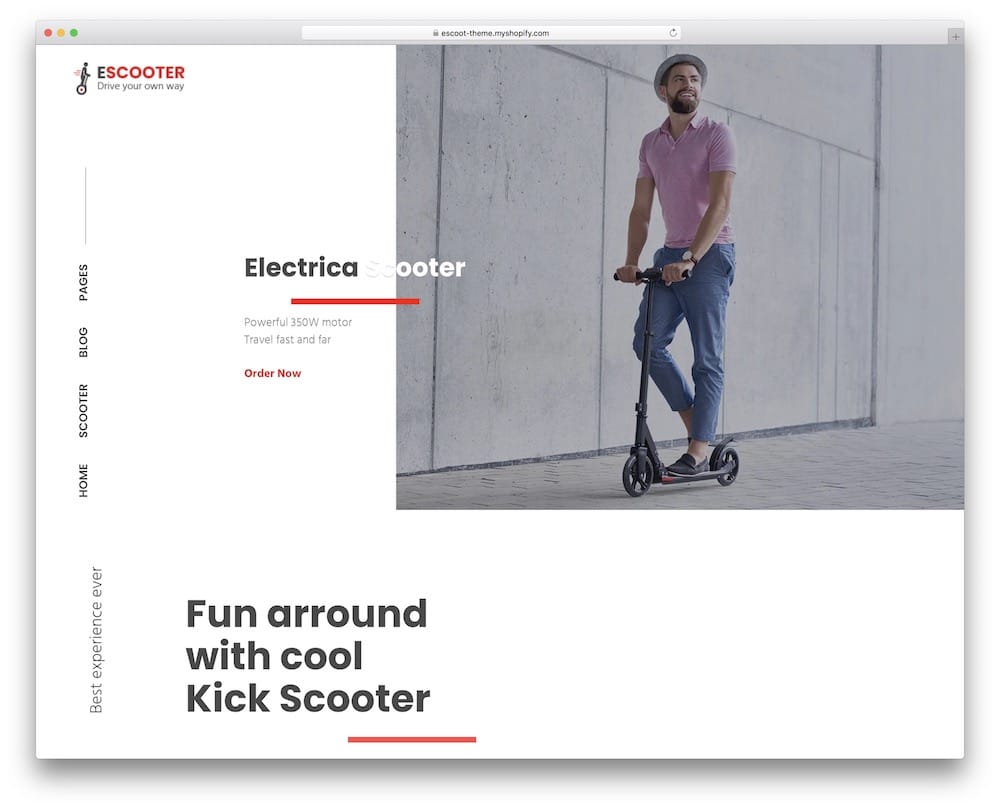 Escoot is a clean and modern Shopify landing page theme for selling a single product like scooters.
But you can also alter it to accessories, tools, or toys (with ease!). It will be a smart choice for your upcoming eCommerce projects to save both time and money.
Furthermore, Escoot has an elegant UI design with solid and powerful UX.
With Escoot, you can build a professional and dynamic online store FAST. Since it has a responsive design, you can also expect the same sharp look on mobile devices.
Besides, this theme offers working forms and easily editable source code.
Escoot features:
220+ sales
4.2+ star rating
Ajax filtering
Image with hot spots
Price: $49 (may vary)
MORE INFO / DOWNLOAD
DEMO
8. Xcop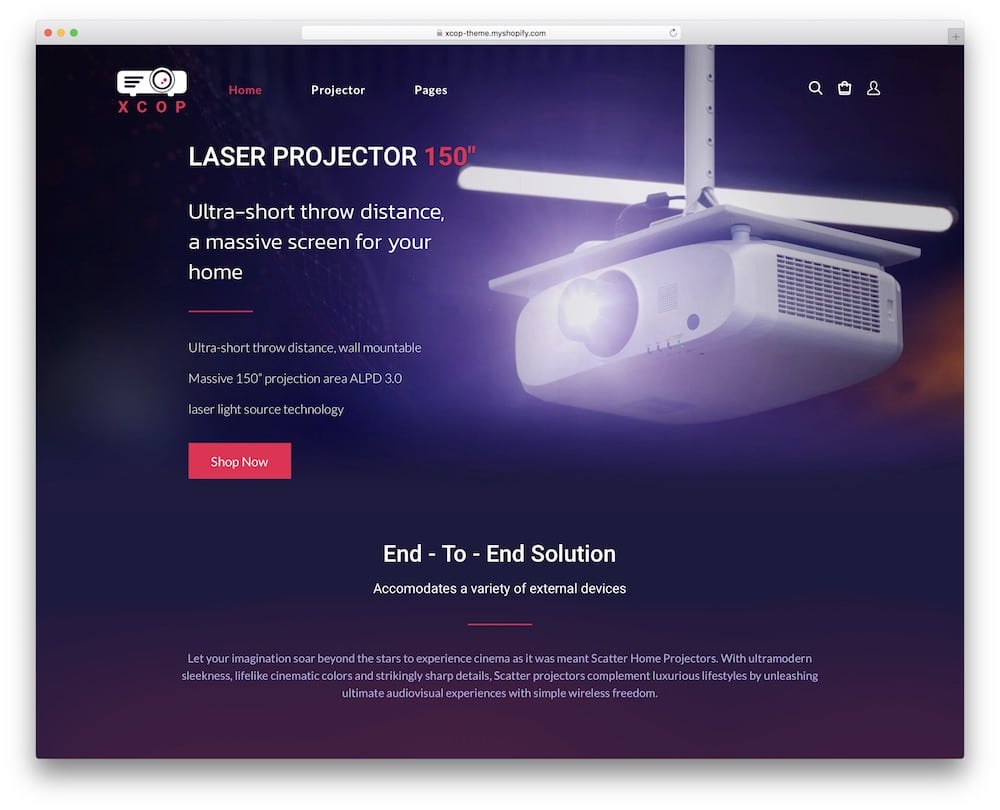 Xcop is a video game and home theatre, single product eCommerce theme with appealing design to display the products.
On top of having features like attractive mega menus, newsletter pop-up, order tracking, quick view, and currency switcher, Xcop also comes with a clean layout, various skins, and responsive design to add a different touch to your online store.
Thanks to its powerful admin panel, you can customize ALL colors and change the fonts throughout the theme as per your liking.
Build your online presence with this elegant Shopify landing page theme now.
Xcop features:
30+ sales
4.6+ star rating
Comprehensive documentation
Professional support
Price: $59 (may vary)
MORE INFO / DOWNLOAD
DEMO
9. Avone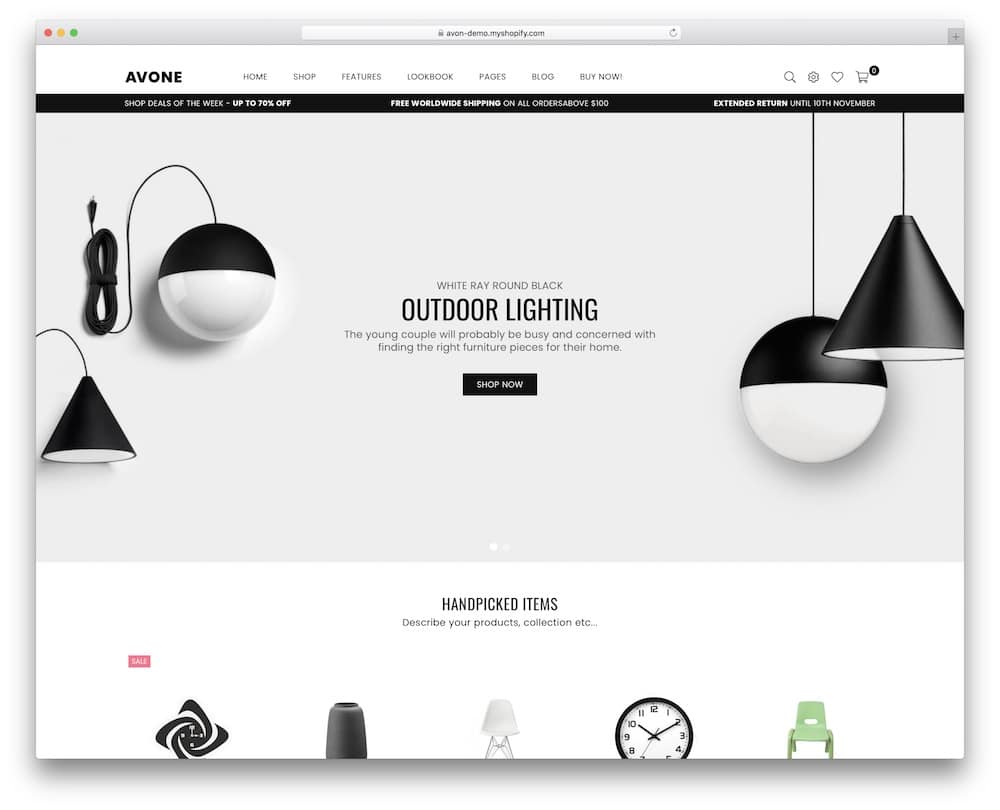 A new item in the market, Avone is an easy-to-use and most powerful Shopify landing page theme with a great design and extensive functionality.
It features more than 1,000+ theme options that enable you to craft any beautiful design.
Fully customizable and responsive design, sticky header, fast performance, wishlist, sale countdown, scroll animation, and lightbox galleries are some of the KEY features that you get with Avone.
The best part is you don't need to have any experience to set up and activate your landing page.
Avone features:
8,600+ sales
4.9+ star rating
Performance optimized
Fake sale counts
Price: $79 (may vary)
MORE INFO / DOWNLOAD
DEMO
10. Iooi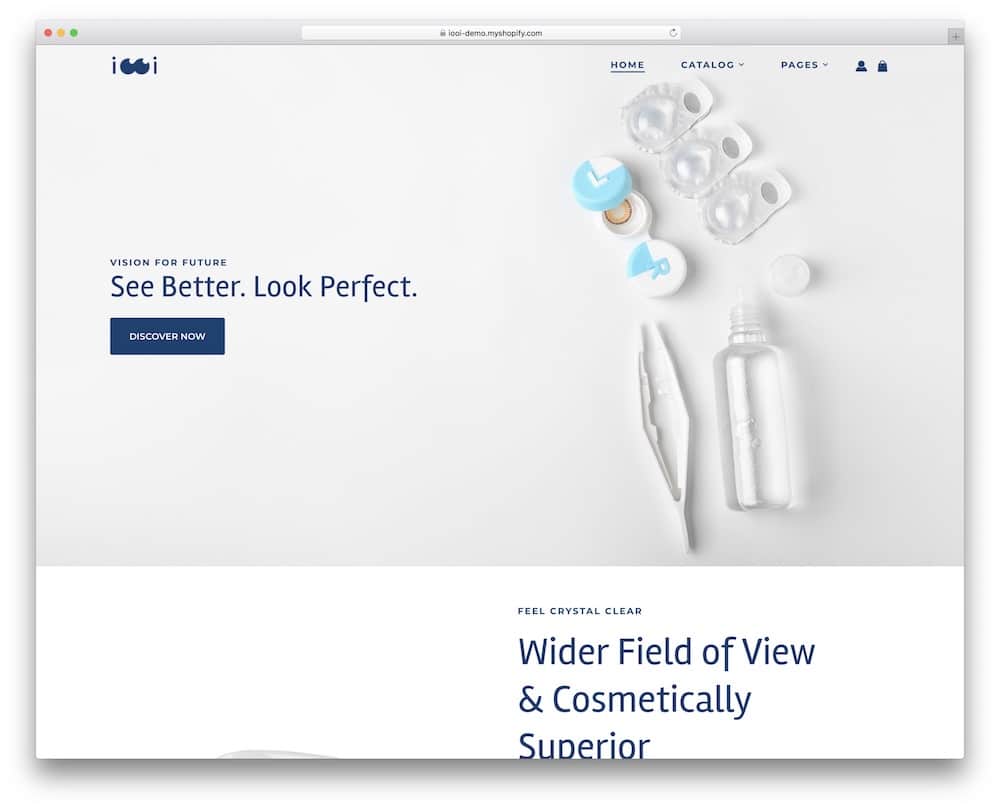 This theme is exclusively designed for eyeglasses stores, eye doctors, eye clinics, eye test centers, etc.
Iooi is a user-friendly and mobile-friendly Shopify landing page theme that appears and works smoothly on every screen size and browser.
It comes with MANY pre-defined home sections, five product page variants, Ajax search, and drag and drop Shopify builder.
You can use inbuilt layouts for home, shop, about, contact, and FAQ pages with Iooi.
This theme also includes a currency switcher that supports transactions in different currencies. Moreover, Iooi is backed with extensive documentation and routine updates.
Iooi features:
10+ sales
4.4+ star rating
Countdown timer
Grid & list views
Price: $59 (may vary)
MORE INFO / DOWNLOAD
DEMO
11. Virtux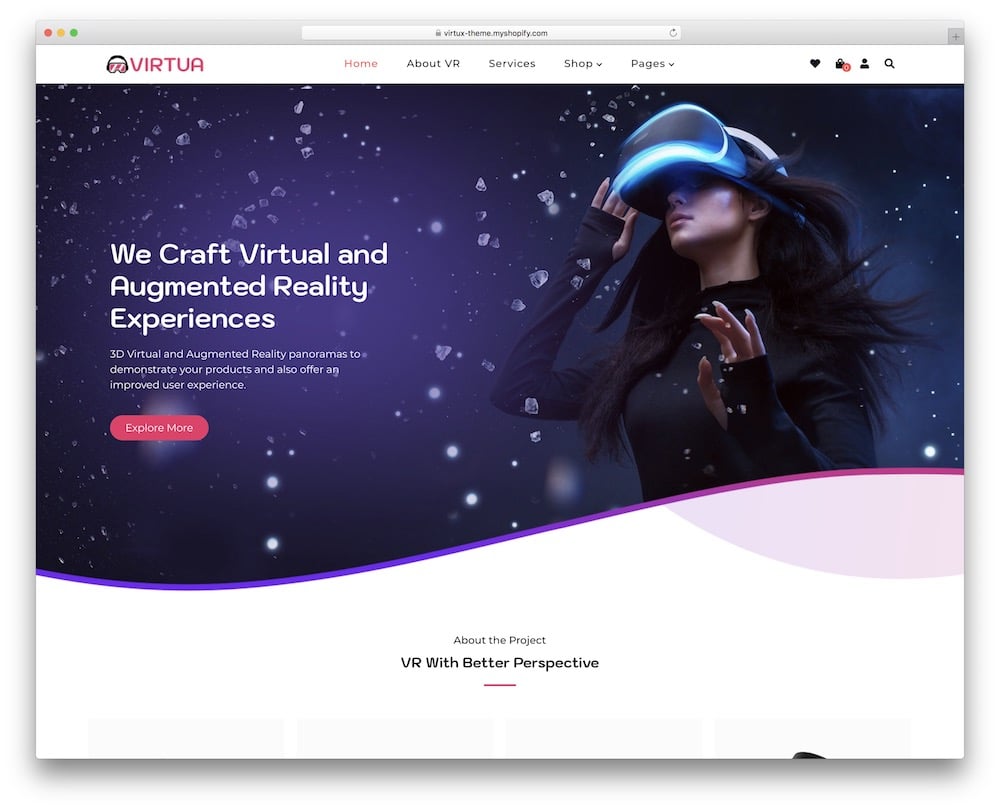 Virtux is another great choice of a Shopify landing page theme if you want your template to do multiple things simultaneously and have a preview of how to do such things without getting stuck.
It is mobile optimized and fast loading for the best shopping experience.
It comes with USEFUL elements, demos, and other inner pages, ready to start your online space.
The list of features continues an enhanced instant search, swatch options, wishlist module, social sharing, multi-currency support, and drag and drop sections.
Virtux features:
80+ sales
5-star rating
Product comparison
Purchase without using cart
Price: $58 (may vary)
MORE INFO / DOWNLOAD
DEMO
How To Create A Trustworthy Landing Page
Whether you're building a landing page for a business or a (physical or digital) product, the trust factor must always be at the back of your mind.
You basically have only one shot at convincing a visitor of your services or your product(s). Okay, you can also use retargeting and email opt-ins for promotion but we'll share this in a different article.
After years of web development and design experience, including creating landing pages, here are our top tips to create a credible online promotion.
Ensure excellent performance across all devices (responsiveness & mobile-friendliness).
Use high-quality image and video content (avoid using stock media!).
Integrate customer reviews and ratings (& encourage others to leave a review).
Show the team behind the brand, product or service.
Share your story (make it personal).
Offer free trial, return policies, free shipping, etc.
Built an social feed (like Instagram) into the landing page.
Be easily reachable (contact form, telephone number, live chat).
Use SSL certificate and run your lander on a secure https://.
Frequently Asked Questions About Shopify Landing Page Themes
What are the features of a successful Shopify landing page?
There are generally five key features that any successful Shopify landing page needs to have:
Excellent user experience on mobile (fast loading)
Great, clutter-free design (eliminate distractions)
Clear call-to-action buttons (quick actions)
List benefits, not just features
Transparent pricing (what the user gets, don't have hidden fees!)
But you must also focus on adding high-quality images, insightful content, compelling offers, free trials, etc.
Can you have a landing page on Shopify?
Yes, you can create a landing page on Shopify. The best way is to use a dedicated theme that makes the process fast and simple. But remember, you may need to add additional plugins and extensions to make it work exactly how you want.
How do I customize my Shopify landing page?
The easiest process of customizing your Shopify landing page is from the admin dashboard. Click on the "Customize" button, which will take you to the editor from where you can make adjustments and configurations to your Shopify landing page.
How to make a landing page on Shopify
One of the fastest ways to make a landing page on Shopify is using a free or premium theme. While a free theme comes with limitations, a premium one offers endless possibilities (even for scaling).
::
Note: This article was originally published on December 31, 2020. But our team regularly reviews it and updates it with necessary improvements for accuracy.