Are you searching for the best dark WooCommerce themes because you'd like to create a strong and lasting first impression?
A few of my clients were once in the same shoes as you're right now.
Many struggled to do something different that'll differentiate them from the rest.
Here's the good news: I helped them create an impactful dark eCommerce website.
This post covers:
How I Tested Best Dark WooCommerce Themes
I carefully tested and reviewed 35+ Woo-friendly themes to create this best-of collection for you.
When testing themes, I used the following questions as a guidance:
Are current users satisfied with the theme, the documentation and the support?
Is themes 100% mobile-ready and fast loading?
Does the theme receive regular updates (improvements, upgrades, bug fixes, etc.)?
Is the theme easy to install and customize? (If you need help, go through our how to install WP theme tutorial.)
Are there same, more or less features compared to the official description?
Creating dark eCommerce websites instantly becomes very EASY and satisfying.
If my small watch store owner friend did it – YOU CAN as well! 🙂
Go. Dark.
Note: Don't miss checking our ultimate free dark WordPress themes collection. (So black!)
QUICK SELECTION: Best Dark WooCommerce Themes
We also have a full guide on how to choose a WooCommerce theme, sharing ten great tips.
Best Black & Dark WooCommerce Themes
1. Elessi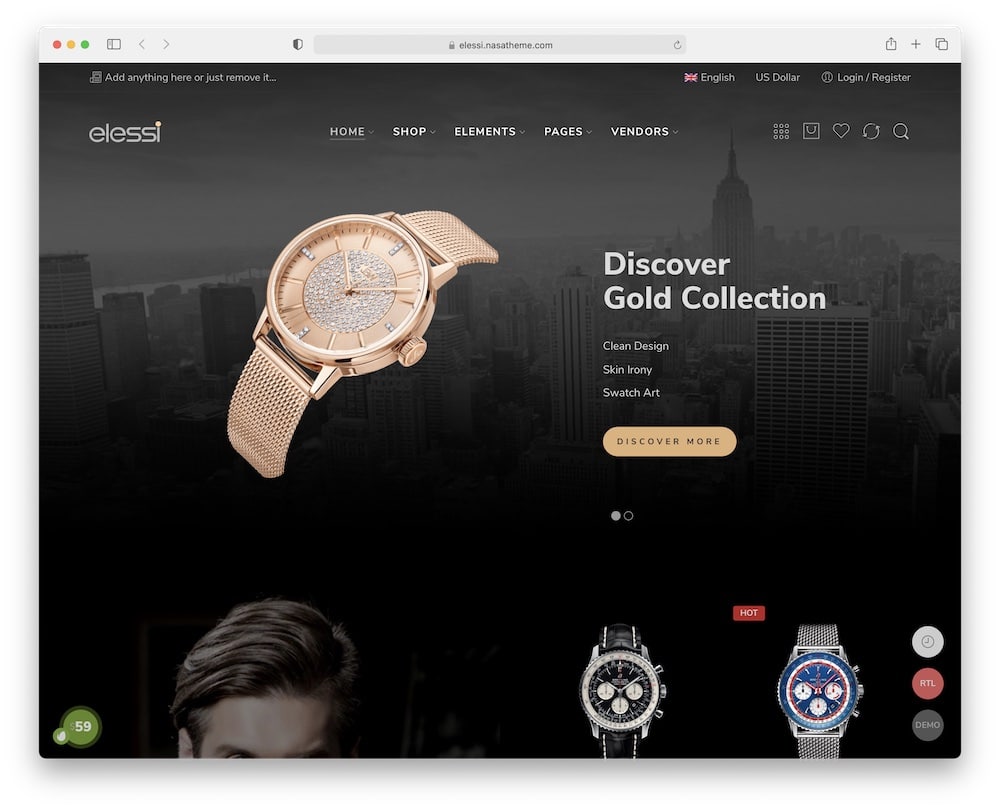 This modern and beautifully created Elessi dark eCommerce theme is totally on-brand.
Minimal effort does the trick, and BOOYAH, you have your website. YUP, to work and build with Elessi is a great (simple) experience, so buckle up (!) and enjoy all the included benefits.
I am excited that Elessi integrates the best WordPress page builder (Elementor). Besides, you can easily import all the demo data with just one quick click.
You get pre-made designs, page layouts, plugins, different product styles, elegant dark versions, and unlimited colors to choose from like magic.
FANTASTIC!
Oh, and Elessi is SEO optimized, fully responsive, and even supports RTL languages.
Huge advantage!
Functional, versatile, and fully customizable – Elessi is the right choice for you.
Elessi features:
6,200+ sales
4.9+ star rating
Easy install wizard
Good mobile version
Price: $59 (may vary)
MORE INFO / DOWNLOAD
DEMO
2. Luxwine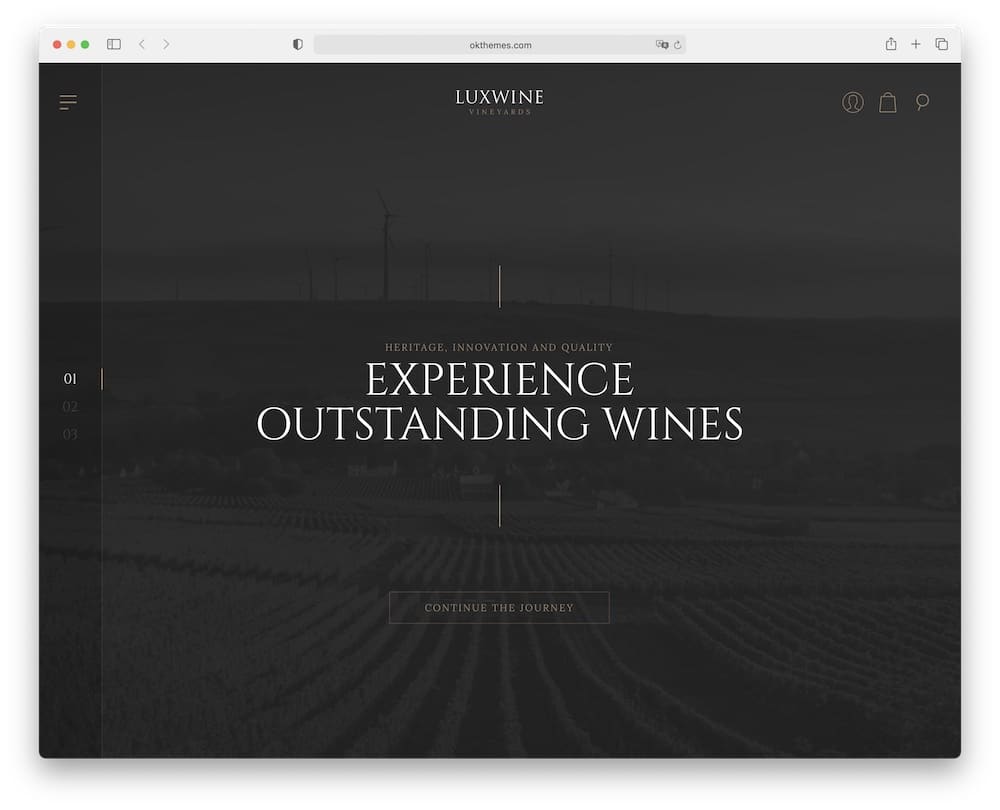 Good news: YES, this theme is as luxurious and dark as it looks. And YES, you can use Luxwine dark WooCommerce theme for wine sites, vineyard shops, or other sophisticated products.
You can use pre-made templates that dedicated developers designed (shout out!) or try and code your design (who even does that?).
I know you are very busy doing other things (Hello, it's me!), SO make some clicks and install available demos ASAP.
Moreover, Luxwine is also translation-ready to have a multilingual website and reach an even wider audience. No limits.
Ready – Set – GO!
Numerous widgets, a multi-level dropdown menu, beautiful animations, unlimited fonts, colors, and backgrounds are waiting for you – choose Luxwine.
Luxwine features:
630+ sales
4.3+ star rating
Drag-n-drop page building
Awesome custom pages
Price: $79 (may vary)
MORE INFO / DOWNLOAD
DEMO
3. Electro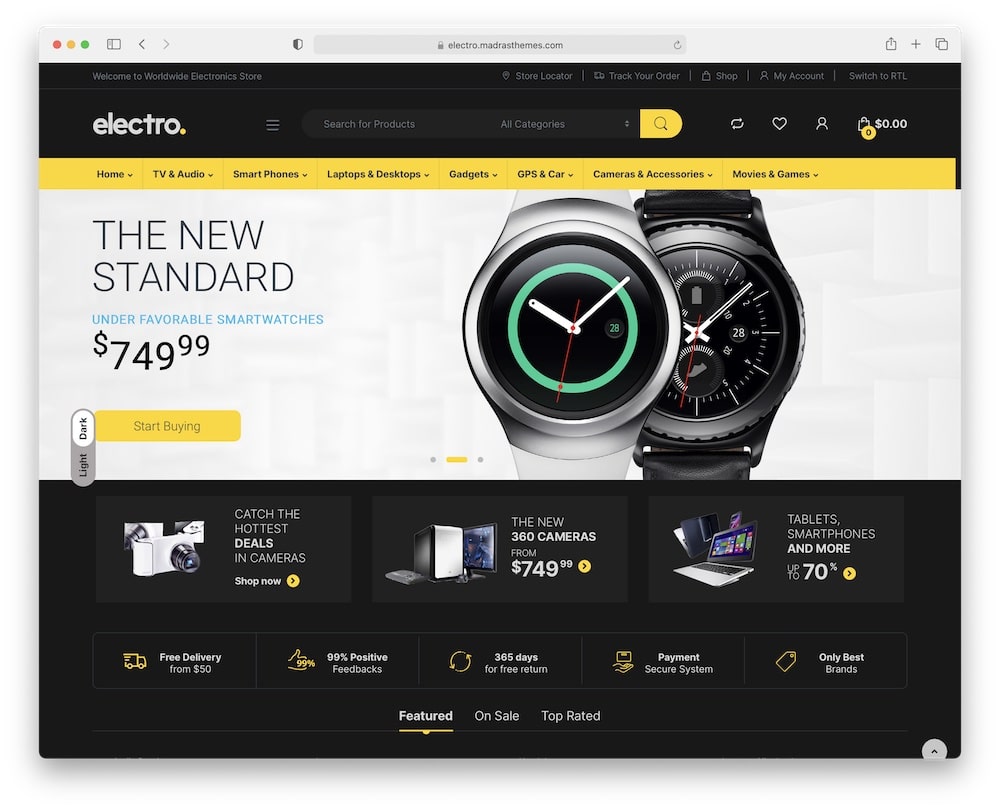 If you want to learn and try to create a website from a ready-made "framework," you are on the right spot.
You can start with Electro dark WooCommerce theme and end up with a beautiful product – YOUR awesome site.
FROM choosing a pre-made homepage (easy installation and setup) TO testing the design, formats, styles, plugins, product carousel, and sales process – YES, you can grasp everything!
Remember, you can efficiently build a functional site that makes you proud (AND HAPPY) with Electro. (Experience is not necessary.)
Besides, Electro is cross-browser compatible and works great on different screens due to its fully responsive design. Your visitors will love to scroll (endlessly) over your new site!
Using this simple yet sound theme can dramatically impact your business. Succeed with Electro!
Electro features:
23,300+ sales (WOW!)
4.8+ star rating
Everything is possible
Price: $59 (may vary)
MORE INFO / DOWNLOAD
DEMO
4. The Luxury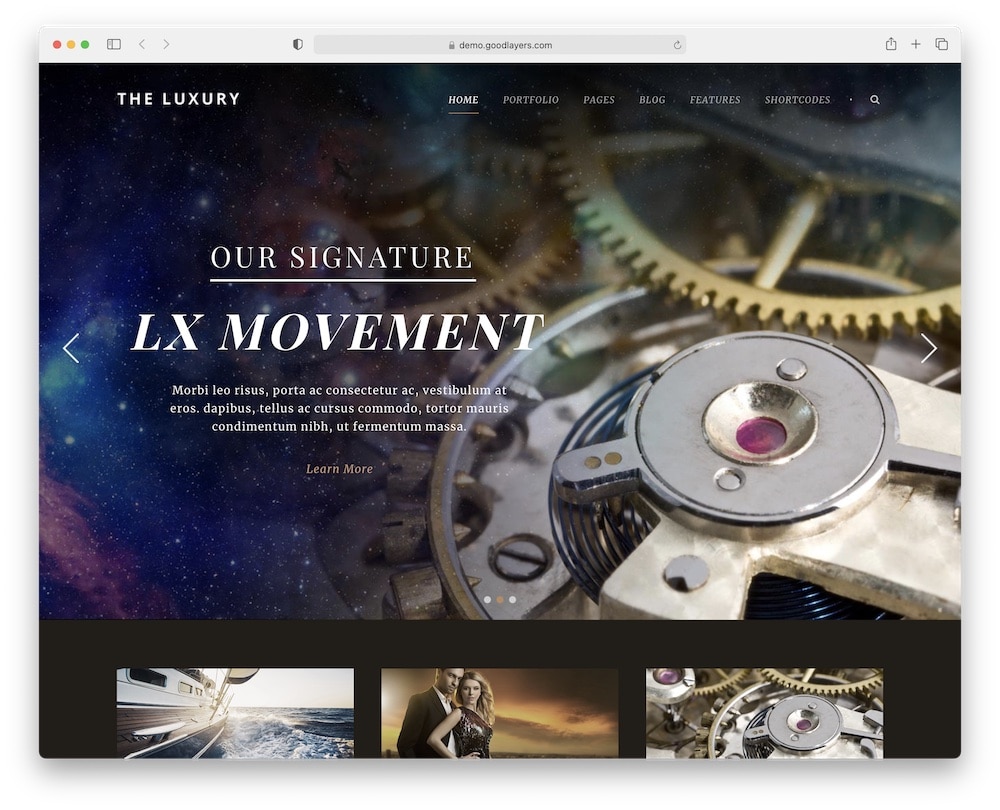 Do you know what's never out of fashion? Luxury items (YES, you're right!).
Get ready for the elegant and pretty The Luxury dark eCommerce theme.
I'm excited!
This dream-like theme comes with the best plugins, useful shortcodes, a built-in mega menu, and is totally WooCommerce friendly.
WORK. OF. ART.
You can also use the parallax effect and have it as your amazing background. You can make your site professional and stylish in just a few steps.
What's more?
Well, The Luxury customer support is fantastic! If you have any questions or issues, you will be pleased with their aid. They ROCK!
Be a smart business owner with stunning The Luxury.
The Luxury features:
2,800+ sales
4.7+ star rating
Optional boxed or full-width layouts
Handles an unlimited # of items
Price: $59 (may vary)
MORE INFO / DOWNLOAD
DEMO
5. Woodstock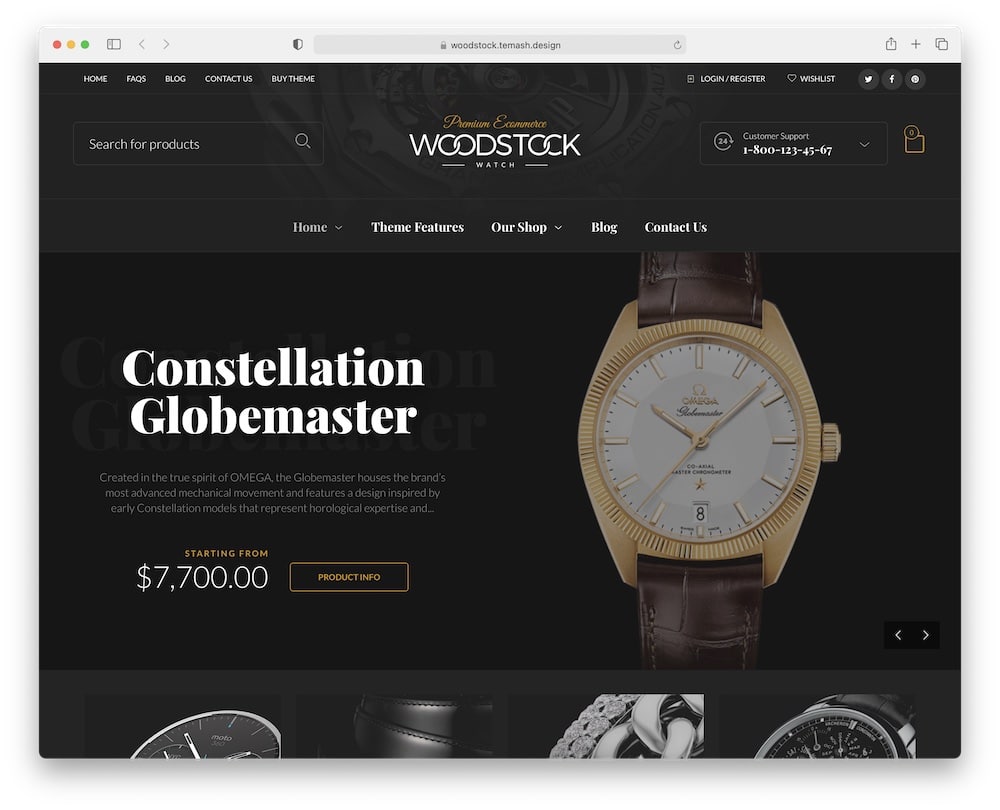 Let me start this intro by saying: I love Woodstock dark WooCommerce theme. I actually like all the selected themes, but this one just fits perfectly into my real life, again and again.
Woodstock is modern, gorgeously designed, and easy to work with theme. Besides, you can choose between light or dark version – the word to describe the filing – luxurious!
By the way, you will enjoy your website on any desktop, tablet, or mobile phone the same (!). Woodstock's responsive and crystal clear design looks incredible on all screens.
DIVINE.
OH, and don't worry, you get tons of tools and options for showcasing and selling your products the best way possible.
Your items will shine in your online shop bright like a diamond.
Woodstock features:
MORE INFO / DOWNLOAD
DEMO
6. Kingler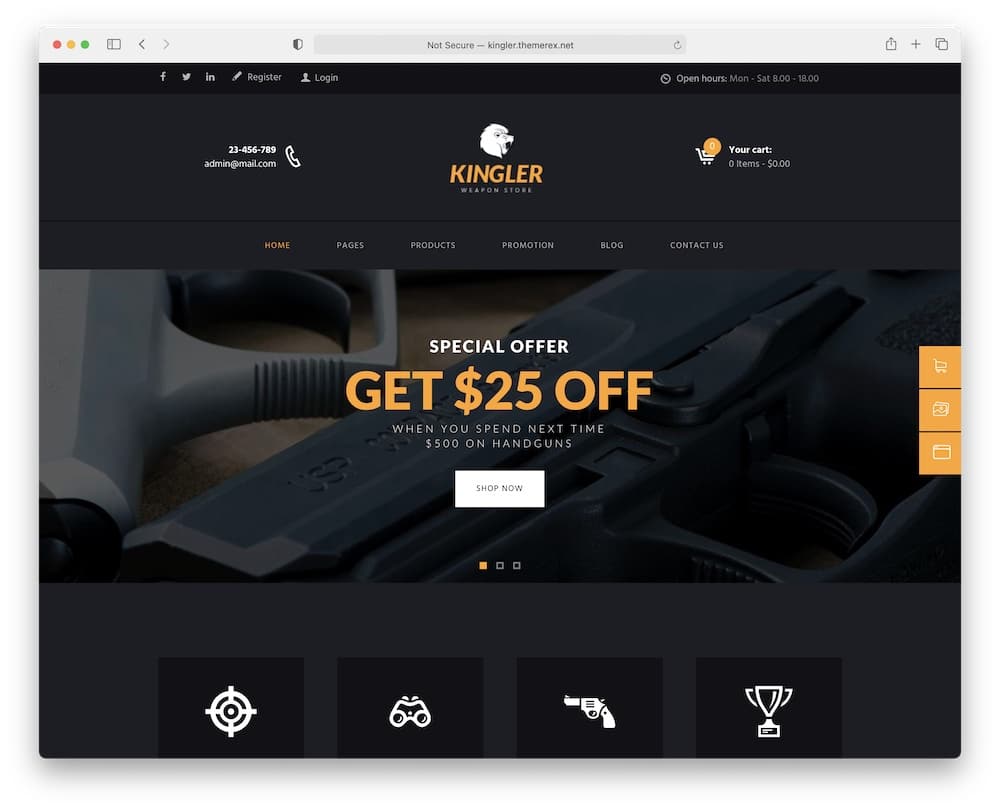 Sometimes, life is life, and you just gotta keep the business really simple. And super professional. And the word is: YES – Kingler black and white theme is all that you need.
Kingler is a stylish, masculine, modern theme that perfectly fits the man's world. You can use it for different business ideas, brands, and online stores.
How does it work?
Well, you can check and choose between ready-to-use demos, import the one you like the most and start building your new project.
FAST. EASY. SMART.
Not to mention, you get the essential features such as plugins, widgets, shortcodes, layouts (and much more) in the Kingler bundle (NO extra charge).
I mean, seriously (!!!) what's not to love?
Kingler features:
1,000+ sales
4.8+ star rating
Works for one-page, landing page websites
Compatible with event registration plugins
Price: $69 (may vary)
MORE INFO / DOWNLOAD
DEMO
7. Triss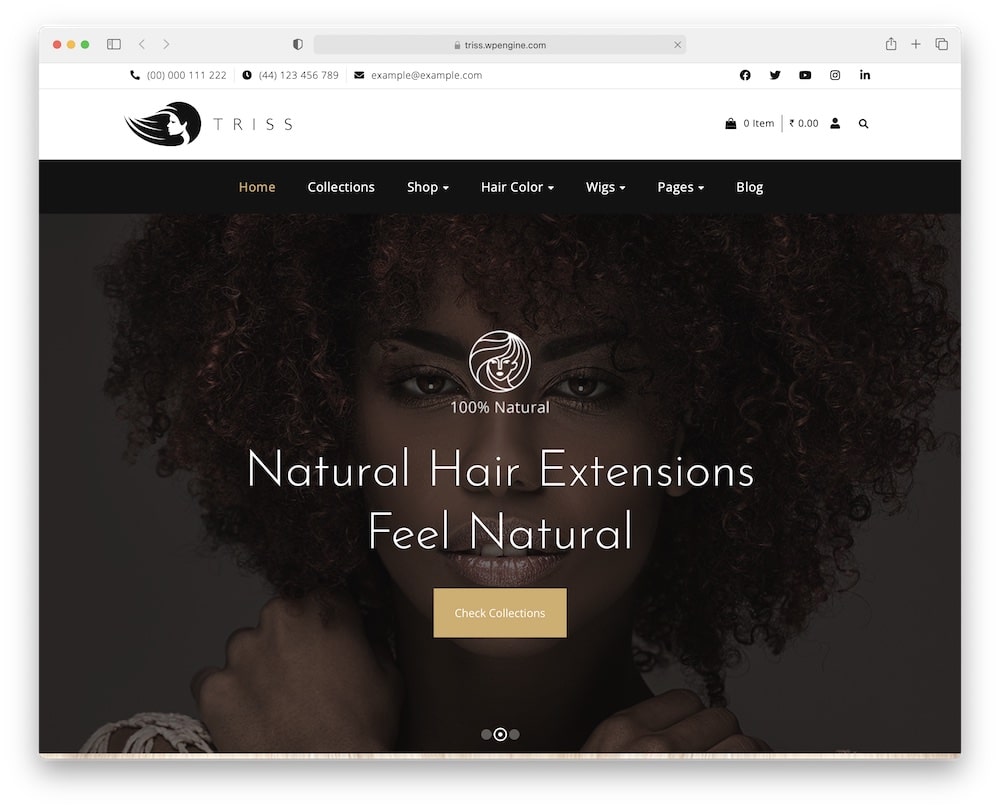 Hold on just a second, my friend. This is Triss, the dark WooCommerce theme of mega GOODNESS, and we need to break it down.
Starting at the beginning.
Triss is a feature-rich theme that offers the most popular goodies and super useful eCommerce options. It beautifully mixes dark and light styles that WOWs everyone!
Trust me; you can style your website beautifully in both aspects.
To spice everything up: AHA, you can set, customize and change your website with (JUST) simple clicking. And don't worry, NO coding knowledge is required to work with Triss.
Oh, how I love this – NO complications, please.
The shopping experience will be magical due to Triss's dynamic options, useful categories, pretty display, mega menu, and Contact Form 7.
Way – To – Go!
Triss features:
560+ sales
4.8+ star rating
Gorgeous minimal design
Great slider control
Price: $59 (may vary)
MORE INFO / DOWNLOAD
DEMO
Frequently Asked Questions About Dark eCommerce Sites
Why do I need a dark eCommerce website?
You need a dark eCommerce website if you would like to appear more luxurious online. Dark mode makes a website special and unique, but it's not for everyone. Dark layout tends to reduce readability, but that doesn't affect online shopping, which is excellent. (But don't use it for blogs and news sites.)
What businesses are best fitted for a dark mode website?
Any boutique and designer brand is a great fit to use a dark mode on their website. In other words, if you'd like to spread "luxury" all over your website without saying it, then go with a dark theme.
How do I create a dark online store?
The simplest way to create a dark online store is to choose a WordPress WooCommerce theme with the integrated dark mode. This will save you a lot of time because most work is predefined for you.
::
Note: This article was originally published on September 3, 2021. But our team regularly reviews it and updates it with necessary improvements for accuracy.