You can create a manly website like a champ with these best masculine WordPress themes. (And do it QUICKLY!)
I made sure to include powerful yet perfect themes for beginners and experts – after thorough testing. (No coding!)
You can build a barbershop, hair salon, tattoo studio, motor club, or a similar website with ease.
Avoid starting working on your men-first page from scratch.
Who even does that?
This post covers:
Even though you can use all the themes out of the box, I encourage you to tweak them. (No need to be a designer!)
Note: We also have a collection of the best feminine WordPress themes for you if you would like to switch things up.
How I Tested Masculine WordPress Themes
It was important for me to triple-check every theme to ensure I bring you only the best tools for building your websites.
That's why as soon as I collected the 35 "best-selling" ones, I checked their overall ratings, user feedback and update frequency.
If a theme doesn't receive regular updates, you may not enjoy complete compatibility and might become having unfixed bugs.
I then went straight into flipping through the included documentation plus, I also chatted with the support team.
Believe it or not, I was already down to 17 themes then.
This was when I wanted to analyze each theme individually through a series of tests that answered a bunch of my questions, like:
Is the theme easy to install? (You may also want to read our tutorial on how to install a WP theme.)
Does the theme slow down the website loading speed?
How beginner-friendly is the theme's user interface?
Is it compatible with the popular page builders and plugins?
THE ULTIMATE 6:
Best Masculine WordPress Themes For Men
1. Revolver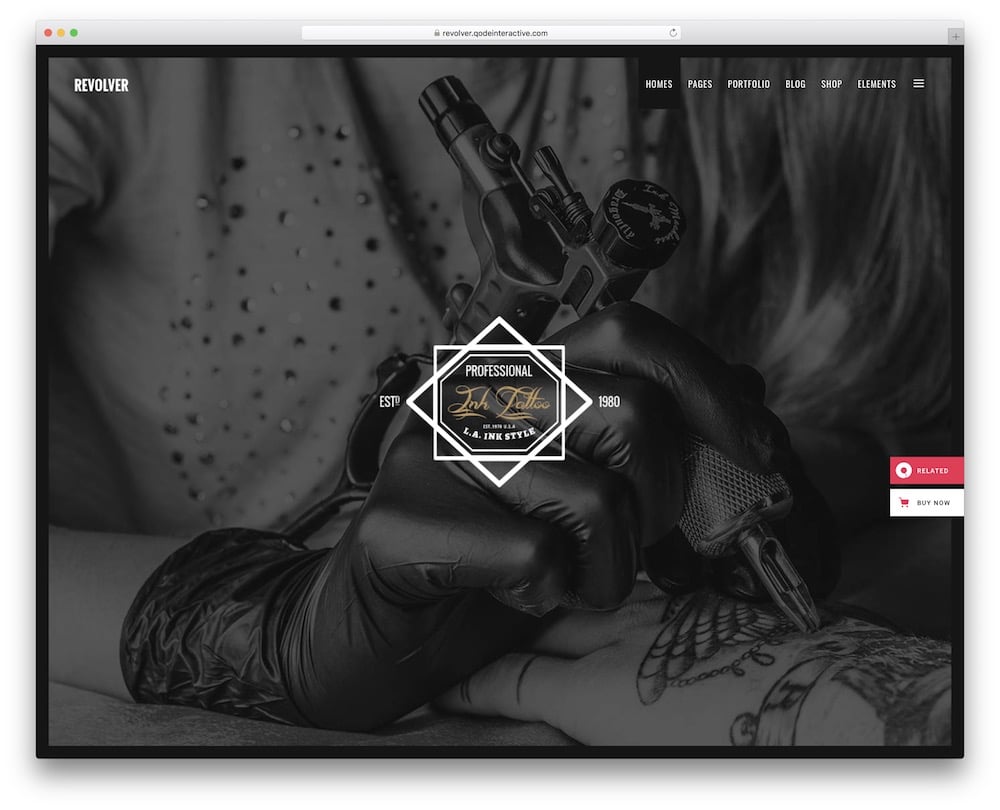 Revolver is a modern and dusky WordPress theme designed for an EDGY lifestyle. You can use it for barbershops, biker clubs, or tattoo salons.
Revolver includes six clean and beautifully made index pages, different shortcodes and various inner pages.
Furthermore, with Revolver, you can easily create your online shop due to an amazing WooCommerce plugin.
This theme is user-friendly and full of powerful options.
Keep in mind you don't need any coding knowledge to build an amazing site.
Of course, helpful and professional customer support will look out for you if you need any assistance.
Strength, courage, and honor are the main virtues of Revolver.
Revolver features:
620+ sales
4.2/5 star rating
Price: $79 (may vary)
MORE INFO / DOWNLOAD
DEMO
2. Salon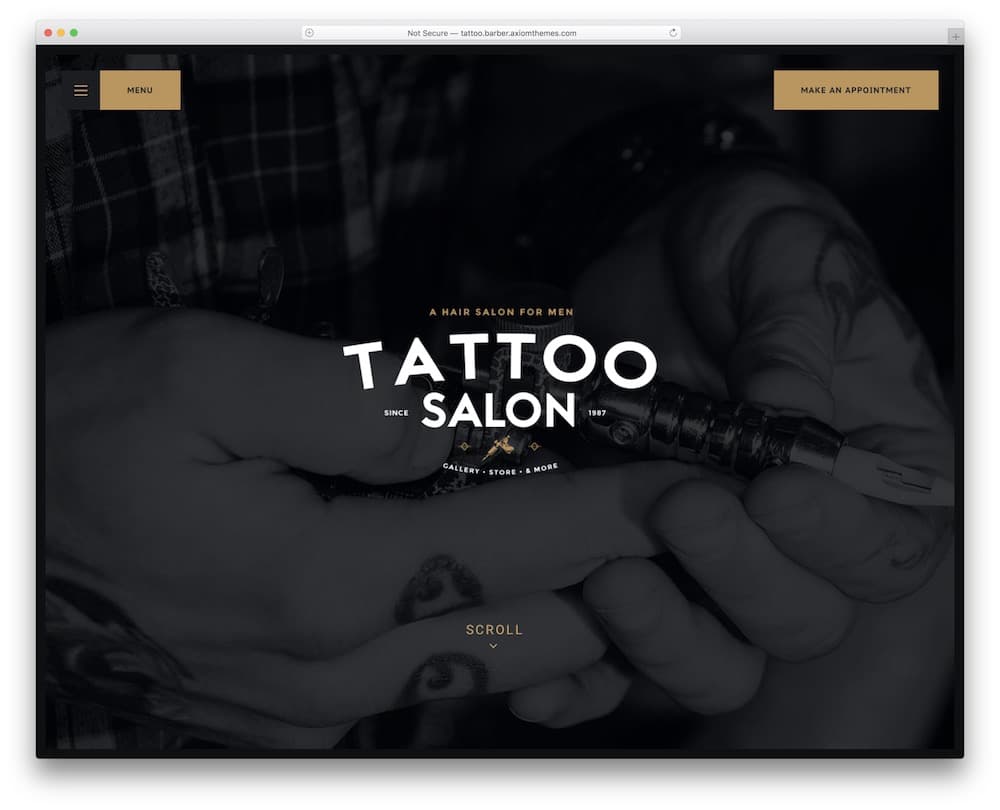 This attractive WordPress theme was created for multi-purpose business ideas and is focused mainly on men.
Salon is packed with AMAZING tools such as WPBakery, WooCommerce, Slider Revolution, and Booking Calendar.
Also, Salon is compatible with the advanced Gutenberg editor.
Furthermore, you can display this theme in a light or dark style, which can dramatically change your site's look.
Salon will help you accomplish your ideas' unique and unforgettable outlook.
You also get professional customer support with Salon to turn to when a dilemma appears. Put to the test your creative thoughts with Salon.
Salon features:
1,000+ sales
4.3/5 star rating
White and dark mode
Price: $69 (may vary)
MORE INFO / DOWNLOAD
DEMO
3. Berger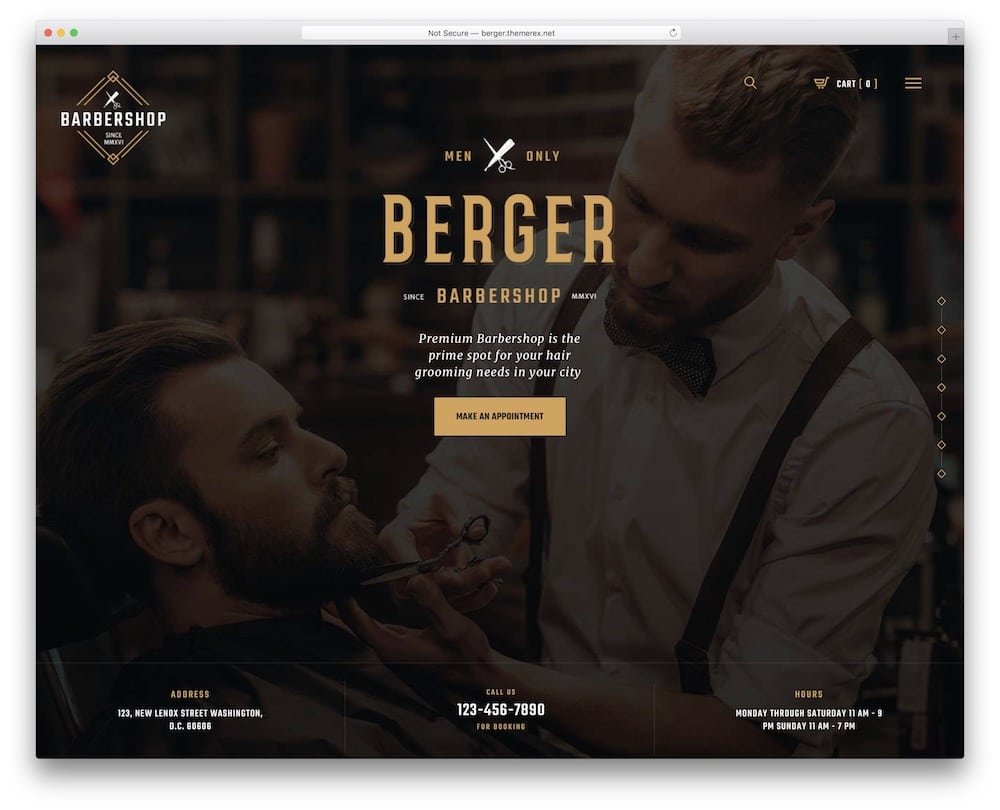 Berger masculine WordPress theme comes with a fresh and modern design for various salons and shops.
Obviously, Berger templates are quick to install, simple to use, and are FULLY customizable to serve you exactly as you wish.
This theme includes numerous layouts, different styles, various widgets, and icons too.
One of the great options integrated into Berger is the WooCommerce plugin to easily build an online shop.
You can have a gorgeous new website and a successful online business up and running with little work and time.
The real power of your site is in the size of the smile caused by your customers.
Make these smiles a reality with Berger.
Berger features:
460+ sales
4.8/5 star rating
Price: $69 (may vary)
MORE INFO / DOWNLOAD
DEMO
4. Menzsalon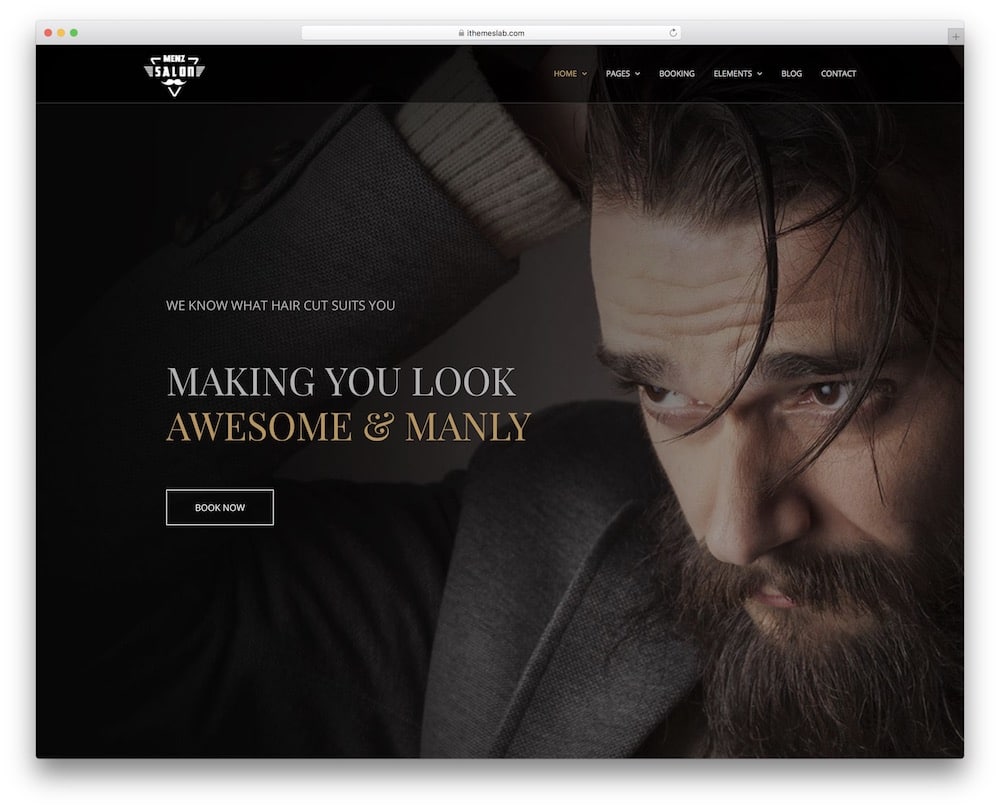 You can make your business journey even MORE purposeful with directed goals and a clear presentation by Menzsalon.
This masculine WordPress theme comes with five modern front pages, awesome icons, various fonts, and unlimited colors.
Menzsalon can appear in a light or dark version depends what you choose and prefer more.
Moreover, Menzsalon includes essential tools such as Slider Revolution, Contact Form 7, and Elementor page builder. Of course, Menzsalon is fully responsive and will look great on all screens.
In just a few clicks, you can get ready to use all templates and features.
Reach the top with friendly customer support that will answer all your questions and puzzles.
Menzsalon features:
120+ sales
4/5 star rating
Google Maps integration
Price: $49 (may vary)
MORE INFO / DOWNLOAD
DEMO
5. Barber WP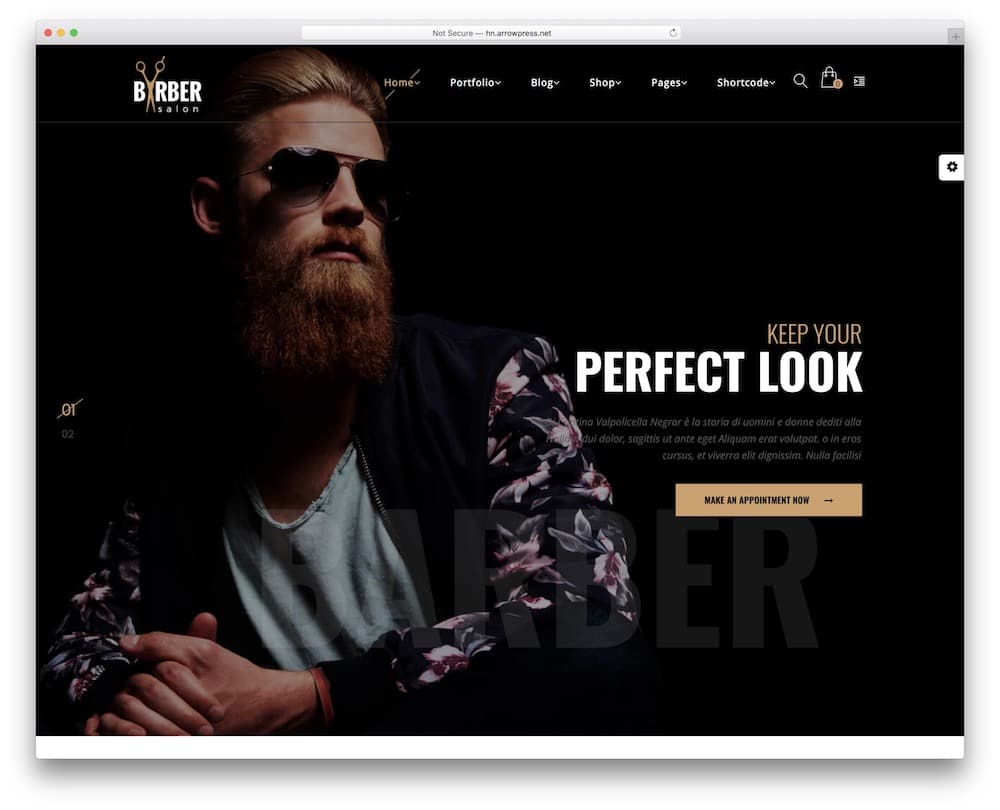 Barber is a trendy and tipsy WordPress theme perfectly made for barbers, men's hair salons, tattoo studios, or portfolios.
You can choose from ten pre-made homepages that come with many amazing features such as Slider Revolution, WPBakery, and MailChimp.
Of course, with Barber, you can immediately start selling your products and services without the need to code.
Furthermore, you will ALSO get numerous stunning layouts to arrange and plan your content simply.
Barber will help you make it a reality whatever your idea might be.
Barber WP features:
740+ sales
4.8/5 star rating
Price: $59 (may vary)
MORE INFO / DOWNLOAD
DEMO
6. Tristero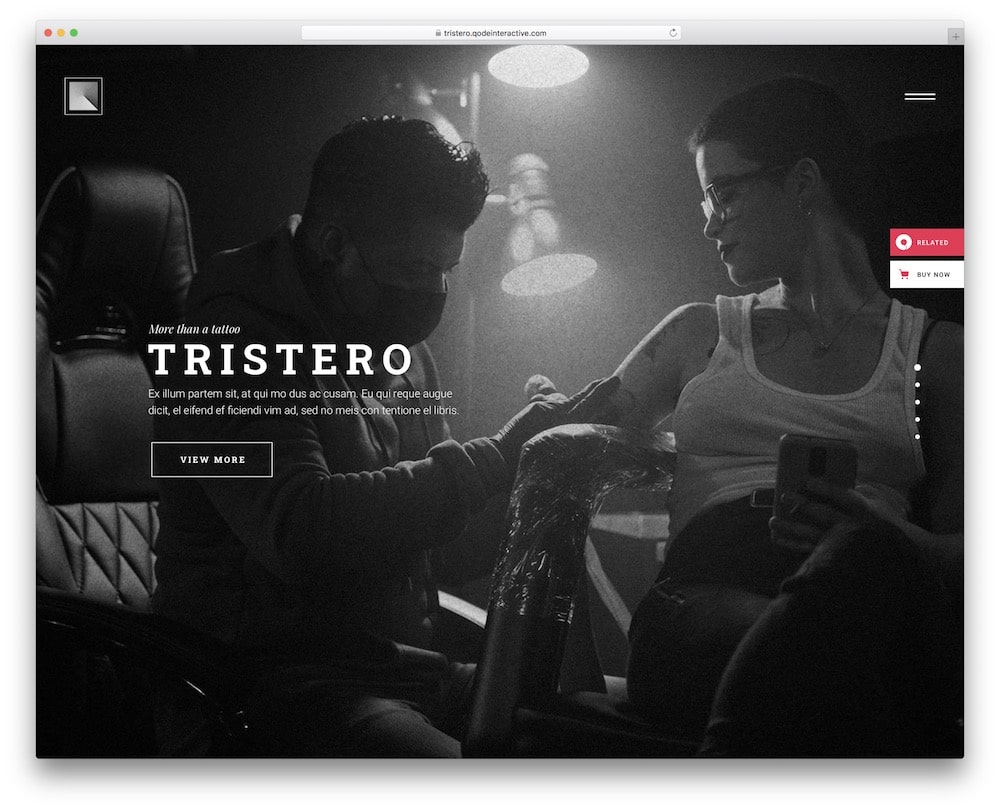 If you are searching for a tattoo studio theme, you MUST look at Tristero.
This modern and well-designed WordPress theme is packed with great features such as Elementor page builder, Slider Revolution, WooCommerce, and Contact Form 7.
Tristero is integrated with social media, offering an easy connection to your audience.
Moreover, you can choose from six pre-made index pages and use a dark or light skin variation.
Also, you can set up an awesome portfolio of your work ethic and creations. Even a child theme is added.
Yes, Tristero has everything you need.
Tristero features:
380+ sales
4/5 star rating
Custom-made shortcodes
Translatable (with WPML)
Price: $79 (may vary)
MORE INFO / DOWNLOAD
DEMO
7. Ewo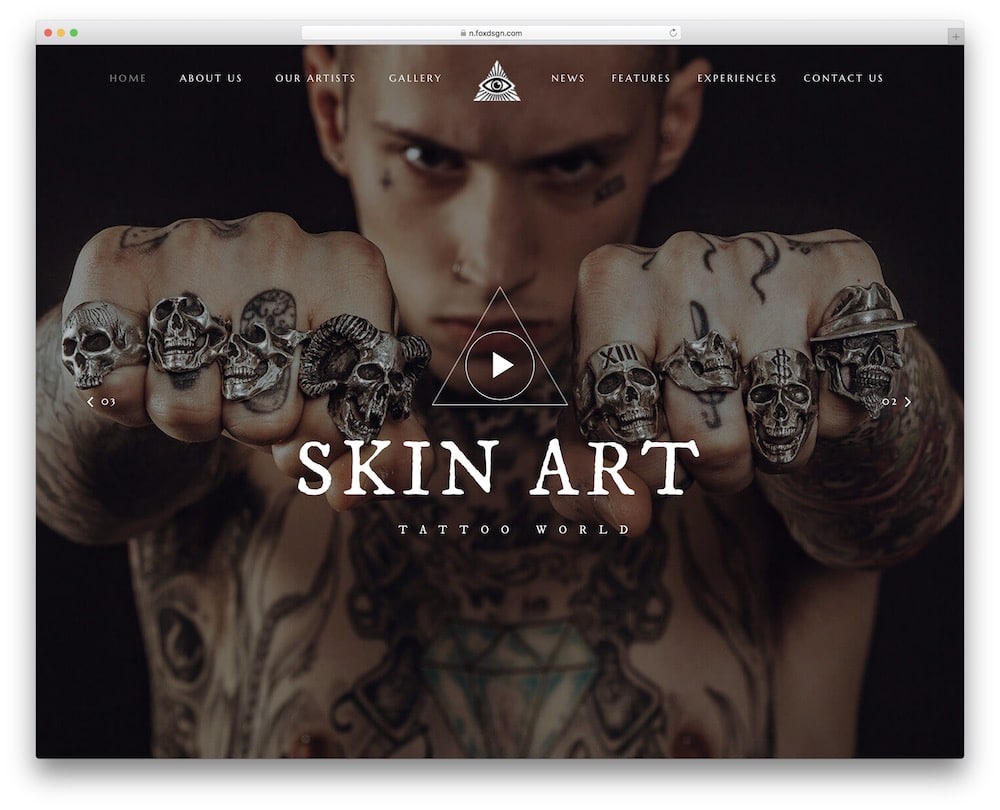 The strong design of Ewo masculine WordPress theme is perfect for tattoo shops and studios.
Ewo includes two ready-to-use homepages, different layouts, various shortcodes, and elements.
Also, you can easily create an interesting business blog.
Moreover, Ewo is integrated with Gutenberg visual editor which offers a great and simple editing experience even for beginners.
Bear in mind, Ewo is SEO optimized and ensures the high-speed performance of page loading you deserve.
Moreover, your customers can COMFORTABLY make appointments directly on your site. Start, run and grow your business with Ewo.
Ewo features:
110+ sales
4.5/5 star rating
Filterable portfolio
Testimonials
Price: $44 (may vary)
MORE INFO / DOWNLOAD
DEMO
8. Nelson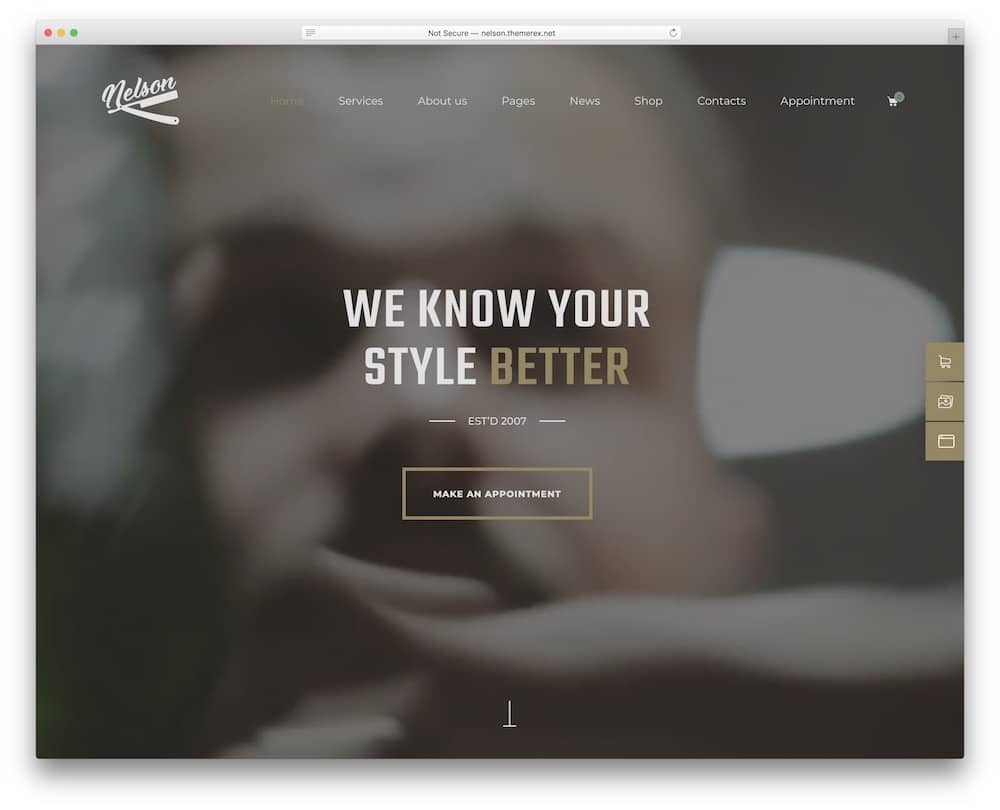 Nelson is a striking masculine WordPress theme made especially for hairdressers, tattoo studios, or barbershops.
The theme includes beautifully-made pages, various blog layouts, an online booking system, and numerous icons.
With Nelson, you can easily connect with your social media audience and grow to NEW heights.
Furthermore, with Nelson, you will get essential plugins such as Elementor page builder, Slider Revolution, WooCommerce, and MailChimp.
You can learn everything about this theme from detailed documentation and find lots of useful information for your creation. (Great for beginners!)
A modern man needs a modern website.
Nelson features:
750+ sales
4.8/5 star rating
8 modern demos
Header & footer builder
Price: 69 (may vary)
MORE INFO / DOWNLOAD
DEMO
9. Hares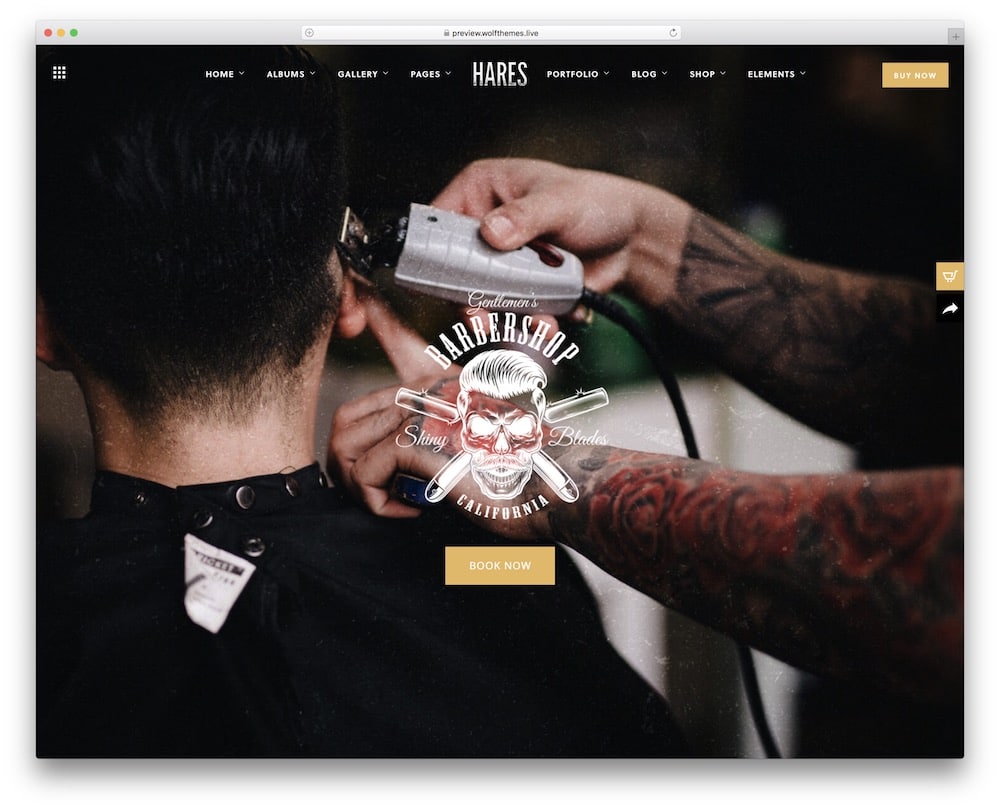 Hares represents a previous era of time in society due to its vintage design.
You can use this masculine WordPress theme in MULTIPLE ways; it's flexible and fully customizable for all your needs.
Hares includes amazing tools such as a mega menu, WooCommerce, Slider Revolution, and Ajax technology.
Moreover, with Hares, you will get very detailed and beautifully made home samples, diverse inner pages, etc.
With Hares, you can easily create an impressive portfolio of your skills, qualifications, training, and experiences.
In this way, your visitors or future customers will have even more confidence in your work and personality.
You can become better in many areas of your business with Hares.
Hares features:
820+ sales
4.9/5 star rating
Parallax effect
Price: $79 (may vary)
MORE INFO / DOWNLOAD
DEMO
10. LexRider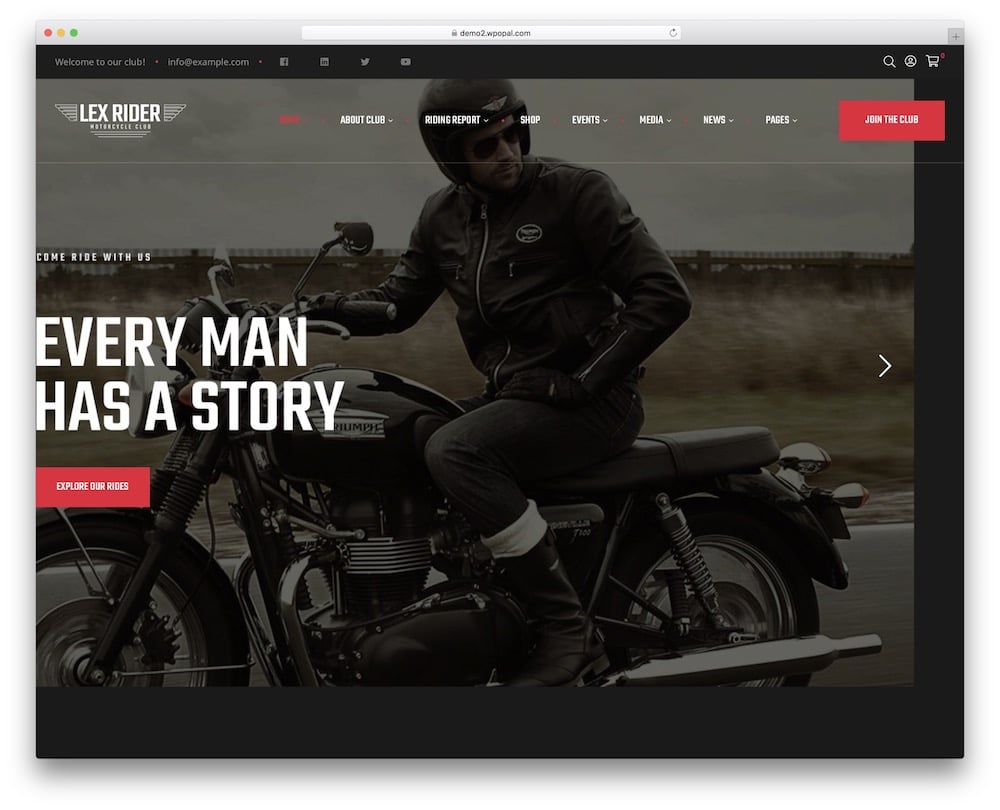 With LexRider masculine WordPress theme, YOU CAN provide useful, actionable, and no-fluff content for real men.
This theme contains four pre-made index pages, an impressive blog, modern shop pages, and even an attractive space for testimonials and upcoming events.
LexRider is high-speed optimized, responsive, and retina-ready for all screens. Moreover, you will get an awesome parallax effect tool for a memorable experience.
Besides, with LexRider, you can access enthusiastic and friendly customer support to help you with all the issues you may encounter.
Let's face it; men need masculine sites and services from a male perspective.
LexRider features:
760+ sales
4.7/5 star rating
For motorcycle clubs
Events section
Price: $59 (may vary)
MORE INFO / DOWNLOAD
DEMO
11. Bikersclub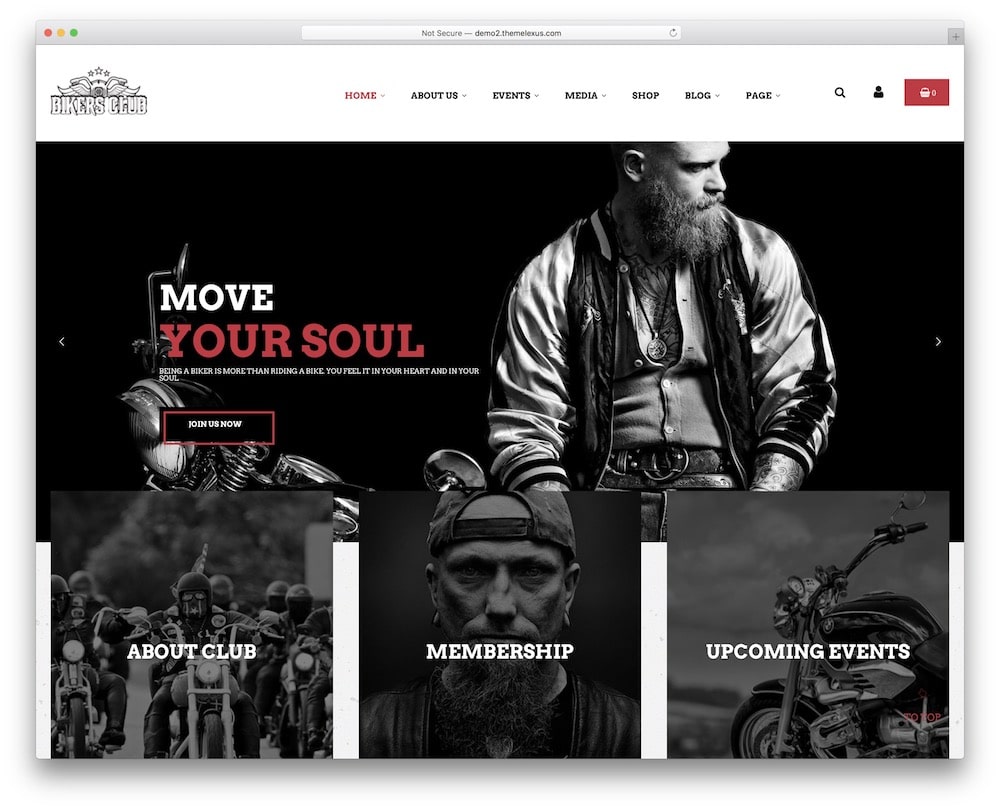 Black and white Bikersclub masculine WordPress theme is ideal for men's sites such as biker clubs, motorbike stores, or motorcycle fans.
The theme comes with GREAT features and awesome tools to make sure your new site will be fantastic.
Furthermore, Bikersclub includes three ready-to-use homepages, stunning shop elements, numerous formats, and pre-made blog templates.
Visual effects, optimized mobile layouts, and a neat interface will greatly affect your visitors.
Of course, you don't need any coding knowledge to work and create with Bikersclub.
Bikersclub features:
560+ sales
3.7/5 star rating
Team/crew section
Blog and shop
Price: $59 (may vary)
MORE INFO / DOWNLOAD
DEMO
::
Note: This article was originally published on April 6, 2021. But our team regularly reviews it and updates it with necessary improvements for accuracy.